AK pupils give their feedback on the AK Star challenge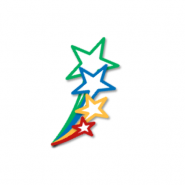 Mrs. Saville has been asking the pupils what they think of the star challenge. The star challenge (See power point) was introduced to AK back in October 2014 as a way of developing the pupil's learning behaviours and so they are more involved in challenge within the lessons and are starting to make more independent decisions about their learning. Learning walks by Mrs. Saville and the Governors have shown the impact this system is having upon teaching and learning at AK. Other visitors to the school have also commented positively upon what they have seen. The staff have also commented on how successful they feel this system is and how embedded it has already become. The star challenge can be found right across our school from the school motto, teaching and learning, the office through to staff and governors minutes!
The children said:
  

Year R

: 'I like to do the Wow it makes me feel excited and happy' 'The stars give me a chance to do harder things' ''I am always ready to do a star challenge' 'I do 1 star and now I try 2 star it feels special.

Year 2

: 'We can choose as a learner what we want to do' 'I like to have the chance to push myself' ''I feel safe because I can try and then go back, go over and try again so that I can get the harder task'

Year 4

: 'It helps increase my confidence because I can make the decision where I start and when I push on', 'I am trying things I never could do before', 'I am working towards my own goals and competing with and challenging myself'
 

Year 5

: 'I feel proud when I move along the stars', 'I feel more motivated and more aware of where I am going as a learner', ' The teacher used to check I am on the right star for me, now I am confident with this', 'It values different learning levels and gives you more freedom with your learning rather than working at the same level as the group'
Pupil Voice Feedback February 2015
Please see the power point for more details- or ask one of our children or staff!