Fantastic designs for the Royal Mail Christmas Stamp competition 2017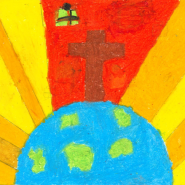 The children have all had an opportunity to enter a piece of art work for the Royal Mail Christmas Stamp Design Competition. The theme is 'What does the Christmas season mean to you?' Only three times in Royal Mail's 500 year history, have children's designs been used on UK Christmas Stamps.
Winning designs will receive £1000 and so will the school so fingers crossed! Here are some examples of the high quality designs the children have produced.
Miss Redman