Team AK Marathon Raises almost £2,500!!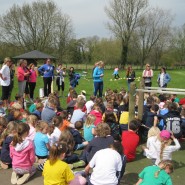 Update; A huge thank you to everybody that supported our school marathon, we raised just short of £2,500! Thank you to cb Slade for a significant contribution. We have enough money to buy all the of the kits we need to represent the school and shine brightly at competitive events! We are also going to claim the gift aid and feel it is appropriate to give a  little back, so this money will be donated to our twinned Uganda school to buy sports equipment and kidscape which is being supported through the 401 challenge.
Well what an amazing day! A fabulous effort from all of Team AK! All the children completed a mile, most running a whole mile! The perseverance of all children was incredible! 7 classes totalled 7 marathons. A massive thank you to Mrs Mee for organising such a fabulous event and the adults who helped make this event possible were amazing, thank you. The weather was even on our side.
The money is currently being counted please bring in all sponsorship donations by 29th April and we will let you know the total raised in due course. The sponsorship is to enable the school to buy whole new Team AK logo sports kits so that the children look smart and part of a team when we attend sporting competitions and activities with other schools. We cannot thank you enough for your generous and kind sponsorship, we look forward to ordering the new kit and sharing with you all just how smart our children will look! Thank you!
Marathon timing update…
Class R ran the marathon in 4 hours and 45 minutes, Rory and Jack ran their mile in 10 minutes and 5 seconds.
Class 1 ran the marathon in 4 hours and 30 minutes, Caleb ran his mile in 9 minutes and 5 seconds.
Class 2 ran the marathon in 4 hours and 6 minutes, Sam ran his mile in 8 minutes and 18 seconds.
Class 3 ran the marathon in 4 hours and 5 minutes, Enzo ran his marathon in 6 minutes and 52 seconds .
Class 4 ran the marathon in 4 hours and 4 minutes, Thomas G ran his mile in 8 minutes.
Class 5 ran the marathon in 4 hours and 12 minutes, Oscar L ran his mile in 7 minutes and 11 seconds.
Class 6 ran the marathon in 3 hours and 47 minutes, Max ran his mile in 6 minutes and 51 seconds.
I'm sure you'll all agree the children ran their socks off and did themselves and the school proud! 
Here are a few pictures: