Thank you to the amazing AK community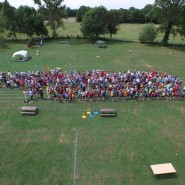 Thank you to everyone who came out to help us hop into the Guinness Book of World Records on July 3rd.  Although 413 people gathered on the school field including James Gray, MP and the soldiers from 29 Regiment RLC in South Cerney, we didn't quite beat the existing record of 490.  However, and most importantly, we had fun and raised nearly £300 for the school on the tea and cake stall.
If you would like to see the picture close up please view it from our gallery.