'Skinny Jean Gardner & AKPS Podcast – for Anti- Bullying week have a listen!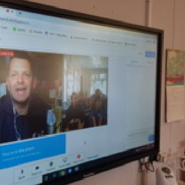 We were lucky to have another visit from the 'Skinny Jean Gardner' AKA Lee Connelly on 14th November 2022. The UK's number 1 children's gardening educator and a presenter from CBBC Blue Peter – for more information about Lee take a look at his website here.
For Anti-Bullying week class 5 took part in a discussion with Lee where they shared how they feel their school helps with stopping bullying at their school. This was broadcast during Anti-Bully week and if you would like to have a listen you can find the podcast here.
See below to listen to a podcast year 5 (2021-2022) made:
Class 5 have been selected by Mr Jackson to create a monthly podcast on life at Team AK. We were so lucky to have a celebrity gardener, The Skinny Jean Gardener, as our first guest on their new monthly podcast. Lee does a daily podcast and had lots of brilliant top tips for the class to make their own podcast. The children asked Lee fantastic questions and were incredibly polite, as always! We are so excited to get the first podcast out!