Class 4
Welcome to Class 4
Class 4 Annual Curriculum Overview 2021-2022
Term 4

Spring Term has been a busy but very enjoyable term in Year 4. We had the pleasure of Mrs O'Neill's teaching at the beginning of the year and her Geography experts delivered some fantastic presentations on what makes up our world; an excellent example of pupil leadership. We took an adventure with Jemmy Button for writing inspiration and produced some outstanding NCRs on mythical beasts. We also had the pleasure of watching a production by The Old Vic Theatre School of Sammy and the Sea Morgans which inspired the creation of sea creatures for their competition which Ella won!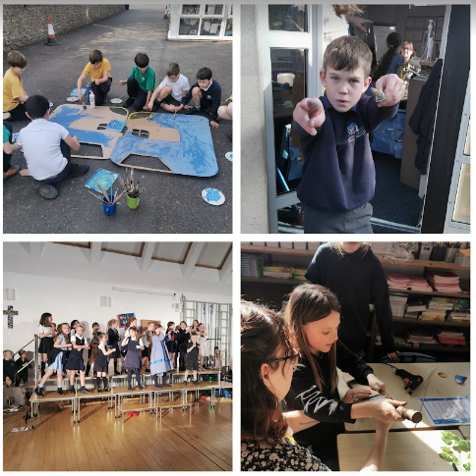 We then began rehearsals for our production and our literacy looked at playscripts; the children learned how to structure and write a play script to ensure the actors did not say our stage directions. For those that came to see the performances, you will have even heard some of the children's excellent playwriting skills in action; parts were added in, lines were topped up and scenes adapted to suit the children's vision. Conversations between Miss Chomicz and The Old Vic Theatre School then lead to their prop department coming in to school to work with our Behind-The-Scenes crew to make some additional props for the production. The children learned lots about being resourceful and how to make things big and bold for the stage. Over rehearsals, the children's confidence has increased massively and the productions were FANTASTIC – thank you to all of you who came. 
We have also been continuing our learning away from the production; we have explored the worlds that exist between our whole numbers. Fractions and decimals have been our focus and the children have been fine tuning their knowledge of multiplication and division to apply this in a variety of situations. We have also had some fantastic Forest School sessions with Mr Jackson and Miss Willis who challenged them to build a transportation device for a human with only natural materials and some string. The children rose to the challenge, proving just how well they can work in teams, developing ideas, troubleshooting and testing their products. In Science, we have been working on our working scientifically skills, learning how to write a full scientific report and follow it to test a hypothesis. They first carried out investigations in to bubbles before planning and conducting their own experiments, writing up their reports independently using the skills they have already learned.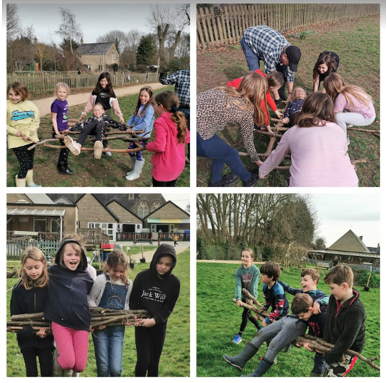 Term 3
Class 4 Term 3 Newsletter 2022
We have been reading all about mythical creatures and we have been designing and describing our own! We had so much fun imagining what our mythical creatures would look like, sound like, how they would move and where they would live. Take a look at some of our fantastic writing and drawings.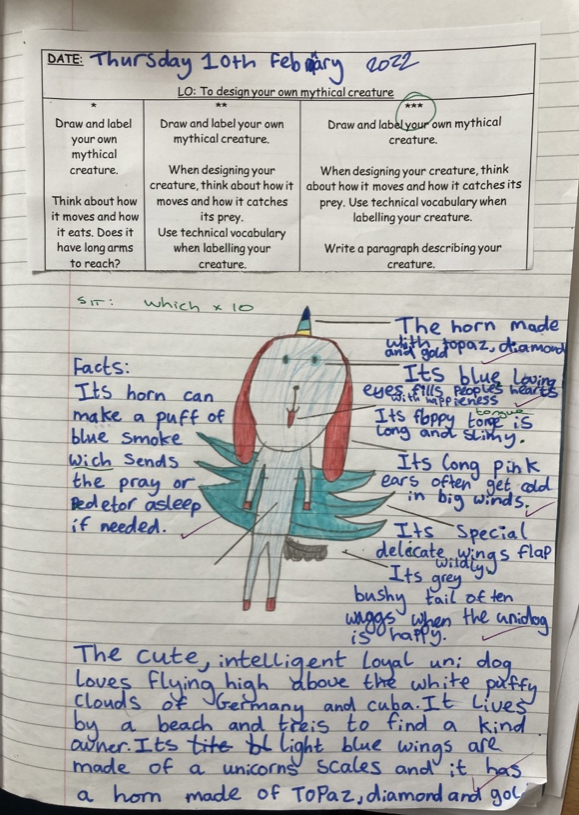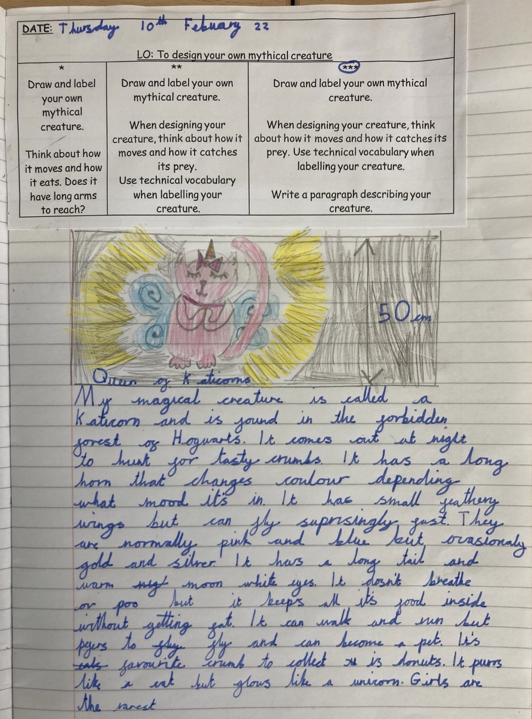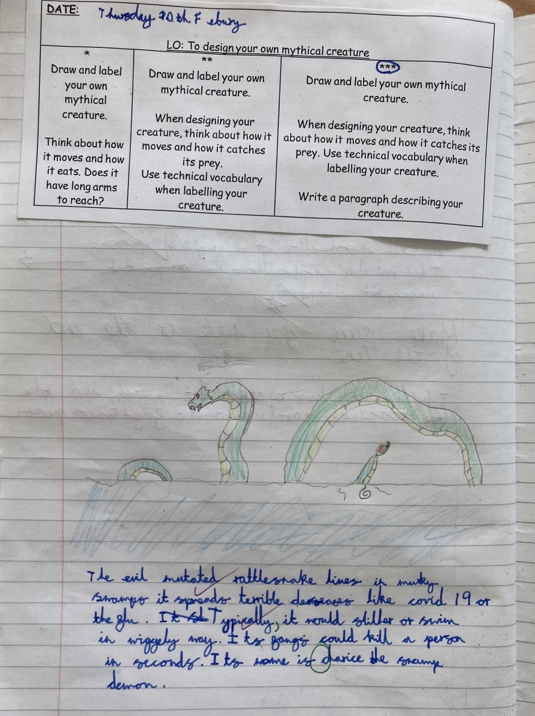 Update: Our Geography experts have taught us so much! We were taught by Thomas, Beth and Livia this week after they researched the continents of the world and created their own presentation on their chosen area. We were absolutely blown away by their knowledge and their presentation skills. What superstars they are!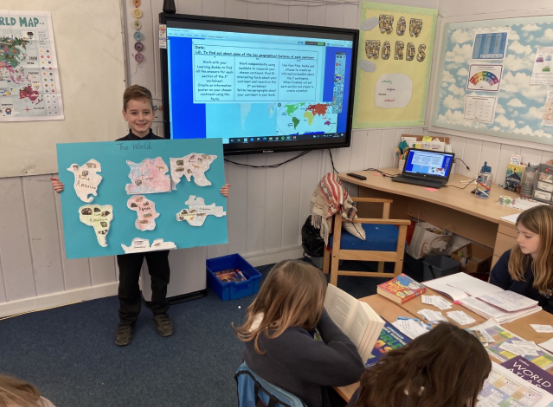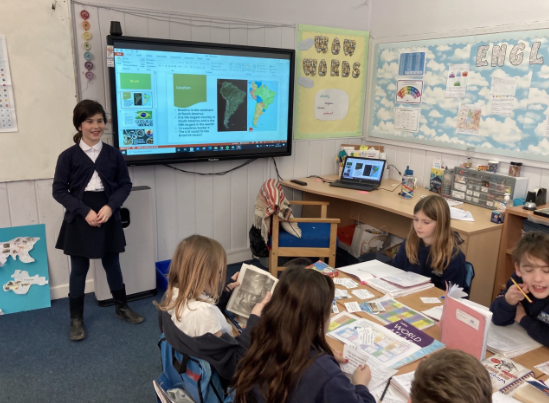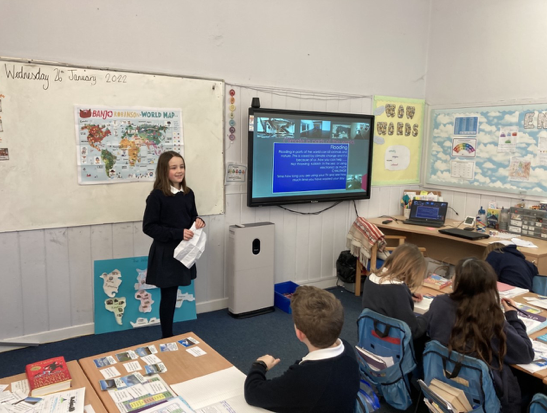 In Class 4, we have started a new Geography topic, 'What makes up the world?'. We started this unit with a cold task and answered our Big Question with all the knowledge we already have about how our world is made. Then, Mrs O'Neill selected some 'experts' based on our answers. These experts were given the challenge to create a presentation on a certain part of our topic. Tyler created a brilliant presentation on Scratch of the world's oceans, Poppy made an amazing board all about Antarctica and Ella created a poster packed with facts about 3 of the world's continents. We all learnt so much from our first experts and cannot wait to hear from the next group!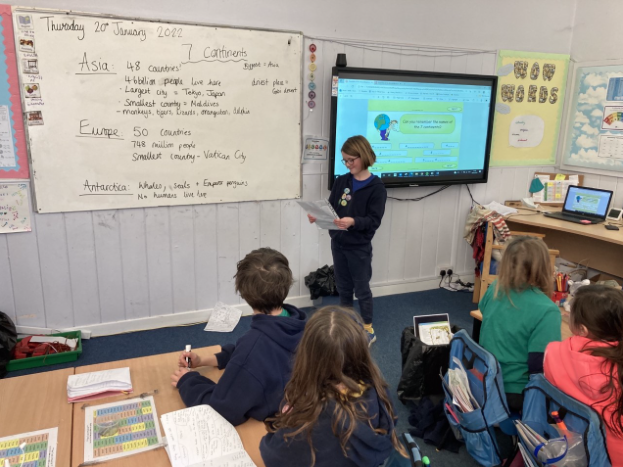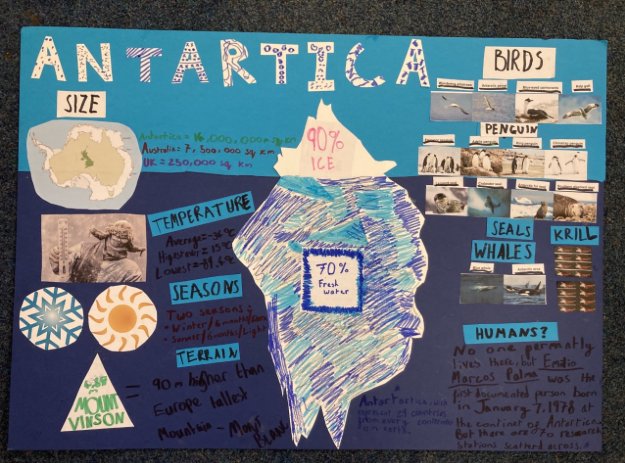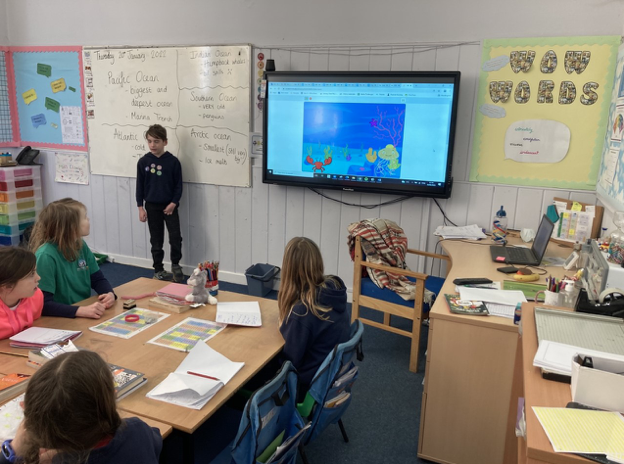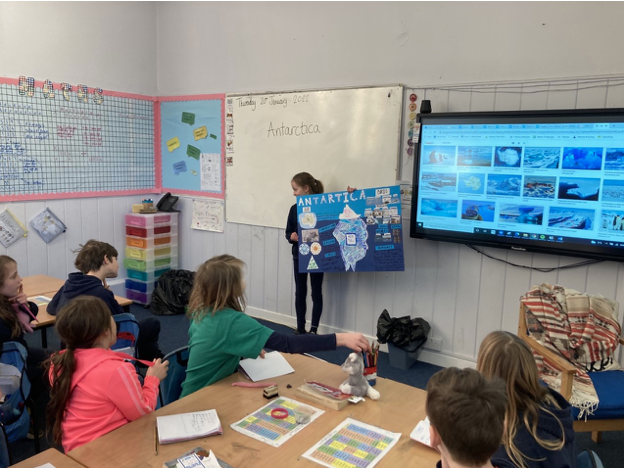 Class 4's first Forest School session of 2022 was amazing! We had fantastic weather all afternoon – a beautiful fresh winter's day. Mr Jackson and Mrs Willis helped us carve our own knives using wood and potato peelers, we even had a 3* challenge. As a treat for earning our TEAM AK last term, we roasted marshmallows over a campfire and had smores. What an amazing afternoon 🙂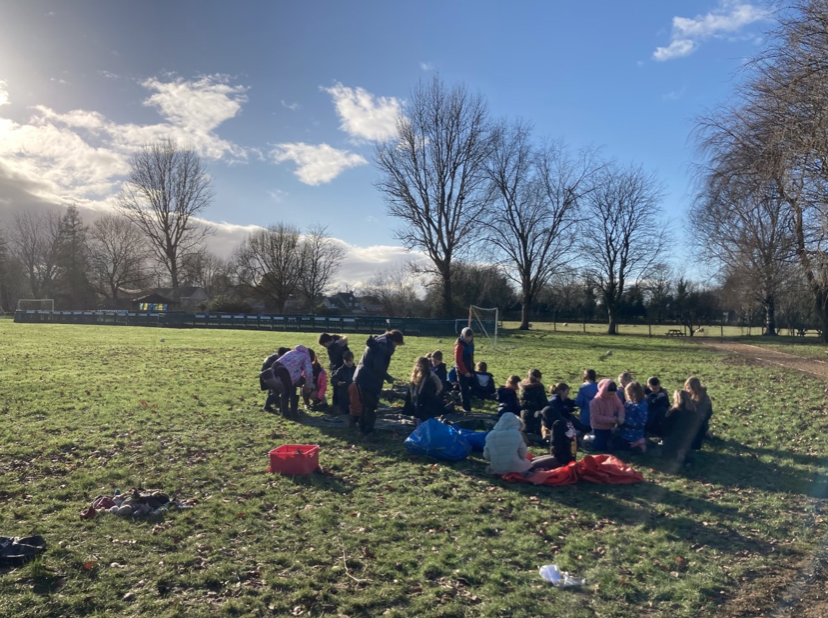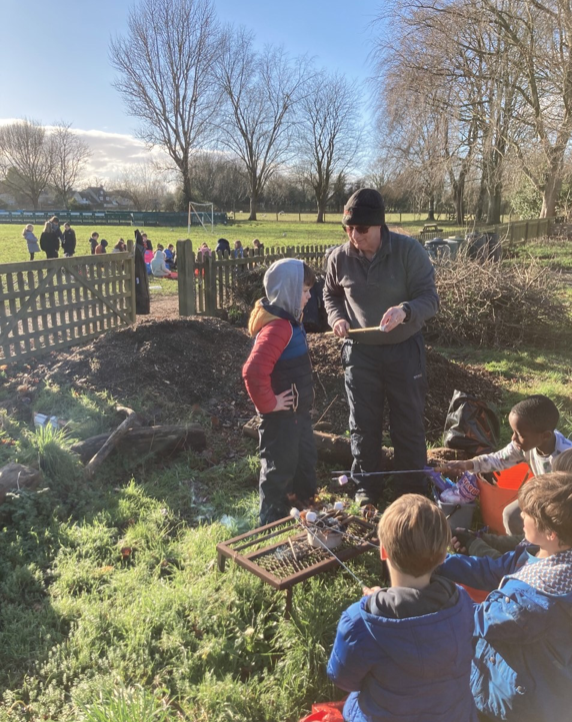 Term 2 
What an adventure it has been this term for Year 4. In class, we have been exploring the Stone Age, using the modern classic Stig of the Dump to inspire some fantastic diaries and newspaper reports. We have also been investigating light and dark including shadows, reflection and this even led us to finding out why and how we can see different stages of the moon. Our maths work has been centered around multiplication and division which we have now finished ready to move on to measure in the New Year.
Alongside our in class learning, we have completed our swimming lessons with all children earning badges in School Swimming and water safety. Well done all! We also went on the first ever Year 4 residential to Viney Hill. The children were fantastic and showed excellent resilience, perseverance, team building skills and courage (among others). Facing our fears, we climbed to the top of the house, built stacks of crates high in to the sky, shot real arrows in archery and completed a low ropes course together. For some of the children, it was their first time staying away from home and we are all so proud of how fantastic every single one of them was.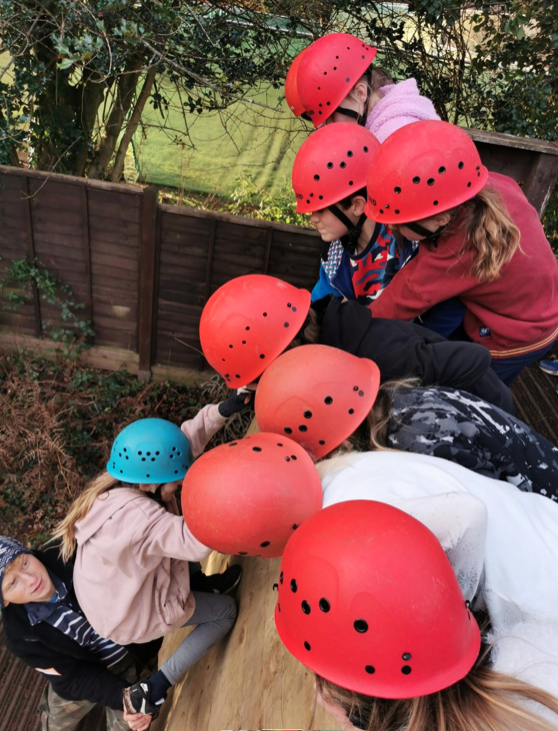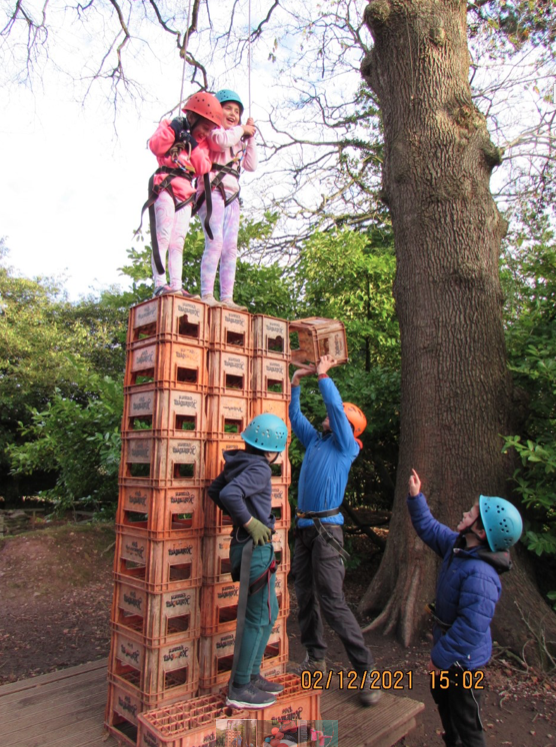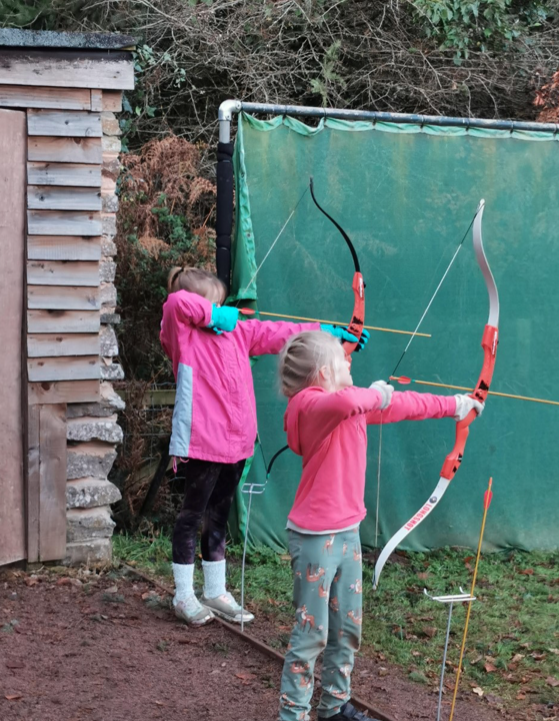 ARCHIVE POSTS
Class 4 AKPS Annual Curriculum Overview 2020-2021
Class 4 Newsletter Summer Term 2021
Class 4 AKPS Remote Learning Timetable
Term 6
Class 4 have had a super busy but absolutely brilliant summer term! We have been working hard learning all about the history of our school ready to celebrate its 150th birthday later this year! We have been interviewing (in person and on Zoom!) previous members of staff and even some of our own family members! We have written newspaper reports, diary entries, poems and even designed top trumps based on our true AK heroes!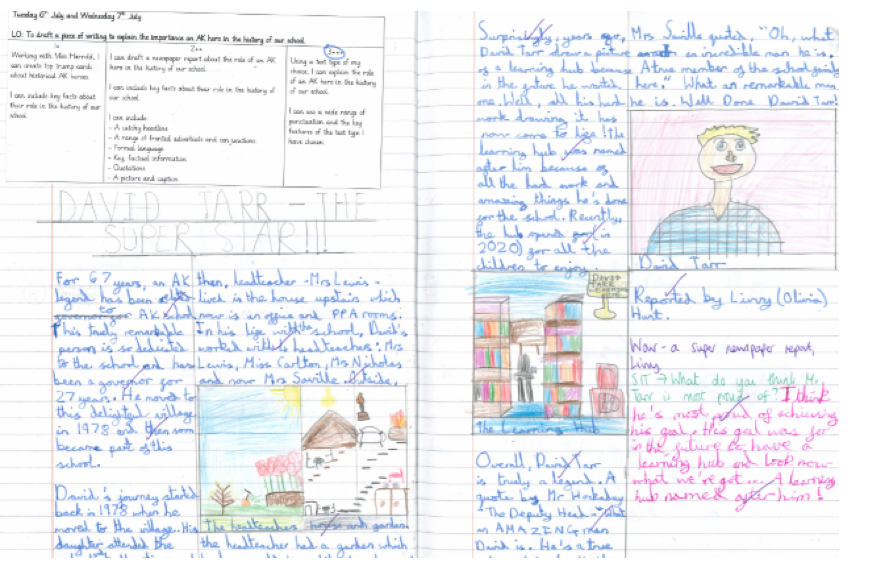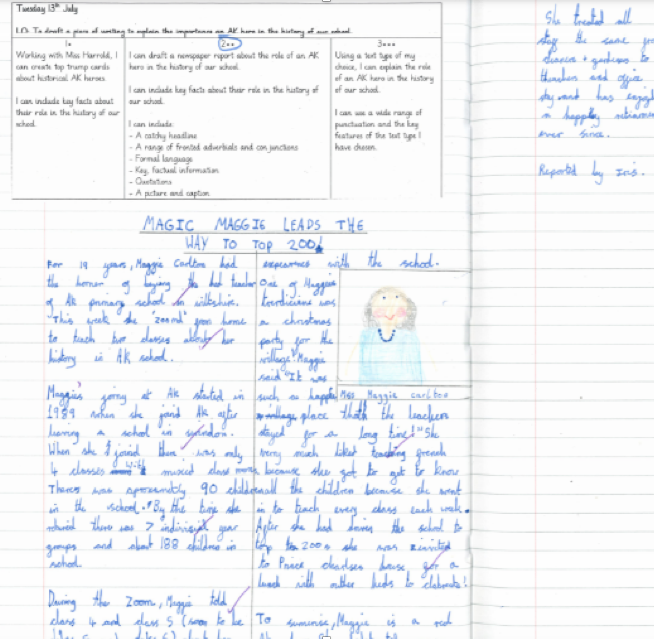 In Science this term, we have been learning all about the digestive system and the different types of teeth. We conducted an investigation using boiled eggs to see the impact sugary drinks can have on our teeth. Following this, we created some fantastic posters explaining the importance of cleaning our teeth twice a day for 2 minutes each time and to avoid too sugary drinks and foods. We also learnt about tooth decay and gum disease and the importance of going to the dentist regularly.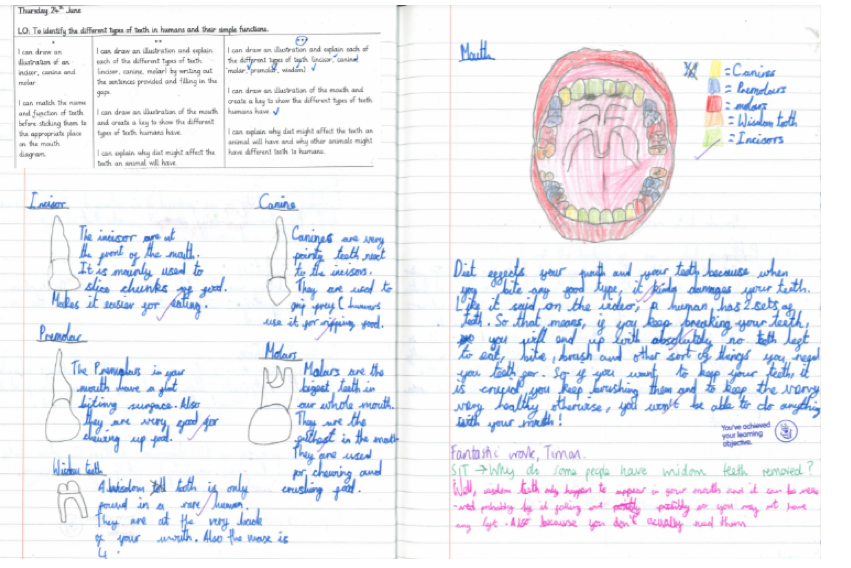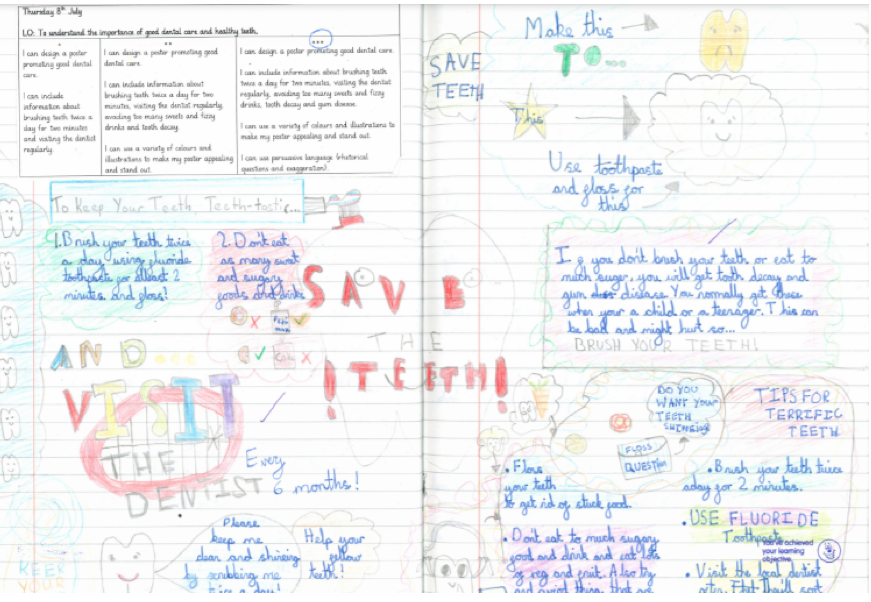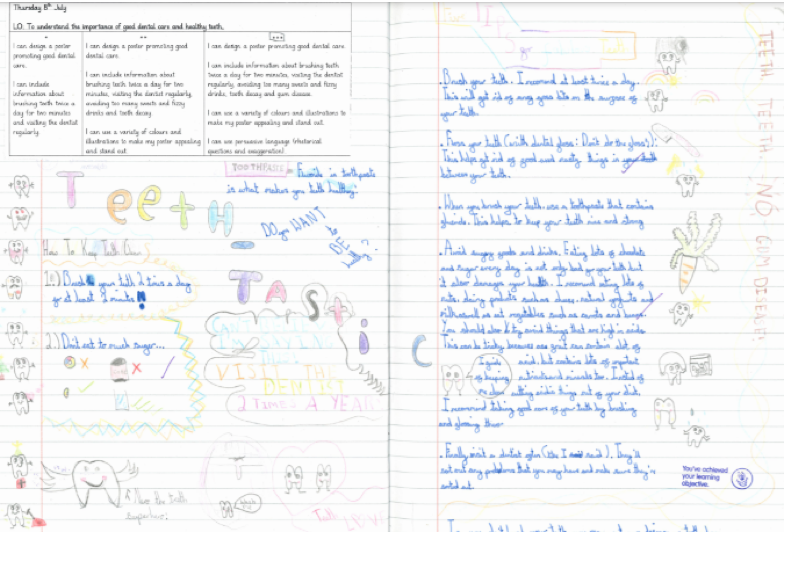 Class 4 have thoroughly enjoyed Global Advocacy Week! We have been thinking about homes around the world and what home means to each of us. We have been learning about climate change and air pollution and what we can do to help – have a look at some of our double page spreads! Finally, we have been learning about global issues with children not attending school; have a look at some of our work where we have thought carefully about how we can help to unlock education for all.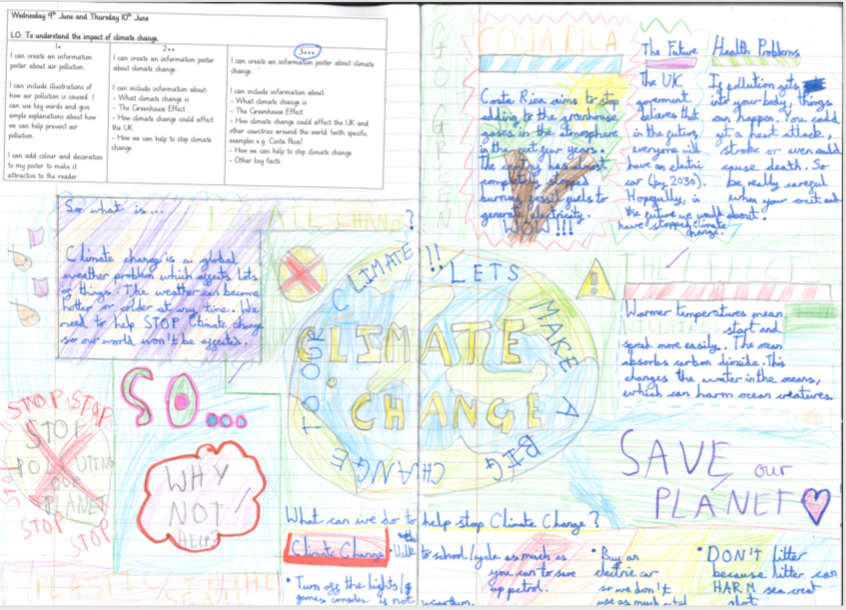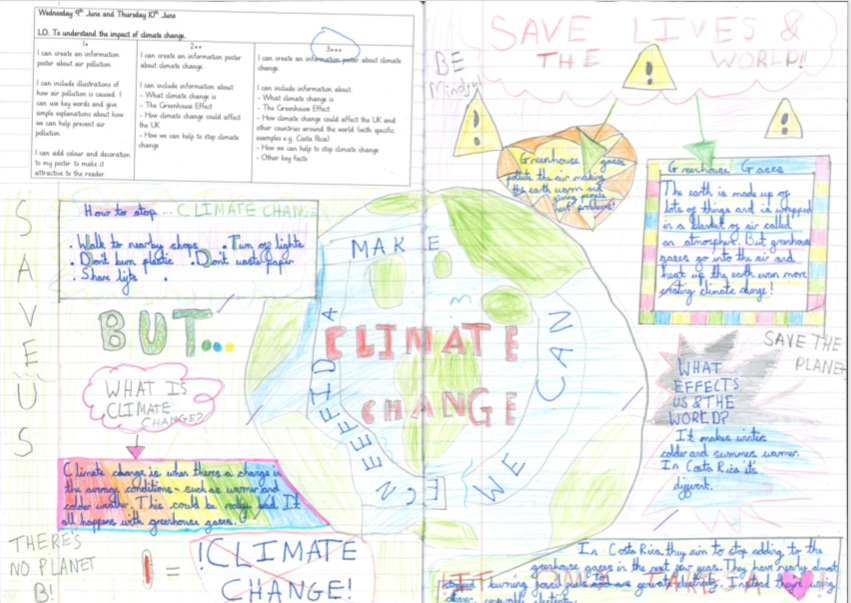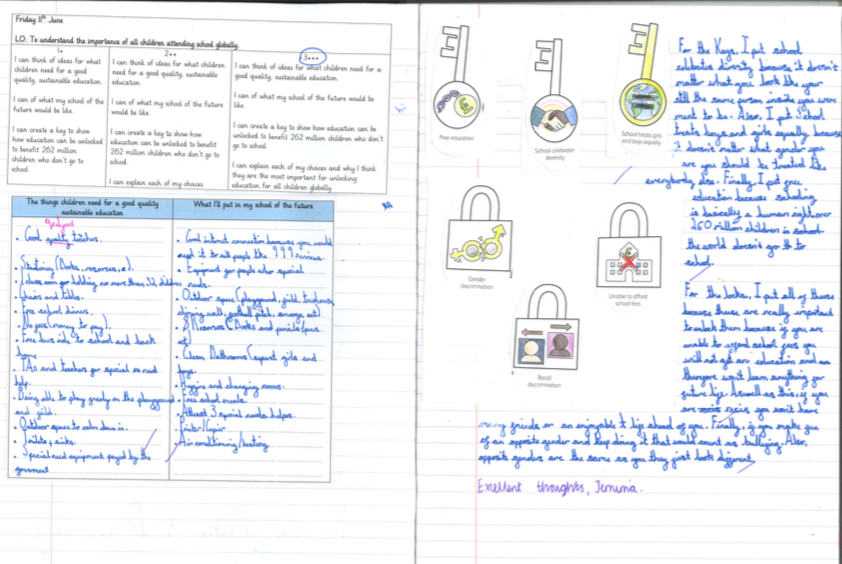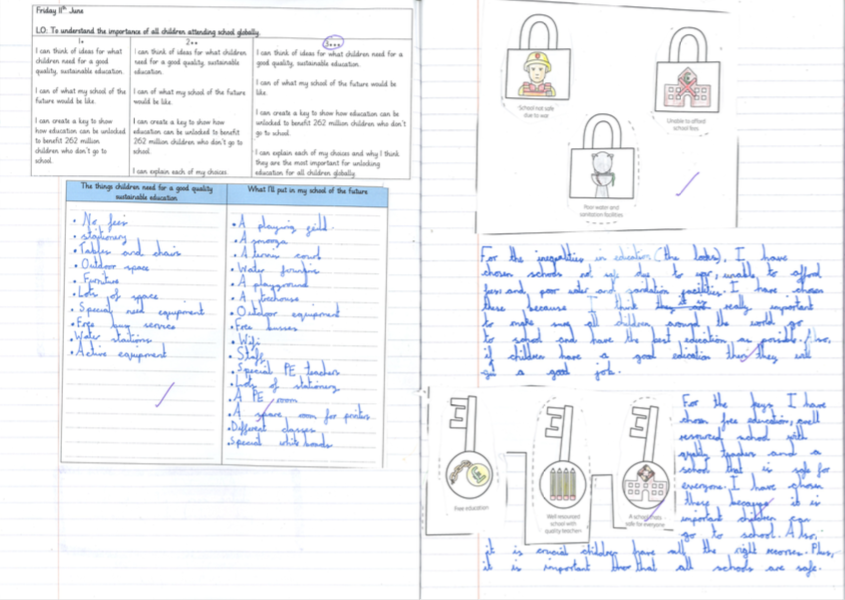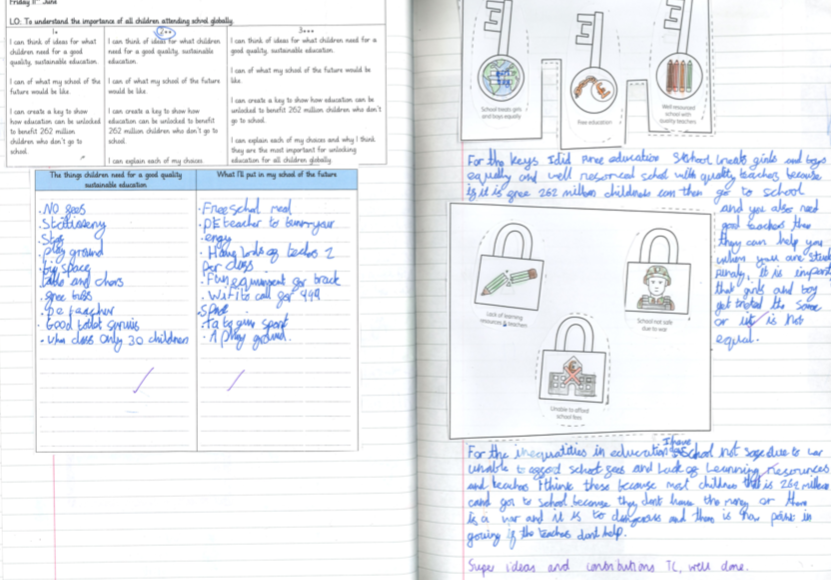 Term 3
During Lockdown, Class 4 have been working incredibly hard at home! We have become Zoom experts and have particularly enjoyed using the 'remote control' feature! In English, we have been reading the BFG by Roald Dahl. After finding out about snozzcumbers and frobbscottle, we wrote our own revolting recipes! Check out our own recipes…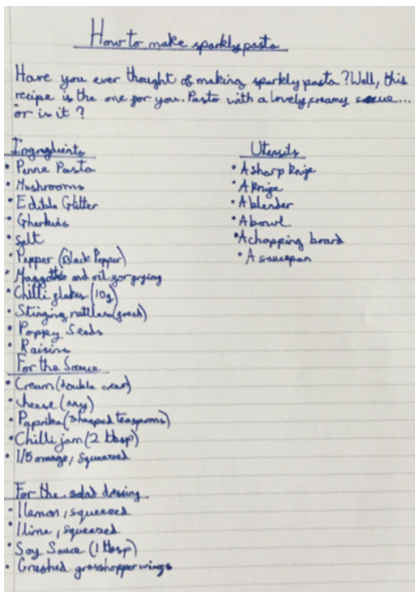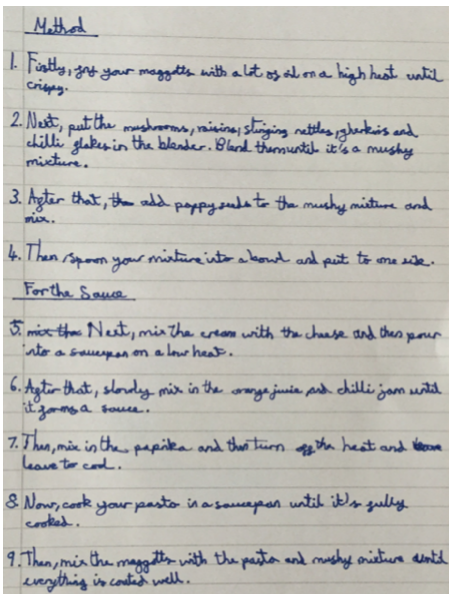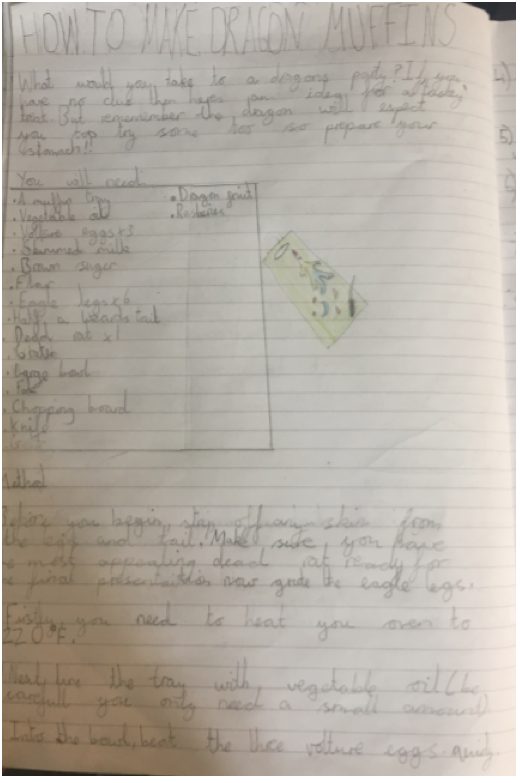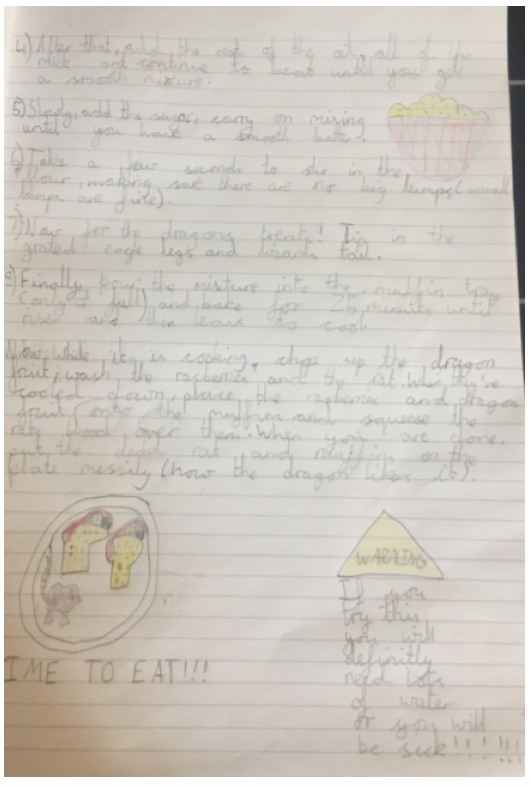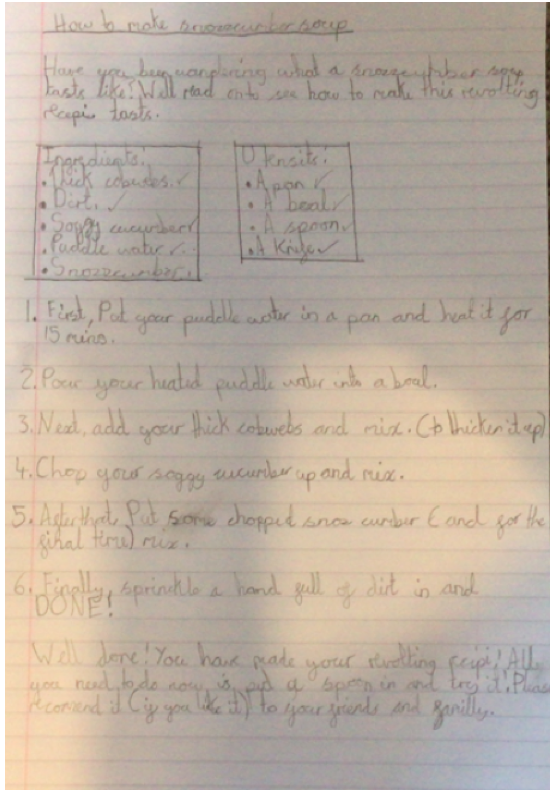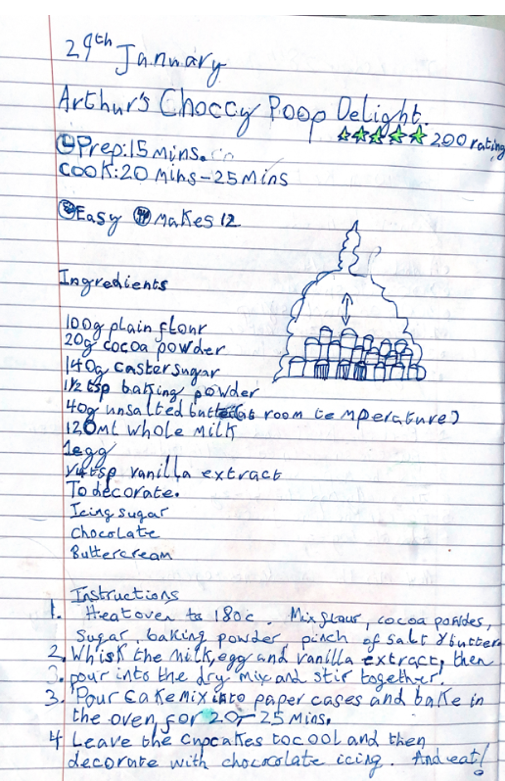 In Maths, we have been learning about how to calculate area as well as covering the four operations. 
In the afternoons, we have been working on a Fairtrade Global Advocacy project which we are going to share in class on our return to school. We are all looking forward to seeing each other's creations!
Term 2
Class 4 have had a brilliant half term! We have been working incredibly hard once again – we even managed to beat Class 5 in a Times Table Rockstars battle!  In Science, we have been investigating electrical circuits using wires, batteries and bulbs. In Geography, we have been learning all about where water comes from. We now know all about the water cycle, the different parts of a river and The Amazon. In English, we have written some incredible setting descriptions based on the orphanage in the book 'I Was a Rat' by Philip Pullman. We have been focussing on using rich vocabulary and other descriptive features. We have also been publishing newspaper reports based on the adventure Roger the rat has been on!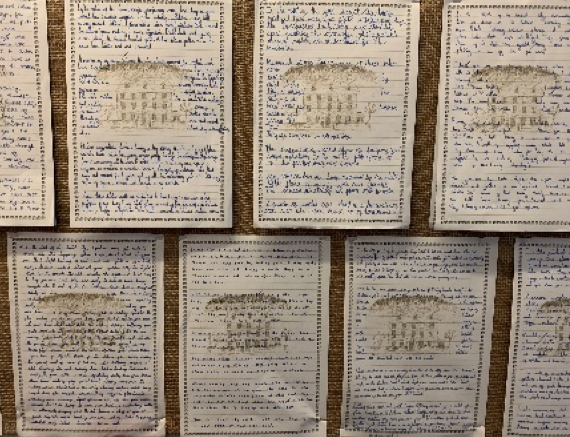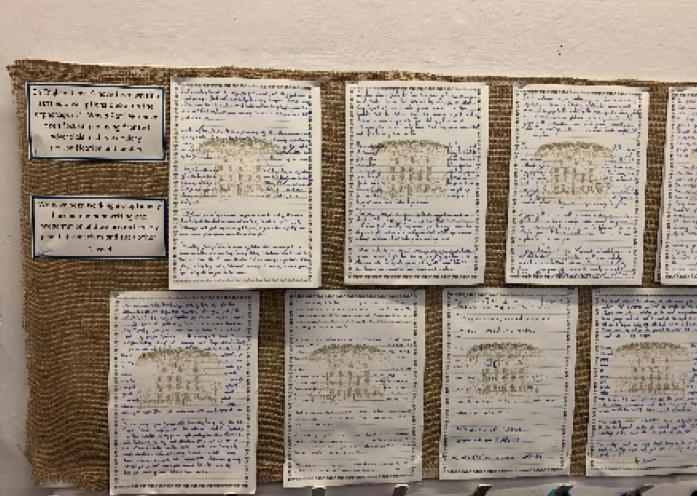 Where does water come from?
This half term we have been learning all about water. We have been working incredibly hard on producing detailed diagrams of both the water cycle and the main parts of a river. Have a look at some examples of our incredible work!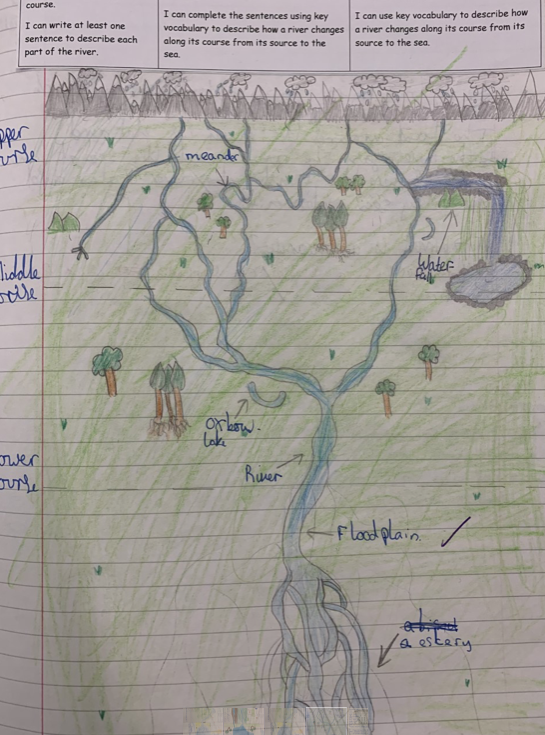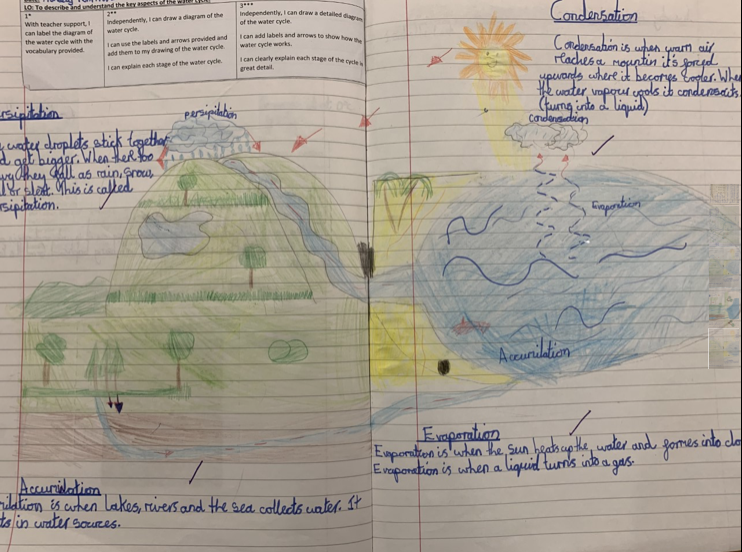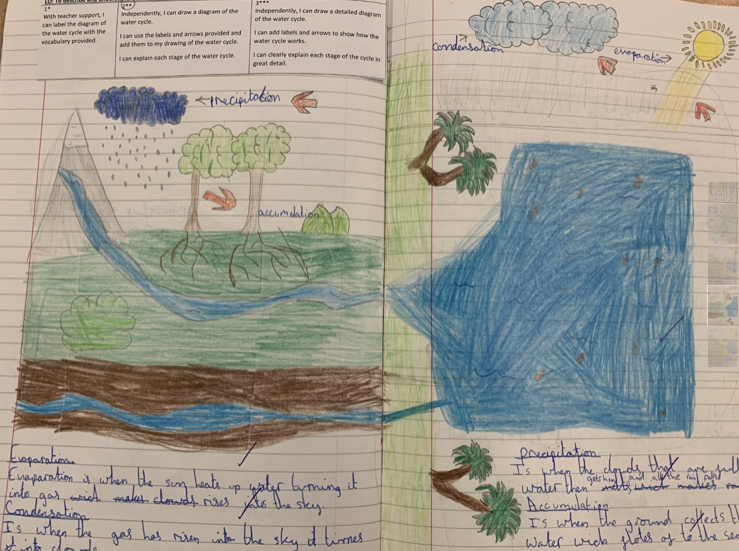 In English, we have been reading Philip Pullman's I Was a Rat. We have written newspaper reports, flashback narratives and setting descriptions. Have a read through some of our setting descriptions of the orphanage that Bob and Joan took Roger the 'rat boy' to visit. However, as they approached they decided not to enter…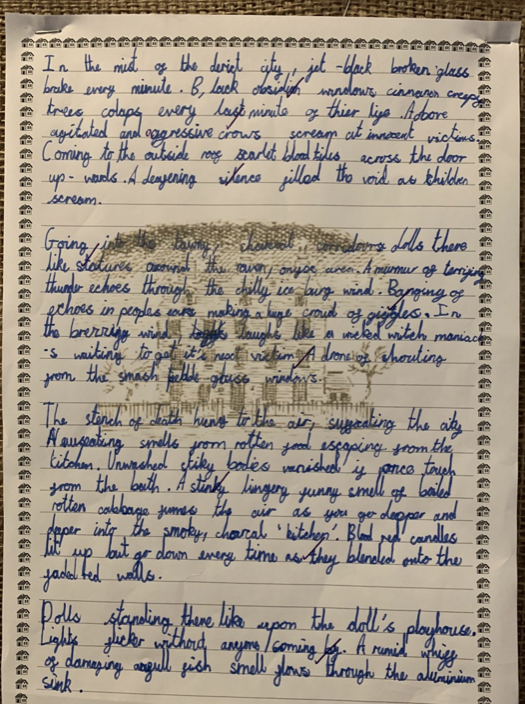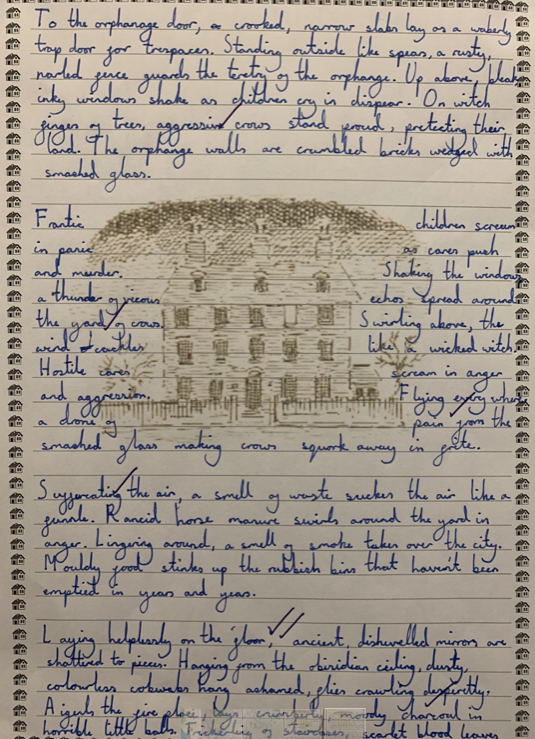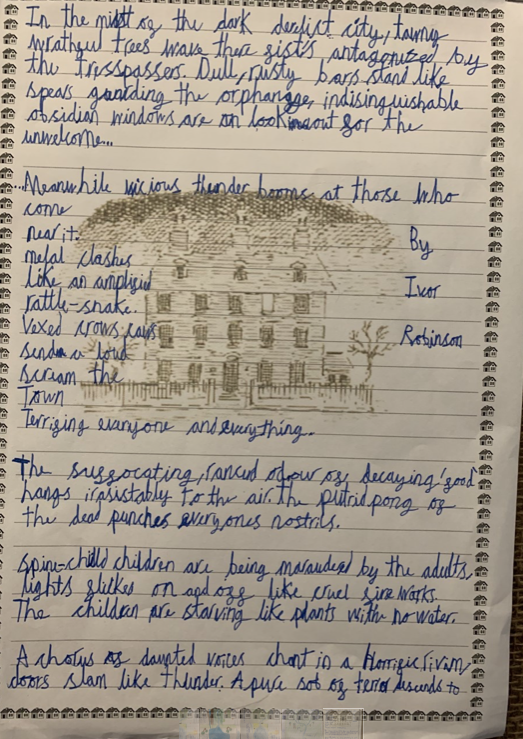 Term 1
Class 4 Newsletter Autumn Term 1 2020
Class 4 Term 1 Homework Brochure
How can we prove Ashton Keynes has changed over time?
As part of our 'How can we prove Ashton Keynes has changed over time?' Geography and History topic during Term 1, we went on a walk around the village to look at historical buildings that may have been used differently in years gone by. We have written letters to local residents to try and find out more information about their properties. Our letters were incredible; we have been working so hard on our handwriting and presentation. We had some amazing replies from local residents and found out lots of very exciting information about our community.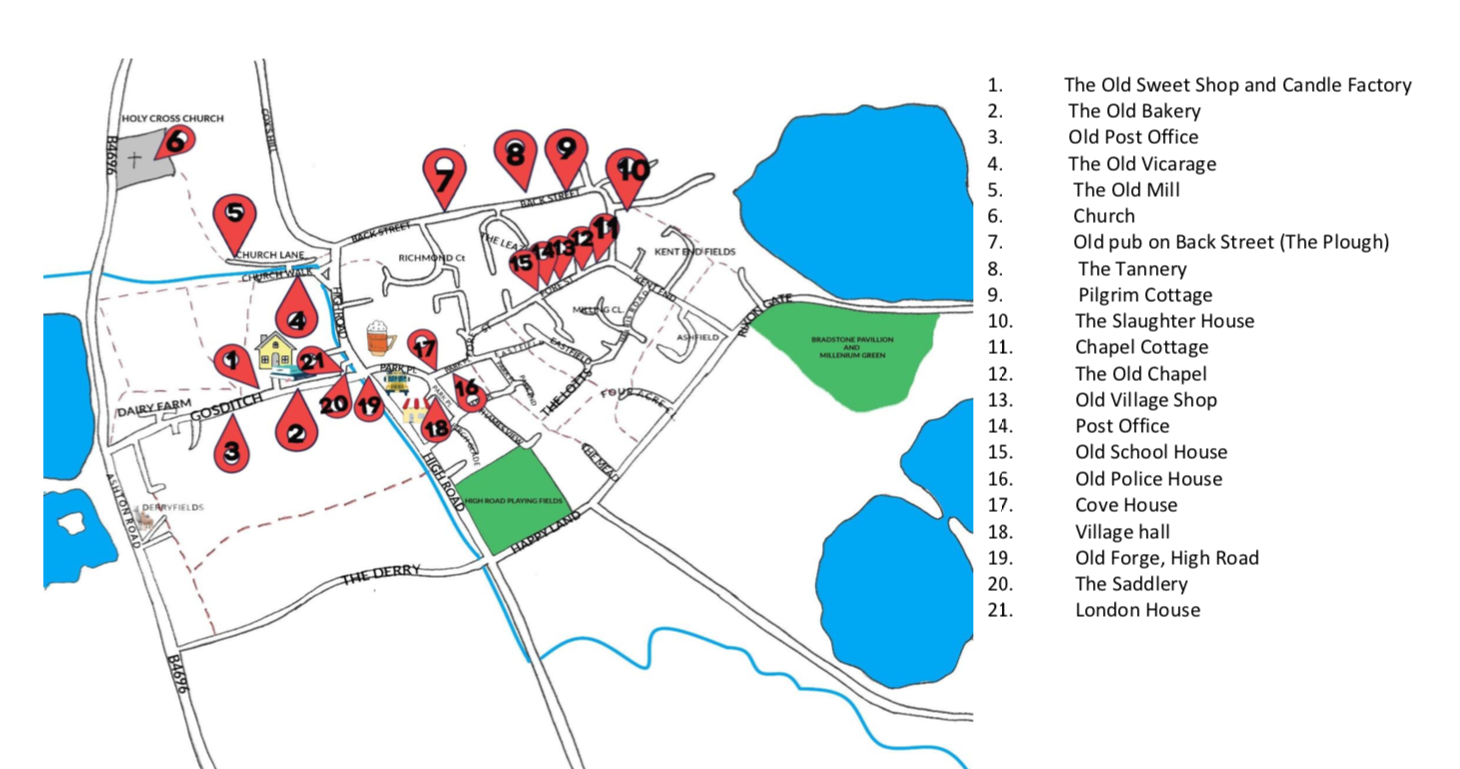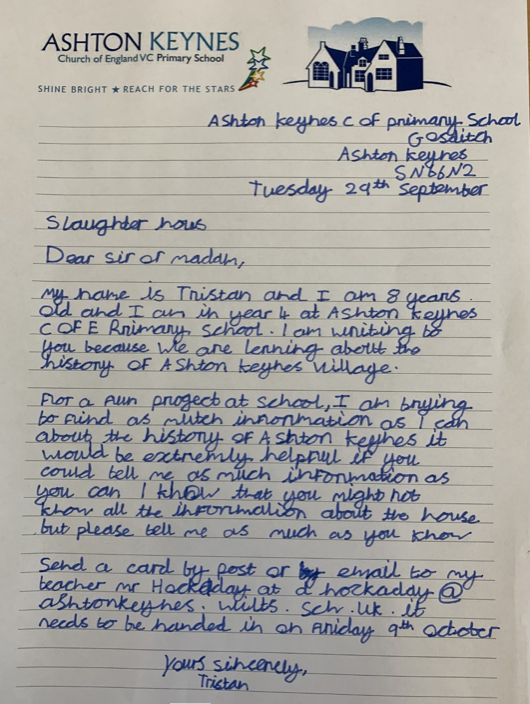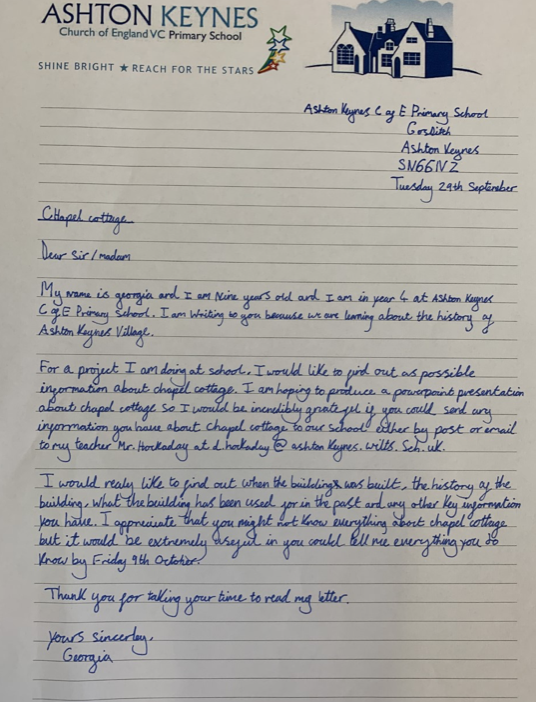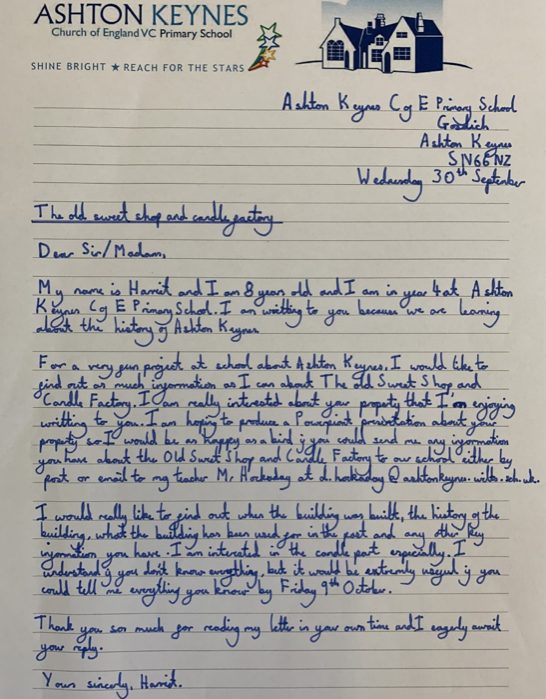 Forest School
We have been thoroughly enjoying our Forest School sessions with Mr Jackson. So far in Year 4 we have made willow fences and dens in small groups. We are looking forward to our Forest School treat with Mr Jackson before Christmas!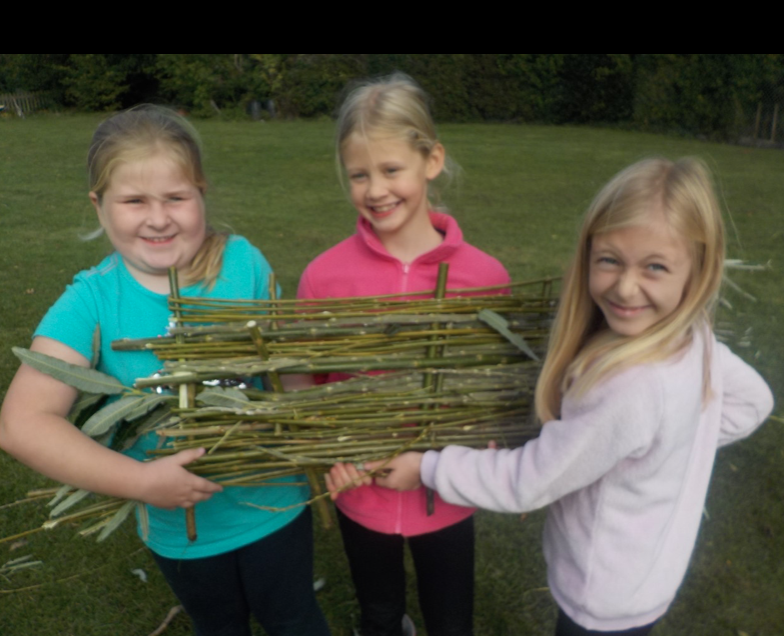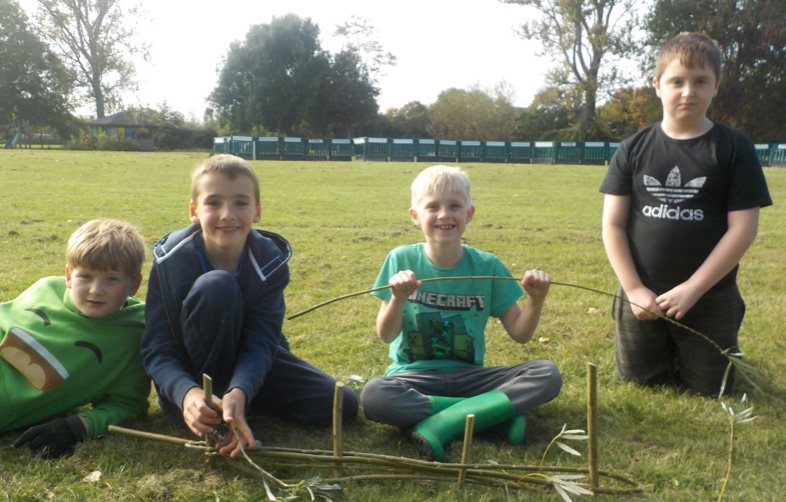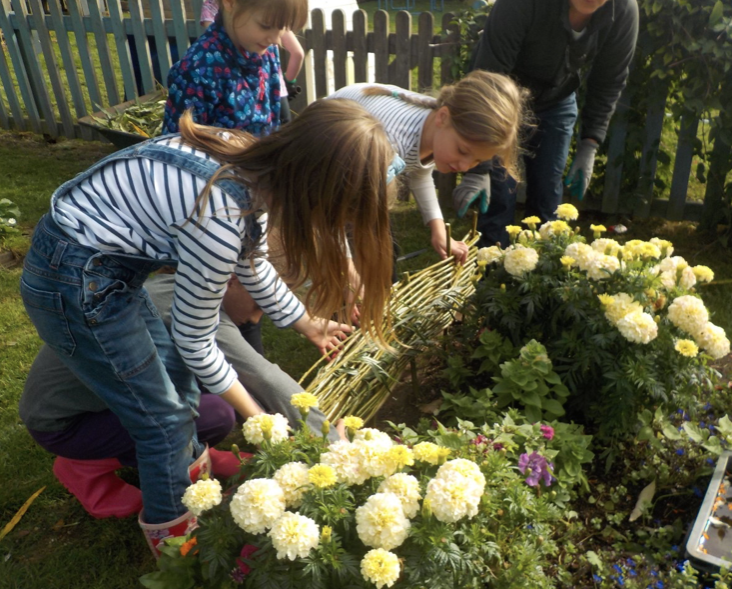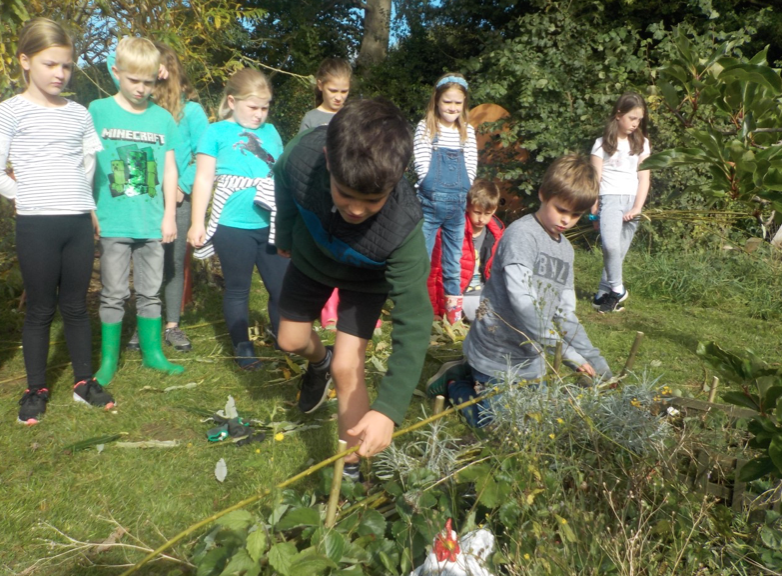 ARCHIVE POSTS 2019-2020
Class 4 Annual Curriculum Overview 2019-2020
Class 4 Term 5 Remote Home Learning Timetable & website Links
Class 4 Term 6 Afternoon Tasks
Term 6
This week we were lucky to be able to meet in school in pods of 15 to have some time together as a class. We created dragon eyes using clay and this was such a wonderful wellbeing activity, all of the children were smiling, catching up with each other and spending some much needed time together. It was such an uplifting day for us all and we all loved it! 🙂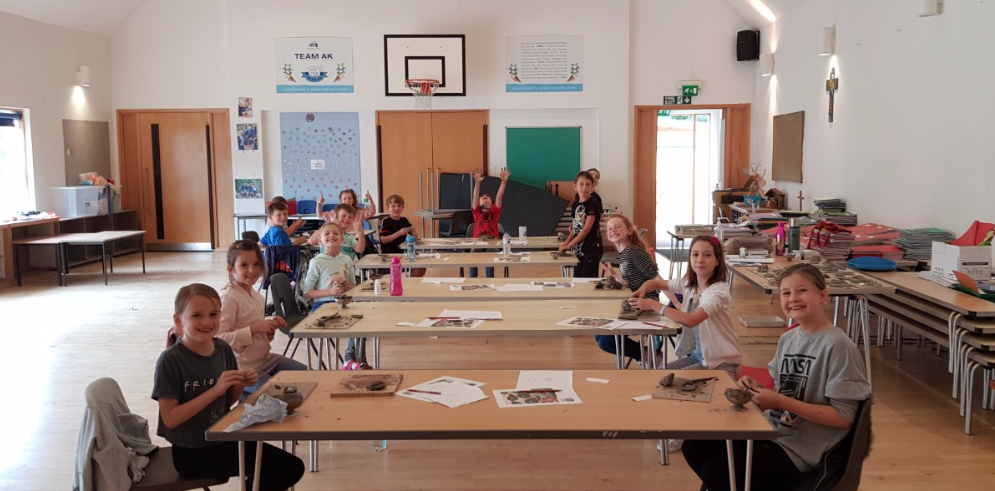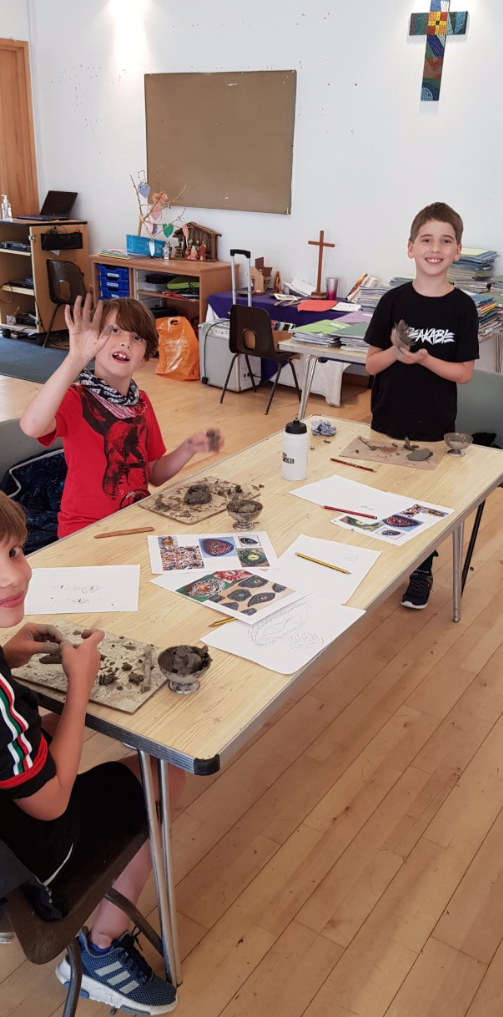 Our Home Learning challenges this term are linked to Awareness of our World and encourage the children to look into global issues, research them and find ways to help people all over the world. Bessie chose to research Fair Trade and where chocolate comes from. She wrote a Haiku poem linked to chocolate and Fair Trade and I am blown away by how thoughtful and heartfelt her poem is.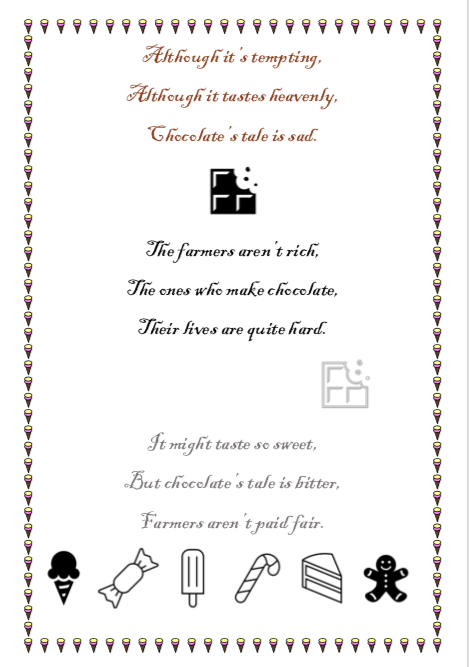 As part of our home learning afternoon work, the children were tasked with creating their own 'Frieze' based on the 'Big Story' of Jesus. We have our own frieze in school and it is absolutely beautiful and where Benj has taken his inspiration to create this work of art! Well done Benj, you have captured most of the important parts of the Frieze and Jesus' life.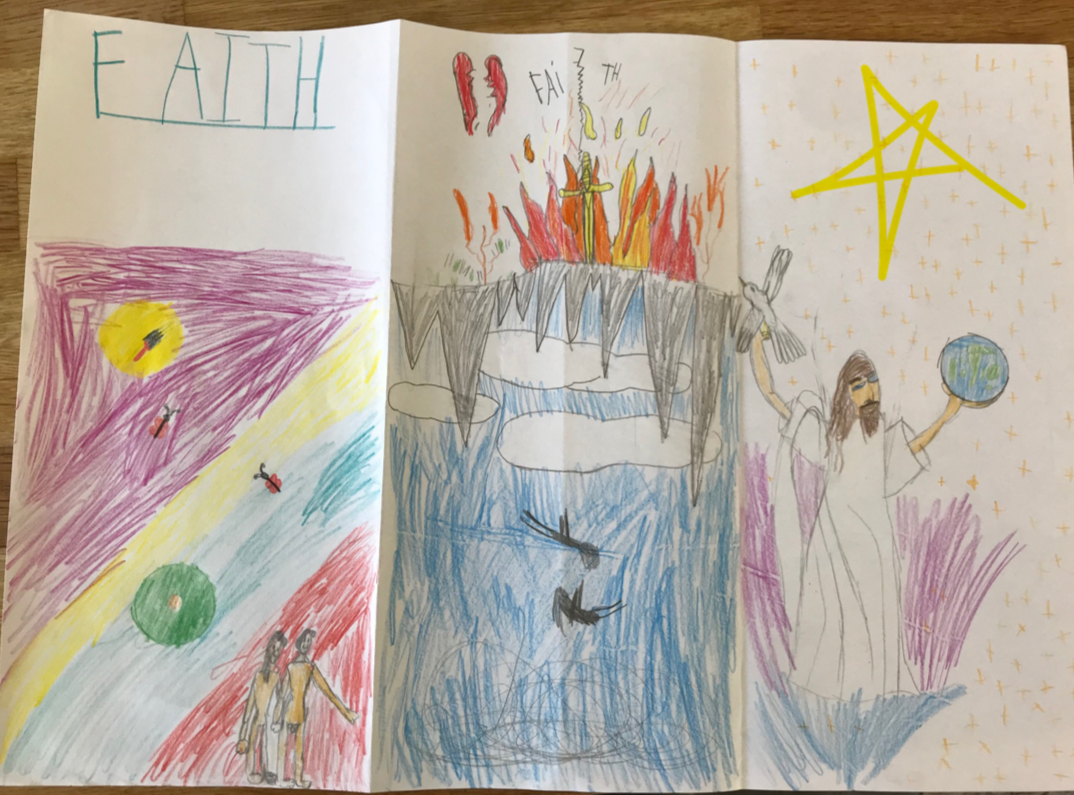 Our Home Learning Literacy topic was based on the short film 'Ruckus'. We learnt all about Jesse and Frank the jewel thieves in the Wild West. After writing detailed character descriptions and challenging ourselves to include expanded noun phrases in our writing, we all created a WANTED poster on one of the brothers. We even used tea bags to stain them and ripped them to give them an authentic look. 
The children then chose a member of their family to create their own WANTED posters – here are a few examples – they are brilliant!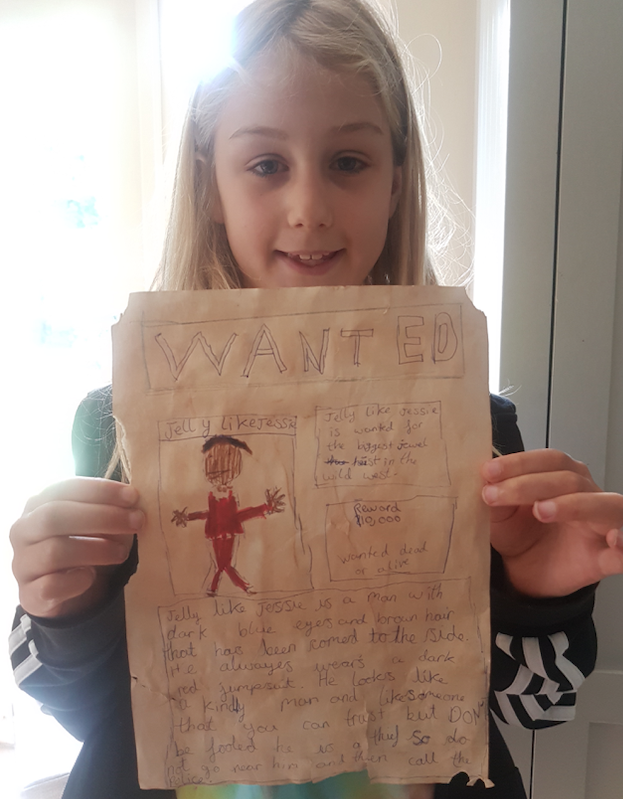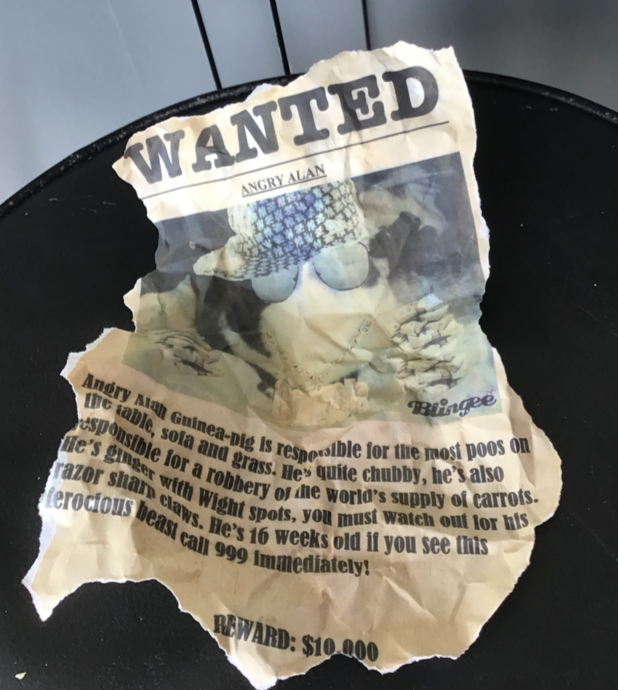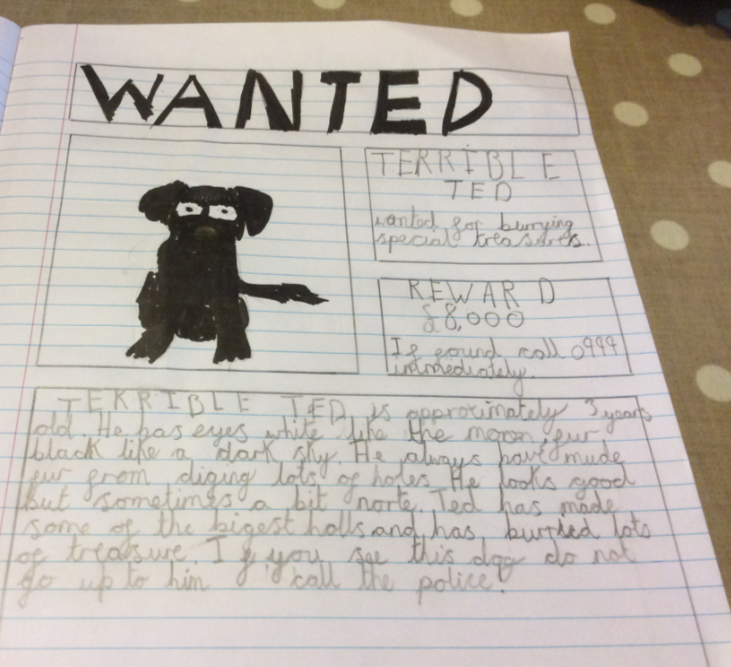 Term 5
Class 4 Term 5 Afternoon tasks
Joel has worked so hard this week making a news article about some of his friends in lockdown. He completed this independently and contacted his friends to complete the news article. I love the use of ICT and how he has included photos of his friends. What a fantastic idea! Well done Joel😄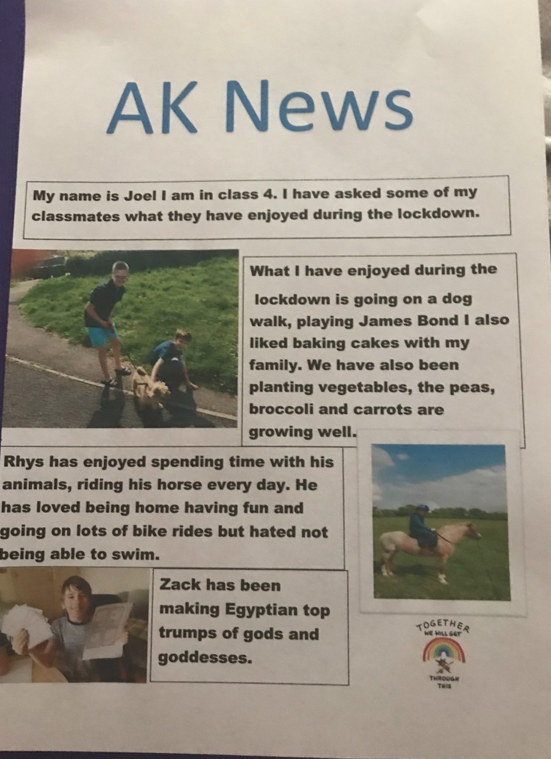 As part of the Afternoon Tasks, JB has been learning a new life skill during lockdown and has helped cook a meal for his parents. It sounds absolutely delicious! The time taken to present his instructions shows how hard JB has been working at home during the school closure – he is a super shiny star! 
Click here to read about JB's new cooking life skill, it includes the tasty recipe so you can try it for yourself!
Mattie has been writing some beautiful poetry in her home learning and after the change of weather I suggested she use this as her inspiration. She focused on a raindrop and used her figurative language to really describe the droplets in detail. I gave Mattie a list of poetic devices to include and she managed to use them all so well! How many can you spot in her poem?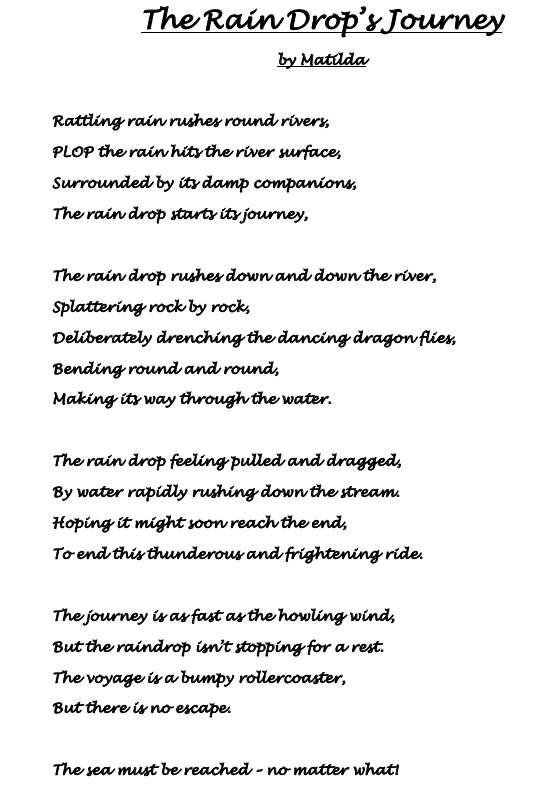 As part of our topic on the Ancient Egyptians, Zack has designed and created his own world map and has identified all of the continents and Egypt on it too – it is so creative and unique! What a fantastic piece of home learning 🙂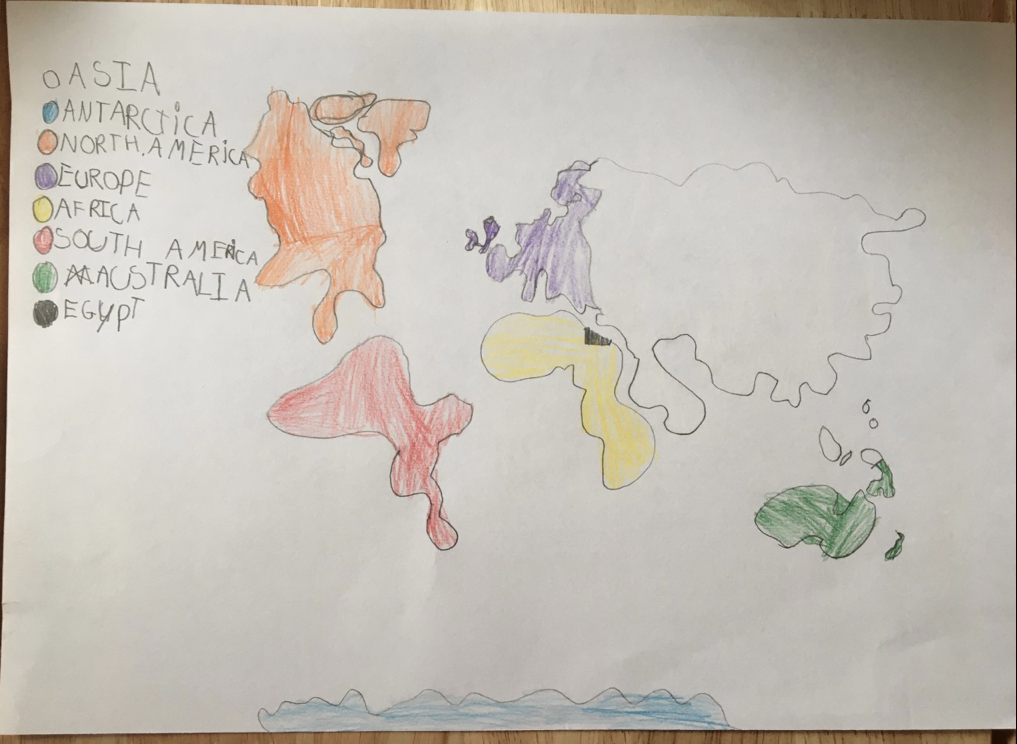 Class 4 have been working so hard at home over the past couple of weeks. I have been so impressed with their attitude to their learning and their determination to continue their education. They have worked really hard on their Maths, produced some beautiful written work as well as been incredibly creative in their afternoon projects! Here are a few examples of their amazing work. Keep it up Class 4!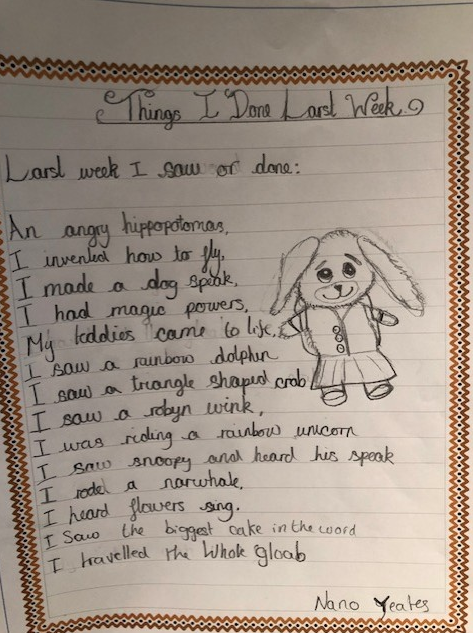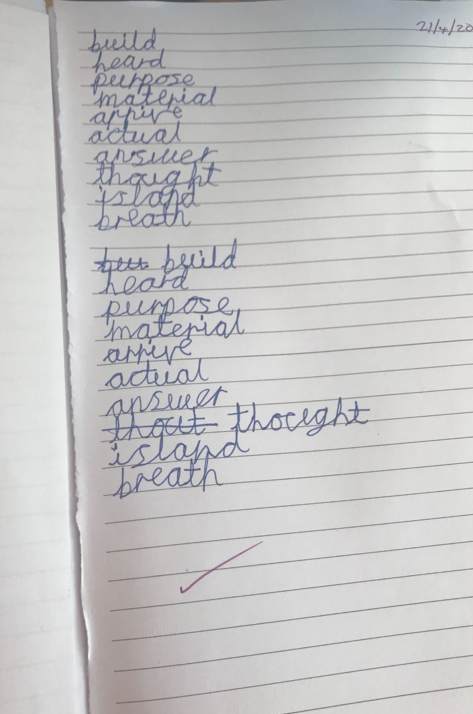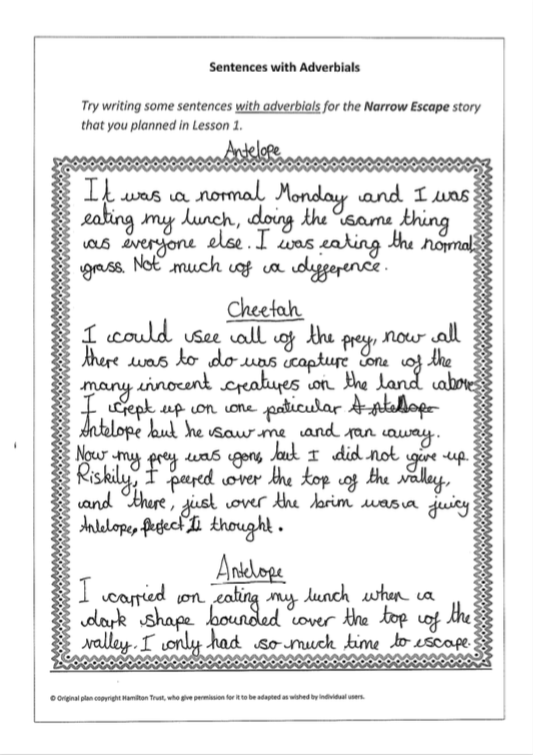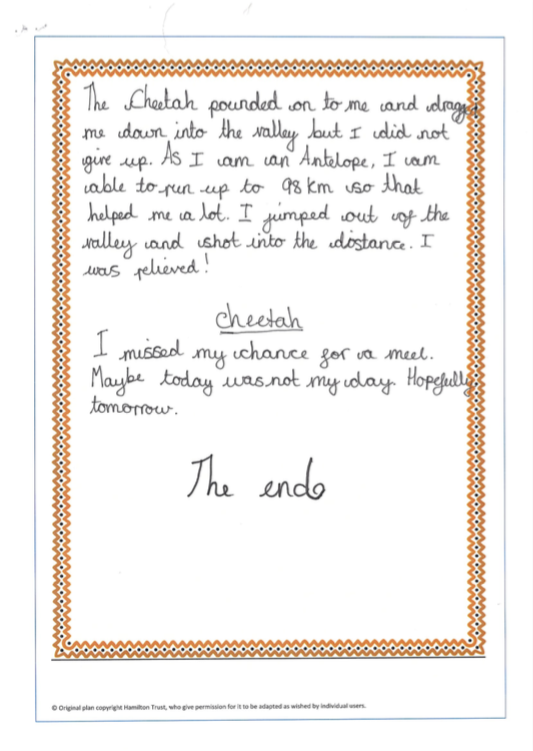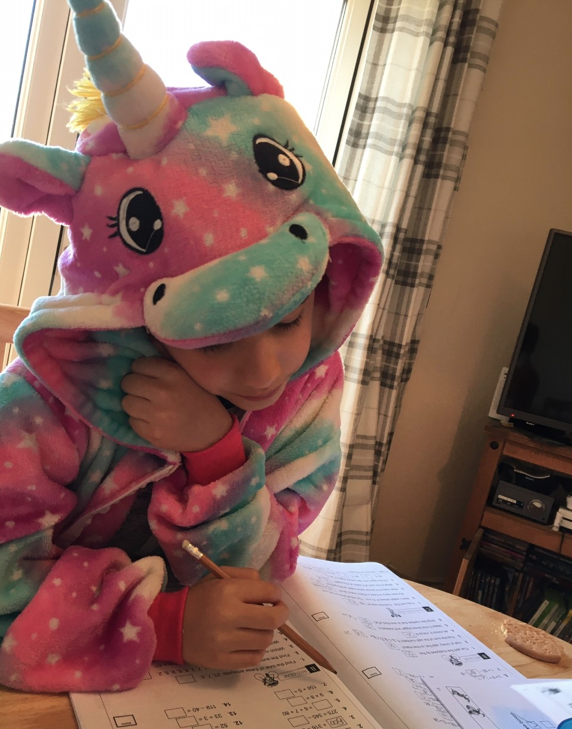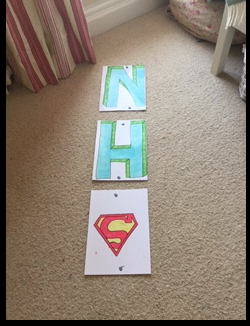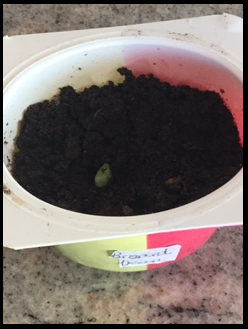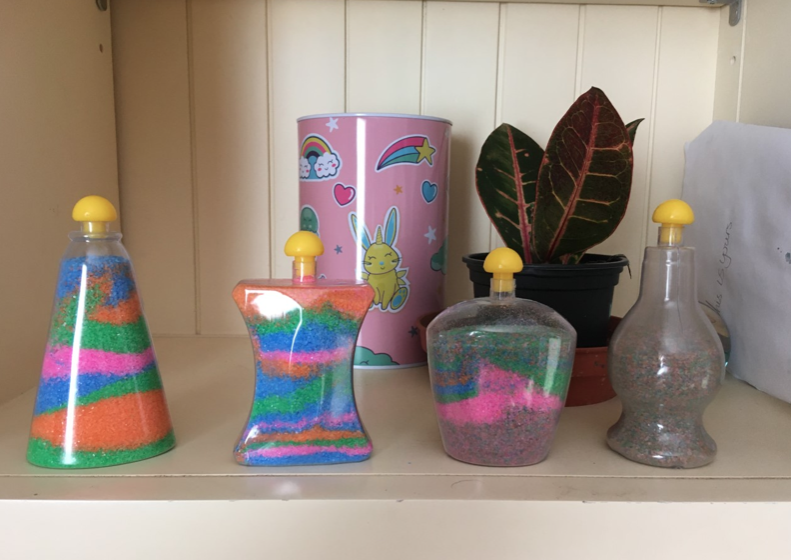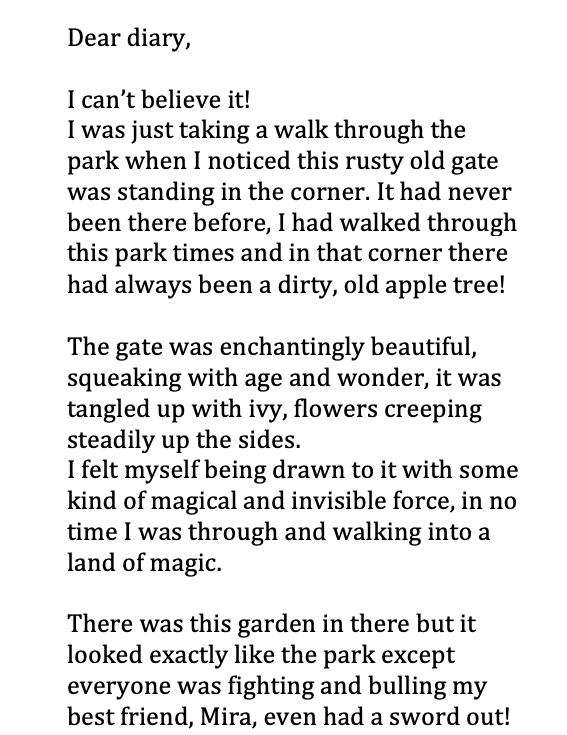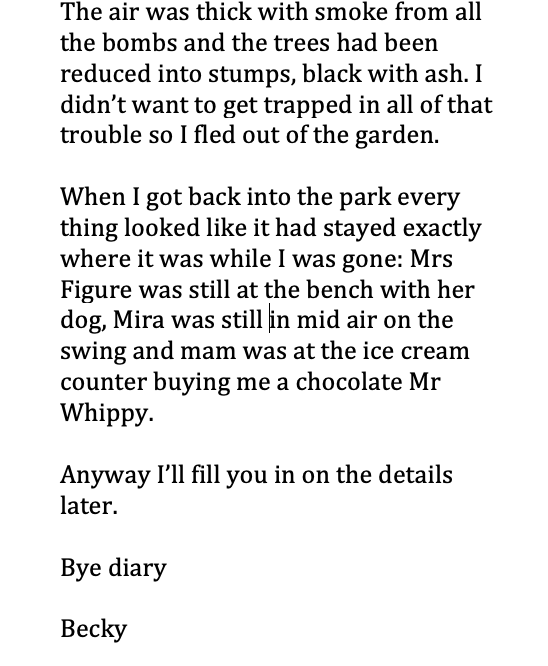 Term 4
Bessie in Class 4, along with her mum, created this incredible stop motion video of a discovery of an Egyptian tomb! Bessie did lots of research about the Ancient Egyptians and made all of the props and artefacts as well as writing the amazing script. She also added music to create tension and suspense. It is a brilliant piece of work and shows just how shiny our children (and their parents) are and how they are all working incredibly hard during this unprecedented time. Keep shining brightly AK! 🙂 
For Science Week our Class 4 Science Leaders, Edie, Nano and Darcie, chose to create 3D art work to highlight the importance of biodiversity in our world. We watched a video explaining what biodiversity is and how it represents the total variety of life on Earth. The Science Leaders then split the class into difference zones based on the different landscapes around our world. We had deserts, oceans, meadows, rivers, frozen world, jungle and cities. Using a range of materials including paint, chalk, tissue paper and pencils, each group had to create their landscape to then put together to show the how diverse our amazing planet is. It turned out even more amazing then we could have imagined and we were so impressed with the whole class.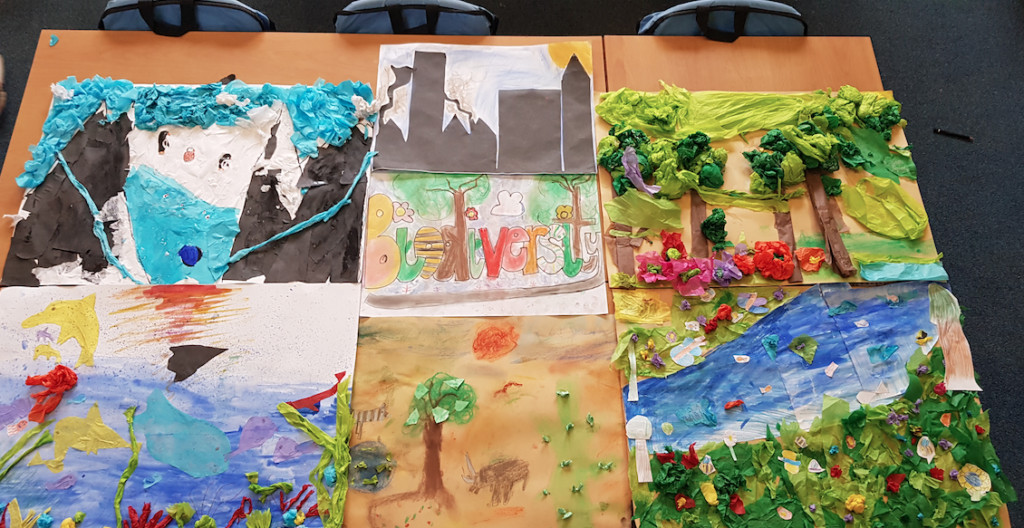 On Tuesday 3rd March, Class 4 visited Cheltenham Synagogue. It was a brilliant trip where we were able to see all of the objects significant to Judaism including the Torah Scroll, menorah and the Ever lasting light. Some of the children were invited up to the gallery where the women sit during services. We absolutely loved the trip and having the opportunity to see the importance of a synagogue to Jewish people and listen to the stories from the religion. The children of class 4 were incredibly well behaved, we were so so proud of them. They sat beautifully in the 200 year old benches, asked thoughtful questions and were so respectful throughout the visit.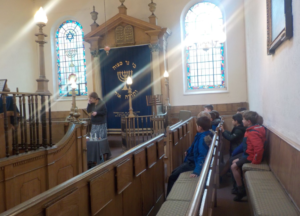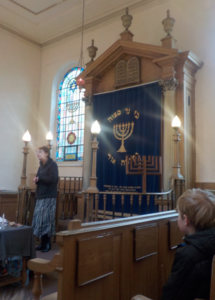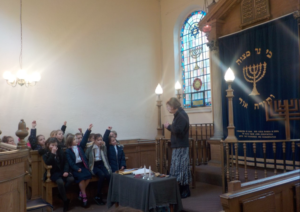 Term 3 
Class 4 Term 3 'Arthur and the Golden Rope' Homework brochure
Rule 9 words ending sure and ture
Rule 10 words endings sound like shun
Forest School (written by Class 4!)
Today (05/02/20) we tidied up the school field and Forest School area. We used all recyclable materials to make new bug hotels and bird houses. We even used an old watering can to make a nest for a robin! 
  We made a bug house using dry leaves, grass, old tubes, sticks, straw and mud to make it a natural home so lots of different bugs and insects come to live here. 
  We even found an old bees nest with eggs in their casing so we moved them to a safe new bug house to make sure they grow nice and strong. 
Not only this, we also had a team of us rolling the compost sphere to mix it all up, empty it out and make fresh compost. 
We had the best lesson ever!!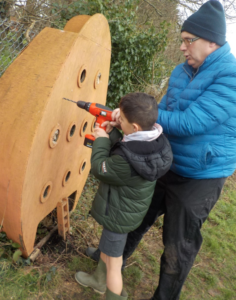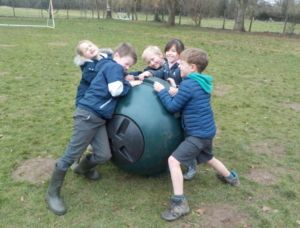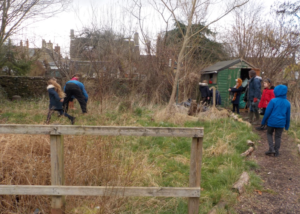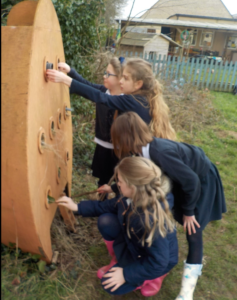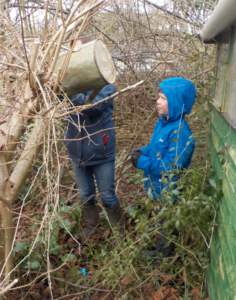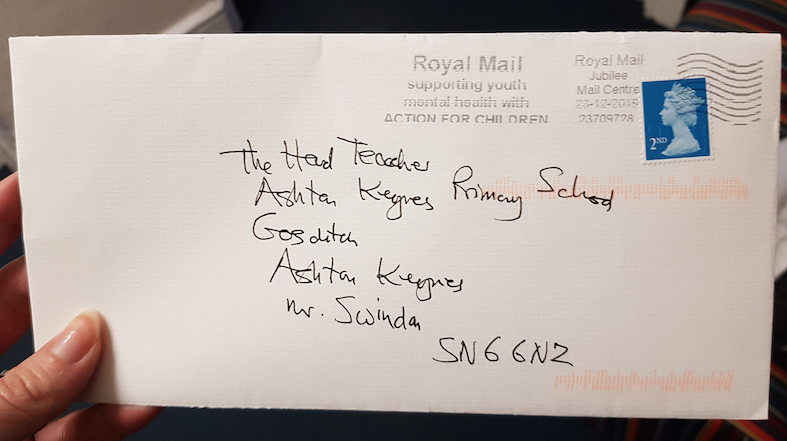 2020 started off in the BEST way for Class 4! We received a letter from Sir David Attenborough in response to our letters about climate change! We were over the moon to receive this letter. The envelope was handwritten by Sir David and he even dates and signed off the letter in his own handwriting. We are so proud of ourselves and so excited. It is lovely to read that so many children are writing to Sir David that he doesn't have time to respond to them all individually, however it is really kind of his team to respond on his behalf. This just shows everyone can make a difference! 
Term 2
Class 4 Term 2 'It's Time to Make a Change' Homework Brochure
The class all wrote to a big company to ask them to reduce their emissions and greenhouse gases and Jacob has just had a response from Land Rover! They also sent him lots of goodies including a lanyard, pen, heat patch and key ring!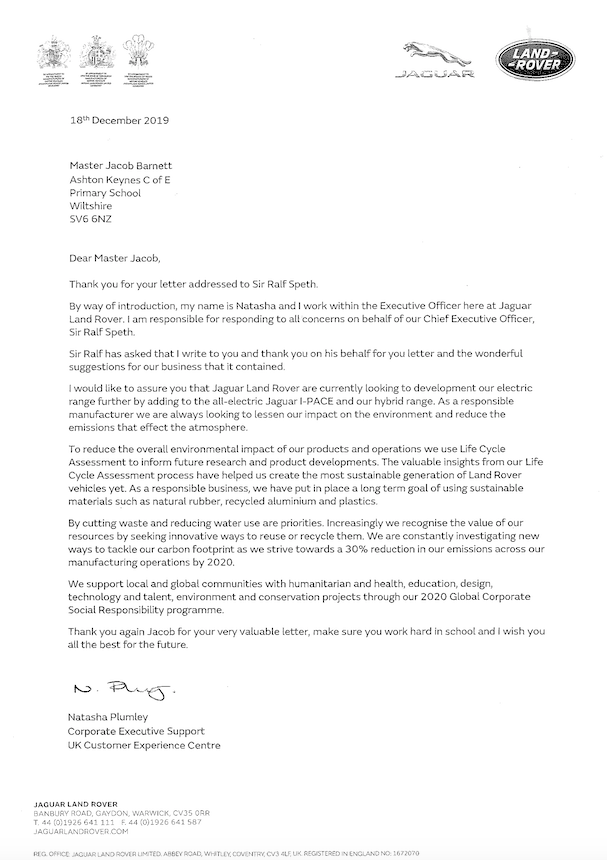 To complete our topic on Climate Change, Class 4 were tasked with writing to some of the biggest companies in the world about their greenhouse gas emissions or something important to them. Each child wrote a fantastic, respectful letter and many offered top tips and advice on what to do next. The whole class have become global warriors and we could not be prouder of them all. Mattie even got a response from Tesco outlining their plans to reduce their plastic and make all of their plastic fully recyclable!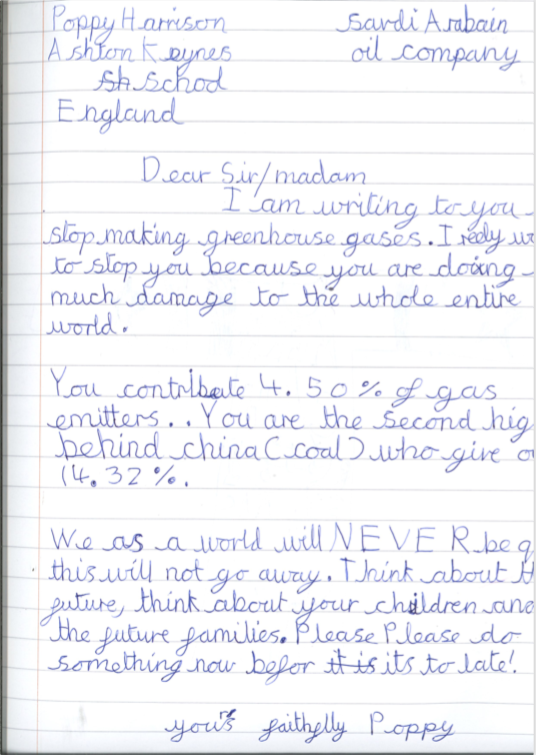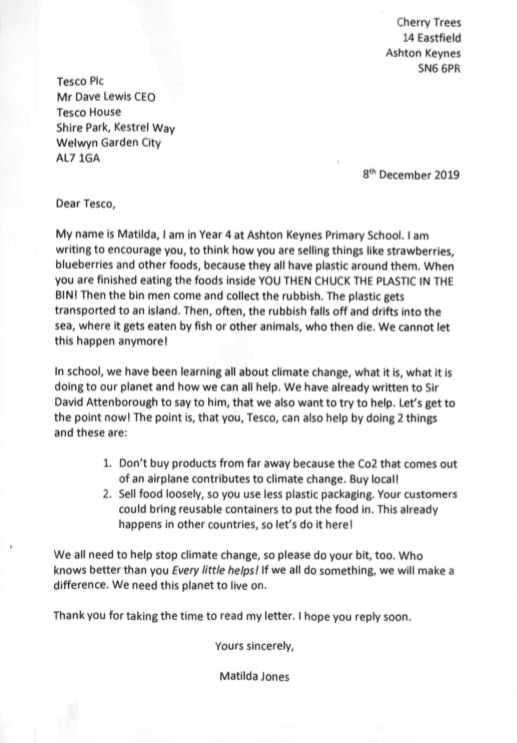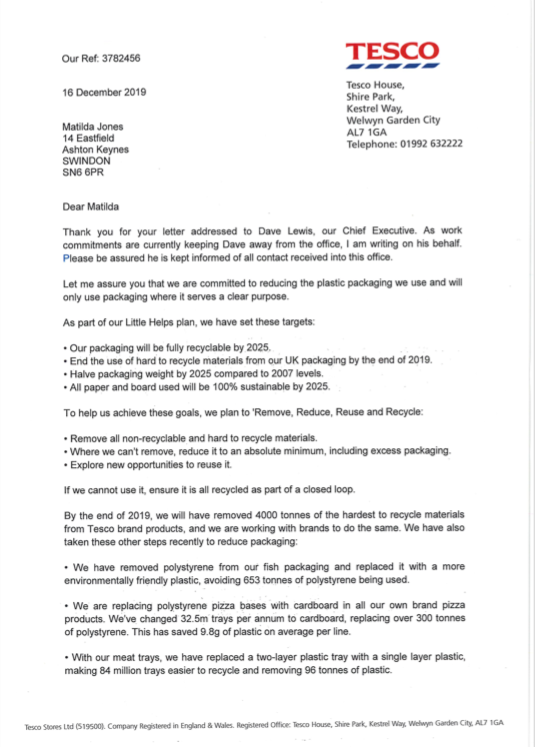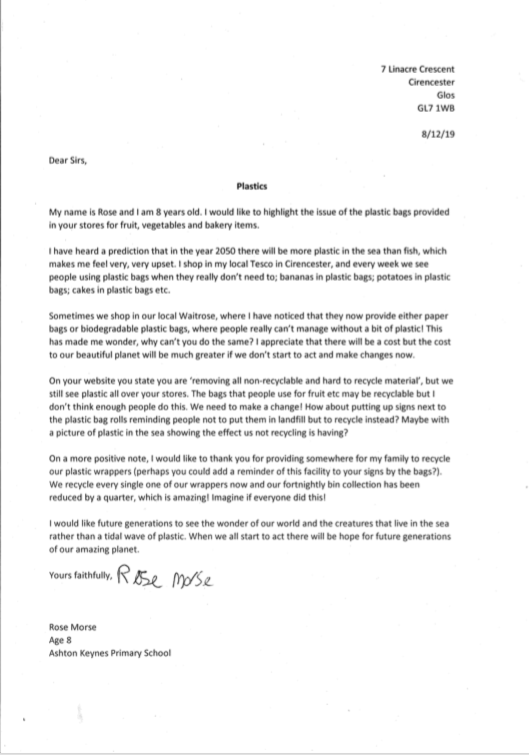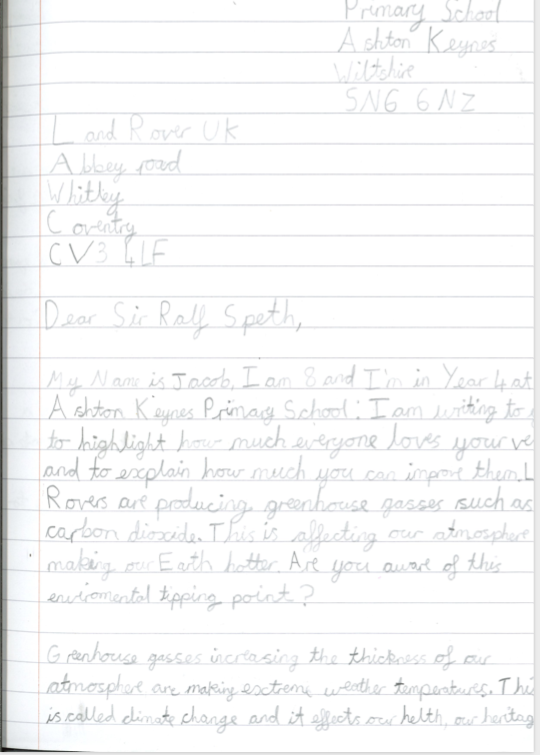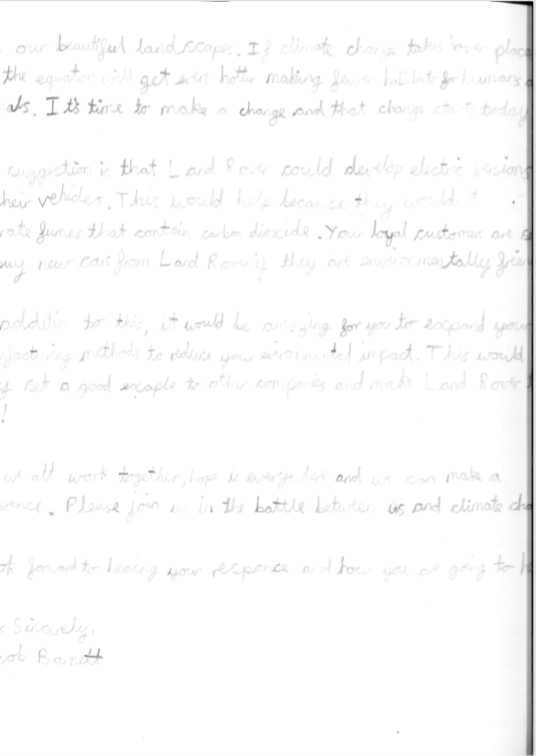 Class 4 completed their 'hot task' today  (13/12/19) in Literacy. We have been learning all about climate change in the form of non-chronological reports all term, we wrote one without any input at the very start of this term on blue paper, and then another at the end of this term on yellow paper to show our progress. Take a look at these examples, they are FABULOUS and show just how hard this superstar class have worked all term. Well done class 4!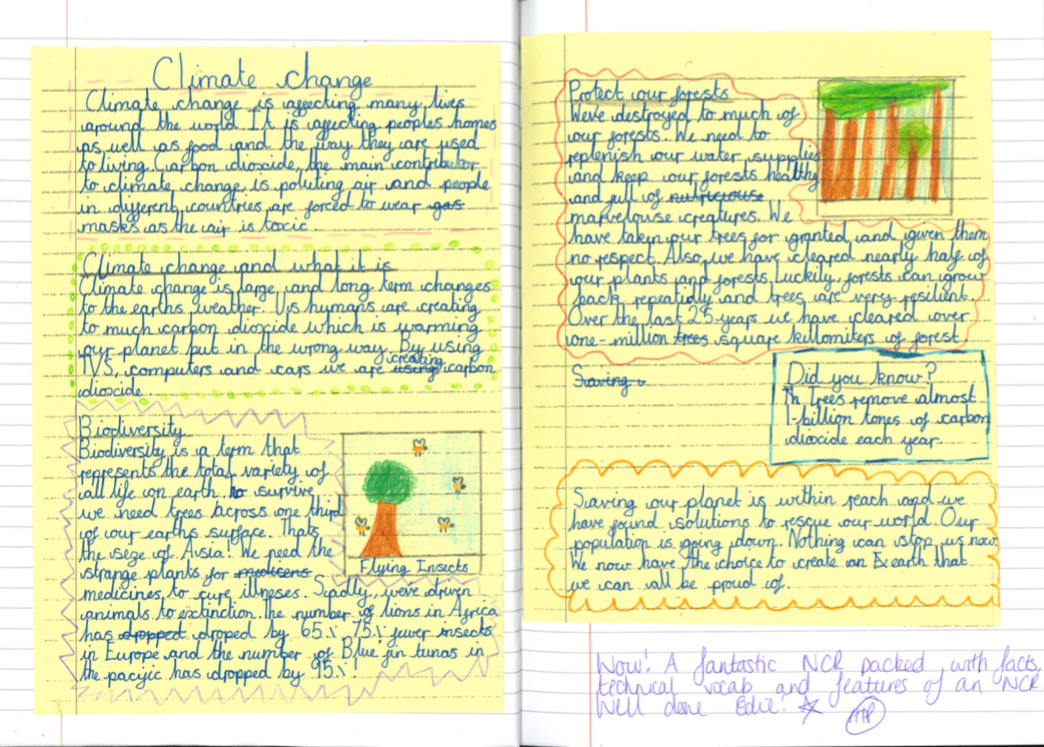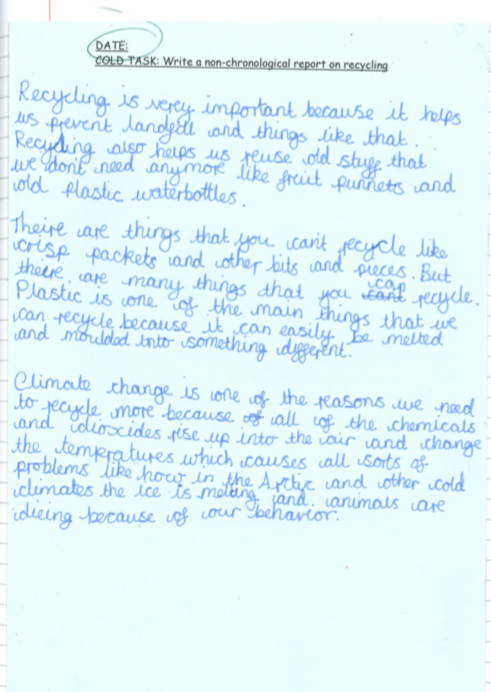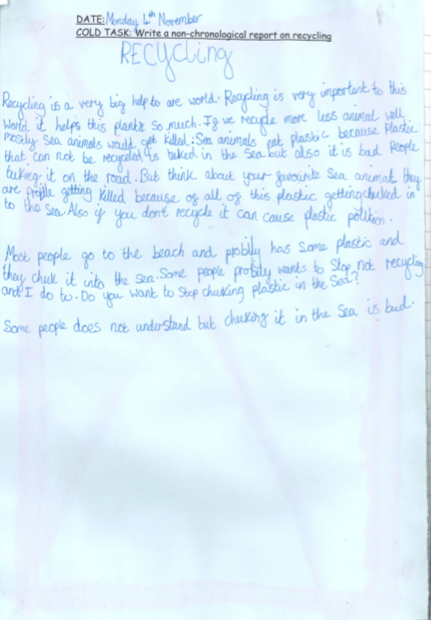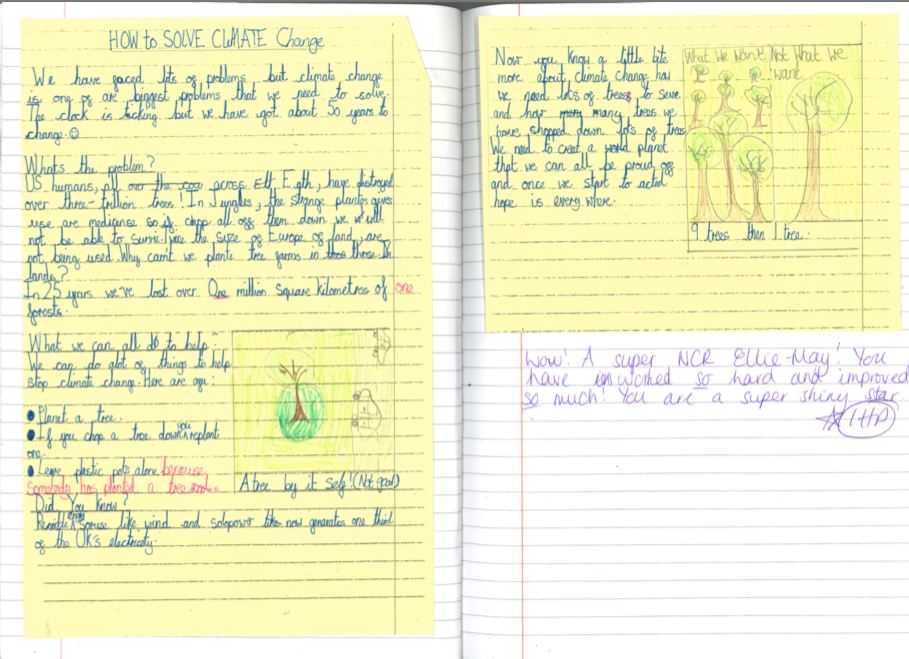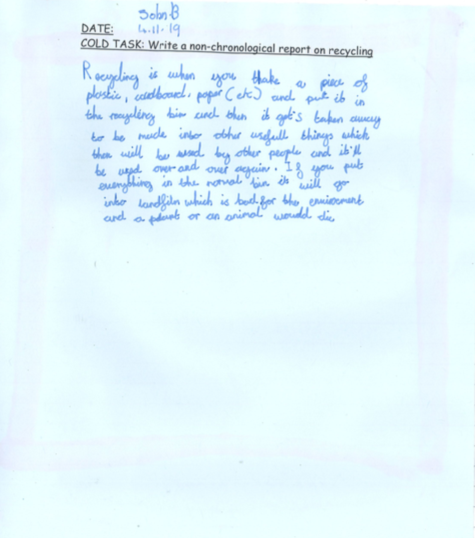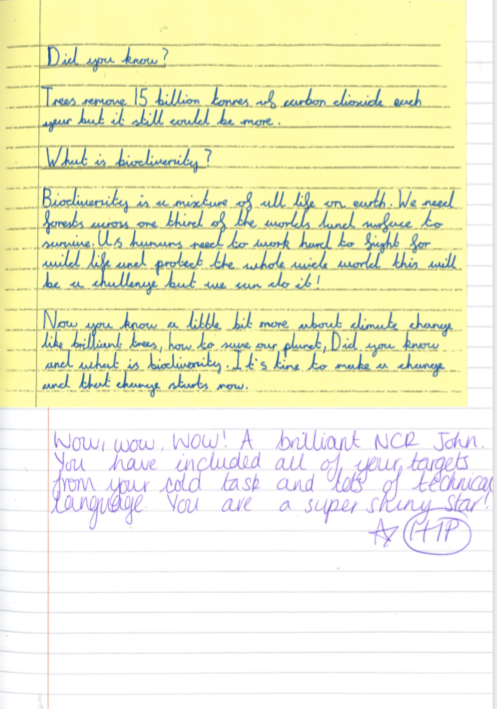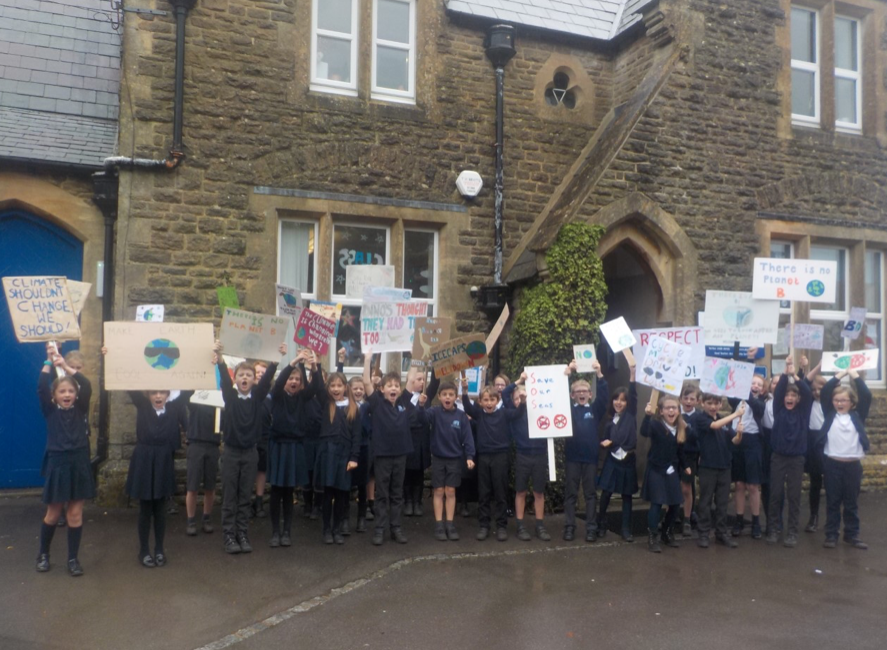 We are coming to the end of our term learning all about climate change and what we can do to help in class 4. It has been a brilliant term where we have all become global warriors ready to protect our planet! We have learnt so much and the quality of our written work has been outstanding. We have written letters to Sir David Attenborough and our own non-chronological reports on climate change and what we can do to help. We even created our own peaceful protest signs and went on a peaceful protest outside our school to show our support for our planet.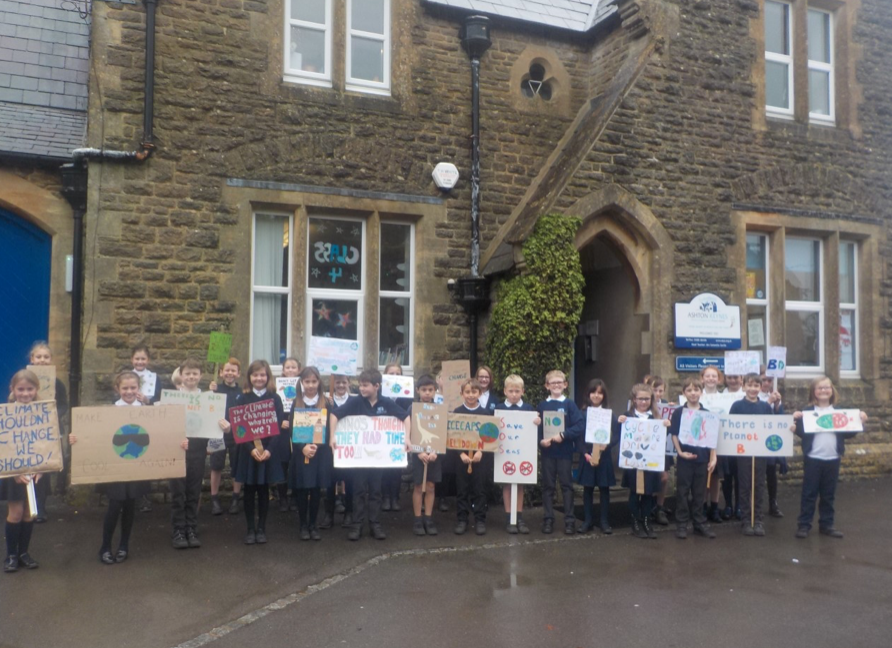 Whilst learning about climate change this term in class 4, we have also written letters to Sir David Attenborough to thank him for all of his hard work and dedication to protecting our planet. We asked him for some top tips on how to help tackle climate change and what he would do if he was 8 years old now. We were so inspired by his documentaries and used these to research different continents across the world and what they are doing to help climate change in their country. It has been so interesting to learn about different people around the world and how they are adapting and responding to climate change.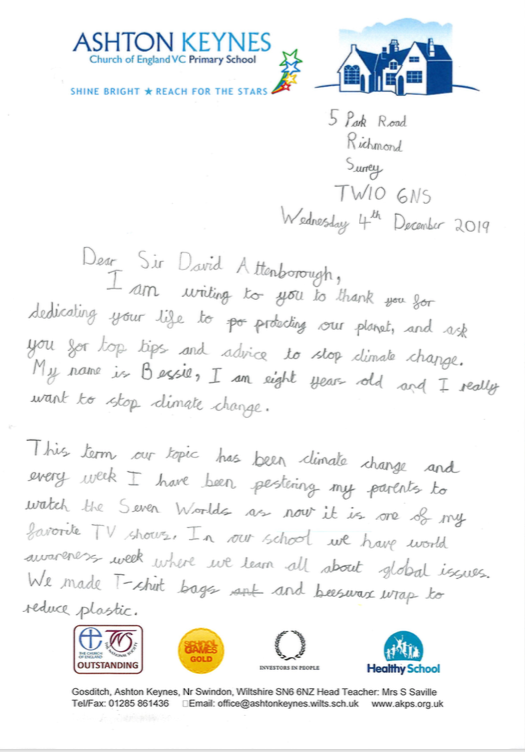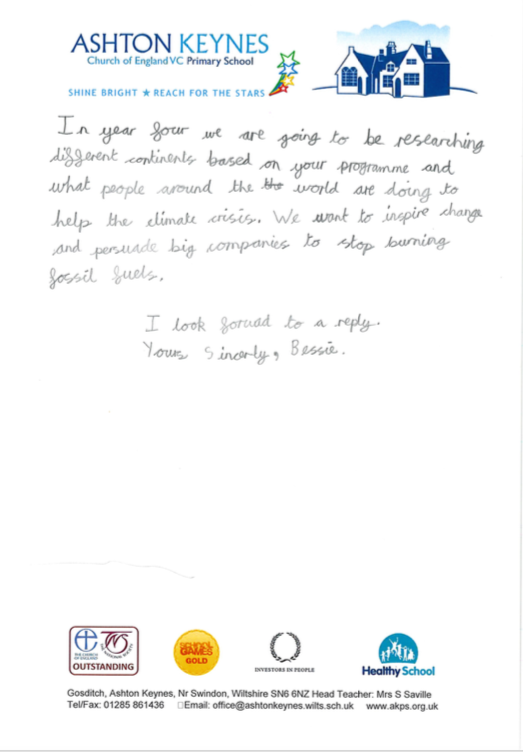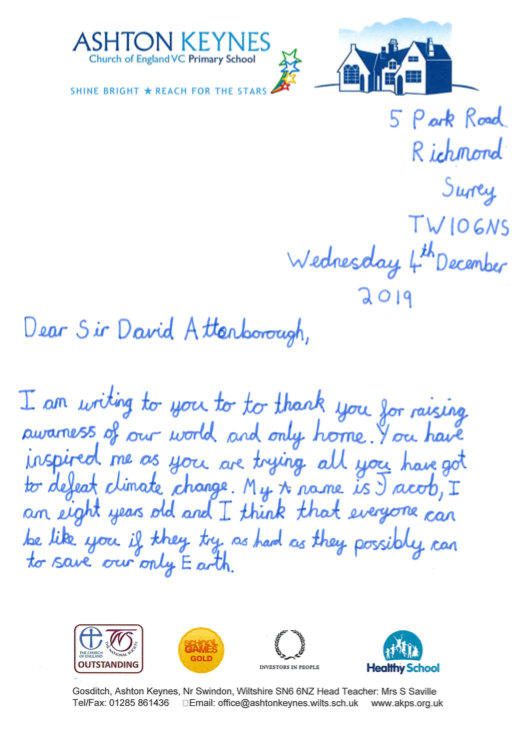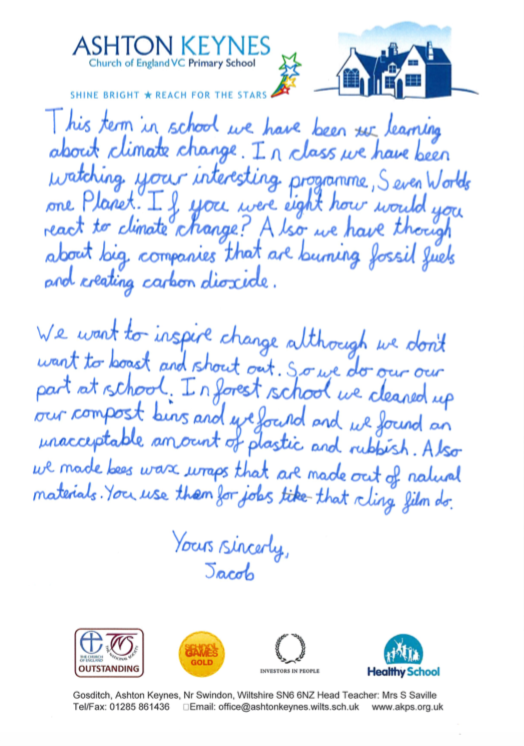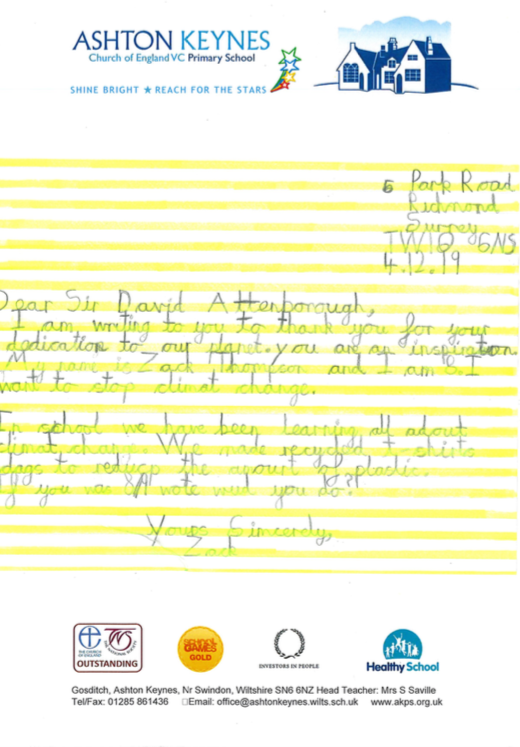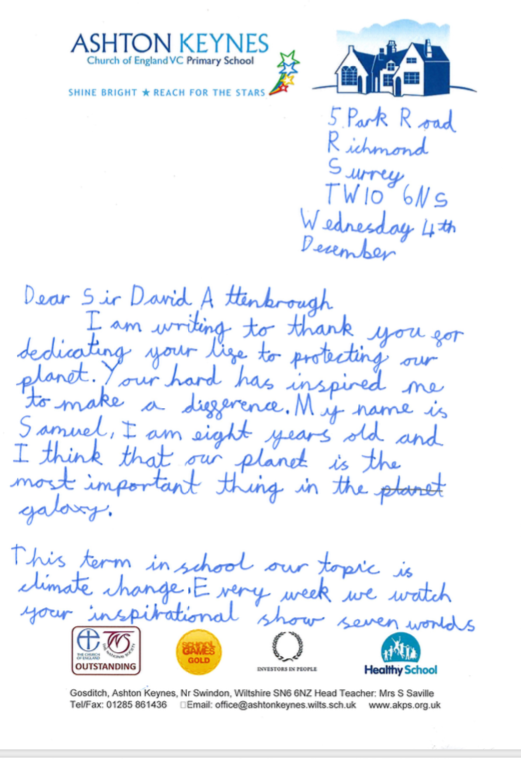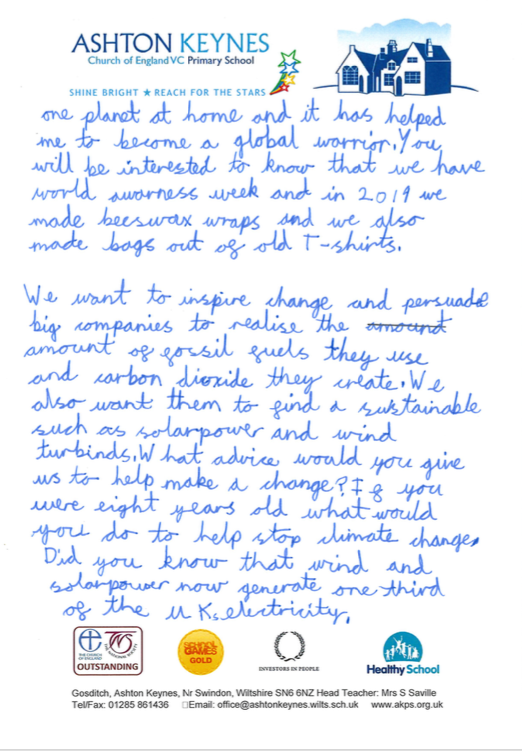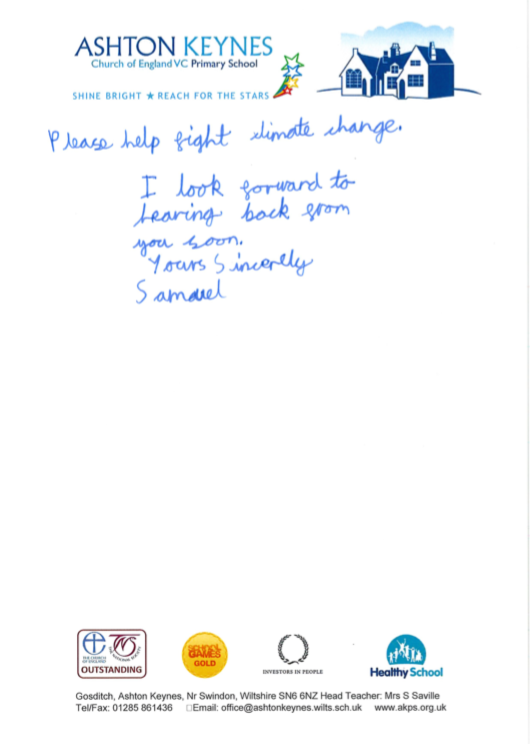 In class 4, we do not settle for 'good'! We work really hard at making our writing our very best. This week, we have been using our whiteboards to draft our first 'good' paragraph for our non-chronological reports on climate change. After this, we read them aloud and swap with our partners to look for any mistakes and anything we could improve. We also share our favourite sentences with the class and create a 'shared write' by the whole class. Finally, we then make final changes to make our writing our very best. The quality of writing produced has been amazing, our focus this term is also handwriting and we can see the impact already! Keep it up class 4!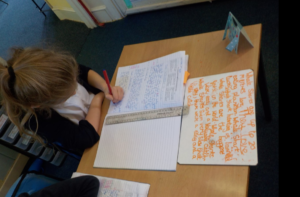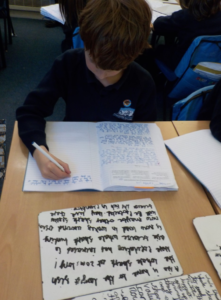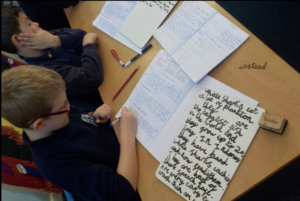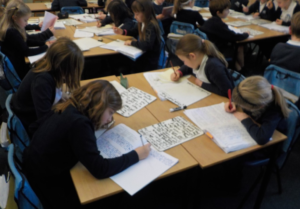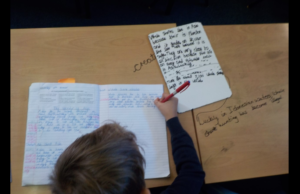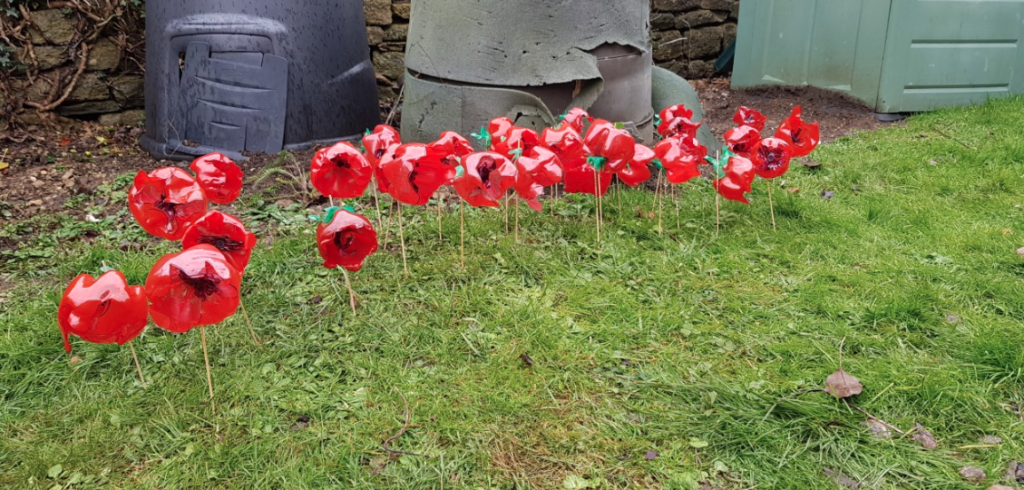 After creating our beautiful poppies for remembrance day, Class 4 planted them along the pathway into the school. We had a moment of silence to remember our fallen heroes before planting our poppies, thinking about each individual life the poppies represented. It has been a beautiful week of remembrance and such a lovely craft activity to complete. Thank you all so much for your donations!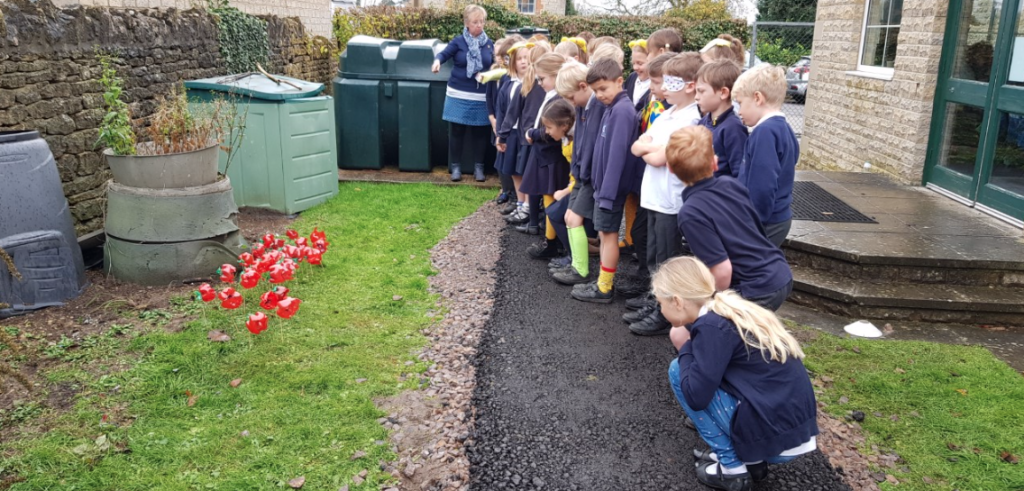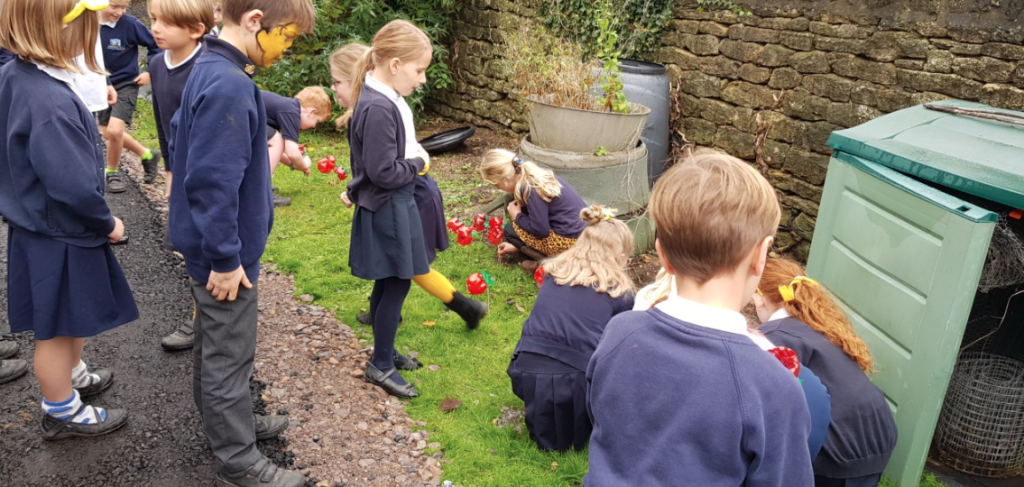 Term 1
Class 4 Term 1 'What a Wonderful World' Homework Brochure
Spelling: Rule 1 Adding suffixes beginning with vowel letters to words of more than one syllable
On Wednesday 9th October the whole school took part in a Boogie Bounce class in the hall. It was SO much fun! We danced and bounced on the trampolines and had a great workout. How lucky are we to do so many exciting, new things at AKPS!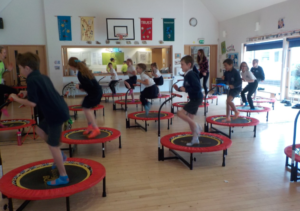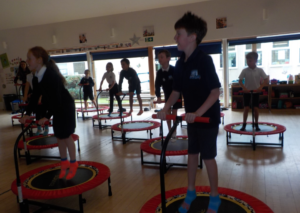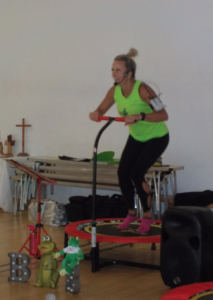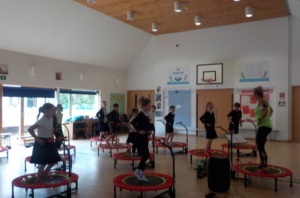 This morning, (Wed 9th Oct) the MOST exciting thing happened in Class 4! Overnight, someone built a den in our classroom! We have no idea who, but we investigated the clues left by the person and think it could be a stone age hunter-gatherer. They have used lots of materials from the class and even drew stone age cave art under their den! They also ate all of the apples we collected earlier in the week in Forest School. The person left us a note on our whiteboard saying, "fanx fer letin me stay," we are going to write them a note back welcoming them to our school and see what happens tomorrow. What an exciting day at AKPS!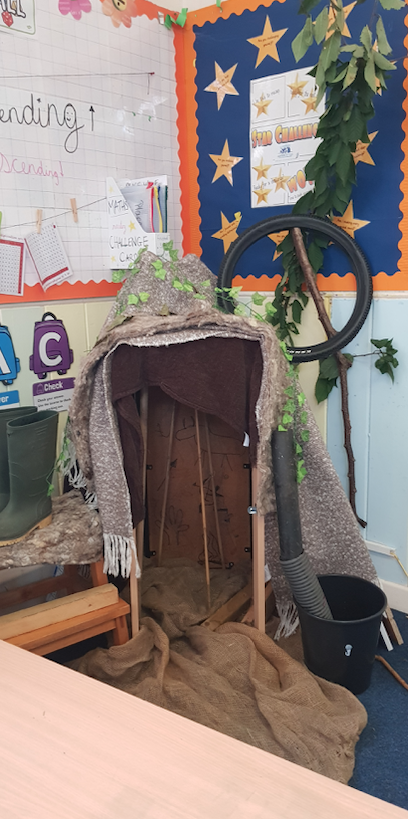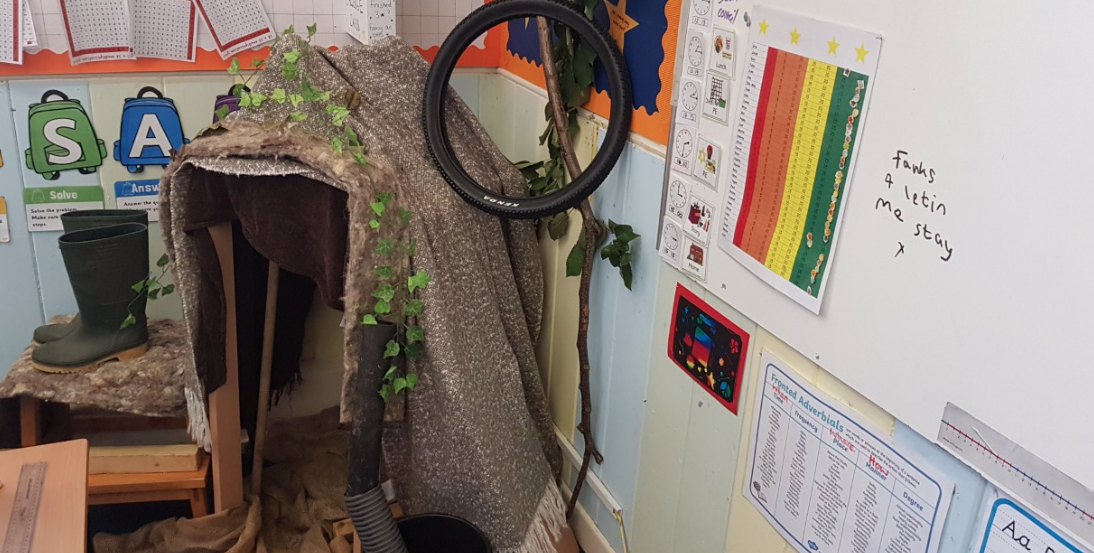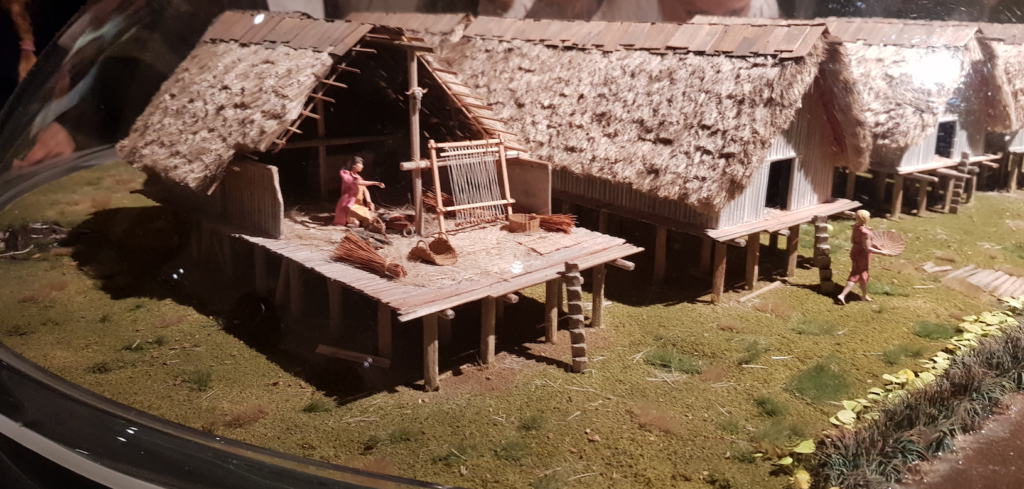 As part of our Stone Age topic, Class 4 visited the Ashmolean museum in Oxford on Wednesday 25th September. We explored the galleries and took part in a 'Life in Prehistoric Britain' workshop. It was brilliant! In the interactive gallery session the children discovered how we learnt about people from this remote time before written history, including where archaeologists find evidence about the past. We handled materials and artefacts used by Stone Age and Bronze Age people and worked as detectives to decide what the materials and objects might be and how they could be used. We even handled an artefact that was over 30,000 years old!!
We learnt so many interesting things, including how Stone Age people made their fur clothing waterproof using urine and deer brains! It was a brilliant day and a fantastic start to our topic.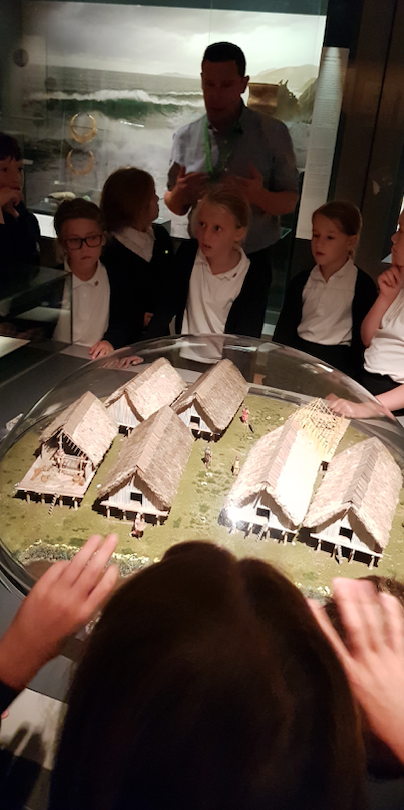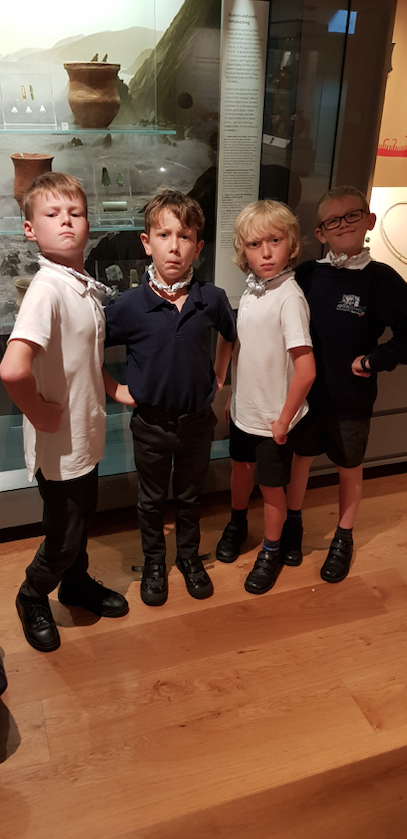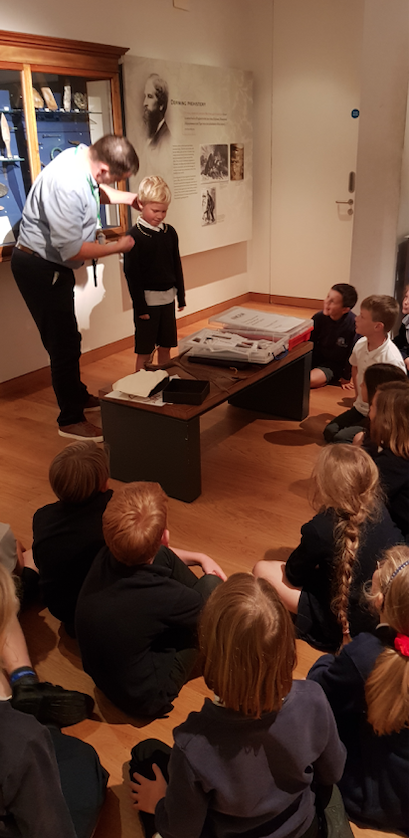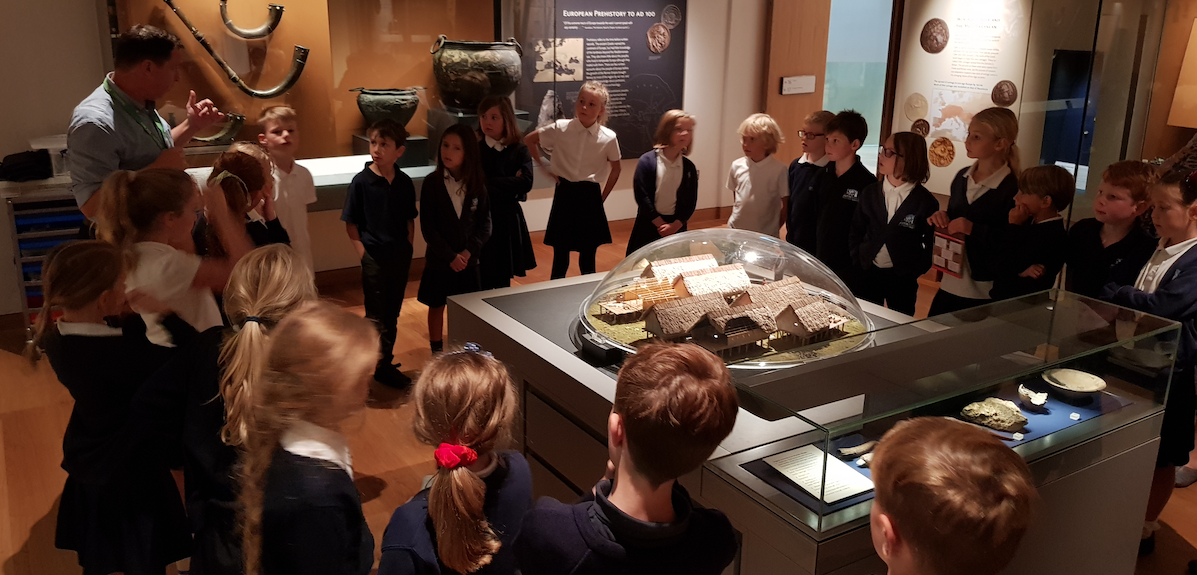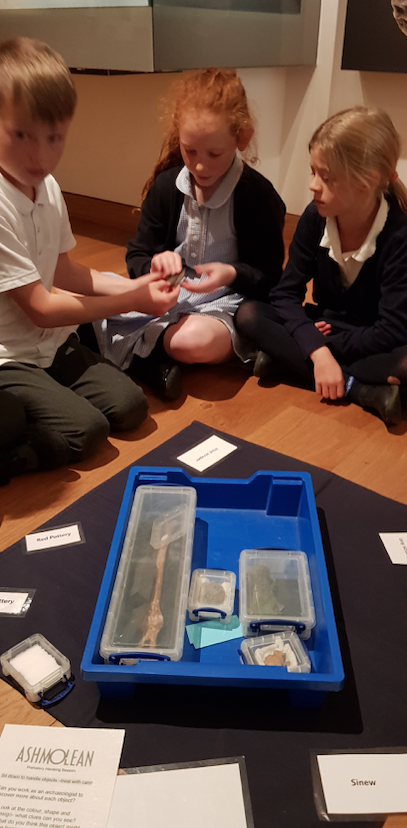 Our topic this term is the Stone Age, to really understand how the hunter-gatherers survived, we turned our imagination on and imagined we were Stone Age hunter-gatherers. We hunted around the school field for assets that would have helped us survive in the wild. We had to find something we could eat, drink, make tools and weapons with, make shelter with, use for clothing and use to make a fire. We then created a 'Stone Age Survival Guide' in our books.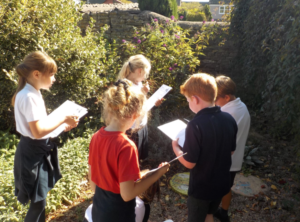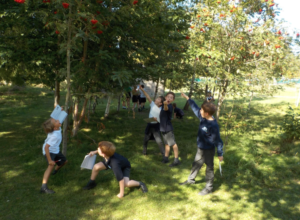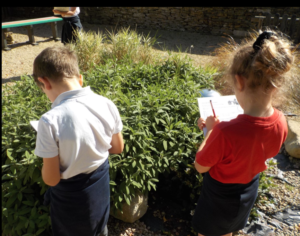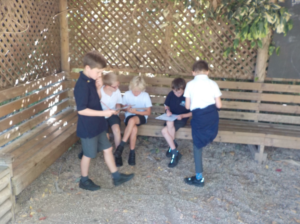 Class 4 had our first Forest School session this week and we made bird feeders using willow! The children had to persevere as it was quite a tricky task, but they worked together and supported each other beautifully. Hopefully you will get lots of lovely birds feeding from the willow feeders, just poke an apple or fat ball through the stick and let us know if you get any birds 🙂