Class 4
Welcome to Class 4
Annual Curriculum Overview 23-24 Year 4
Science – Skeletons

In Science, we have started the year by learning about skeletons. We have learned the names and functions of some of the key bones in our bodies and those of animals and drawn some comparisons between different skeletons as well as learning about exoskeletons. 
We then took an in depth study in to one of our focus scientists, Wilhelm Rontgen, the man who discovered X-Rays! We found out all about him (including the fact he was expelled from school!!) and wrote our own fact files. 
English – Arthur and the Golden Rope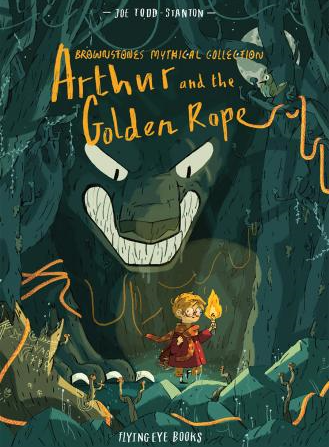 In English, we have begun to explore the story of Arthur and the Golden Rope. We made predictions about the book based on the fantastic map and one of the illustrations from the inside cover before beginning the book. 
We then met Professor Brownstone who is the guardian of the Brownstone family vault. We discovered he was searching for people to allow in to the see the treasured items inside and knew we HAD to be among those invited so decided to write some persuasive letters to convince him to choose us!
We can't wait to keep reading and find out what will happen and how Arthur is connected to Professor Brownstone!
Music – Class Composer – Gustav Holst
The year 4 class composer is Gustav Holst. We spent some time listening to his most famous piece of music: The Planets. As a class, we discussed how each of these songs made us feel before learning some more about him and creating our own fact files. 
Learning Metaphor
We have welcomed the children back in to school and got stuck straight in with our learning metaphor 'Our Common Home : Love your neighbour as yourself'. We explored what this means in terms of our Spirituality, have written letters to our common home, Earth, considered why our home is so special and delicate and therefore why we must look after it. Not just for ourselves but for everyone around the world. 
Poem about our Earth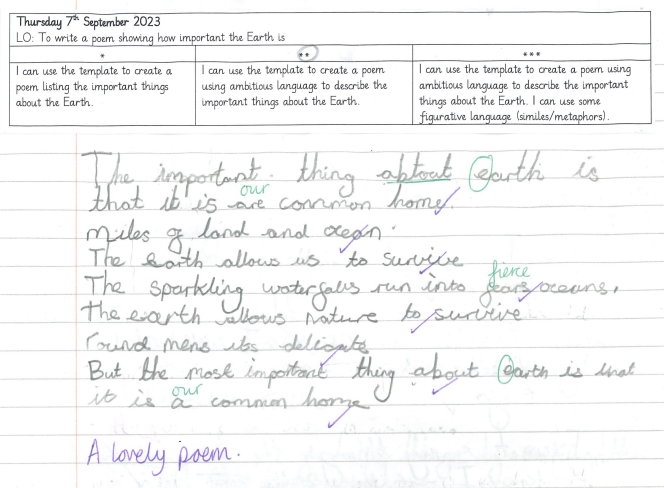 Some of our work on the diversity of Earth; we each researched a different place around the planet and reported back to the class on the flora and fauna as well as the climate and landscapes to show just how diverse our planet is. 
We have looked at ways humans are damaging the planet and what we can do to make a change.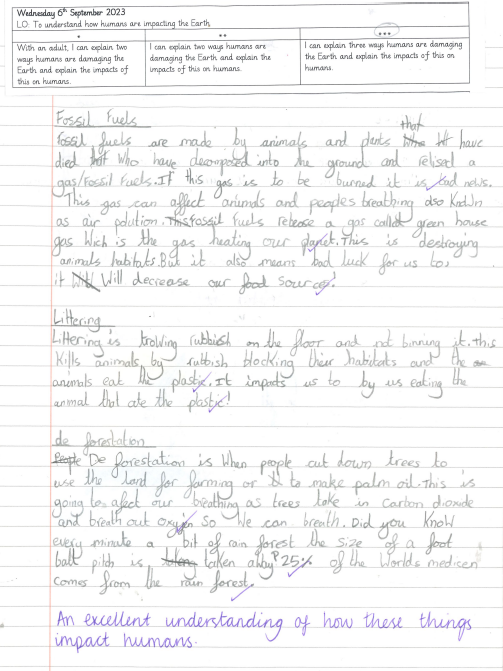 When designing a planet protecting superhero, one child said 'I am drawing us because we can all make a difference'. 
We then connected this all together by digging in to the question "Who is our neighbour?". We reminded ourselves about the story of the Good Samaritan and this lead to us discussing who we should treat as our neighbour. The children wrote their own contemporary versions of the story before drawing who they thought God would want Christians to see as their 'neighbour'. 
We are very proud of how insightful the children's thoughts and drawings were. 
Archive posts 2022-2023
2022-2023
Annual Curriculum Overview 22-23 Year 4
DT Project – Torches
The end of term brought a DT project – our brief was to produce a torch for a chosen client. The children got straight to work carefully designing their torches, considering how they would decorate whilst also keeping it useful. They consider the needs of the client with regards to adding straps, planning colours and materials to use. Their final torches looked fantastic!
Podcasts 
In computing, the children were getting to grips with recording software to produce a podcast. They got to choose the subject, plan their podcast and used online software to record and edit. 
Music experts – Gustav Holst
When Mrs Crowley asked for some assistance in her Singing Assembly to introduce Gustav Holst to the school, Year 4 jumped in to action. After all, he is our class composer! The children planned and delivered the facts they had learned about this local, Cheltenham-born, creative.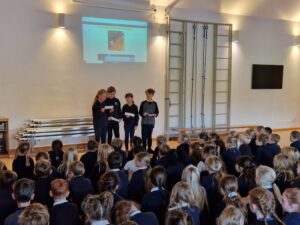 Forest School – Owl Pellets
In Forest School, Mrs Willis brought in some owl pellets for the children to investigate. They dug right in and began dissecting the pellets to work out the diet of the owls that had produced them. Many bones were found and some children were even able to recreate skeletons of the creatures they came from. Using a handy identification chart, the children were able to decipher what had been eaten!
Parent Book Look
We loved welcoming our parent's in to share what we have already worked on so far this year. A massive thank you to the parents that came along. It was a lovely experience seeing the children talking so animatedly about what they have been learning and their pride was obvious in their faces. We look forward to hosting another visit within the Spring term. 
Maths – Measuring Area
Our maths got very hands on when Miss Chomicz asked the class to measure the area of some chose objects in the classroom. This group did not want to leave a single gap and mis-calculate the area so very thoroughly covered the table in post it notes. They then came up with a great idea for measuring the interactive whiteboard and measured two of the sides before multiplying them together!
Art – Printing
The children LOVED exploring printing with a wide range of items – from forks to lego, highlighters to pens and bubble wrap to their hands! They explored complimentary and contrasting colours and learned the difference between monoprinting and reusable blocks. 
Science – Melting points
Have you filled a bucket today?
Miss Chomicz shared a story with the children called 'Have you filled a bucket today?' which explained how everyone is carrying round an invisible bucket and you can chose to fill other people's buckets and make them happier (which has the added bonus of filling your own bucket) or you can be a bucket dipper and steal from others buckets. The catch with bucket dipping, however, is that you don't even get to keep what you took when you dipped! We had a class vote and it was unanimous that we wanted to be a …. BUCKET FILLING CLASSROOM!
Expert Presentations
Our Roman History experts had been working hard at home preparing their presentations on a range of features about the Roman Empire and they absolutely blew us away! The children love to have a chance to 'be the teacher' and the rest of the class are so supportive and engaged with the learning. We learned all about the food and drink, expanse of the empire, Gods and Goddesses and the Daily Life of a Roman. 
Viney Hill Winter Residential
At the beginning of December, we had the pleasure of visiting Viney Hill for our winter residential. The children were so incredible; challenging themselves, supporting others, working as a team, facing fears and doing all of this with smiles on their faces. We tackled a low ropes course, a building climb, crate stacking and archery. In the evening, we had the pleasure of a night walk through the quiet Forest of Dean (at least it was quiet before we entered!) with Jas guiding us and telling us facts about the history including Henry VIII's ownership. We got back in to the warmth, wrapped up nice and cosily in our PJs and listened to Miss Chomicz telling the story of How the Grinch stole Christmas before heading up to our beds to get a full night of rest before the activities continued the following day. All of the staff were incredibly impressed with the resilience shown by all children in some chilly temperatures!
Corinium Dobunnorum
We have immersed ourselves in the life of the Romans including a fantastic visit to the Corinium museum. The children had an amazing time exploring all of the local artefacts and finding out about the history that is underneath our feet! Their favourite part was the gladiator workshop; the gore, interaction and opportunity to try on some of the gladiator kits they had available. We also took a rather wet walk to the remains of the Roman town gates in the Abbey Grounds to see what parts of history are left.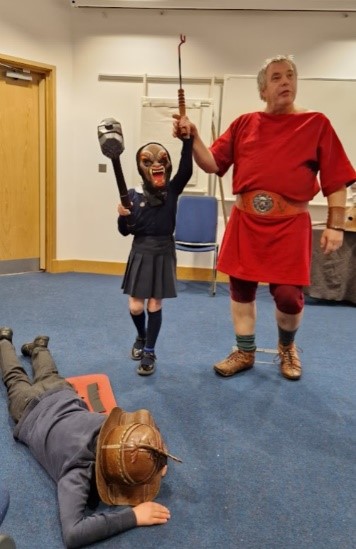 How tall is that tree?
Listening to trees breathe and calculating how tall and how old they are were all on the agenda for Forest School this October. The children now know how to calculate the height of a tree and its age using only a metre length of wood. 
Roman NCRs
The children have been busy researching the Roman times to produce NCRs (Non-Chronological Reports) with multiple sections including a large range of facts about the Romans. Some of these sections include: food, jobs, life in the army, school, houses and their legacy.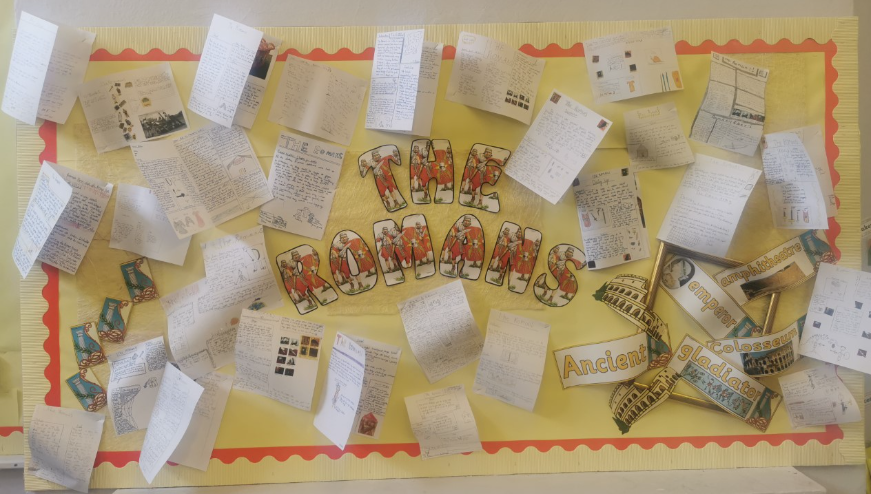 The children have 'published' their reports which are now on display in our classroom and they are very proud of the work they have produced. 
Roman Soldier
We have begun the school year by investigating the impacts the Romans have had on modern-day Britain. As part of our investigations, we became Celtic spies to gain information on the strengths of the Roman army. Our resident Roman Army expert, Archie, helped us to find out what the Romans wore to protect themselves in battle.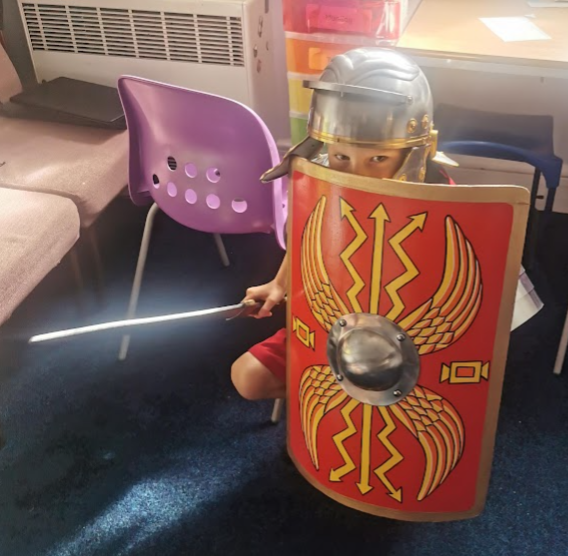 We used this information to decide whether we should stand and fight to defend our land or admit defeat to the Romans. We all agreed that the Roman army had far more strengths than we did so allowed them to invade (just like the Celts did for Claudius in 43AD). 
Seed Poetry
Our learning metaphor 'we are fearfully and wonderfully made' and the book 'It all starts with a seed' inspired some fantastic poetry lessons where the children carefully considered what they would like to grow in to as they progress through Year 4 and beyond. They produced art work inspired by their future trees and wrote poetry to go with their work. They then wrote their poetry out on tracing paper to sit on top of their drawings to allow their work to be visible below their words.