Class 4
Welcome to Class 4
Class 4 Annual Curriculum Overview 2019-2020
Class 4 Term 5 Remote Home Learning Timetable & website Links
Class 4 Term 6 Afternoon Tasks
Term 6
This week we were lucky to be able to meet in school in pods of 15 to have some time together as a class. We created dragon eyes using clay and this was such a wonderful wellbeing activity, all of the children were smiling, catching up with each other and spending some much needed time together. It was such an uplifting day for us all and we all loved it! 🙂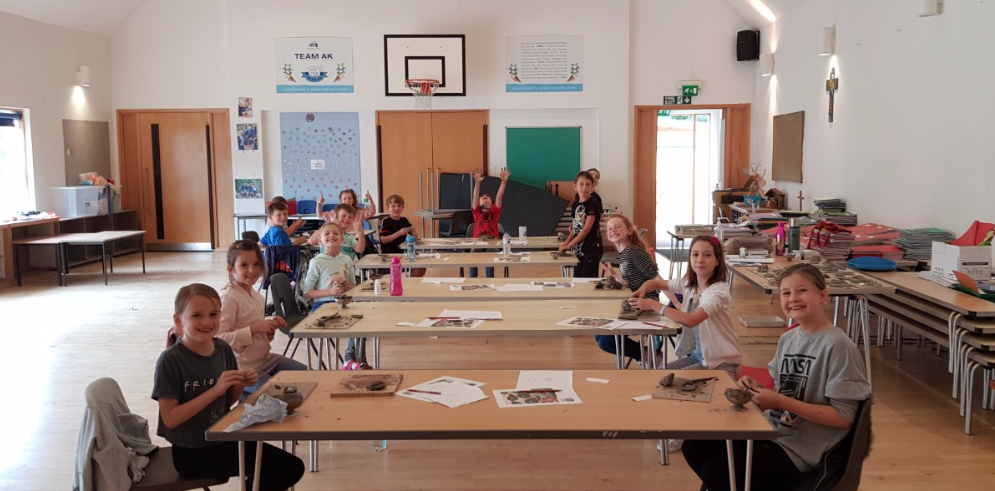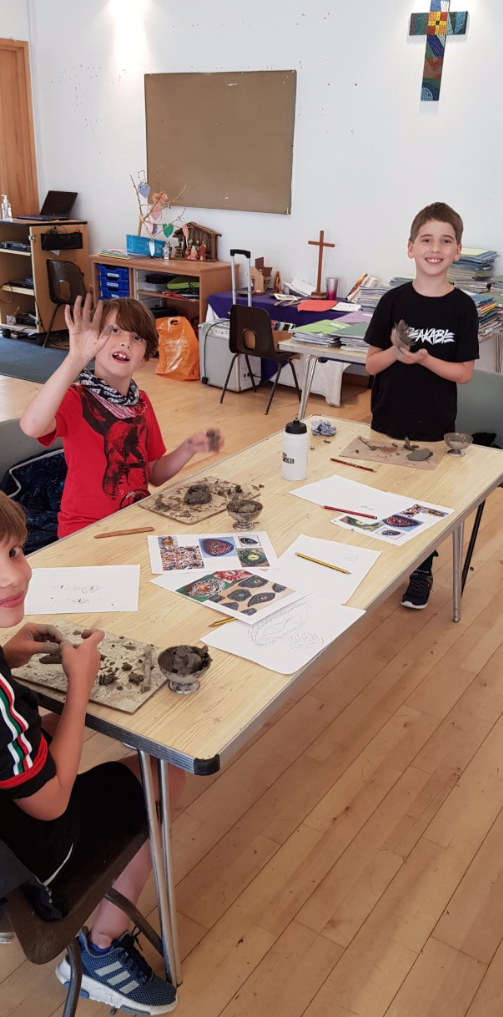 Our Home Learning challenges this term are linked to Awareness of our World and encourage the children to look into global issues, research them and find ways to help people all over the world. Bessie chose to research Fair Trade and where chocolate comes from. She wrote a Haiku poem linked to chocolate and Fair Trade and I am blown away by how thoughtful and heartfelt her poem is.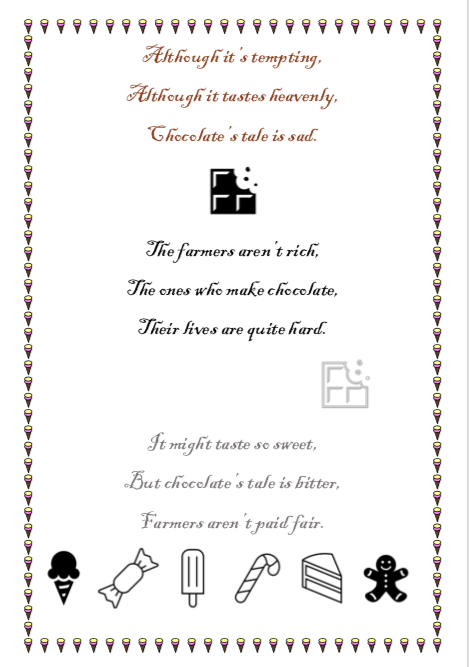 As part of our home learning afternoon work, the children were tasked with creating their own 'Frieze' based on the 'Big Story' of Jesus. We have our own frieze in school and it is absolutely beautiful and where Benj has taken his inspiration to create this work of art! Well done Benj, you have captured most of the important parts of the Frieze and Jesus' life.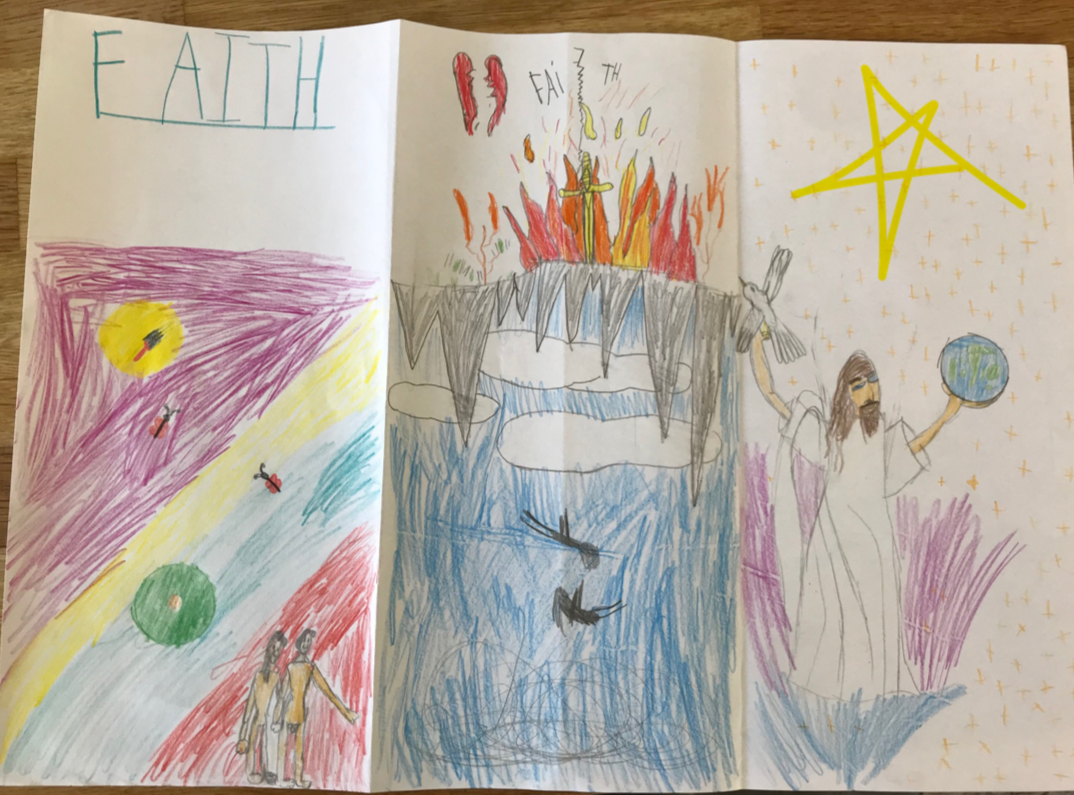 Our Home Learning Literacy topic was based on the short film 'Ruckus'. We learnt all about Jesse and Frank the jewel thieves in the Wild West. After writing detailed character descriptions and challenging ourselves to include expanded noun phrases in our writing, we all created a WANTED poster on one of the brothers. We even used tea bags to stain them and ripped them to give them an authentic look. 
The children then chose a member of their family to create their own WANTED posters – here are a few examples – they are brilliant!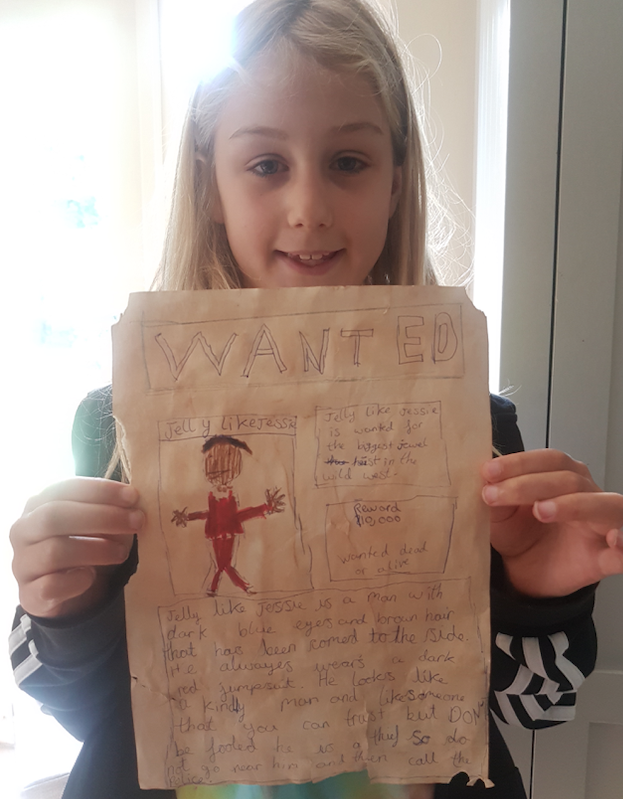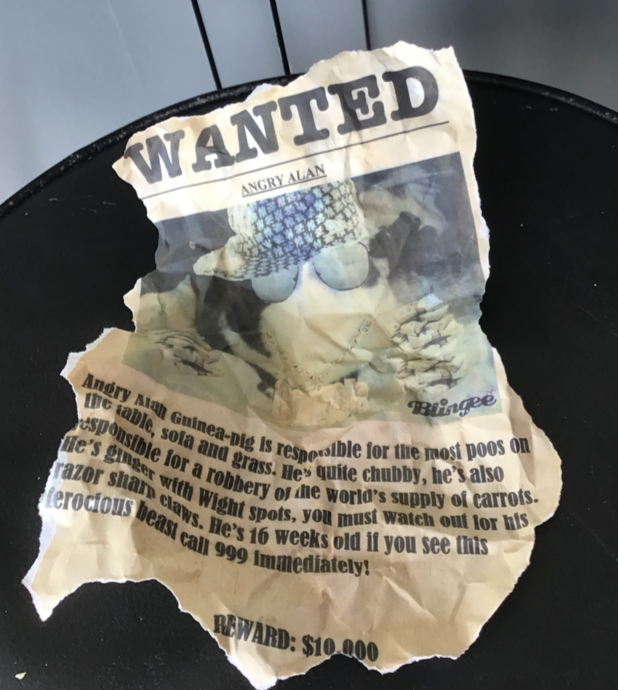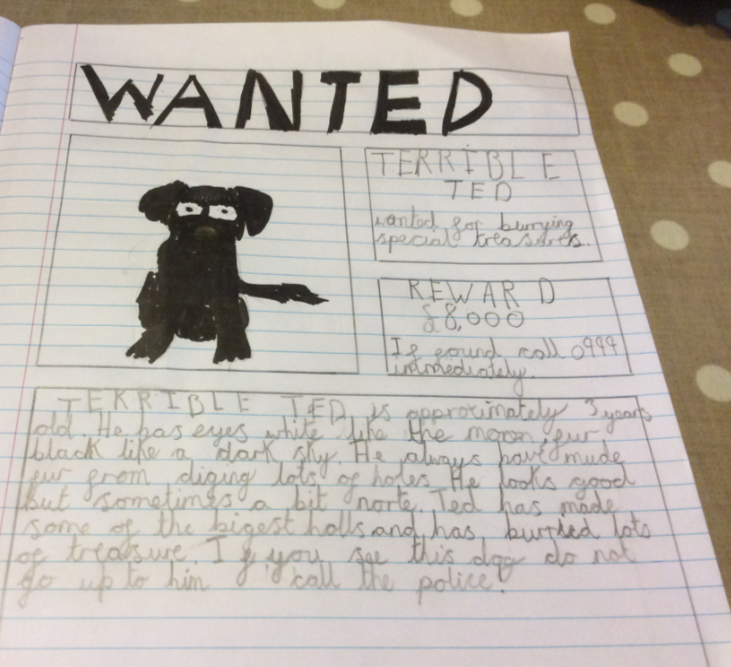 Term 5
Class 4 Term 5 Afternoon tasks
Joel has worked so hard this week making a news article about some of his friends in lockdown. He completed this independently and contacted his friends to complete the news article. I love the use of ICT and how he has included photos of his friends. What a fantastic idea! Well done Joel😄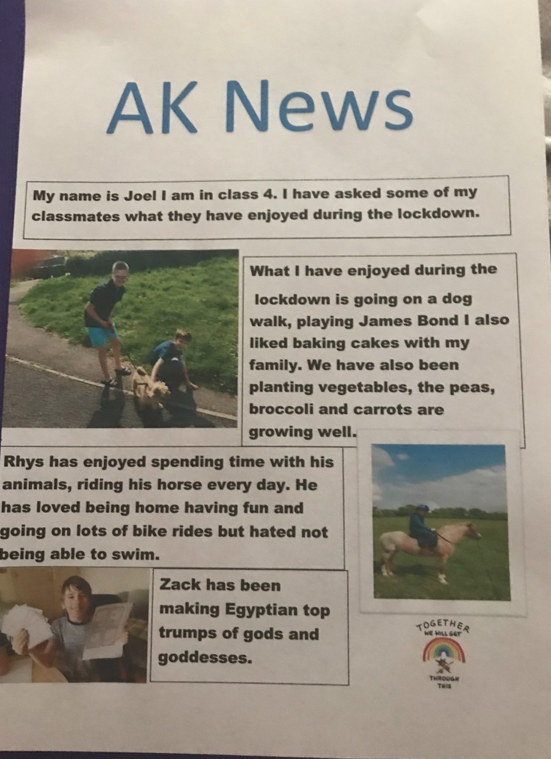 As part of the Afternoon Tasks, JB has been learning a new life skill during lockdown and has helped cook a meal for his parents. It sounds absolutely delicious! The time taken to present his instructions shows how hard JB has been working at home during the school closure – he is a super shiny star! 
Click here to read about JB's new cooking life skill, it includes the tasty recipe so you can try it for yourself!
Mattie has been writing some beautiful poetry in her home learning and after the change of weather I suggested she use this as her inspiration. She focused on a raindrop and used her figurative language to really describe the droplets in detail. I gave Mattie a list of poetic devices to include and she managed to use them all so well! How many can you spot in her poem?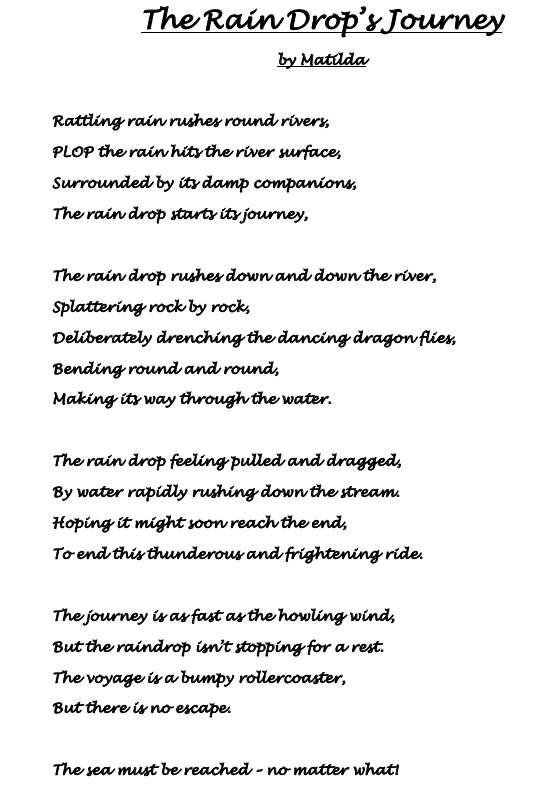 As part of our topic on the Ancient Egyptians, Zack has designed and created his own world map and has identified all of the continents and Egypt on it too – it is so creative and unique! What a fantastic piece of home learning 🙂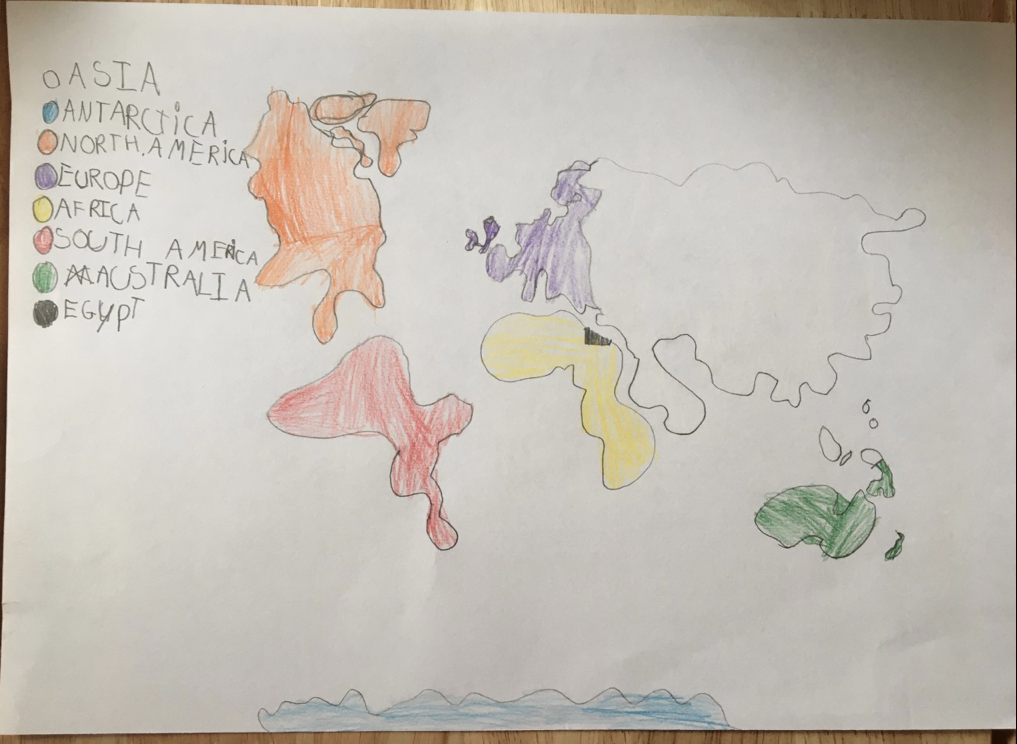 Class 4 have been working so hard at home over the past couple of weeks. I have been so impressed with their attitude to their learning and their determination to continue their education. They have worked really hard on their Maths, produced some beautiful written work as well as been incredibly creative in their afternoon projects! Here are a few examples of their amazing work. Keep it up Class 4!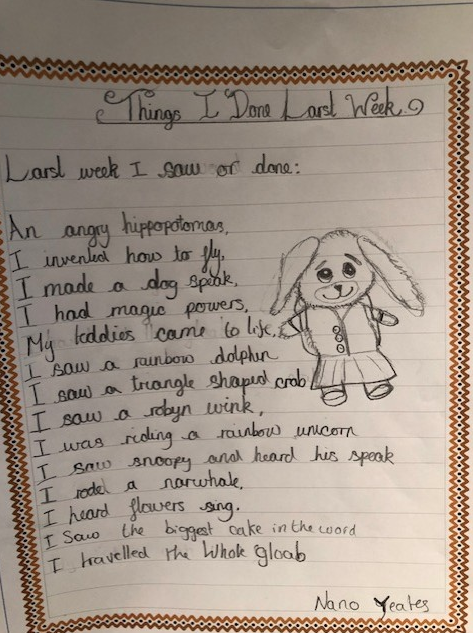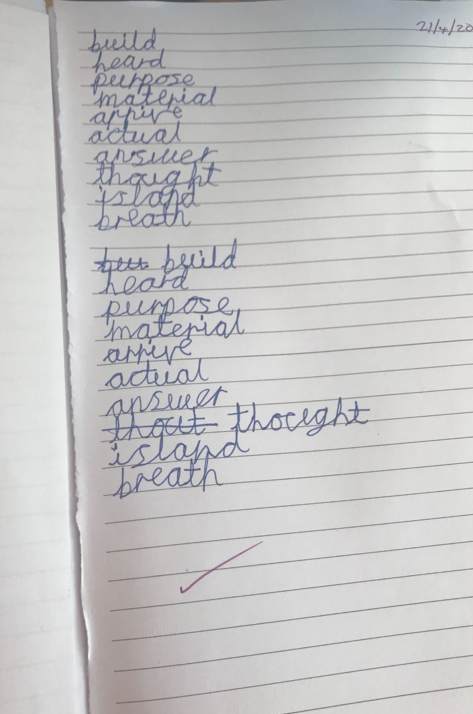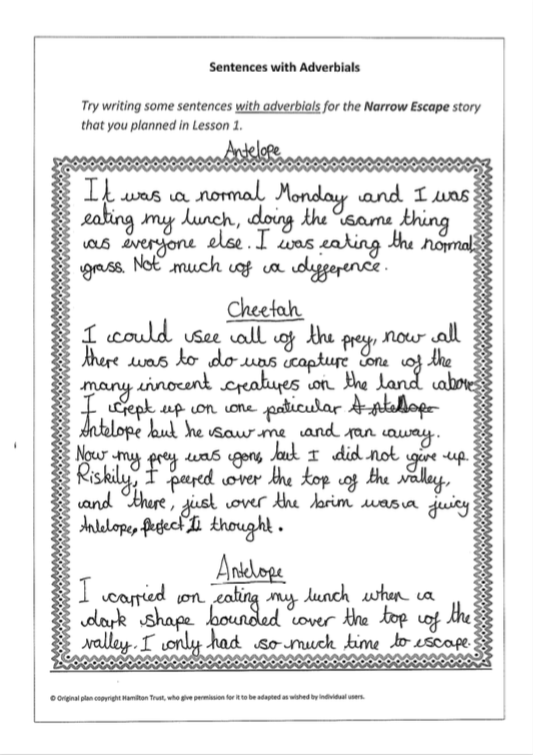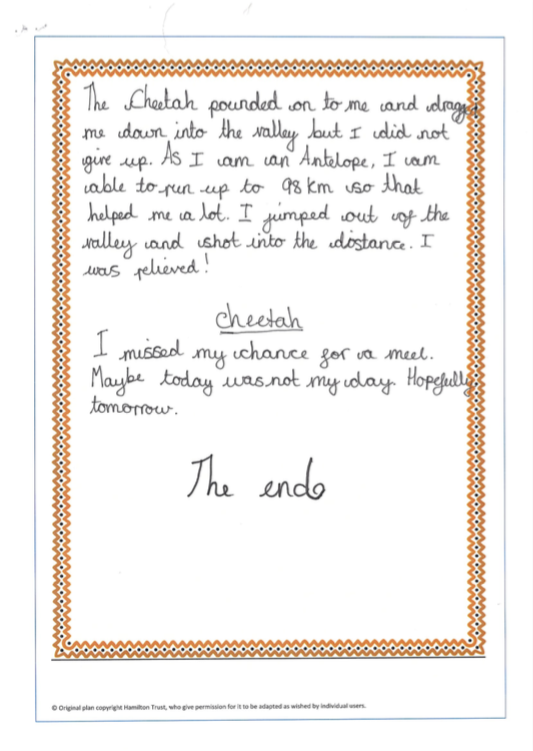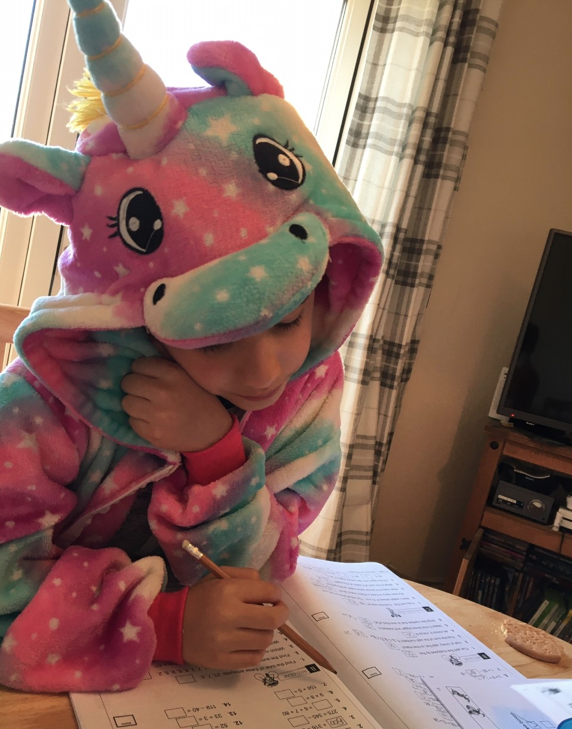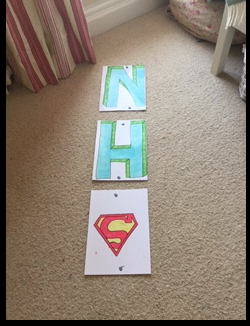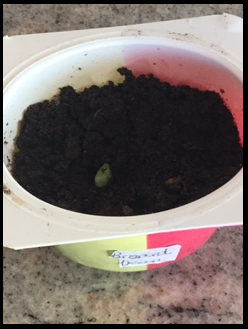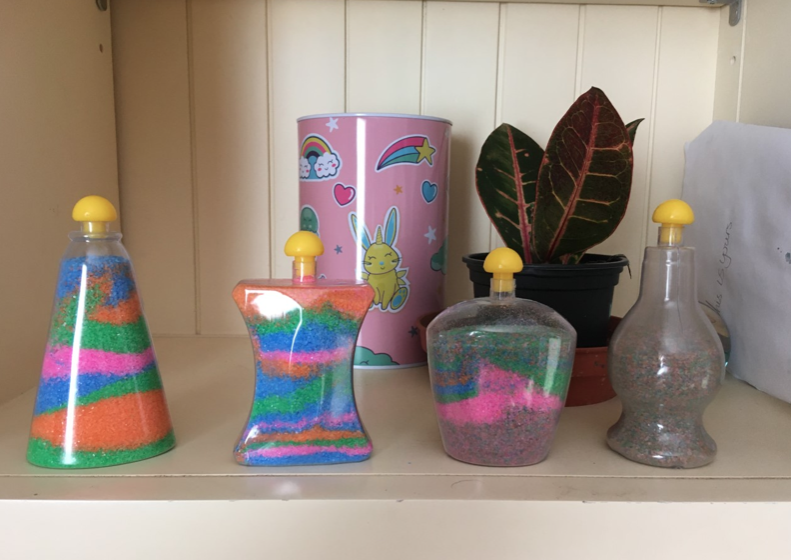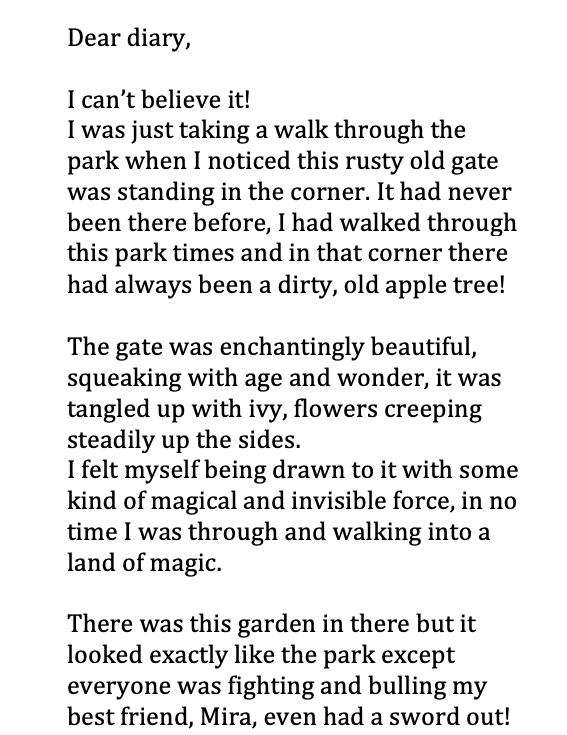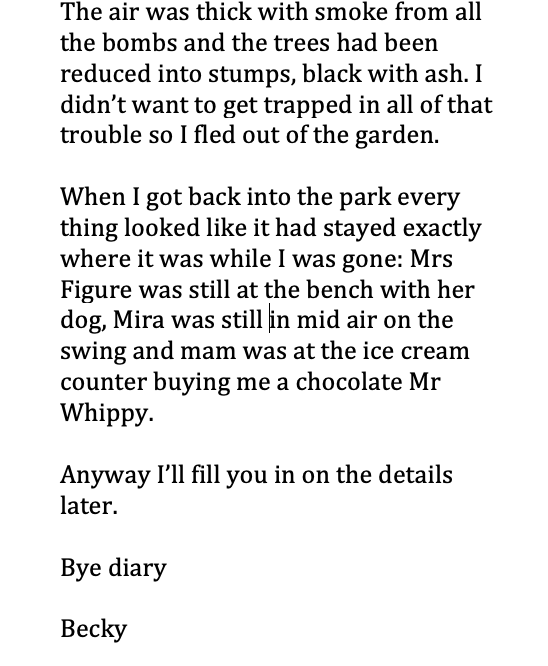 Term 4
Bessie in Class 4, along with her mum, created this incredible stop motion video of a discovery of an Egyptian tomb! Bessie did lots of research about the Ancient Egyptians and made all of the props and artefacts as well as writing the amazing script. She also added music to create tension and suspense. It is a brilliant piece of work and shows just how shiny our children (and their parents) are and how they are all working incredibly hard during this unprecedented time. Keep shining brightly AK! 🙂 
For Science Week our Class 4 Science Leaders, Edie, Nano and Darcie, chose to create 3D art work to highlight the importance of biodiversity in our world. We watched a video explaining what biodiversity is and how it represents the total variety of life on Earth. The Science Leaders then split the class into difference zones based on the different landscapes around our world. We had deserts, oceans, meadows, rivers, frozen world, jungle and cities. Using a range of materials including paint, chalk, tissue paper and pencils, each group had to create their landscape to then put together to show the how diverse our amazing planet is. It turned out even more amazing then we could have imagined and we were so impressed with the whole class.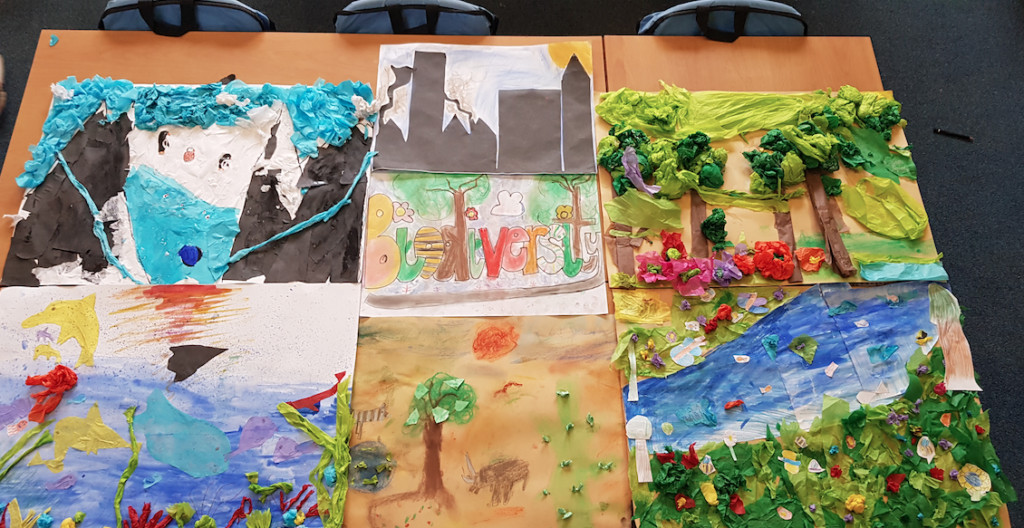 On Tuesday 3rd March, Class 4 visited Cheltenham Synagogue. It was a brilliant trip where we were able to see all of the objects significant to Judaism including the Torah Scroll, menorah and the Ever lasting light. Some of the children were invited up to the gallery where the women sit during services. We absolutely loved the trip and having the opportunity to see the importance of a synagogue to Jewish people and listen to the stories from the religion. The children of class 4 were incredibly well behaved, we were so so proud of them. They sat beautifully in the 200 year old benches, asked thoughtful questions and were so respectful throughout the visit.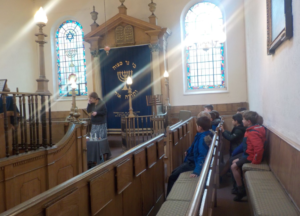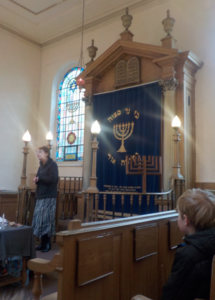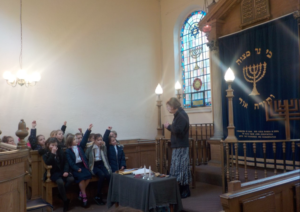 Term 3 
Class 4 Term 3 'Arthur and the Golden Rope' Homework brochure
Rule 9 words ending sure and ture
Rule 10 words endings sound like shun
Forest School (written by Class 4!)
Today (05/02/20) we tidied up the school field and Forest School area. We used all recyclable materials to make new bug hotels and bird houses. We even used an old watering can to make a nest for a robin! 
  We made a bug house using dry leaves, grass, old tubes, sticks, straw and mud to make it a natural home so lots of different bugs and insects come to live here. 
  We even found an old bees nest with eggs in their casing so we moved them to a safe new bug house to make sure they grow nice and strong. 
Not only this, we also had a team of us rolling the compost sphere to mix it all up, empty it out and make fresh compost. 
We had the best lesson ever!!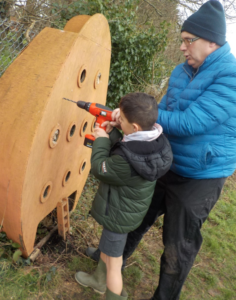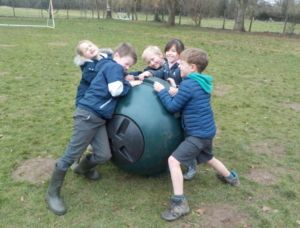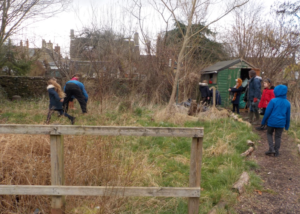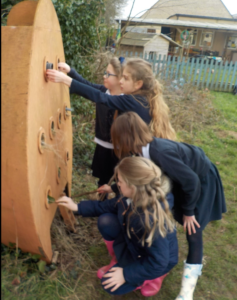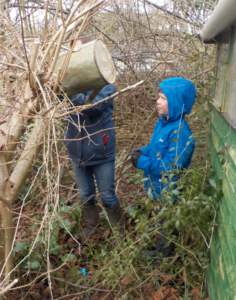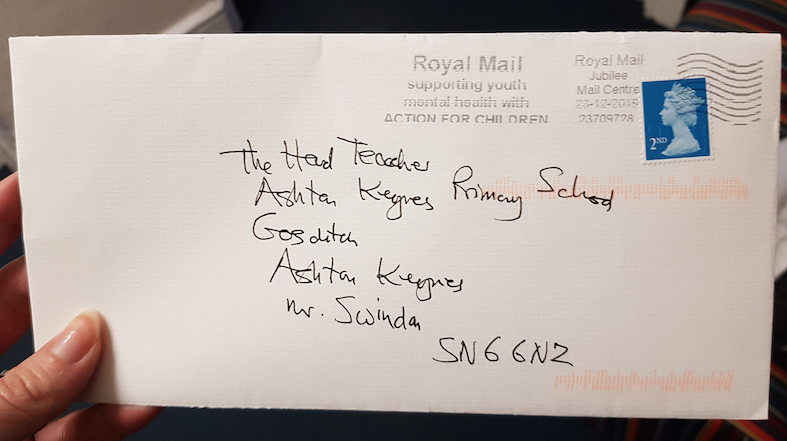 2020 started off in the BEST way for Class 4! We received a letter from Sir David Attenborough in response to our letters about climate change! We were over the moon to receive this letter. The envelope was handwritten by Sir David and he even dates and signed off the letter in his own handwriting. We are so proud of ourselves and so excited. It is lovely to read that so many children are writing to Sir David that he doesn't have time to respond to them all individually, however it is really kind of his team to respond on his behalf. This just shows everyone can make a difference! 
Term 2
Class 4 Term 2 'It's Time to Make a Change' Homework Brochure
The class all wrote to a big company to ask them to reduce their emissions and greenhouse gases and Jacob has just had a response from Land Rover! They also sent him lots of goodies including a lanyard, pen, heat patch and key ring!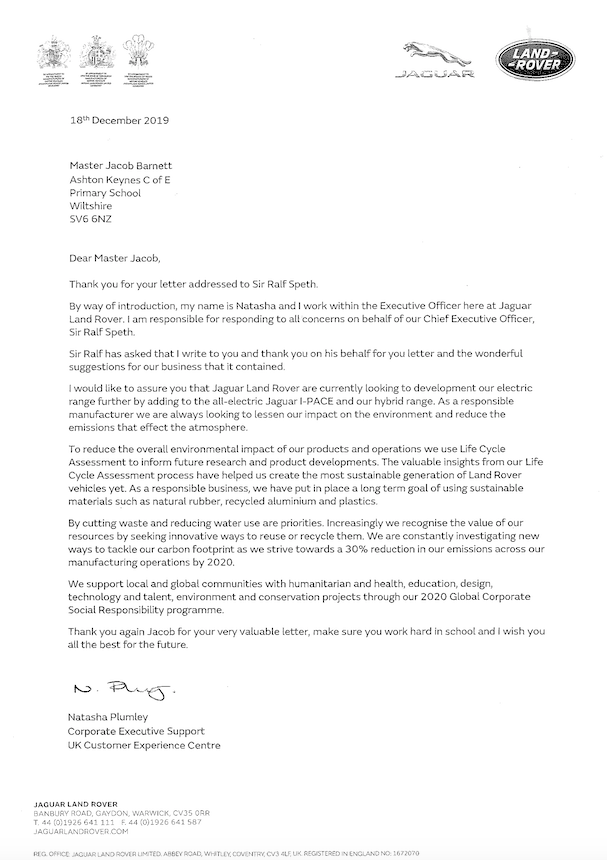 To complete our topic on Climate Change, Class 4 were tasked with writing to some of the biggest companies in the world about their greenhouse gas emissions or something important to them. Each child wrote a fantastic, respectful letter and many offered top tips and advice on what to do next. The whole class have become global warriors and we could not be prouder of them all. Mattie even got a response from Tesco outlining their plans to reduce their plastic and make all of their plastic fully recyclable!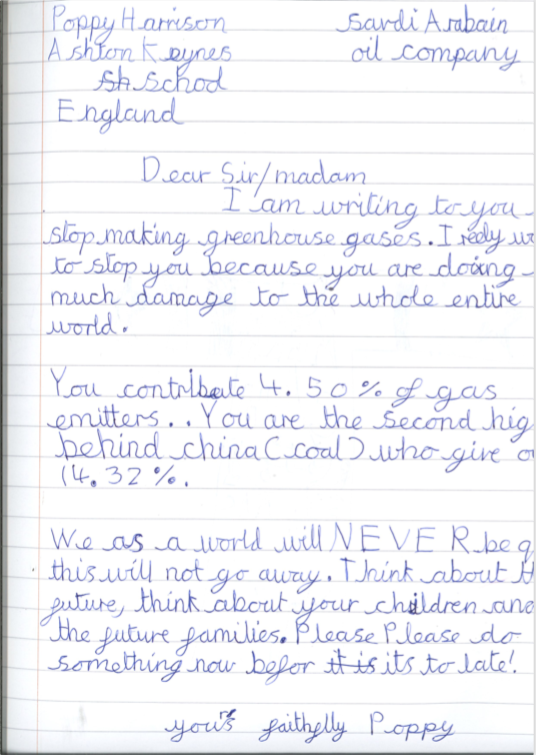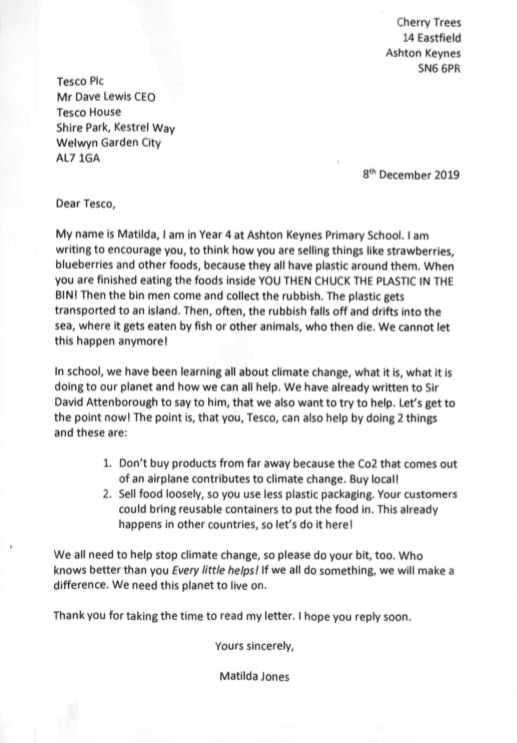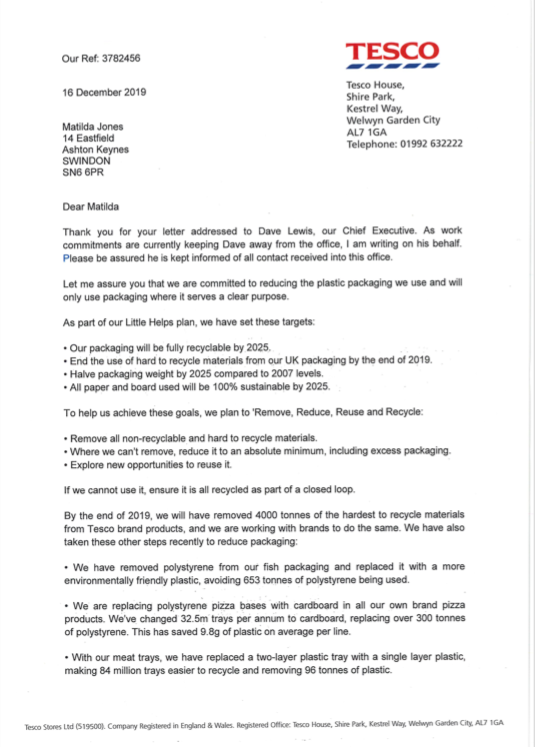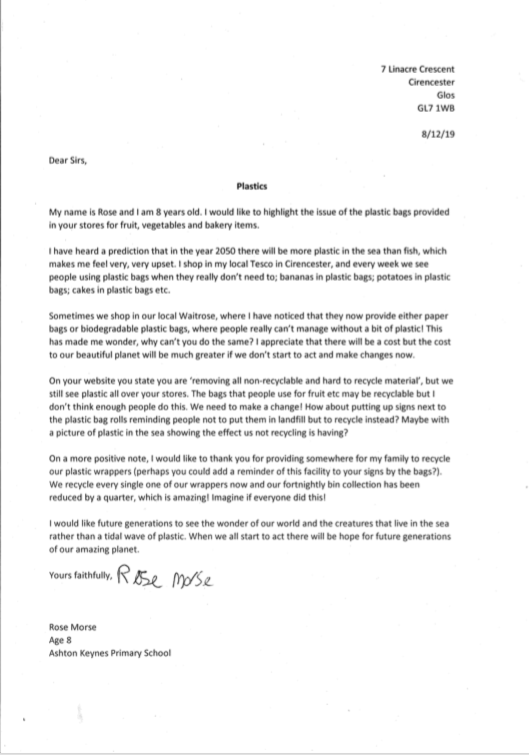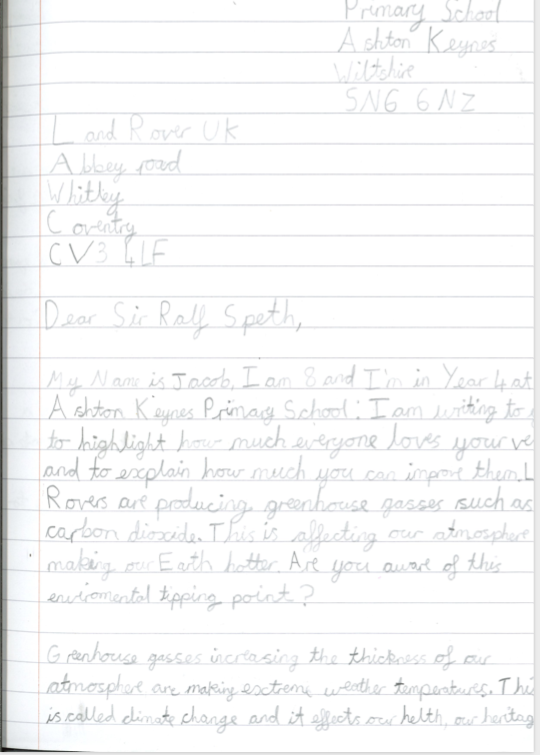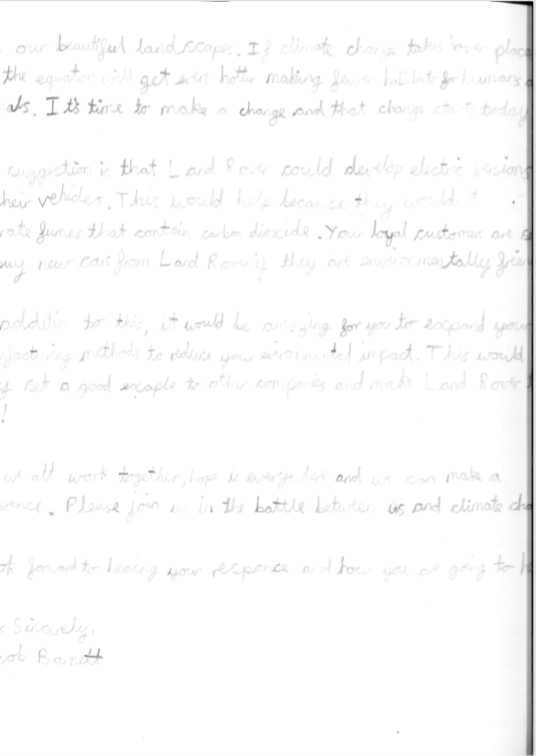 Class 4 completed their 'hot task' today  (13/12/19) in Literacy. We have been learning all about climate change in the form of non-chronological reports all term, we wrote one without any input at the very start of this term on blue paper, and then another at the end of this term on yellow paper to show our progress. Take a look at these examples, they are FABULOUS and show just how hard this superstar class have worked all term. Well done class 4!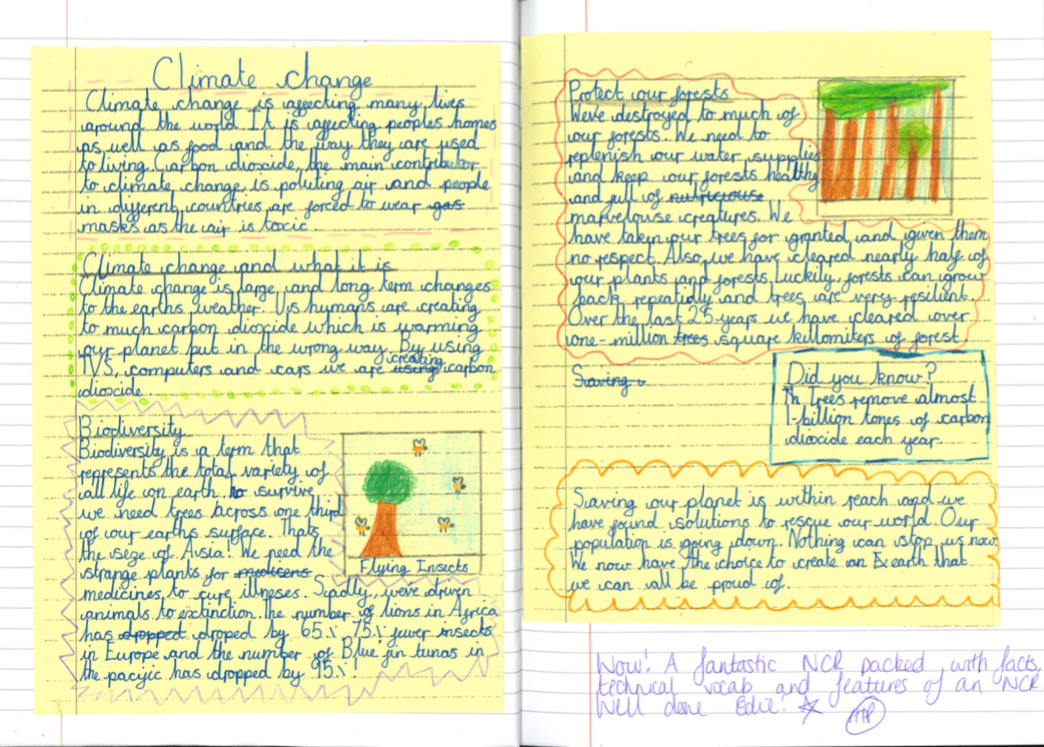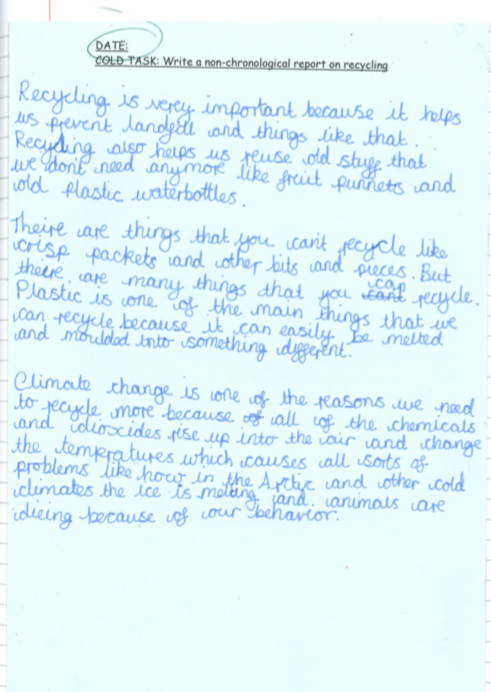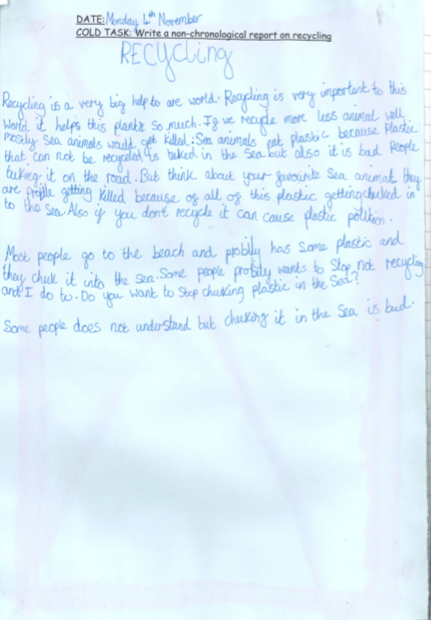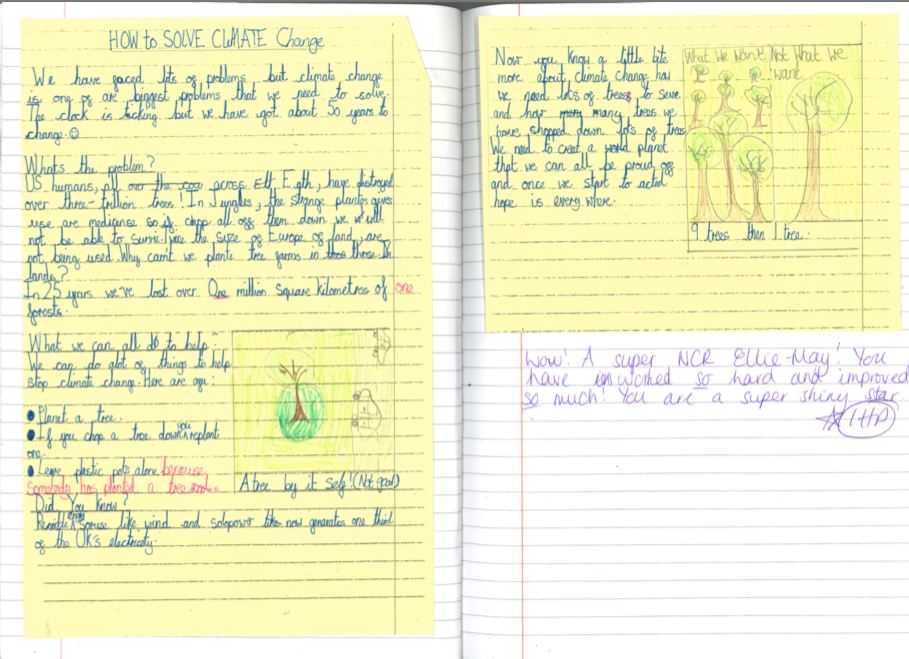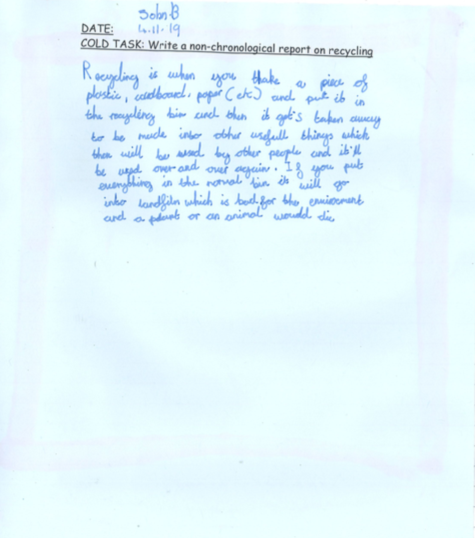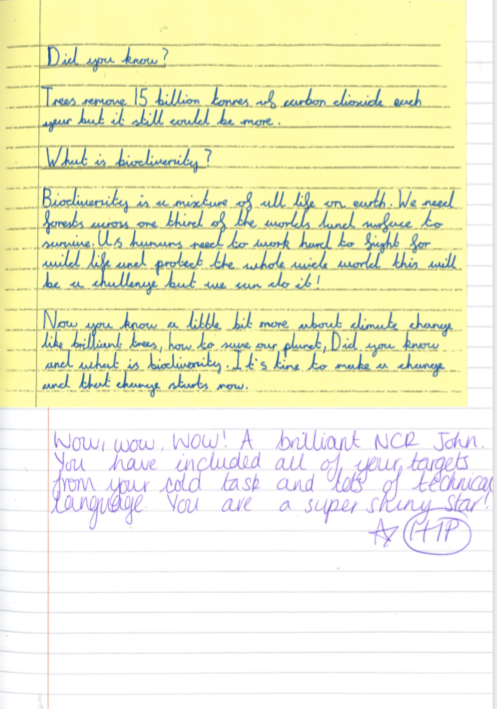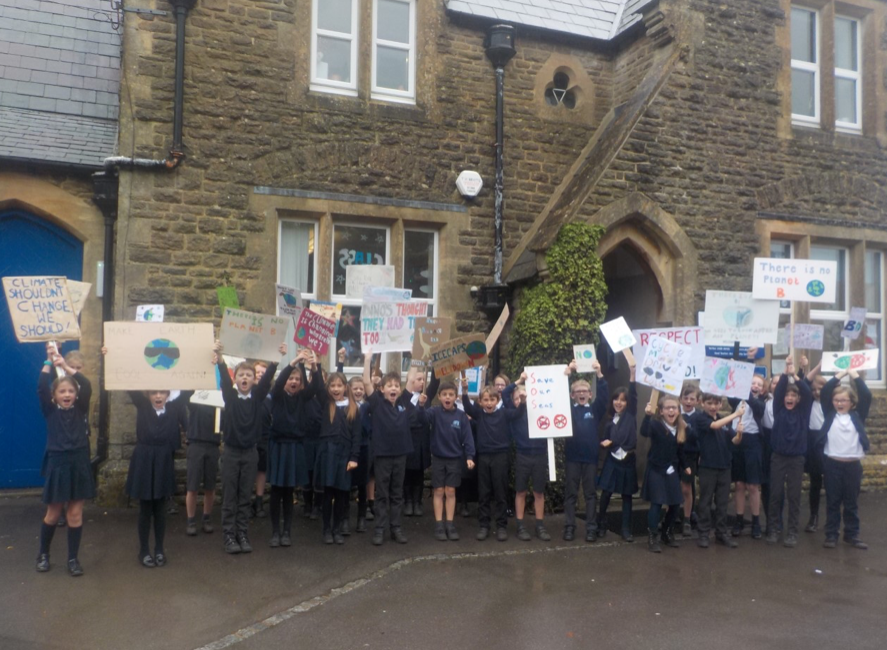 We are coming to the end of our term learning all about climate change and what we can do to help in class 4. It has been a brilliant term where we have all become global warriors ready to protect our planet! We have learnt so much and the quality of our written work has been outstanding. We have written letters to Sir David Attenborough and our own non-chronological reports on climate change and what we can do to help. We even created our own peaceful protest signs and went on a peaceful protest outside our school to show our support for our planet.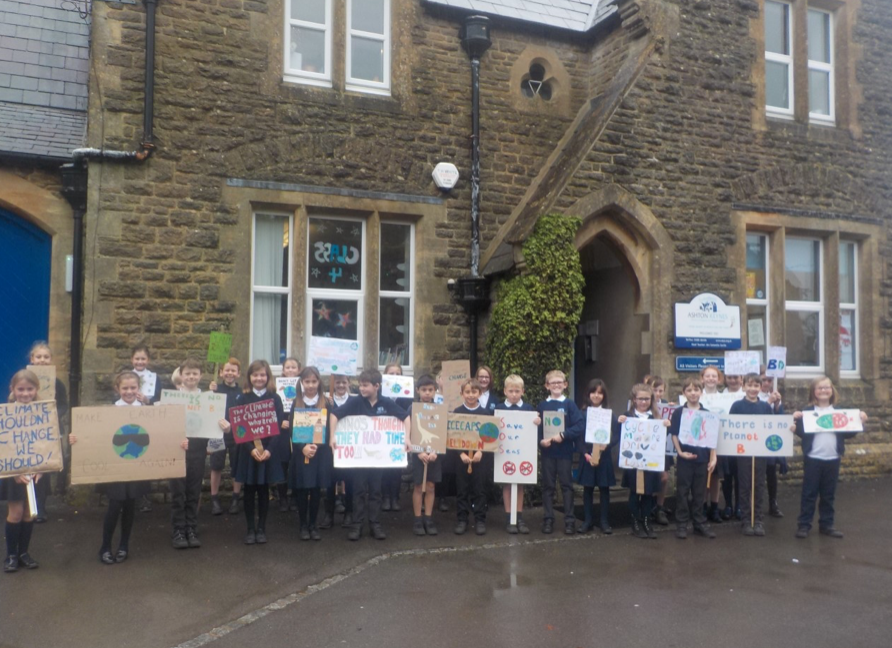 Whilst learning about climate change this term in class 4, we have also written letters to Sir David Attenborough to thank him for all of his hard work and dedication to protecting our planet. We asked him for some top tips on how to help tackle climate change and what he would do if he was 8 years old now. We were so inspired by his documentaries and used these to research different continents across the world and what they are doing to help climate change in their country. It has been so interesting to learn about different people around the world and how they are adapting and responding to climate change.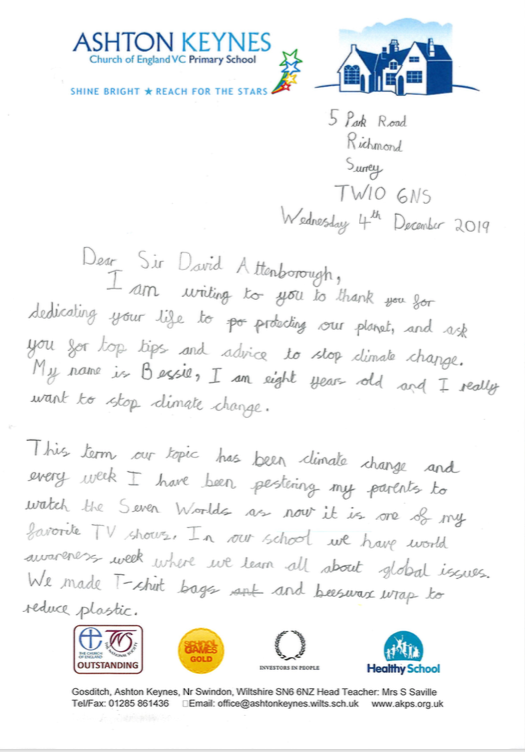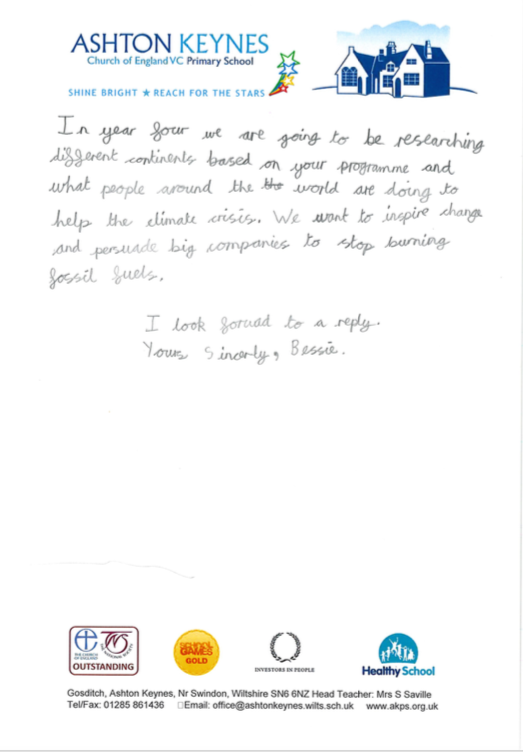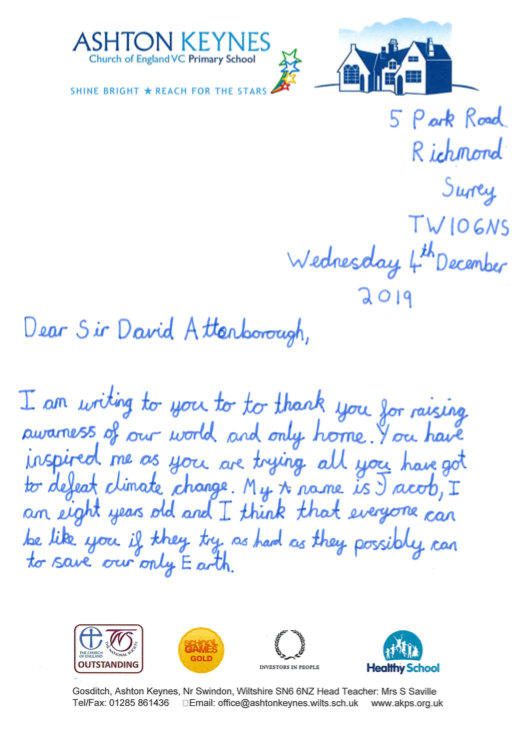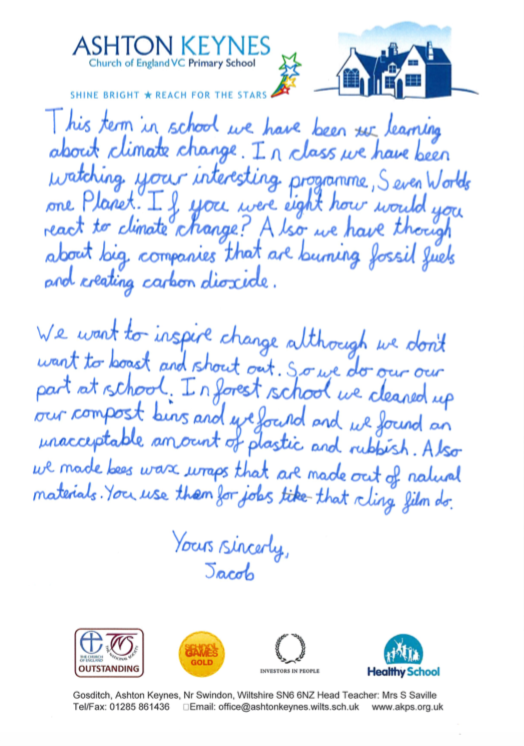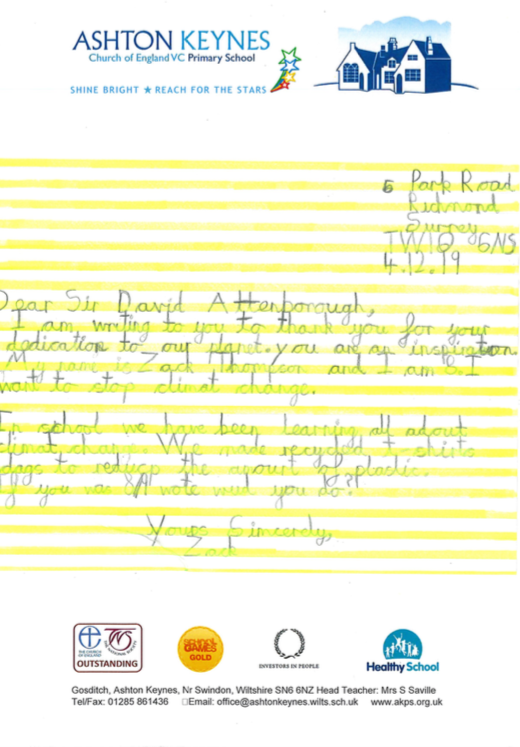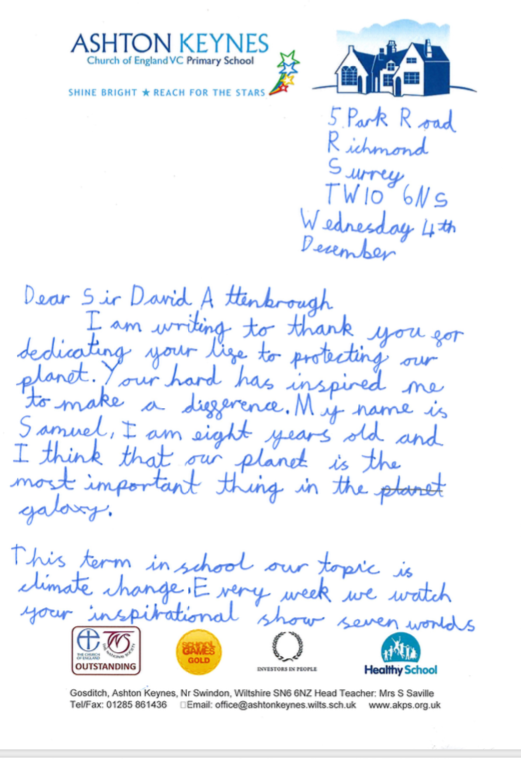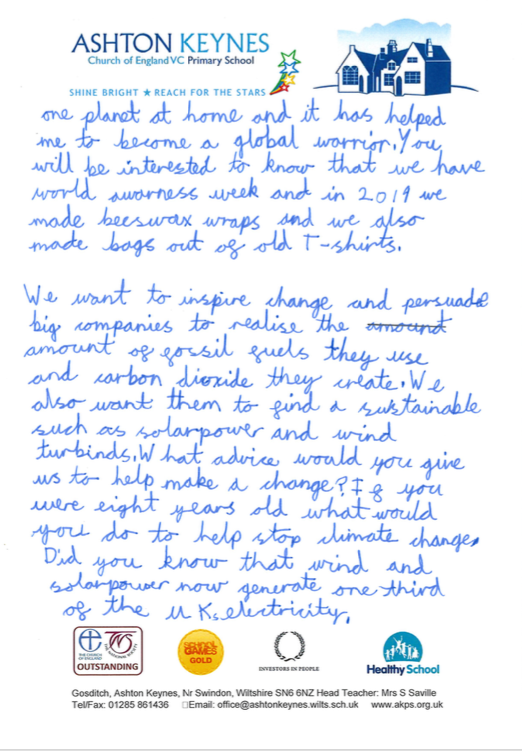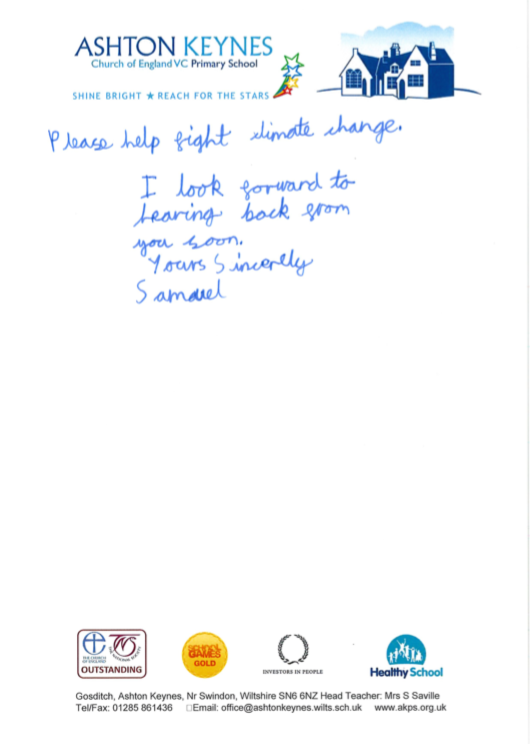 In class 4, we do not settle for 'good'! We work really hard at making our writing our very best. This week, we have been using our whiteboards to draft our first 'good' paragraph for our non-chronological reports on climate change. After this, we read them aloud and swap with our partners to look for any mistakes and anything we could improve. We also share our favourite sentences with the class and create a 'shared write' by the whole class. Finally, we then make final changes to make our writing our very best. The quality of writing produced has been amazing, our focus this term is also handwriting and we can see the impact already! Keep it up class 4!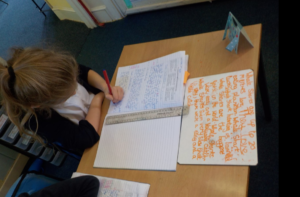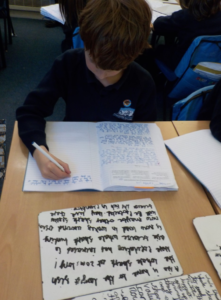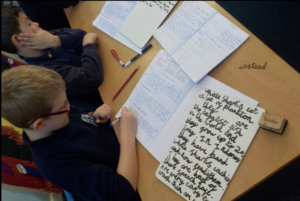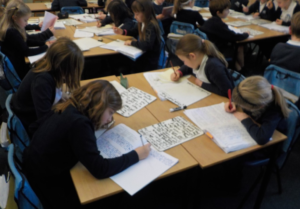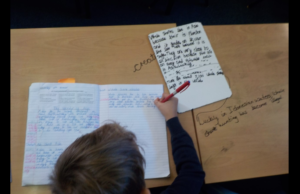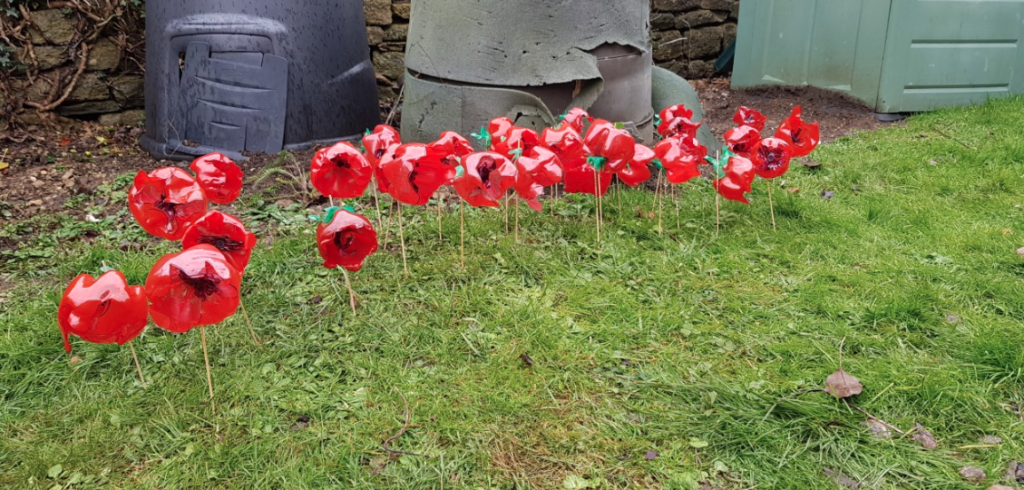 After creating our beautiful poppies for remembrance day, Class 4 planted them along the pathway into the school. We had a moment of silence to remember our fallen heroes before planting our poppies, thinking about each individual life the poppies represented. It has been a beautiful week of remembrance and such a lovely craft activity to complete. Thank you all so much for your donations!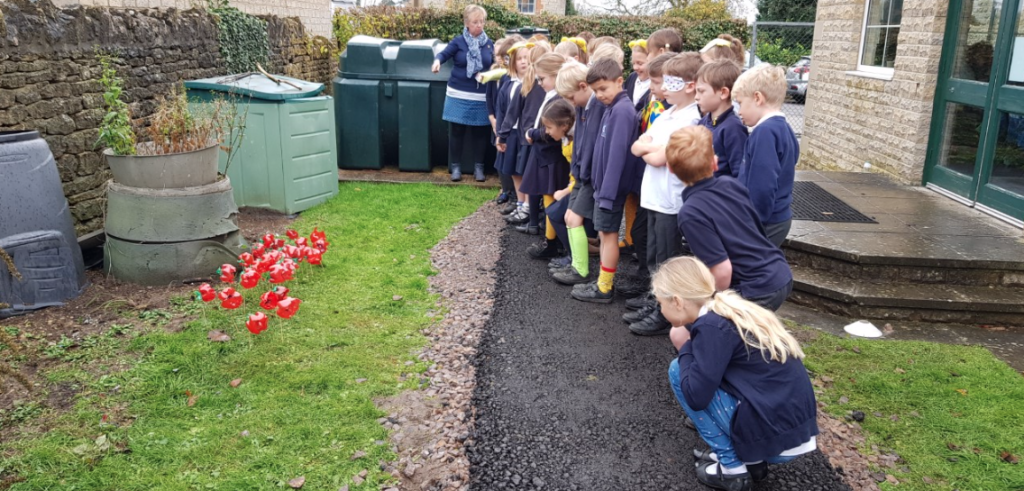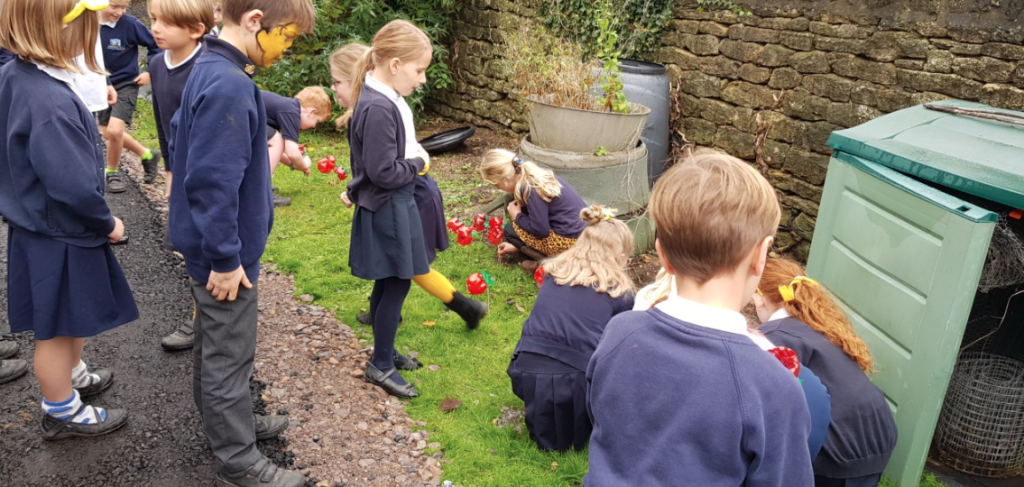 Term 1
Class 4 Term 1 'What a Wonderful World' Homework Brochure
Spelling: Rule 1 Adding suffixes beginning with vowel letters to words of more than one syllable
On Wednesday 9th October the whole school took part in a Boogie Bounce class in the hall. It was SO much fun! We danced and bounced on the trampolines and had a great workout. How lucky are we to do so many exciting, new things at AKPS!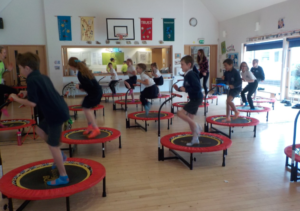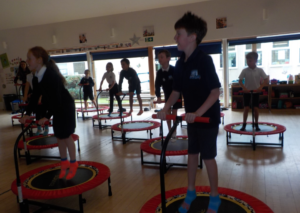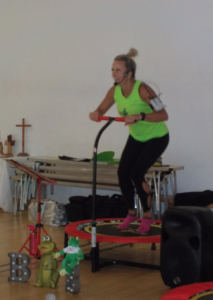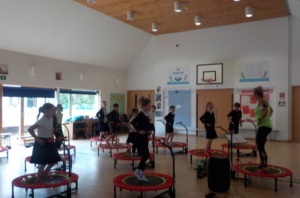 This morning, (Wed 9th Oct) the MOST exciting thing happened in Class 4! Overnight, someone built a den in our classroom! We have no idea who, but we investigated the clues left by the person and think it could be a stone age hunter-gatherer. They have used lots of materials from the class and even drew stone age cave art under their den! They also ate all of the apples we collected earlier in the week in Forest School. The person left us a note on our whiteboard saying, "fanx fer letin me stay," we are going to write them a note back welcoming them to our school and see what happens tomorrow. What an exciting day at AKPS!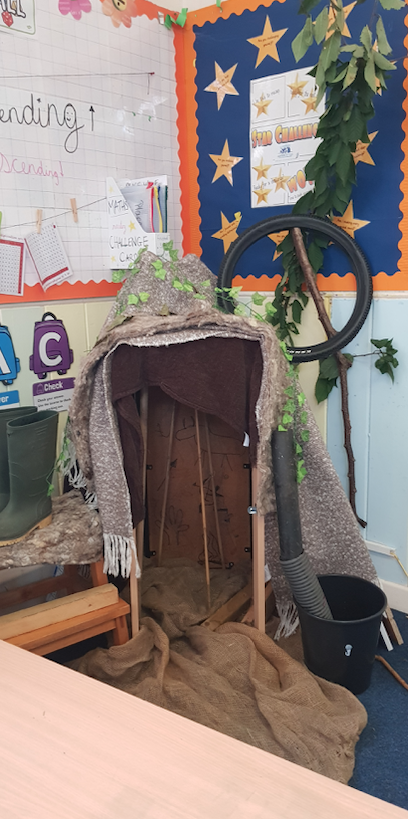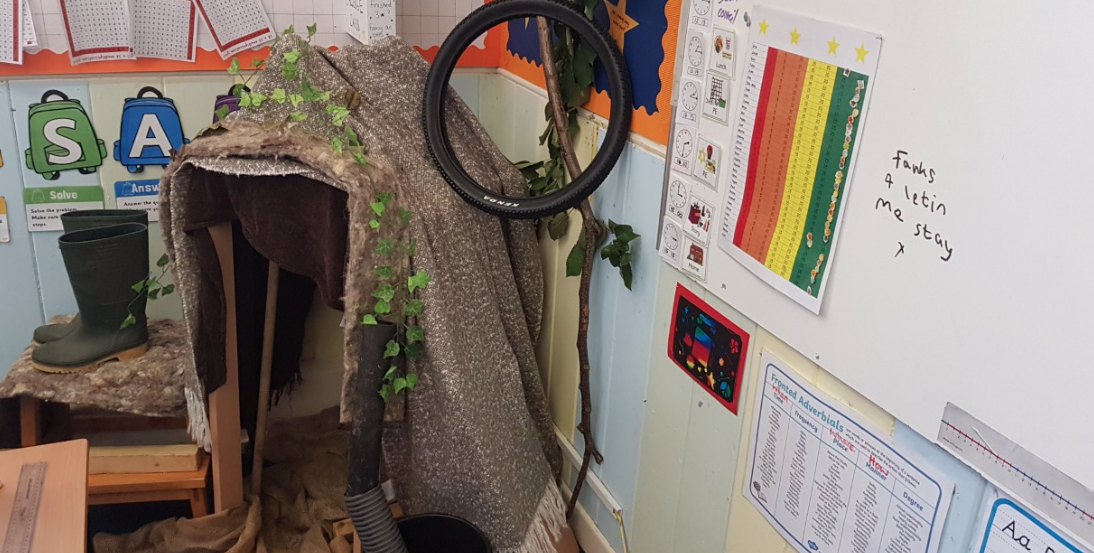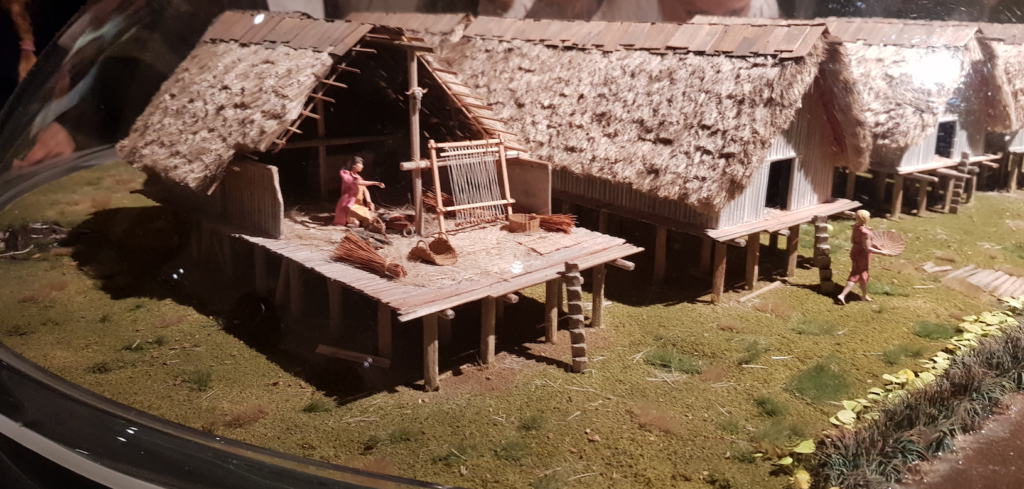 As part of our Stone Age topic, Class 4 visited the Ashmolean museum in Oxford on Wednesday 25th September. We explored the galleries and took part in a 'Life in Prehistoric Britain' workshop. It was brilliant! In the interactive gallery session the children discovered how we learnt about people from this remote time before written history, including where archaeologists find evidence about the past. We handled materials and artefacts used by Stone Age and Bronze Age people and worked as detectives to decide what the materials and objects might be and how they could be used. We even handled an artefact that was over 30,000 years old!!
We learnt so many interesting things, including how Stone Age people made their fur clothing waterproof using urine and deer brains! It was a brilliant day and a fantastic start to our topic.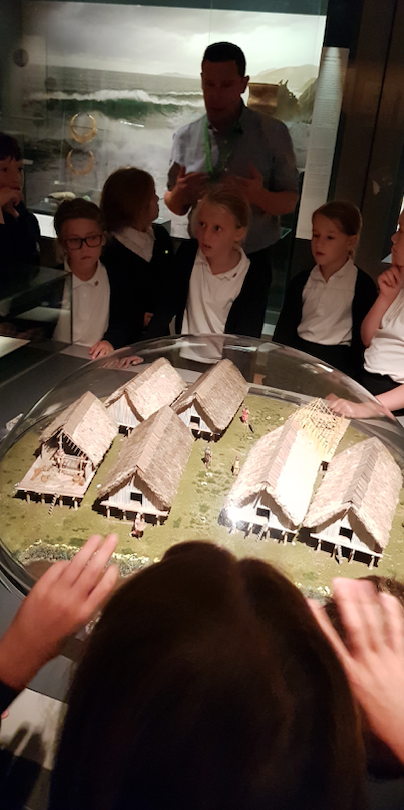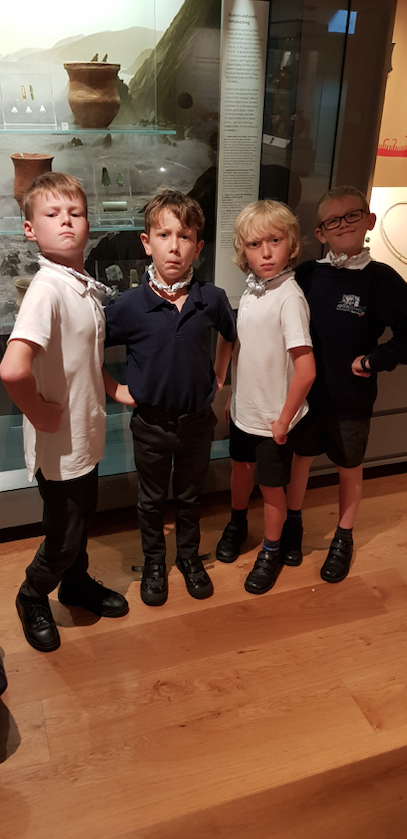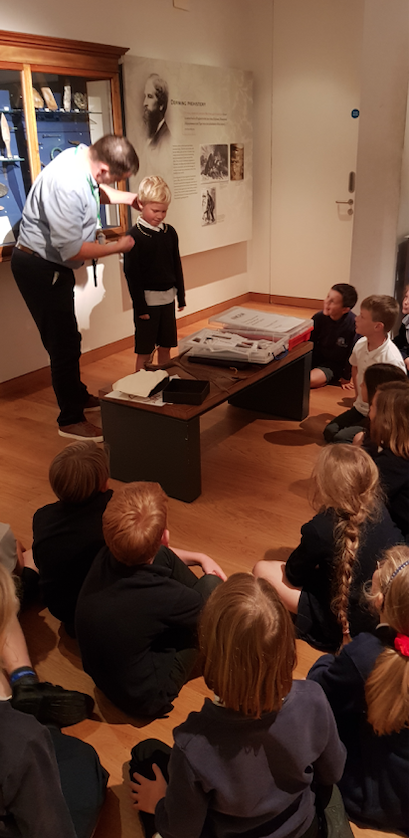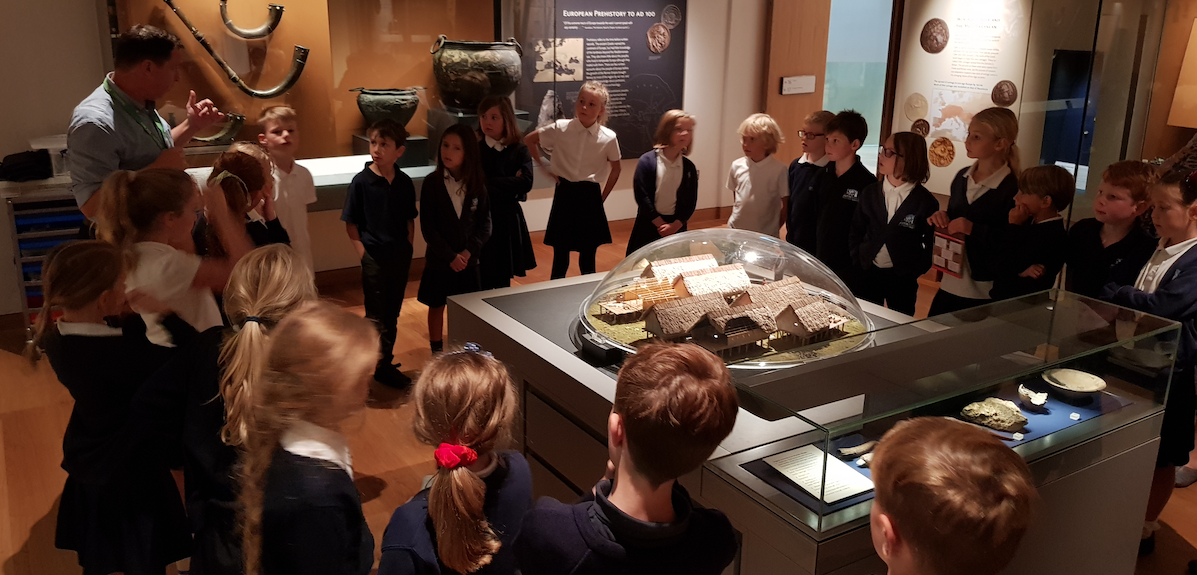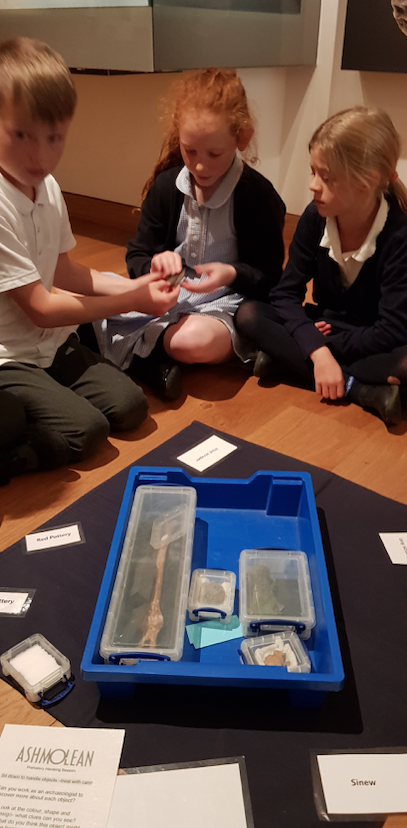 Our topic this term is the Stone Age, to really understand how the hunter-gatherers survived, we turned our imagination on and imagined we were Stone Age hunter-gatherers. We hunted around the school field for assets that would have helped us survive in the wild. We had to find something we could eat, drink, make tools and weapons with, make shelter with, use for clothing and use to make a fire. We then created a 'Stone Age Survival Guide' in our books.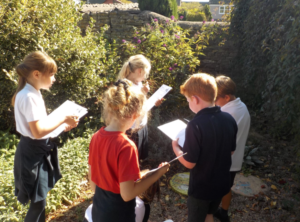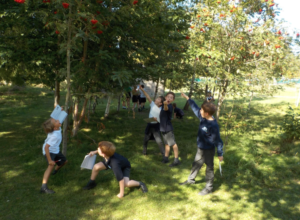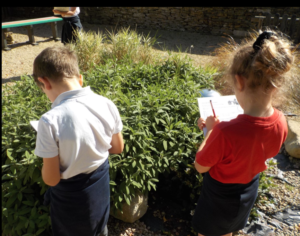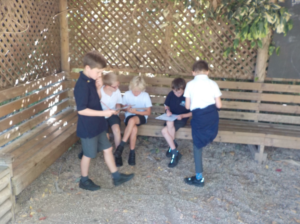 Class 4 had our first Forest School session this week and we made bird feeders using willow! The children had to persevere as it was quite a tricky task, but they worked together and supported each other beautifully. Hopefully you will get lots of lovely birds feeding from the willow feeders, just poke an apple or fat ball through the stick and let us know if you get any birds 🙂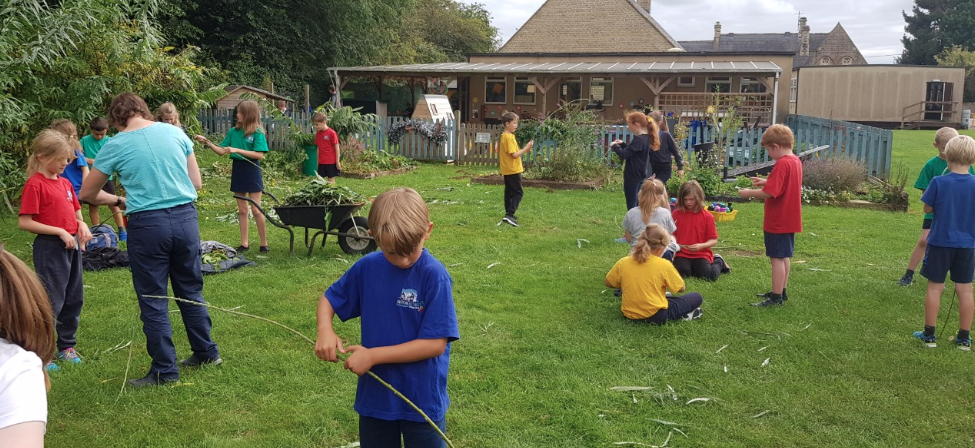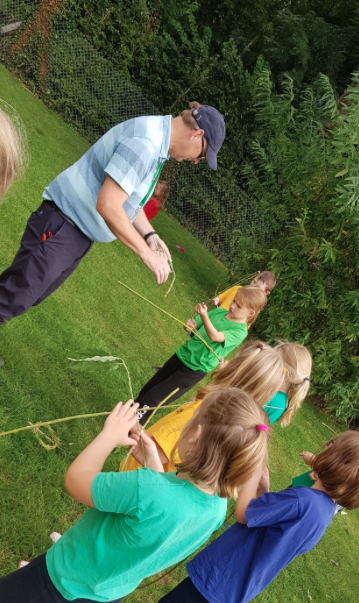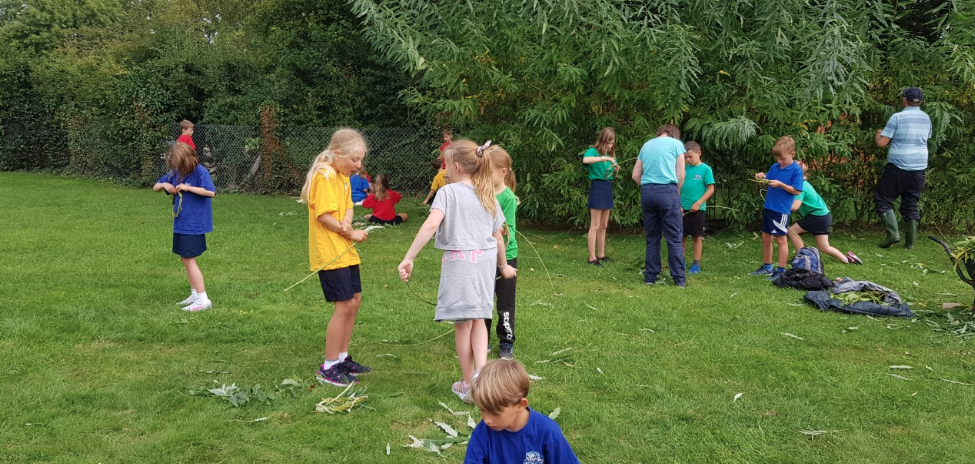 Archive Posts
Class 4 Curriculum Annual Overview 2018-2019
Term 6
Class 4 Term6 Homework Brochure 'Global Advocacy'
AKPS are so lucky for the amazing opportunities we are given. On Friday 19th July the whole of KS2 went to the Royal International Air Tattoo at Fairford. Even though it was the wettest day of the year so far, we had the BEST day. We completed the innovation trail and earned our 'wings', we took part in engineering challenges in the Tech tent and won prizes for our efforts, we were even able to play with virtual reality headsets! It was an incredible day. 
Not only that, some of us even met TIM PEAKE!! We had our photo with him and asked him some questions. Overall, it was the best day ever and the children all said it was one of their favourite trips. Thank you Mrs Saville!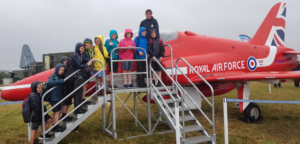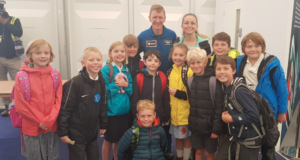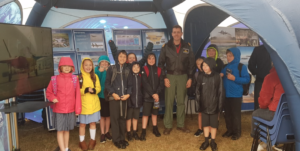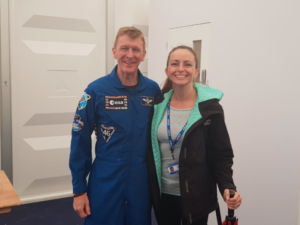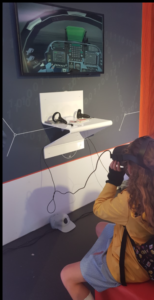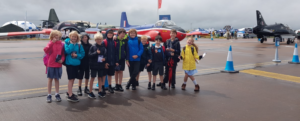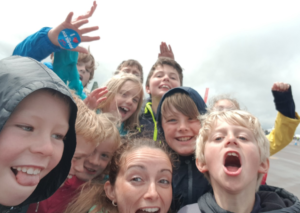 As part of a homework project following Awareness of Our World Week, Class 4 were asked to write a letter to a supermarket of their choice asking them to reduce their plastic packaging. Ben in our class had a response from Tesco this week, which informs us of their plans to reduce their plastic packaging and waste. This has been a fantastic opportunity to understand the plastic problem further and to also learn about the many strategies and aims supermarkets have to reduce their plastic use.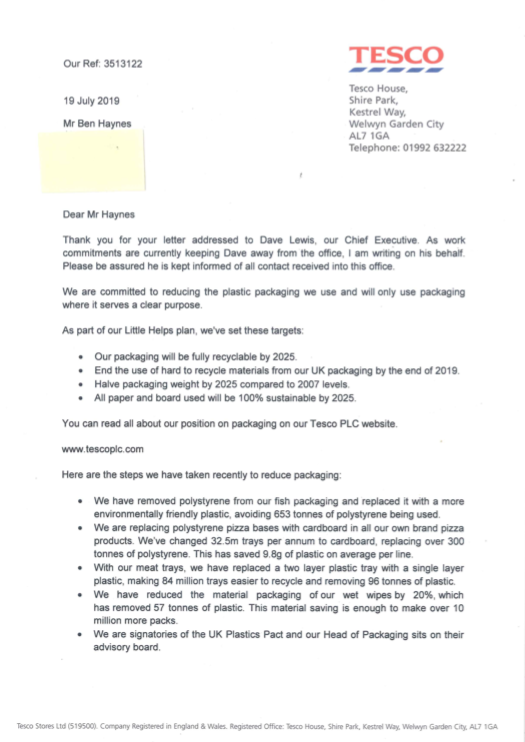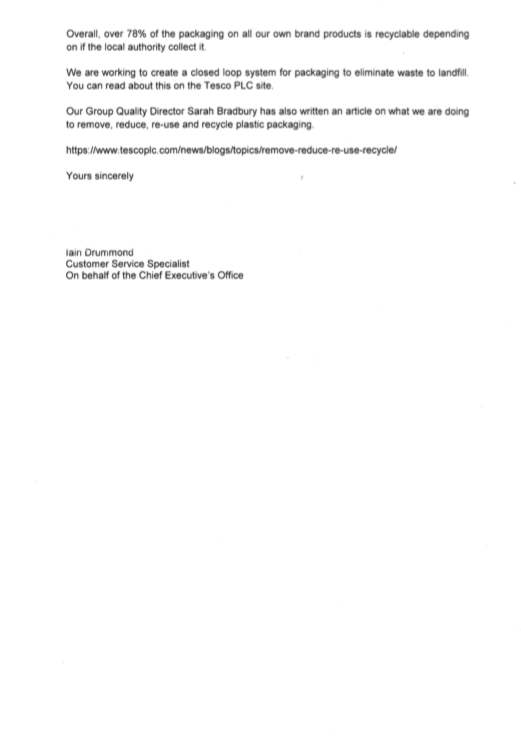 On Wednesday 3rd July we were lucky enough to visit the Fresh Air Sculpture show in Quenington. The children all commented on it being one of the best trips they had been on. It was a brilliant, engaging and imaginative day with all of the children completely inspired by the art they saw. The children were so well behaved many members of the public commented on their manners. We were even able to make our own natural sculptures in a workshop with local artists and are super excited to continue this passion at home and in school.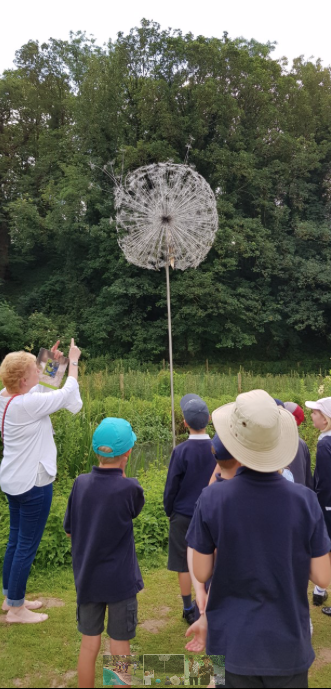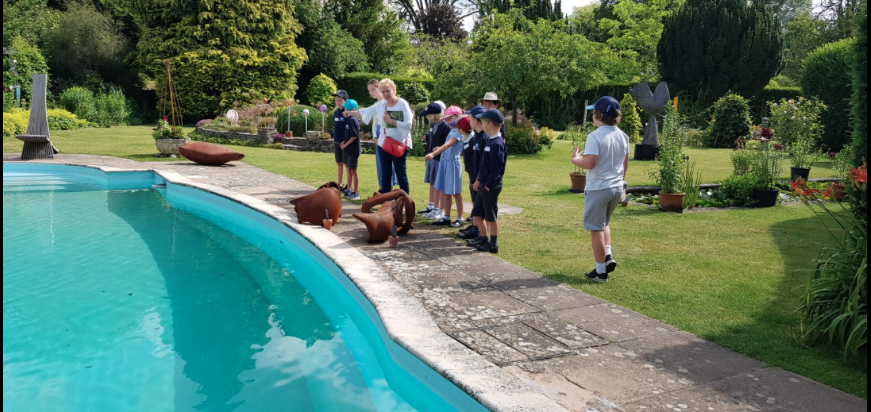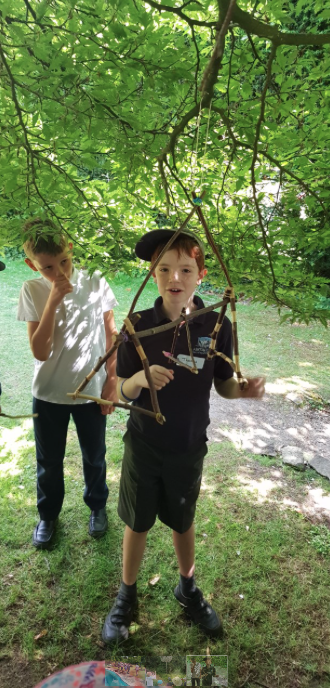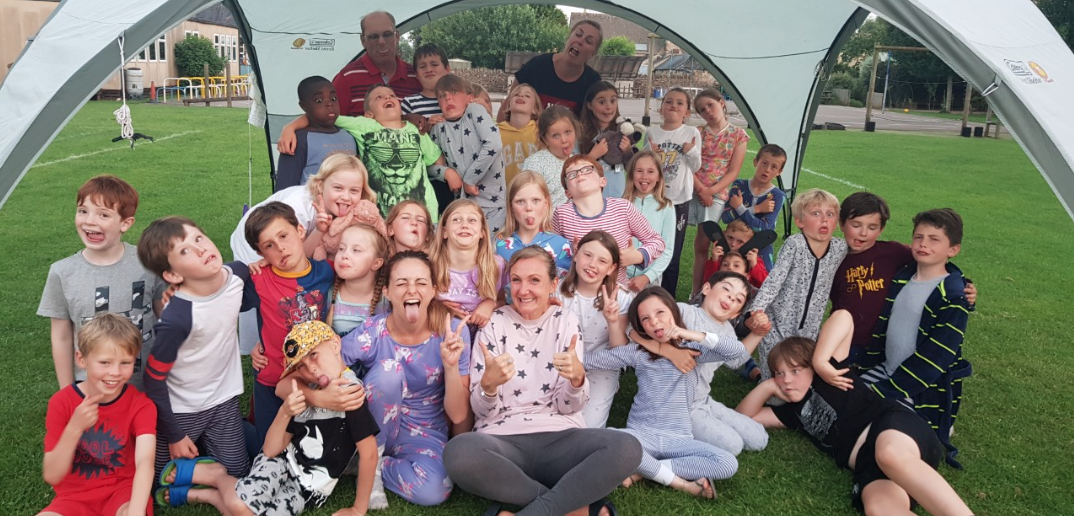 On Friday 28th June, Class 4 had their annual residential – camping out on the school field! It was a fantastic evening, thanks to the generous donations of tents from parents, the children were all able to camp out and play games together. We had relay races, a disco on the Smooga, games, dinner on the field, ice creams, yoga and massage! The children were incredible respectful, kind and protective of one another and it was a brilliant evening. We even managed to get a couple of hours sleep 🙂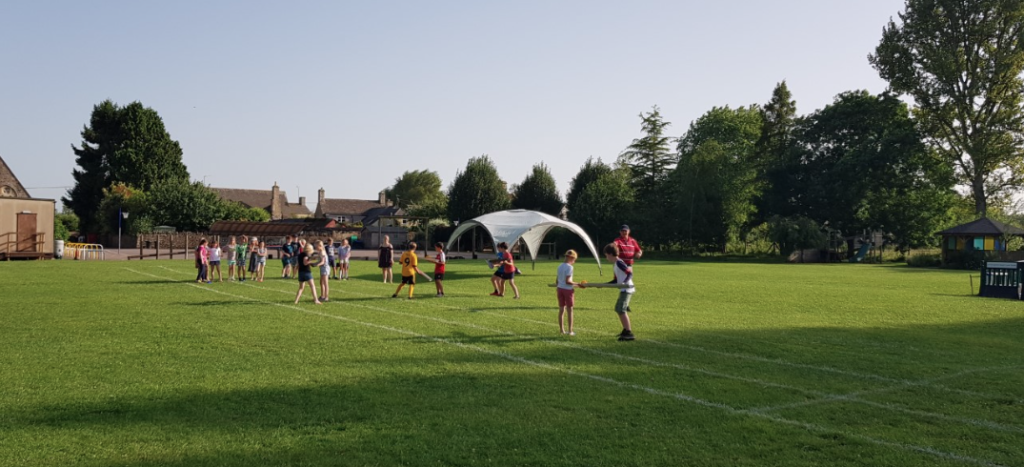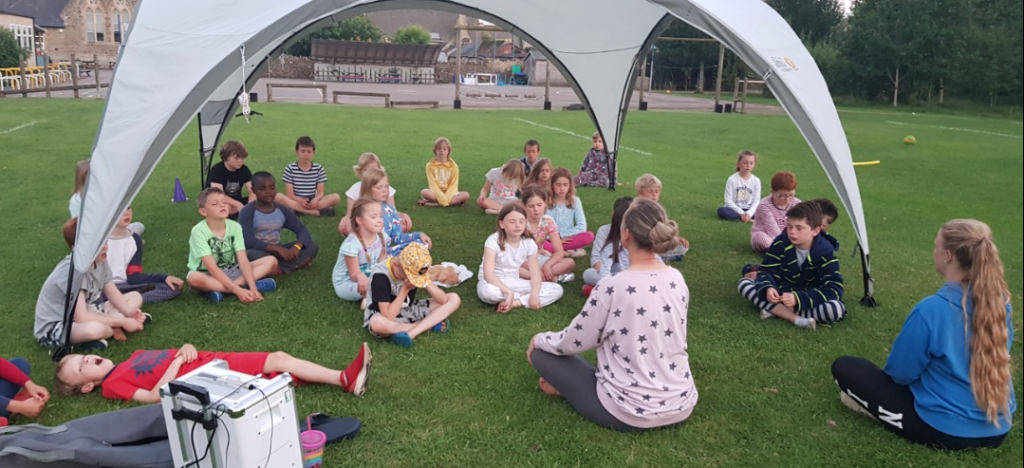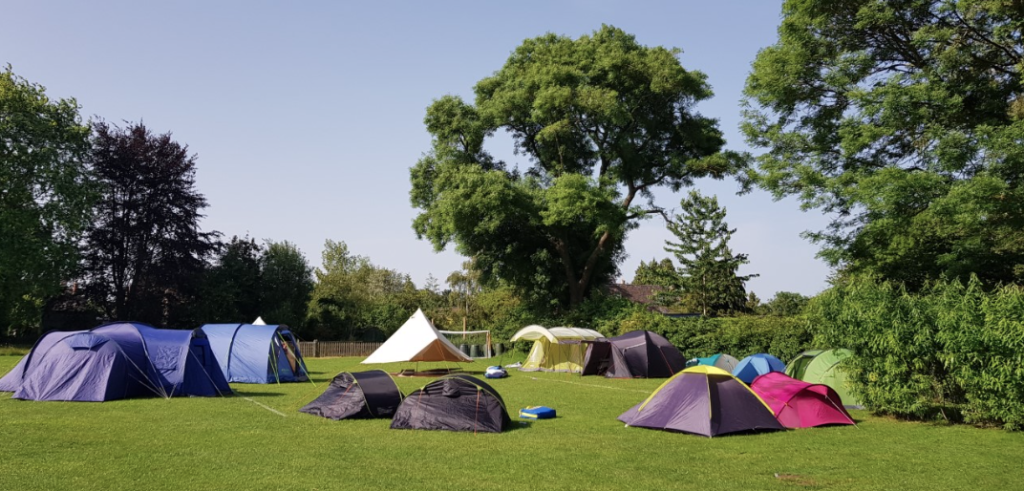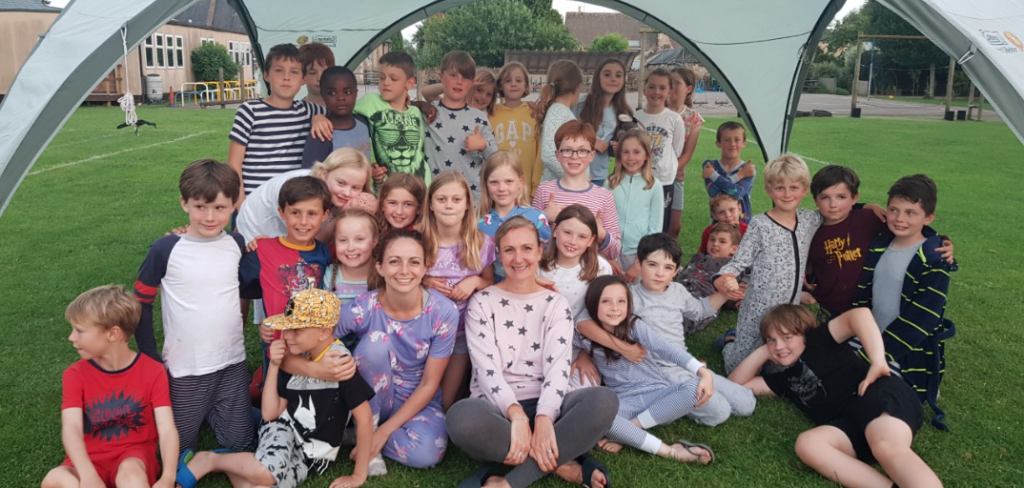 Awareness of the World Week (3rd – 7th June)
Turning the Tide on Plastic Pollution was the focus in Class four during Awareness of the World Week this year. After watching Planet Earth 2 and seeing the devastating impact single use plastic has on our world, oceans and people, we have been keen to make a difference! We investigated 'how long until it's gone?' and discussed the meaning of decomposing materials, explaining where items that are not recycled end up. We were shocked to see single use plastic bottles are used once but take up to 450 years to decompose! So all of the plastic ever made that has not been recycled is still out there in a landfill, and will not decompose for another 350 years. 
Thanks to the incredibly generous donations of the school community, every single child in the school was able to make a T-shirt Bag for Life to help reduce the number of plastic bags in the world. We decorated them with powerful messages to show our support of reducing single use plastics. We also discussed the impact cling film has on the world, and made lots of promises to reduce our use of cling film. Keep us updated if your children feel empowered to make a difference, it all starts with one spark!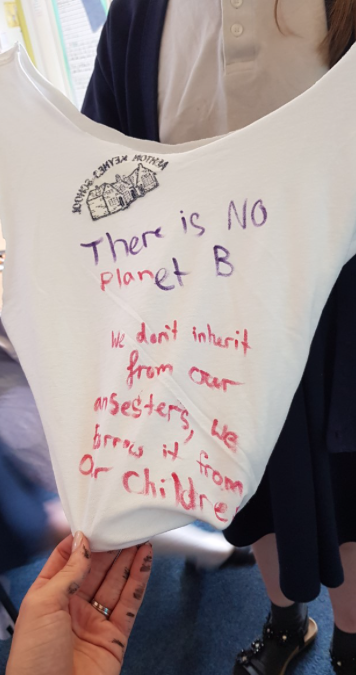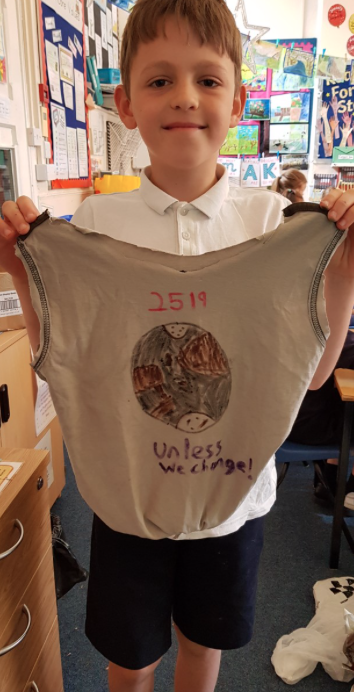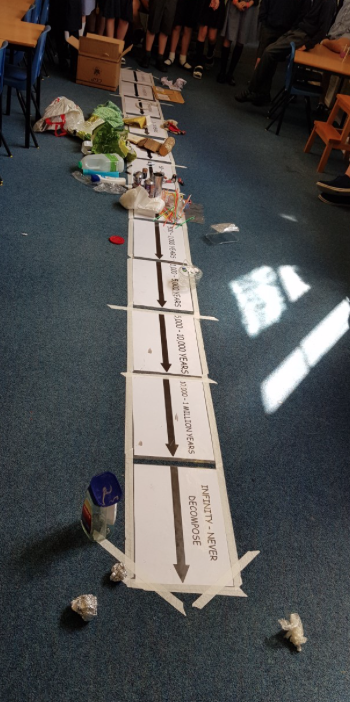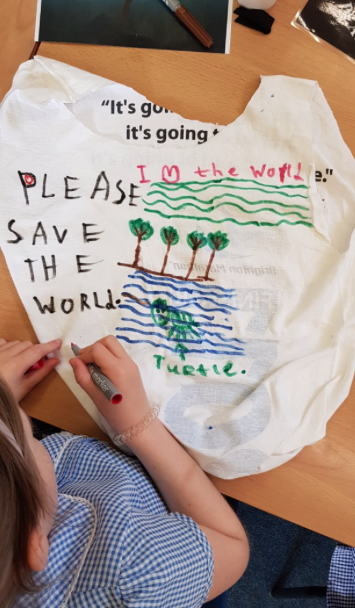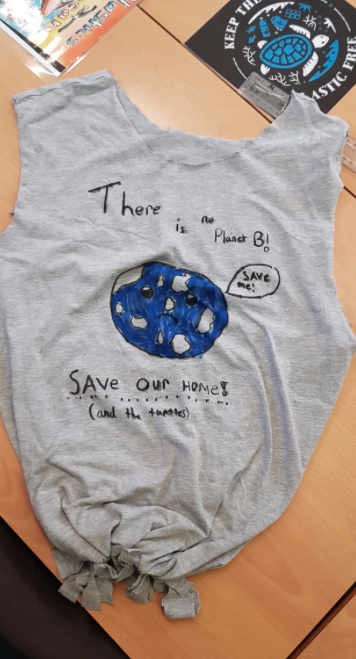 Term 5
Class 4 Term 5 Rainforests Homework Brochure
For our Science topic, Animals including humans, we have been learning all about the digestive system. This week got very messy with a practical demonstration of the digestive system! We used bananas and crackers as our food, a sandwich bag to represent our stomach, orange juice to represent stomach acid and water to represent saliva. We then squished and squashed the sandwich bag to break down the food and mix the acid and saliva together. After this, we cut a small hole and pushed the food into a pair of tights, representing the small and large intestines. We learnt SO much about the digestive system and had so much fun in the process.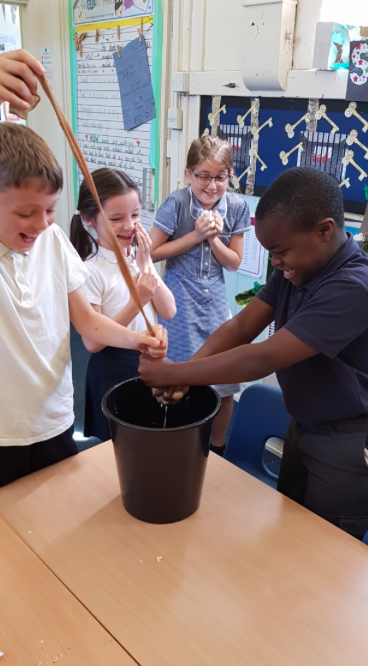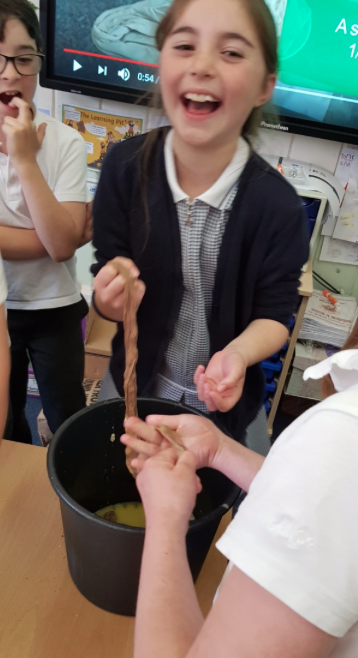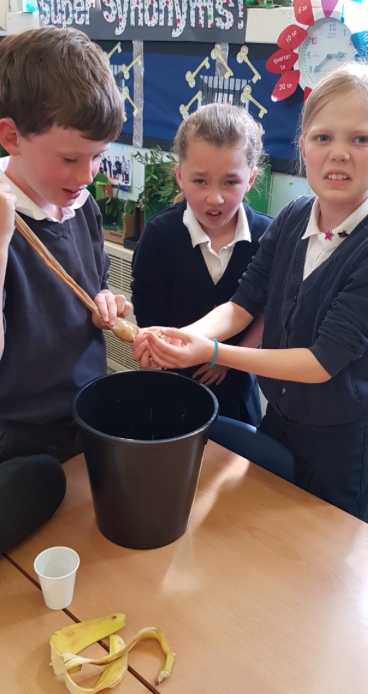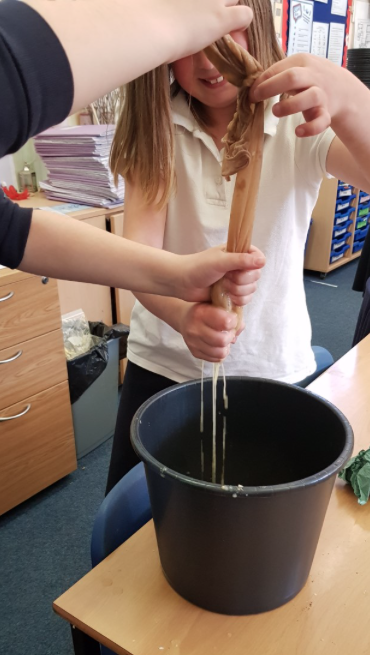 The whole school have been working on the School Garden for the Malvern Spring Festival since October last year and today class 4 went to Malvern for the judging! Class 4 have worked so hard to create our garden, based on 'A Moment in Time'. The children decided to base it on VE day in AK as we have so many links to the armed forces in our school and across the whole village.
Thanks to all of the efforts of every one involved, staff, parents, sponsors, volunteer, children, the entire community donating memorabilia and items linked to the war, we were awarded the Highly Commended award!! We are so proud of our whole school and community for getting the golden award! What a fantastic achievement for everyone involved.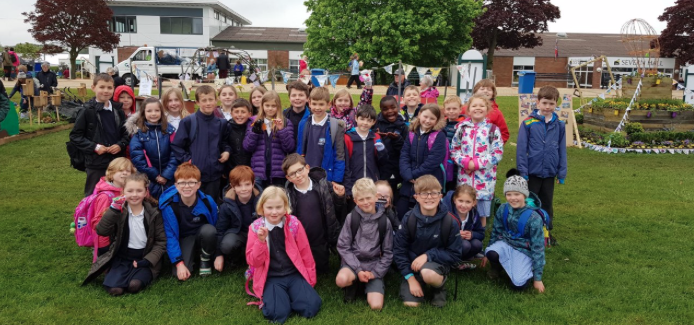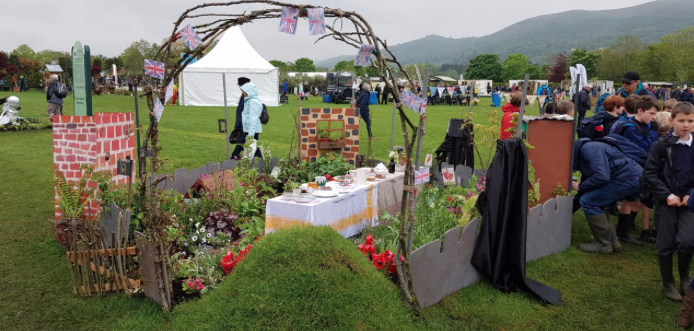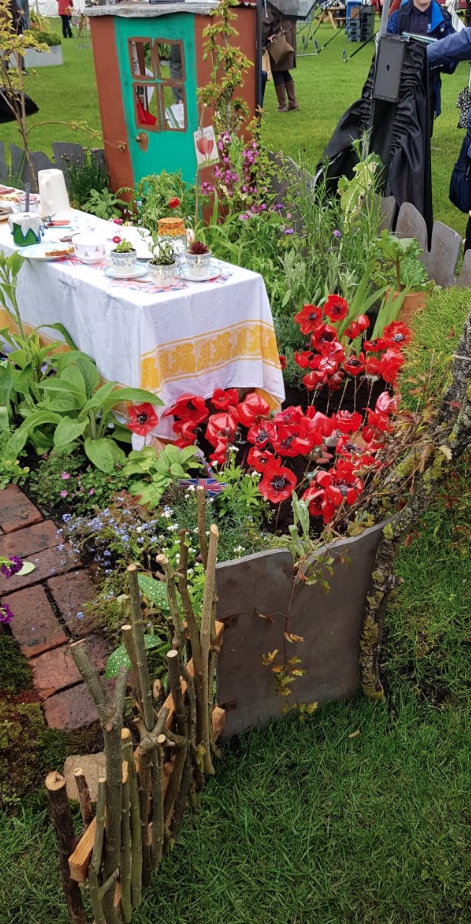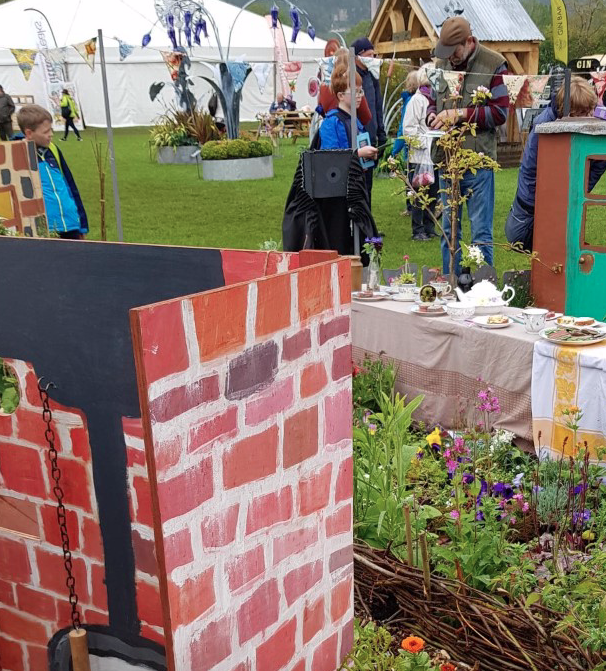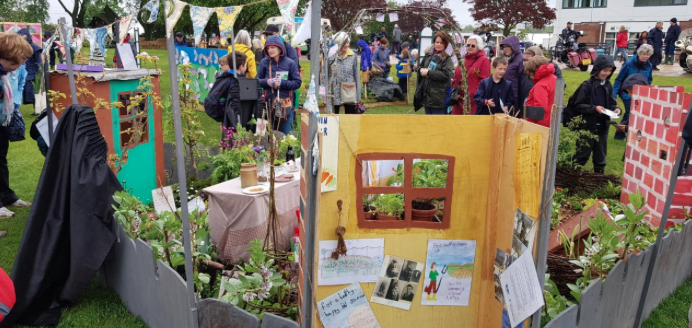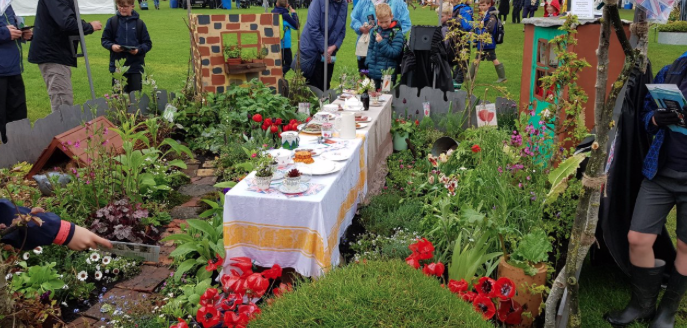 On Thursday 25th April, to kick off our rainforest topic Classes 3 & 4 went to Bristol Zoo! We spent the morning looking at the different animals around the zoo, we saw gorillas, penguins, seals, bats and were roared at by a lion! After this, we were taken to our Rainforest workshop in the Education Centre. We were told all about the different layers of the rainforest, the climate, where rainforests can be found and what animals can be found in a rainforest. We then held hissing cockroaches, stick insects and even stroked a rainbow boa snake! It was so exciting, the children had so much fun and it was a brilliant kick off to our amazing new topic.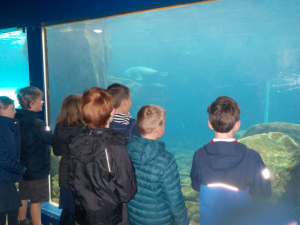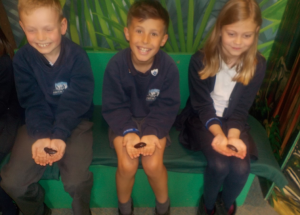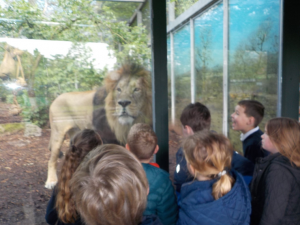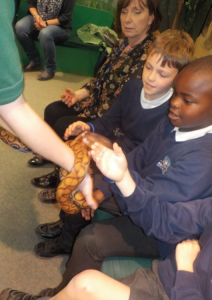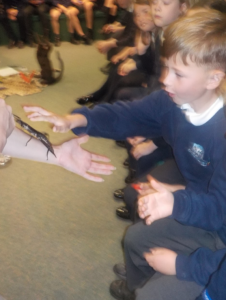 As part of our Malvern Flower Show, "Ashton Keynes Remembers", Class 4 spent the morning with local artist Marie creating poppy sculptures using recycled plastic. We cut the plastic bottles into the shapes, used acrylic paints, pens, wire, buttons and hair dryers to create the poppies. They are absolutely beautiful, so beautiful we are going to make more next week! 
It was a fantastic, craft filled morning and the children loved it. The poppies will be used in our Malvern Flower Garden to remember those who have fought and continue to fight for our country.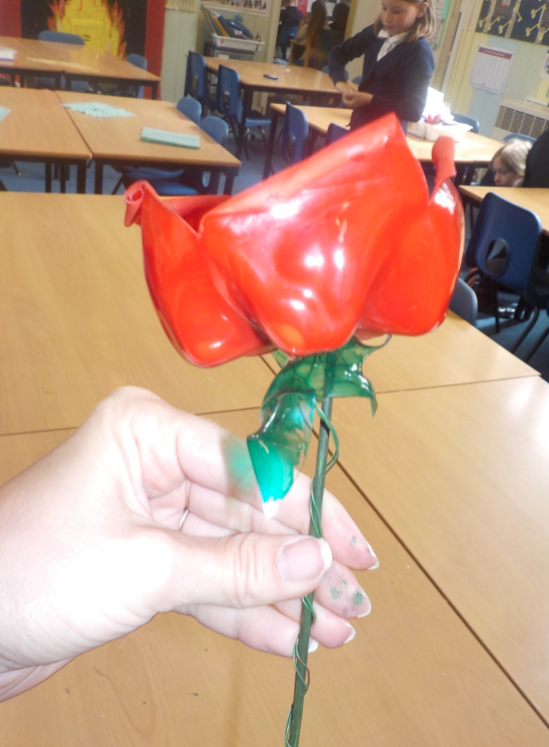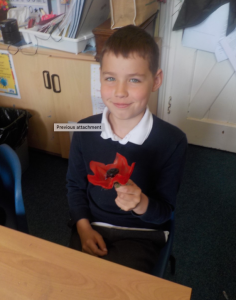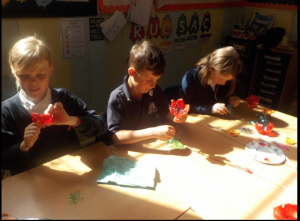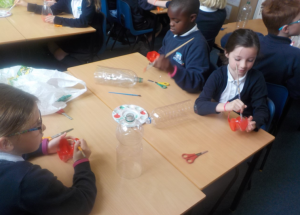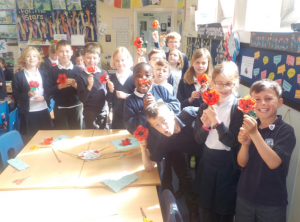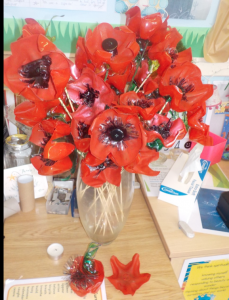 Term 4
Class 4 have had a fantastic term rehearsing and preparing for our production of Roald Dahl's Little Red Riding Hood. The children in Classes 3 & 4 were absolutely magnificent both evenings and put on memorable performances. We had fantastic feedback from all who attended and loved the opportunity to do some art, DT and drama. We even wrote our own additional lines for the script to ensure the play was perfect. Howwwwww do you think we got on? 🙂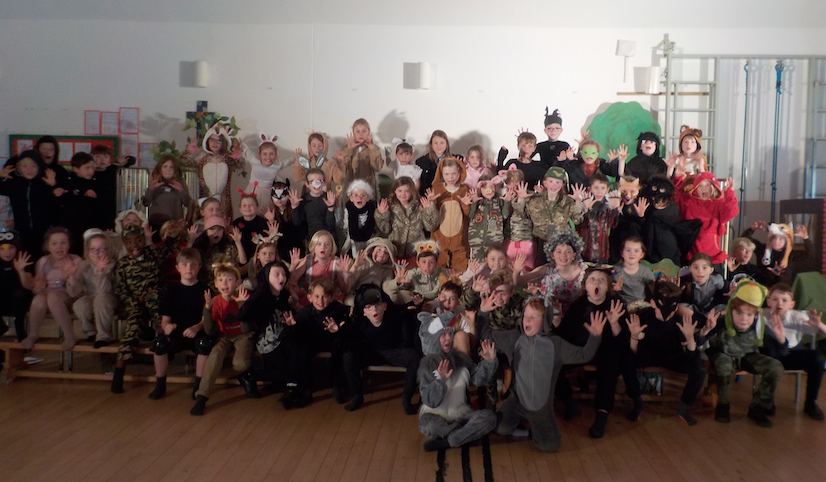 We have been learning all about Incarnation in Christianity this term and what the Holy Trinity means to Christians. We learnt all about God as the Father, The Son, and the Holy Spirit and watched videos of Jesus' baptism to understand the impact of this story on a believer. We then drew a symbol to show our representation of God as the Father, Son and Holy Spirit. They were so fantastic we then created them into a piece of art work using soft pastels and made a display in the Year 4 corridor.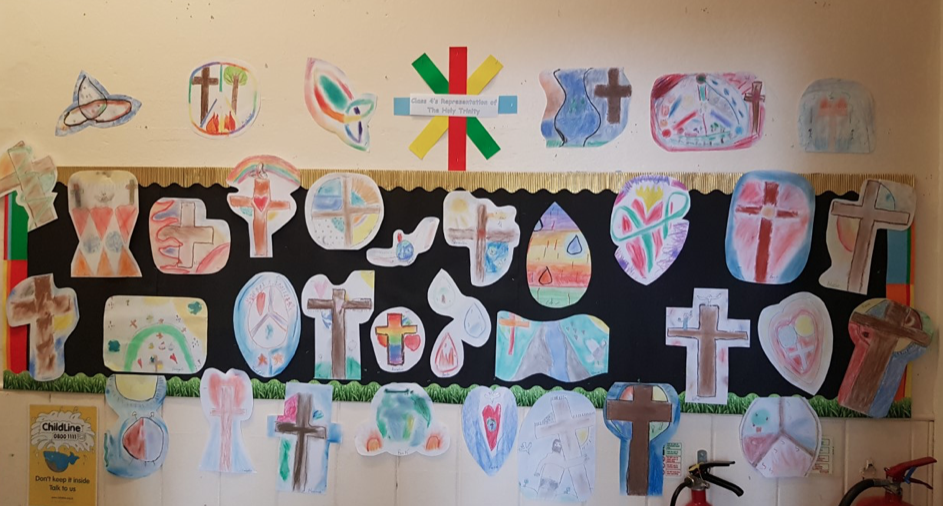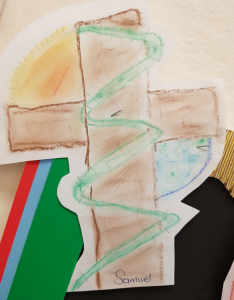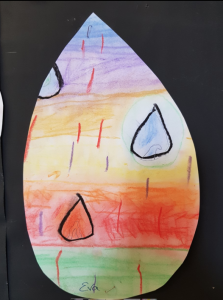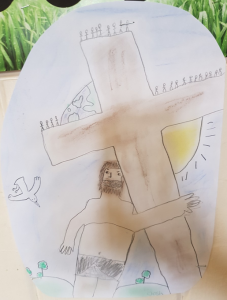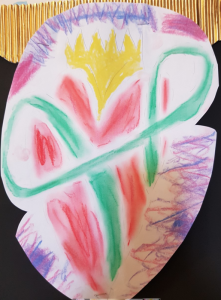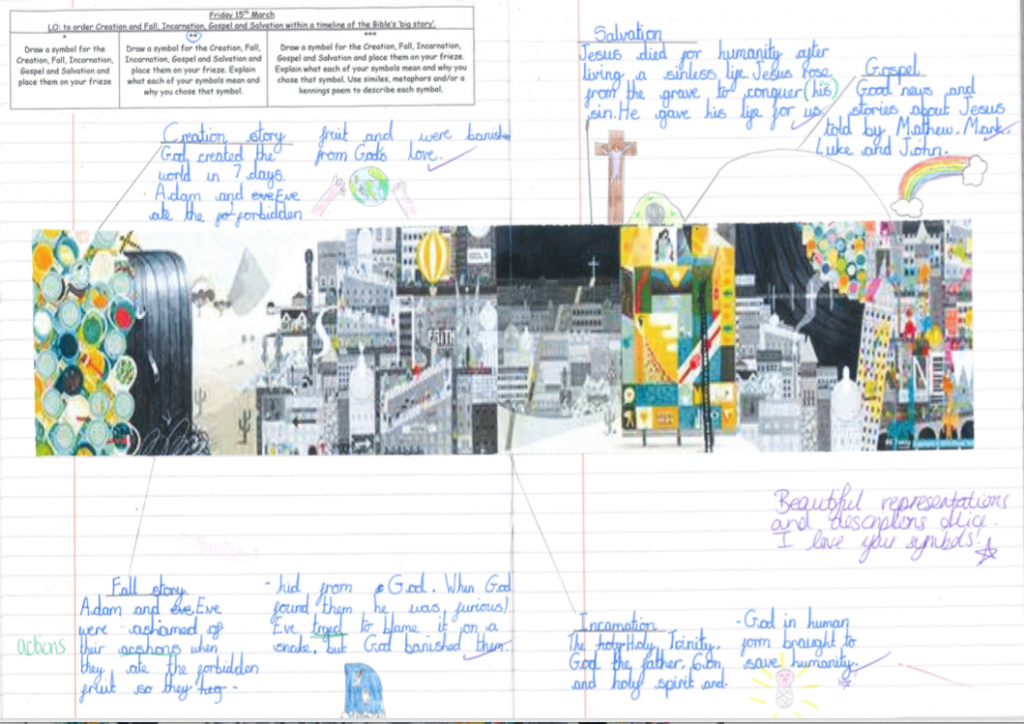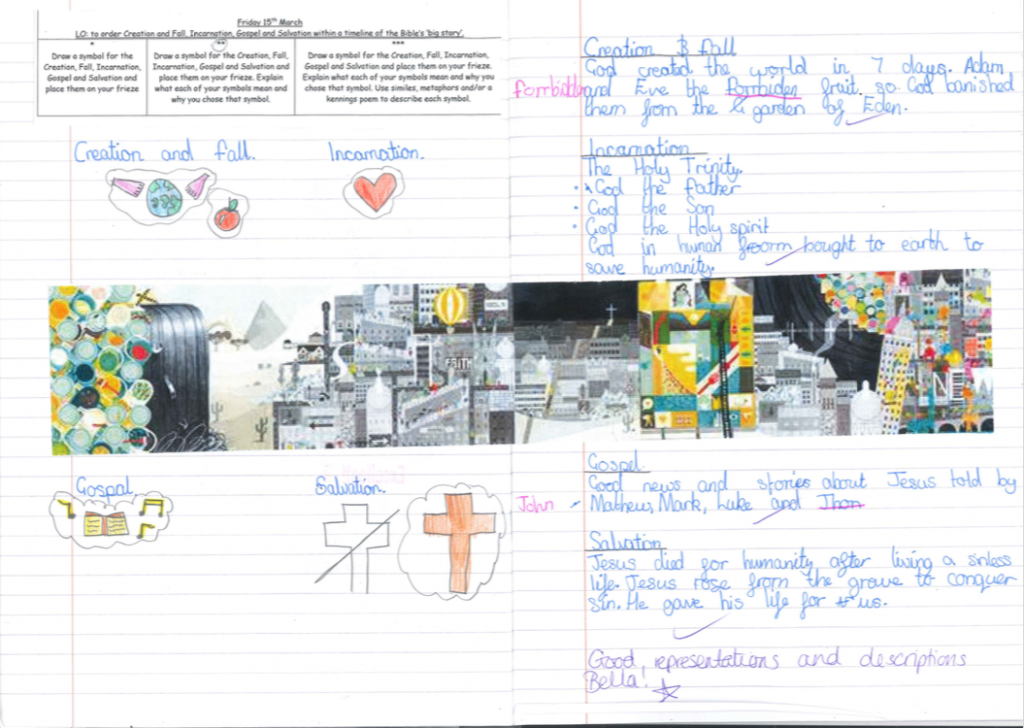 This week in Science week (week of 11th March) Class 4 made lava lamps! It was SO much fun! We used water, sunflower oil, food colouring and alka-seltzer aspirin and discussed the different densities of the liquids and why sunflower oil floated on top of water. We were all surprised that this happened and loved watched the oil pouring into the bottle. We then added food colouring and were amazed watching the droplets stay formed through the oil! Adding the tablets made the lava lamp burst into life. These were so easy to make, we'd highly recommend trying at home with an adult.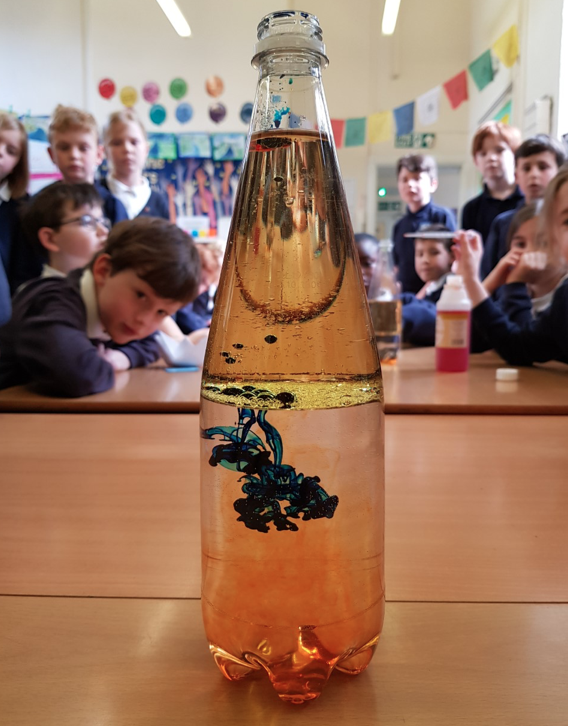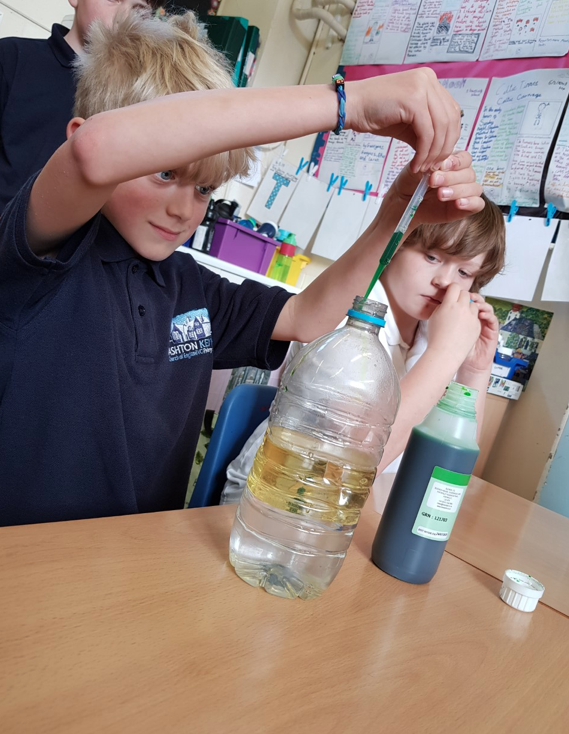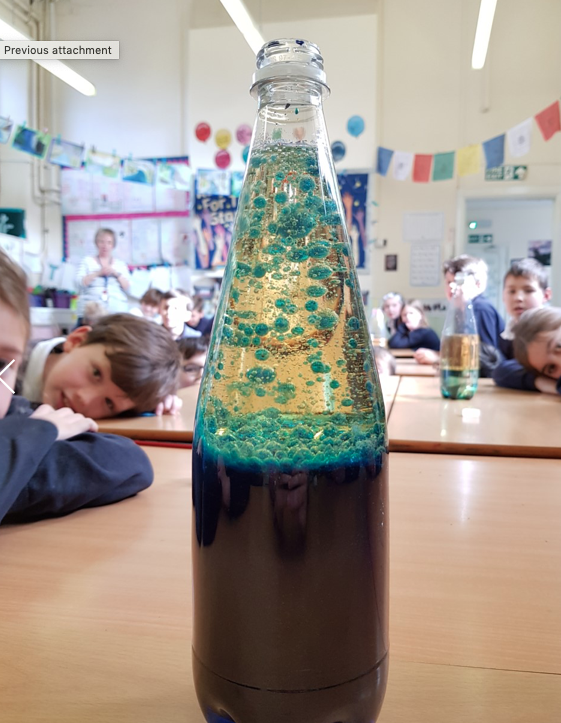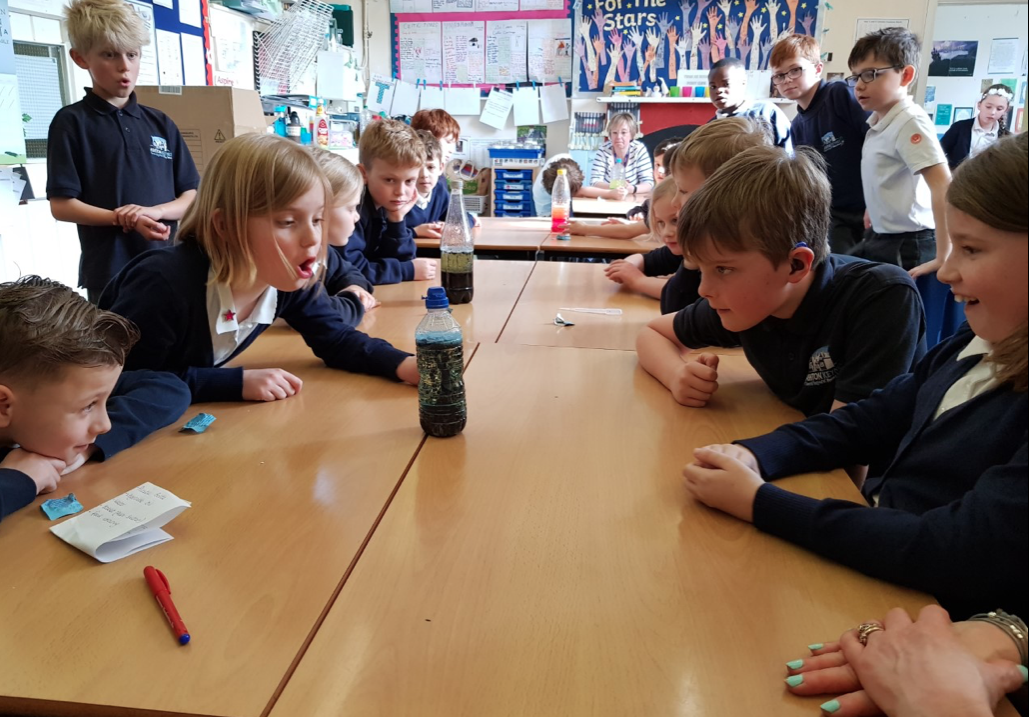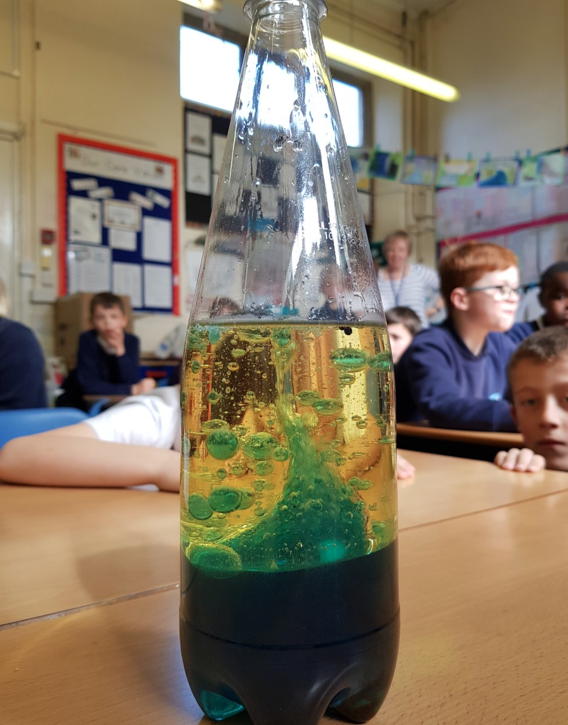 Term 3
Class 4 Term 3 'That sounds awesome' Homework Brochure
14.02.19 We have been writing newspaper reports about the Roman invasion of Britain, the children then spent 2 lessons typing them up on the computers and the final pieces are brilliant!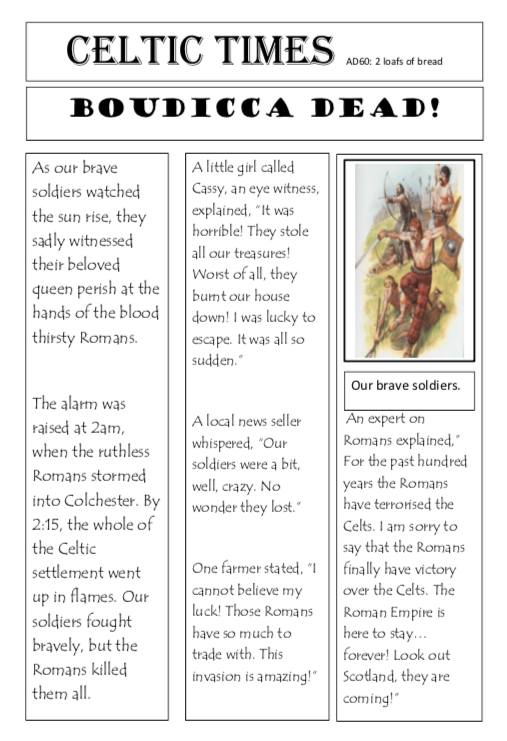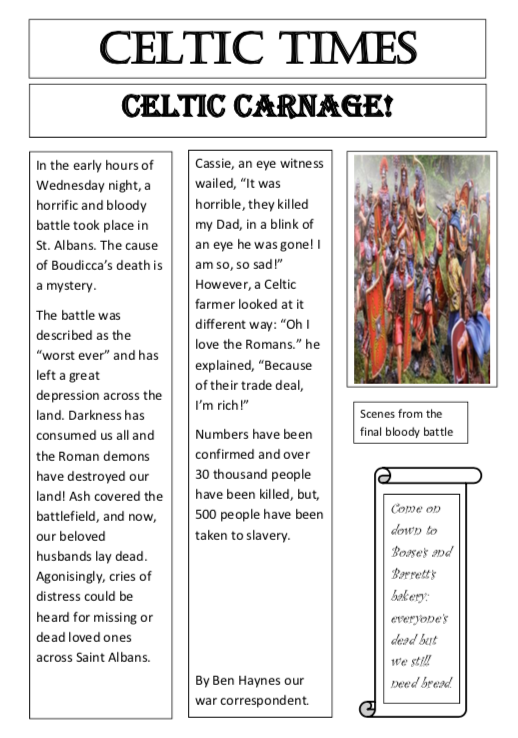 Welcome to our fraction museum! To kick off our fractions topic in maths, class 4 created fraction museums using objects in the room. It is crucial to understand fractions can be represented using every day objects, so we used scissors, rulers, pens, pencils, multilink and rubbers to represent fractions in different ways. We even managed to spot some equivalent fractions along the way…can you see them?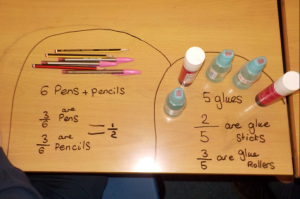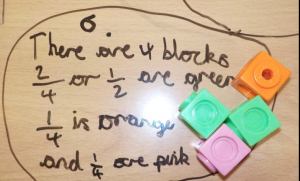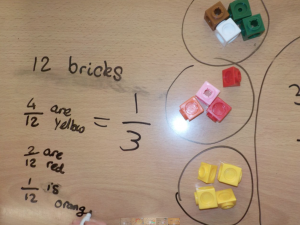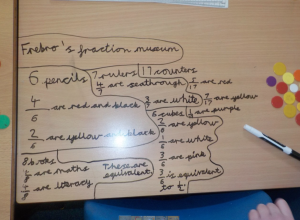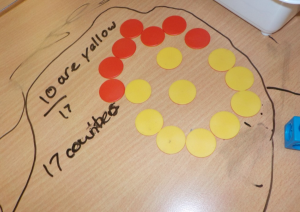 This week (07.02.19) Class 4 have been creating newspaper reports about the Roman invasions in Britain, from a Celtic point of view. The children worked in groups to write each section of the newspaper on one large piece of paper. They then swapped tables and moved to a new newspaper and added the next section of the paper. Once finished, we had 8 different newspapers where the entire class had contributed to each section. The finished results are fantastic!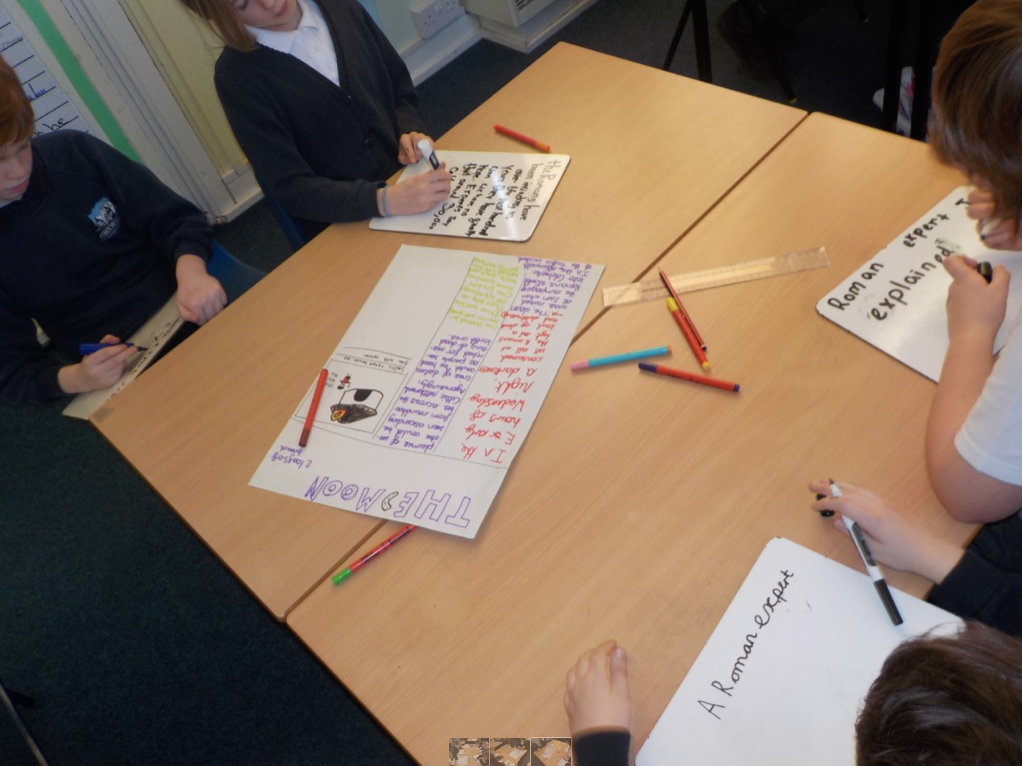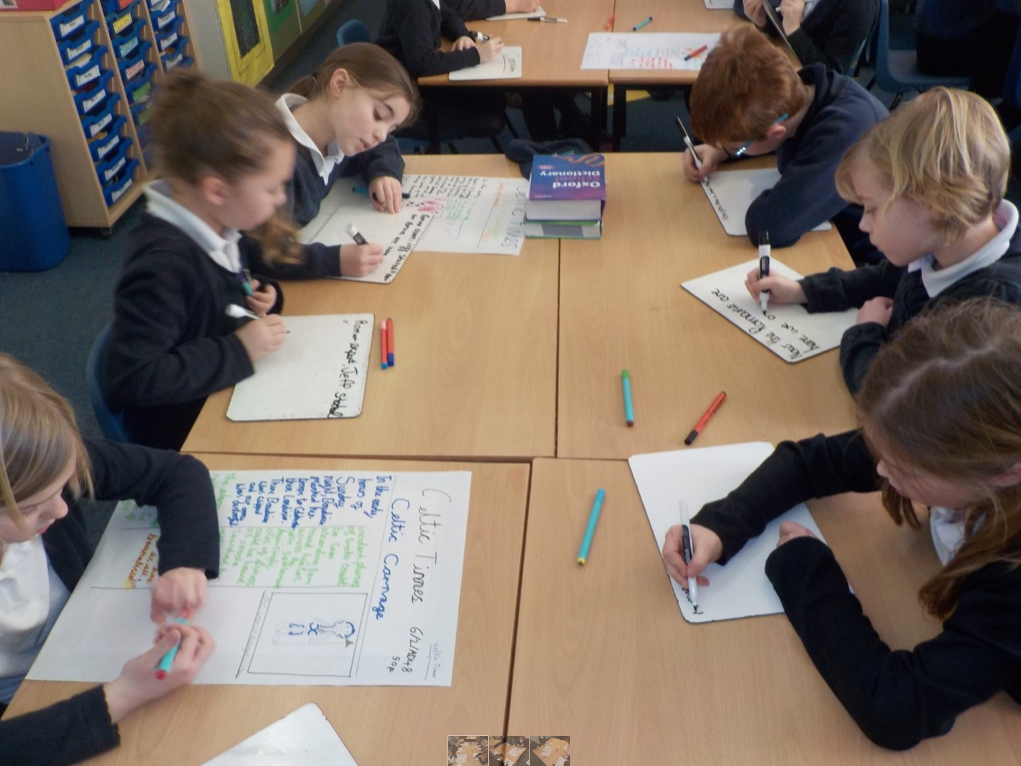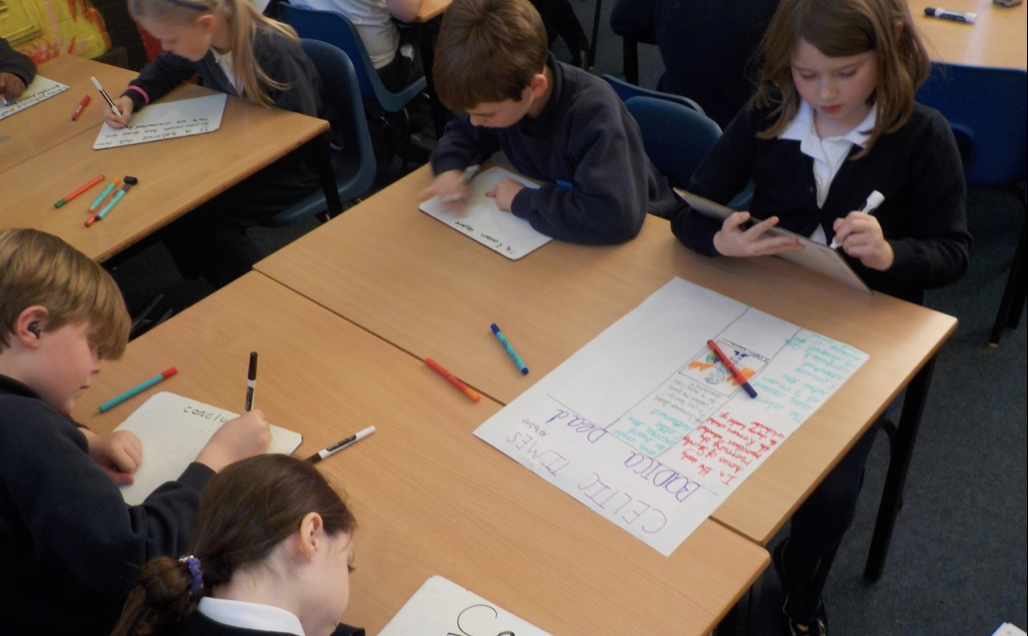 Class 4 we have been learning about 'grace' in RE, what it means and why it is so important to Christians. We took the time to write our own words of encourgement, support, motivation and inspiration to become different versions of our own 'class grace'. We are going to read different ones to the class every day to motivate us to be the best version of ourselves!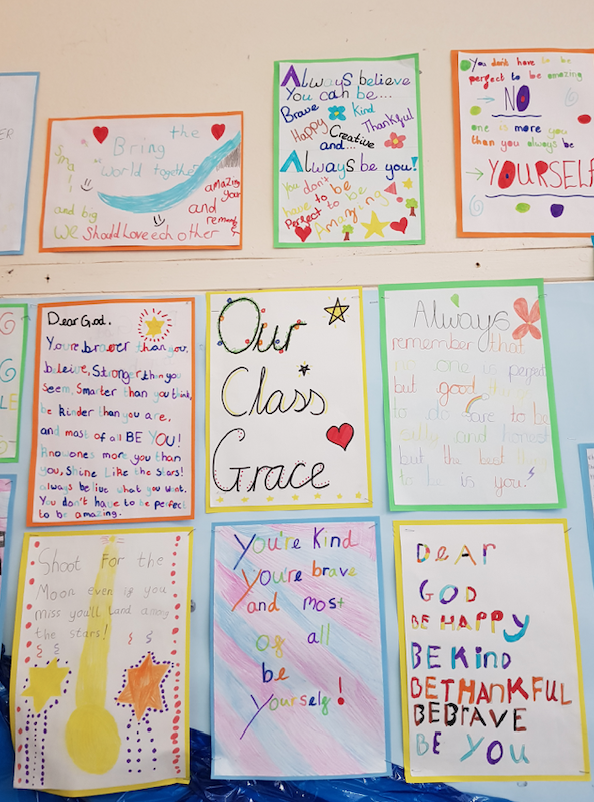 Class 4 had an online workshop with The Skinny Jean Gardener yesterday (17/1/19) to prepare for our Malvern Flower Show competition. We Skyped Lee and asked lots of questions including, "What are your top tips for constructing a flower garden?", "What fruit and vegetables would you recommend growing?", "What flowers will be in bloom in May?"
The children were very well mannered, polite and asked fantastic questions. Time to get sowing and building!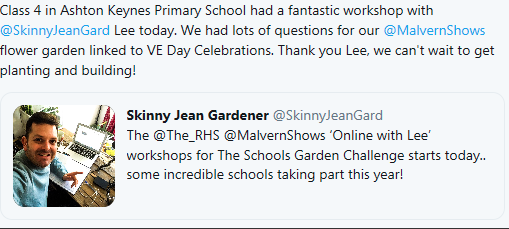 Class 4 made kites in Forest School this week! We scavenged around the field for suitable sticks, they had to be a certain length and size to make our kite work. We then used tissue paper and cellotape to stick it all together and raced each other across the field testing our kites. After the initial flight, we made some modifications and improvements to our kites…some of us had to stick them all back together again after they completely fell apart! It was so much fun. We LOVE Forest School!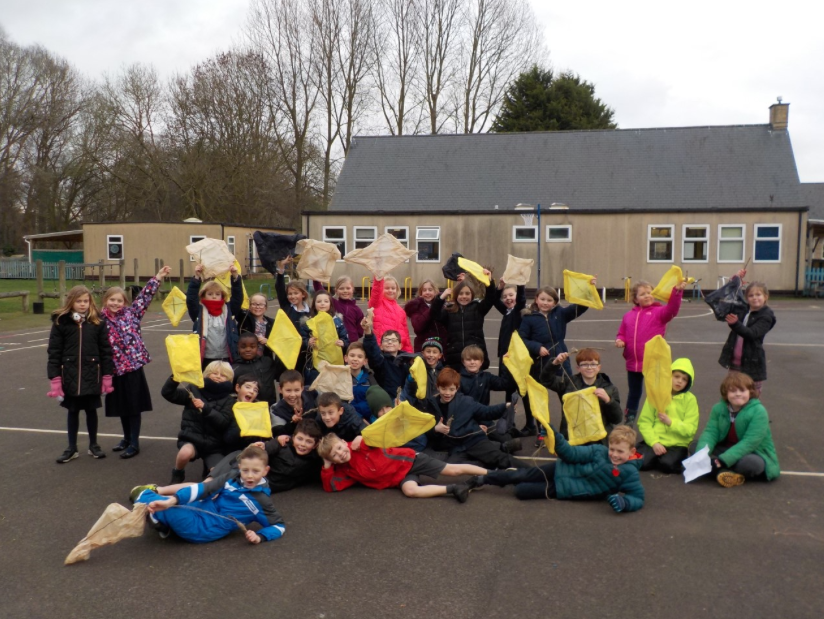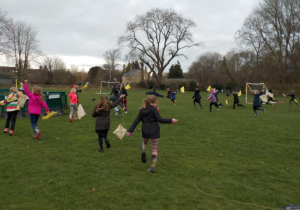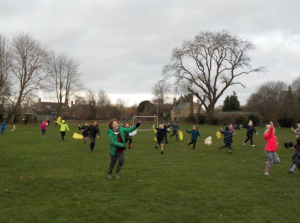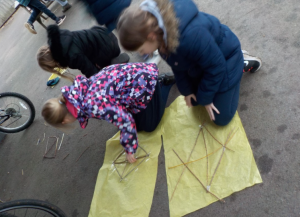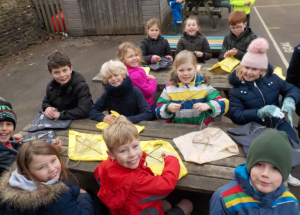 Term 2
Class 4 Term 2 Romans Homework Brochure
Class 4 have the 'AK Friendship cup' this week (26th Nov) and the whole class voted for the person they think has lots of excellent qualities of a 'fab friend'. They wrote the name of their nomination and a reason why they wanted this person to be chosen as Class 4's Fabulous Friend. This term's winner was Isobella Senior:
"I want to nominate Bella because she is really nice and she helps me when I am sad."
"I nominate Bella because she is always there for me"
"I nominate Bella because she is the first to come to me when I am sad and she always cheers me up!"
Bella gets to keep the Friendship cup on her desk for the whole week, then next week it moves up to Class 5! Well done Bella, you are a superstar!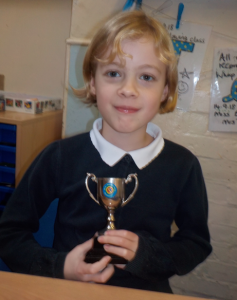 The MOST exciting thing ever happened in Class 4! On Wednesday night, Mr Jackson was digging in the pond and came across a box of Roman artefacts! Miss Boase and Mr Jackson stored the box in a safe place overnight ready for the class to find in the morning. Inside the box was a letter from a Roman girl who escaped Pompeii in LXXIV A.D, and moved to the Roman capital of Cirencester. She left behind a pair of Roman sandals, a bowl and a spoon! We spent the morning exploring the artefacts and coming up with lots of questions about where they came from, what they were used for, how she made her journey to England, who she escaped with? We are SO excited to start our topic and find all the answers.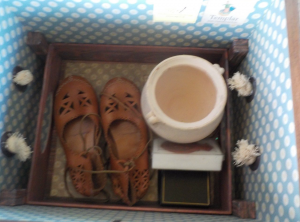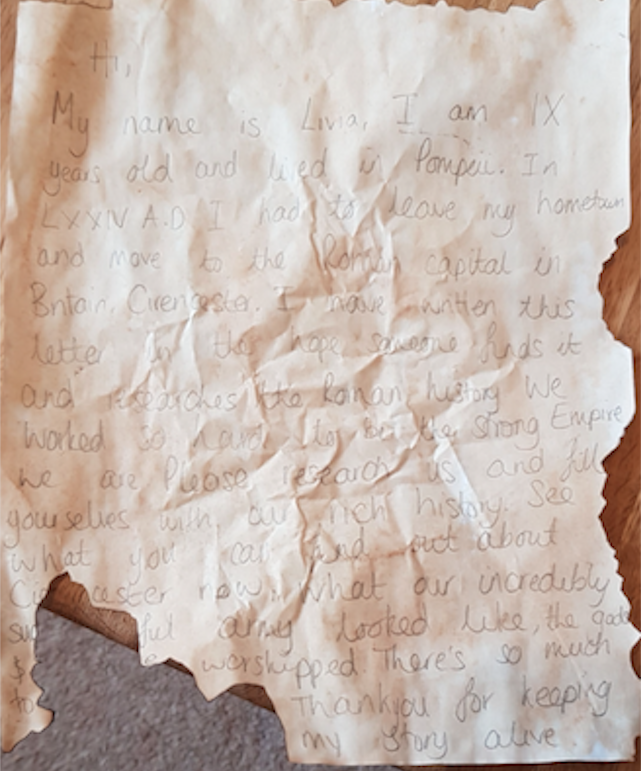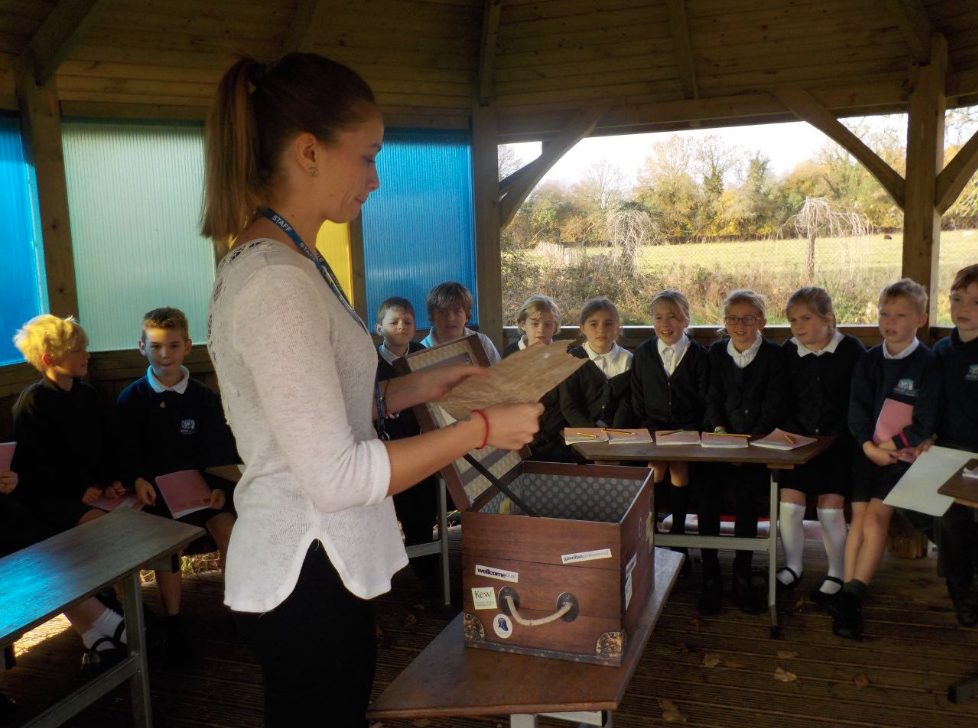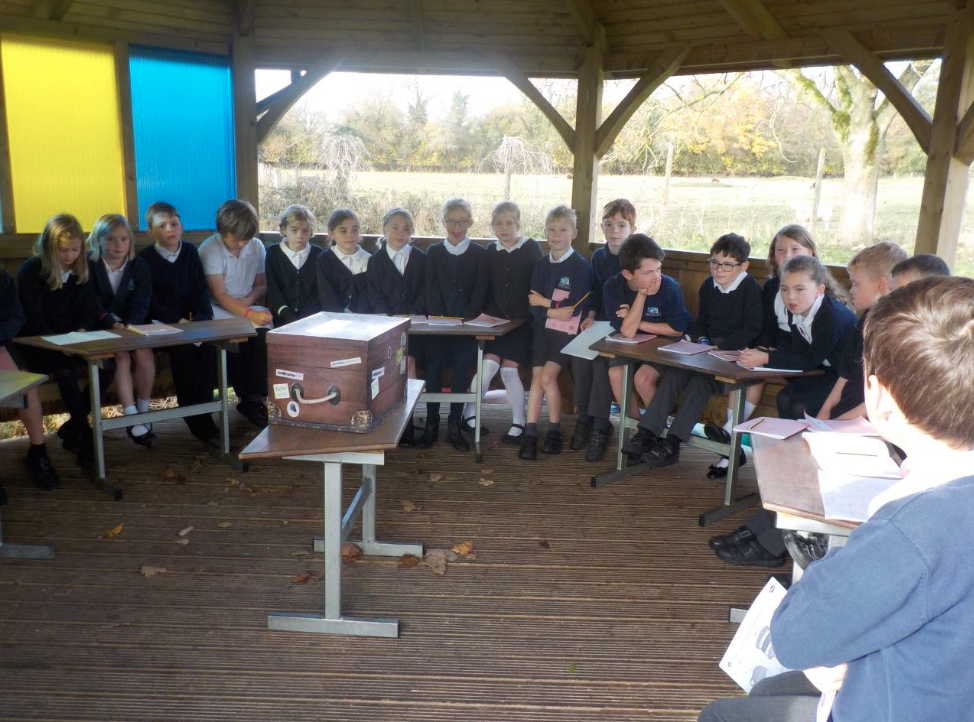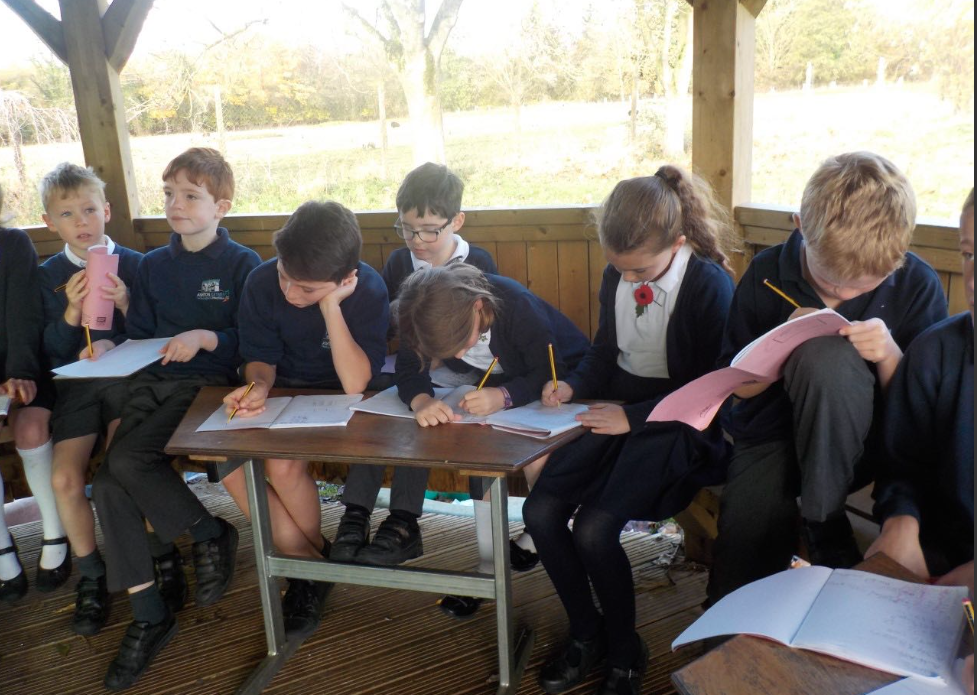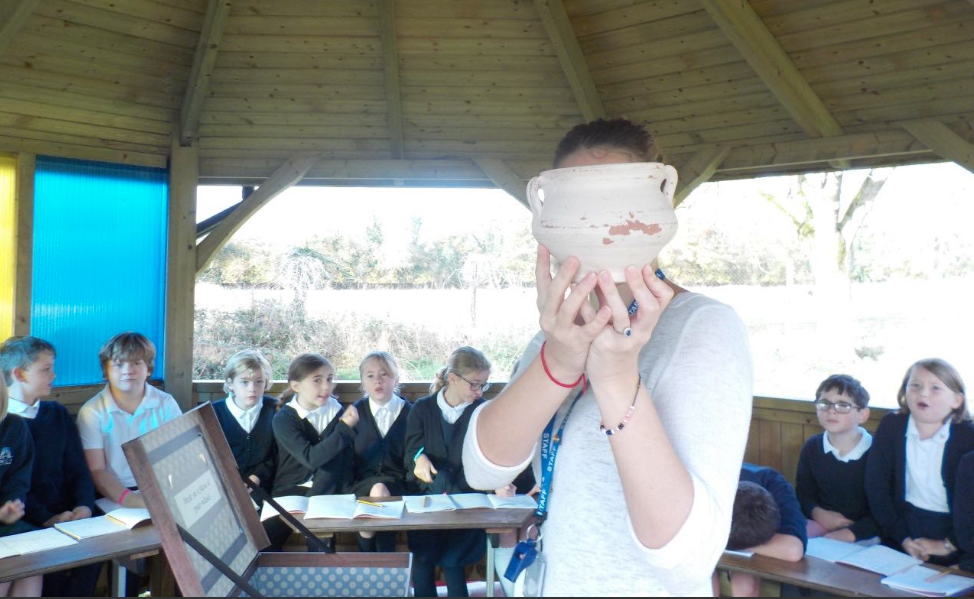 2018 marks 100 years since the end of the First World War and Class 4 have been creating Poppy suncatchers to commemorate the WW1 centenary. We are linking our Malvern show to Ashton Keynes' local links to the world wars, and have been discussing the impact of the war on our area in lots of detail. We are all very proud of our history and want to show this through our art and designs. Lots of us have close family members who have served or are still serving in the Armed Forces, and we are all extremely proud of them all.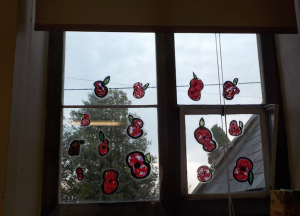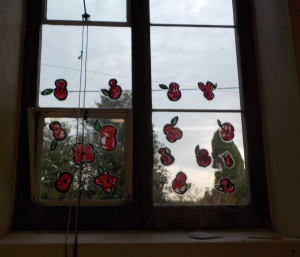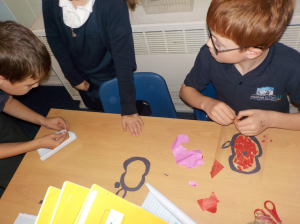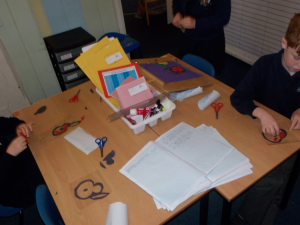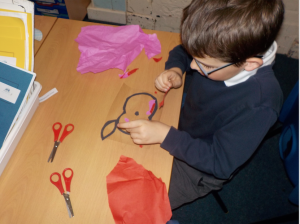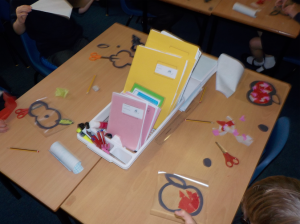 Term 1
Class 4 Term 1 'Water' Homework Brochure
This week the whole school took part in a Musical Performance workshop where we learnt a dance routine to The Lion King's 'I just can't wait to be king' song. It was SO much fun. We danced in the hall and learnt an entire routine, practising our best lion pose and roar! Ask us to show you the performance at home and see if you can out-lion us! 🙂 Who do you think had the loudest roar in the class?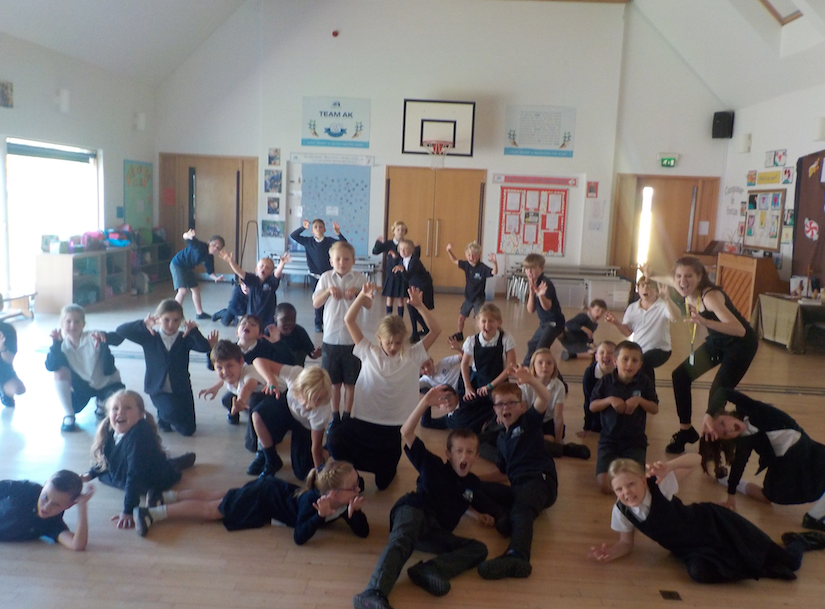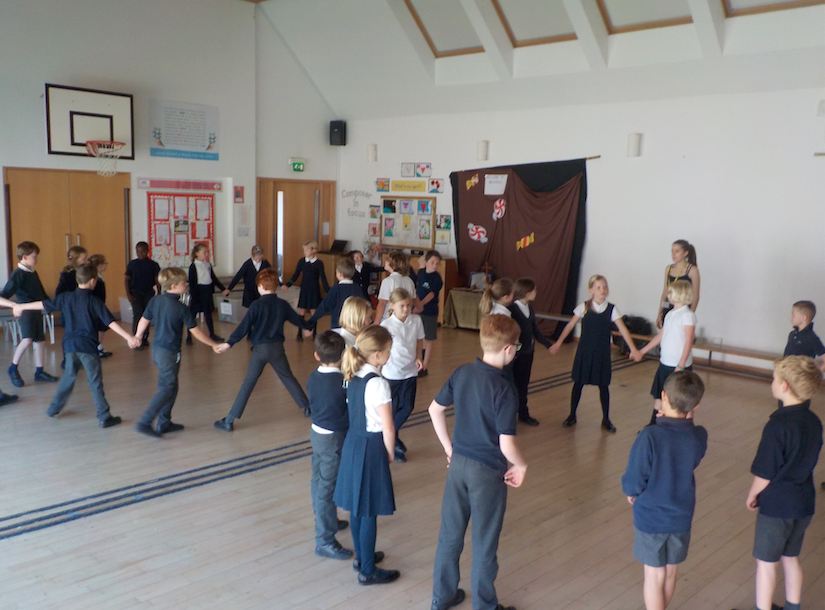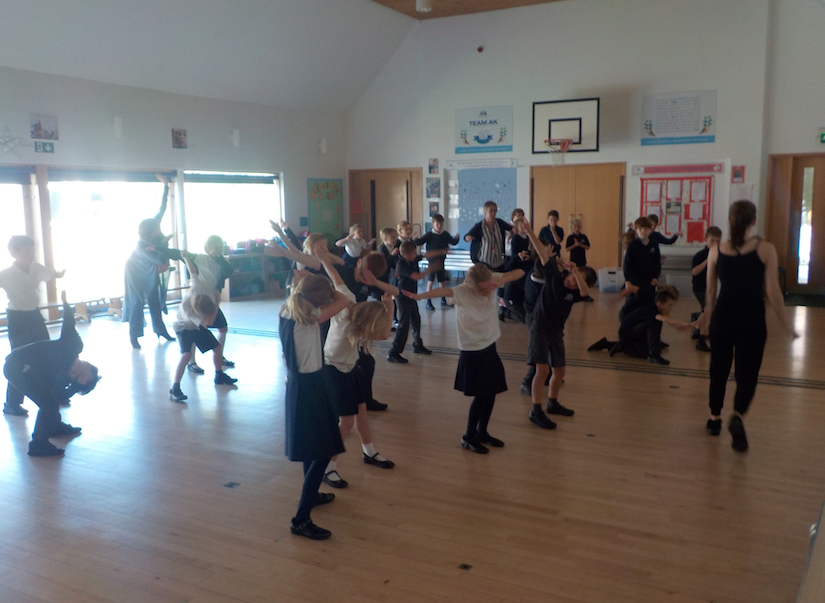 In R.E we have been digging deeper into the Creation and Fall story of Christianity. We read Genesis 1 and 3 and used a frieze to place the concepts of Creation, God and Fall on a timeline of the Bible's 'Big Story'. We had lots of fun putting ourselves in the 'shoes' of Adam and Eve and discussing their decisions and actions. We then discussed the impact these stories have on a believer and how Christian's (and other people) might change their actions because of the Creation and Fall stories.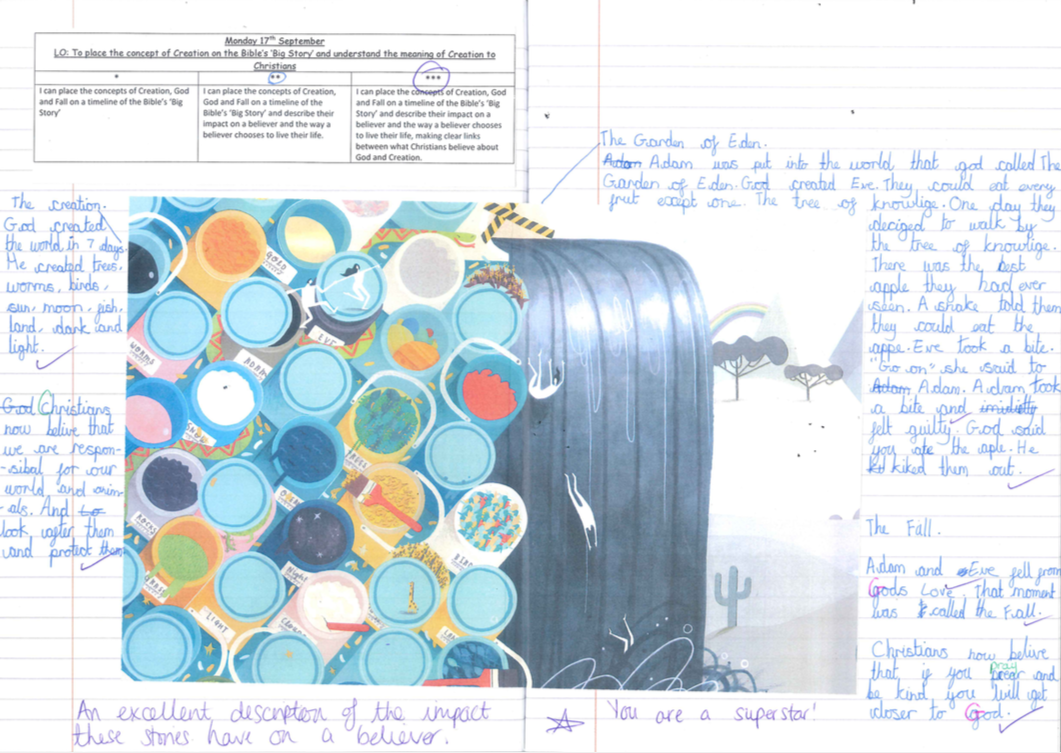 It has been a fun filled, watery start to Year 4! We have been busy using water colours to paint river pictures, writing descriptively to create our own free-verse poems on rivers and learning about the water cycle and treating water. We have learnt so much and would love to share our new knowledge of water with you. 
This week we had our first Forest School. As our current topic is Wonderful Water, Mr Jackson showed us how to purify water. We used natural materials including leaves and moss to create a filter to try purify and clean our pond water. It was great fun and we learnt some life saving facts about water (and when not to drink it!)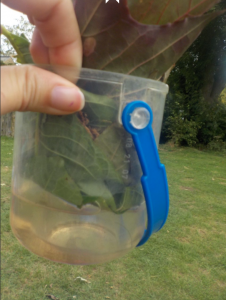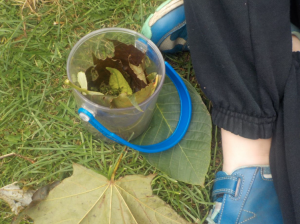 Mr Jackson also told us all about the Malvern Show that we will be entering this year. The theme is 'A Moment in Time', feel free to help us come up with some inspirational ideas for our flower design based on recycling, British Values and History. You can always draw and label your ideas ready for our next Forest School in October. 
This week, Class 4 entered a competition ran by the W.I in Ashton Keynes. We painted rocks in bright colours and wrote a message to explain why we were inspired to decorate it the way we did. We had a fun (and messy) afternoon and can't wait to hear the results of the competition.