Class 6
Welcome to Class 6
Class 6 Curriculum Annual Overview 2019-2020
Term 1
Class 6 Term 1 Homework Brochure
Life in all its fullness – Forest School
In our first session of the year, we all made bird feeders using willow. This is part of our environmental learning, where we are finding ways to improve the school grounds and our local area, in order to benefit wildlife. We learnt how to soften the willow branches to make them more pliable and were taught how to weave to create a strong structure to support an apple. Each of us took our bird feeders home to hang in our gardens.
We also helped to weave the longer branches of willow in the storytelling area, to keep the structure strong over the winter months.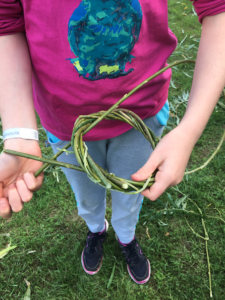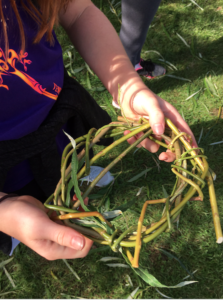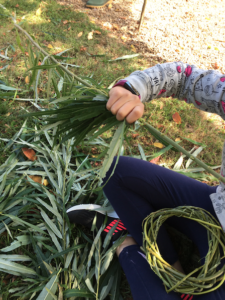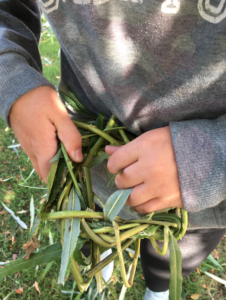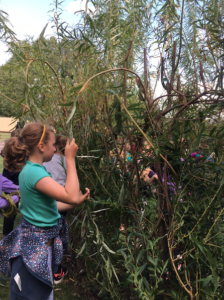 Archive Posts
Class 6 Curriculum Annual Overview 2018-2019
Term 5
Greek topic
This term we have been using the book, 'The Adventures of Odysseus' by Hugh Lupton and Daniel Morden as out stimulus. Using this text, we have created our own first-class myths using high-quality vocabulary and features. Please take a look at some of our myths below: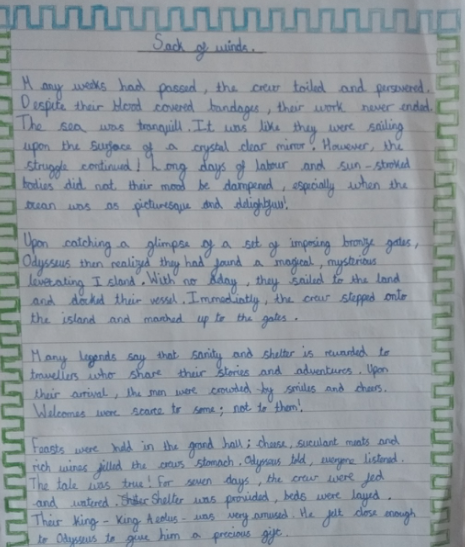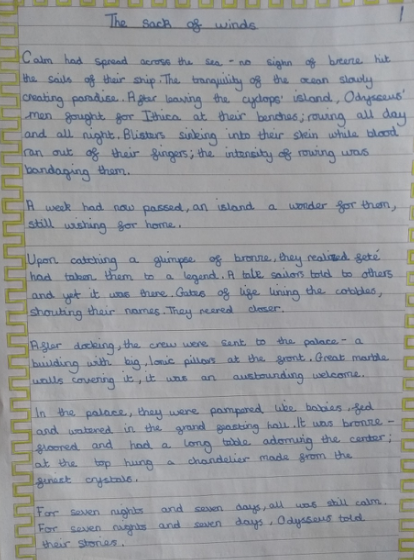 We have also used the text and linked it to our Geography and History, studying and comparing ancient and modern-day Greece. We have used atlases, fact books and the internet to research and share our ideas.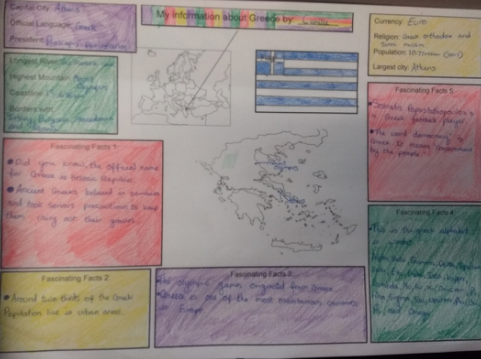 Class 6 have looked at suspense stories. Our first of which focussed on the character: Alma, who visits an eerie shop, and suffers disastrous consequences.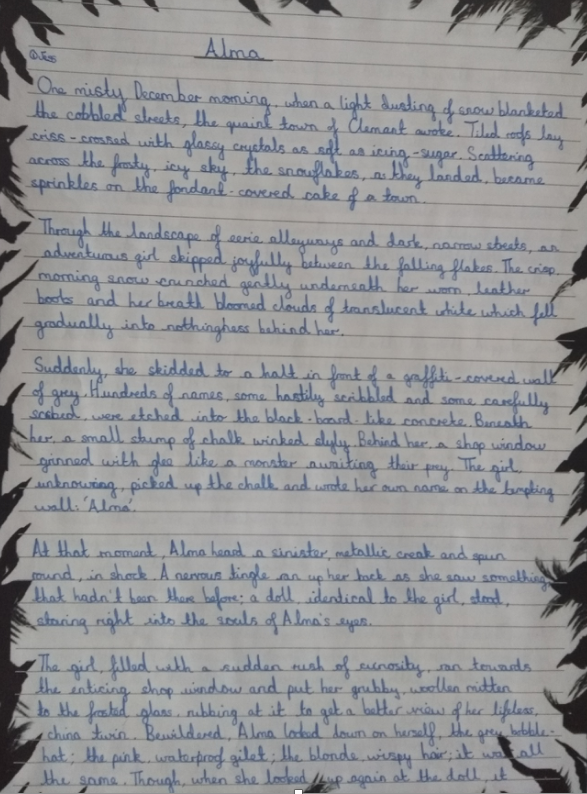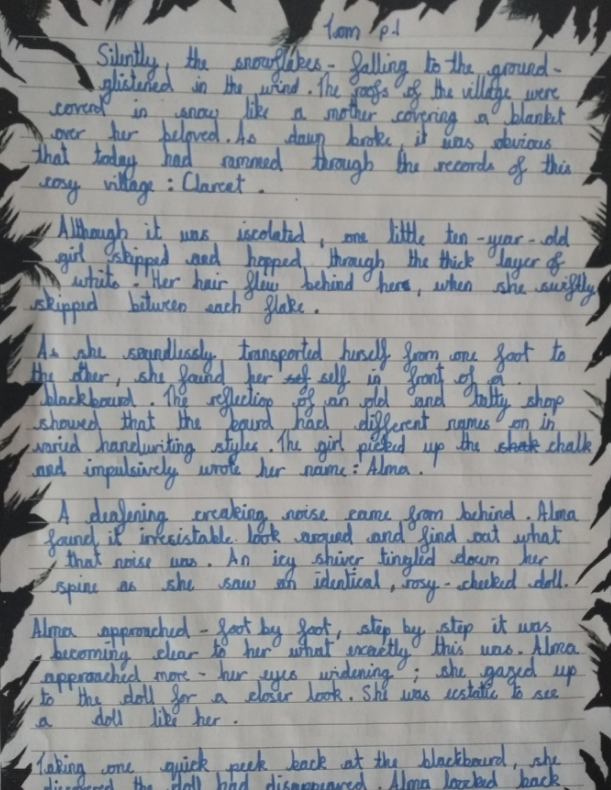 Science week
During science week, Class 6 explored gravity and air resistance – we experimented with different materials to discover if we could create a parachute that would drop an egg safely to the ground.  To do this, we needed to work together to create our parachutes, thinking about which was the best material to create air resistance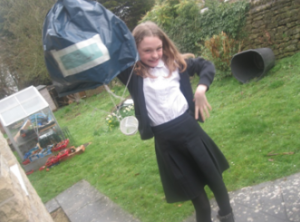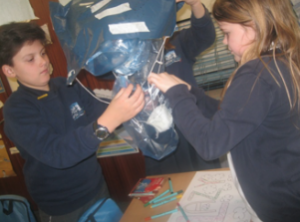 Term 4
Class 6 Term 4 Homework Brochure
Mock trials
This term, Year 6 took part in the Cirencester Mock trials. Our Mock Trial team went to court in a trial against Northleach Primary school. Team 6 worked tremendously hard and did themselves proud, both those at the trial and those in school who have all played an important part in preparing for the trial together as a team. Our prosecution team managed to win the case and find the other team guilty! A special prize was awarded to our 1stprosecutor, Jessica Winson.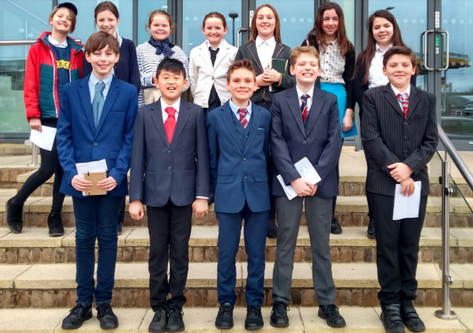 A few photos from World Book Day
In Class 6 we love reading and celebrating! Team 6's creativity really shone out on World Book Day and their costumes were immense.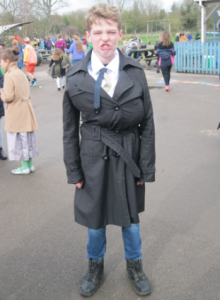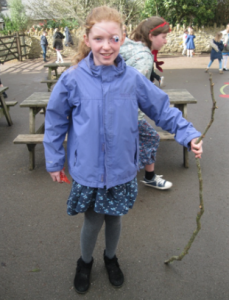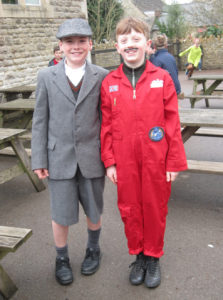 Term 3
Class 6 Term 3 'Shackleton's Journey' Homework Brochure
Term 2
Class 6 Term 2 Homework Brochure
Our first two terms in Year 6 have been absolutely fabulous! We have experienced countless enriching experiences including: an author visit, a trip to the pantomime, the senior citizen tea party, a visit from Ray Pearson (a Chelsea Pensioner), Maths competitions and much more besides!
The children's effort, determination and learning have been remarkable and this has resulted in wonderful progress and learning so far – I cannot wait to continue this journey with them. They have not only worked hard on their own learning and independence but have also supported their Class R buddies so beautifully and have enabled them to become confident, independent members of Team AK.
This Autumn term, we have looked at a fantastic book, 'Journey to the River Sea' by Eva Ibbotson.This has acted as a stimulus for some incredible, creative writing including: diary entries, letters, character descriptions, poems, non-chronological reports, biographies and a range of narratives. The children have also looked at and have applied a range of these skills in other subjects such as Geography, Science, DT and Art.
In November, the children helped to organise the AK Senior Citizen tea Party, where the children shared learning, reading, songs and of course tea and cake with the older community from the local area. I was so proud to see how they responded in a mature, welcoming and kind manner. We have received countless cards and responses from the people who attended which have meant so much to the children. We also welcomed a Chelsea Pensioner, Ray Pearson, who taught us so many wonderful things.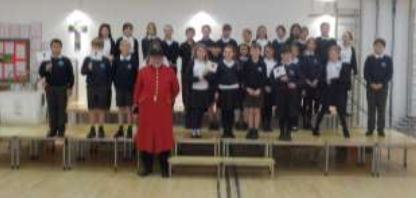 Term 1
Class 6 Term 1 Homework Brochure
Wowsers trousers! Class 6 have started the year with a bang; I am so proud of their learning behaviours, amazing attitude and gusto! Our class have already met and spent time playing with their Class R buddies and are already proving themselves to be kind, caring and responsible.
This term in Year 6, we have been studying the novel, 'Journey to the River Sea' by Eva Ibbotson. We each have a class reader and have loved exploring the text.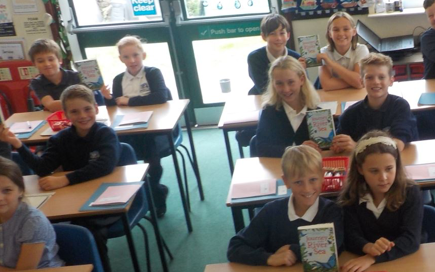 We have used it as a basis for our fiction and non-fiction writing across a range of subjects. Here is an example below: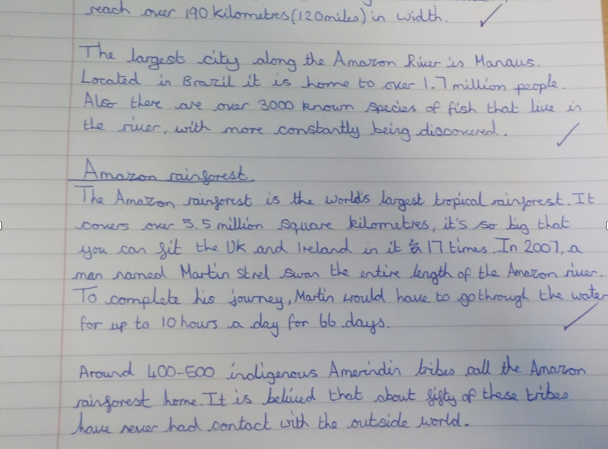 We have also had the opportunity to take part in the PQA workshops on September 25th2018. The musical in focus was the Lion King and the children loved becoming different animals and performing a choreographed routine. Thank you for everyone who helped with this.