Class 6
Welcome to Class 6
This page will be updated shortly.
ARCHIVE POSTS 2019-2020
Class 6 Curriculum Annual Overview 2019-2020
Class 6 Term 5 Remote Home Learning Timetable & Website Links
Class 6 Term 5 Afternoon tasks
Term 6
One of our new Home Learning afternoon tasks is to draw or paint a 'View from my Window'. This theme is inspired by episode 4 of Grayson's Art Club, which has been created during the lockdown period by Channel 4.
Aimee has used watercolours in muted tones to create a lovely, calm feeling to her artwork.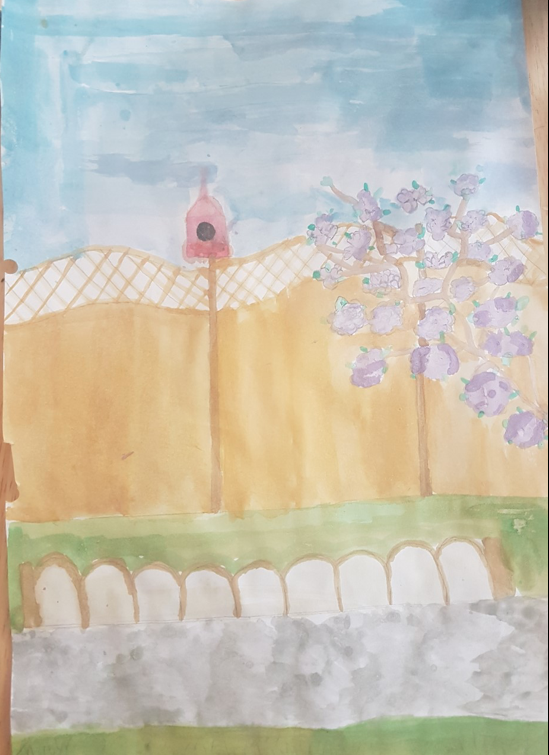 Rosie has looked carefully at the proportions of the house outside of her window and the shape and size of the plants growing in her neighbour's garden.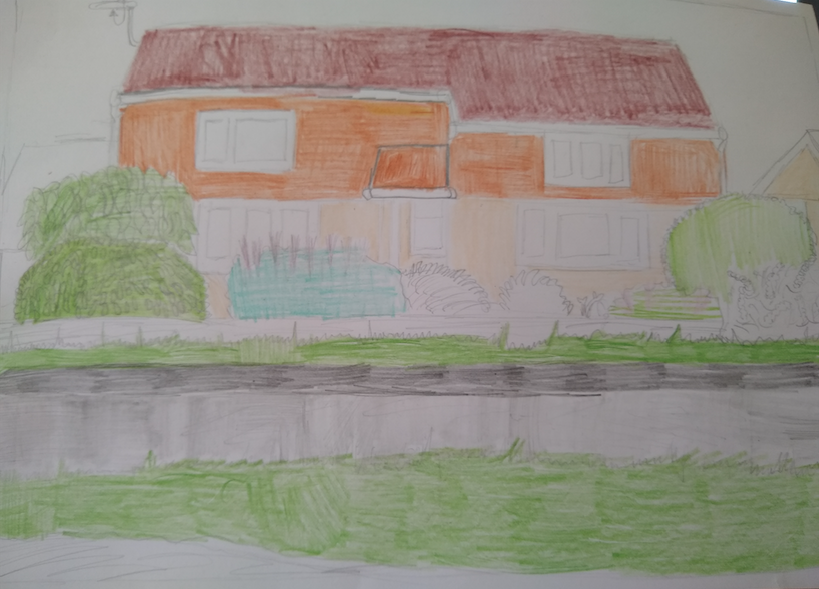 Dylan has been experimenting with watercolour paints and silhouettes and has created this effective image.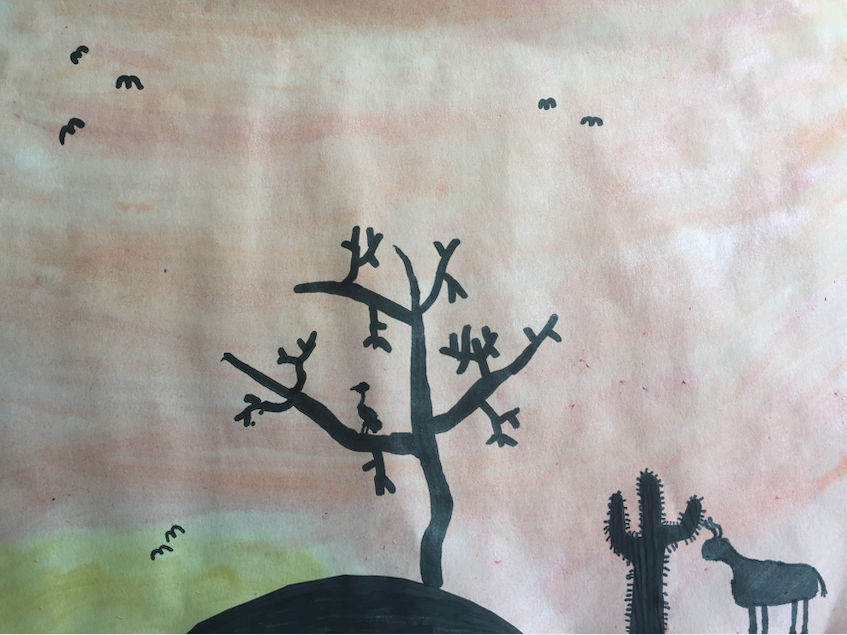 Term 5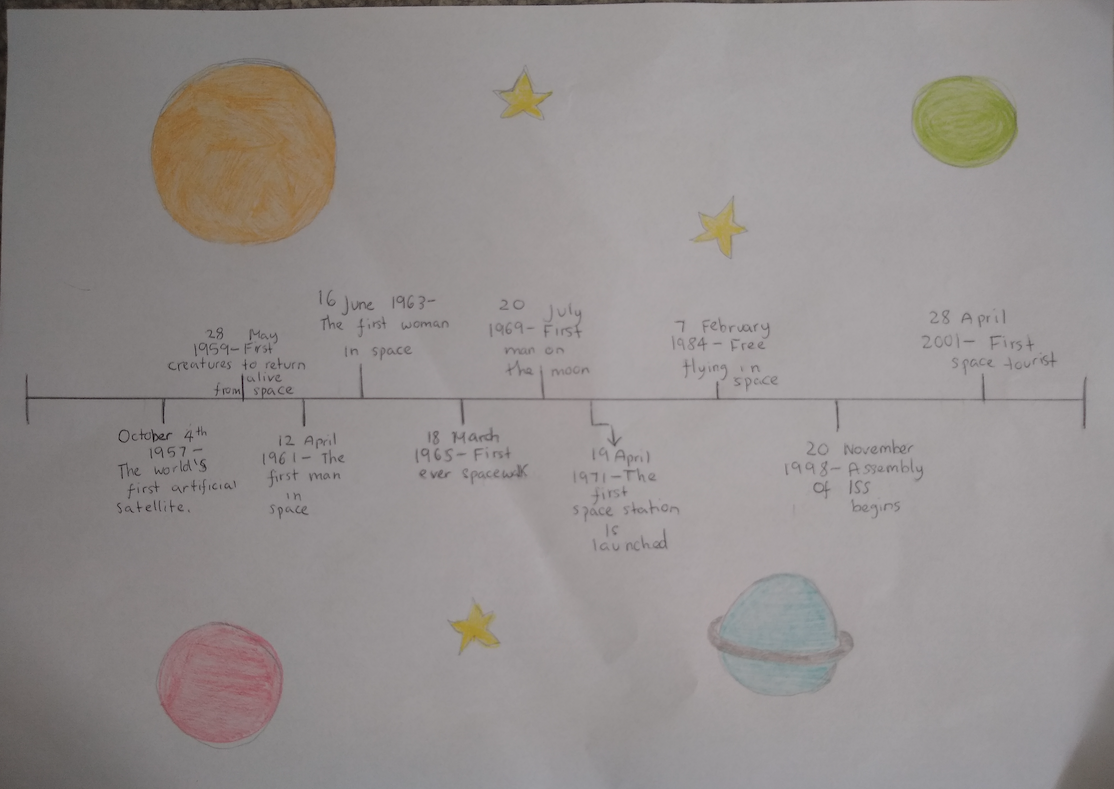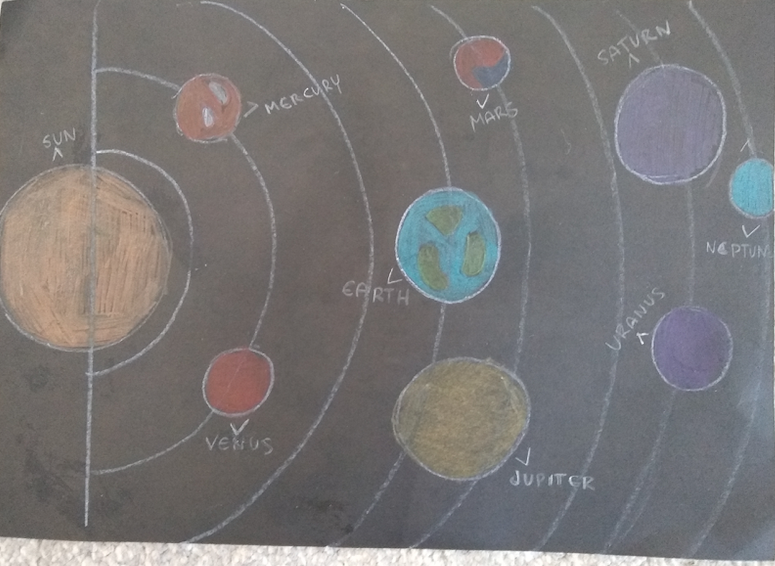 Just like children all around the world, we are currently learning from home.  Here are some of the lovely activities we have been working on while we're not able to be in school.
Here is Will's ingenious diagram he made out of balls and labels which is to scale of the planets in the solar system.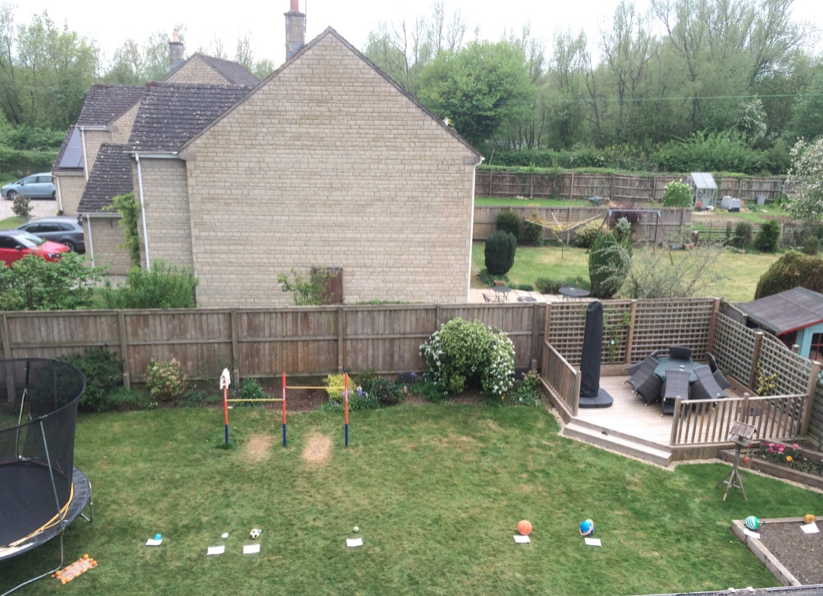 Using the artist Peter Thorpe as inspiration, one of the afternoon tasks we've been set is to create a piece of artwork with the resources available at home.  This is a really colourful example using acrylic paints.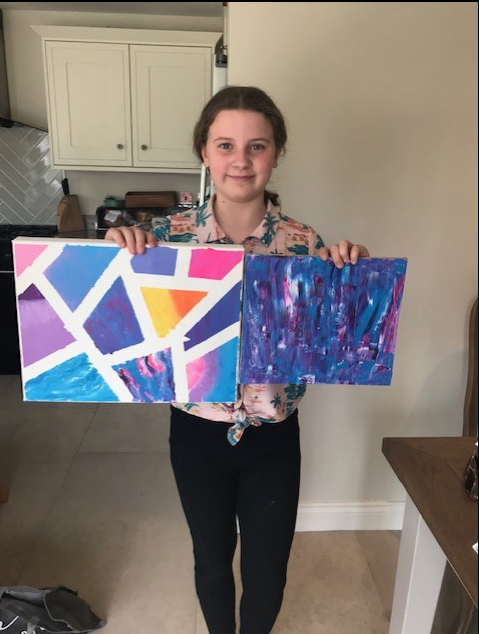 Flo followed one of the BBC Bitesize lessons and created this lovely poem containing a variety of different metaphors.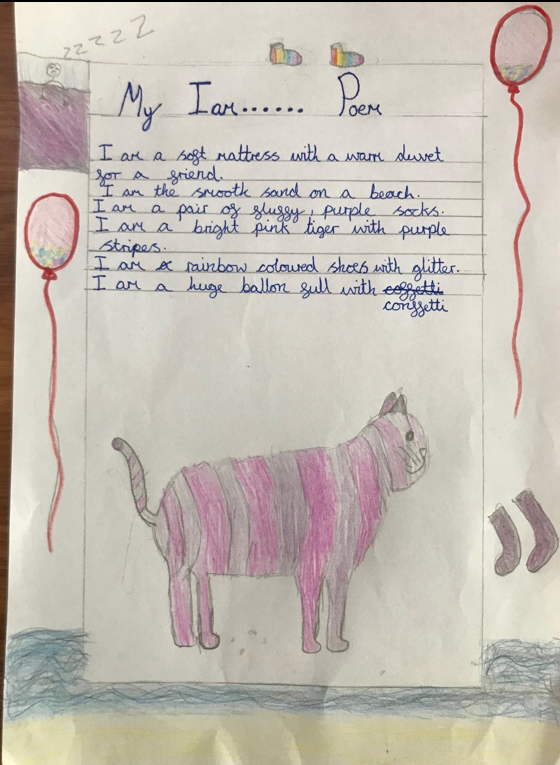 Sam created this explanation text about shooting stars.  Did you manage to spot any in the Lyrid meteor shower on 21st and 22nd April?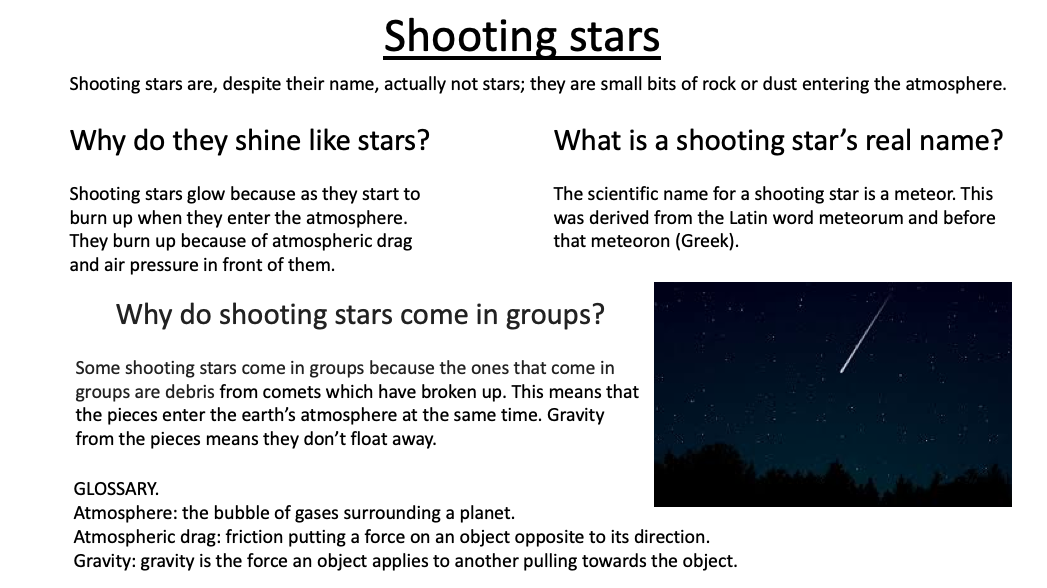 Anna built a model of the solar system using items from around her house.  Whilst the balls she has used are a similar scale to a nitro scale model of the solar system, the spacing between some of them would need to be a 10 minute walk away to be accurate!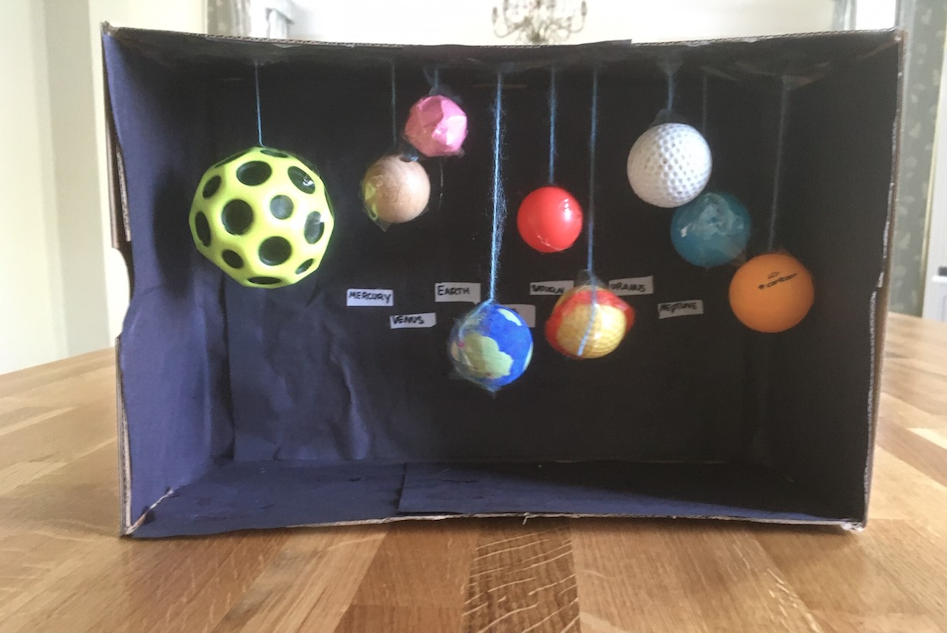 Esme used the artwork of Peter Thorpe as inspiration for this colourful painting.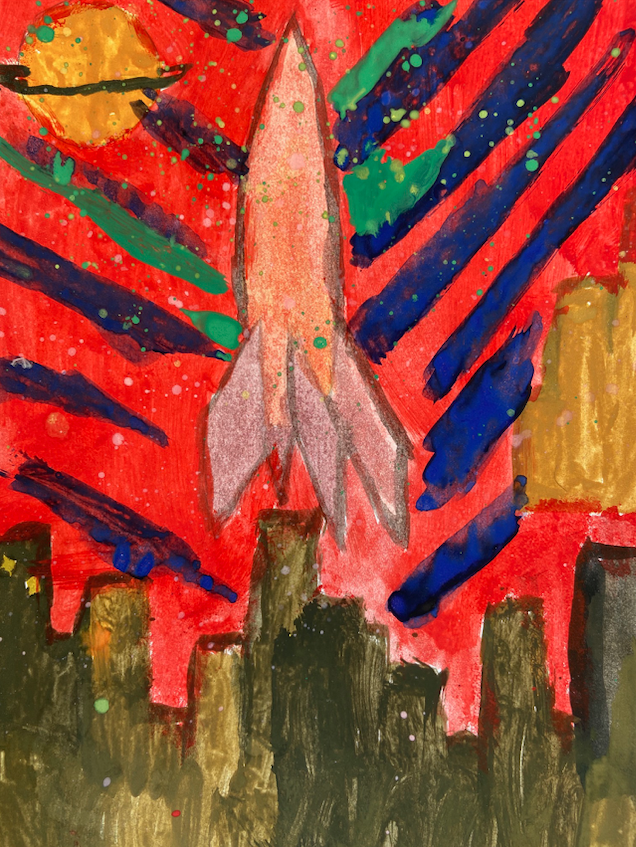 Term 4
What a year so far!
Your children are superb! They have continued to access and take full advantage of all the opportunities and their learning and behaviour has been exemplary (in spite of outside influences).
On a personal note, can I say a huge thank you and well done to all of the Year 6 class. You have worked incredibly hard this whole year and we will make sure you are provided with an accurate reflection of what you have achieved. Thank you for being great – I will miss you all so very much.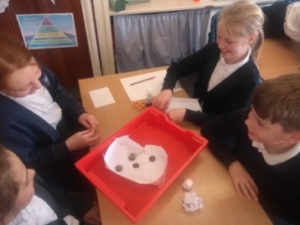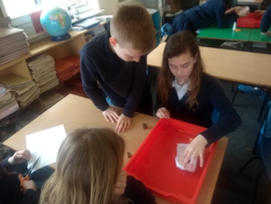 During science week, Class 6 explored mass and surface area – we created different sized boats and experimented with different weights to discover the maximum weight a boat could hold and why.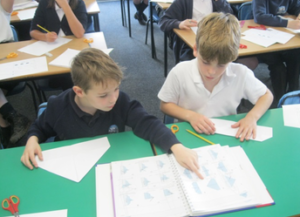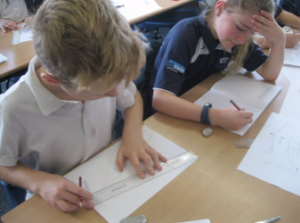 In Forest school, we looked at combining our science skills with our use of tools and created various gliders, experimenting with their wingspan, fins, shape and size. We then all launched them in varying conditions (and with varied degrees of success)!
Class 6 have continued to be amazing buddies! Last term, we held a 'movie event' where Year 6 brought their reception buddies into Class 6 and we all watched some fantastic short movies. Year 6 were so responsible and their buddies had a great time.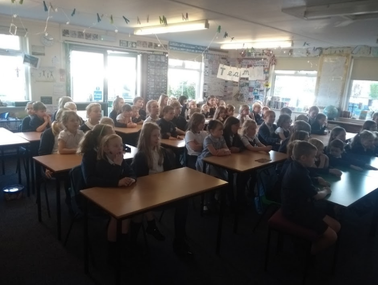 The children in Class 6 have also worked tremendously hard on their writing. Every child created their own mythological narrative. They were absolutely amazing and full of year 6 language and punctuation.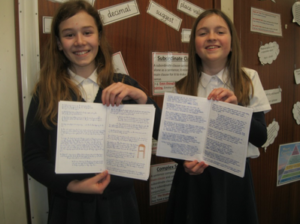 Take a look at some pictures of class 6 working hard in Forest School: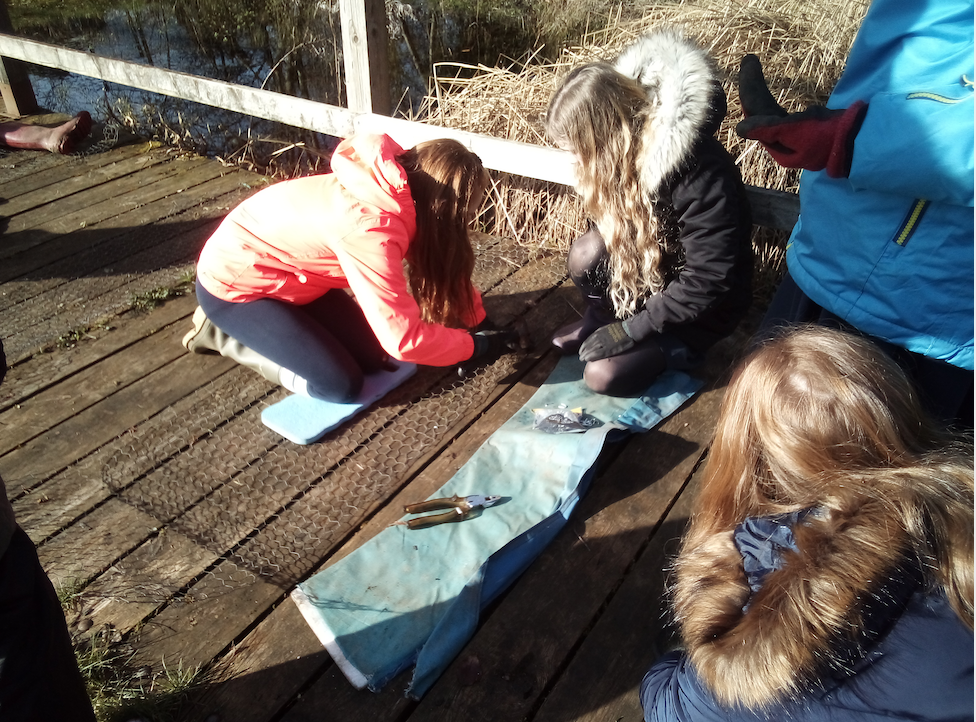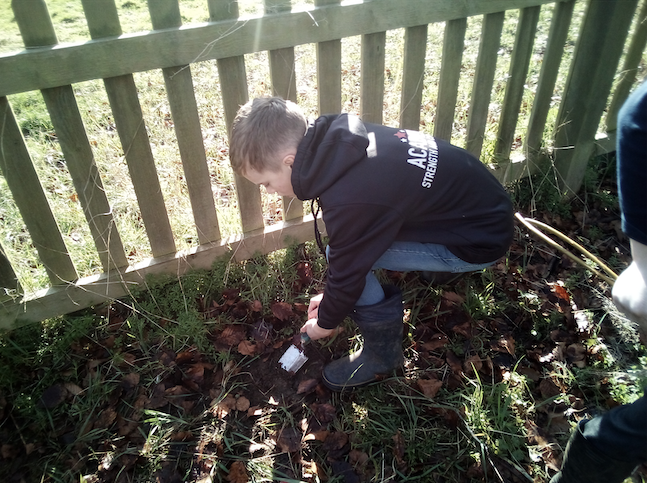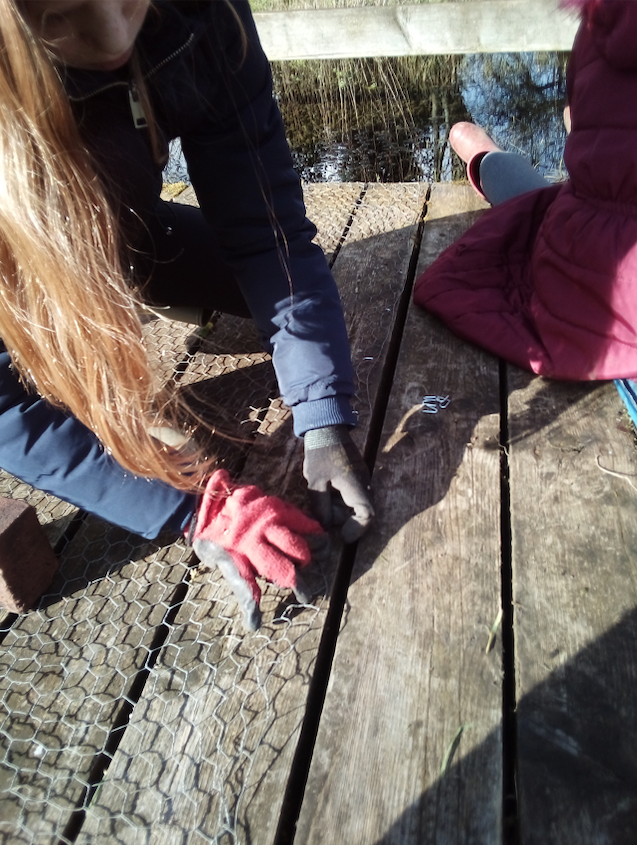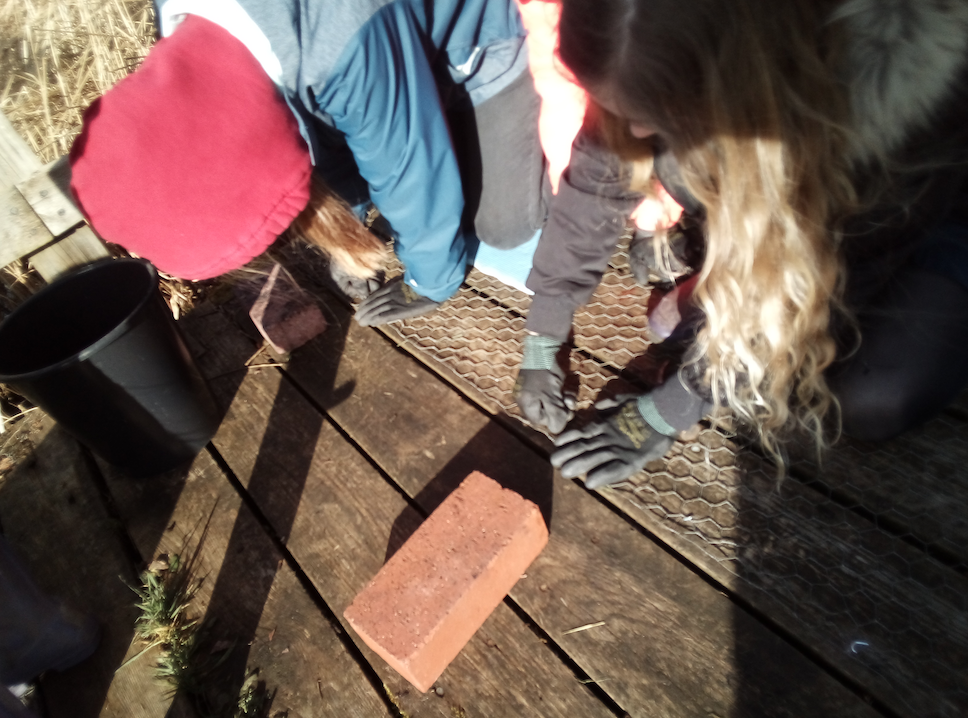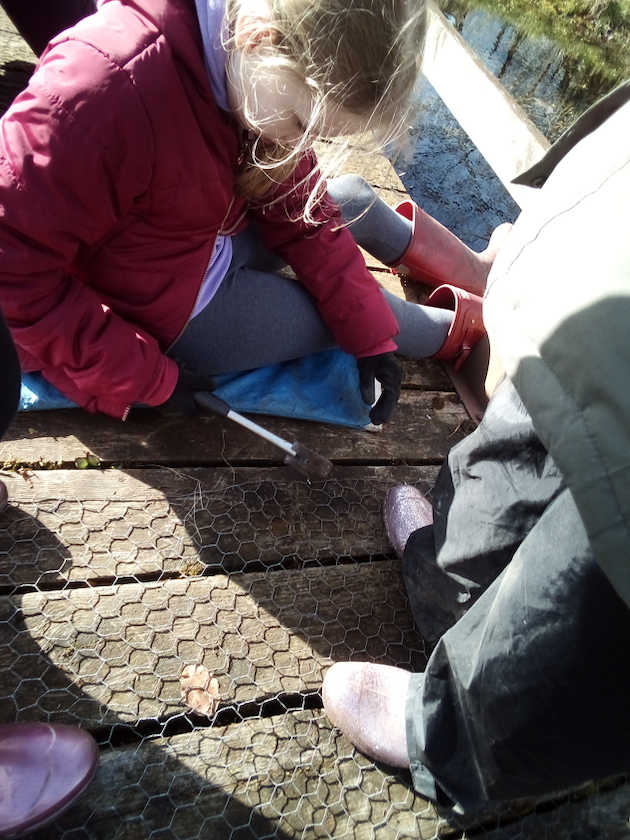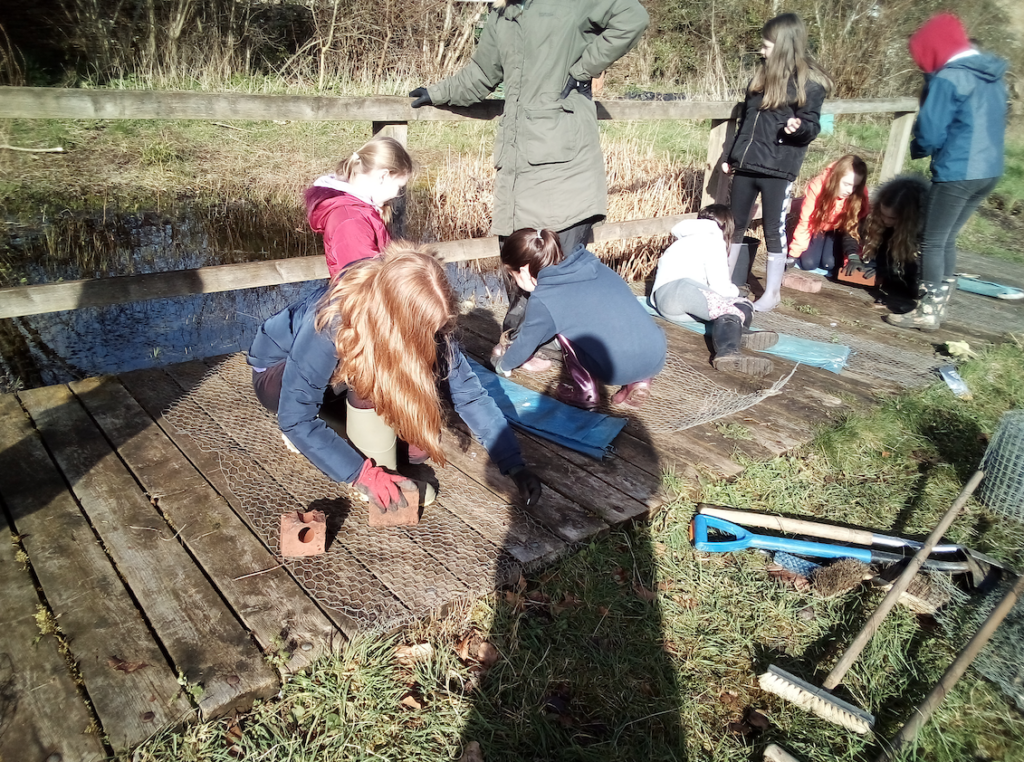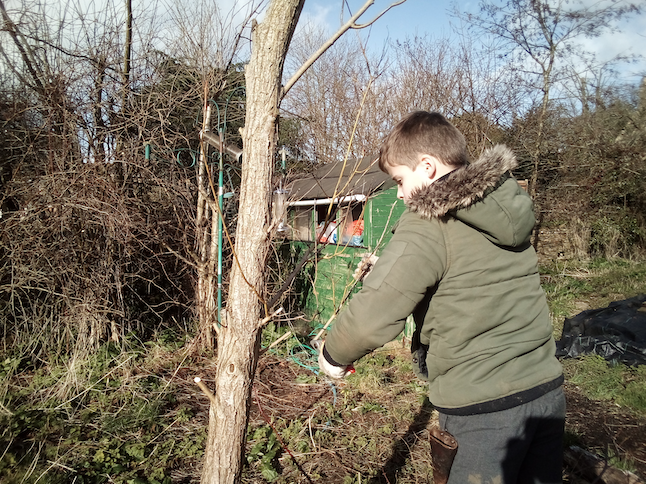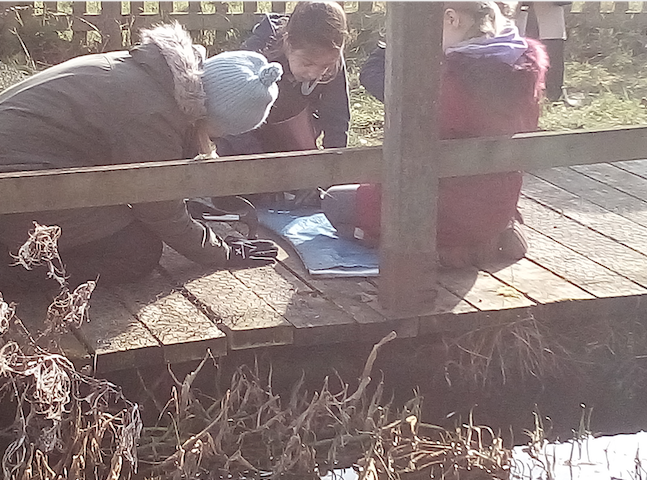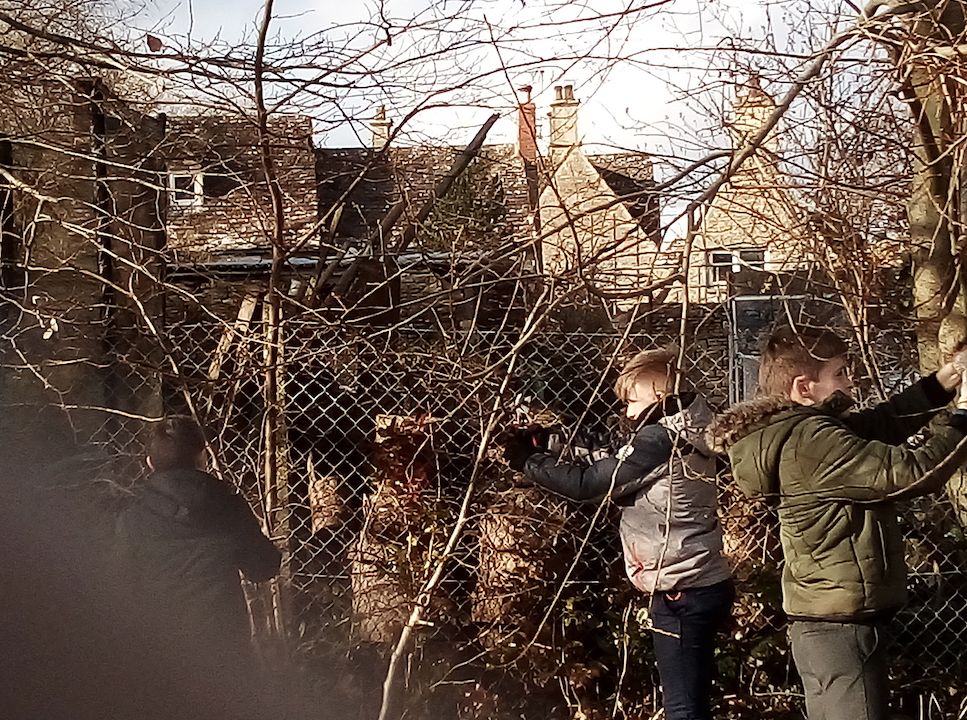 Term 3
Class 6 Term 3 & 4 Homework Brochure
Term 2 
Our first two terms in Year 6 have been Wowsers Trousers! We have experienced countless enriching experiences including: an online webchat from inside the rhino enclosure at Whipsnade Zoo, a trip to the pantomime, the senior citizen tea party, and much more besides!
The children's effort, determination and learning have been top notch and this has resulted in wonderful progress and quality learning so far. They have not only worked hard on their own learning and progress, but have also supported their Class R buddies so stunningly and have enabled them to become confident, independent members of Team AK.
This Autumn term, we have looked at a fantastic book,
'Floodland' by Marcus Sedgewick. This has acted as a stimulus for some incredible, creative writing including: diary entries, letters, character descriptions, stories and dystopian narratives. The children have also looked at and have applied a range of these skills in other subjects such as Geography, Science, Art and Global Advocacy.
In November, the children organised the AK Senior Citizen tea Party, where the children shared learning, reading, songs (and of course tea and cake) with the older community from the local area. I was so pleased to see how they responded in a mature, welcoming and giving manner. We have received countless cards and responses from the people who attended which have meant so much to the children. December soon came upon us. We visited the pantomime and the Year 6 pupils were absolute ambassadors for the rest of the school. We have also had French lessons this term, delivered by Mrs Felipe. The children have really developed their linguistic skills and are using French phrases more readily. Thank you to Mrs Felipe for volunteering her time, working across the school to deliver French.
Alongside the usual festive cheer of December, we have had two visits and workshops from Wiltshire ambulance service. The children are now proficient in first aid, choking prevention, CPR, the recovery position and so much more!
The Year 6 team would like to wish you all a very happy and peaceful Christmas and New Year and thank you for being so supportive of our wonderful team.
Term 1
Class 6 Term 1 Homework Brochure
Life in all its fullness – Forest School
In our first session of the year, we all made bird feeders using willow. This is part of our environmental learning, where we are finding ways to improve the school grounds and our local area, in order to benefit wildlife. We learnt how to soften the willow branches to make them more pliable and were taught how to weave to create a strong structure to support an apple. Each of us took our bird feeders home to hang in our gardens.
We also helped to weave the longer branches of willow in the storytelling area, to keep the structure strong over the winter months.