Class 5
Welcome to Class 5
Class 5 AK Annual Curriculum Overview 2020-2021
Home Learning Timetable with Zoom Year 5 Spring
Term 3
Class 5 Shackleton's Journey Homework Brochure
During Lockdown, Class 5 have been working on a Global Advocacy Project on Fast Fashion. Take a look at these vlogs created at home by the children to help combat fast fashion. The children completed their research, wrote their scripts and recorded themselves as part of an independent Home Learning Project! 
Check out our figurate language in Year 5! We have been reading all about Shackleton's adventure and describing (using metaphors, similes and personification) his journey to South Georgia to find help and rescue his crew from Elephant Island. How many examples of figurative language can you find in our amazing writing?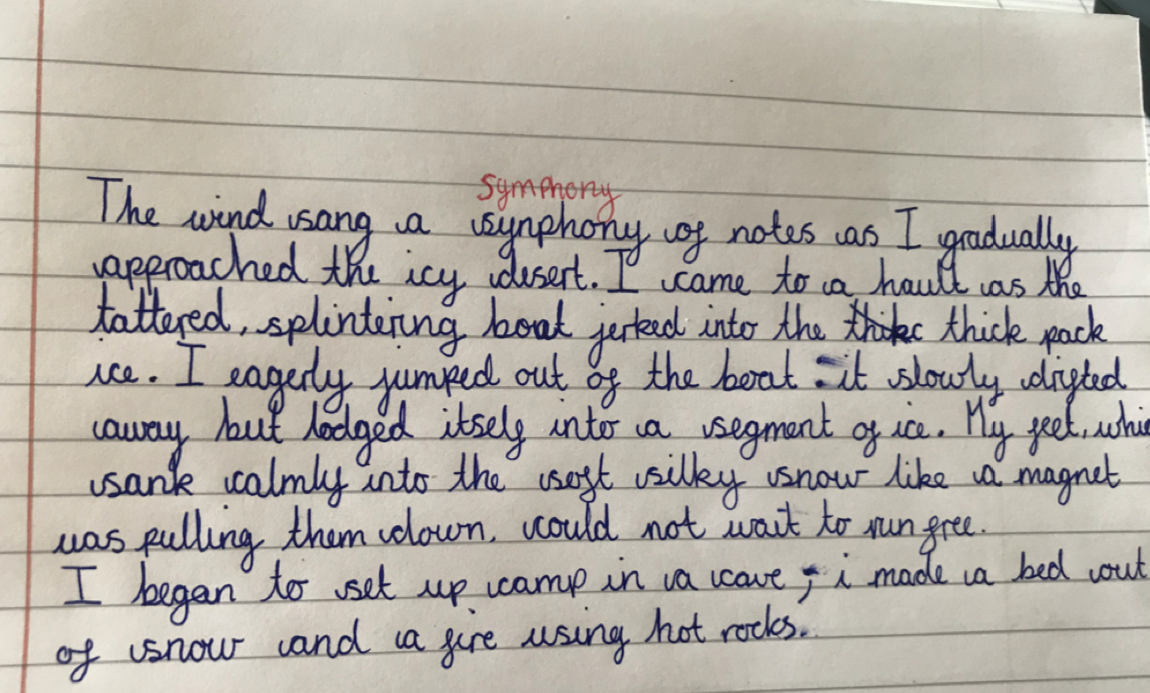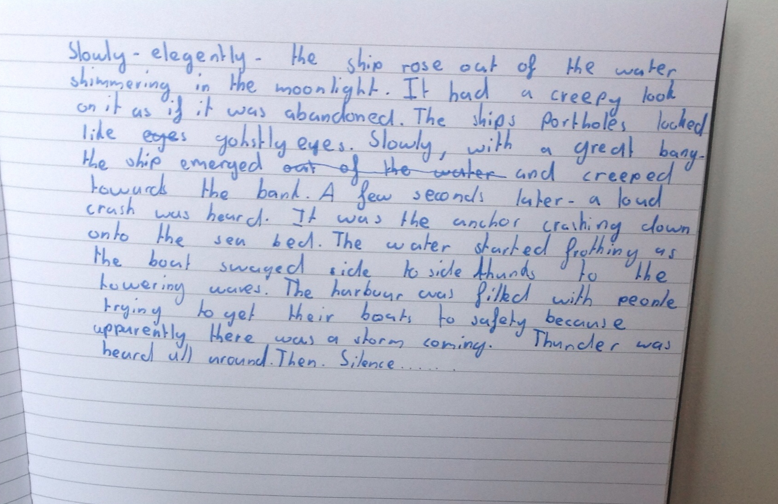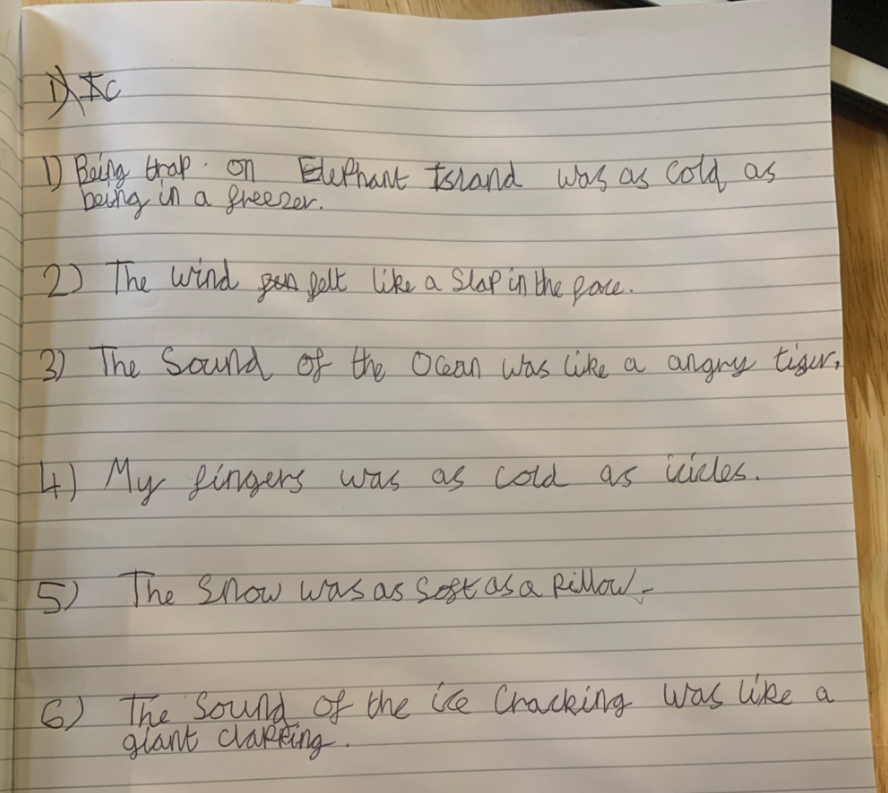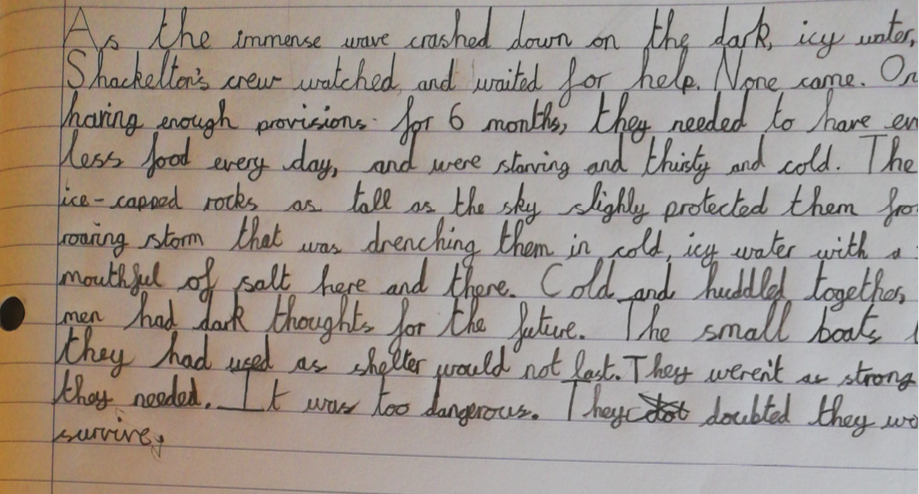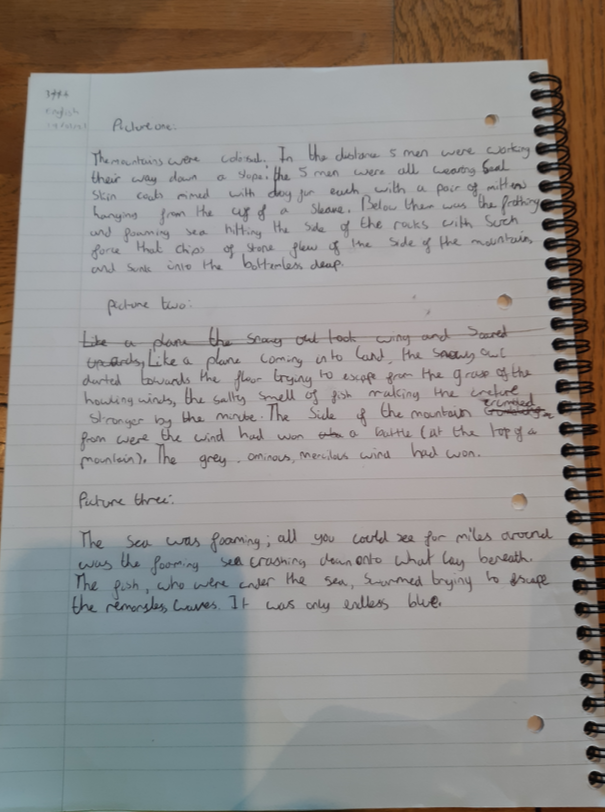 In Class 5, we all absolutely love art. That's why, during lockdown, we have dedicated at least 1 (sometimes 2!) afternoon a week to our well-being and art. The past 2 weeks, the themes have been nature, animals and detailed sketches of eyes. We could use any medium we had at home: pencils, pens, paint, colours, anything! The main objective is to be creative and unique – just like us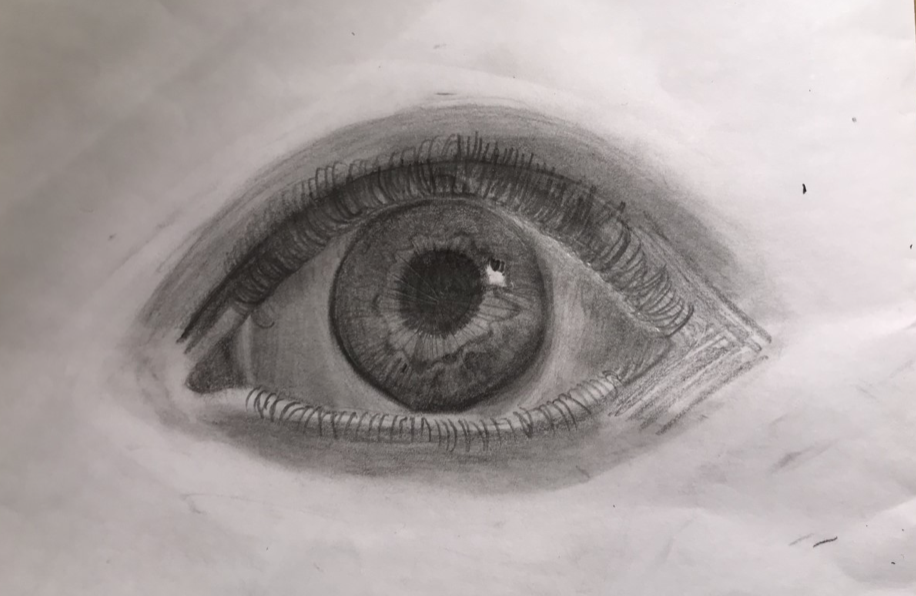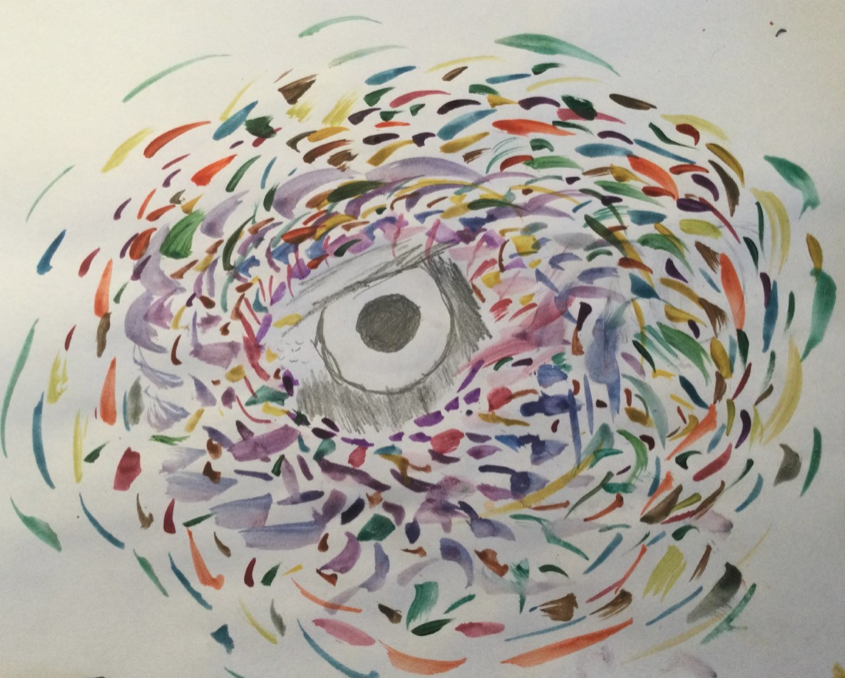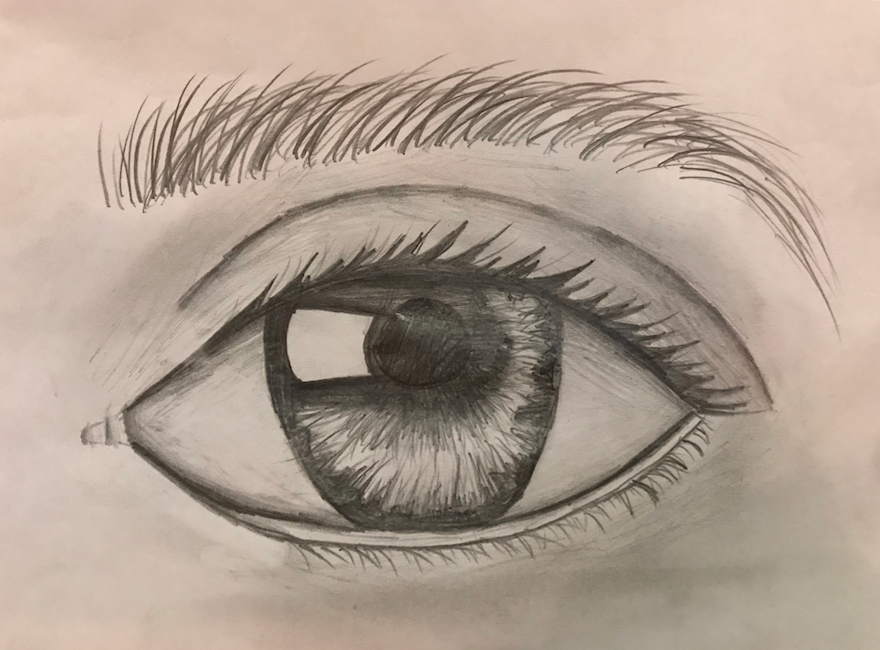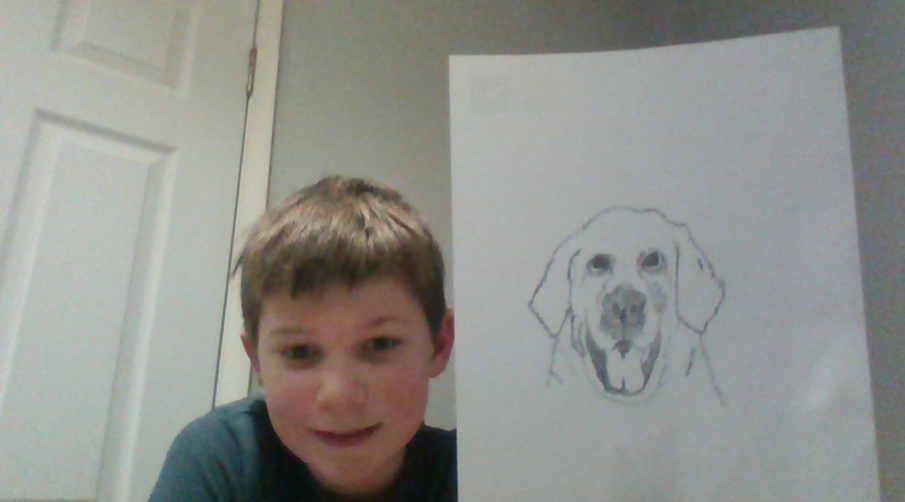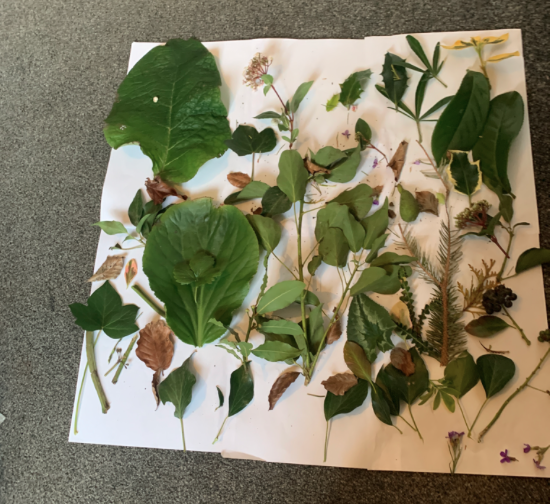 Class 5 have continued to blow me away with their dedication to their home learning and their fantastic writing. We are reading 'Shackleton's Journey', all about Ernest Shackleton and the adventures of his crew and his ship, Endurance. We have been writing letters to imagine we were one of the crew members, really focusing on emotive and powerful language. The children have been incredible and have written such powerful work. Can you spot all of our awesome fronted adverbials, complex sentences and embedded clauses?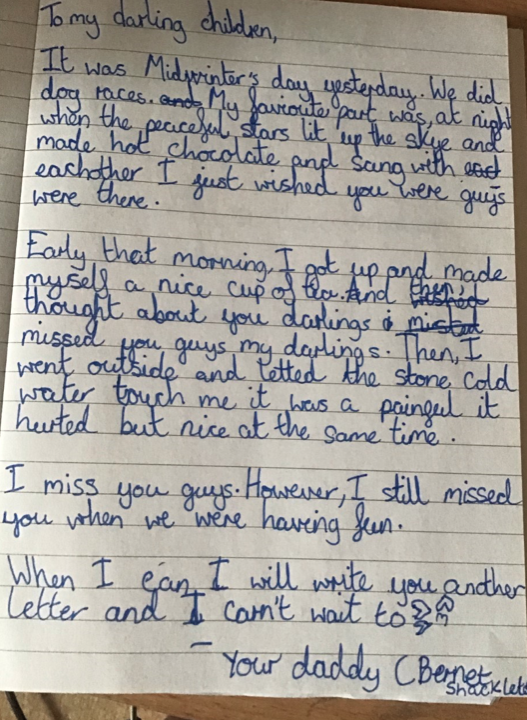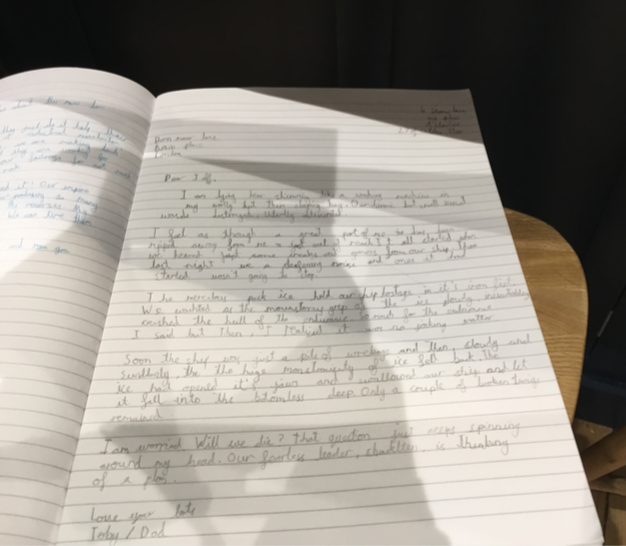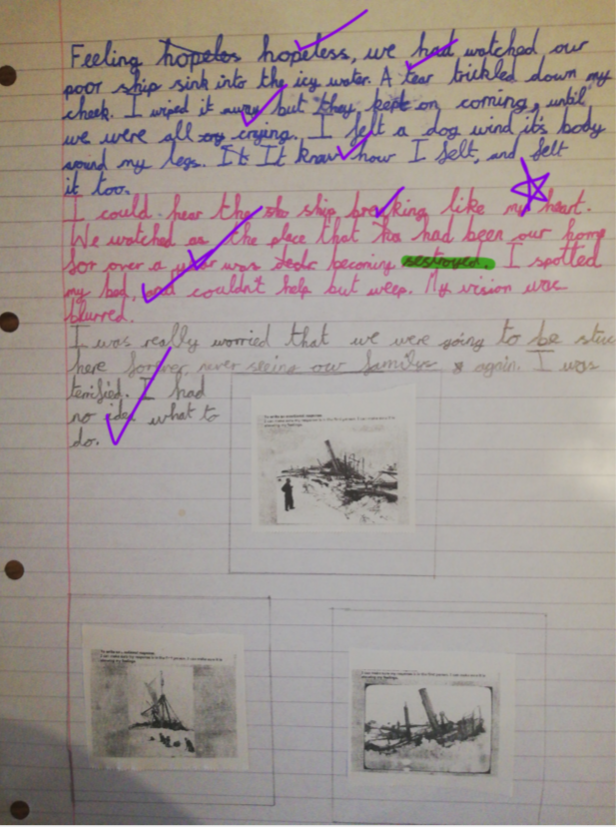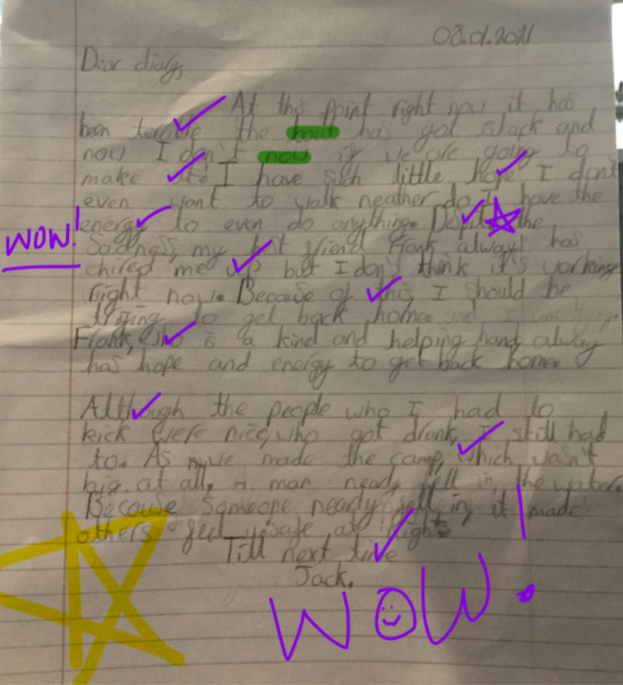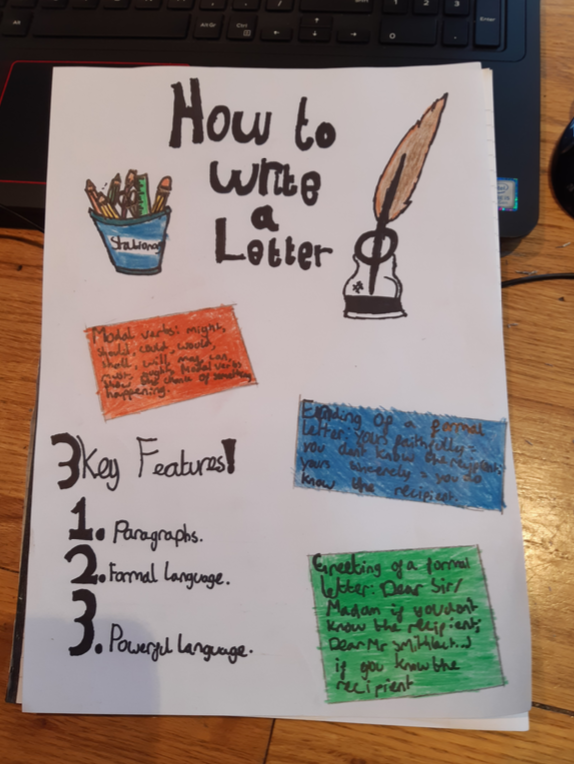 Term 2
Class 5 Shackleton's Journey Homework Brochure
We loved the whole school Christmas treat of the streamed Panto!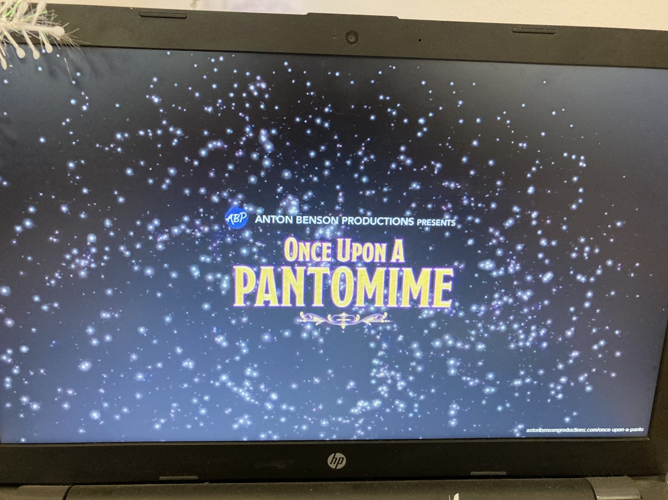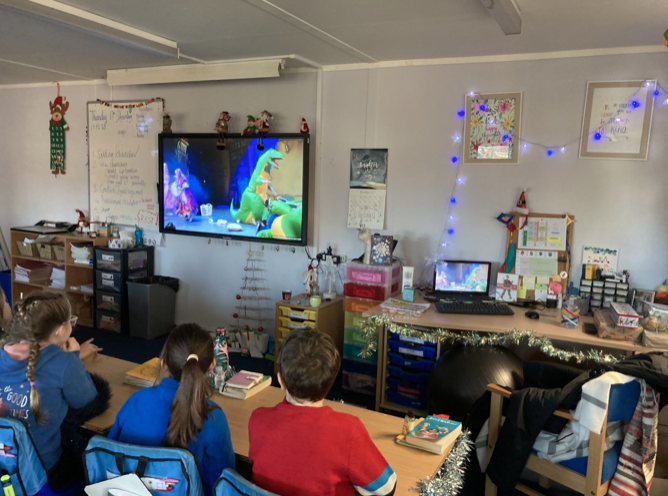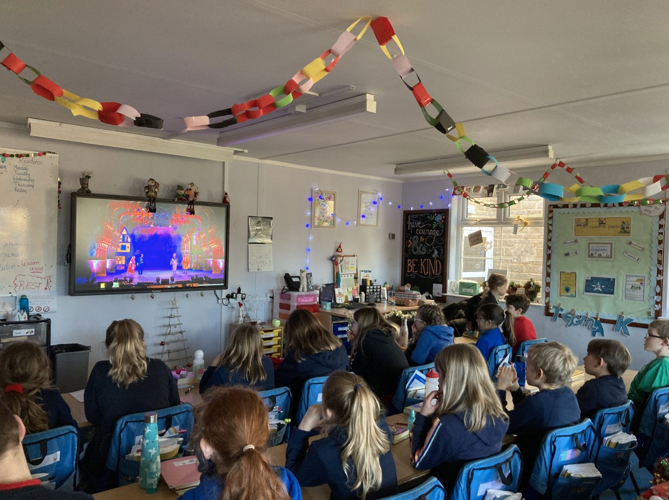 We have been reading Journey to the River Sea in English and as our homework, we had to create a board game based on the rainforest. The children worked incredibly hard and created some brilliant, imaginative and unique board games!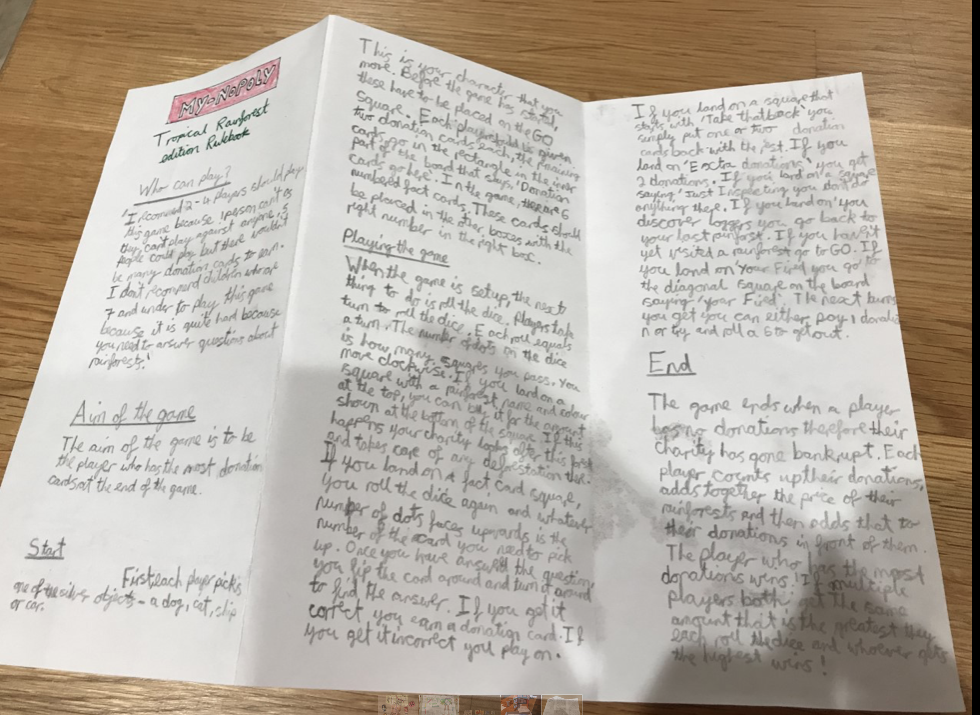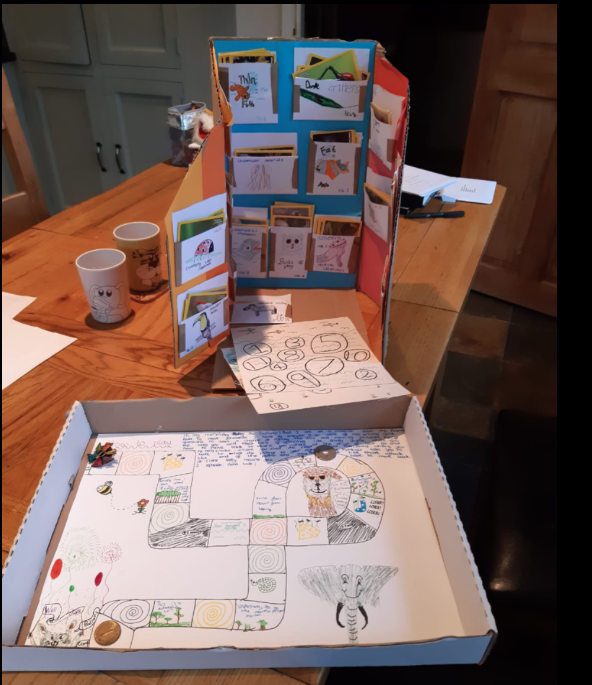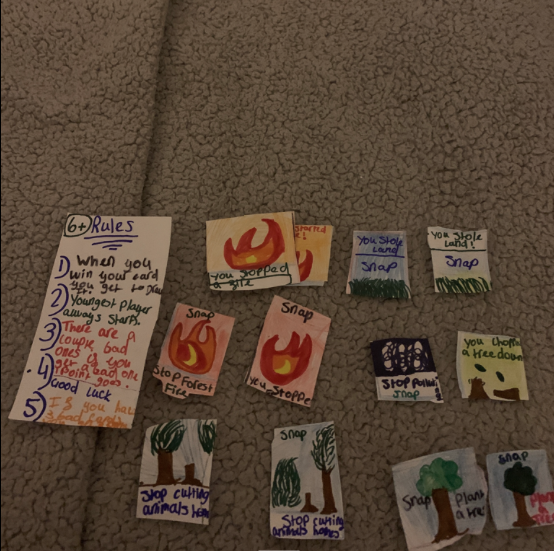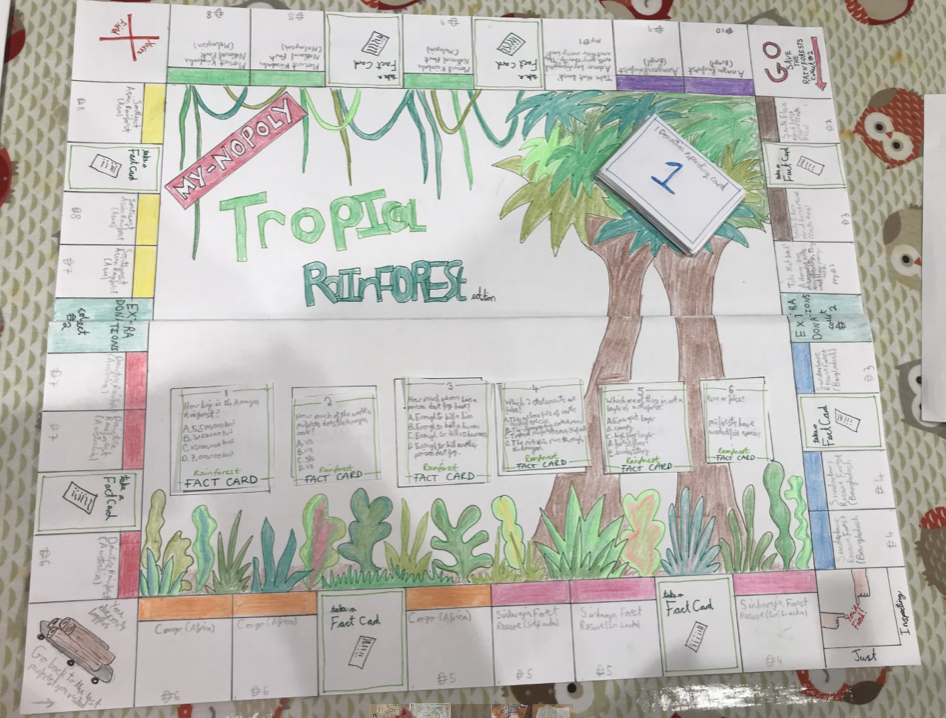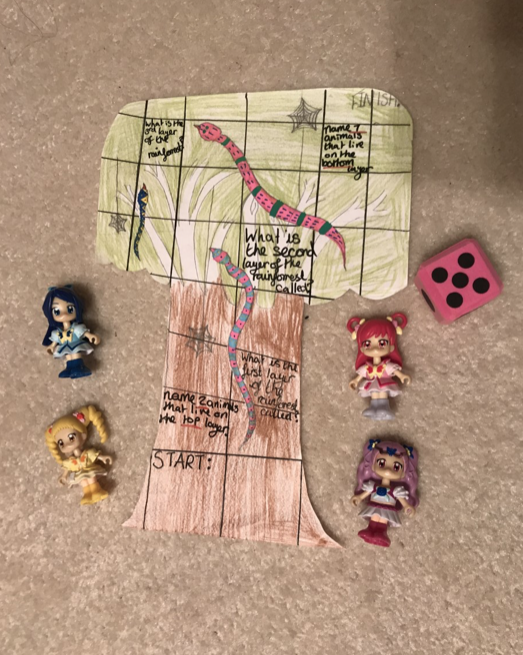 We have been challenging ourselves every day to improve our writing and include lots of fantastic Year 5 grammar and vocabulary. Take a look at some of our incredible writing. Can you spot relative embedded clauses? Semi colons? Brackets? Complex sentences? Using our star challenge boards, we have all been able to succeed and improve.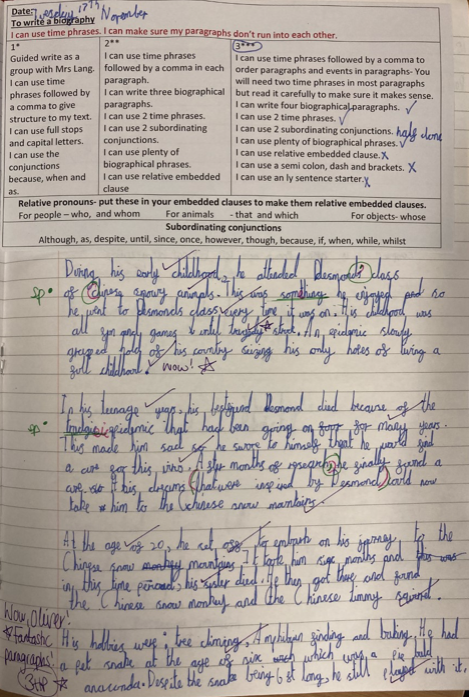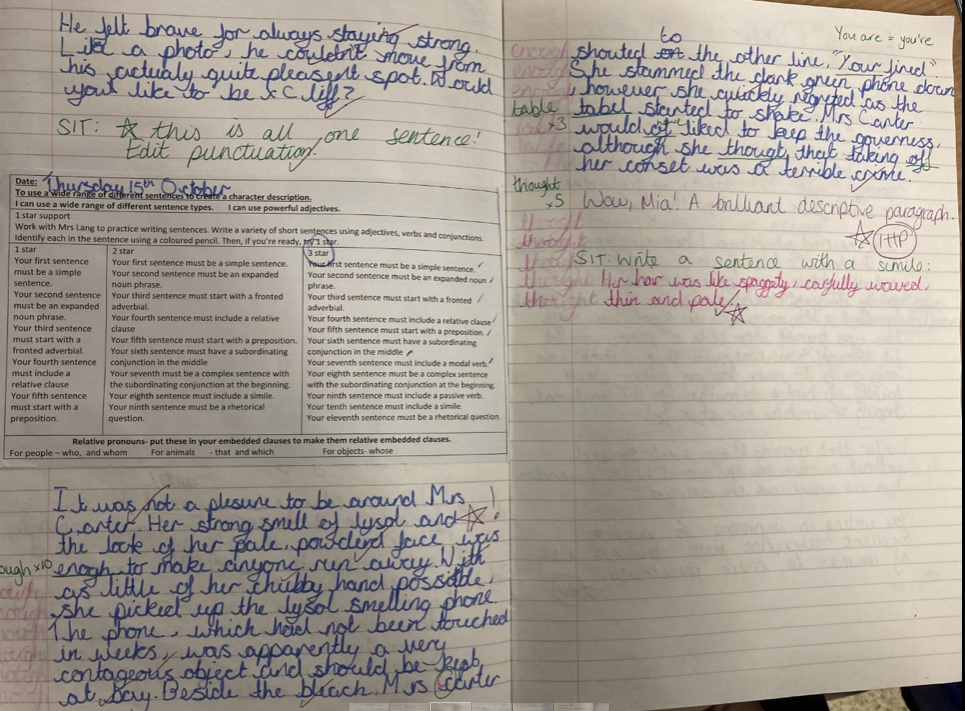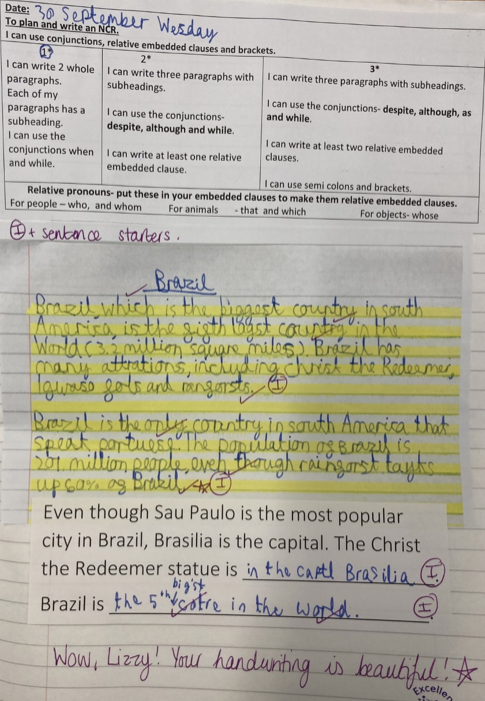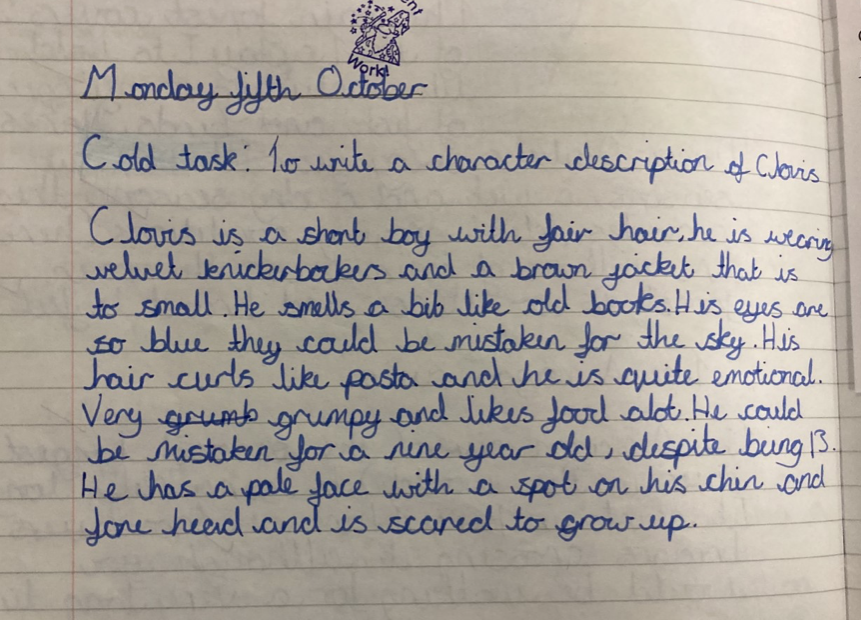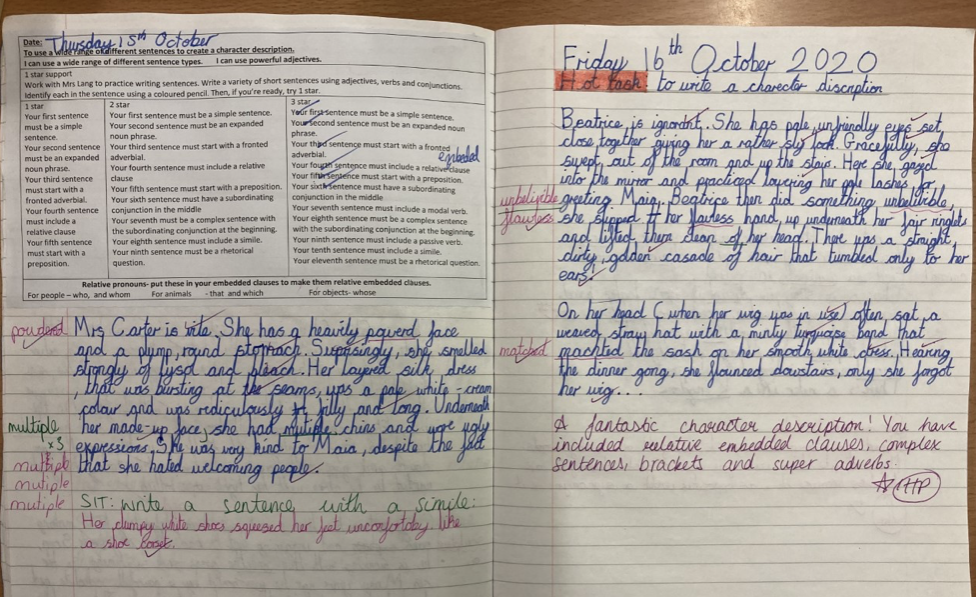 For the past 5 weeks Class 5 have had an Art specialist teacher in every Monday afternoon and we have been learning all about sculptures. We have learnt all about Barbara Hepworth and Henry Moore and what inspires them to create sculptures. After a few weeks of practising using tin foil and then even making our own wire sculptures, we have now created our own sculptures inspired by their designs!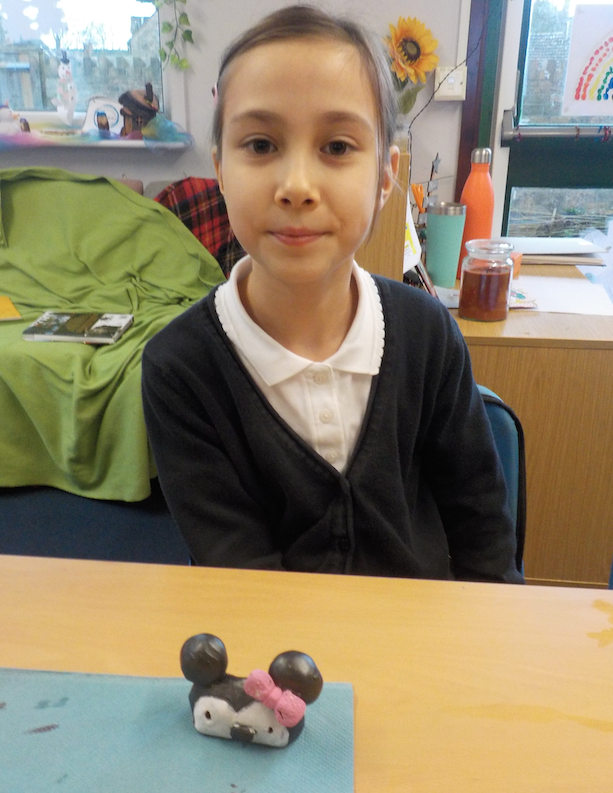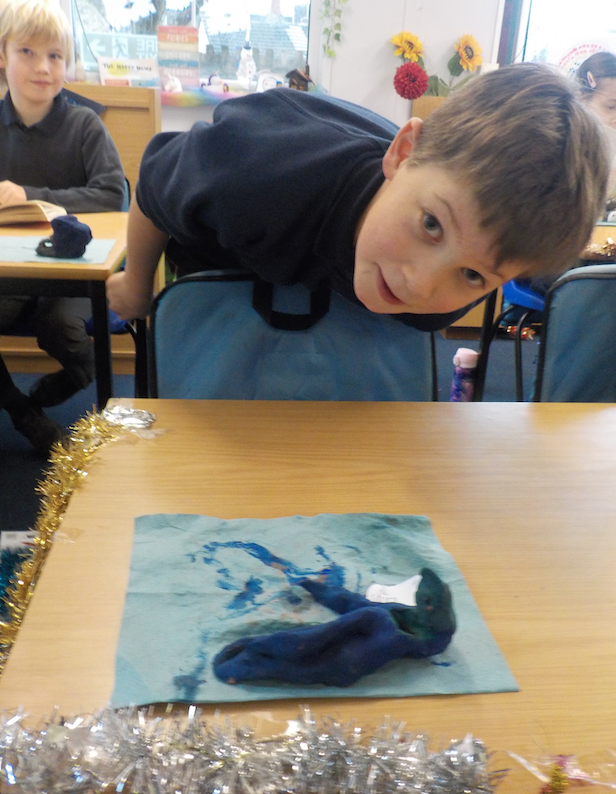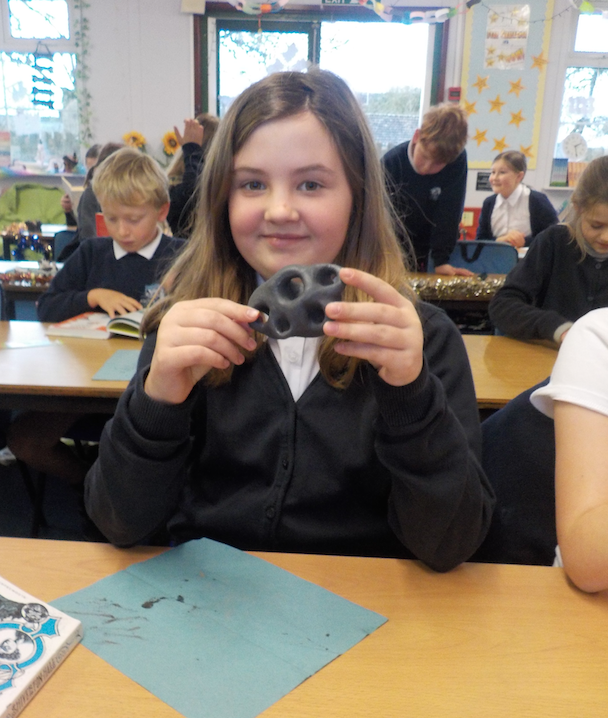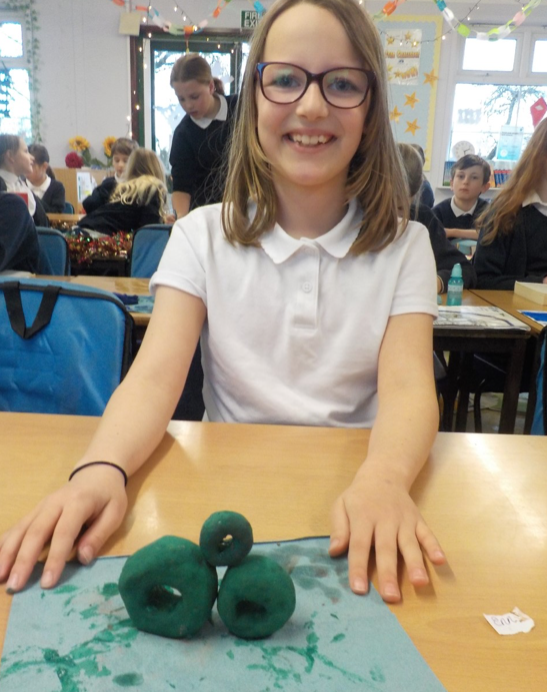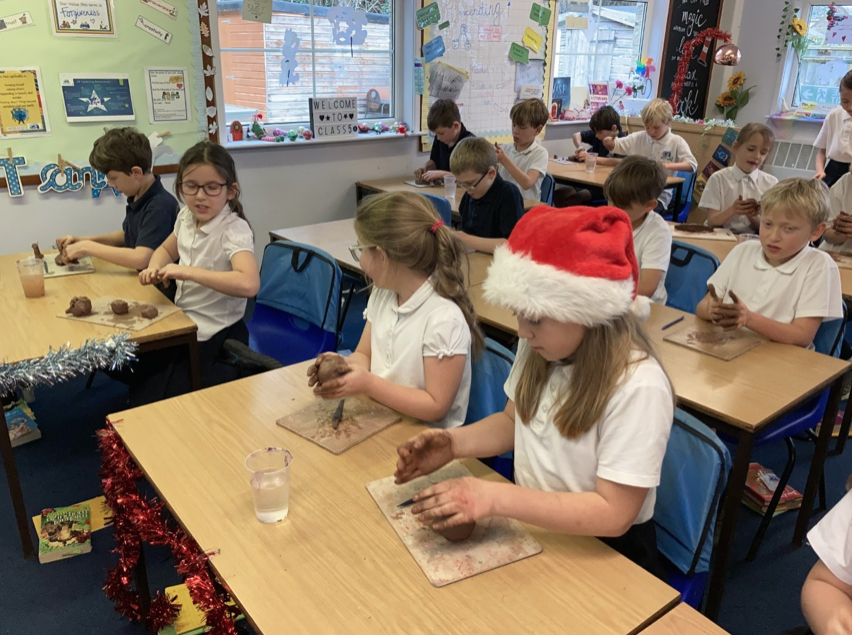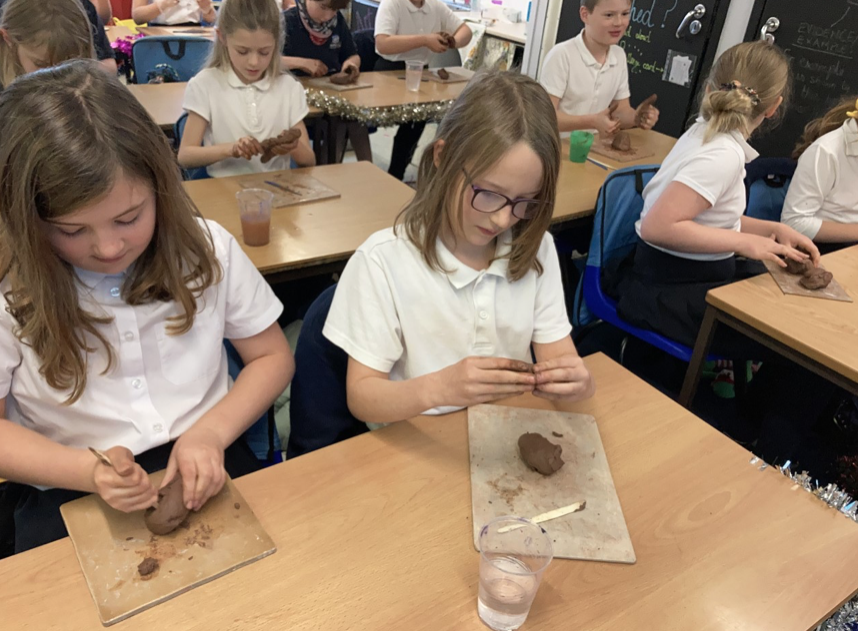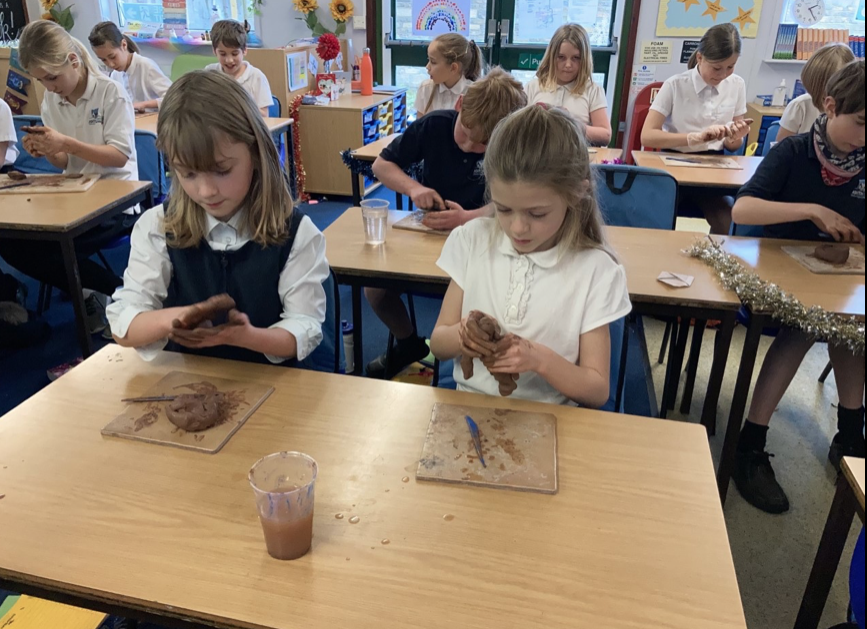 In Class 5, we are learning about the Victorians. After writing our 'cold task' to see how much we know about the Victorian era before starting our topic, Mrs O'Neill selected 'experts' to complete research! Zack and Toby were our first Victorian experts and created presentations on Victorian Fashion and Inventions. They then presented these at the start of the lesson about fashion and inventions! The children absolutely loved the challenge and loved being given the opportunity to teach their peers about their expert area.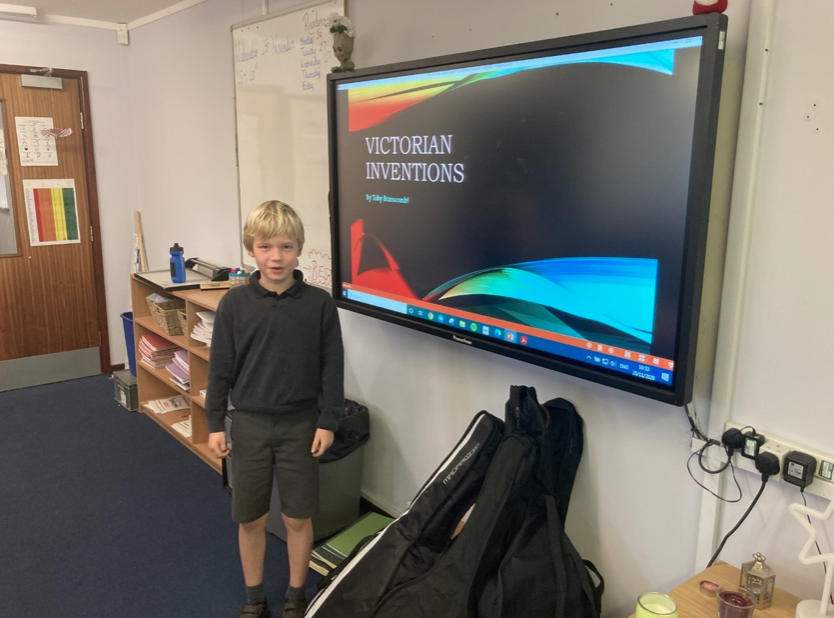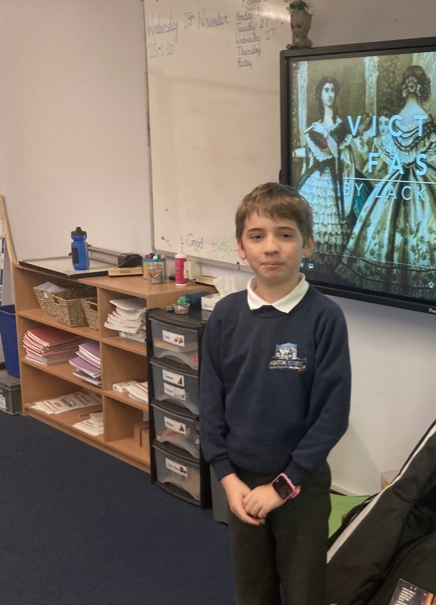 Listen to Episode 1 of our amazing podcast!
We are so lucky at Team AK to have Reverend Shirley join us every Monday morning to welcome the whole school back and kick off our week with a whole school worship. This week we were learning about long and hard journeys and the story of the birth of Jesus. We thought about different journeys we have been on and the people who went through long and hard journeys to welcome Jesus into the world. We all said a prayer and thought about the true meaning of Christmas as the gift of Jesus and love for one another.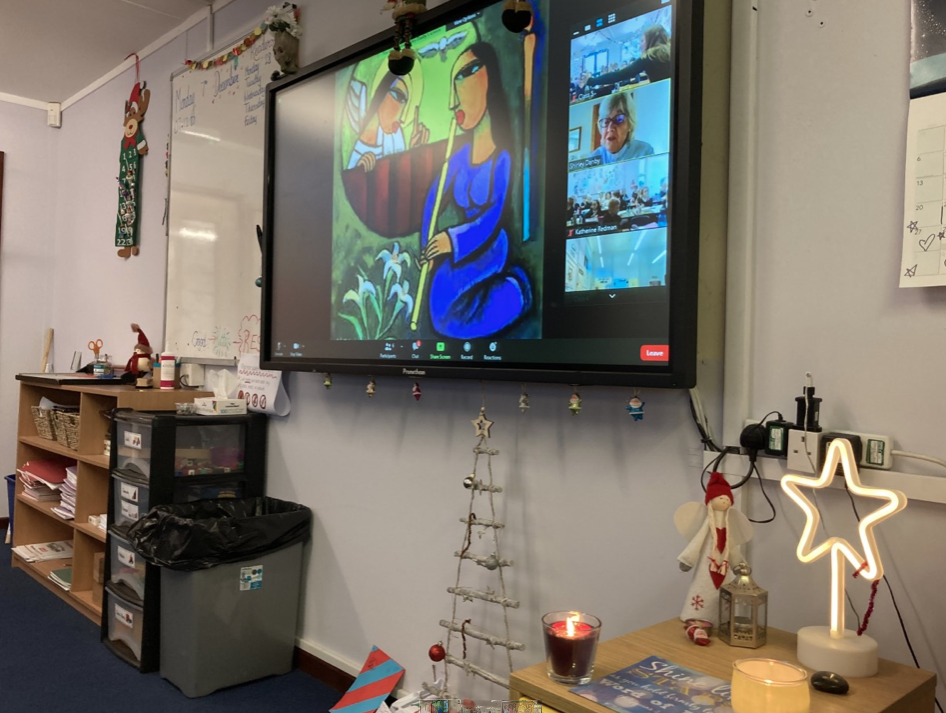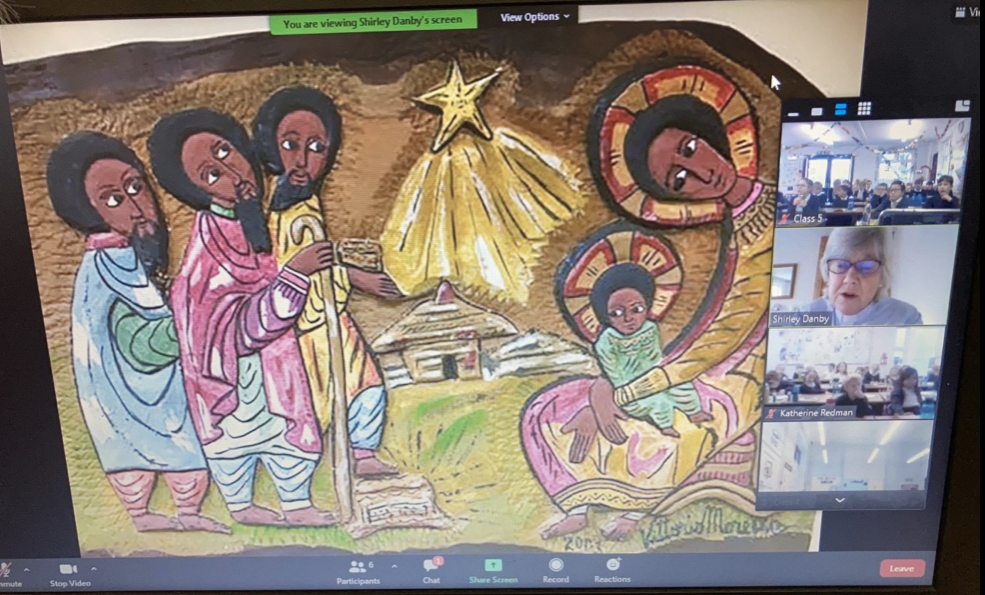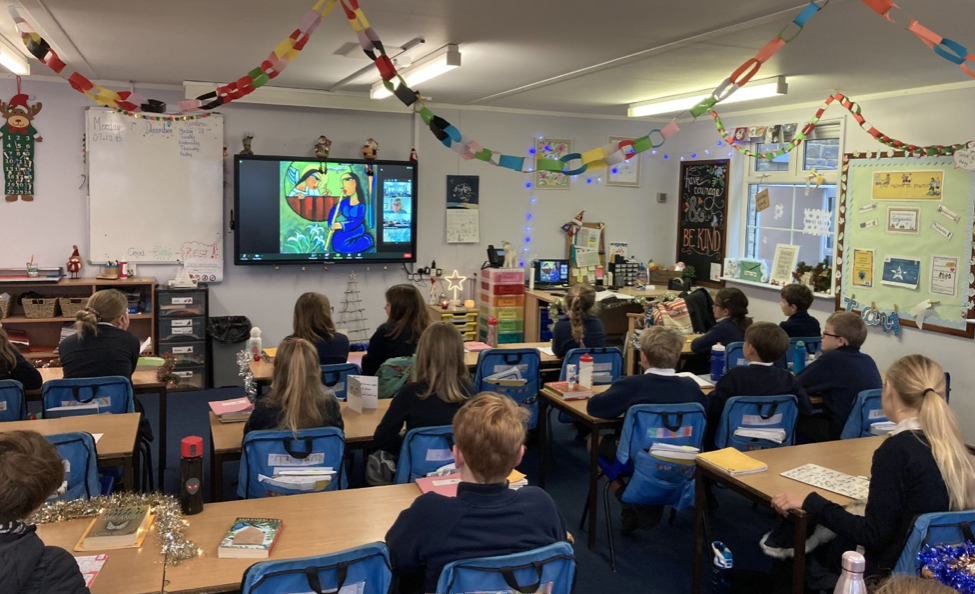 Term 1
In English, we have been learning to write relative embedded clauses in Class 5. Mrs O'Neill gave everyone in the class 12 chopped up relative embedded clauses, and the children had to put them back together again! It was so much fun and helped us see the importance of the main clause making sense on its own. We were also able to remove the relative embedded clause to check it did make sense!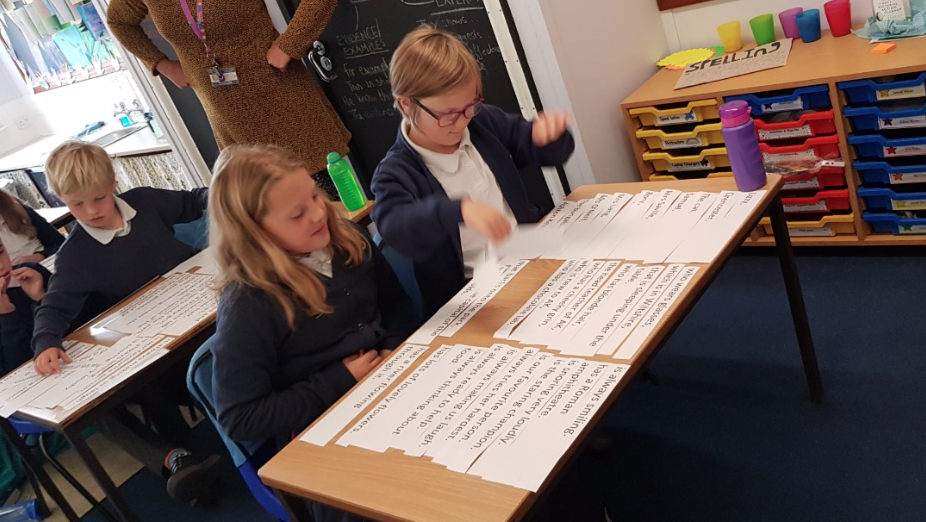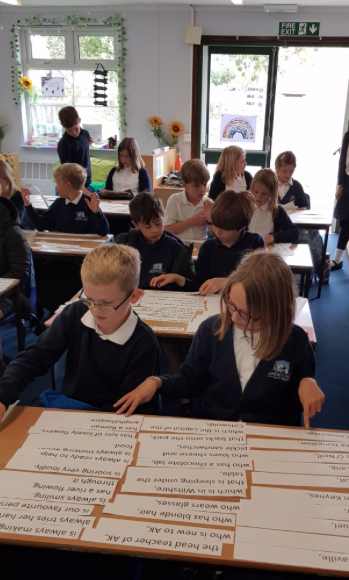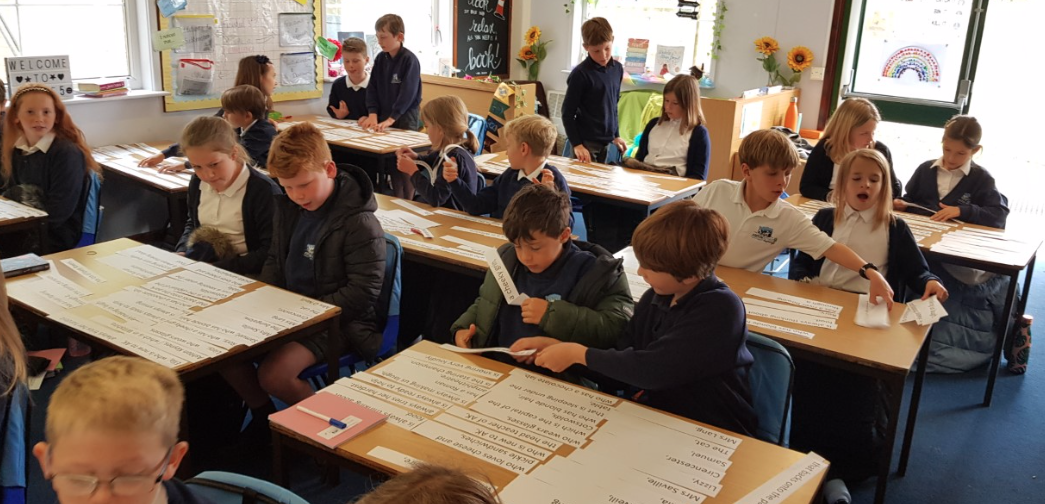 On Monday 28th September, Class 5 took part in The Big Anti-Bullying Assembly 2020. The assembly was put on by The Diana Award and had a whole host of celebrity guests to remind everyone of the need for mutual respect in our schools and communities. Together, we pledged to put an end to bullying, celebrate diversity and create communities of kindness.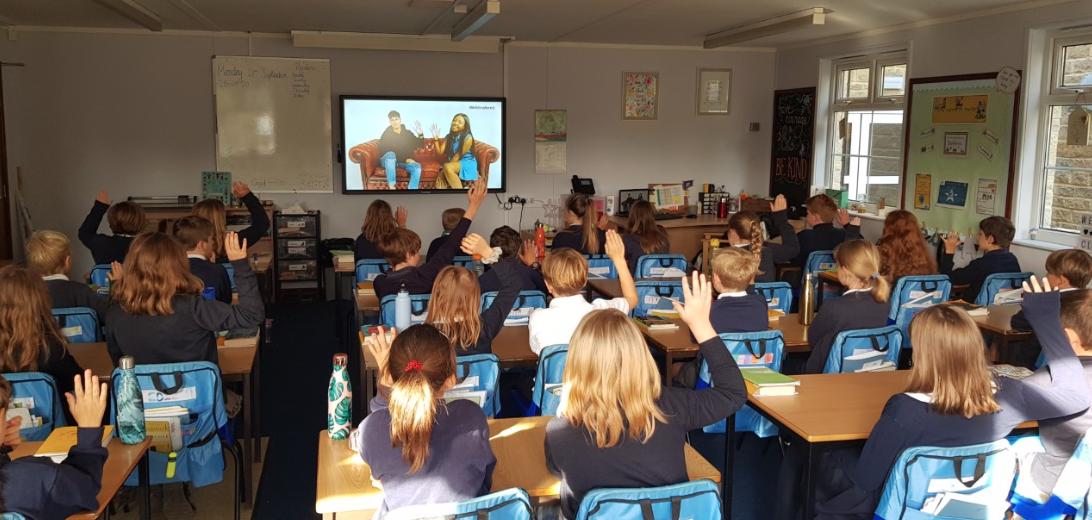 Class 5 have been selected by Mr Jackson to create a monthly podcast on life at Team AK. We were so lucky to have a celebrity gardener, The Skinny Jean Gardener, as our first guest on their new monthly podcast. Lee does a daily podcast and had lots of brilliant top tips for the class to make their own podcast. The children asked Lee fantastic questions and were incredibly polite, as always! We are so excited to get the first podcast out!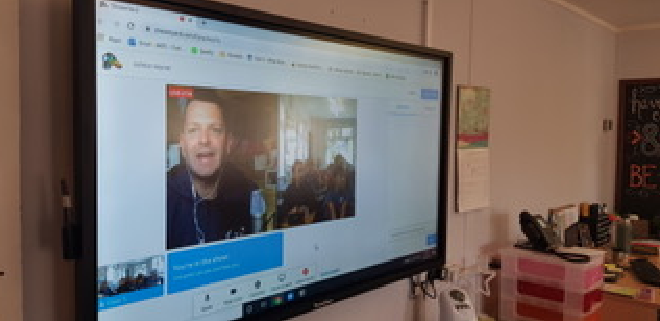 Our first Forest School session in year 5 was brilliant! Mr Jackson challenged us to build a model den using only sticks and grass with the additional challenge of having to replicate it with the same materials so we could fit inside! The children began working independently or in pairs and when they started building the bigger dens, they decided to work together as a team and collect resources to support each other. It was a fantastic team building activity and the children worked incredibly well together. Mr Jackson and I were super impressed with their decisions to support each other and help one another to succeed.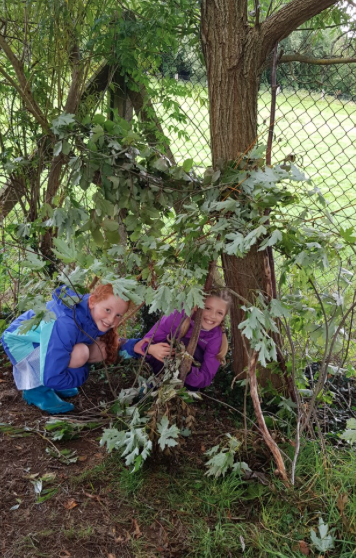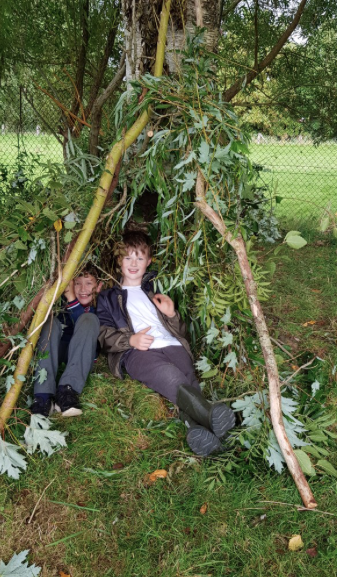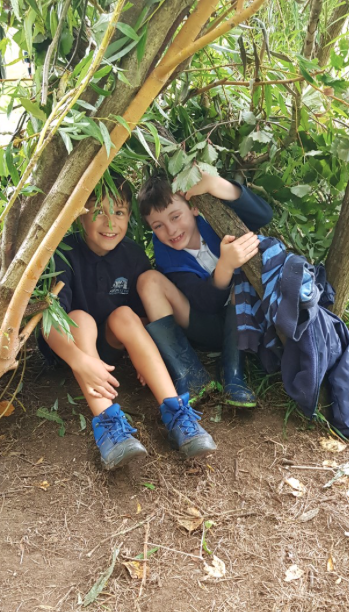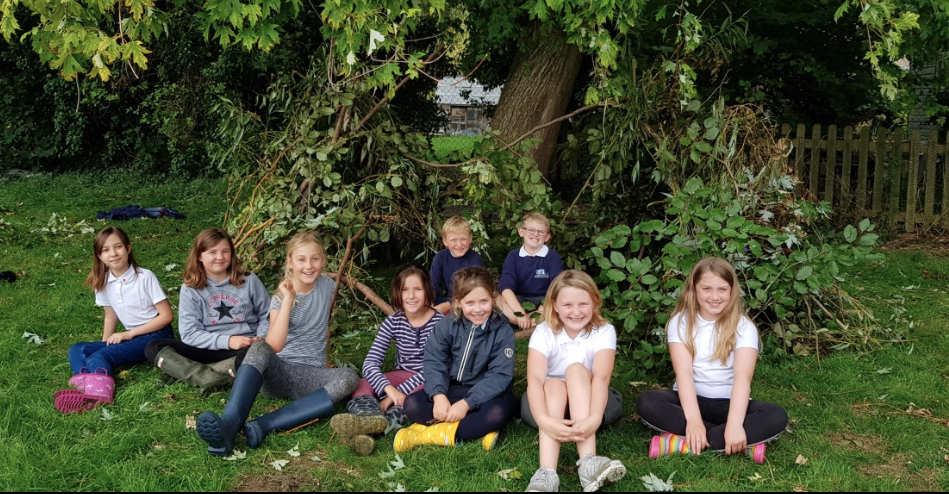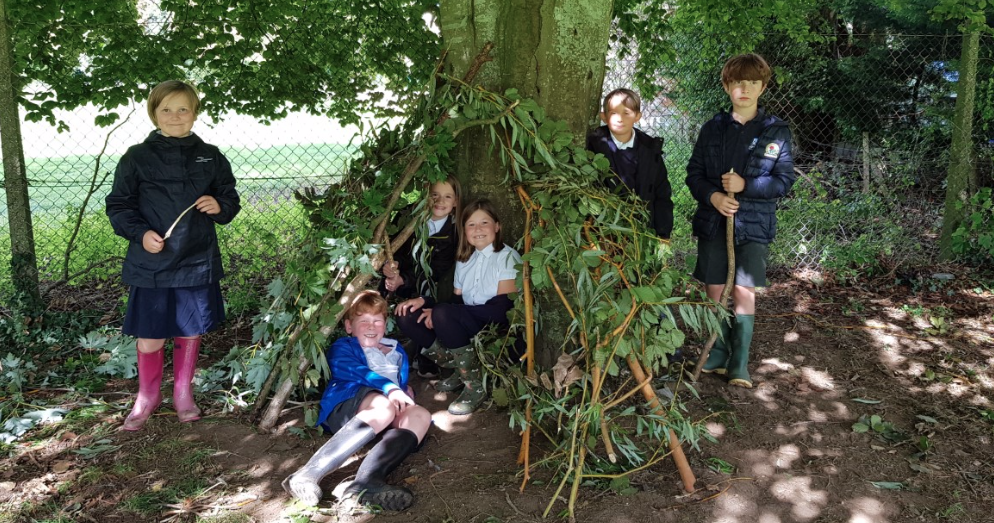 Our home learning task this week (15th Sept) was to select a quote from the Bible that highlights our learning metaphor, 'Life in all its fullness." The children selected their favourite quote and produced a piece of art they felt most represented their chosen quote. Some even challenged themself further to write an explanation of their chosen quote and art work. The children all worked incredibly hard and produced some creative, thoughtful and inspiring home learning as a result.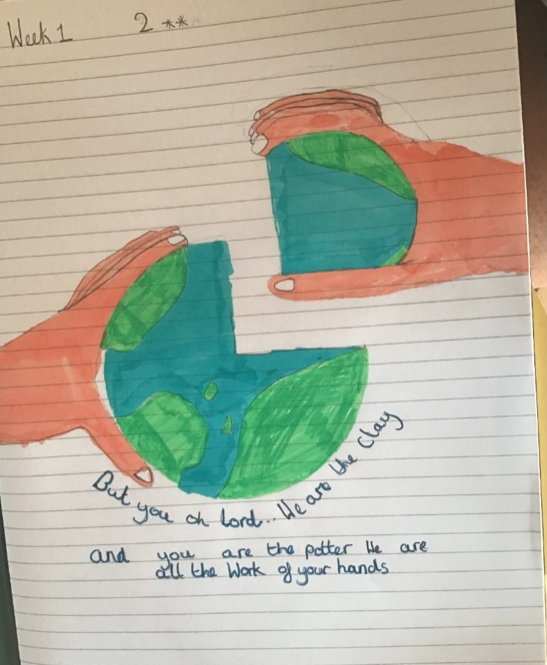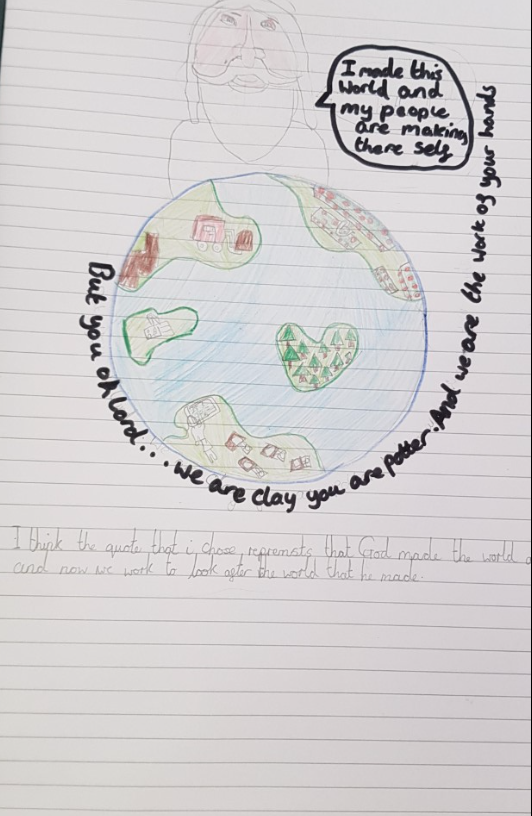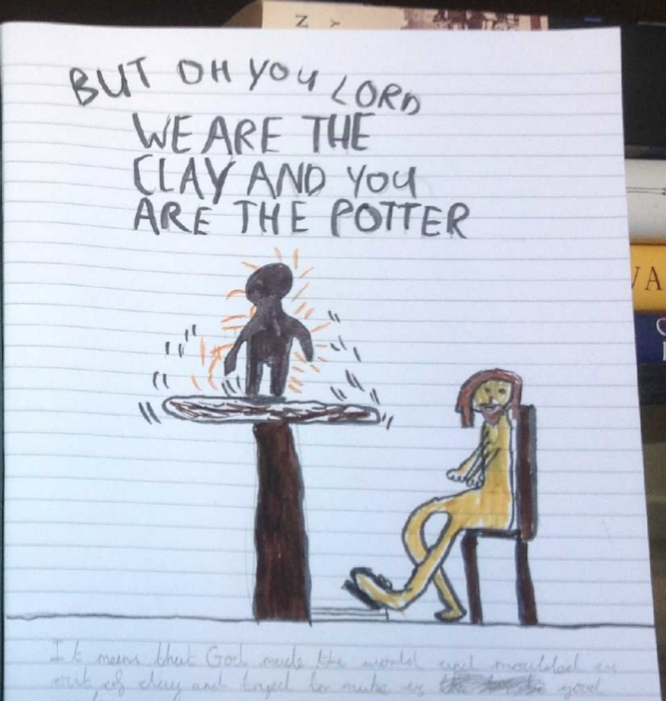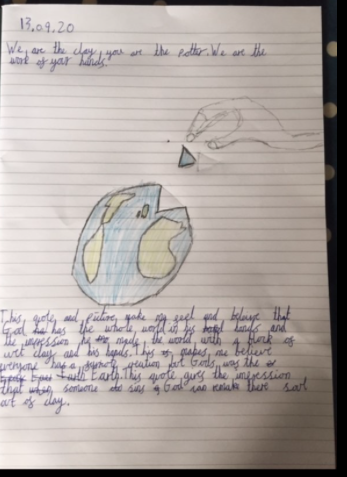 Our Science topic this term in Class 5 is electricity. To kick off our topic, we created circuits! Using wires, batteries and light bulbs, we discussed the importance of a closed circuit and what happens when the circuit is not closed. We had great fun testing the brightness of the light bulb and using different batteries and cells to complete our circuits.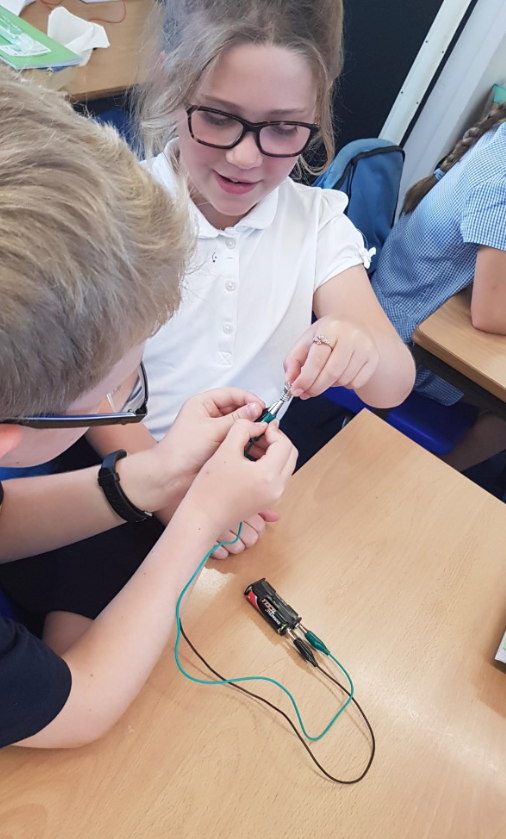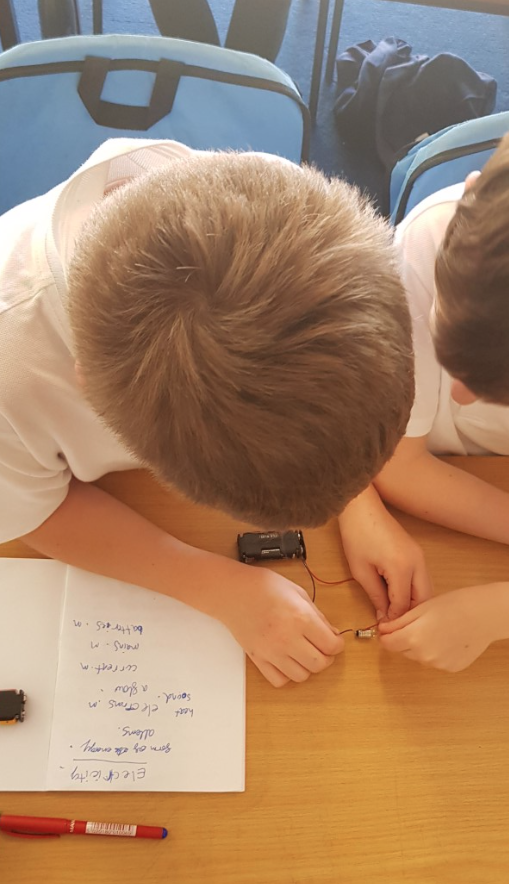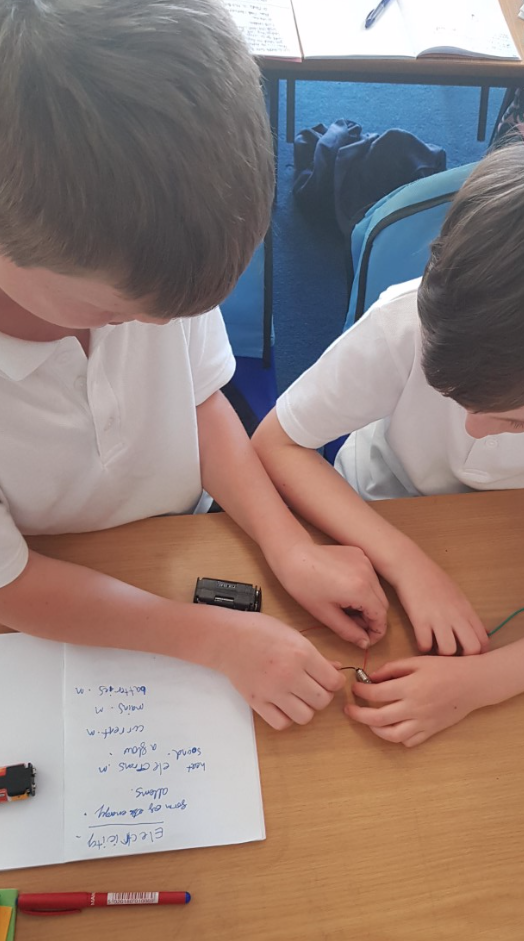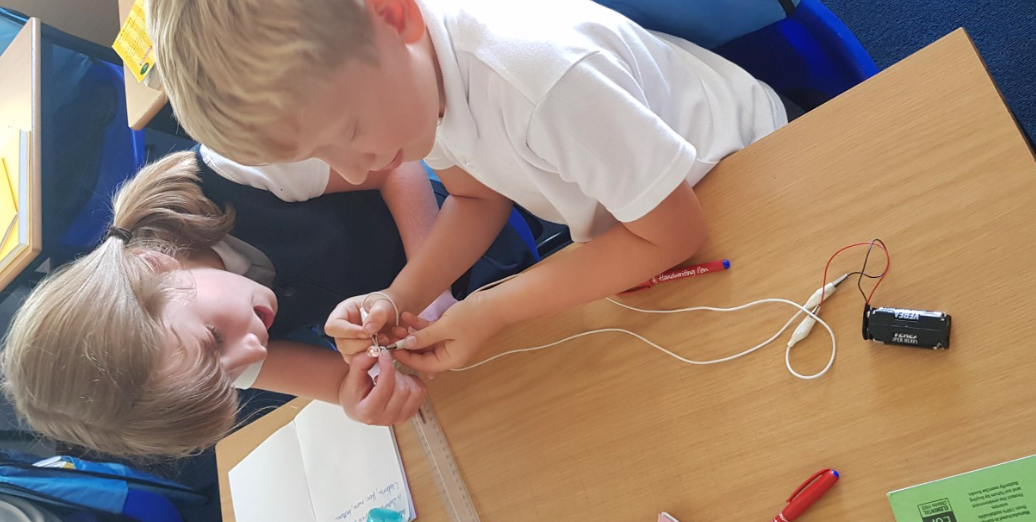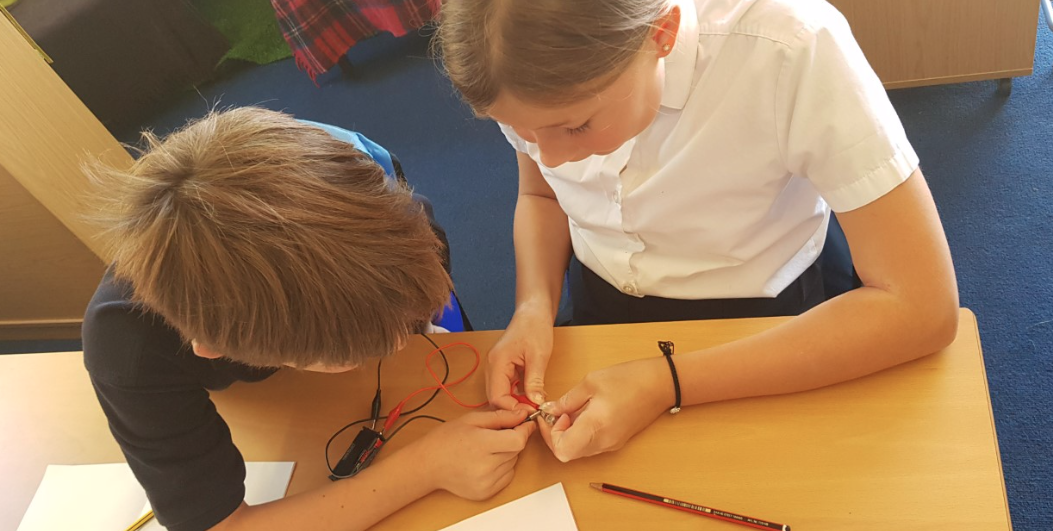 ARCHIVE POSTS 2019-2020
Class 5 Curriculum Annual Overview 2019-2020
Class 5 Term 5 Remote Home Learning Timetable & Website Links
Class 5 Term 5 Afternoon tasks
Term 5
In the afternoons we have been looking at space and the space race. We have been studying famous astronauts.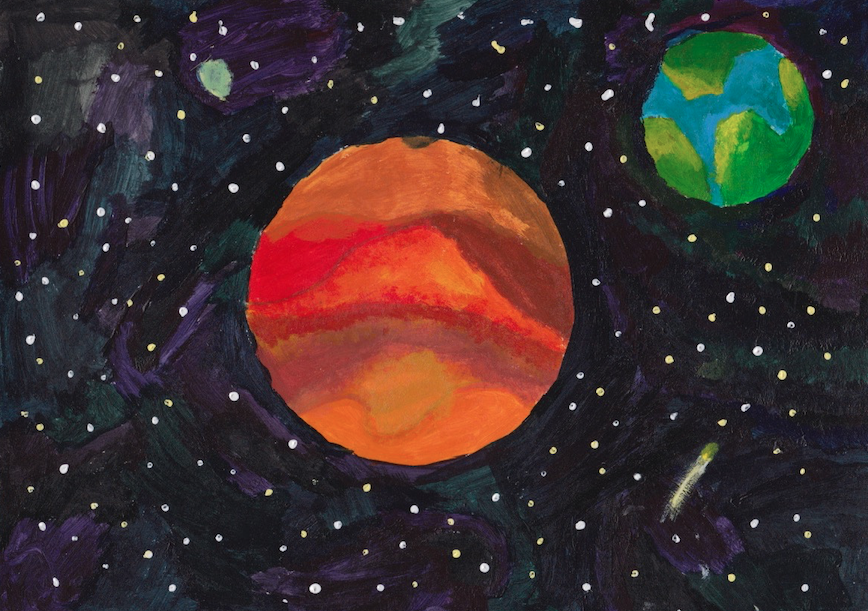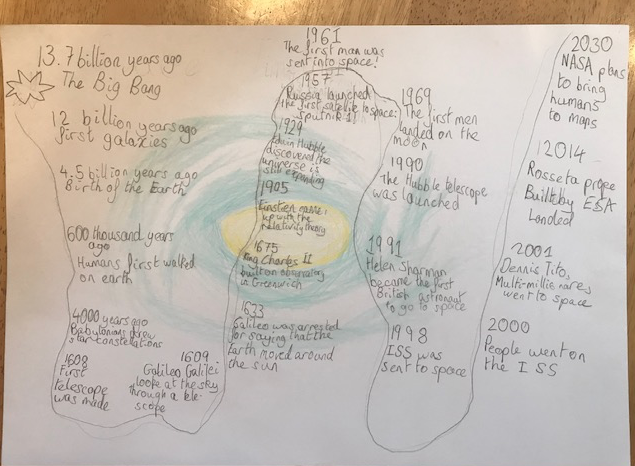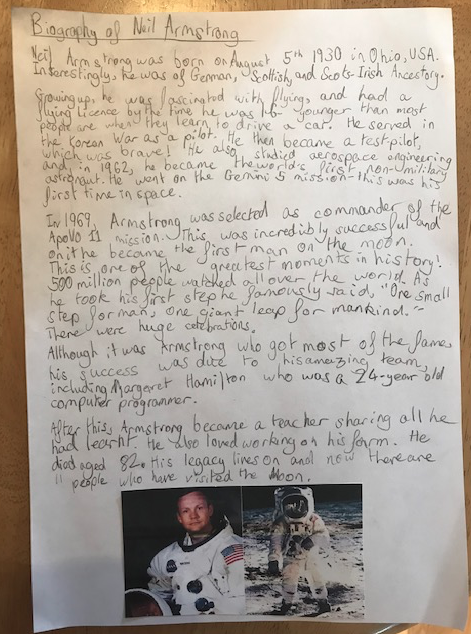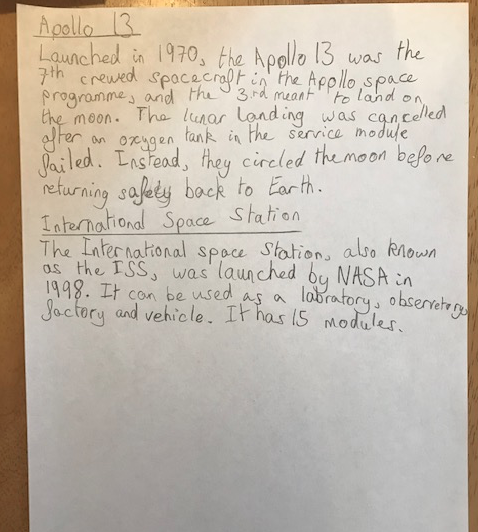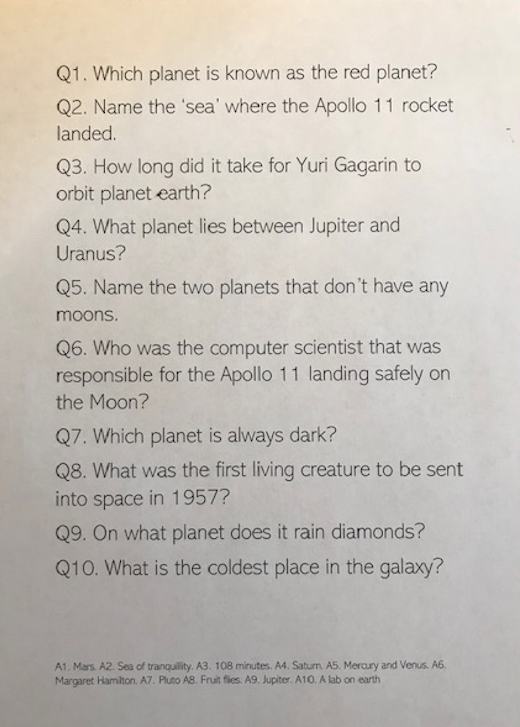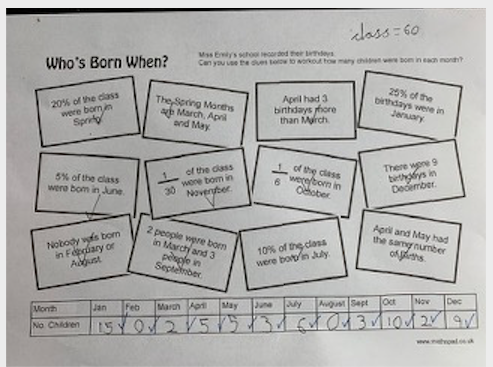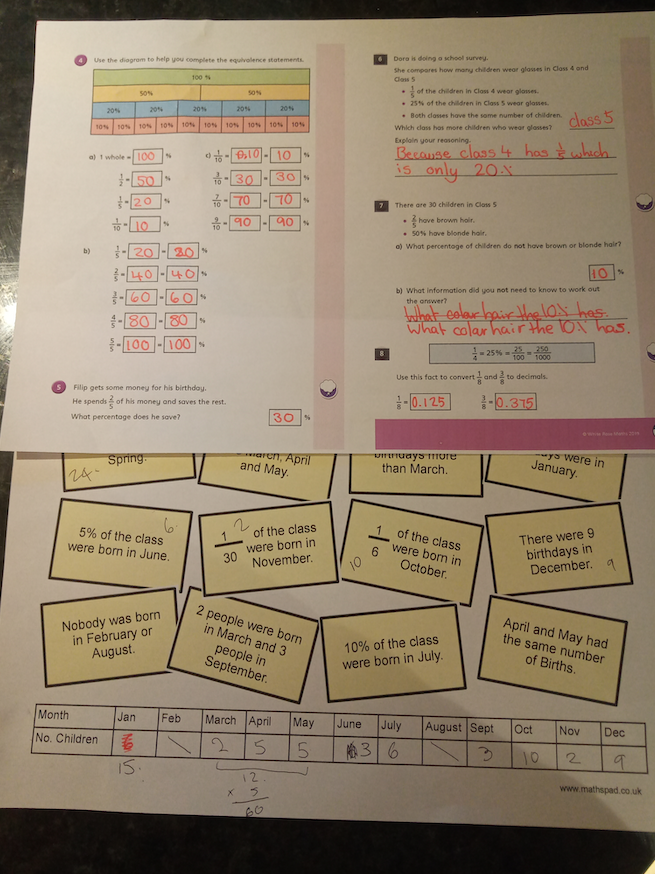 Last week (beginning 4/5) in our English,  we looked at writing relative and relative embedded clause sentences. We looked at this alongside writing about superheroes. We read about some ordinary superheroes and then started to design our own. We drew them, planned writing about them and then wrote our own superhero reports. Have a read about the heroes we created.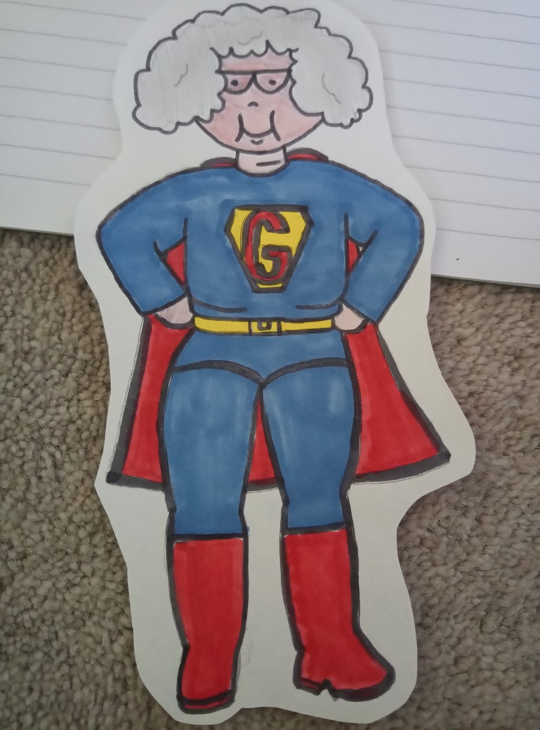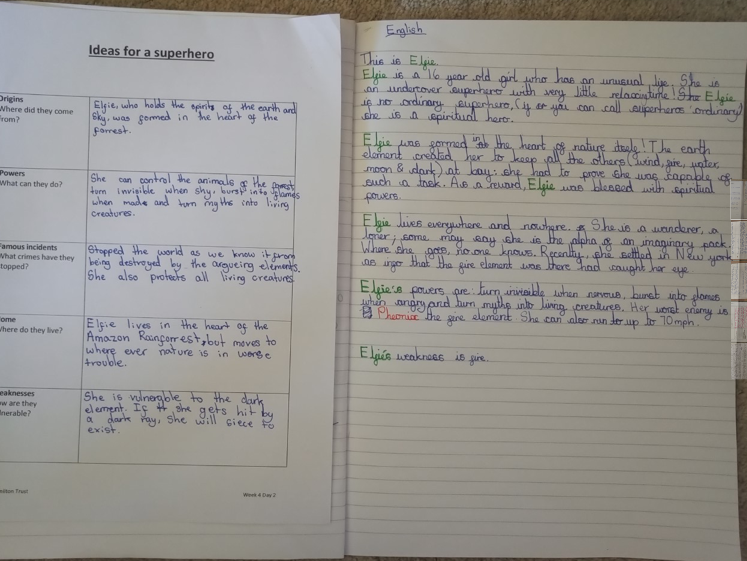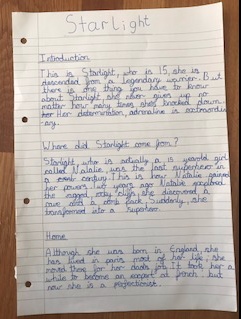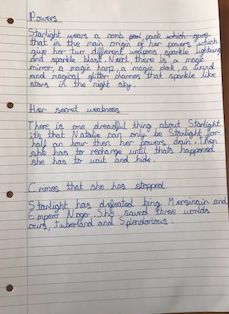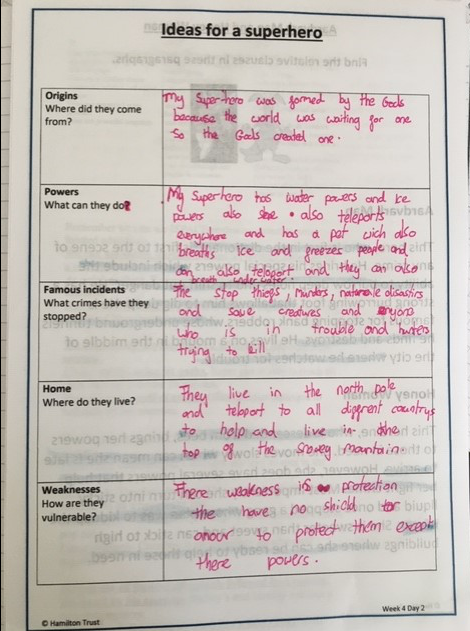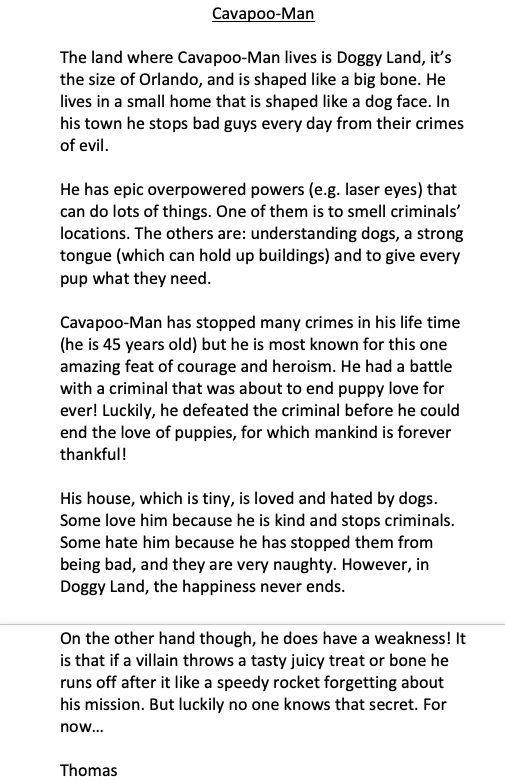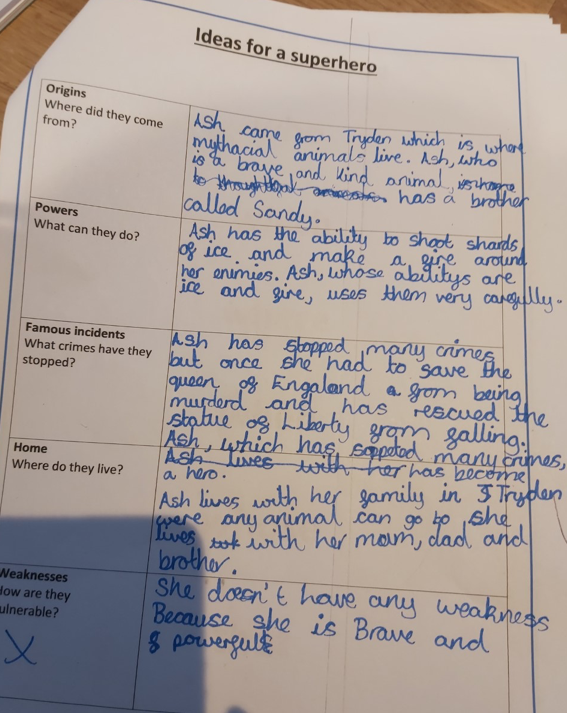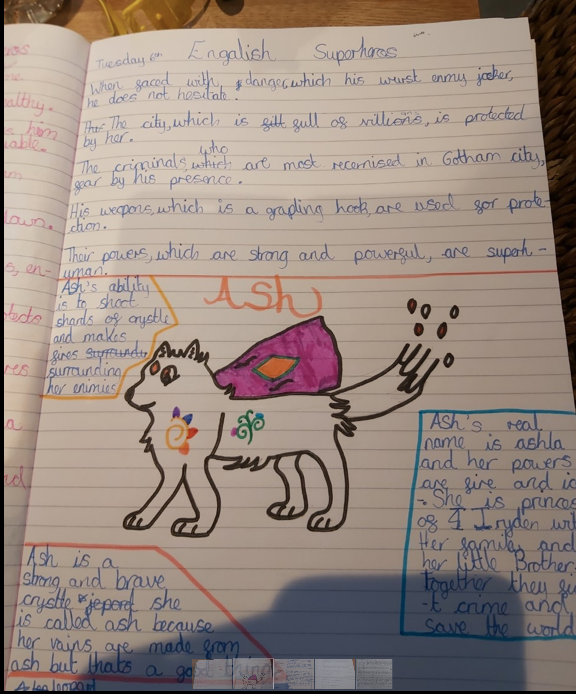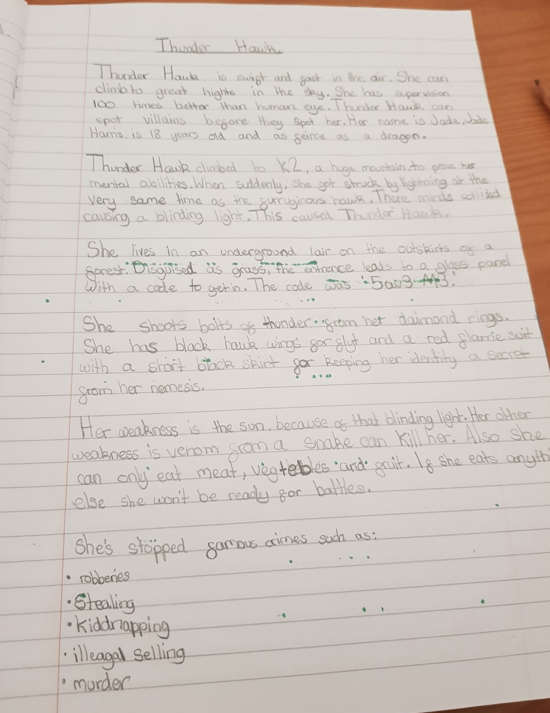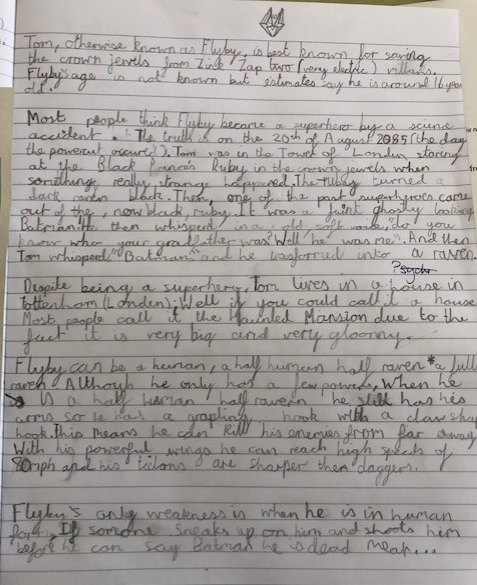 We have been practising lots of life skills in Year 5! Have a look at the different things we have been doing as part of afternoon work. Using our afternoon work activities we have seen some really creative work.
We have been cooking three course meals.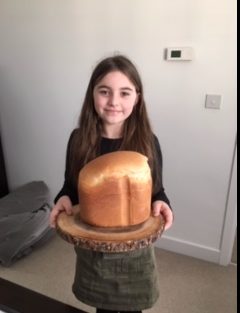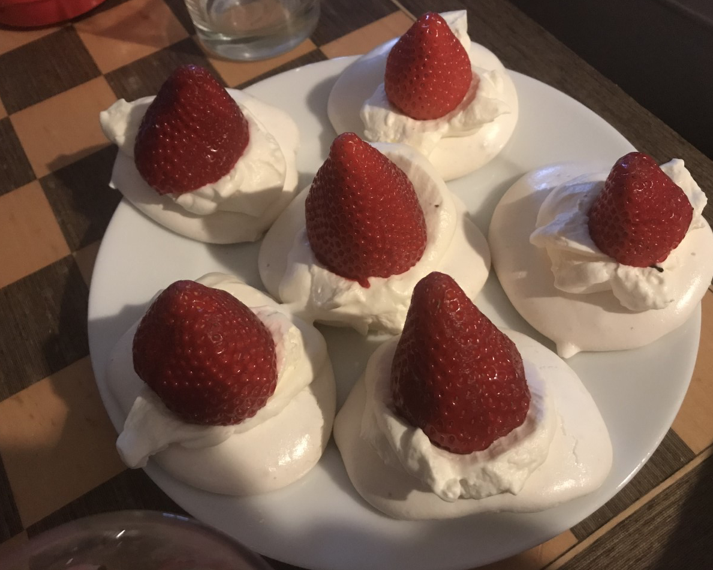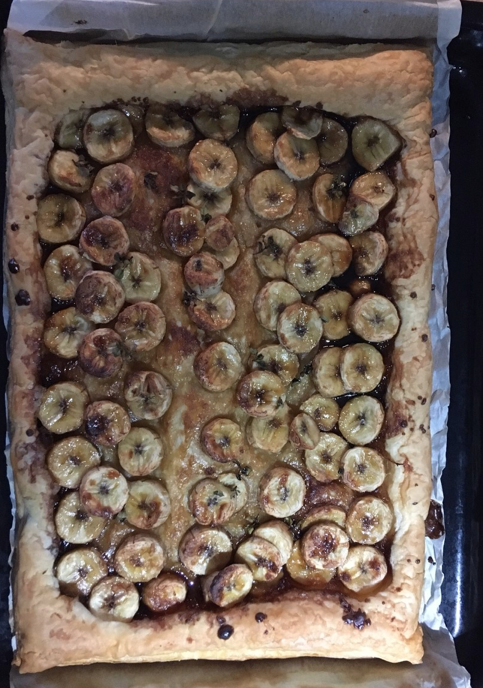 We have baked cakes.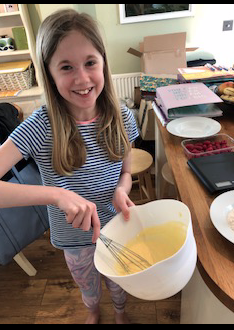 We have planted plants.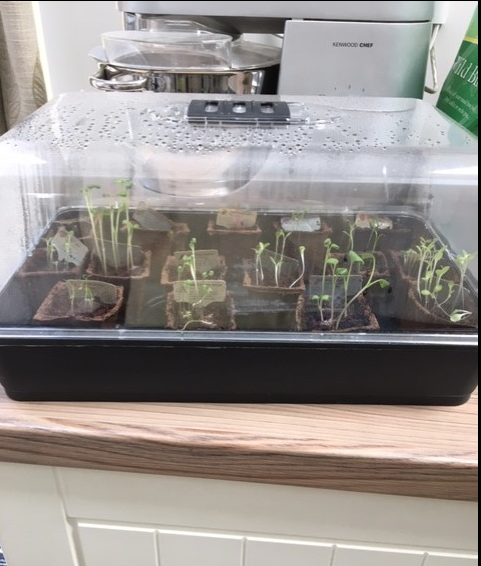 We have sewn cushions, pompoms and soft toys.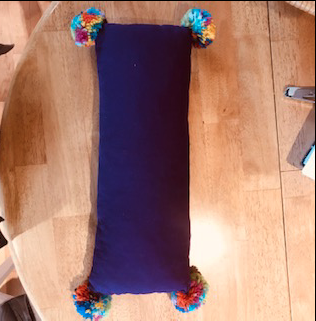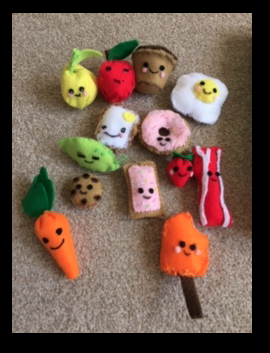 Have a look at the buttons we have sewn on.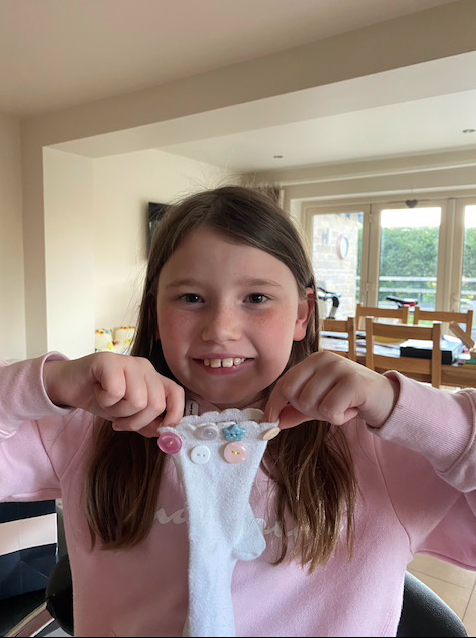 We have even had a toy car being built!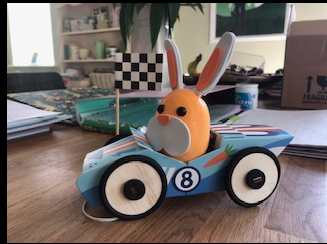 We have been creating computer games using scratch.
We have been looking at the art of Peter Thorpe and using it to inspire our own space art.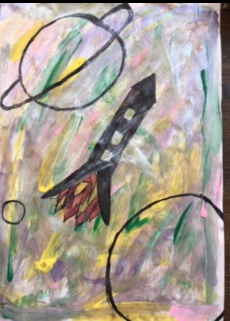 We have researched the space race and created our own factfiles.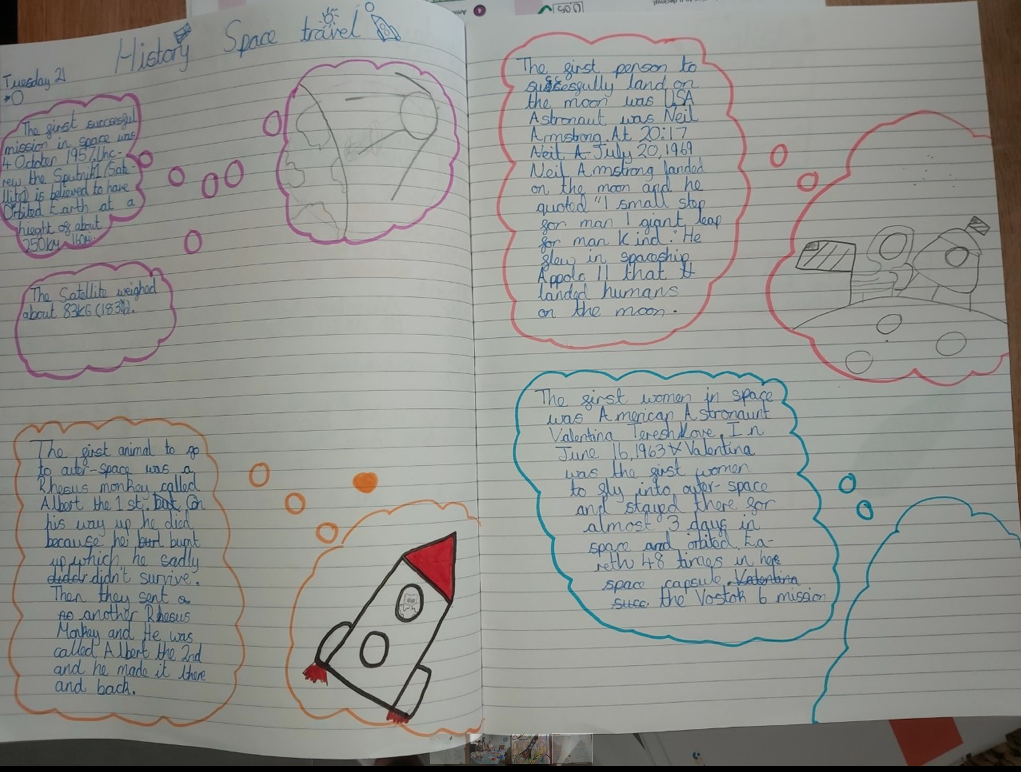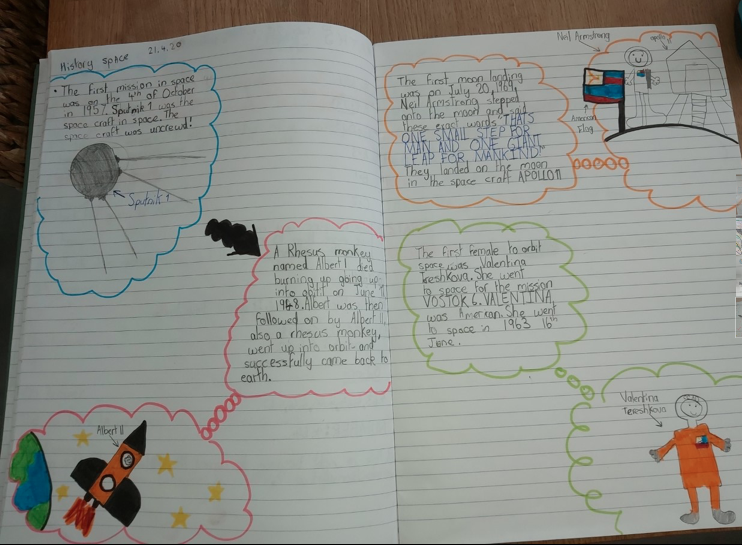 Have a look at the posters we have been making to encourage others at the moment.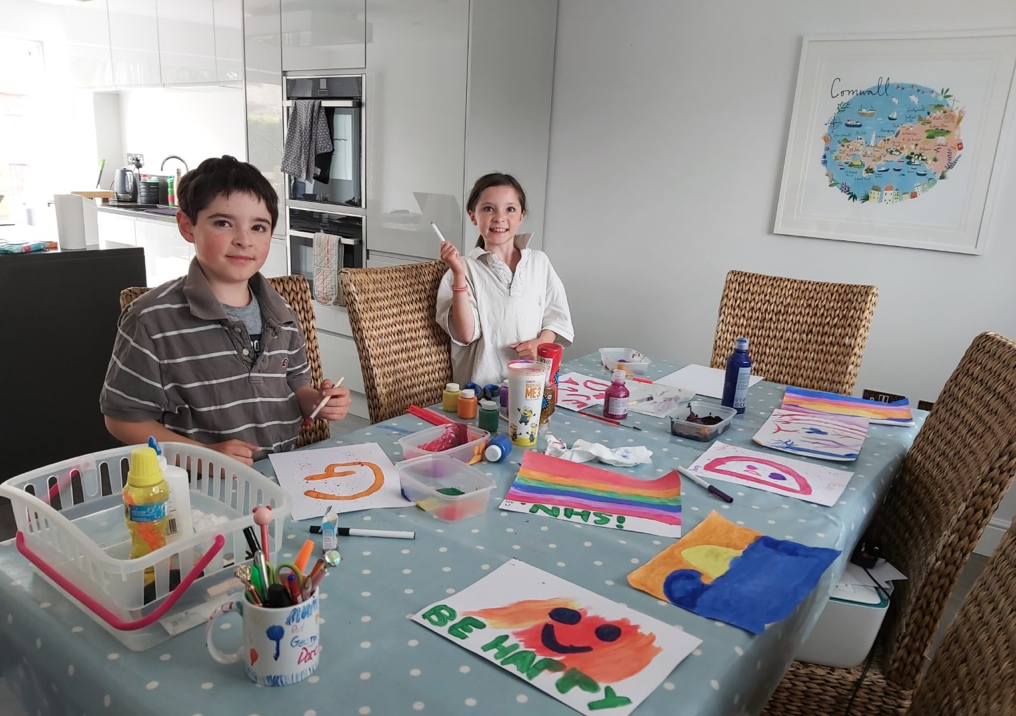 Once we finished writing our poems we moved onto famous speeches.
We looked at famous speeches including Martin Luther King's  'I have a dream', JFK's speech about why we should go to the moon and Malala's speech to the UN about the importance of education for all children.  This speech has inspired some incredibly thoughtful and mature letters to Malala talking about her speech and its impact.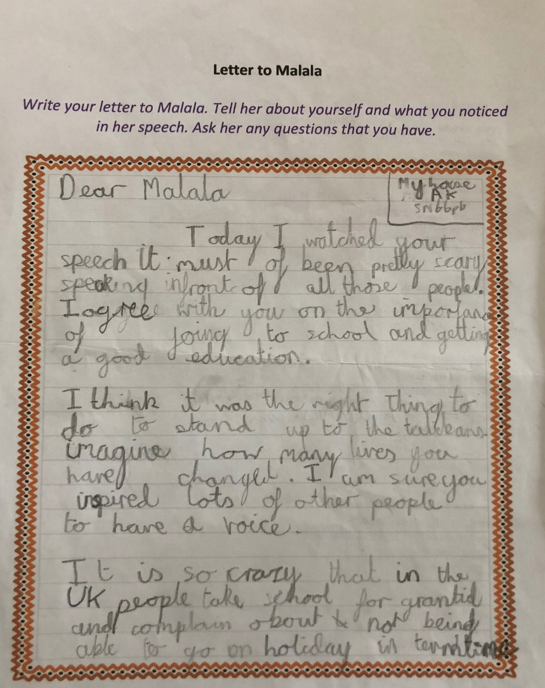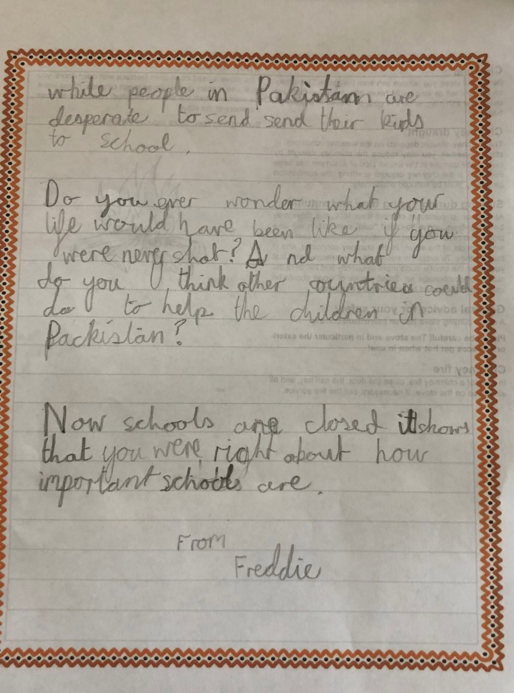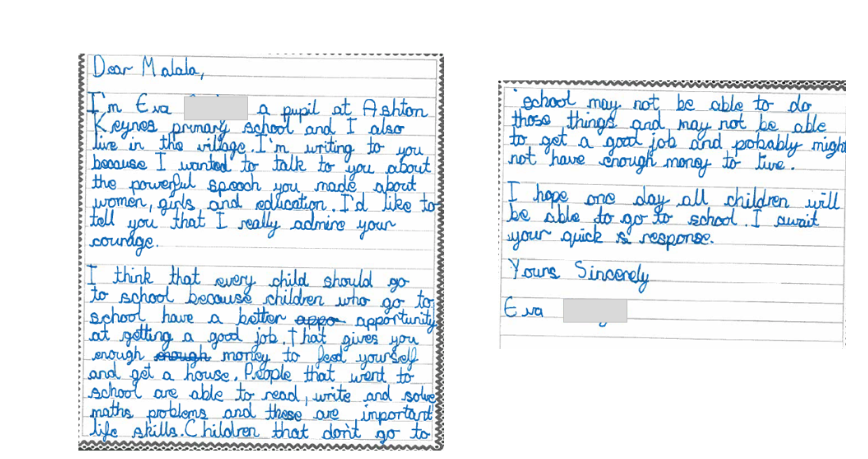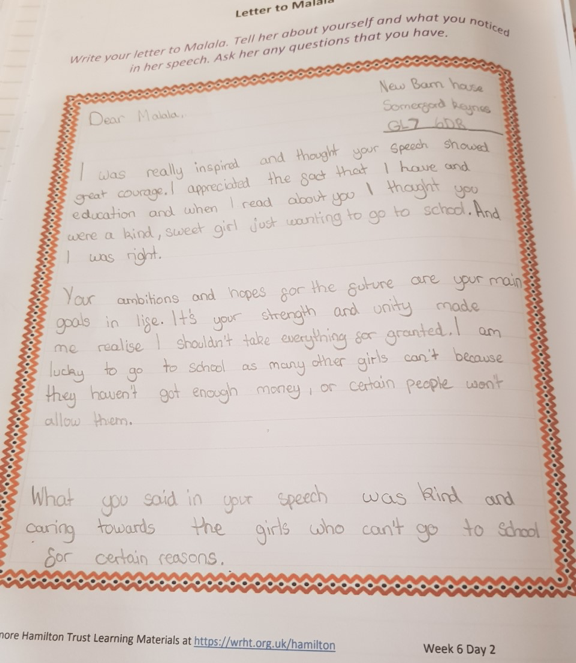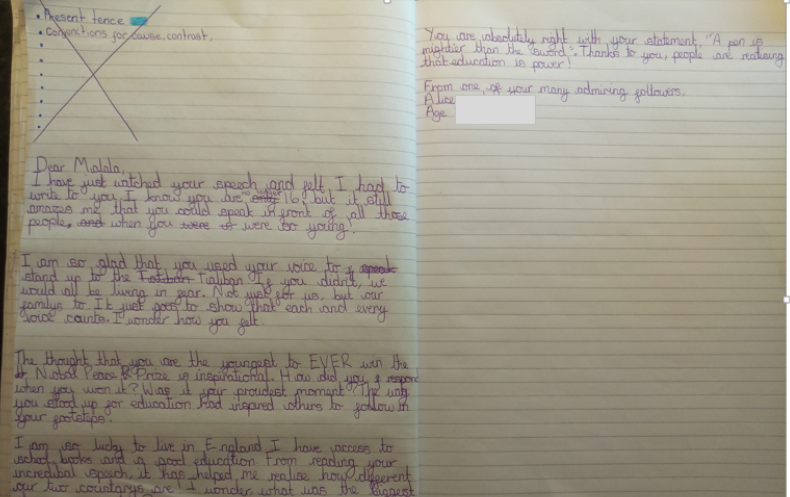 Year 5 have been looking at expanded noun phrase and how we can use them to paint a picture in the reader's mind. We then read several poems which talked about different people's favourite places. We used those ideas to think about where our  favourite places are. Have a read of our poems. I think being in lockdown has really made us think about the places we love to visit. These poems are full of joy and excitement and the love of our favourite places.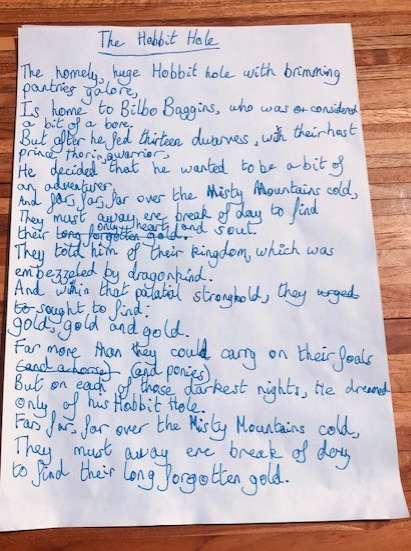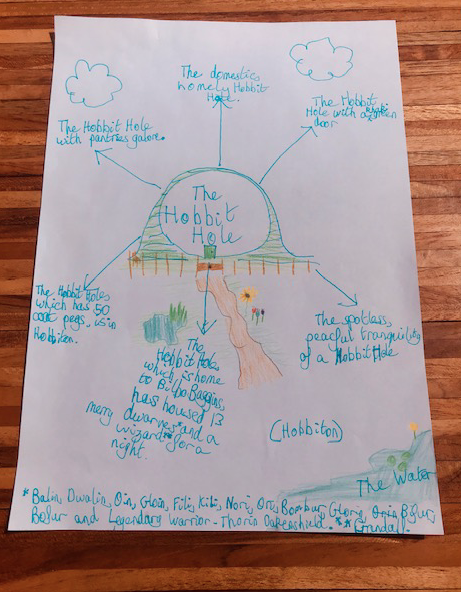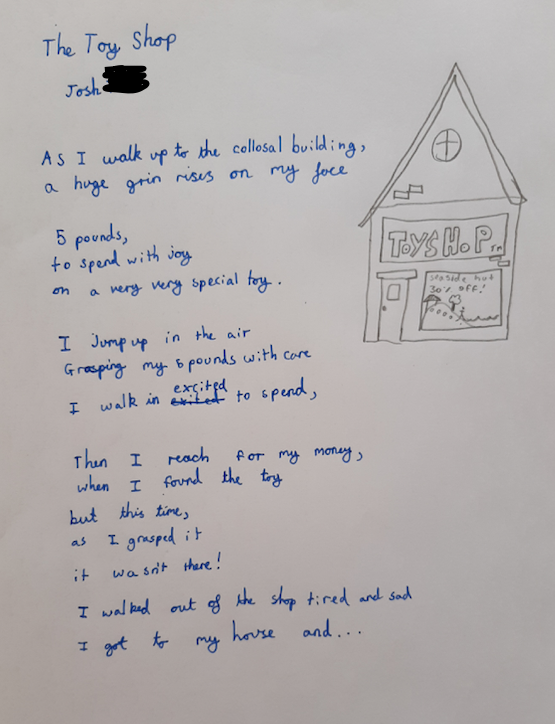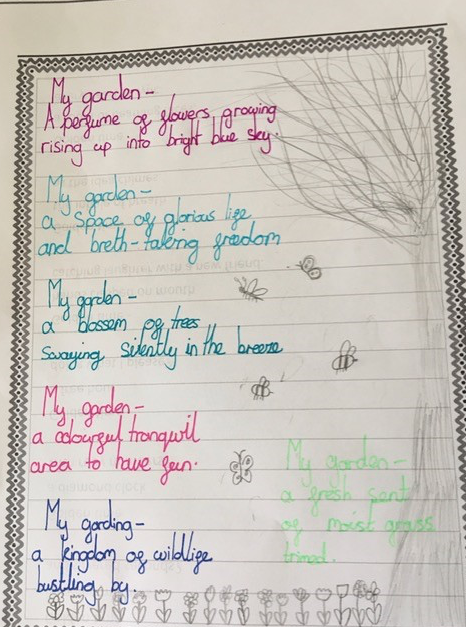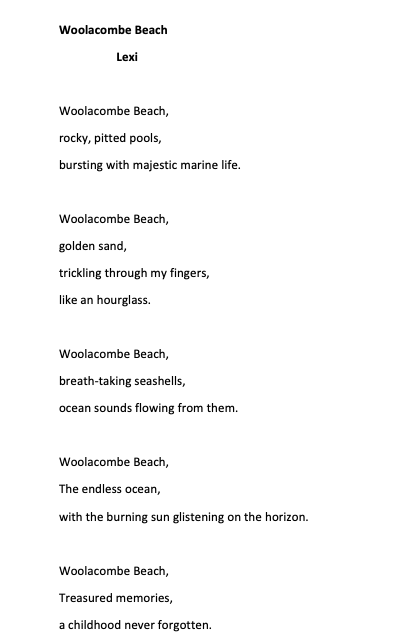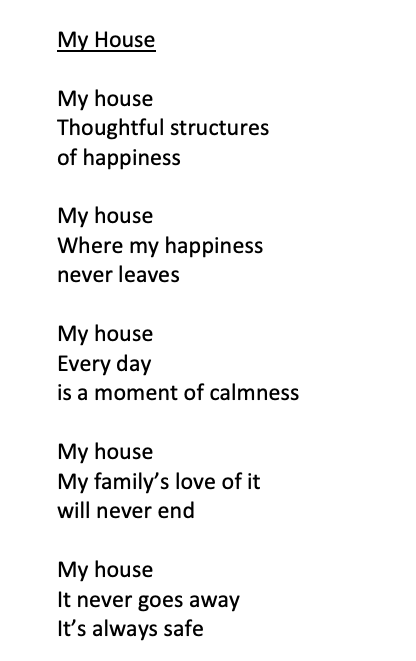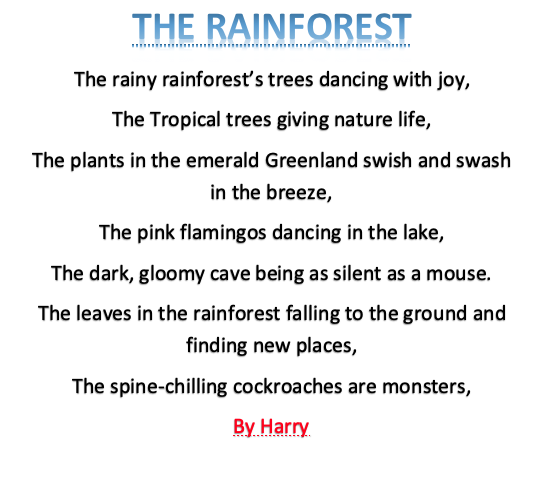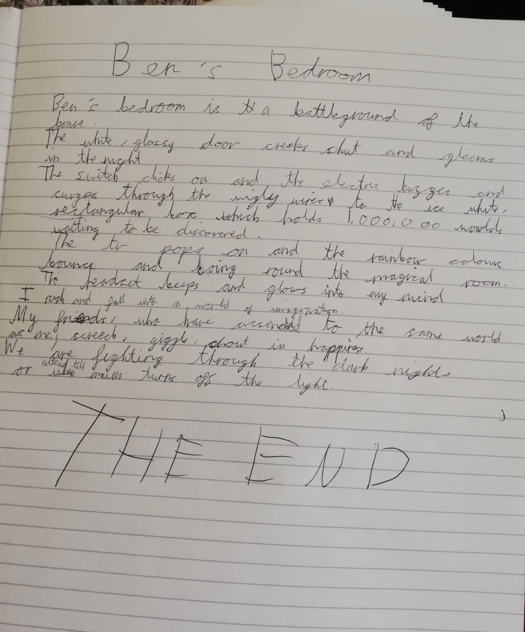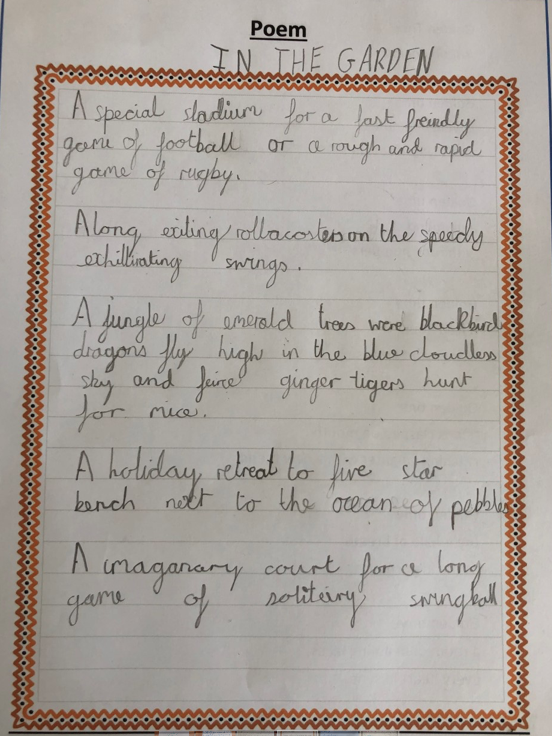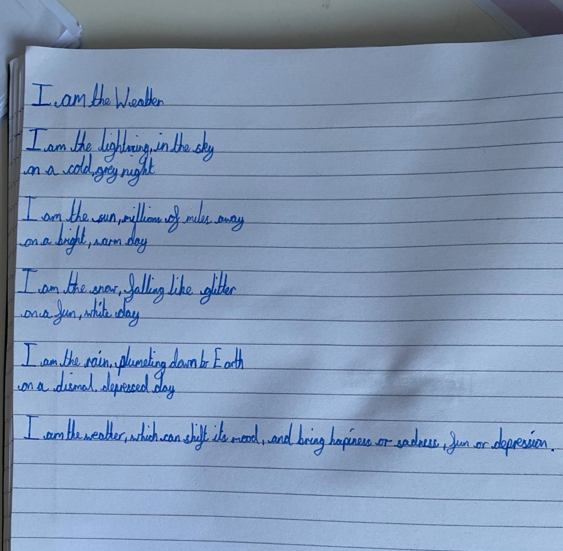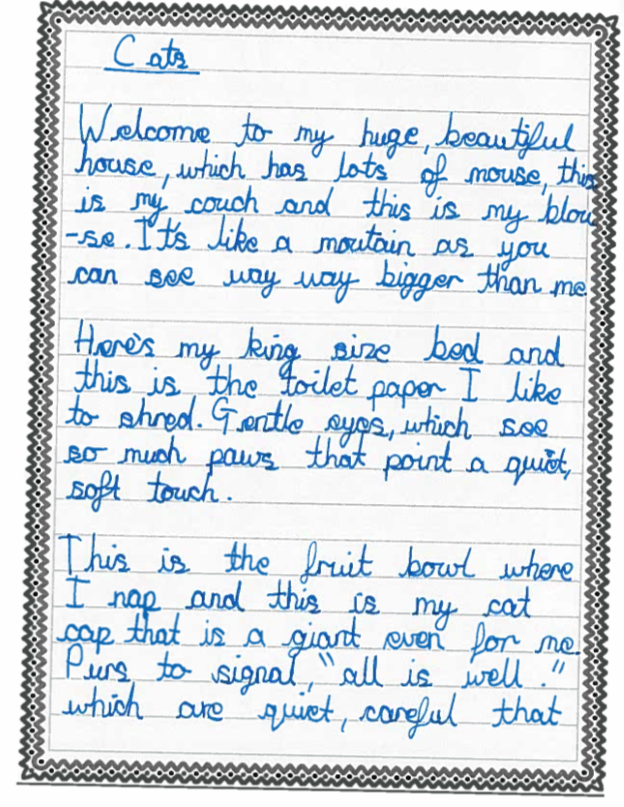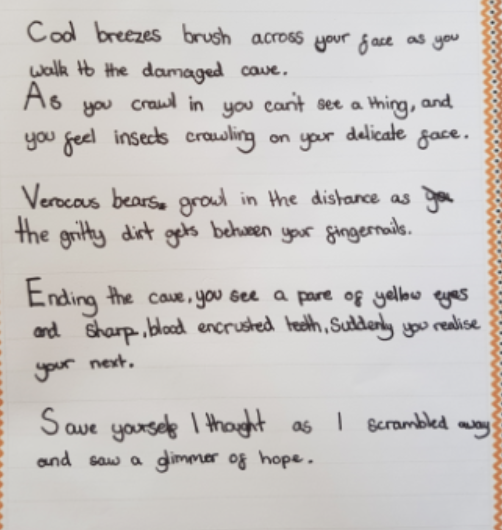 We have been trying out performance poetry this week. We have been listening to the advice of Joseph Coelho, a poet, about how to perform poetry. Here is his advice on performing poetry.
Watch our performances:
Term 4
We have been looking at the Battle of Hastings and in particular how this was represented on the Bayeux tapestry.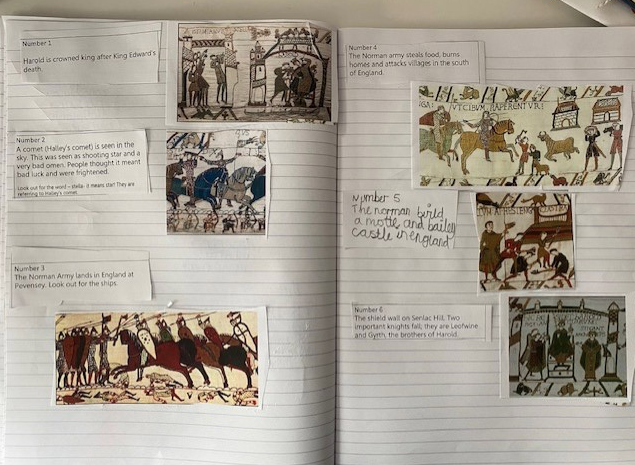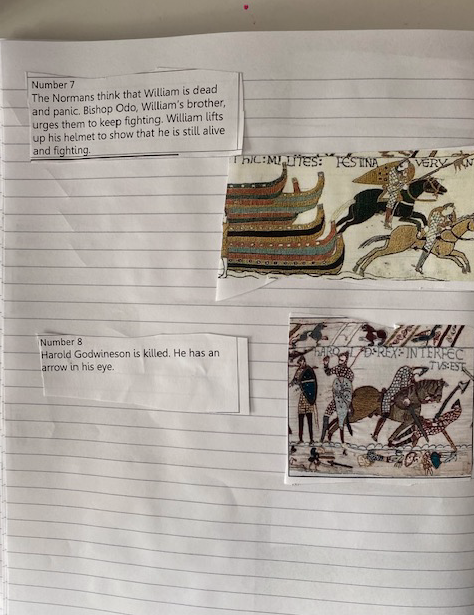 We have carried on with our European geography. We have been looking at recognising the shapes and positions of different countries in Europe. We practised map reading skills finding capital cities. We have also been exploring the flags of Europe.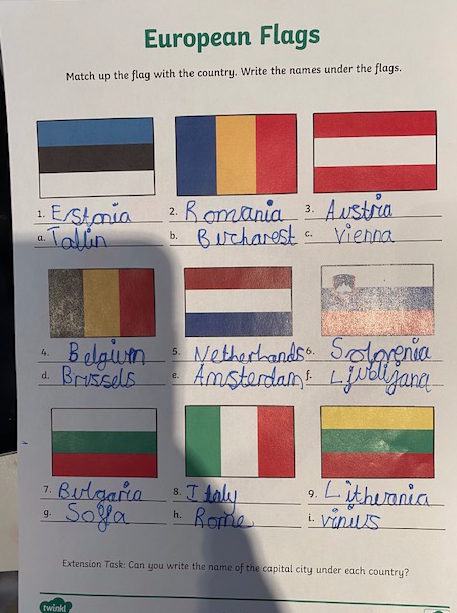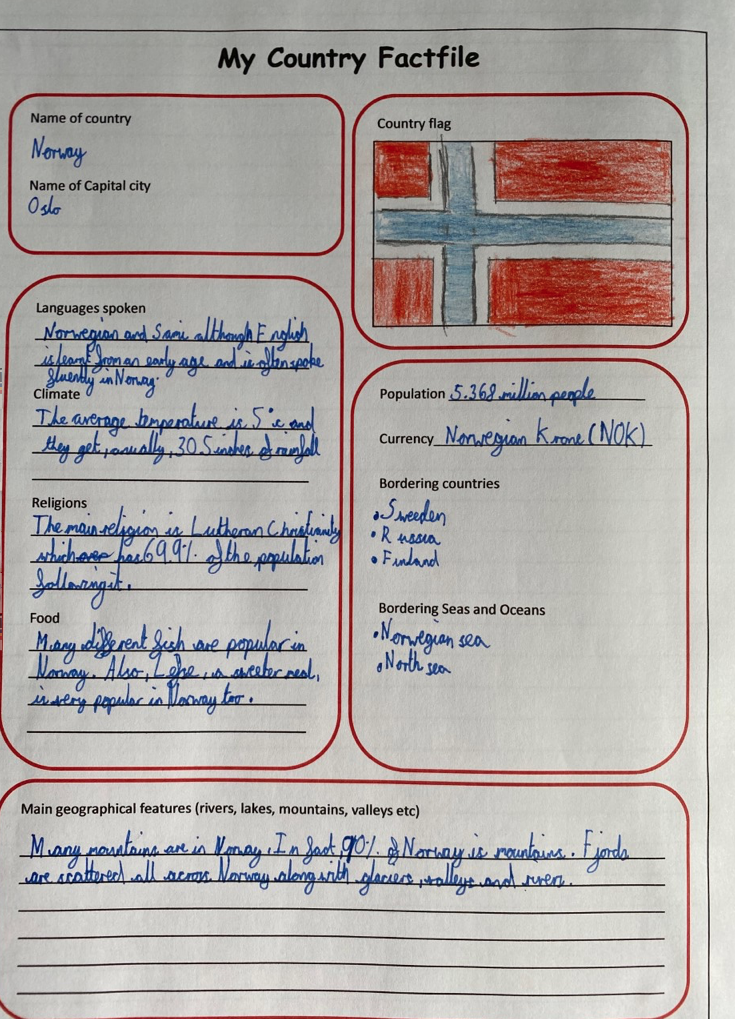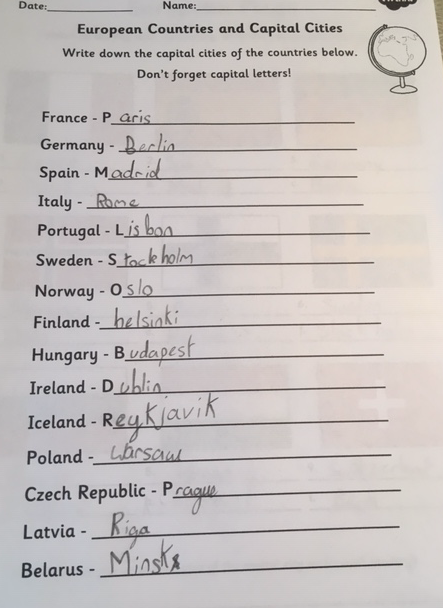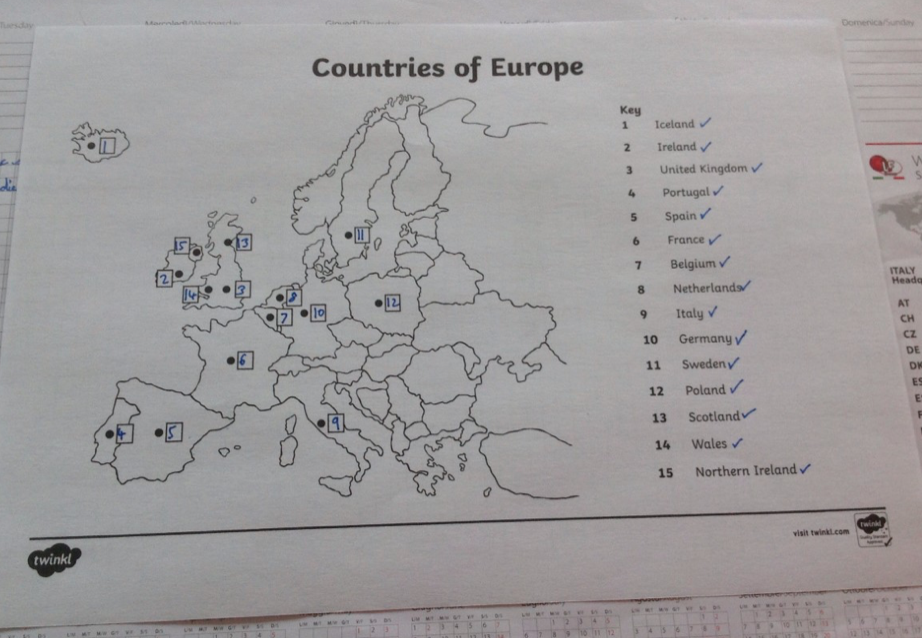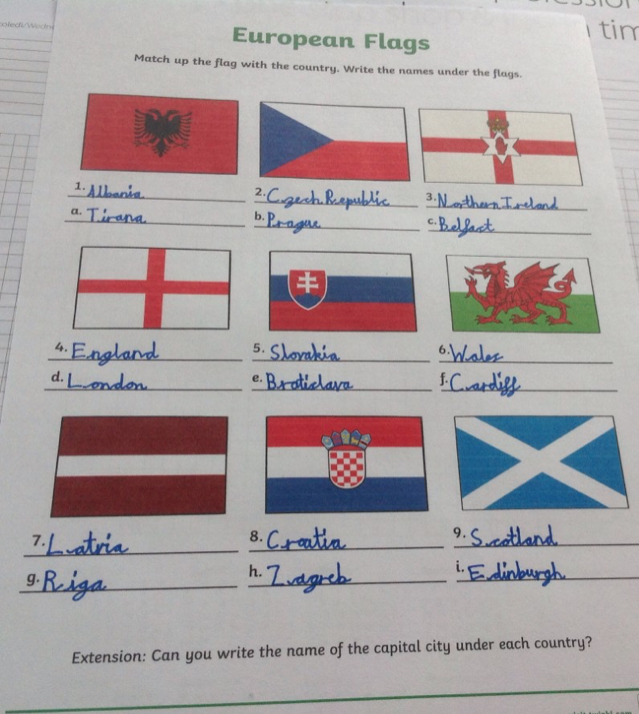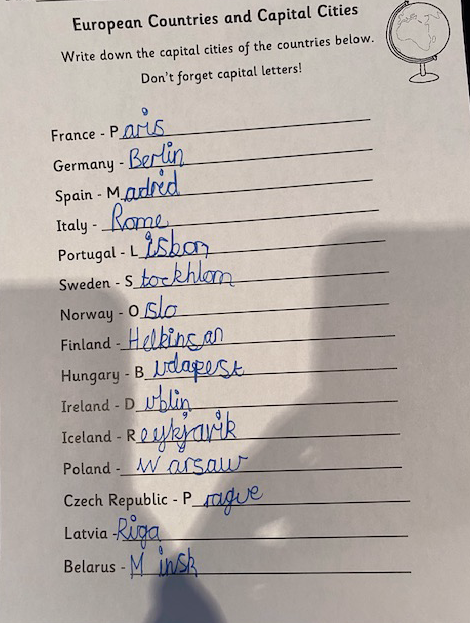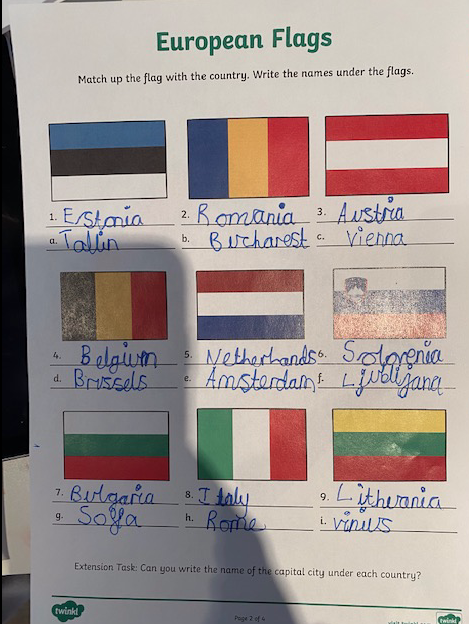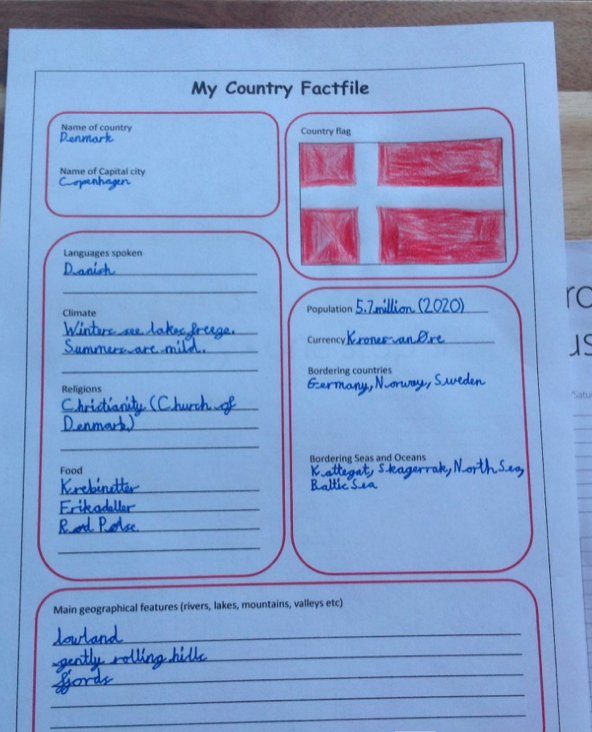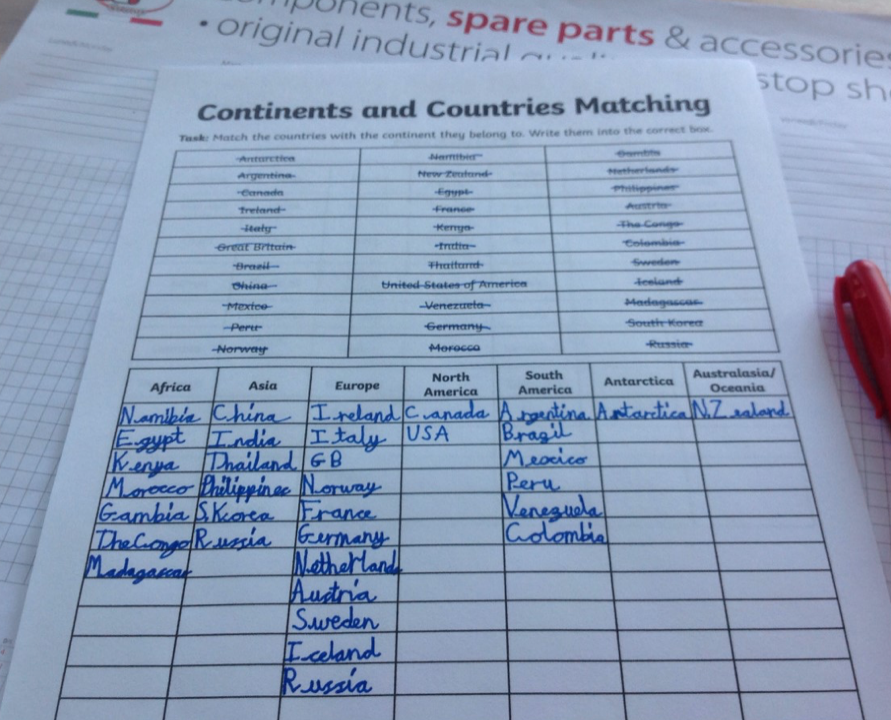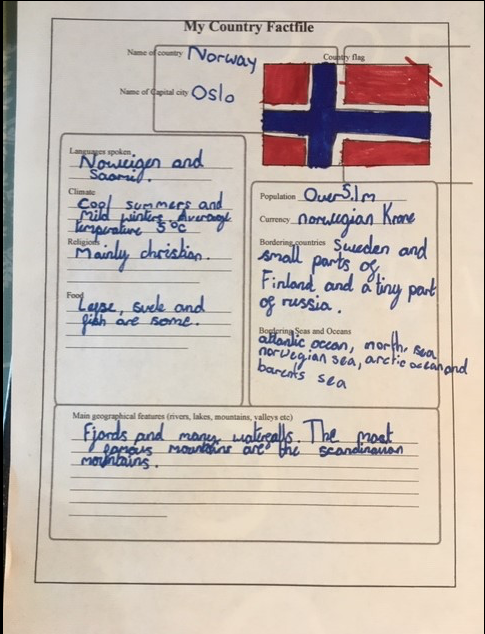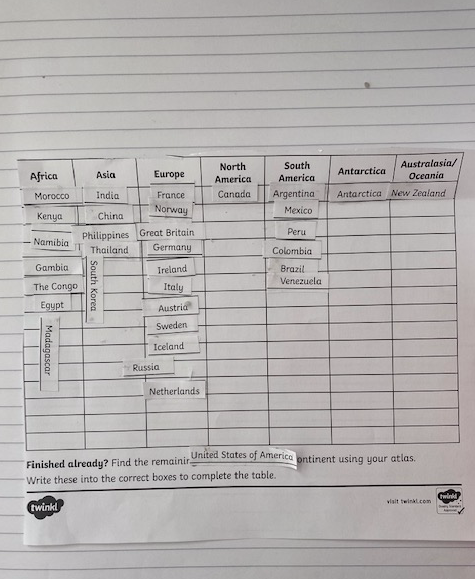 We have continued our art work tying in with our history topic of the Anglo-Saxons. Here are a few more finished longboats.  We also looked at the jewellery produced by the Anglo-Saxons. We focused on their brooches the most. Here are some of our 'Anglo Saxon' brooches.  I think they would have gone down well with the Anglo Saxon nobility.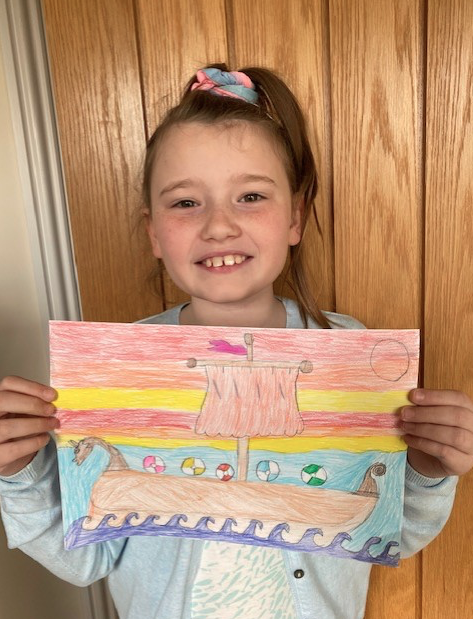 \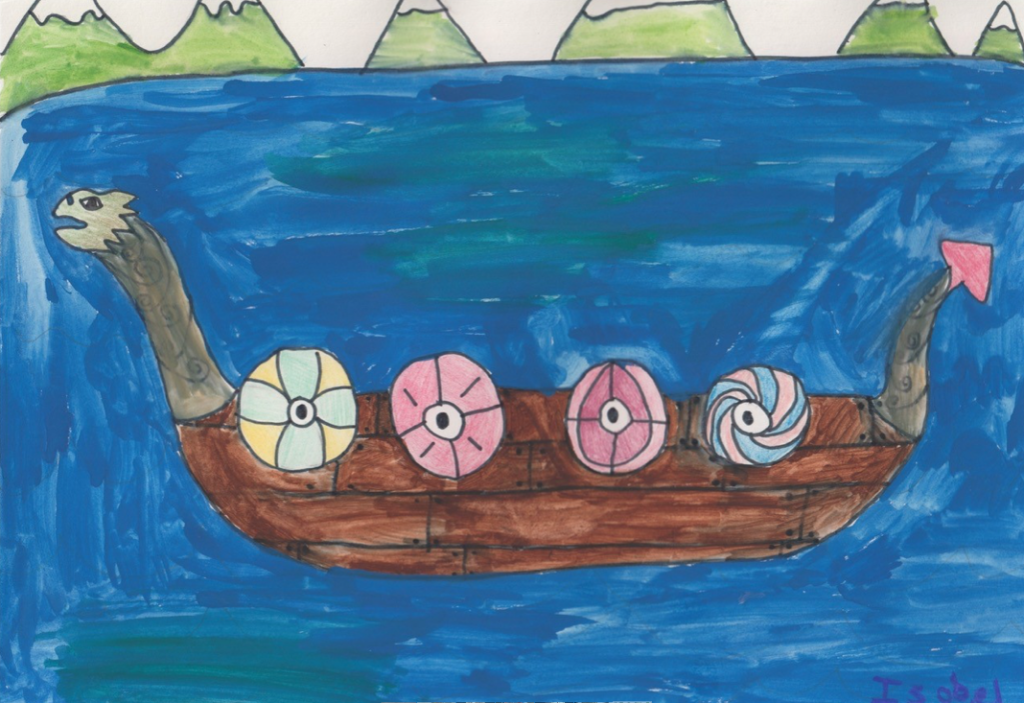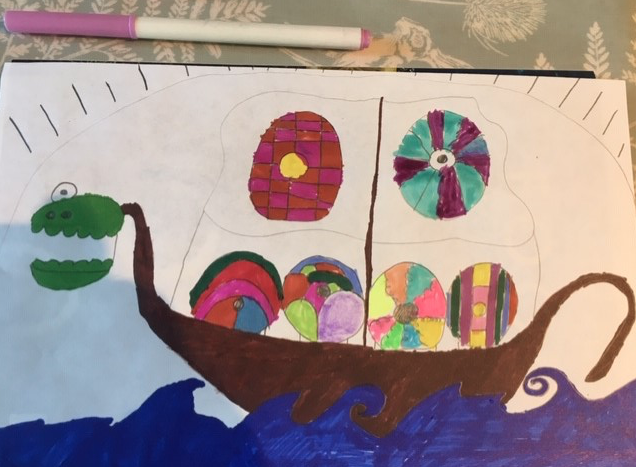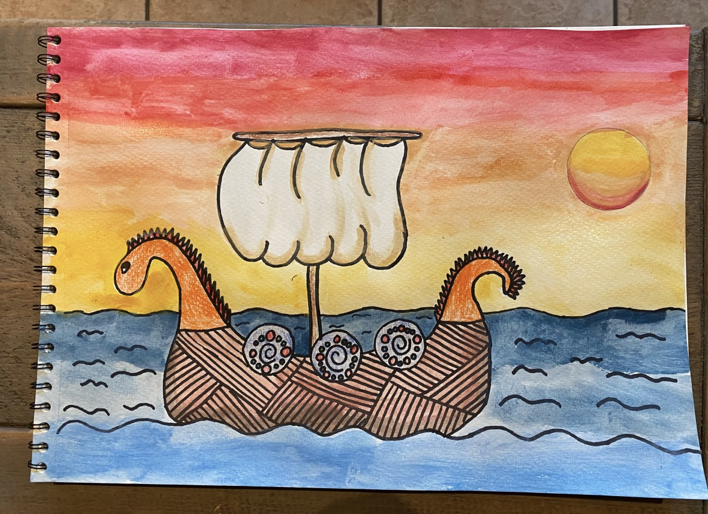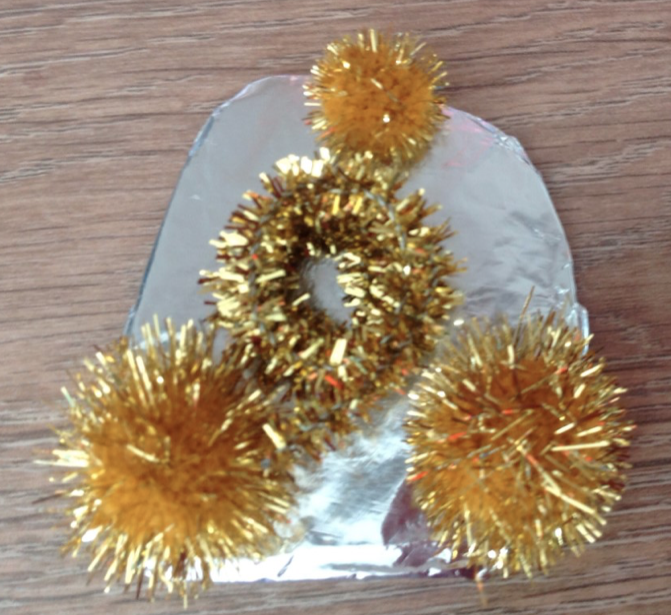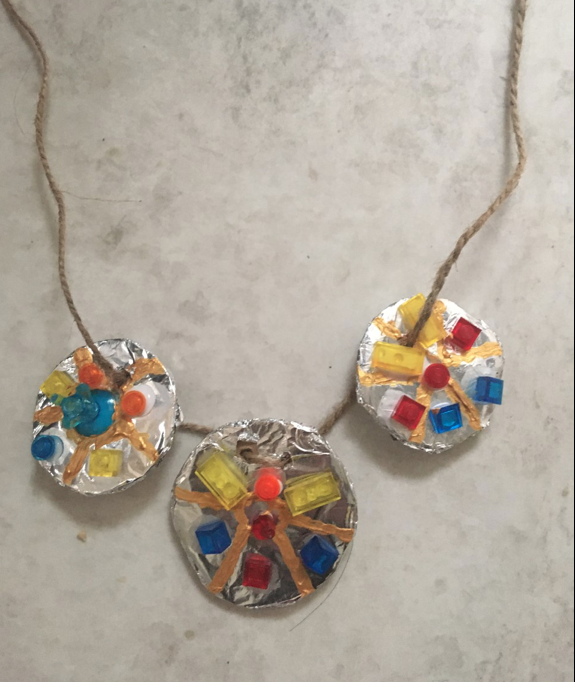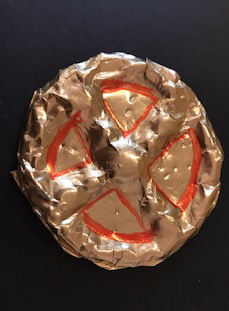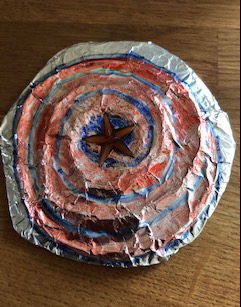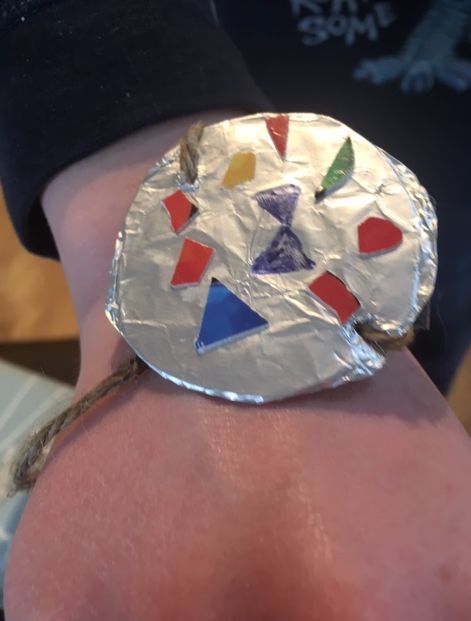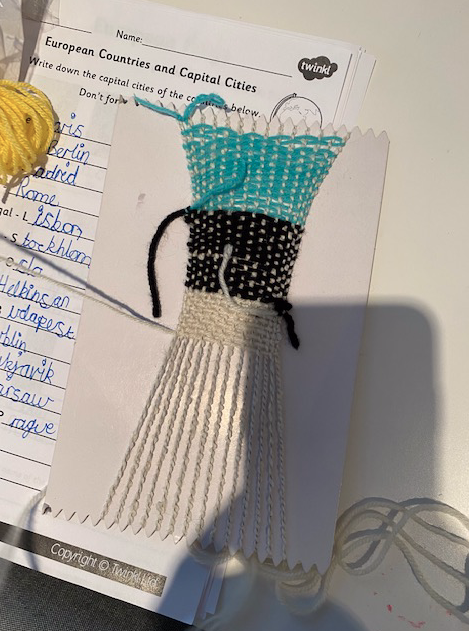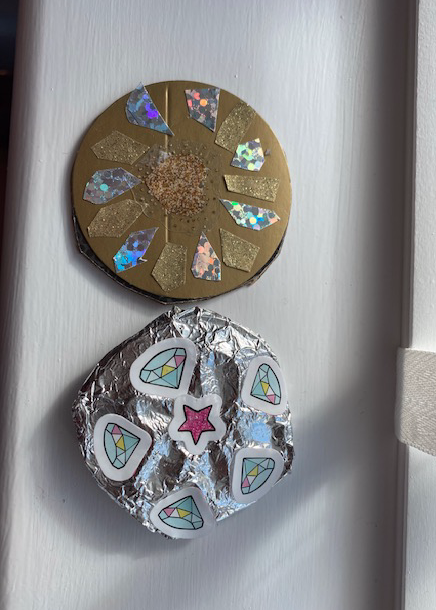 In our home-learning English, we have been writing NCR (Non-chronological reports) about dragons. We started off identifying the features of an NCR, then we picked out good language sentences. We used those magpied sentences to write our own versions for the dragons we designed. Have a look at all the work we have done!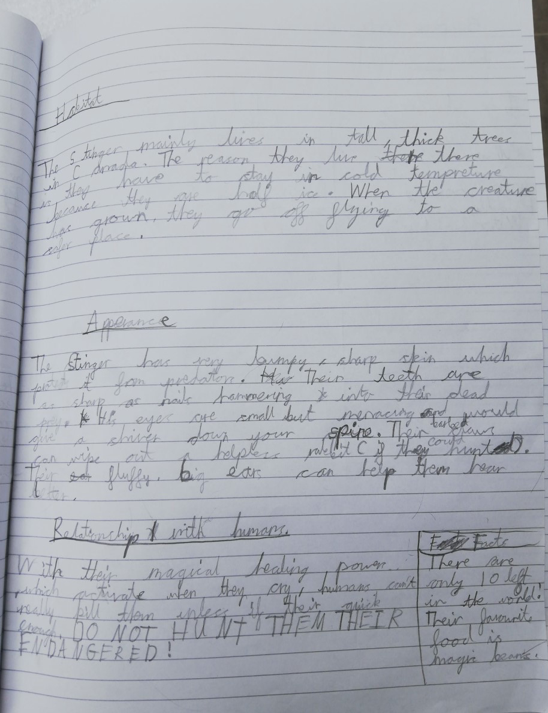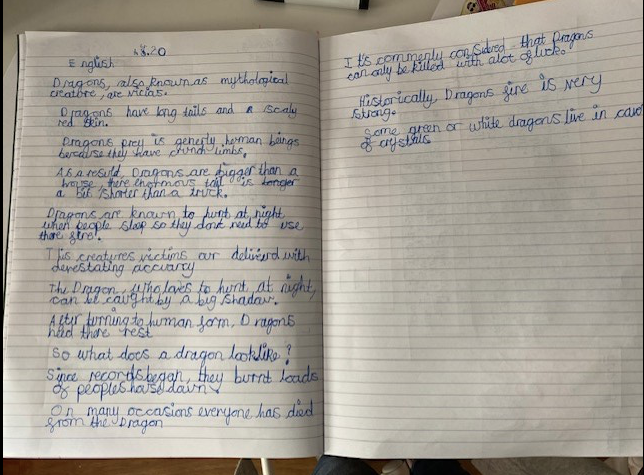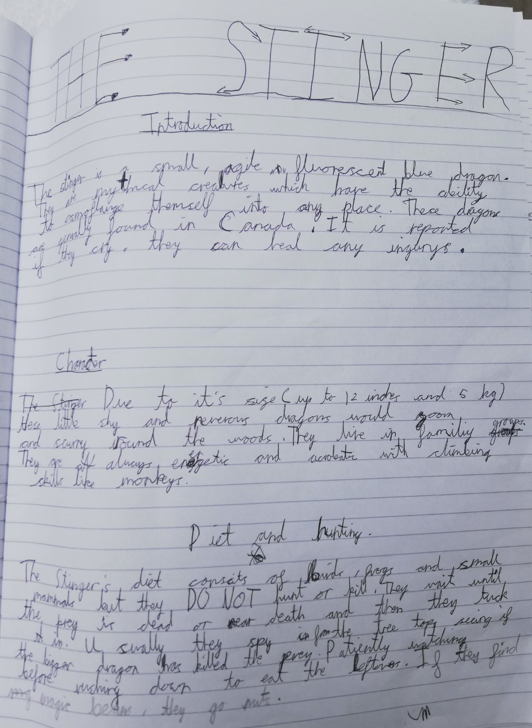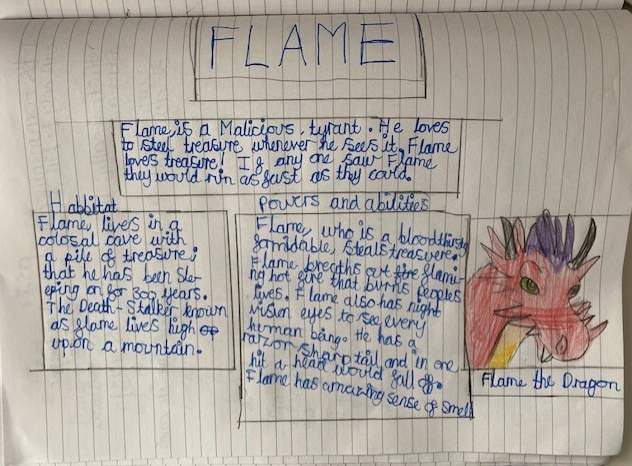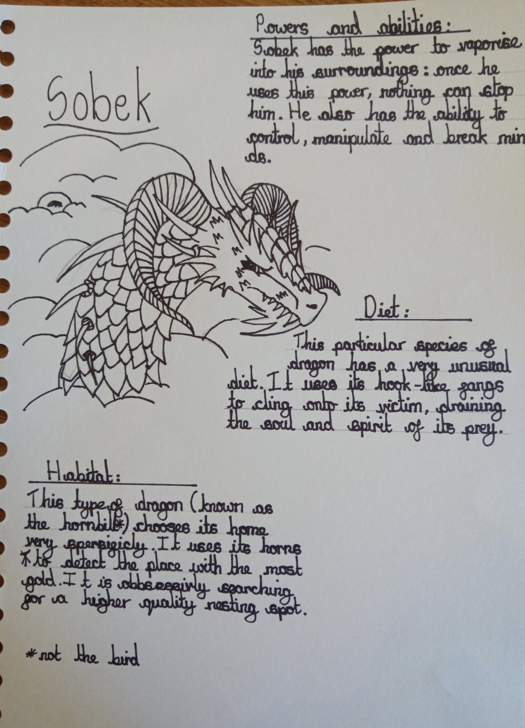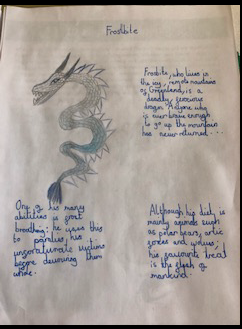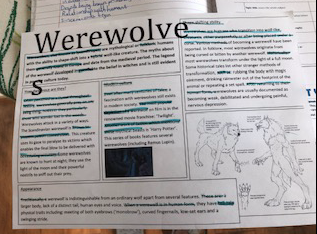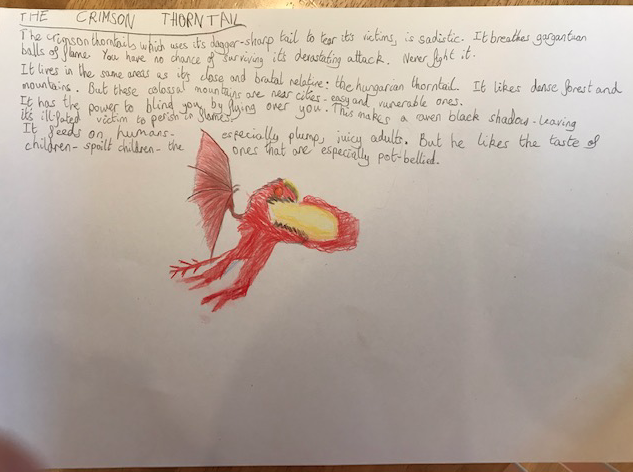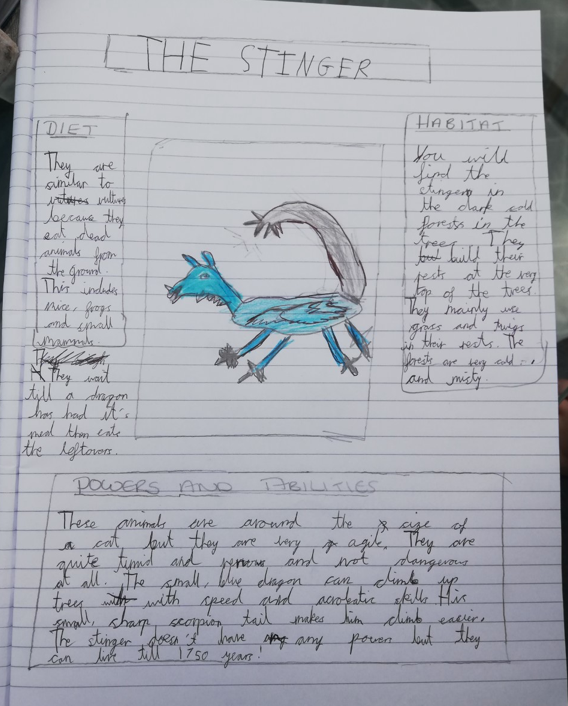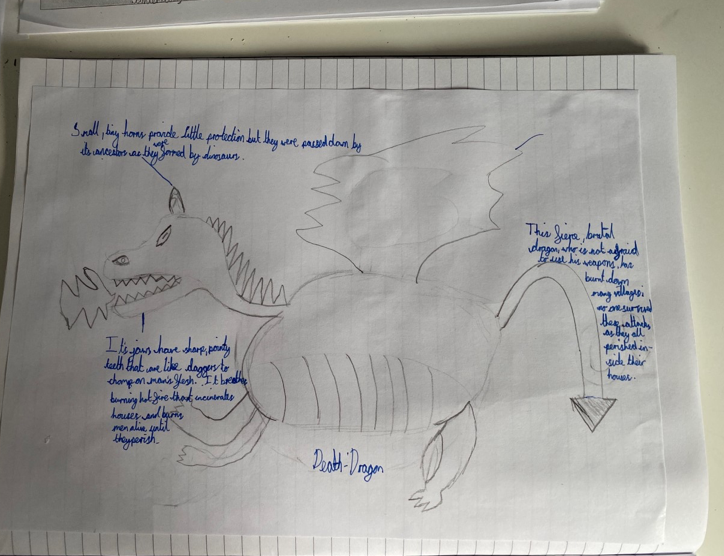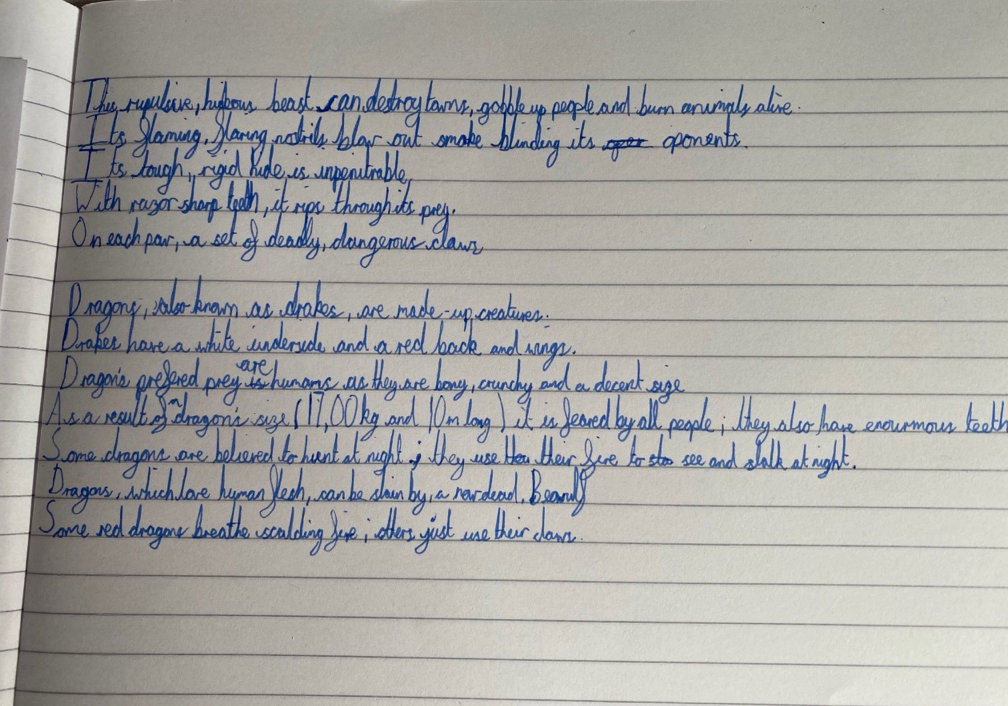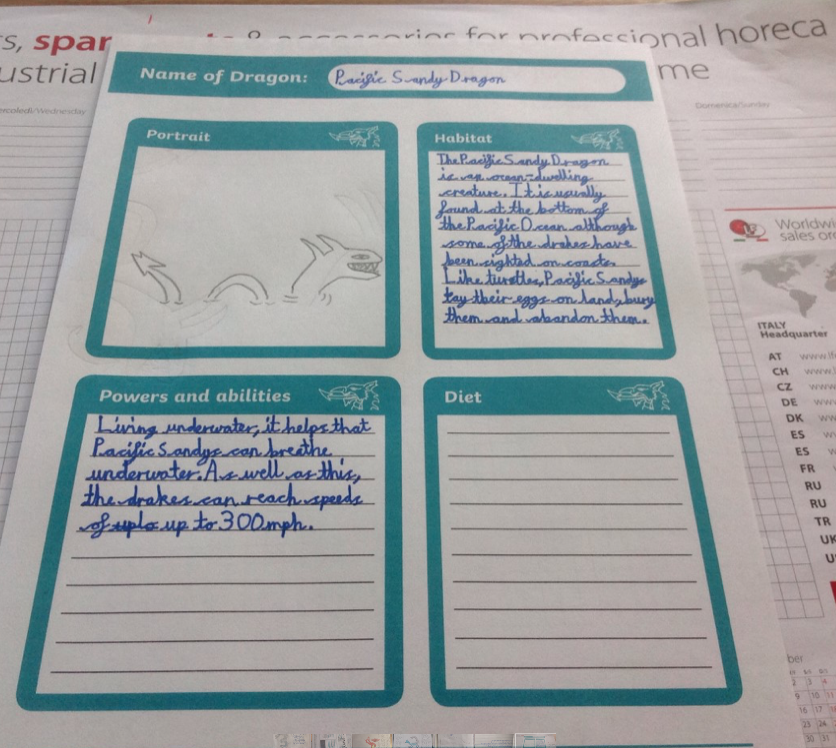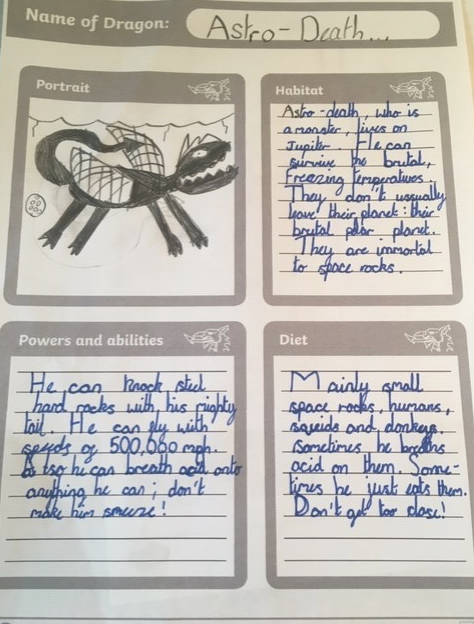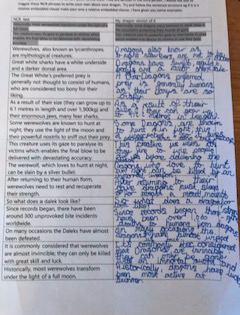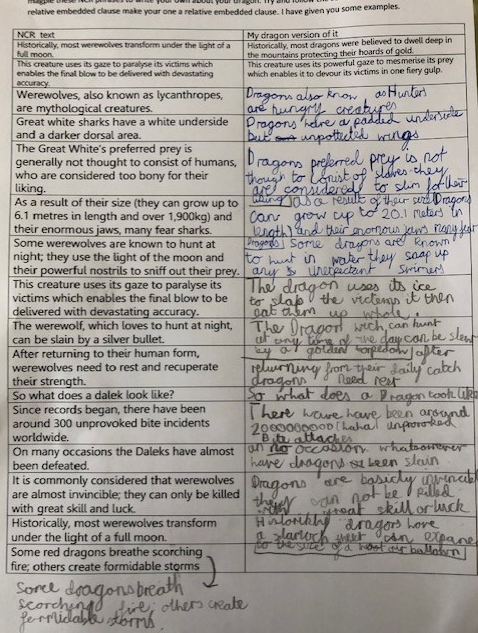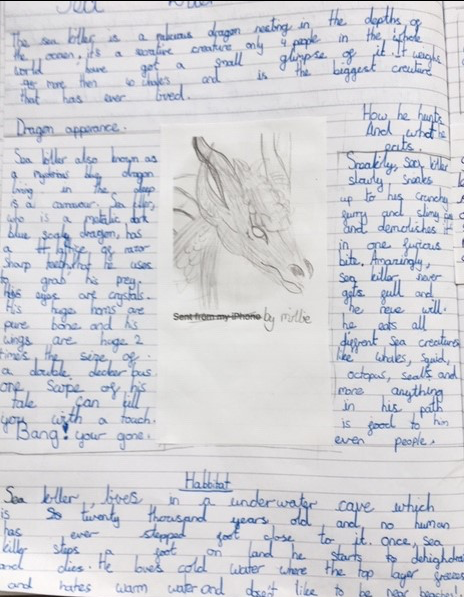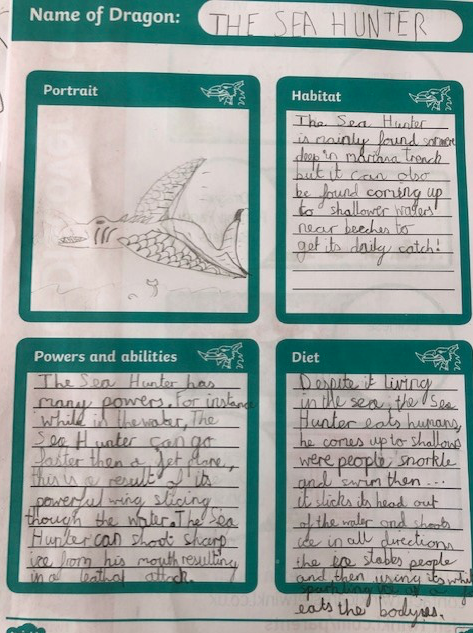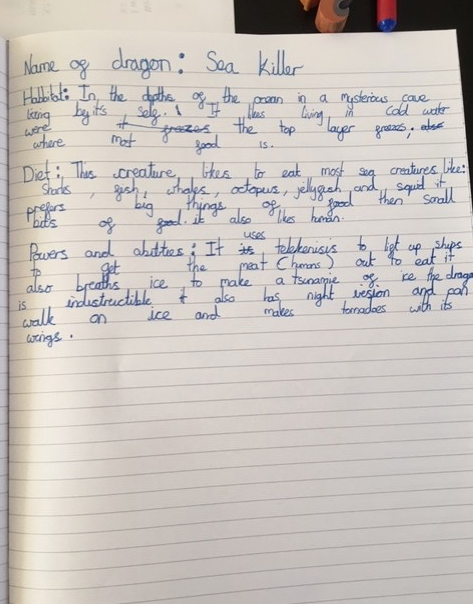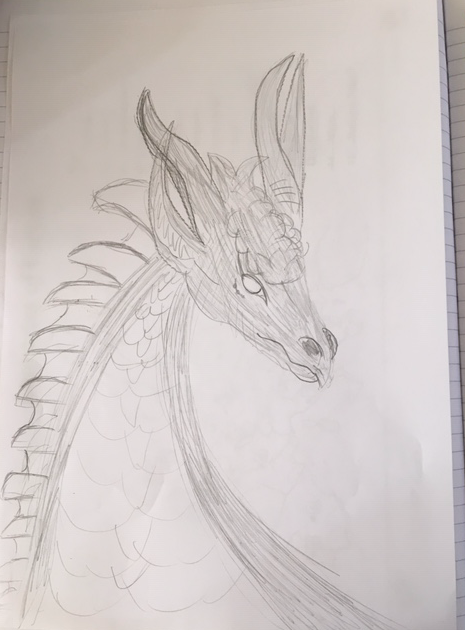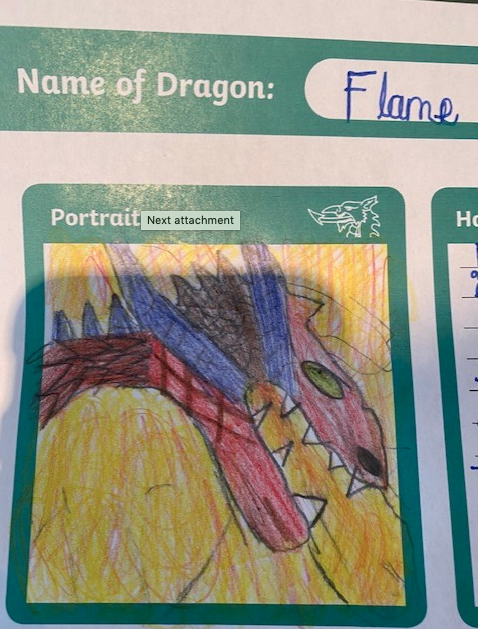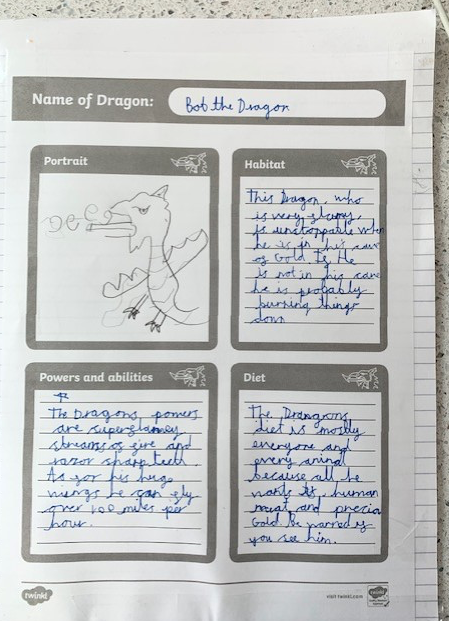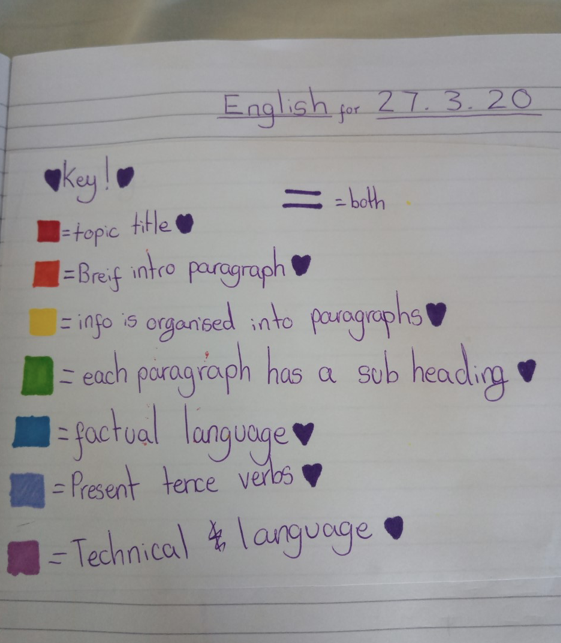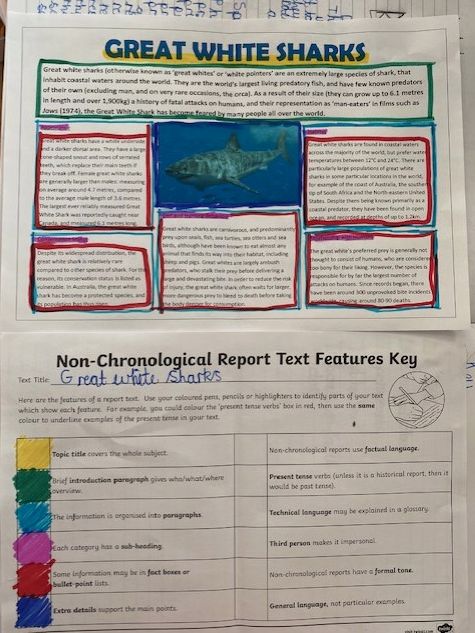 Year 5 have been working hard at home while school has been shut. We have continued writing our newspapers based around the short film we watched in class called 'Tuesday' which tells the story of some flying frogs!
Have a look at our newspapers: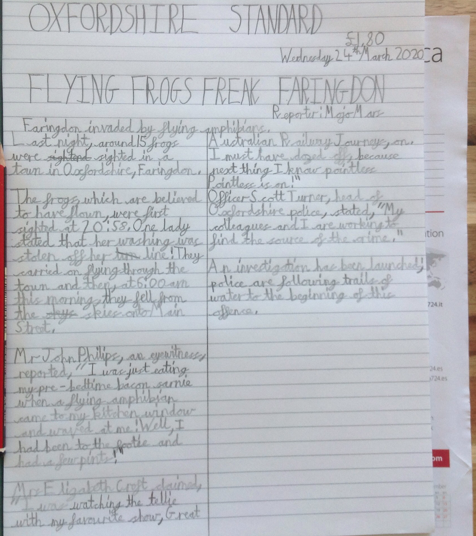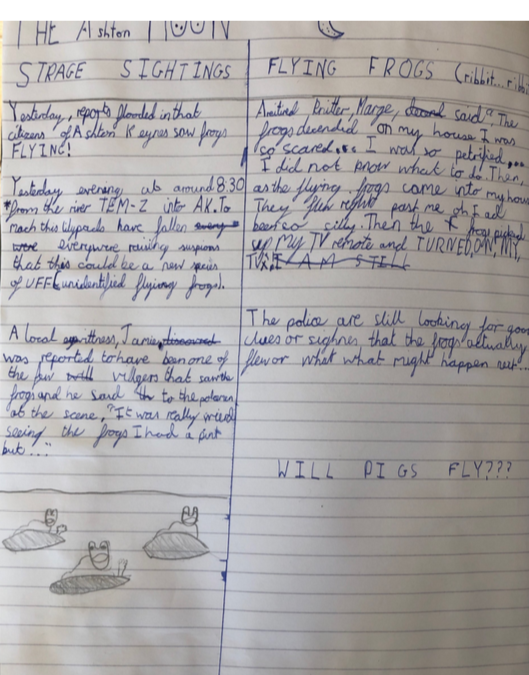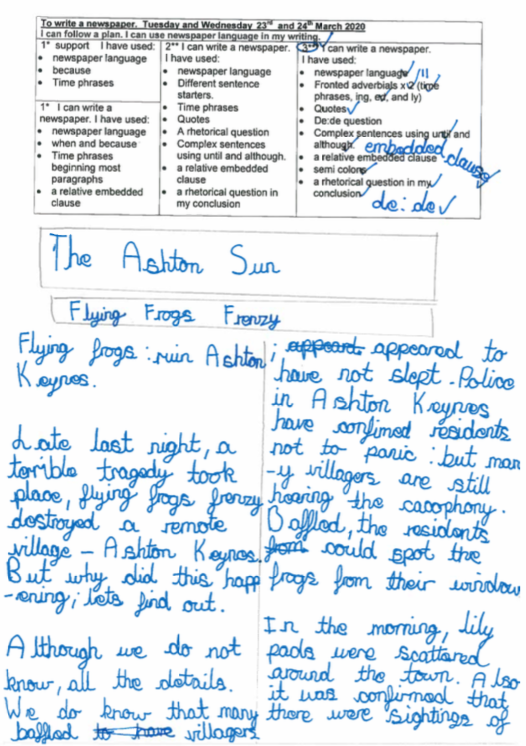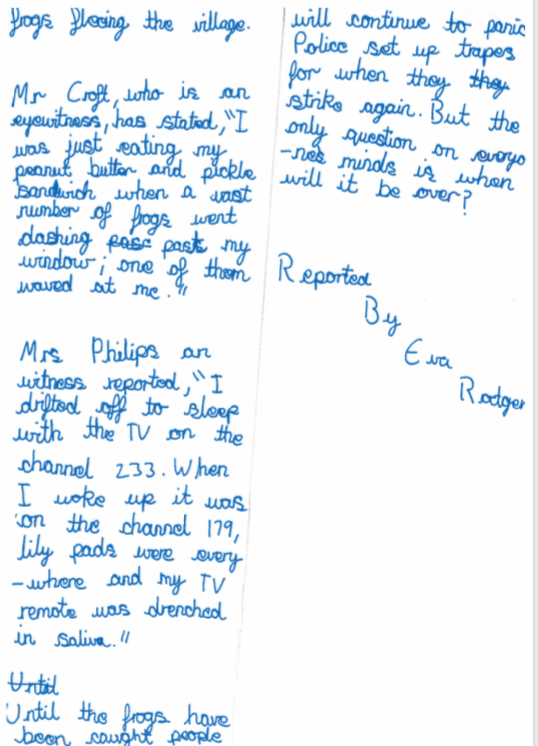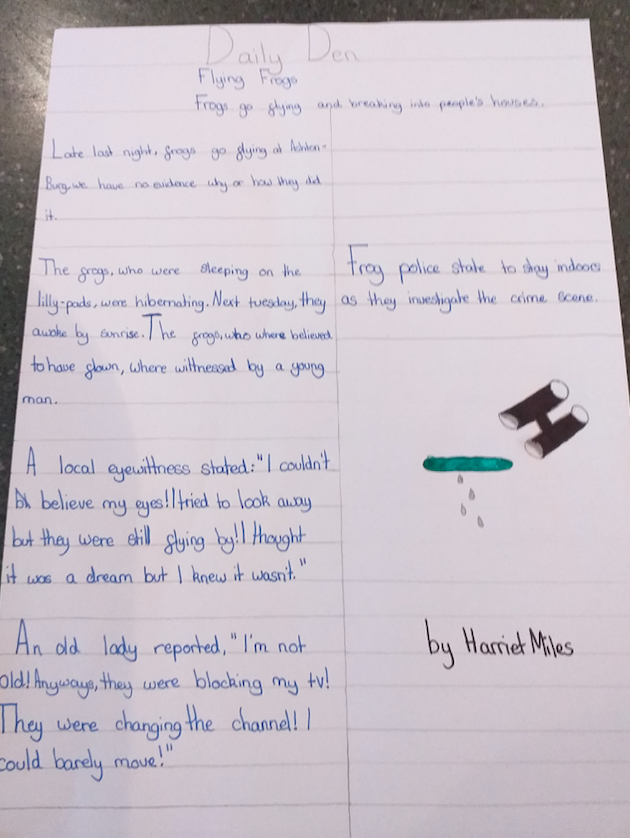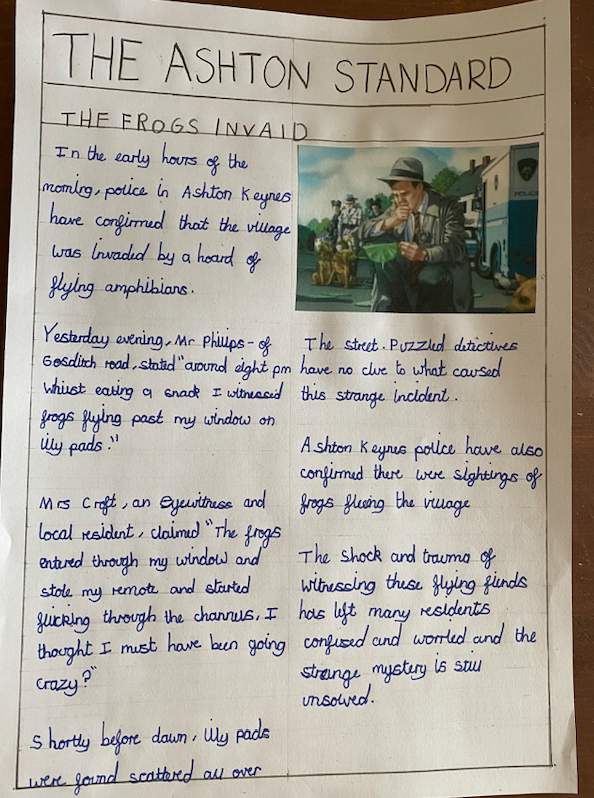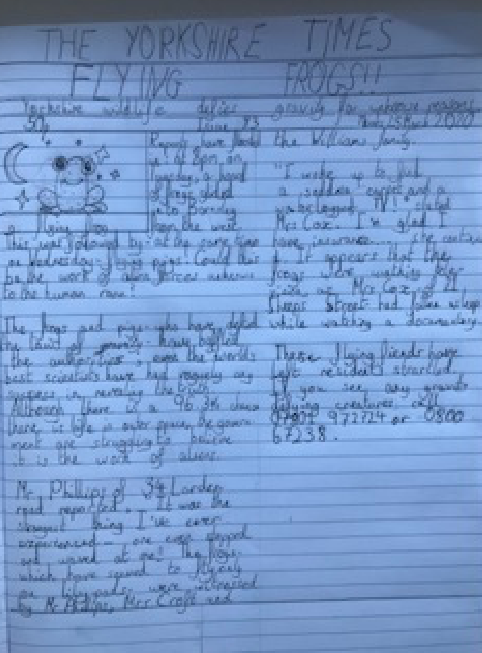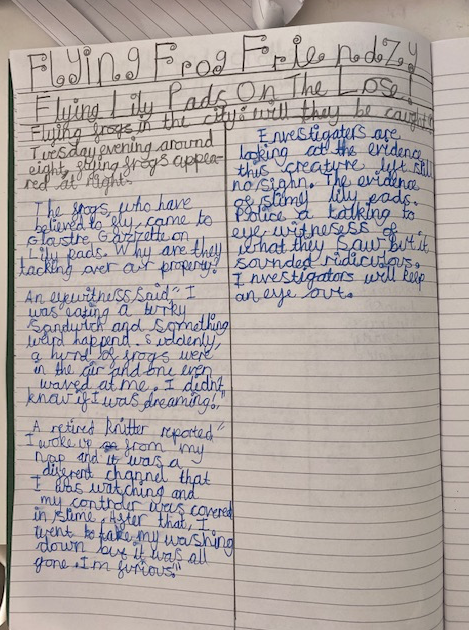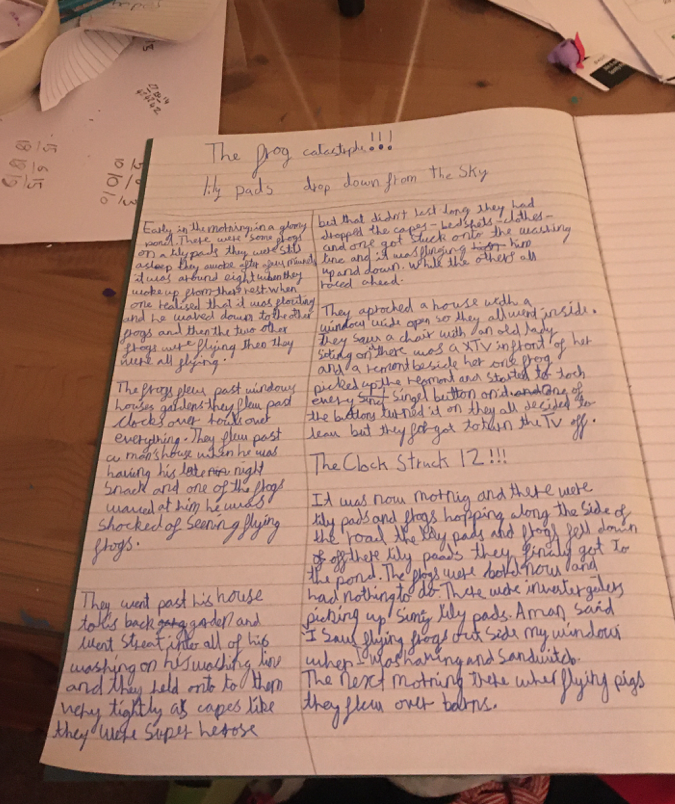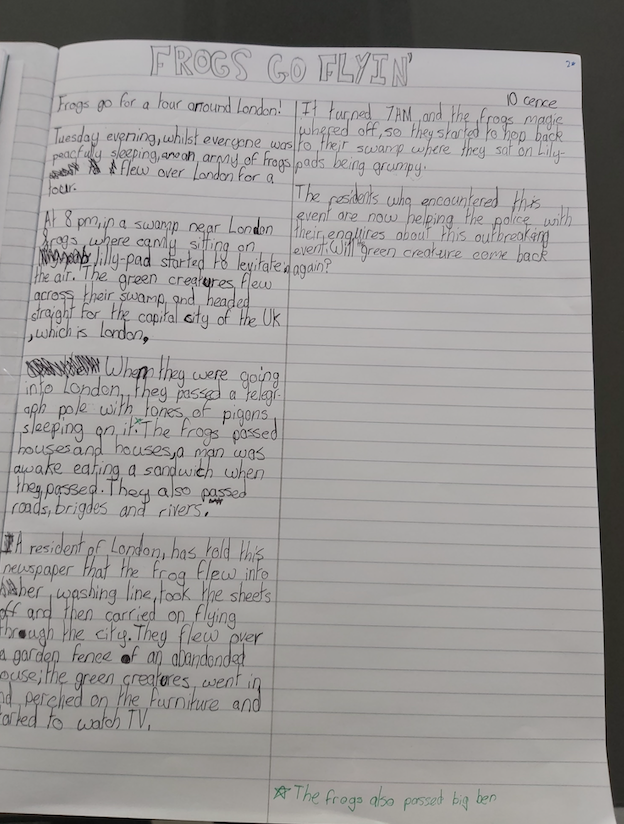 We have also been doing longboat art work. We looked at the Lindisfarne raids in history and how they impacted the monks who lived on Lindisfarne. The boats the Vikings used to raid Lindisfarne were longboats. Have a look at our images: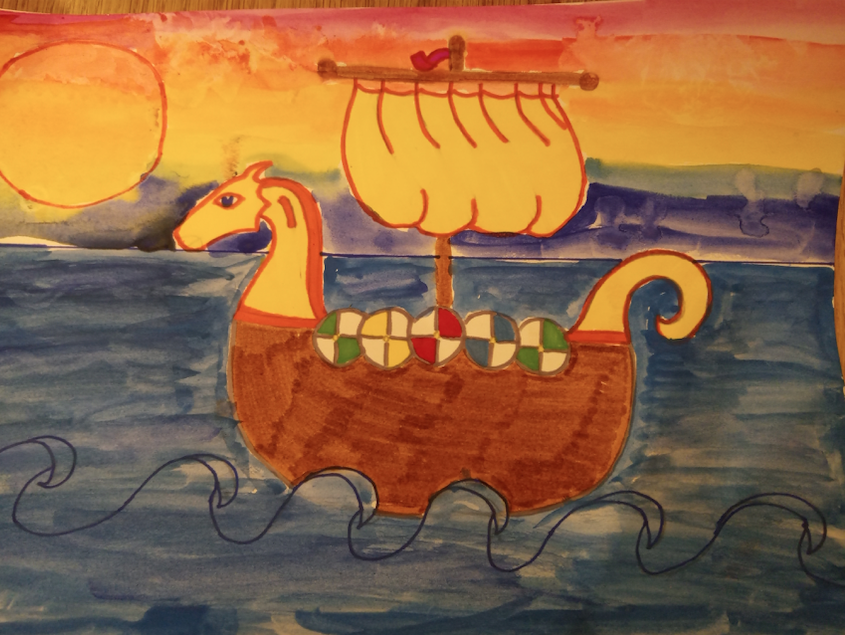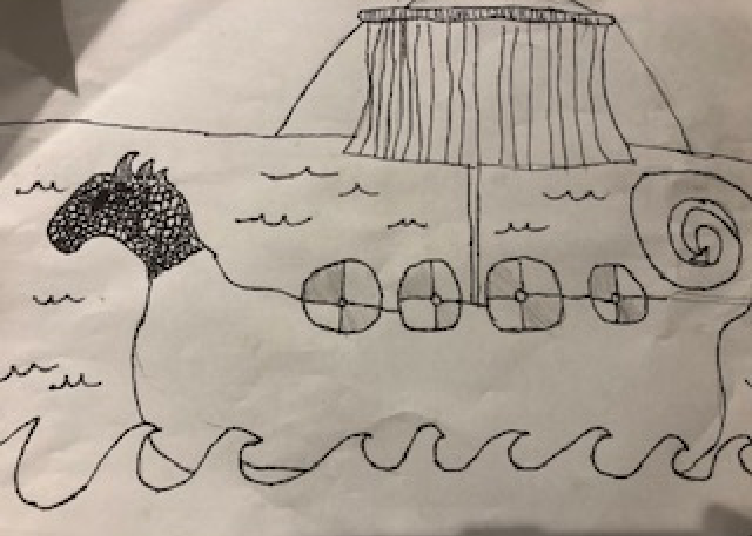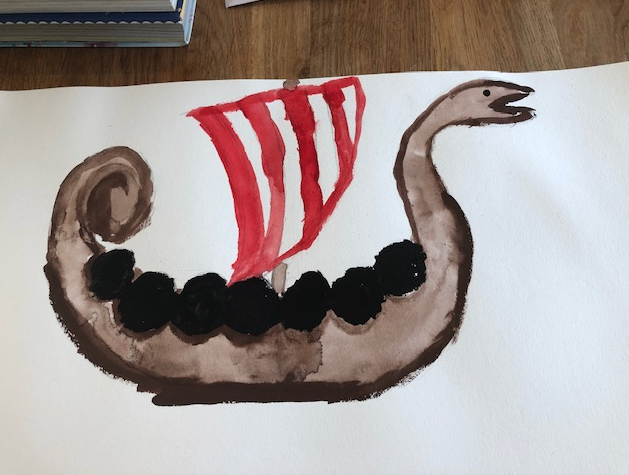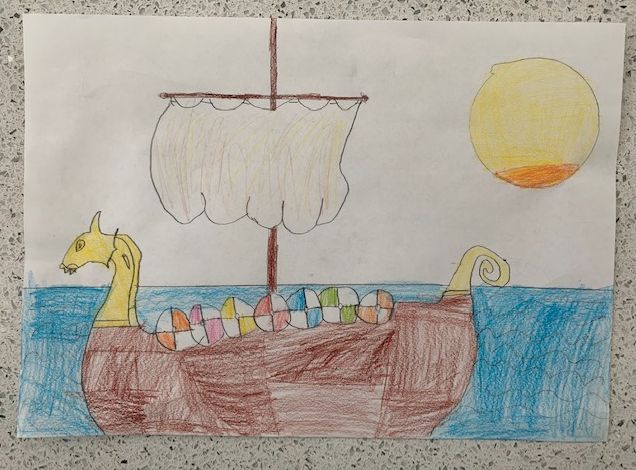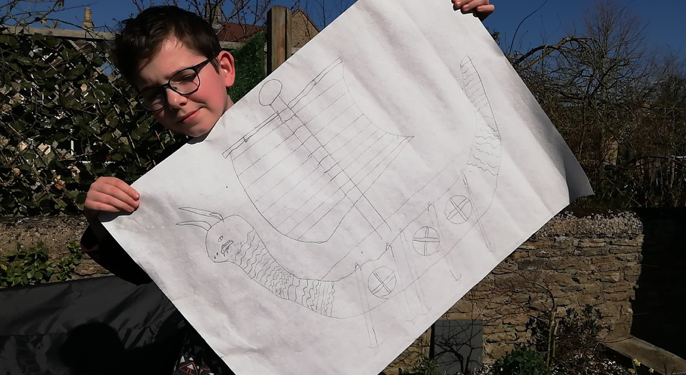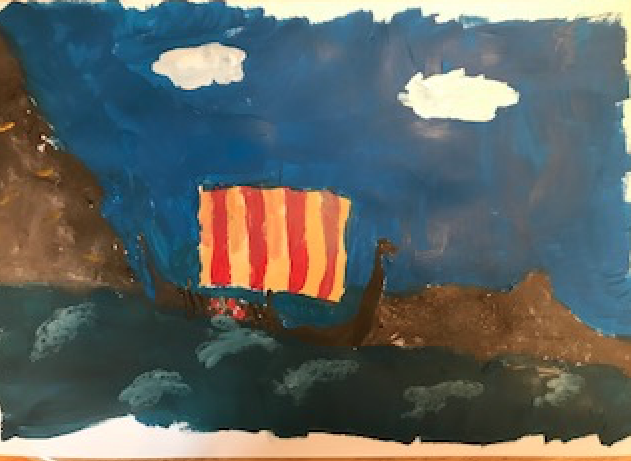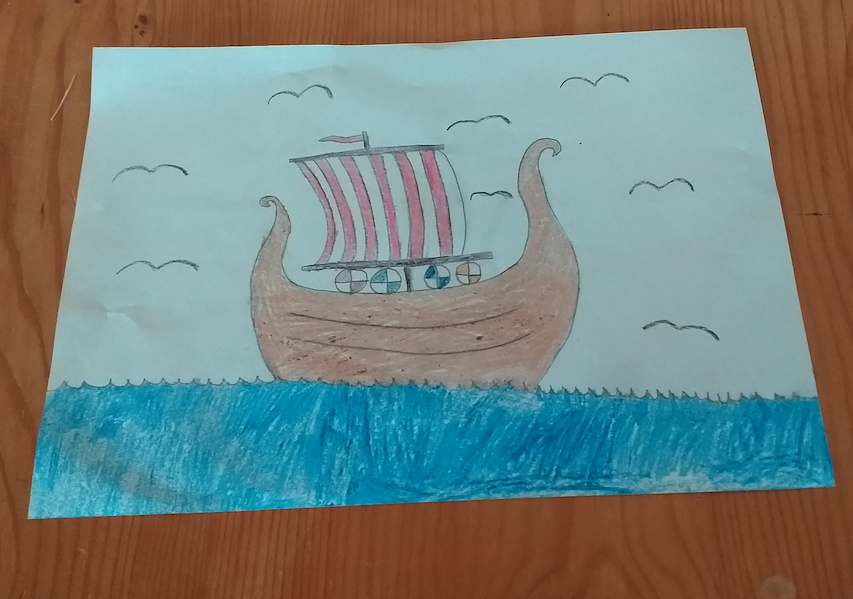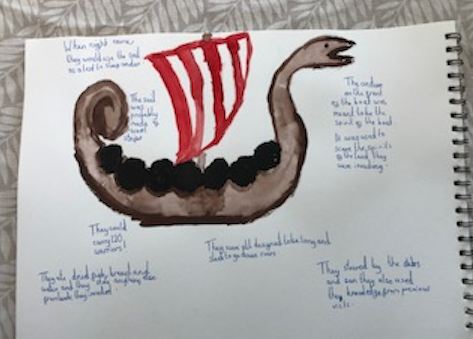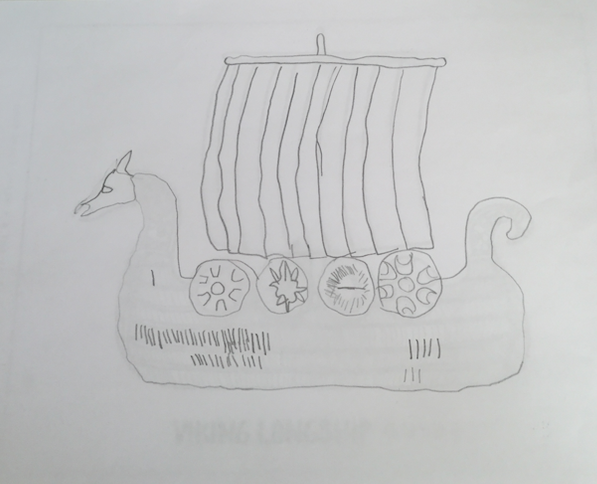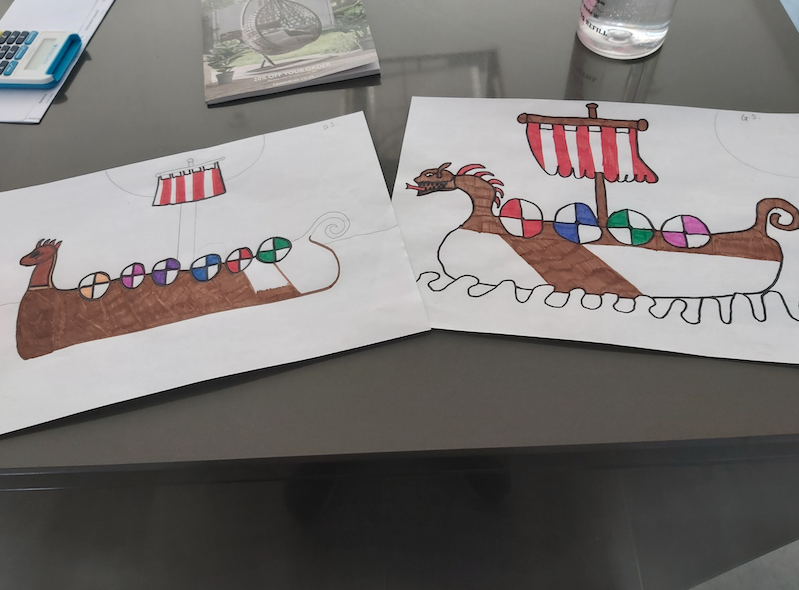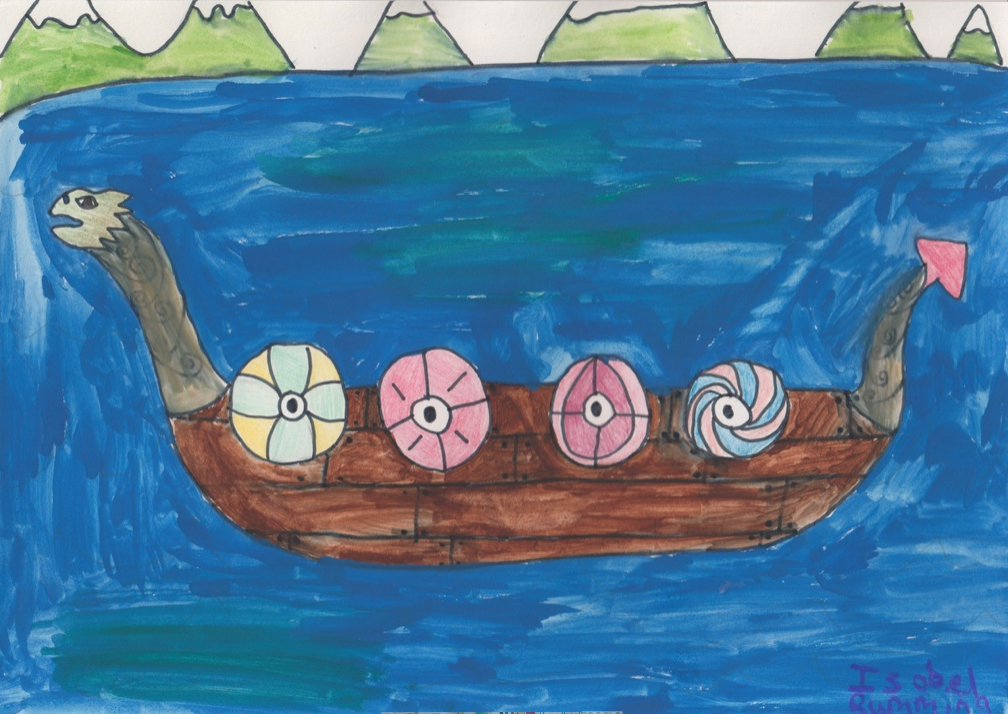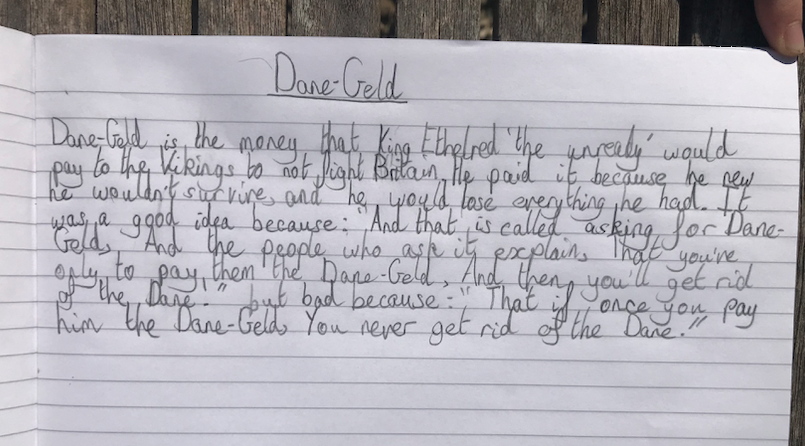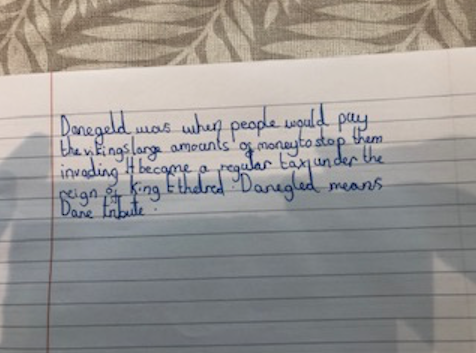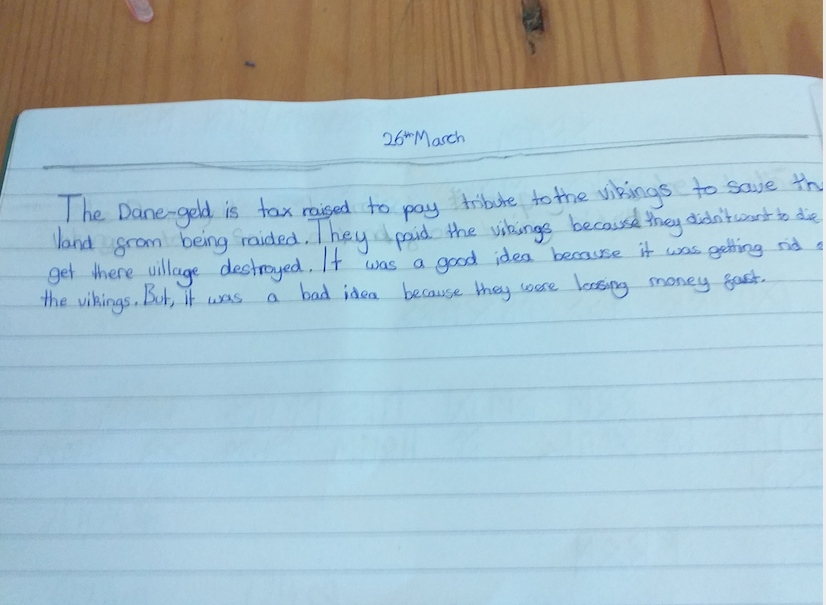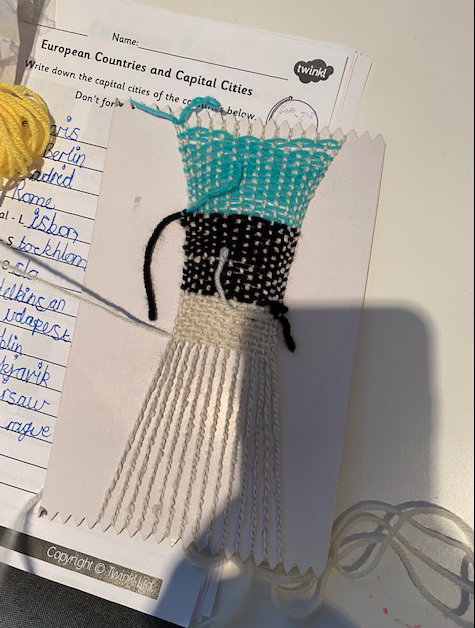 In geography we have been continuing to look at Scandinavia as well as identifying where in the world countries are situated.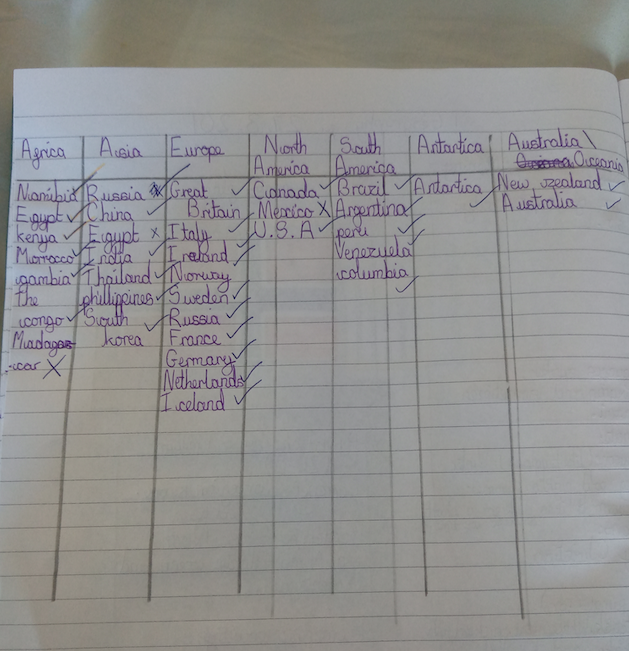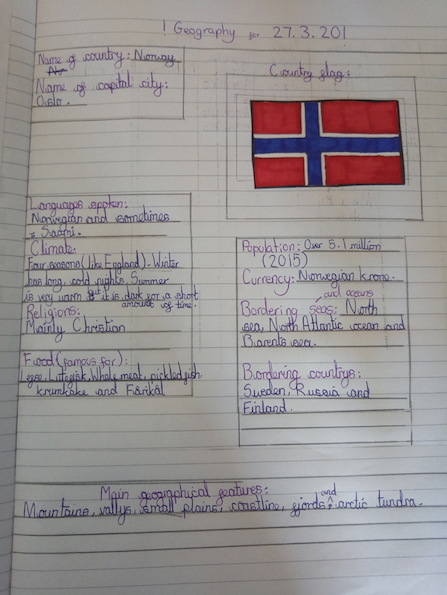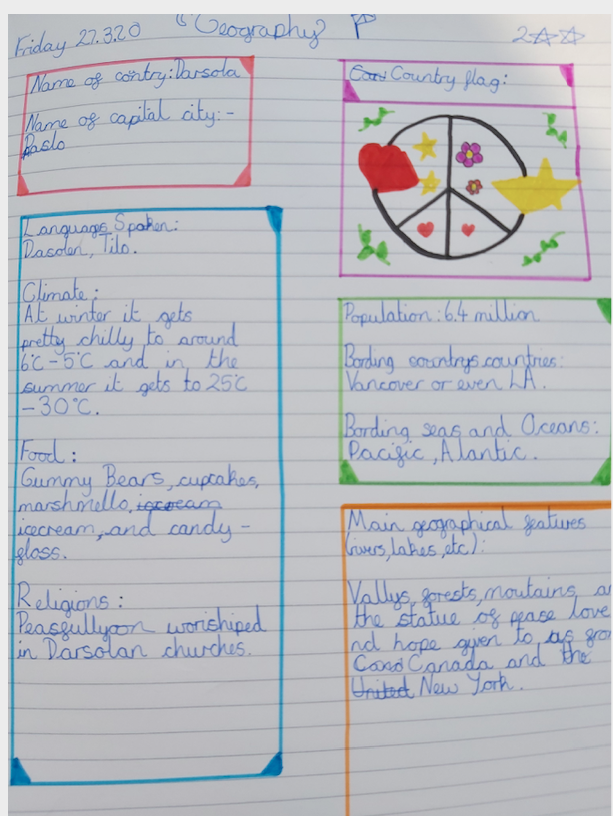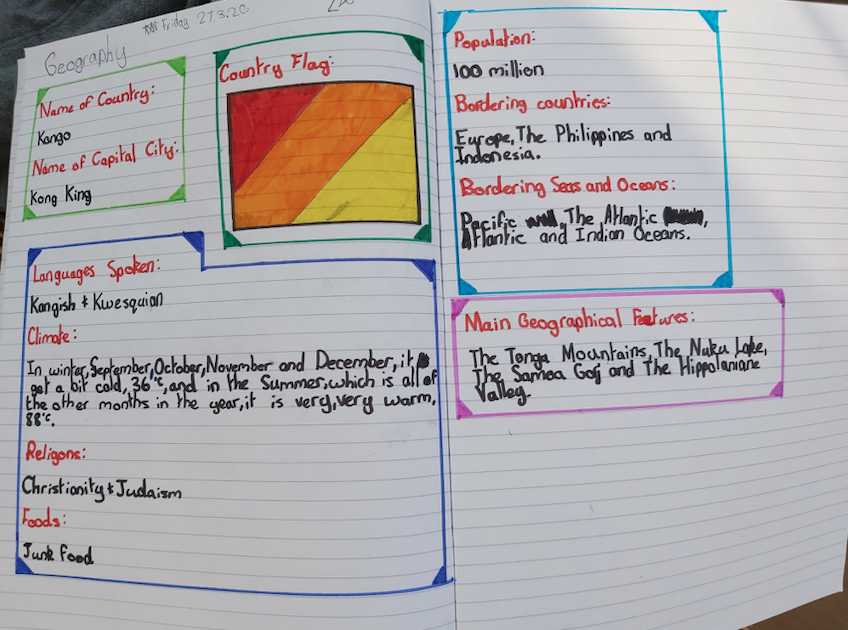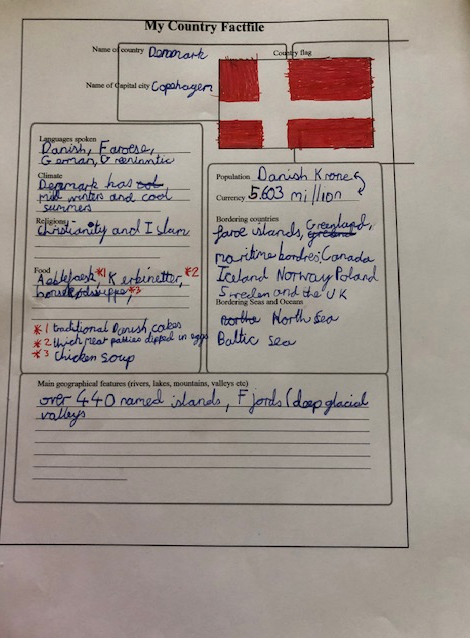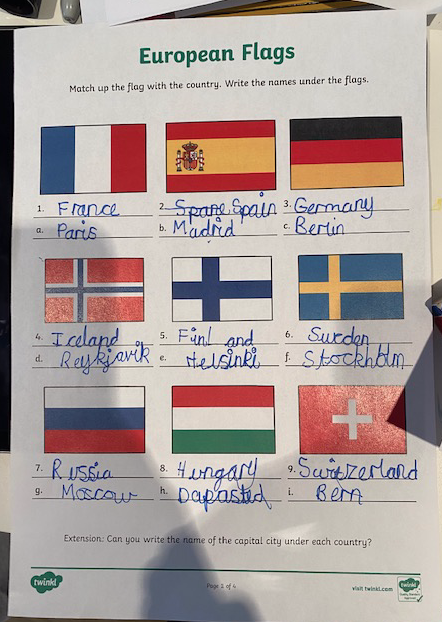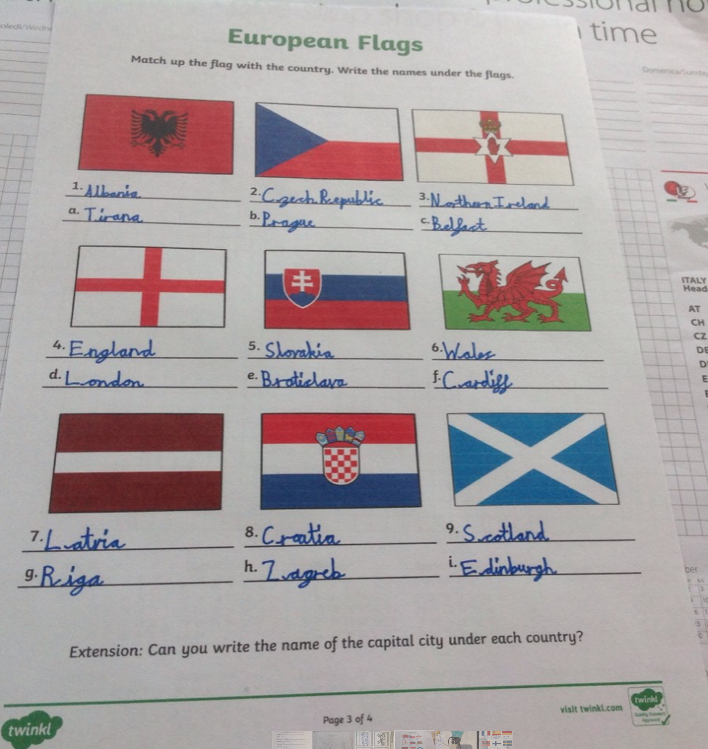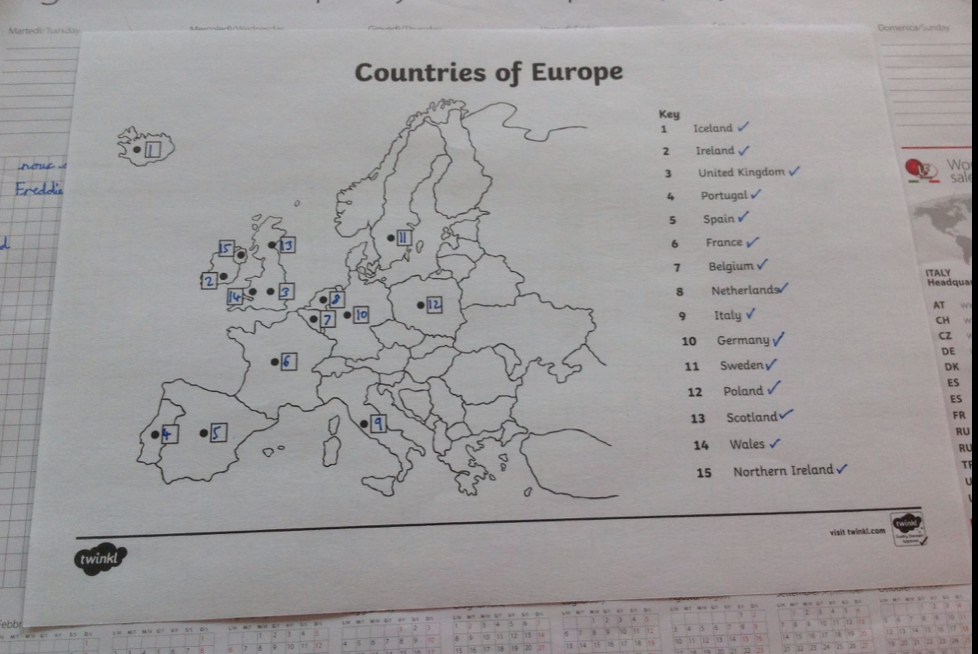 In English we have started to look at NCR- non-chronological reports- and how they are structured. We are going to be writing non-chronological reports about mythical creatures like the ones in Beowulf!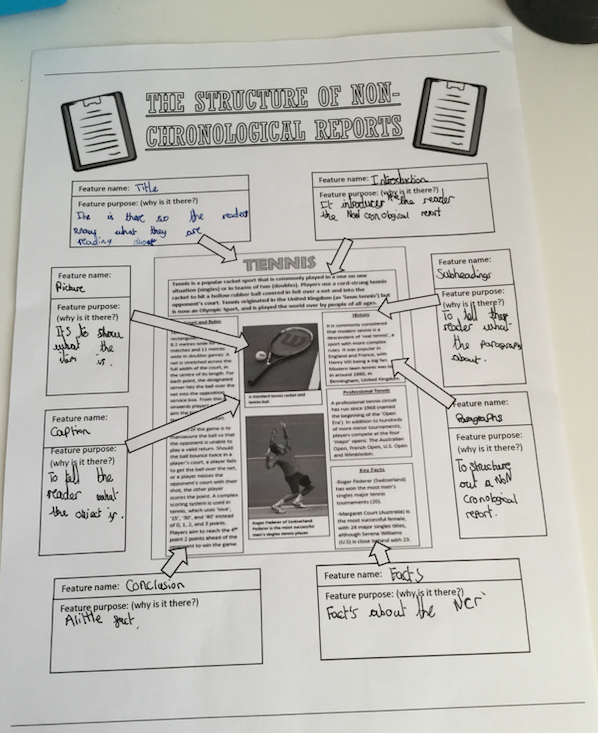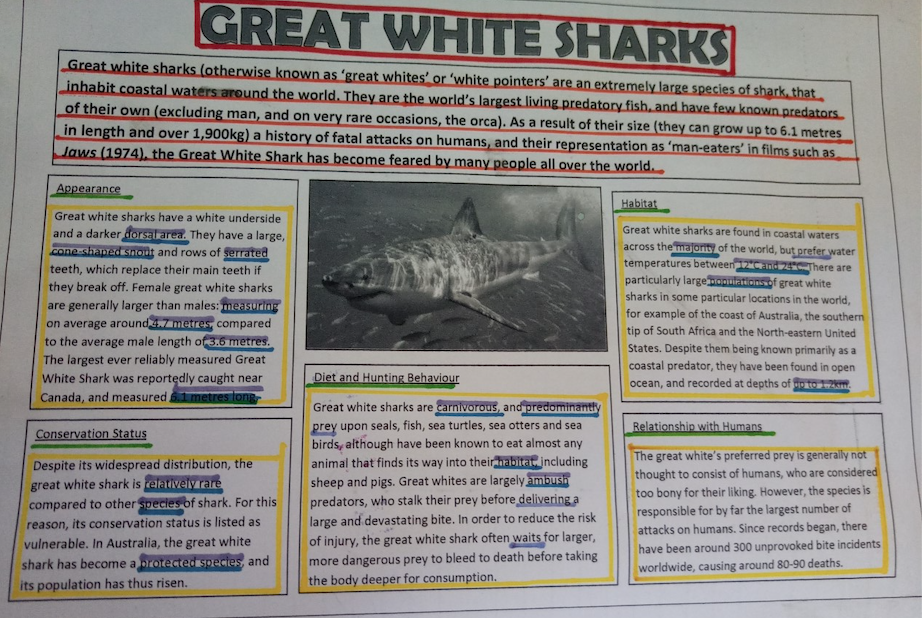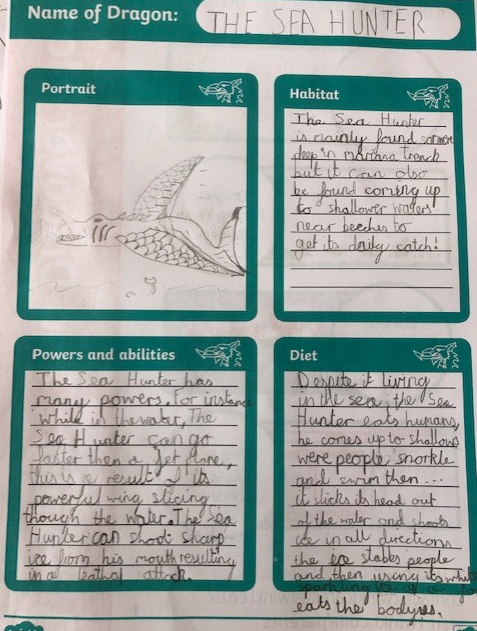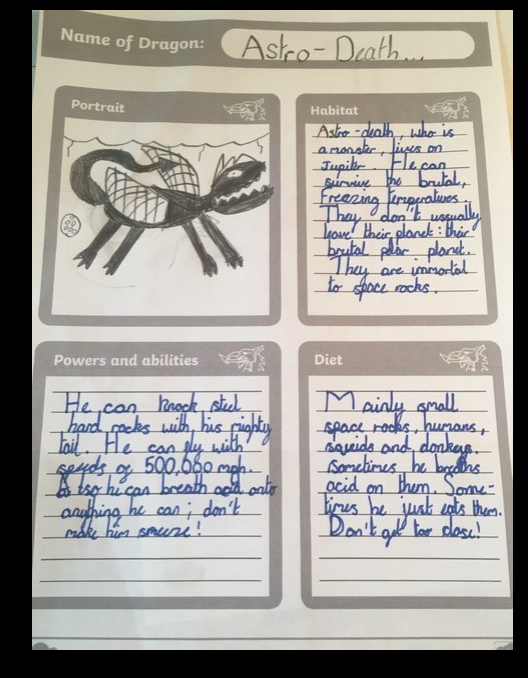 Today in Year 5 (9/3/20), we were learning about the Viking raid carried out on Lindisfarne in 793AD. We explored the Lindisfarne gospel and talked about the work the monks did on Lindisfarne and why this made it an attractive target for Viking raiders.
Have a look at us re-enacting the attack on Lindisfarne.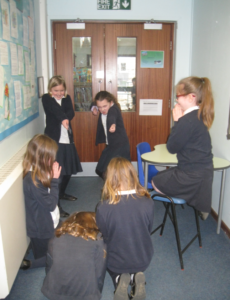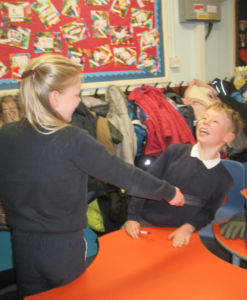 Here the monks are peacefully praying but some strange noises and movements outside have started to grab their attention.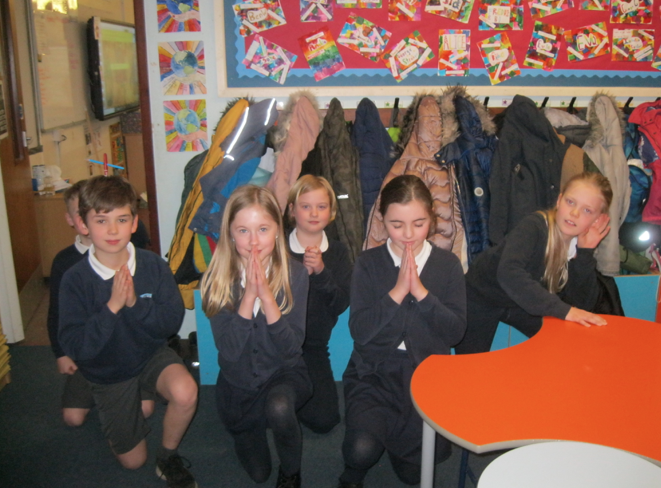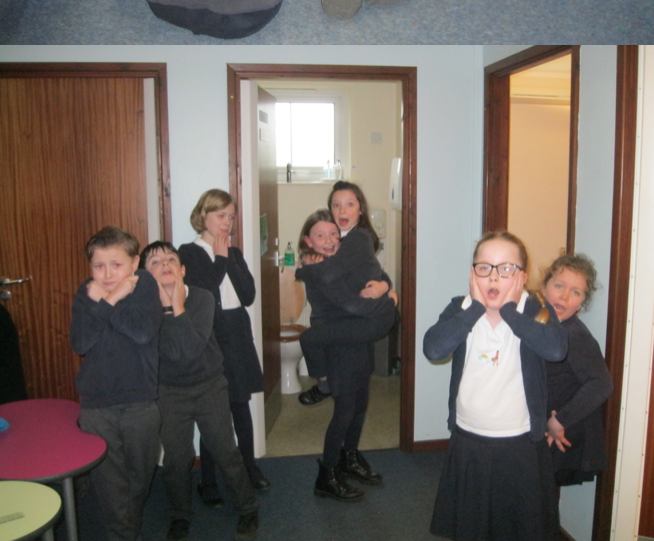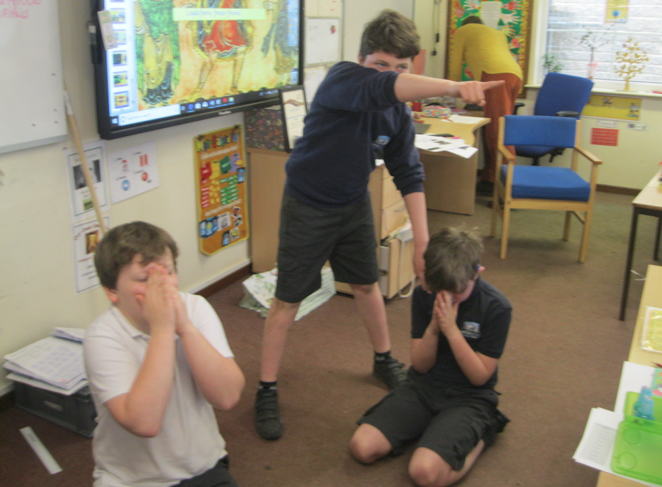 The Vikings entered the monastery and began attacking the monks and stealing the precious objects.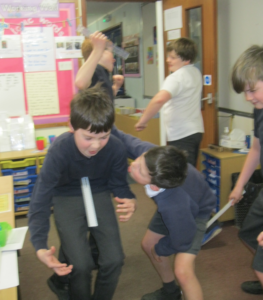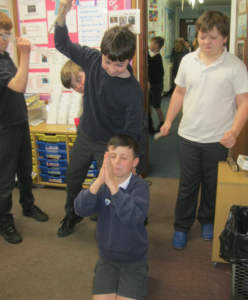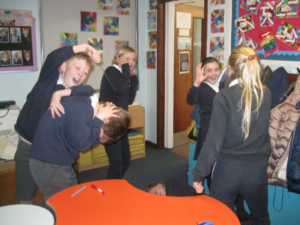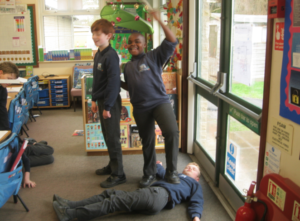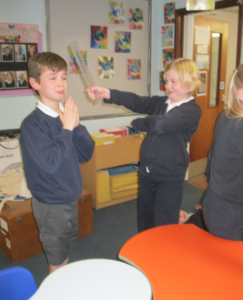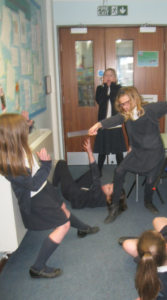 In Year 5 we have been looking at engineering and famous engineers. Using the Dyson engineering boxes, we learnt to take apart a tangle free turbine.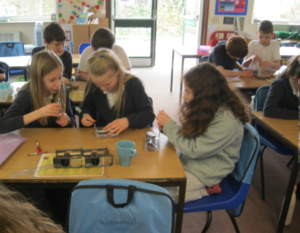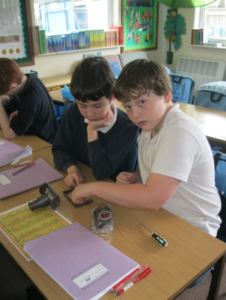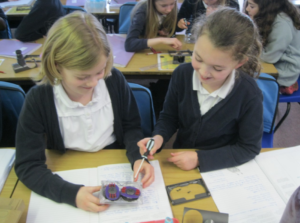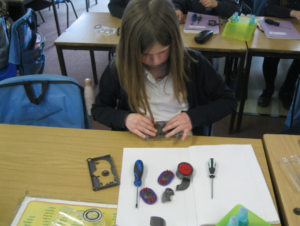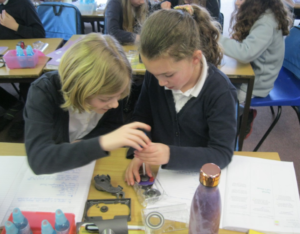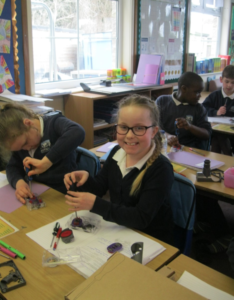 As part of Fair Trade week this year,  Class 5 played a game called the Christian Aid Paper Bag game which is based on the lives of paper bag makers in  Kolkota. In the game you had to work with your group pretending to be a family making paper bags out of newspaper. Unfortunately, this game was not designed to be fair; in fact it was designed to be unfair. You then had to sell your paper bags to a bag distributer. The distributer could change the number of bags you had to make, the size of bags and their shape to suit their needs. This meant that it was very hard for the families to make enough money to live on even though they worked very hard. The whole class really enjoyed the game and it helped everybody to understand how people can become stuck in a vicious cycle of poverty. Have a look at some of our views on the game.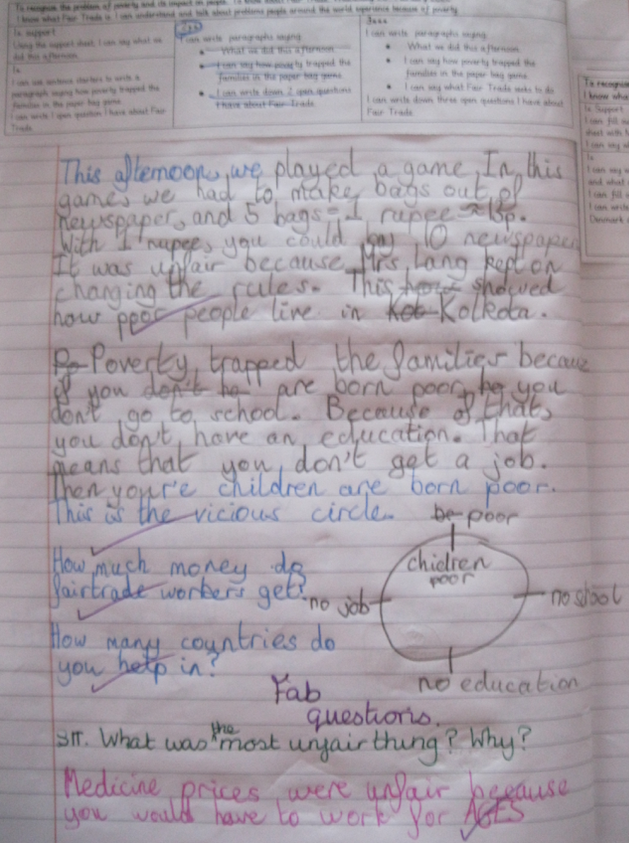 We then looked at a Fair Trade lesson where we had to sort belongings and supplies into needs and wants for people. We were surprised by what things we classified as want items. We discussed how the world's poorest people often do not earn enough to buy the things needed for all their basic needs e.g. nutritious food, clean  water, medication and education. This made us think about how we would want the world to be. We ended up writing our own list of Human Rights – things we felt everybody in the world should have access too. I think we did a pretty good job with this!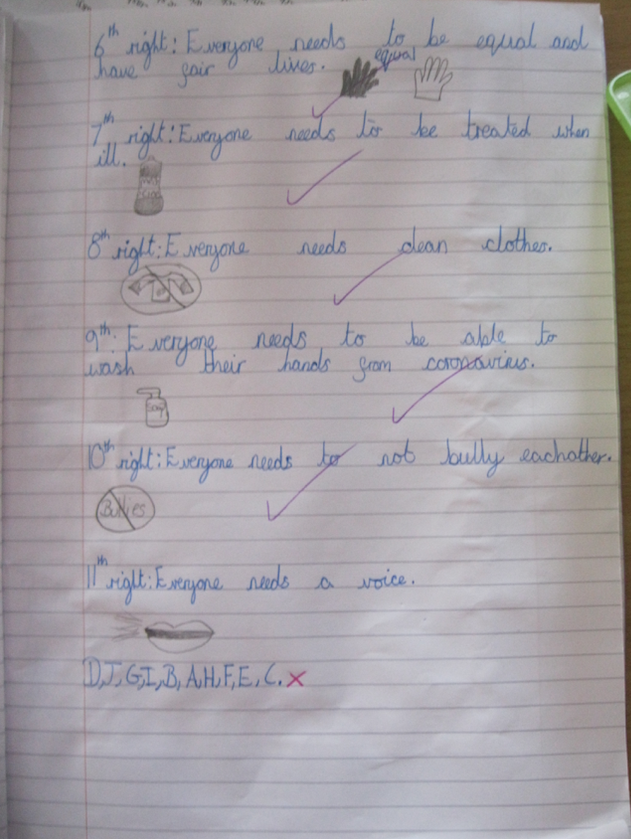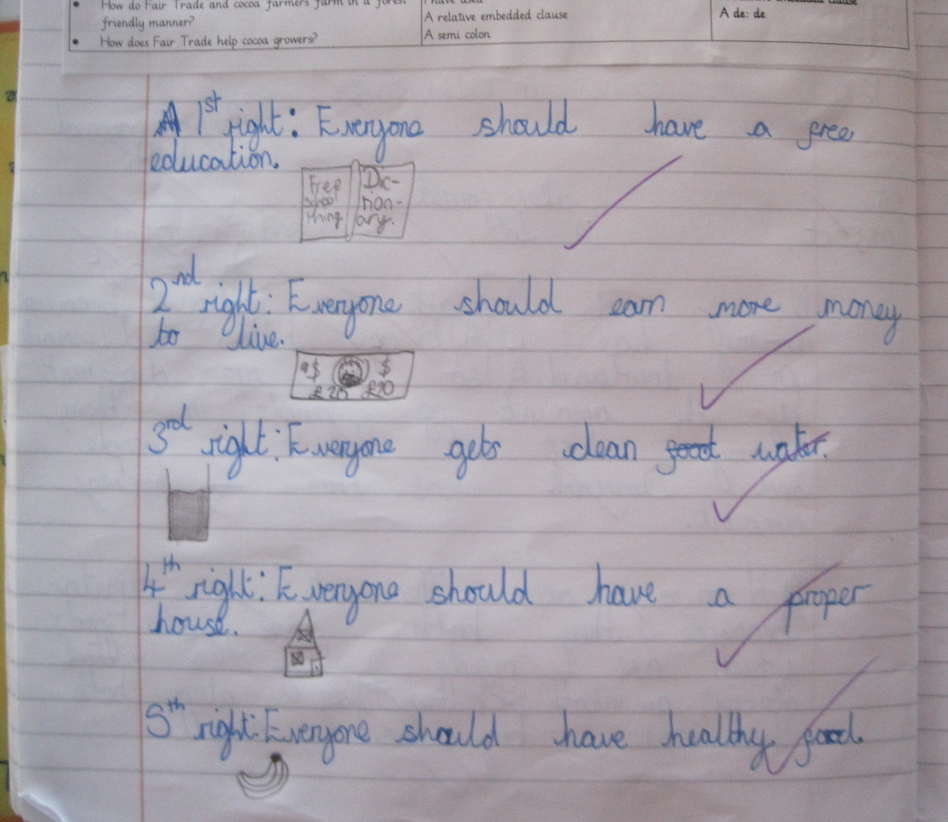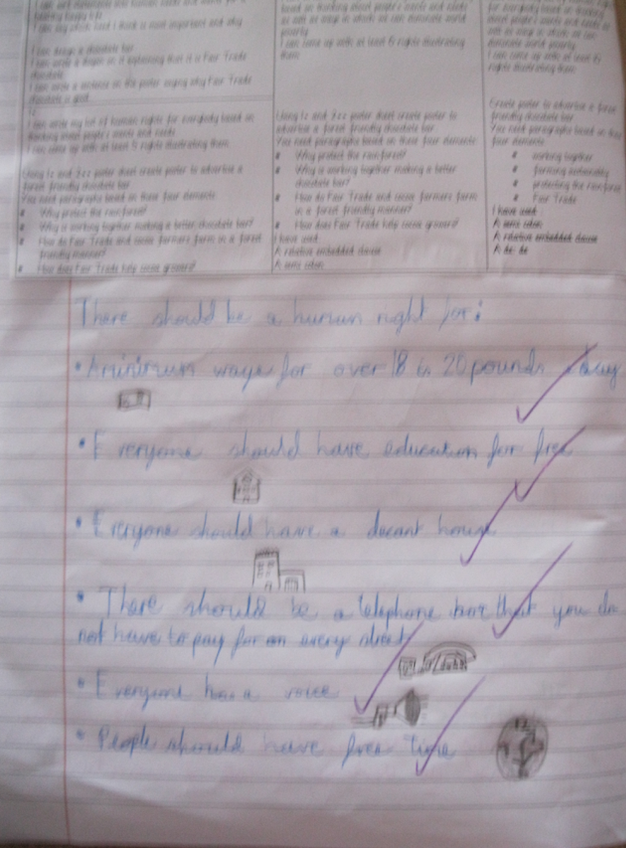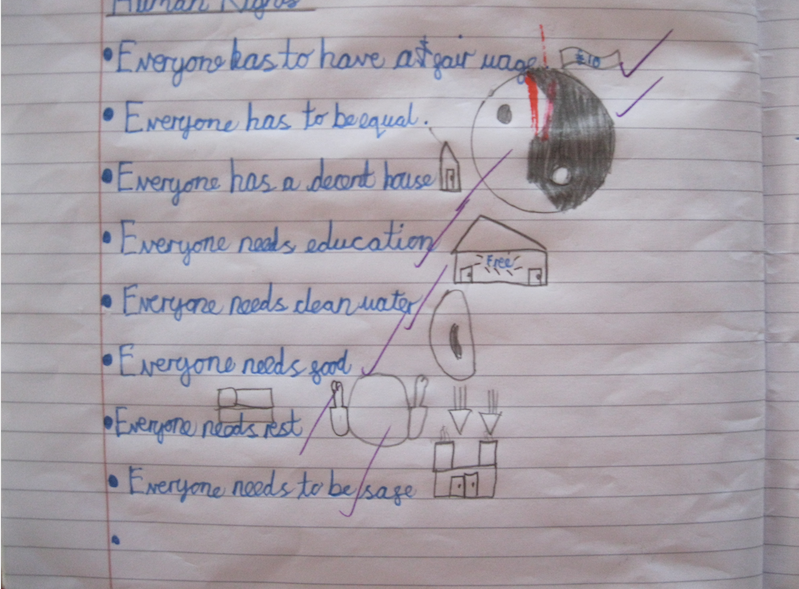 Finally, we looked at the difference Fair Trade is making to the lives of Cocoa growers in Sierra Leone. We discovered how they are helping people to farm  sustainably, protecting the rainforest while still improving the lives of the people in their families and communities. We designed a Fair Trade chocolate bar reflecting the work of these Cocoa growers and Fair Trade.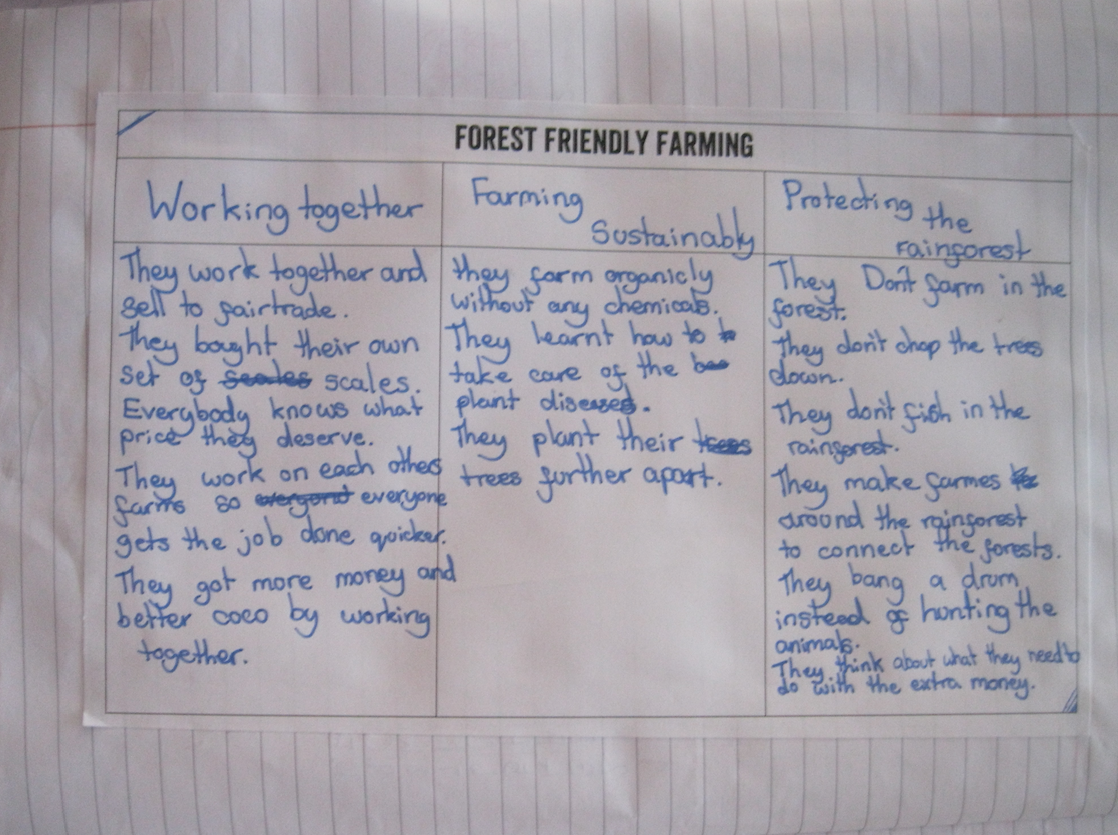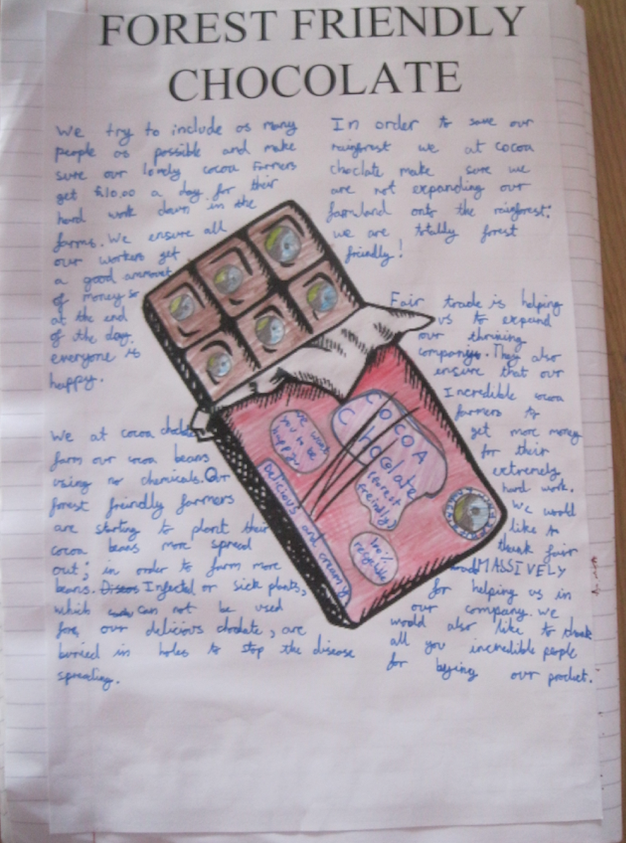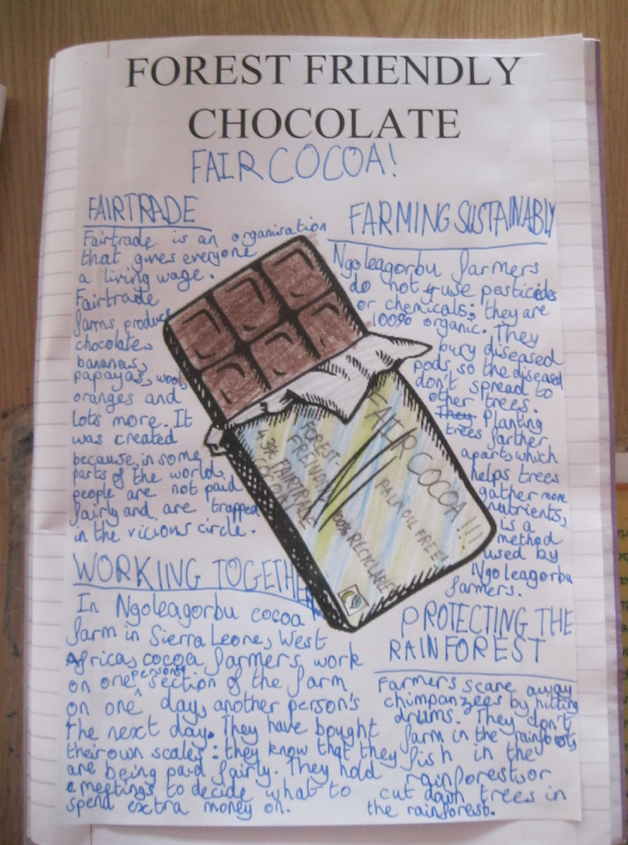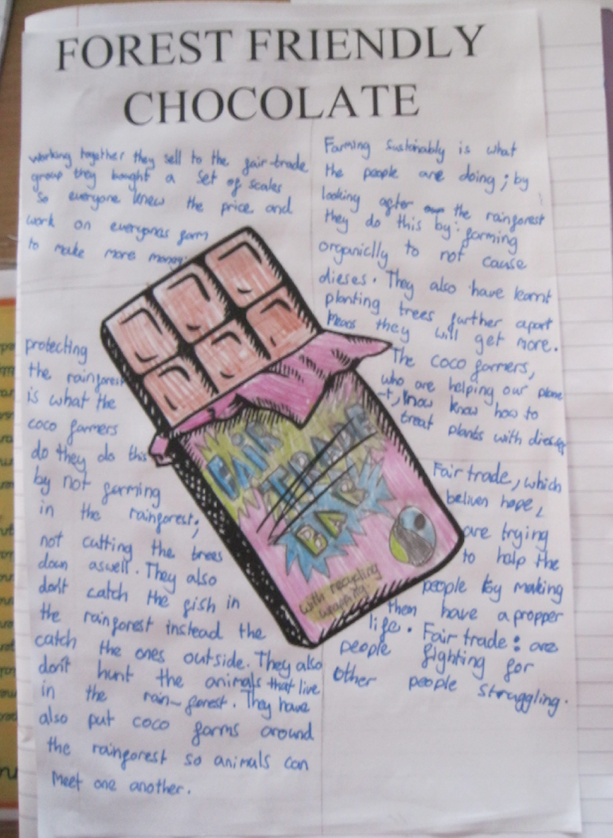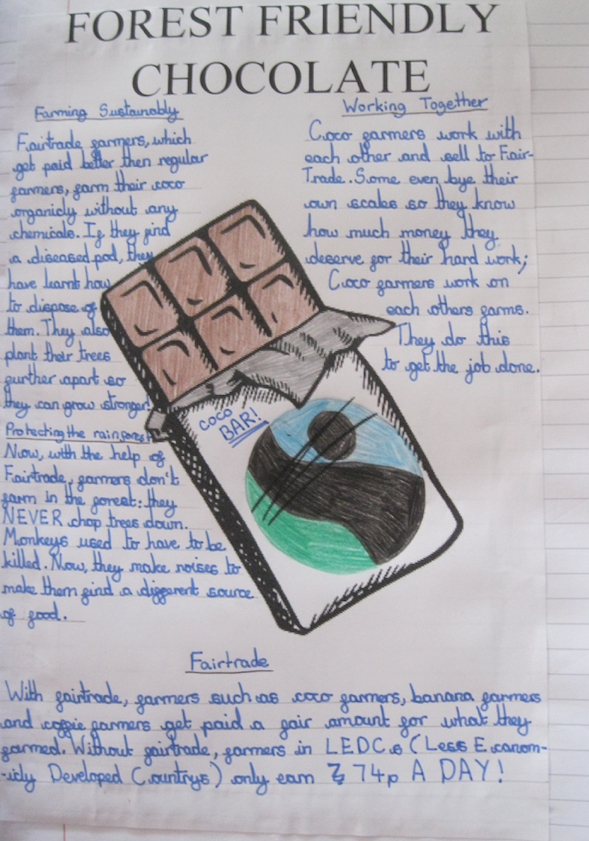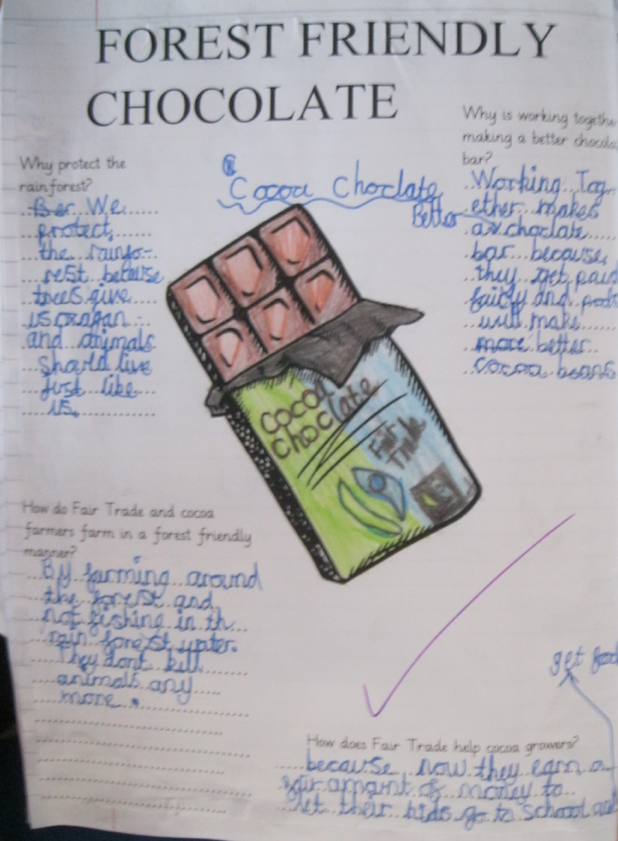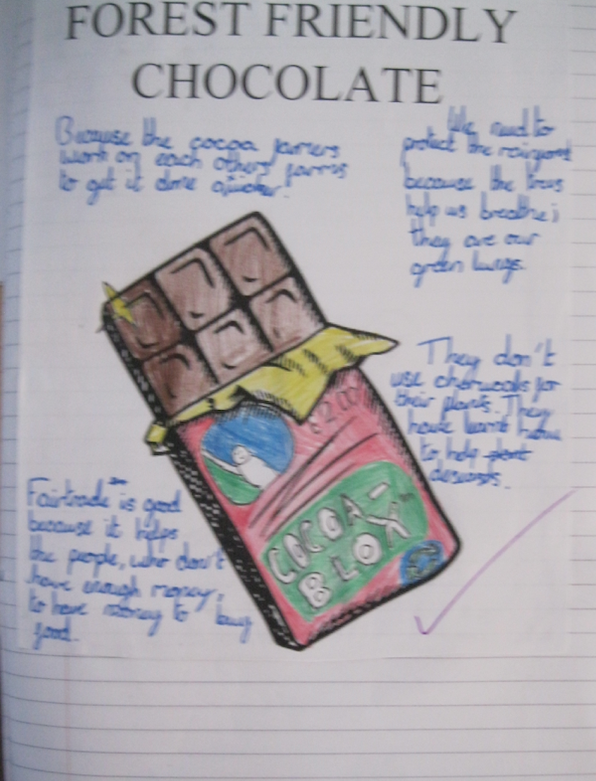 This term we have been looking at all things related to fractions. We started off with our fraction museum. What fractions can you spot?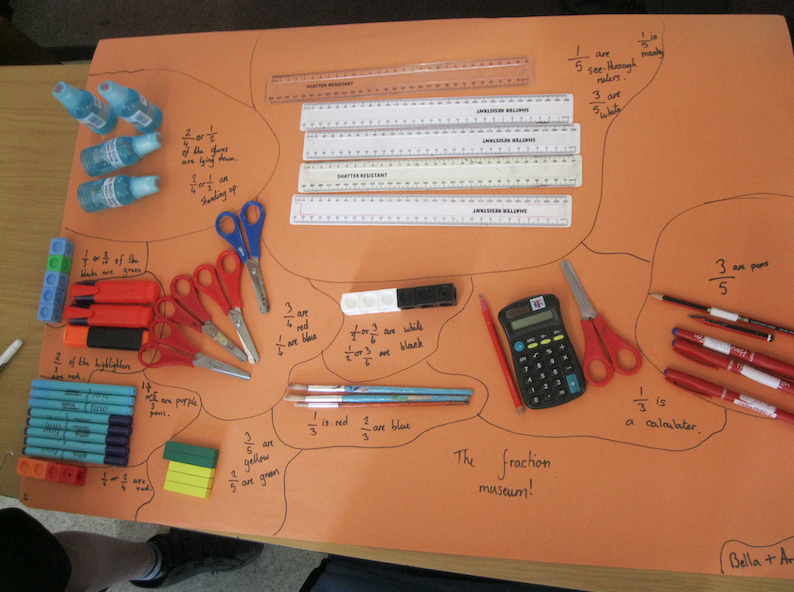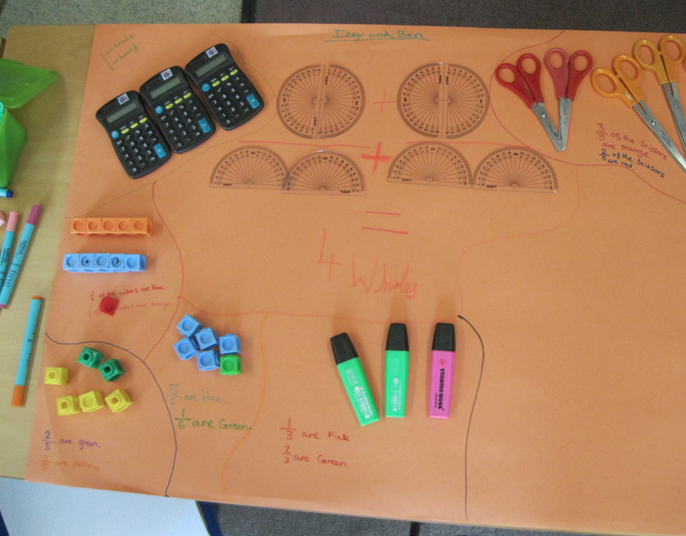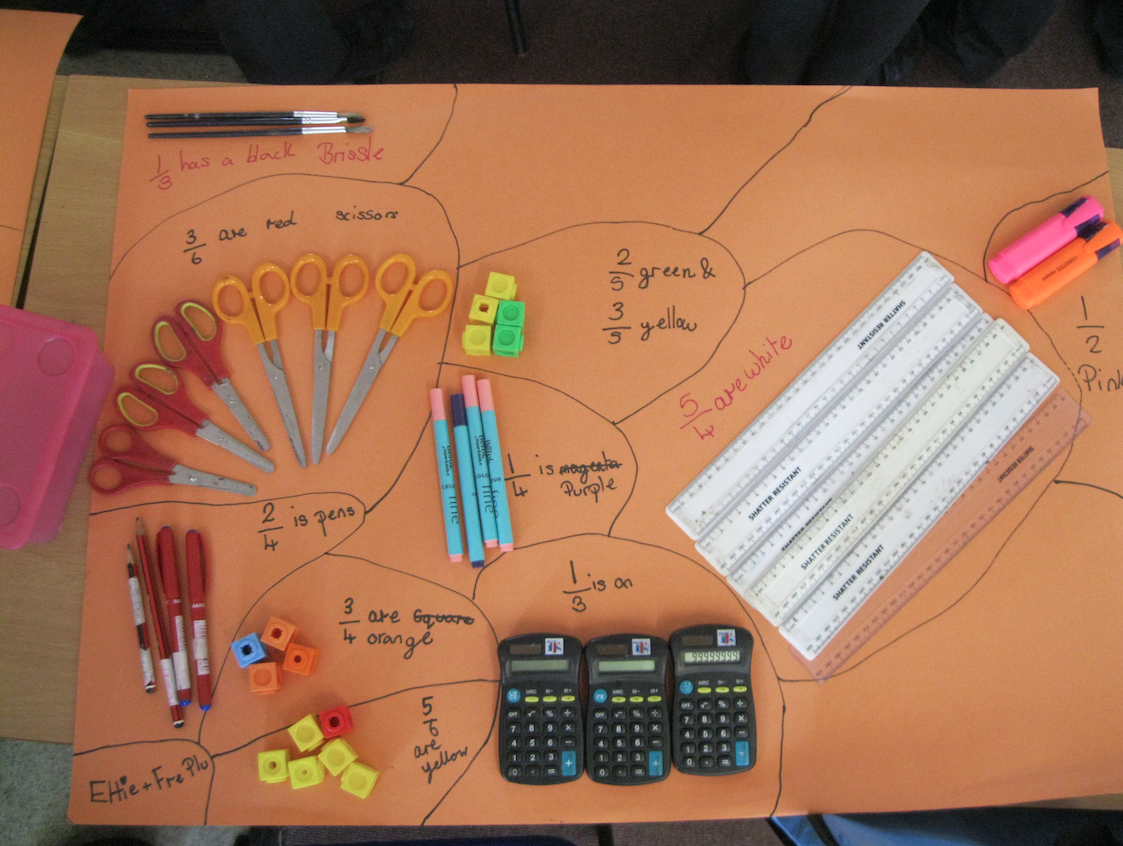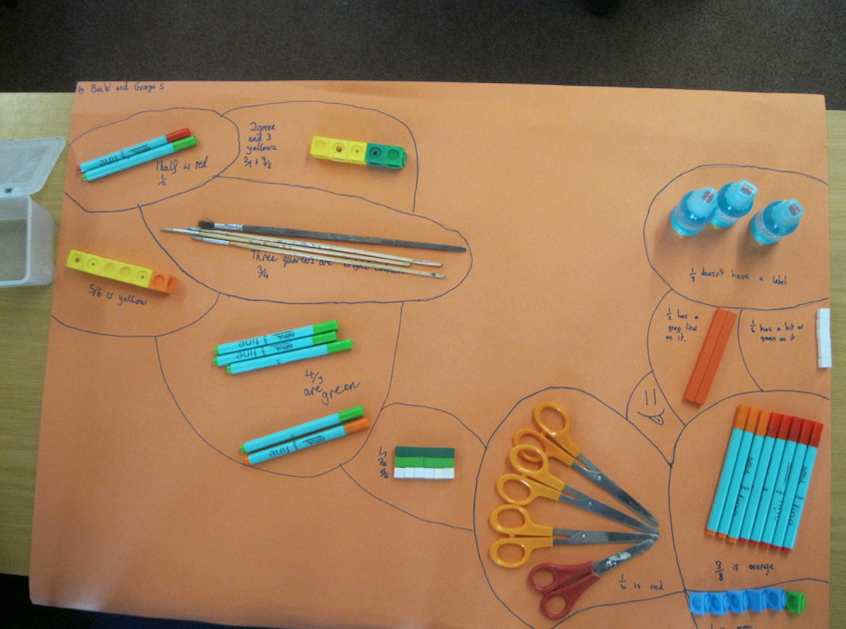 In English we have been reading the story of Beowulf and Grendel and we have loved it! It is a tale of daring adventure with a vicious beast who will stop at nothing in his quest for humans! Will Beowulf be able to defeat Grendel and his mother? You will have to read the tale to find out.
Reading this story has inspired us to write our own myths. We looked at the structure of myths and then used this to create our own. We spent a lot of time reading, researching and playing with powerful language. We wanted to paint a picture in the reader's head.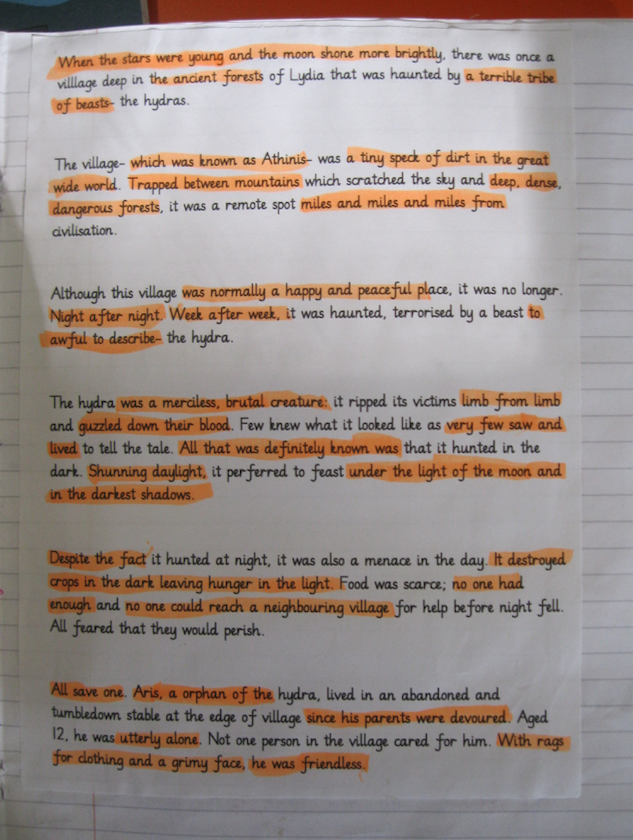 Having read about lots of mythical creatures we started to design our own for our myths and if you have a deadly mythical creature you need a hero or heroine! To help us plan our myths we created our own fantasy lands and drew maps of them.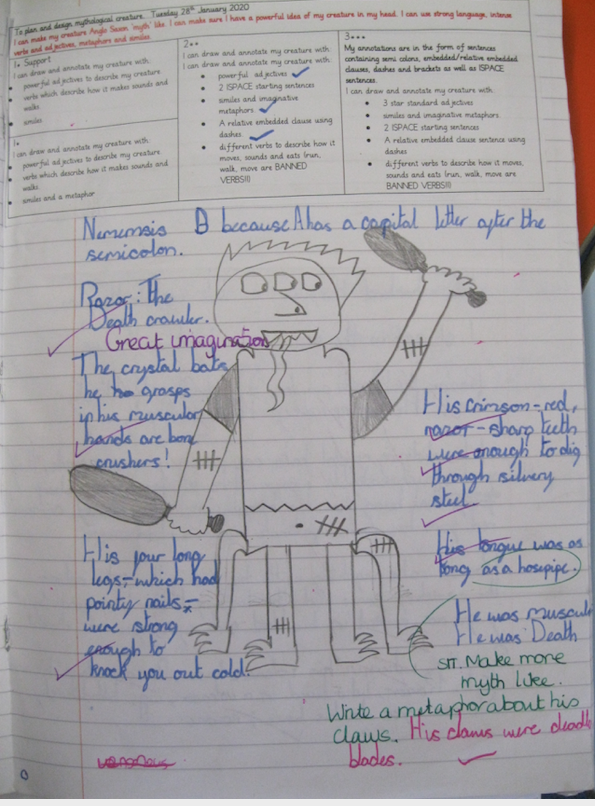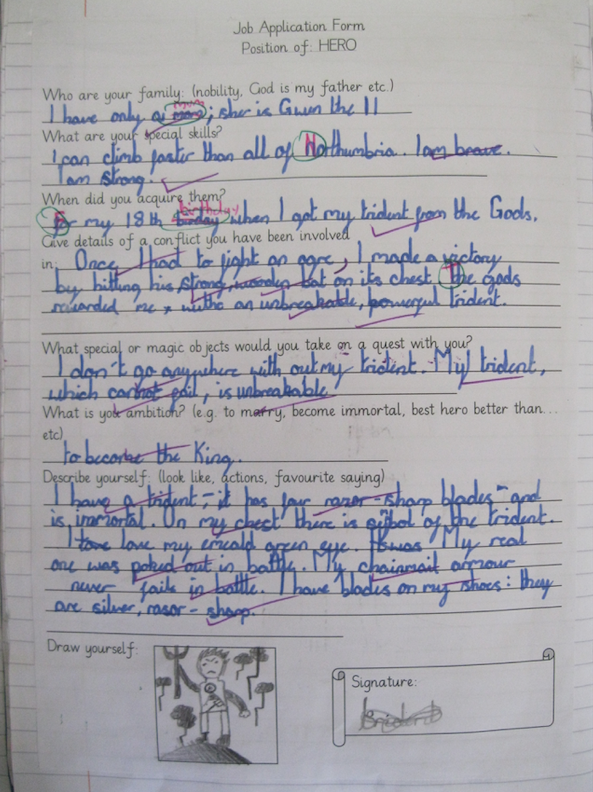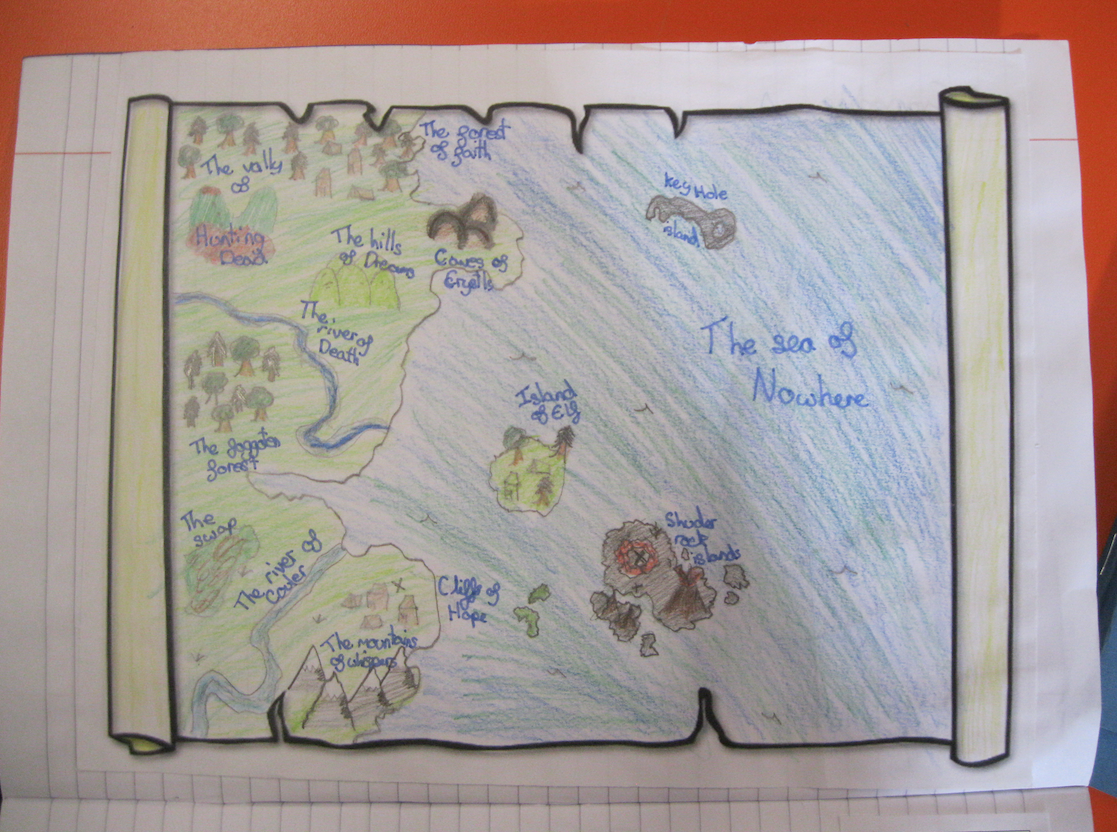 Here is the finished product. We wrote our myths out in best, made them into books and created blurbs and front covers.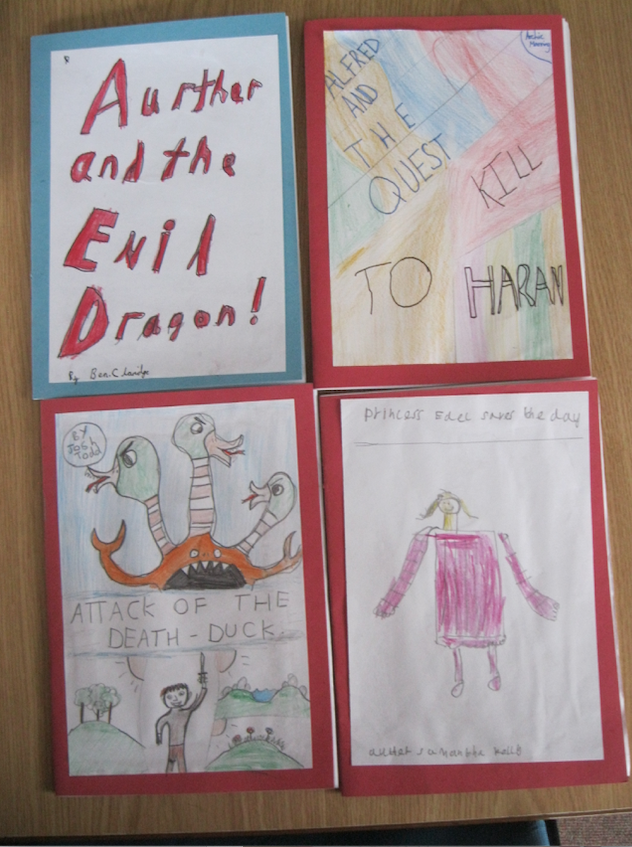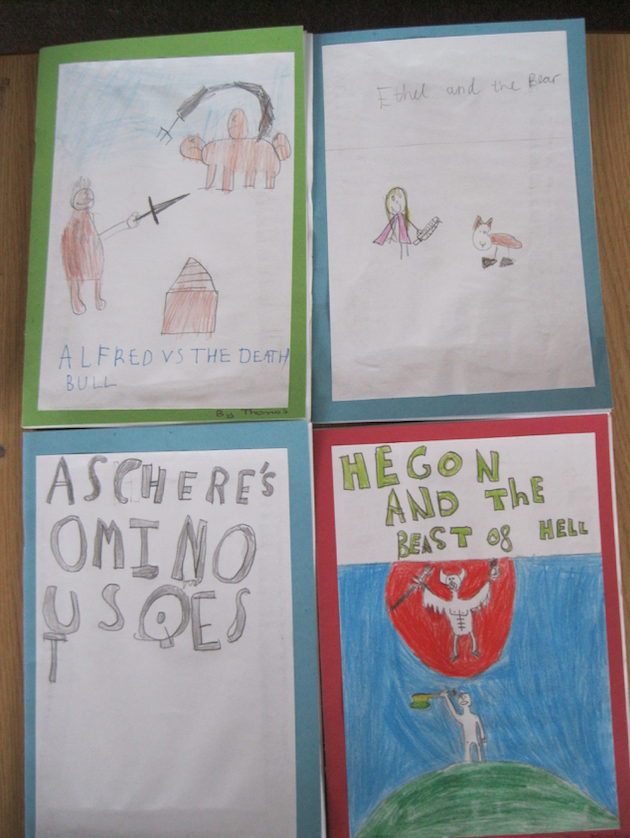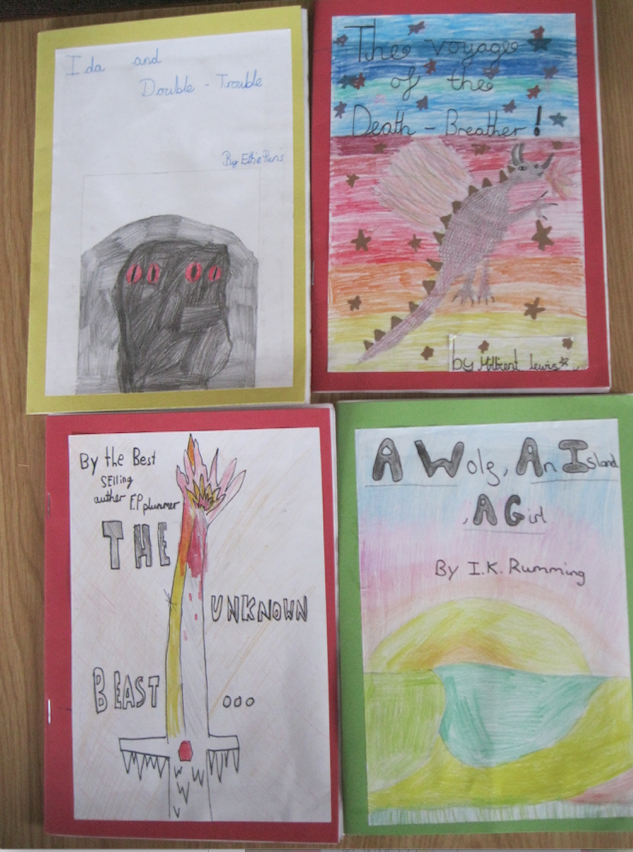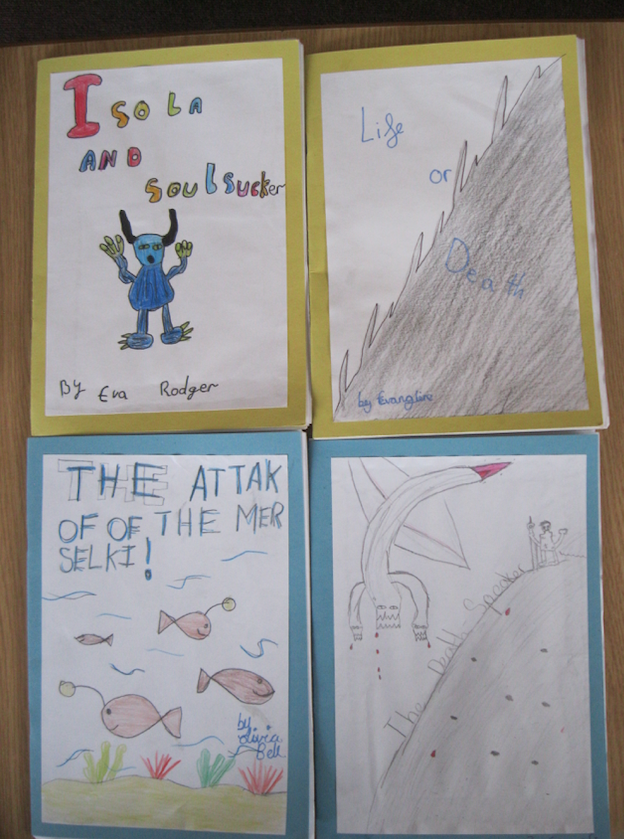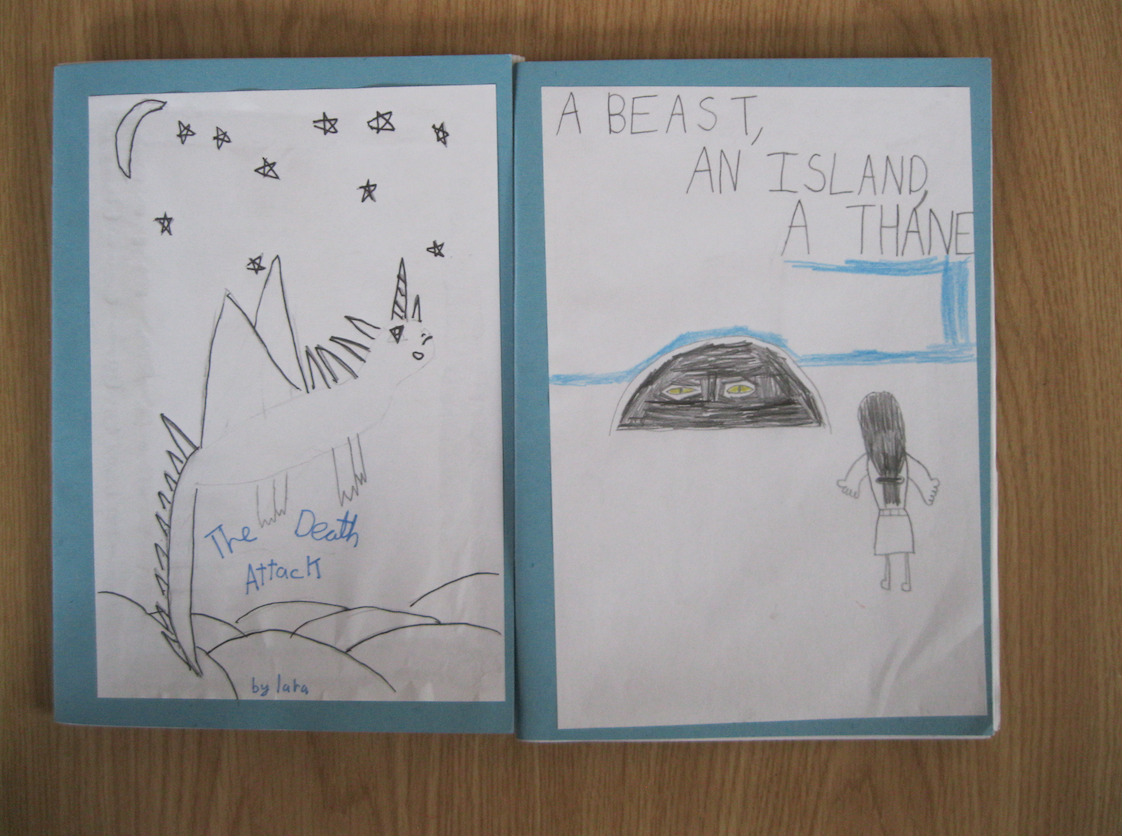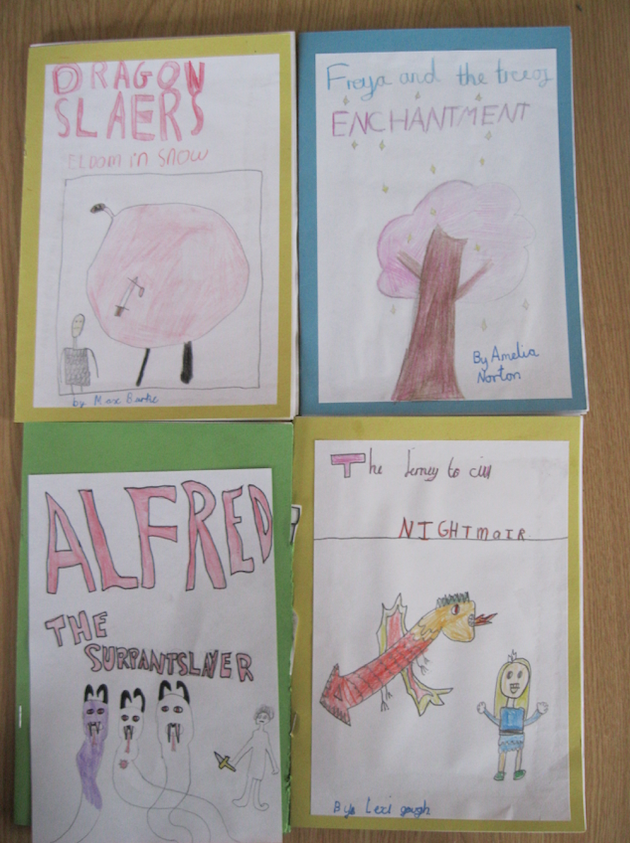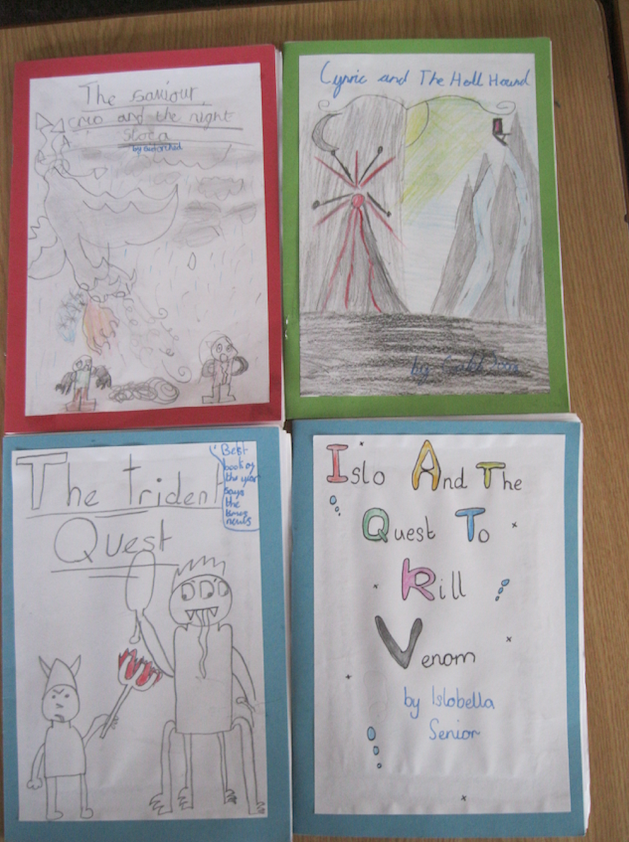 We learnt to draw a dragon based on a grid to help us. We were so inspired by drawing the dragon that several people made dragons at home to bring in to show the rest of the class.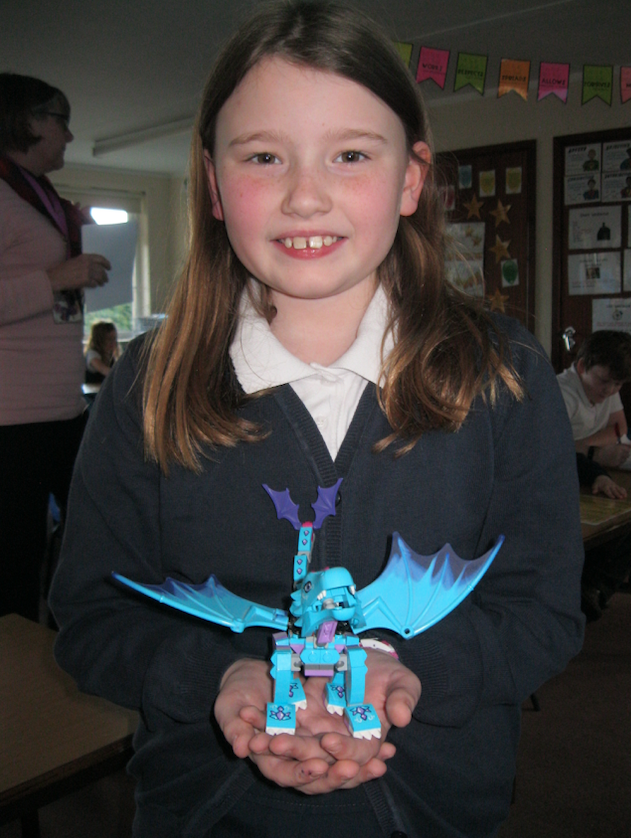 Term 3
Class 5 Term 3 & 4 Homework Brochure
Term 2
Year 5 have really enjoyed reading Floodlands – a novel set in a dystopic future, flooded Britain- and imagining that they are some of the characters in the story. We've been writing letters as if we are Zoe – the main character- as she tried to plot her escape from Eel Island (Ely). We drew maps and wrote informal letters between Zoe and Munchkin discussing the details and items needed to safely escape to the mainland Britain.
After that we have started to look at writing formal letters and have written to Coca Cola as part of the Tearfund Plastic Campaign to ask them to reduce the amount of plastic they are using in their packaging both here and abroad.
This term we have also enjoyed making clay pots learning a range of different construction techniques ranging from coil construction to slab construction. We have beed inspired by the work of many different artists including Clarice Cliff.
Term 1
Class 5 Term 1 Homework Brochure