Class 5
Welcome to Class 5
Class 5 Curriculum Annual Overview 2019-2020
Term 3
Class 5 Term 3 & 4 Homework Brochure
Term 2
Year 5 have really enjoyed reading Floodlands – a novel set in a dystopic future, flooded Britain- and imagining that they are some of the characters in the story. We've been writing letters as if we are Zoe – the main character- as she tried to plot her escape from Eel Island (Ely). We drew maps and wrote informal letters between Zoe and Munchkin discussing the details and items needed to safely escape to the mainland Britain.
After that we have started to look at writing formal letters and have written to Coca Cola as part of the Tearfund Plastic Campaign to ask them to reduce the amount of plastic they are using in their packaging both here and abroad.
This term we have also enjoyed making clay pots learning a range of different construction techniques ranging from coil construction to slab construction. We have beed inspired by the work of many different artists including Clarice Cliff.
Term 1
Class 5 Term 1 Homework Brochure
Archive Posts
Class 5 Curriculum Annual Overview 2018-2019
Term 5
Class 5 Term 5 Homework Brochure
Den building in Forest School
It rained.  It hailed but Year 5 did not give up! We persevered and built these fab shelters.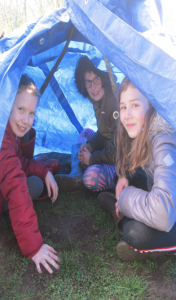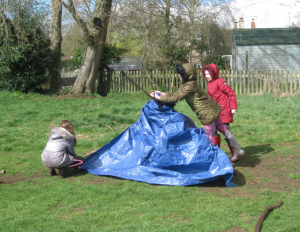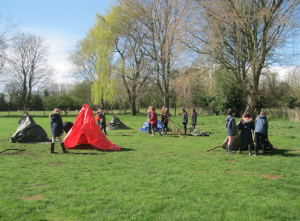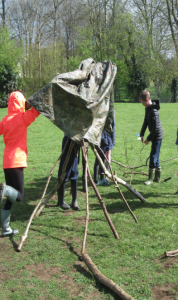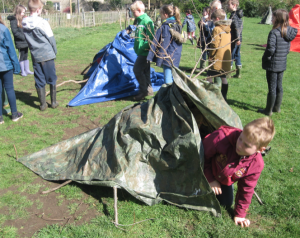 On Wednesday (3rd April),  the Skinny Jeans Gardener came to visit our school to help us prepare our school display for the Malvern Show in May.
We started by weeding some beds so that we could plant plants which will be used to decorate our display.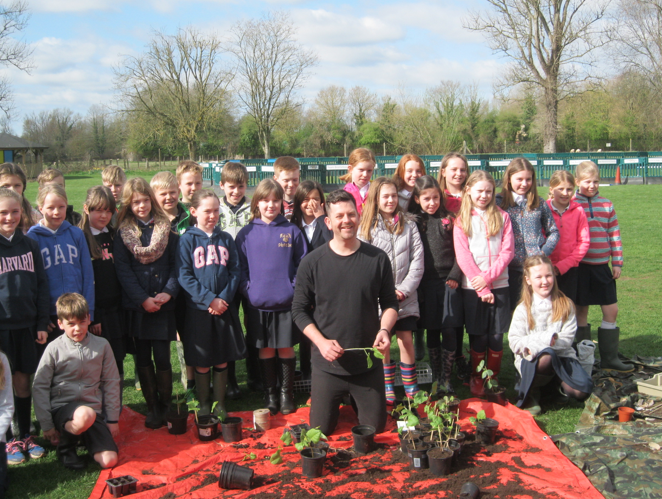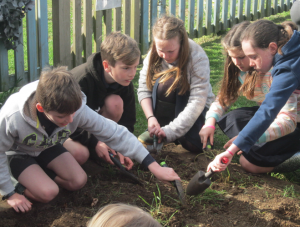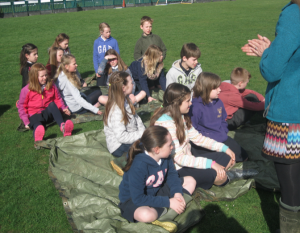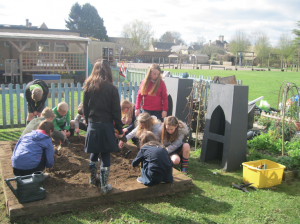 On 26th March, Year 5 visited the Shri Guru Nanak Gurdwara in Swindon as part of our RE topic. In RE we are looking at how Sikhs show their commitment to their faith. Going to the Gurdwara, enabled us to see how Sikhs put their beliefs into action.
When we got to the Gurdwara, we took off our shoes and washed our hands. Everybody who goes into a Sikh temple covers their heads.
We visited the prayer hall and listened to a talk about what Sikhs believe. In the prayer hall we could see the Guru Granth Sahib (the Sikh holy book) which is kept on a on a raised platform under a canopy.
Afterwards, we all went downstairs to the Langer hall. In the Langer hall Sikhs serve food to each other after a service. Anyone is welcome to come and eat the food for free. We had freshly made pakoras- yummy! We really enjoyed our visit!
Here are some quotes..
Abi "We really enjoyed the food. They were really kind and made us fresh pakoras. It was delicious."
Rebecca "It was really enjoyable and I learnt a lot!"
William "I learnt a lot and I loved the food."
Estella "I learnt about how they do things differently to Christians for examples funerals and weddings.
Aimee "I learnt how young Sikhism is and the number of Sikhs in the world"
Zara "I learnt that Sikhs believe that all religions are equal."
Rosie "I learnt about the Gurus who are really important to Sikhs."
Matt "I learnt that the Golden Temple in Amritsar has more than one name and is quite small on the inside."
Lottie " I found out about how Sikhs served in the British forces in WW1 and WW2."
William " I learnt that the Golden temple is surrounded by a walled courtyard that has entrances on  four sides to show that people from all over the world were welcome there"
Term 4
Class 5 Term 4 Homework Brochure
In science week (week of 11th March), Class 5 looked at the density of different liquids. Density is how much matter or stuff something contains.  The denser liquids sink to the bottom with the lighter liquids floating on top.
We did an experiment called 'raining blood' We mixed oil in water in a jar. We then added in food colouring. The food colouring fell to the bottom of the jar and then started to float back up again.
We loved it!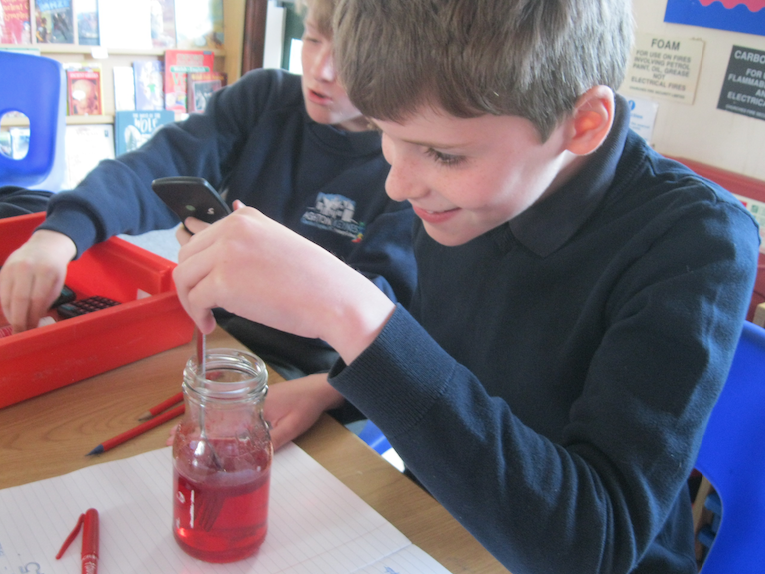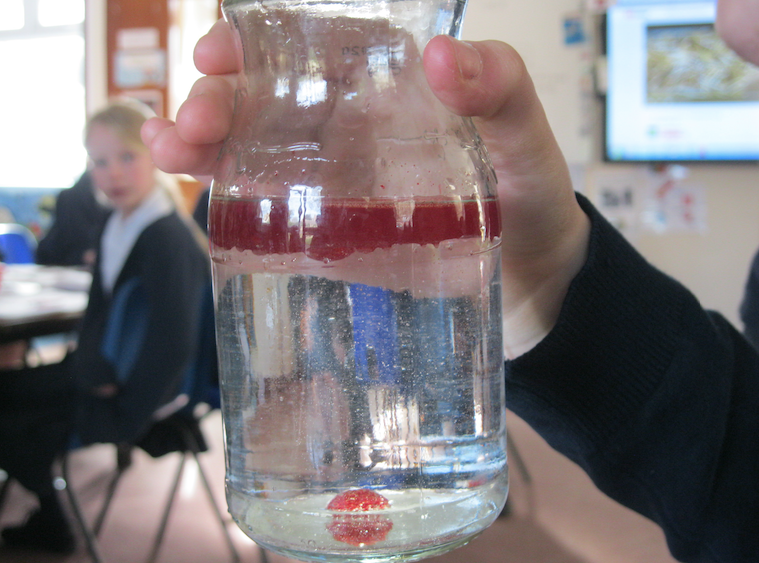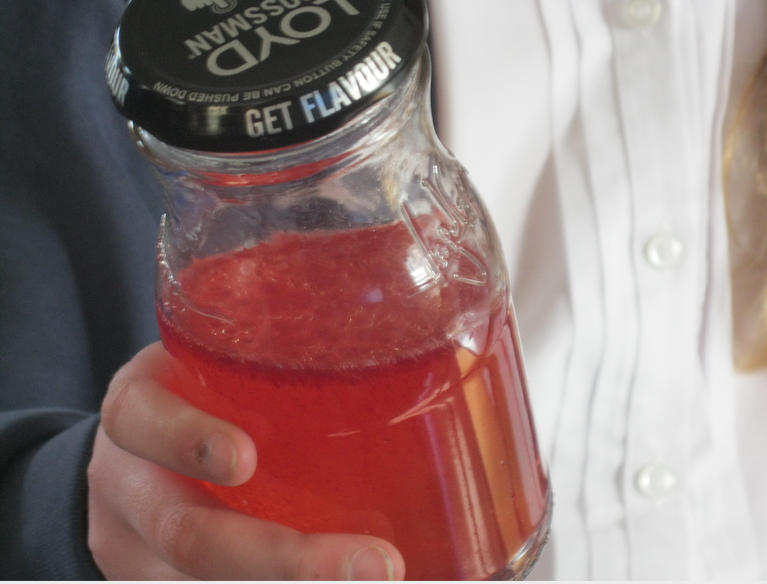 As part of our Sikhism topic, we have been learning about the langer. Gurdwaras have a room known as a langer where food is served to people after services. The food is free and anyone is welcome to come and eat. We had a go at replicating a langer meal in the classroom. Afterwards we discussed how this meal showed Sikh beliefs in action.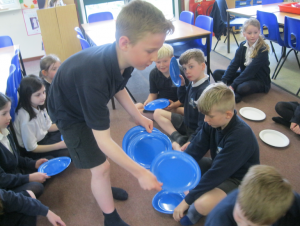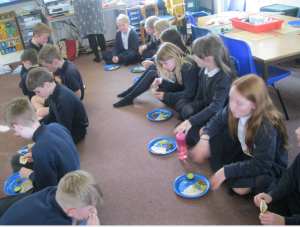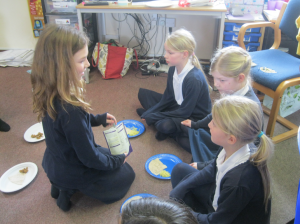 Term 3
Term 3 Class 5 'Shackleton's Journey' Homework Brochure
In Year 5 we have been looking at what engineering is. We've been very lucky to have two Dyson Foundation boxes this term to use. We explored the engineering and designing process by looking at how James Dyson redesigned his wheelbarrow. Engineers identify a problem and then work to find a solution.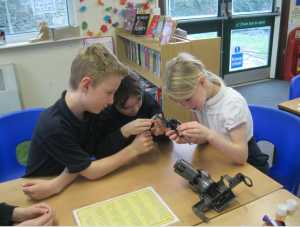 In the boxes were parts of a vacuum cleaner that we could take part and then reassemble. We learned to use different tools to take the carbon fibre brush heads apart. It let us look at how the machines functioned on the inside. Afterwards, we put them back together and we didn't have a single screw out of place!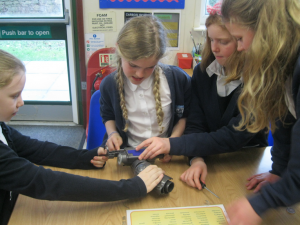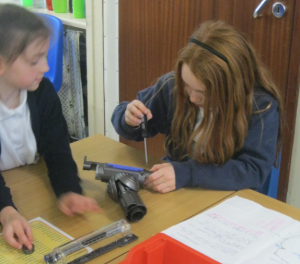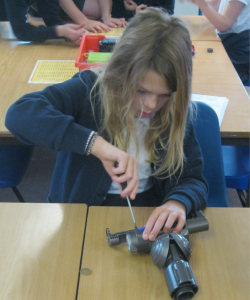 Let's go fly at kite!
Year 5 made kites using tissue paper and canes in Forest School. Some people even had a go at making box kites! Have a look: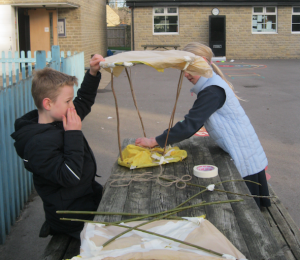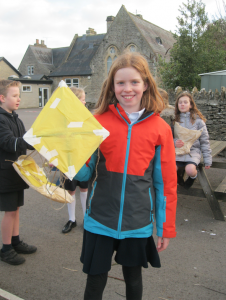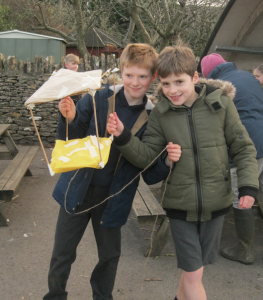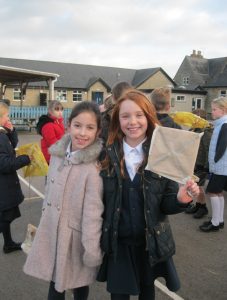 Term 2
Class 5 Term 2 Homework Brochure
In Year 5 we have been reading a book called 'Journey to the River Sea' which is set in the Amazon rainforest. It has inspired all our learning. We have learnt all about Brazil and its environment. We were absolutely fascinated to learn about pink river dolphins and the carnivals. We have painted pictures in the style of Henri Rousseau's jungle scenes.
This has led us onto looking at issues in the Amazon. We have been shocked at the impact deforestation is having on the Amazon and the animals that live there. We have looked at the impact of palm oil in particular.
We started the year looking at water and biblical metaphors linked to it. This inspired us to look at global issues towards dirty water. We created tippy taps in Forest School which are a hygienic way of washing your hands if you don't have access to running water. As well as raising money for Water Aid, as a class, we are going to raise money to twin toilets with communities in other parts of the world.
We really enjoyed looking at the artwork of Hannah Dunnett and used her as inspiration for art in our RE lessons.
Term 1
Class 5 Term 1 Homework Brochure
Today in Year 5 (11.10.18) we had a special Maths workshop where we had to complete a challenge to make the alphabet for the cheapest cost. Each 'bar' of a letter made on squared paper cost £1. We had to see what was the cheapest way of making the entire alphabet.
It was tricky but we LOVED it!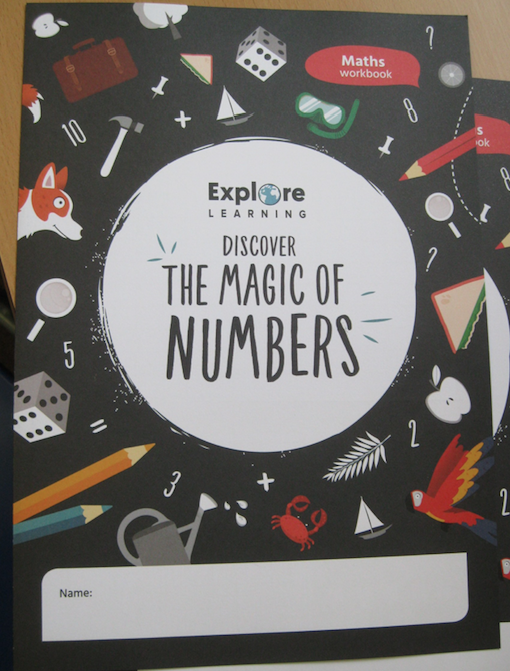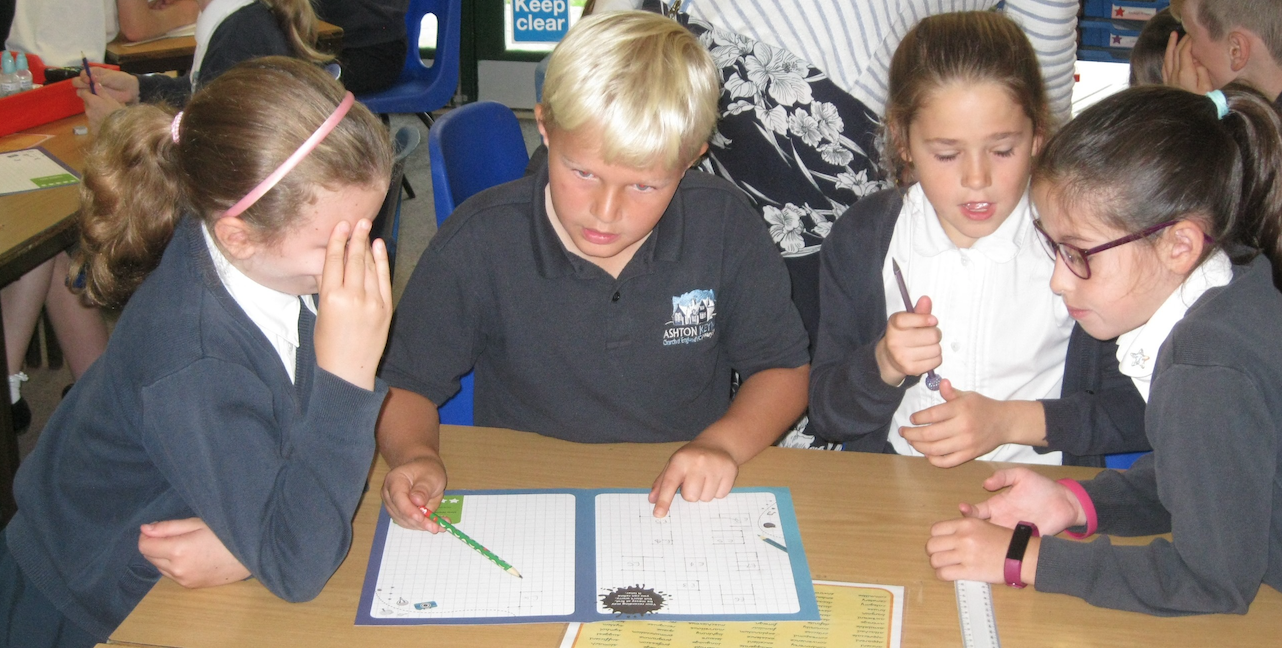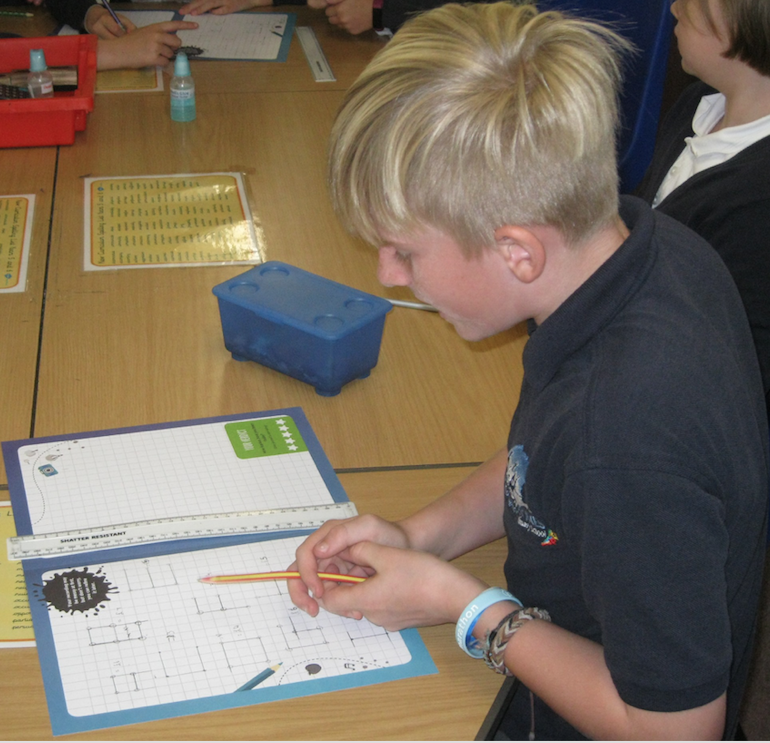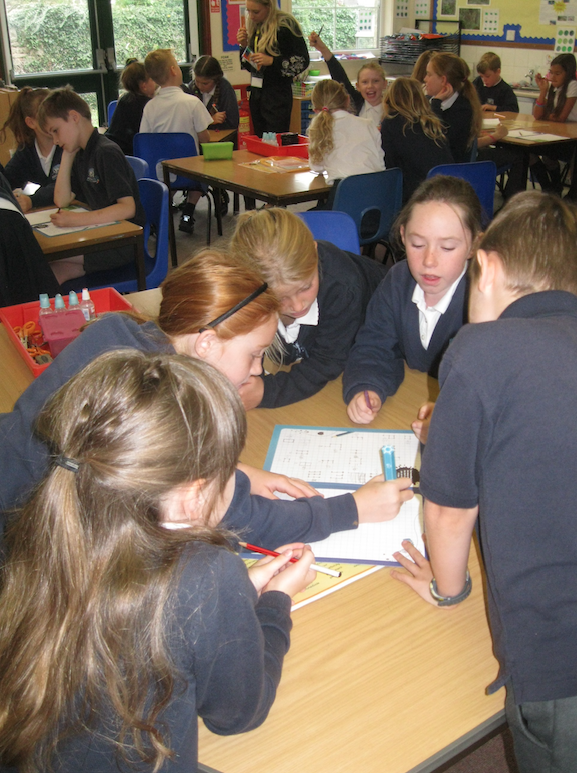 What is a tippy tap?
A tippy tap works by using the foot to tap a lever to tip water out from a container. It means hands can be washed without touching the stand – therefore stopping the spread of dirt and bacteria.
In many of the countries that WaterAid works in, people use a tippy-tap to wash their hands. In forest school we had a go at making one. It was not as easy as it looked!
Have a look at our tippy taps. It was challenging but we REALLY enjoyed it!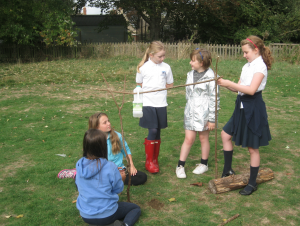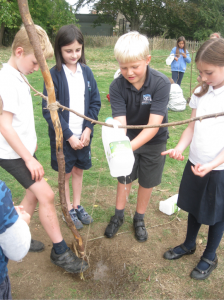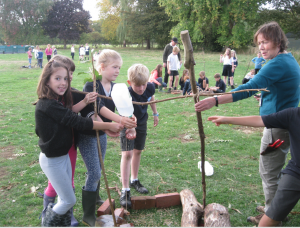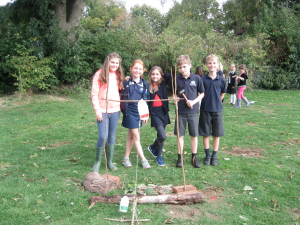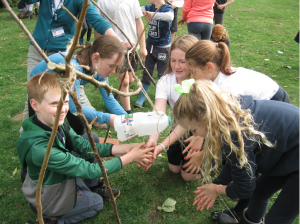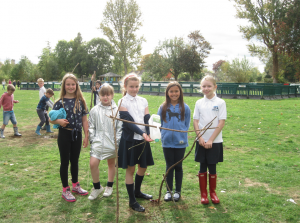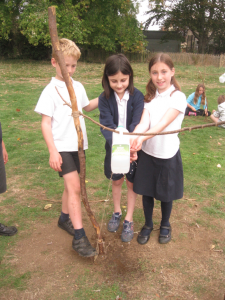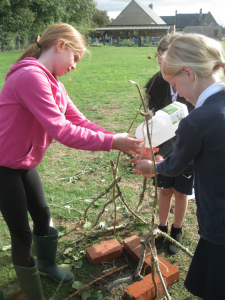 Year 5 has had an exciting start back to school. We are loving our Watery/River metaphor. We have been learning about the water cycle in Science, the journey of a river in geography and the symbolism of water in the Bible.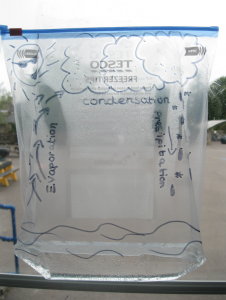 We looked at the story of Noah's Ark and the idea that the rainbow is a symbol for a promise. We made class promises on rainbows.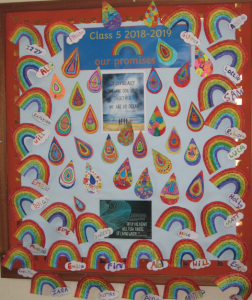 In English we have been exploring metaphors in poems and are starting to write our own river metaphors. Have a look at us acting out some of our favourite lines from 'The sea is a hungry dog'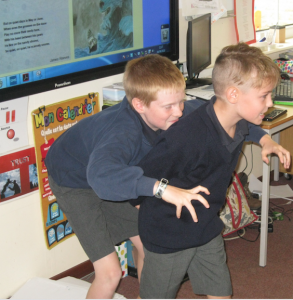 In Forest school we made water filters using natural items such as moss and leaves.