Governors
At Ashton Keynes there are 12 governors and 1 associate member making up the governing body. At Ashton Keynes we have:
2 Staff (Head is automatically, other staff member elected by teaching & support staff)
3 Foundation (appointed by Diocesan Board of Education)
1 Authority (appointed by Wiltshire Council)
3 Co-opted (appointed by the governing body)
3 Parent (elected by parents of pupils at the school)
Associate – no voting rights at full governing body meetings
What we do
Our major role is supporting Mrs Saville in the management of the school in both the immediate and long-term interests of its pupils. We fulfil this role by providing a strategic view, acting as a critical friend and ensuring accountability to parent and the community for our actions and the school's overall performance.
Responsibilities
Our main responsibilities include areas such as the curriculum, school budget, staffing, admissions, inspections and health safety and welfare.
Committees
As well as attending Full Governing Body meetings 3 times per year, each governor serves on a committee;
Resource, Premises and Compliance Committee (RP&C)– Responsible for setting and managing the school budget, maintenance of the school premises and health & safety
Learning, Education and Development Committee (LE&D) – Responsible for reviewing curriculum, reviewing pupil progress and other matters such as the school improvement plan
Strategy and Staffing Committee (SSC) – Responsible for long -term strategic direction – Chairs of committees & Headteacher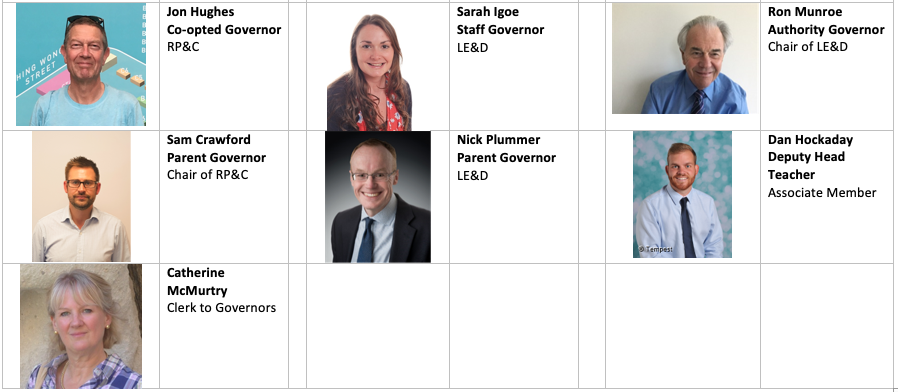 The Clerk to the Governors is Mrs Catherine McMurty who organises and minutes meetings, maintains records of membership and attendance and advises on constitutional issues and statutory duties.
Contact the Governors – We can be contacted by emailing clerk@ashtonkeynes.wilts.sch.uk or by leaving a message in the school office.
The Headteacher is Mrs Samantha Saville.
The Chair of Governors is  Mrs Michele Collier- Bromelow
The Vice Chair of Governors is Mrs Shirley Danby
The Clerk to Governors is Mrs Catherine McMurtry
The terms of office are also shown below.
The Parent Governors (appointed by parents/carers):
Mr Sam Crawford 12.06.18 – 11.06.26
Mr Nick Plummer 12.06.18 – 11.06.26
Miss Nicola Eagleton 12.06.22 – 11.06.26
The Foundation Governors (appointed by Bristol Diocese):
Mr David Tarr 04.11.13 – 03.11.25
Mrs Meggen Cantillon 15.09.14 – 14.09.22
Rev Shirley Danby 13.02.15 – 12.02.23
The Co-opted Governors (appointed by the full governing body):
Mrs Michele Collier -Bromelow 09.12.15 – 08.12.23 Safeguarding Governor
Mr Jon Hughes 20.06.13 – 19.06.25 PPG Ambassador
Vacancy
The Authority Governors (appointed by Local Authority):
Mr Ron Munroe 01.08.17 – 31.07.25
The current Staff Governor is (appointed by staff)
Miss Sarah Igoe 06.05.20 – 05.05.24
The Associate members are (appointed by the full governing body):
Mr D Hockaday 01.09.20 – 20.08.24
Resignations:
Giuseppe Vitale (Parent) resigned 12.06.18 – 12.06.22 resigned 11.06.22
Jan Thompson (Co-opted) 05.11.14 – 01.08.19 resigned 05.06.22
Peter Gray (Co-opted) 03.04.14 – 02.04.22 resigned 31.03.22
Carrie Stephenson (Parent) 12.06.18 – 11.06.22 resigned 01.03.21
Rob Andrews (Co-opted) 11.02.14 – 10.02.18 resigned 26.11.15
Adam Loveridge (Parent) 27.09.12 – 28.09.16 resigned 23.05.16
Shirley Palmer  (Associate) 31.10.14 – 30.10.18 resigned 24.06.16
Alan Waller (Authority) 14.12.12 – 13.12.16 resigned 14.11.16
Mark Cryer (Parent) 03.11.14 – 02.11.18 resigned 10.07.17
Chris Padley (Parent) 04.10.16 – 03.10.20 resigned 06.10.17
Sarah Harris (Co-opted) 22.05.13 – 21.05.21 resigned 01.02.18
Chris Powell (Parent) 13.10.17 – 12.10.21 resigned
AK Governors Summary of Business Interest 2022/23
AK Governors Summary of Business Interest 2021/22
AK Governors Summary of Business Interest 2020/21
AK Governors Summary of Business Interest 2019/20
AK Governors Summary of Business Interest 2018/19
AK Governors Summary of Business Interest 2017/18
AK Governors Summary of Business Interest 2016/17
AK Governors Summary of Business Interest 2015/16
Letter from Rev Shirley – Foundation Governor / Harvest Service at Holy Cross 11:10:22
Governor summary and feedback for teachers March 2021
Contact
Please email: governors@ashtonkeynes.wilts.sch.uk
Minutes FGB 30th November 2017
Minutes FGB 24th November 2016
Minutes FGB 26th November 2015
Minutes FGB 10th February 2011
Minutes FGB 25th November 2010
Minutes FGB 30th September 2010