Reception
Welcome to Reception
Reception Annual Curriculum Overview 2019-2020
Term 1
Reception Term 1 & 2 Homework Brochure
Archive Posts
Reception Curriculum Annual Overview 2018-19
An Introduction to Phonics at Ashton Keynes Primary
Writing in the Early Years powerpoint for parents
Reception Term 5 & 6 Homework Brochure
Term 6
Reception Term 6 Summer Newsletter
Term 5
Reception Term 5 Summer Newsletter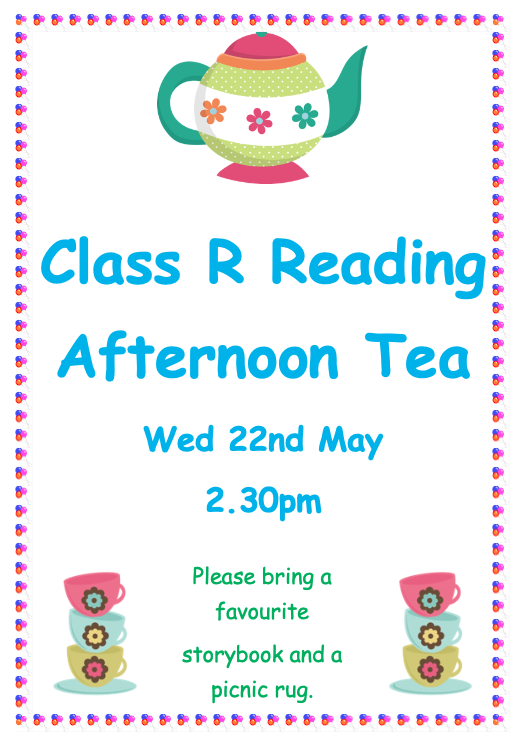 Term 4
Reception Term 4 Homework Brochure
Reception Term 4 Spring Newsletter
Dinosaurs took over our classroom when we came back from the half term holiday. We measured them, compared their sizes, learnt facts about them, and even opened a dedicated dinosaur museum.
We've learnt to double, halve and share and we have been learning all about the properties of both 2D and 3D shapes.
We've brought the roles of firefighters, nurses and doctors to life with visits from parents who do these jobs. The children loved hearing about what they do. Thank you to those parents who gave up their time to talk to us.
Term 3
This term we focused on the theme of storytelling. We learnt and retold the traditional tales of The Elves and the Shoemaker, The Three Billy Goats Gruff and The Magic Porridge Pot. 
It was really strange but we are sure there were elves in our classroom at night; they kept leaving us notes and making small items of clothing. They were a bit cheeky as well because they kept messing up the teeny tiny house we made them. We wrote to them about it and luckily they stopped!
We have started writing as a whole class and are getting brilliant at writing a sentence (or more!) We are also practising our letter formation in special handwriting books. By next term we hope to be experts at writing!
Term 2
This term we have made a great start to beginning to develop skills which will help us to learn to read and write. We've learnt how to say sounds, how to form letters, how to blend sounds to make words and how to write sounds to enable us to put our ideas on paper.
We have explored numbers to 20, recognising them, ordering them, counting objects and we have even been writing numbers!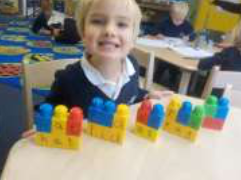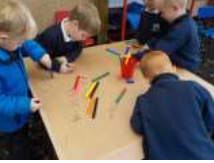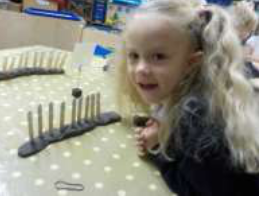 We have loved learning about space. We even had some alien visitors (well we think they were!) causing havoc in our classroom. Slime and messages were left which led us to realise that all they wanted was our help. We tried to make them a rocket so they could get back home