Reception
Welcome to Reception
Reception Annual Curriculum Overview 2021-2022
Reception Term 1 Autumn Newsletter
Class R have had a busy couple of terms (3&4) enjoying their learning through the themes of Winter wonders, Once upon a time and An egg is quiet. We were out and about in the village in January enjoying the crisp, sunny weather on our winter walk.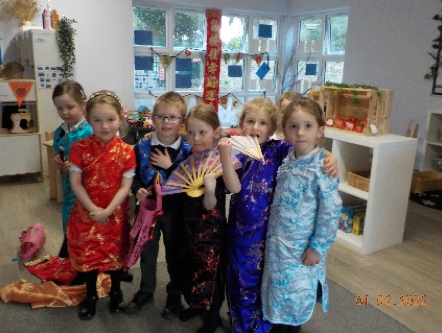 Celebrating Chinese New Year was a highlight for us with dancing, dressing up and a wonderful Chinese banquet. We learnt all about the traditions and festivities associated with this festival.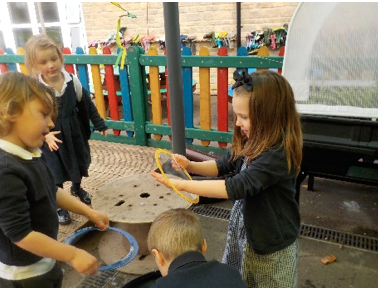 We had great fun exploring and experimenting with bubbles during science week.  We created bubbles of all shapes, sizes and colours and investigated which bubbles lasted the longest.
Unfortunately, the Evil Pea has been up to his usual tricks creating havoc in the classroom, hiding and freezing our vegetables and leaving us cheeky letters.  Luckily Class R came to the rescue, and laid traps to catch the Evil Pea. We decided to blitz him into some yummy pea soup, he certainly won't be bothering us again!
Term 2 in Class R has been filled with light and dark. We started off learning about Diwali, the festival of light, and then celebrated bonfire night with a spectacular display that many of us attended and thoroughly enjoyed.
Our space theme was fantastic and we found out lots about the moon, the stars and the planets. Just like baby bear in Jill Murphy's story, 'Whatever next', we made our own rockets and travelled all over the galaxy! Some of us spotted a few aliens lurking around our classroom and some made it to our homes as well.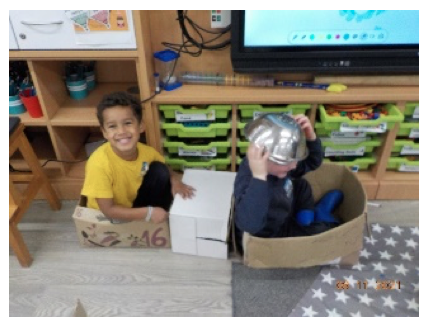 Home learning has been a feature this term and we thank you for your support with this. We are pleased to see all children and staff in Class R fit and well again.
We've enjoyed our Forest school sessions and especially loved our first pond dip!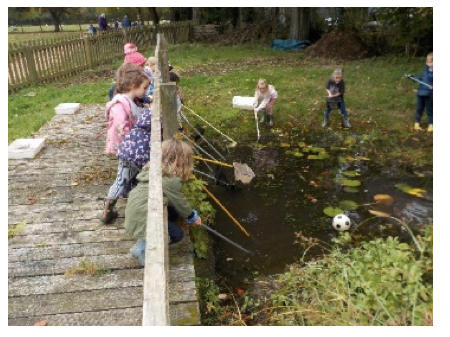 Learning the songs for both iSingPOP and our nativity has been great fun and we look forward to the iSingPOP concert when it happens.
We hope you enjoyed our nativity; it's always a highlight and we were so pleased to be able to share it with you as a 'live' event.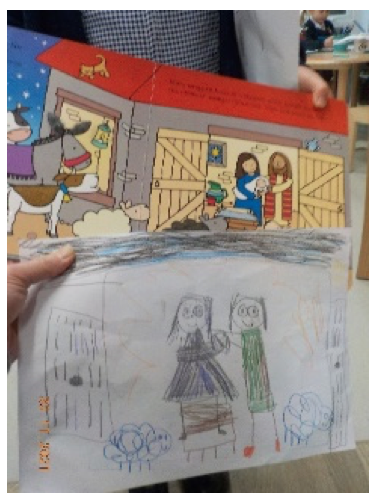 The children took part in their first school trip with a visit to the pantomime which hopefully all have recovered from! It was a fabulous experience and Class R did us proud.
On top of all these amazing experiences the children have been making great progress with their learning. We are especially proud of the steps they have taken in beginning to become readers. It is a fundamental aspect of their learning and we are really pleased with their achievements so far.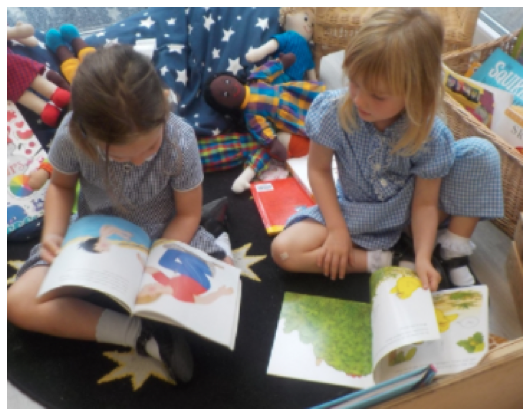 ARCHIVE POSTS 2020-21
Reception Annual Curriculum Overview 2020-2021
Our lovely new learning environment: