Shining Brightly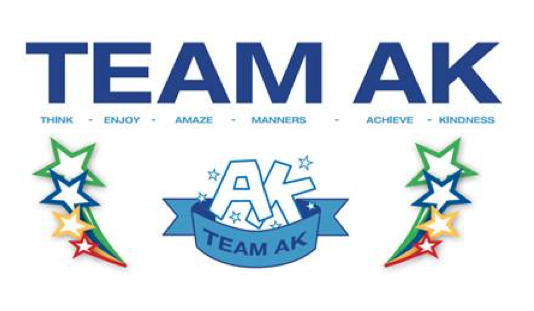 At AKPS all children have the opportunity to shine brightly in many ways. 

Every time we have a sharing assembly a group of children from each class tell or show something which they can celebrate with the rest of the school! This maybe linked to some learning or awareness of others, a sporting activity or an achievement which has been received out of school. There are a huge variety of activities which our children are involved in and are shining brightly,  it is good for achievement to be recognised.

Each week the children have the opportunity to shine within school and this is recognised with merit awards which the children are so very proud to receive:
Class merits – for special achievement in class awarded weekly by the class teacher
Lunchtime merits – for excellent indoor behaviour,  excellent outdoor behaviour and excellent manners during lunchtime awarded weekly by the midday supervisors
Mathletics merits – For a child in each class (year 2 upwards) awarded weekly by maths subject leader Mrs Voss
Special merits – Special effort and achievements are also celebrated and recognised, this could be for example the School Choir – awarded by Mrs Crowley, Sports merits – awarded by Mr Tanner, and learning merits awarded by the respective TAs. We even have Breakfast Club merits for tasting new foods.
Golden Headteacher merits – These extra special merits are awarded by Mrs Saville at the Heroes and Heroines parents and carers sharing assembly at the end of each term.
Value stars – Children may also earn a 'value' star. All the stars are displayed in the school hall with their name in the center.  To earn this the children must have shown a special value such as friendship, generosity, trust.
Star Badges – 
All of the children are working hard on a special challenge to earn their star badge and become a Learning Ambassador. They have to show 10 learning behaviours in order to achieve their star including: perseverance, listening to others, challenging themselves. Everyone is working very hard to earn their 10 ticks. Come on Team AK, your special stars are waiting for you!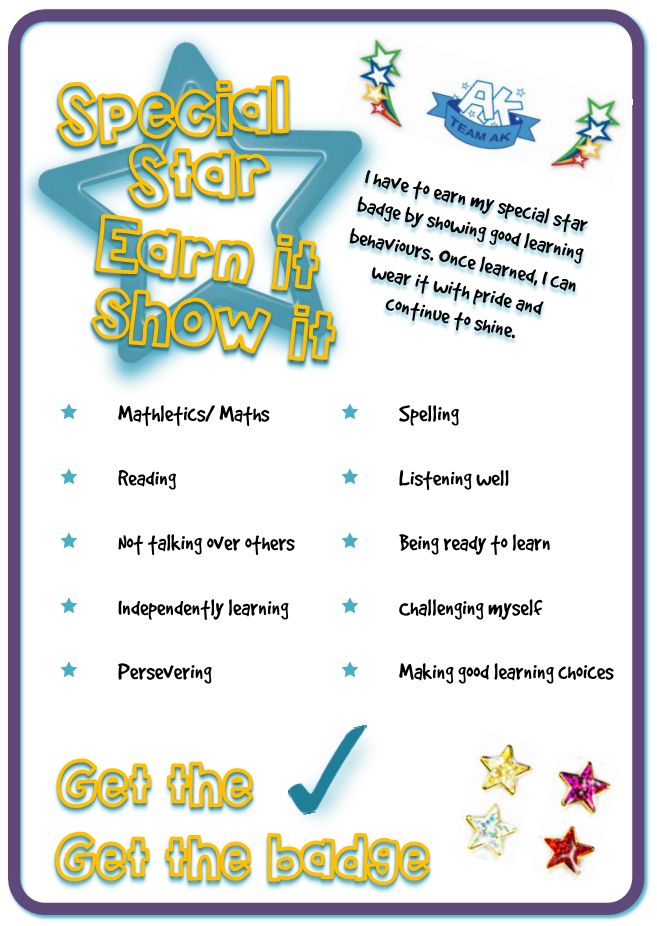 Children can also work towards earning their Green Forest School star badge, their Blue PE star badge and their Orange wellbeing star badge.