Class 3
Welcome to Class 3
Class 3 AKPS Annual Curriculum Overview 2020-2021
Term 3
Watercolour Paintings
We followed a tutorial using watercolour paints to create a sunset effect.  We learnt about the 'wet on wet' technique that allows colours to blend into one another and the 'dry on wet' technique that gives a more defined finish.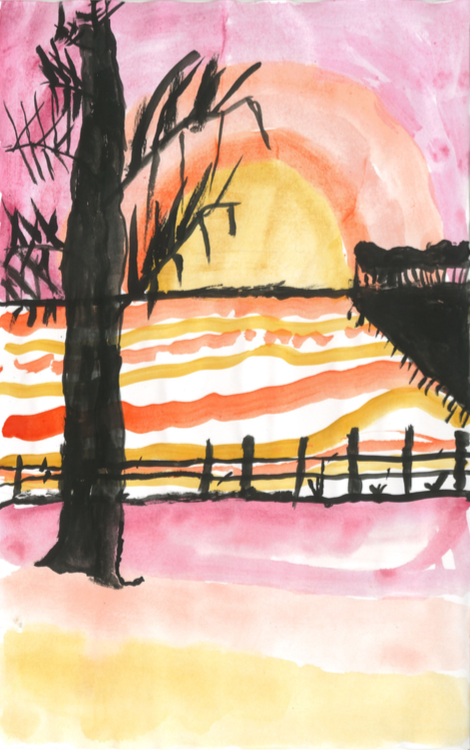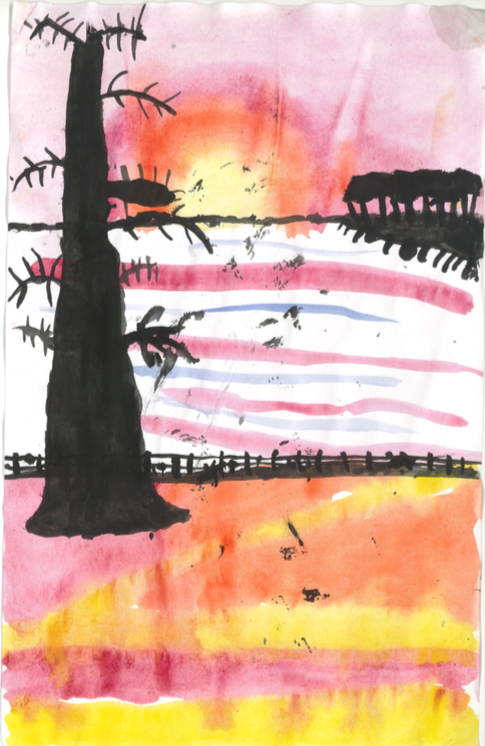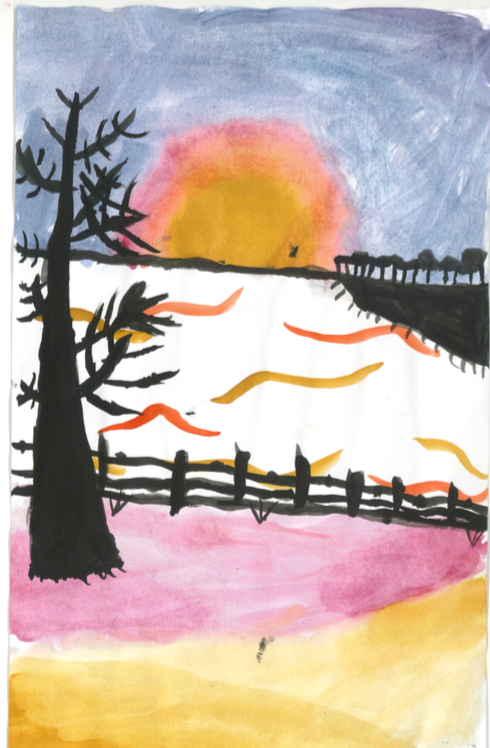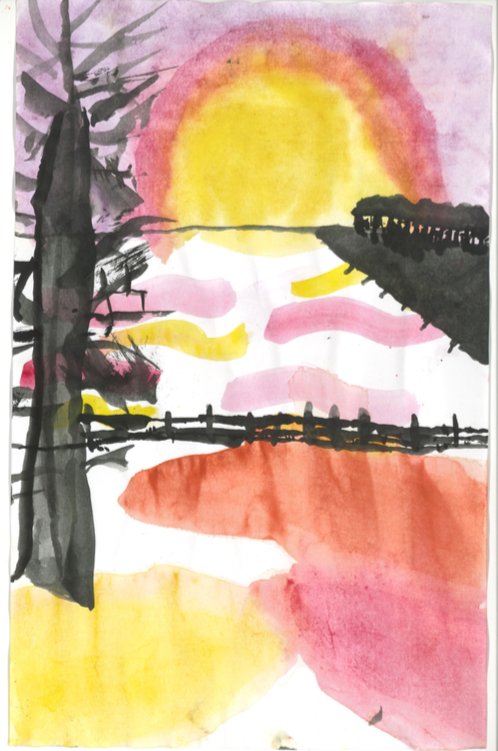 Peculiar Pets
Both in school and at home, we have invented our own peculiar pets.  Our pets could either be a real animal that wouldn't normally be kept as a pet, or a hybrid of two different creatures.  We have been challenged to include similes, imagery and onomatopoeia to help the reader to really imagine what our peculiar pets are like.
We hope you enjoy reading Felix, Poppy and Ella-Louise's poems.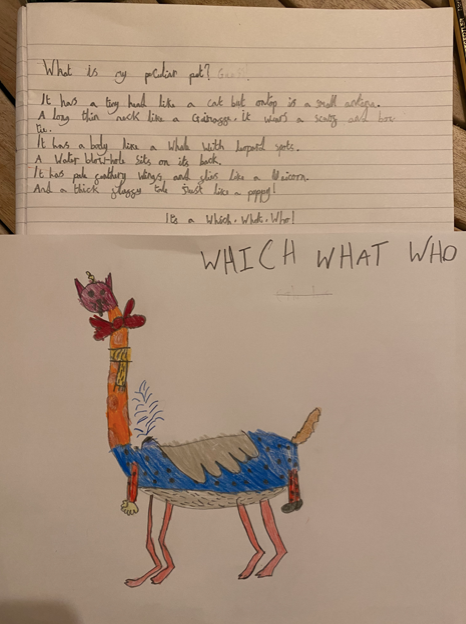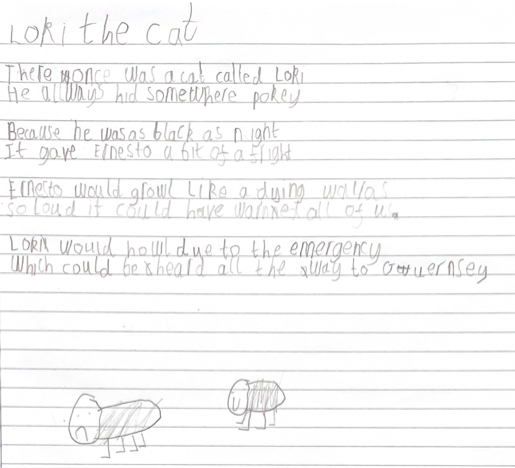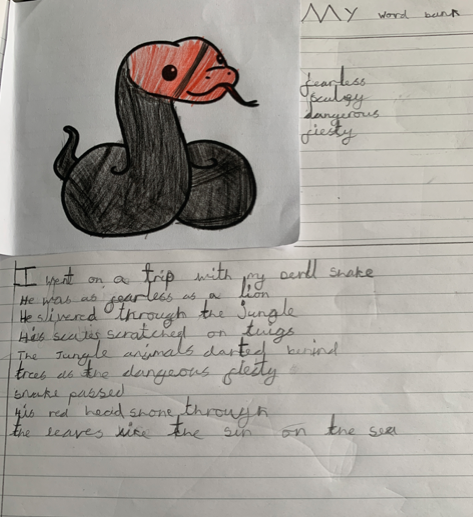 Term 2
Class 3 have thoroughly enjoyed this term!  We learnt about how Hindu's celebrate Diwali.  We made rangoli patterns with rice and wrote newspaper reports to recount the celebration.
In music we've been learning to read music and play the glockenspiel.  It's been great fun playing duets and learning new songs!
As part of our Geography learning about the water cycle, we found out about how water is filtered.  It was very exciting making our own filters and testing them!
Term 1
ARCIVE POSTS 2019-2020
Class 3 Autumn Overview Planner 2019-2020
Class 3 Term 5 Remote Home Learning Timetable & Website Links
Class 3 Term 5 Afternoon tasks
Term 6
Class 3 have shown an excellent attitude to their learning whilst working from home. Since lockdown, we have have held weekly Zoom quizzes which have been prepared and hosted by a variety of Class 3 quiz masters! Topics have ranged from Egyptian Gods, animals, Roald Dahl, Horrible Histories, sea life and more! Miss Redman has scored quite poorly in most of them!!
We have learned about Ancient Egypt throughout the summer term and our English has been linked to this. The children have written stories, poetry, recounts, setting descriptions, instructions and even mummified tomatoes! The quality of the work has been fantastic – take a look at our Class 3 web page to see examples of the wonderful work.
Children have also undertaken their own projects and taken their learning in directions they are interested in. We have received poetry recitals, play scripts written and performed by the children, newspaper reports, crosswords, art work, sports challenges, computer coding and much more. The motivation to learn has been fantastic!
It has been lovely recently for the children to visit school on Tuesdays and see each other. Last week the children created portraits of their friends and we had fun trying to identify who was who! Miss Redman was pleased with her artwork but was grateful nobody sketched her!
Through Zoom lessons and Showbie we have kept the learning going and have been very proud of the hard work and excellent attitudes the children have shown. They definitely deserve a rest now, ready to return in September. Thank you children and parents for making this tricky time such a positive one. Your support has been much appreciated.
Enjoy the summer
Miss Redman x
Class 3 have been writing acrostic poems with an Egyptian theme. Here are three super examples from Flora – Golden Sands, Darcy – Pyramid and Livvy – River Nile. They have worked hard to describe their chosen theme well and have used impressive vocabulary choices.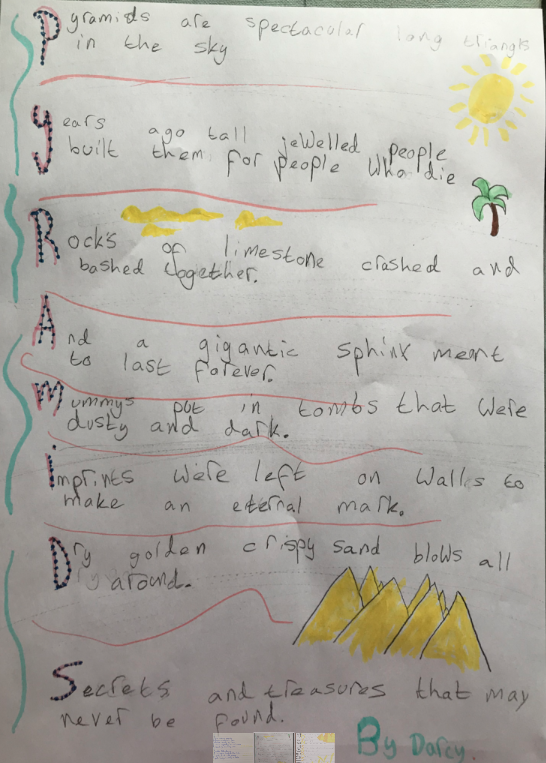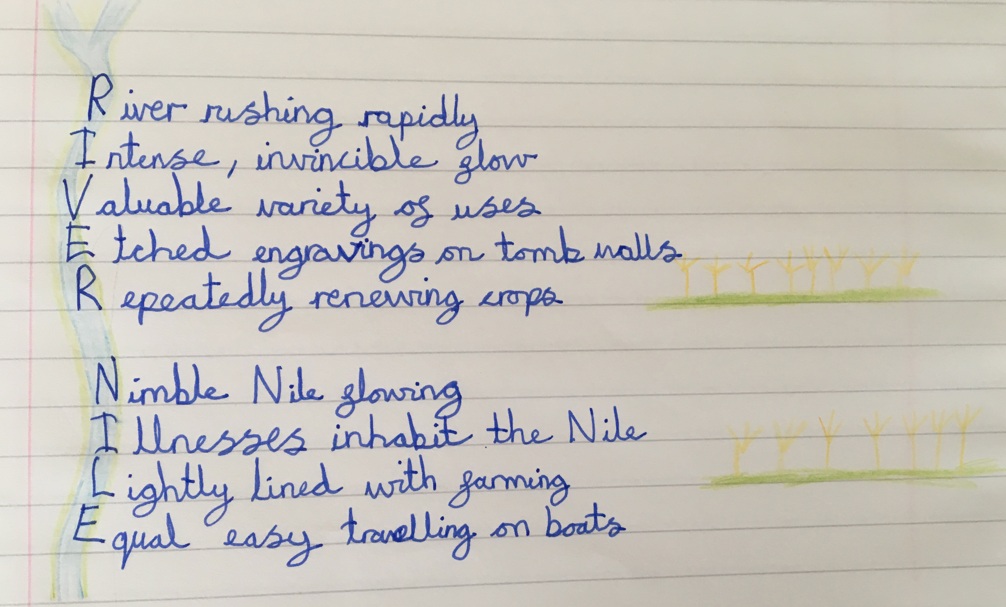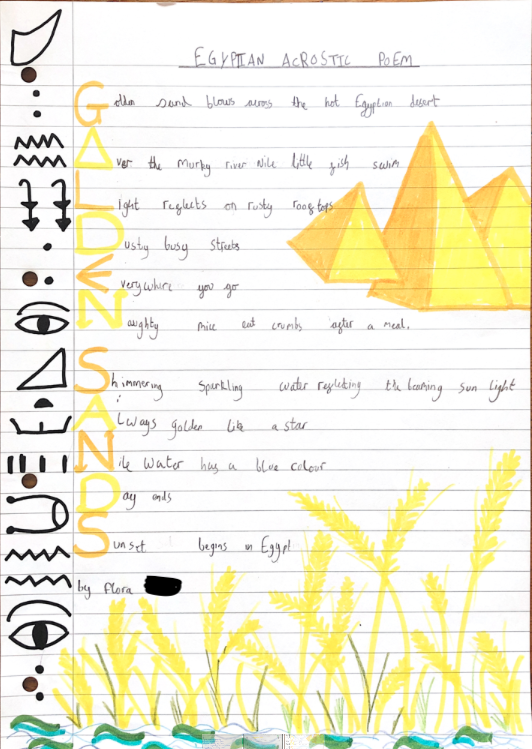 Class 3 have been learning about 3D shapes as part of their geometry topic. They have learnt to visualise faces, edges and vertices and have made shapes from nets and using modelling materials. Here are some super examples. Can you spot the cube, cuboid, triangular prism, square based pyramid, sphere and tetrahedron?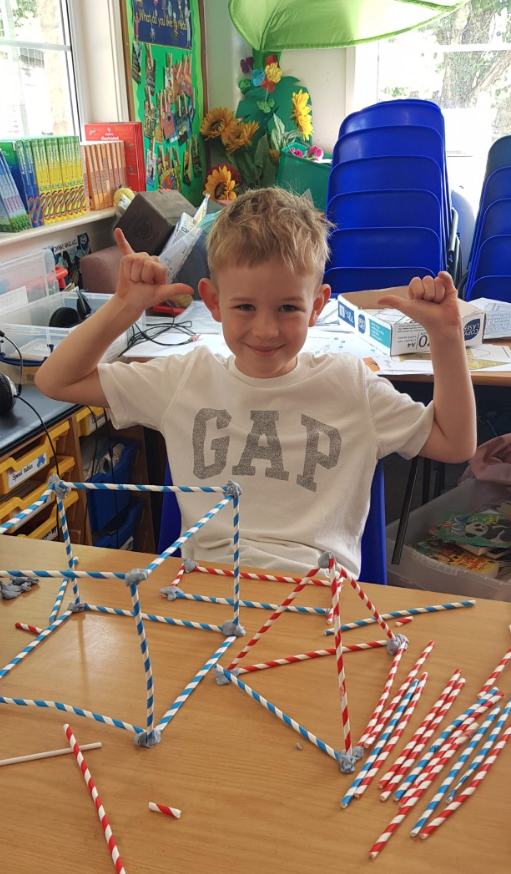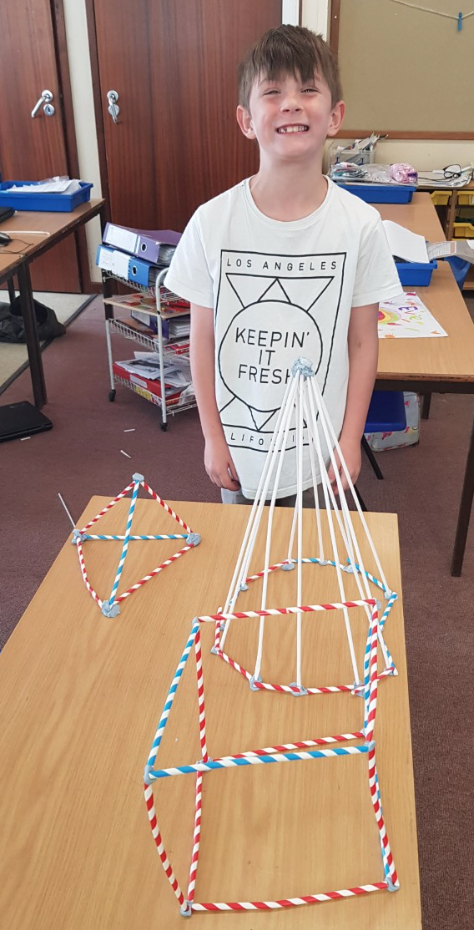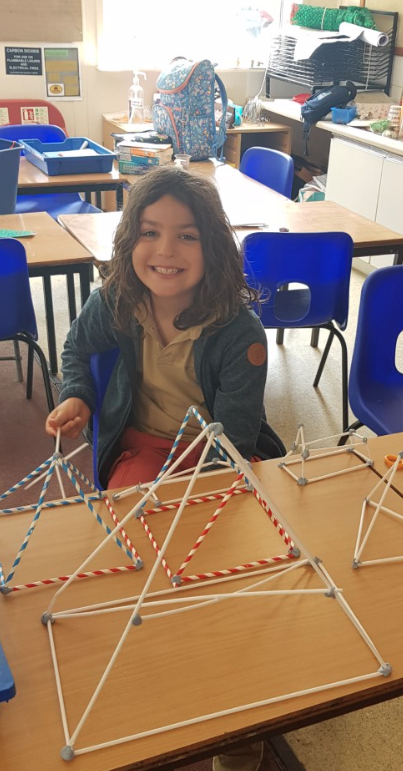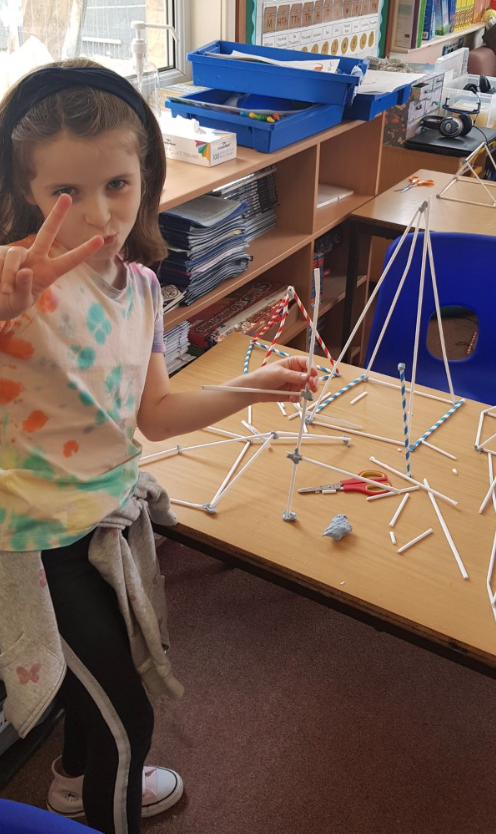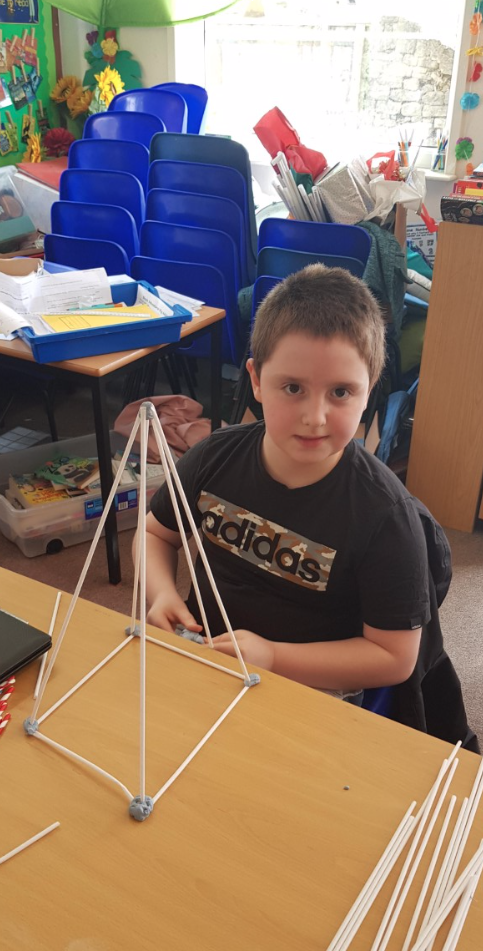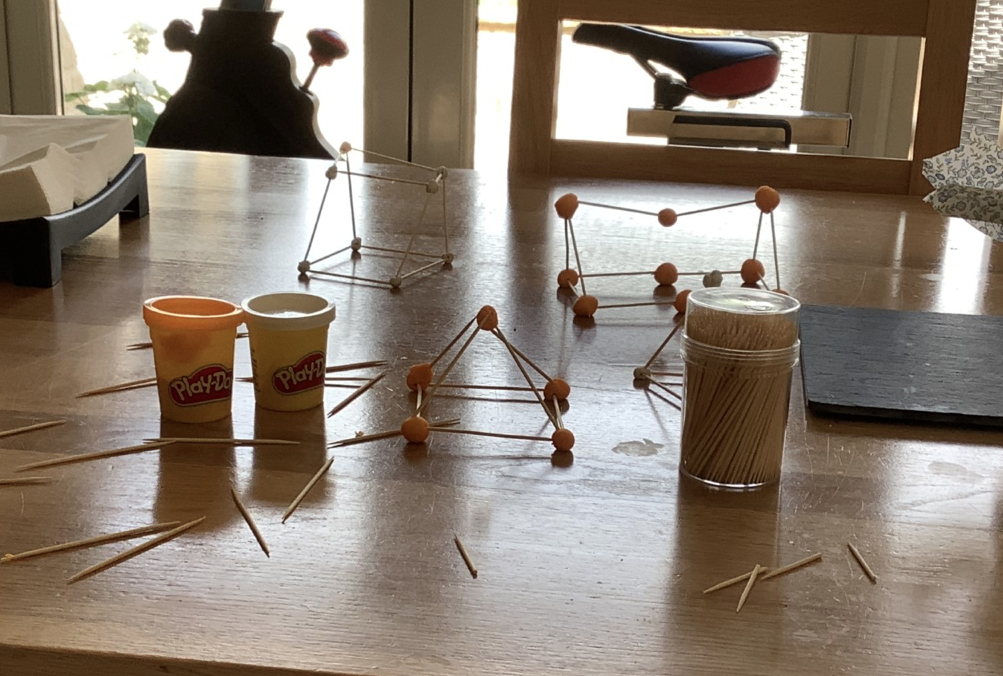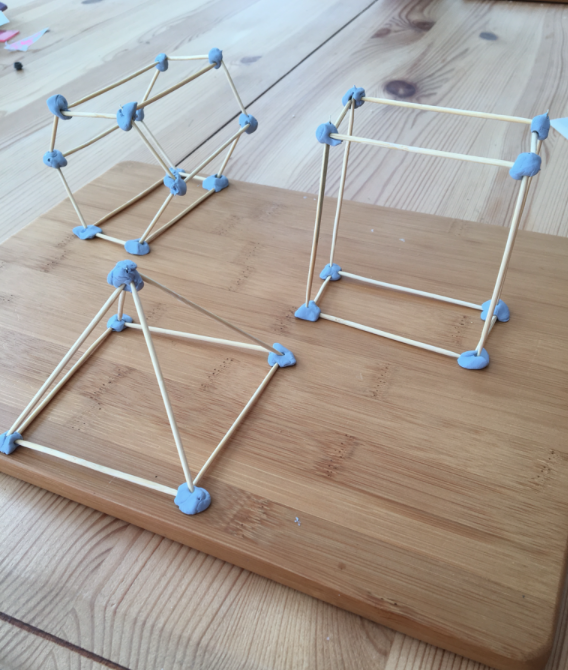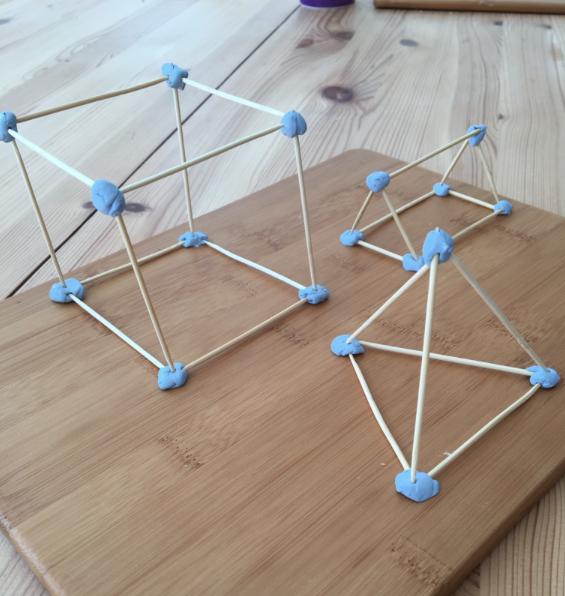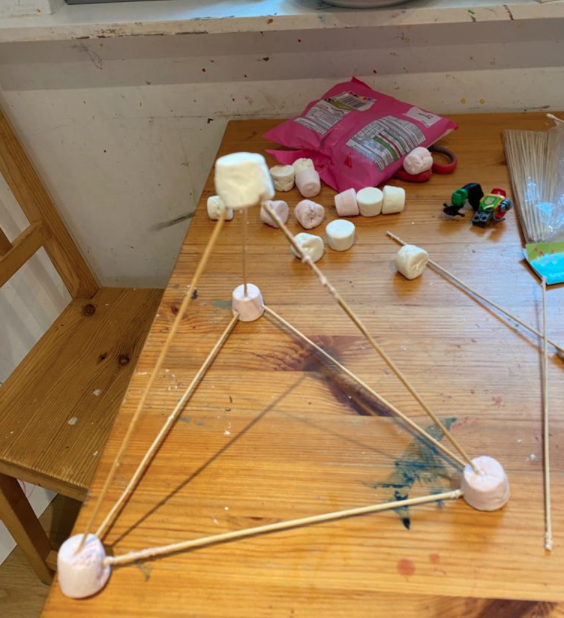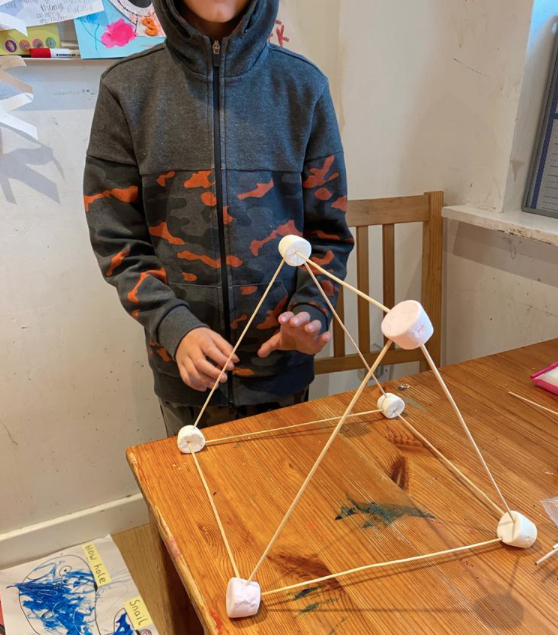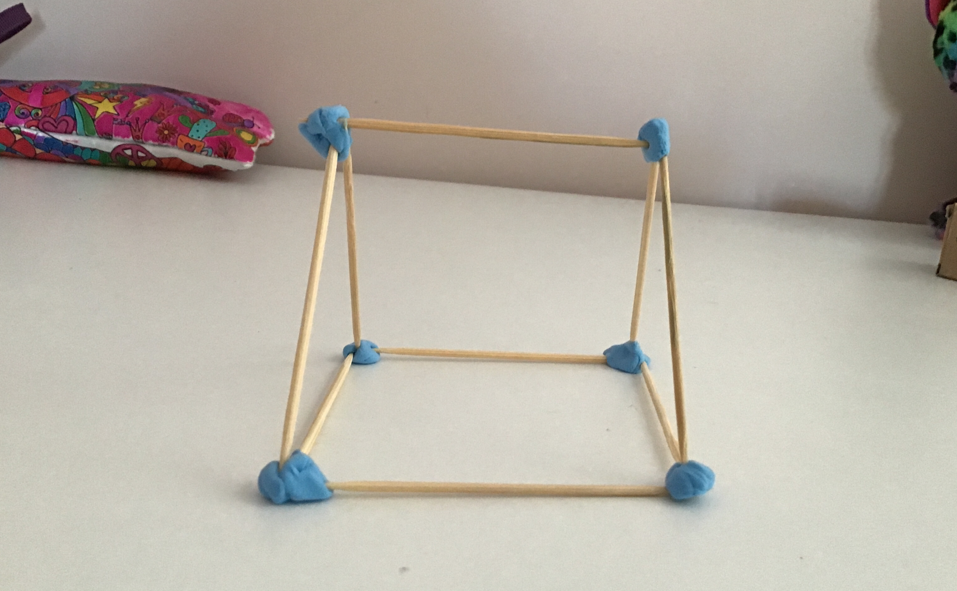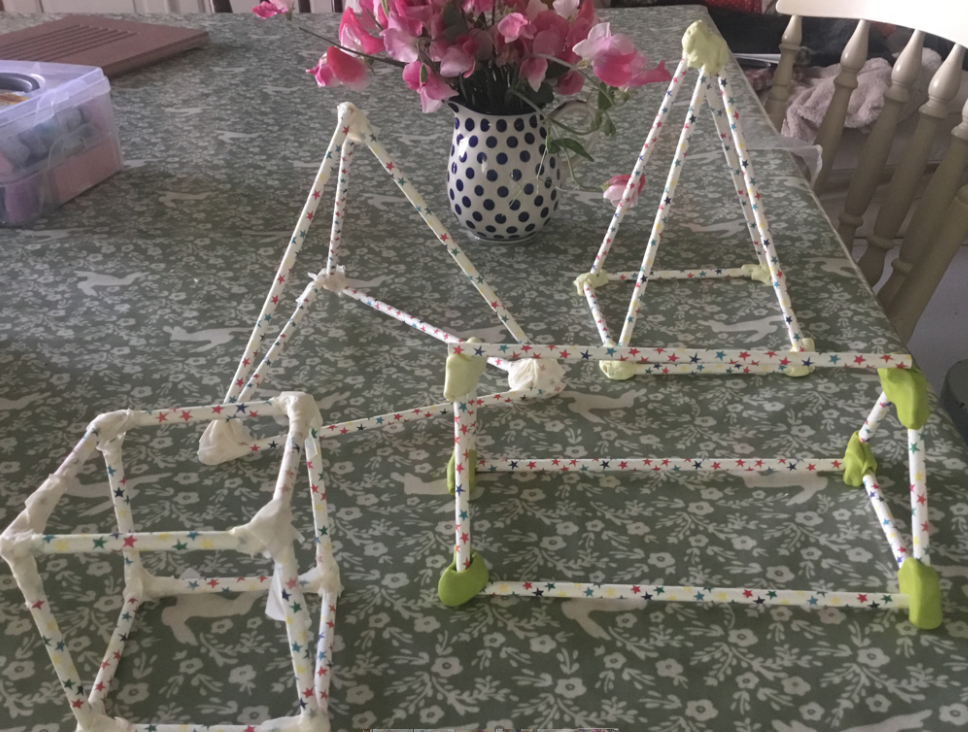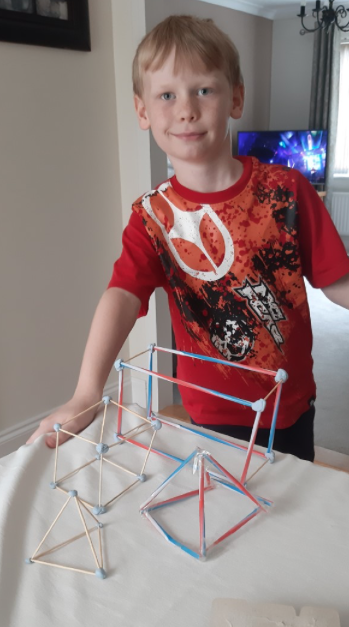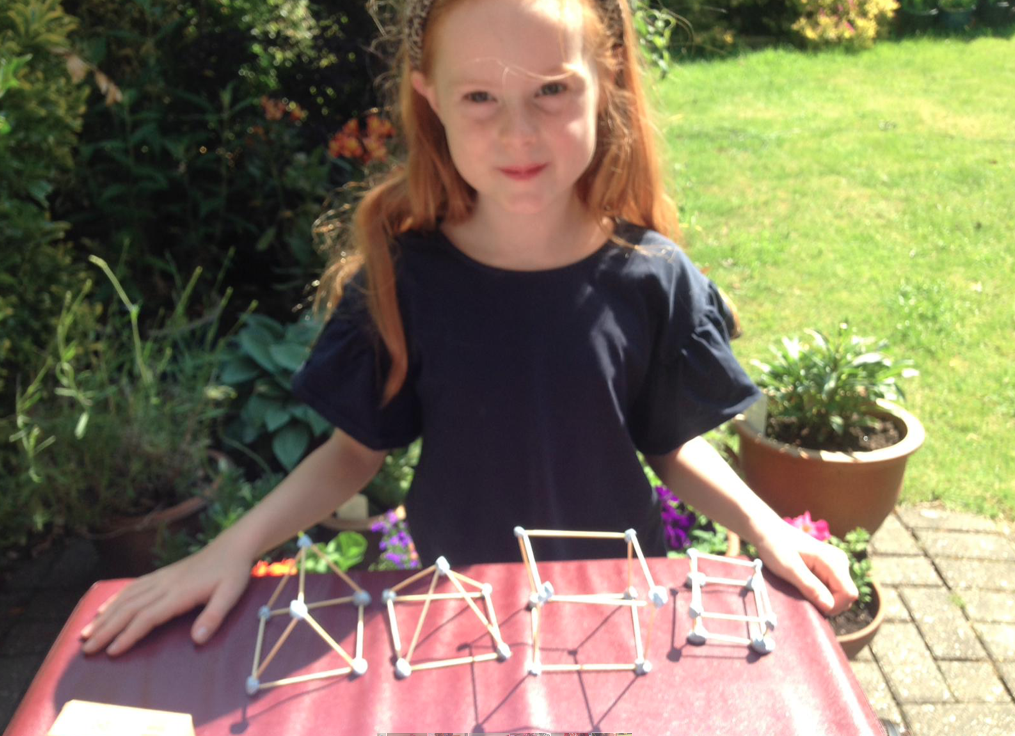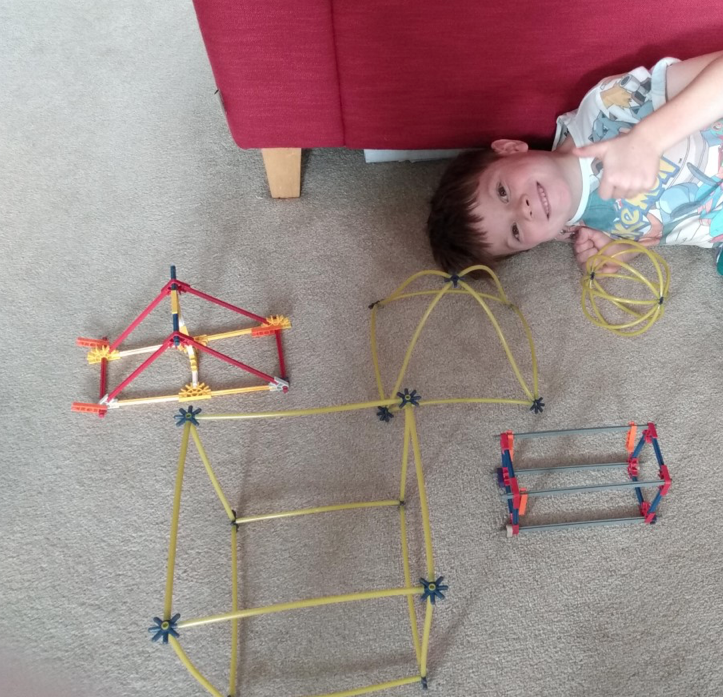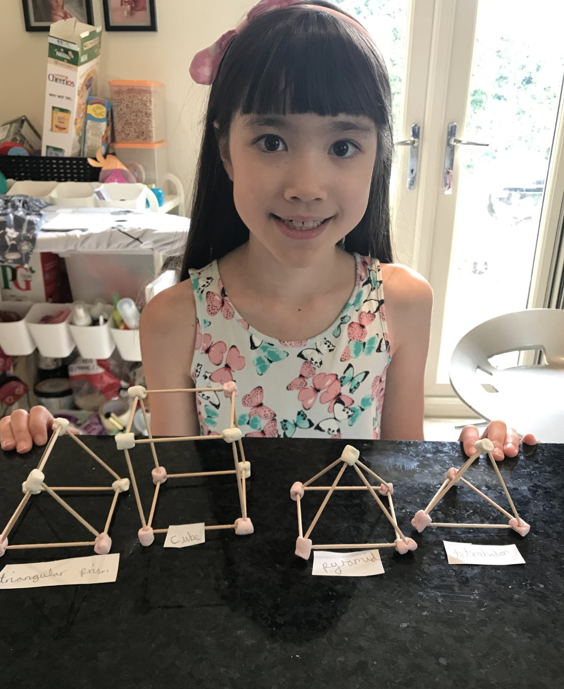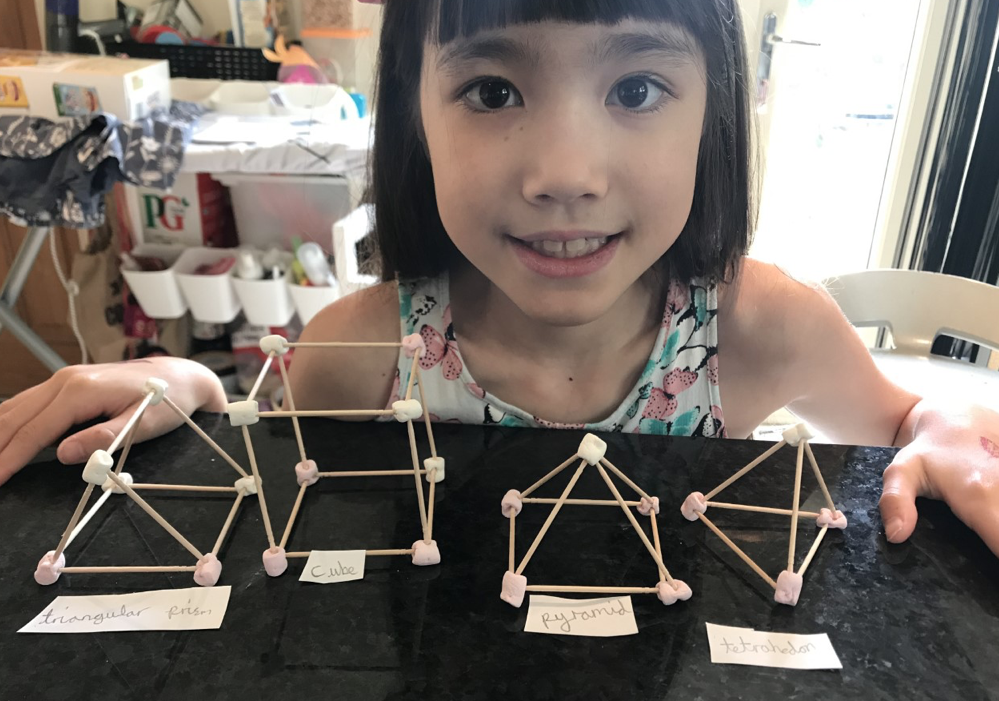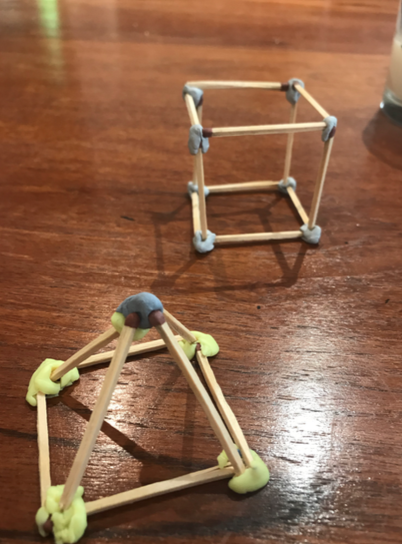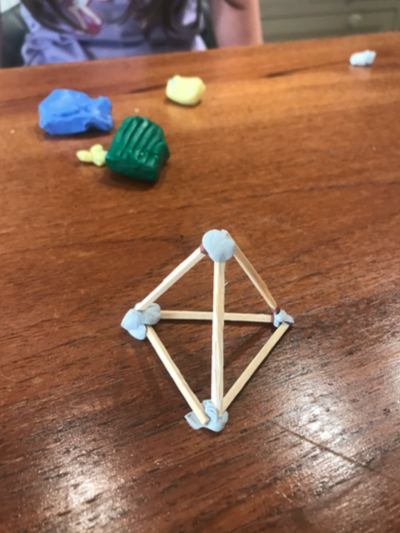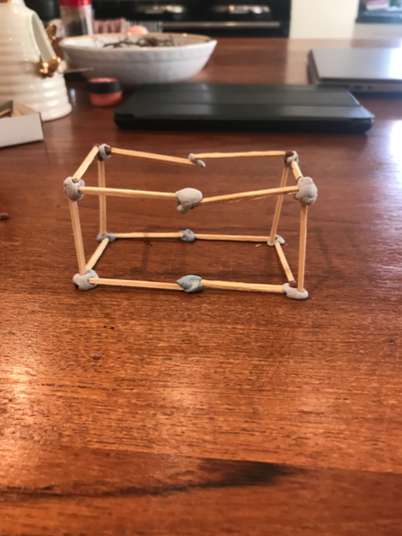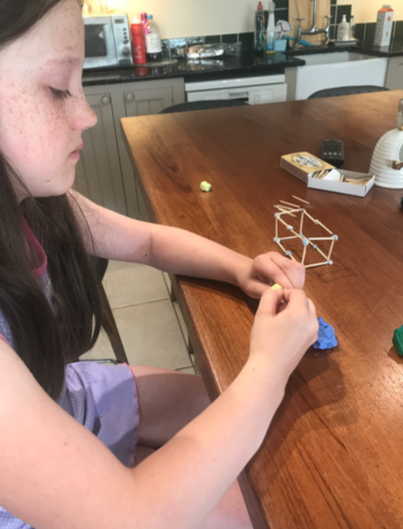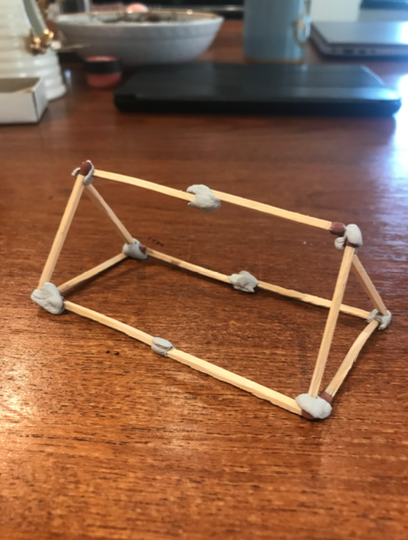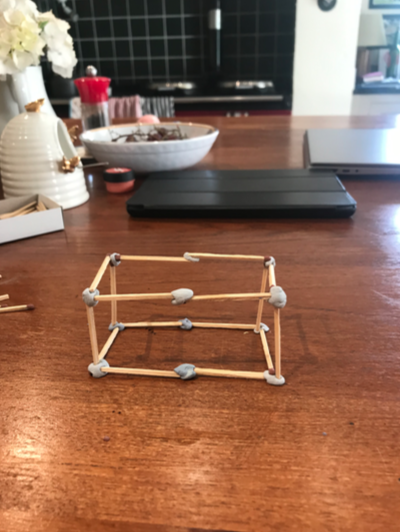 Class 3 have been continuing to learn about life in Ancient Egypt. This week they have learnt about the features of non-chronological reports and developed their note taking skills so that they could research an aspect of Ancient Egypt for their NCR and write it using their own words. They have done a brilliant job and there are lots of fascinating facts to discover – including how marshmallows got their name! Here are some of the NCRs produced by Helena, Livvy, Iris, Arthur, David, Flora, Nicole, Jemima and Mehna.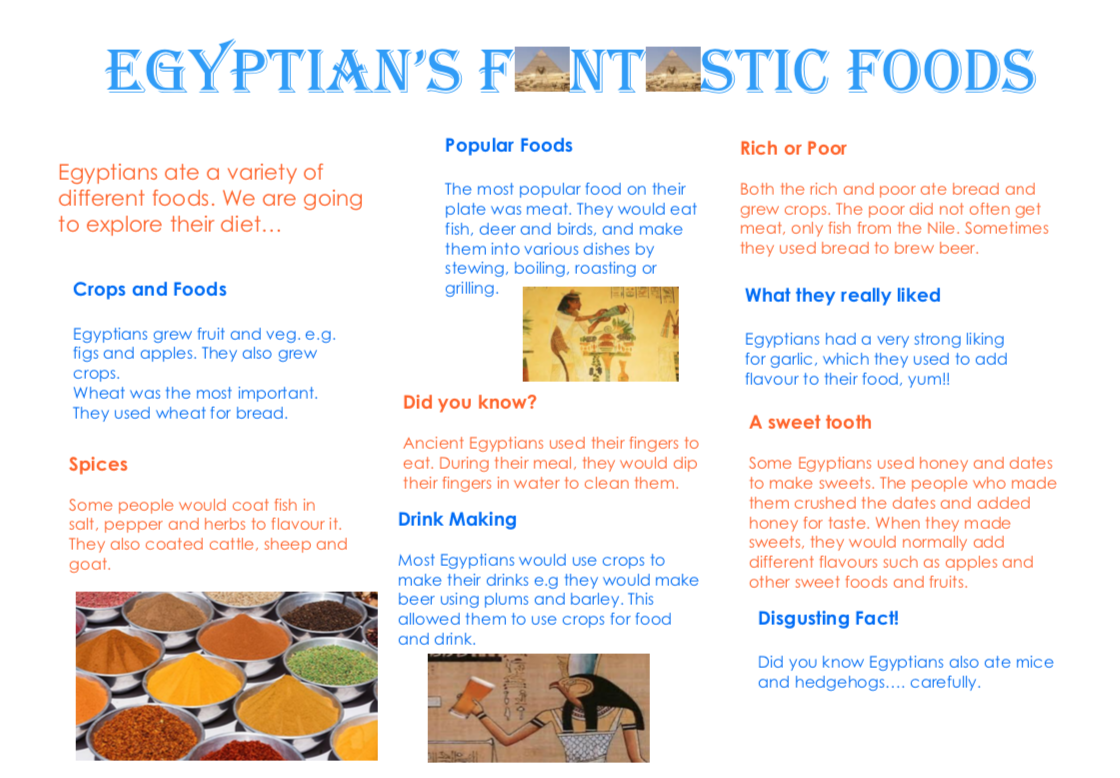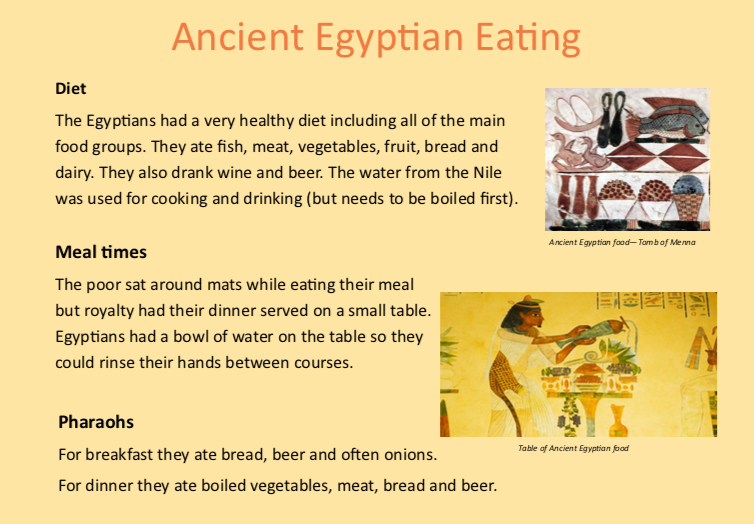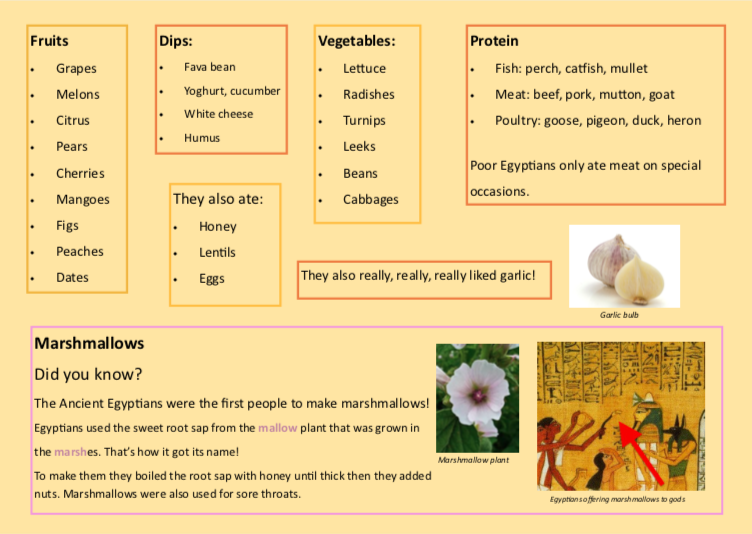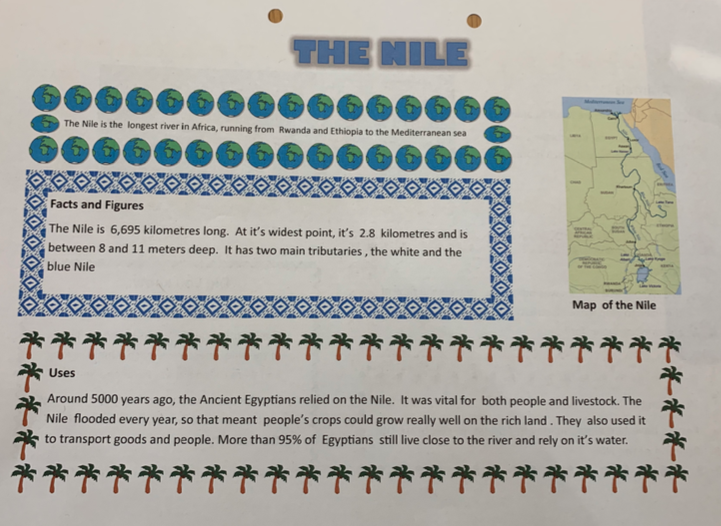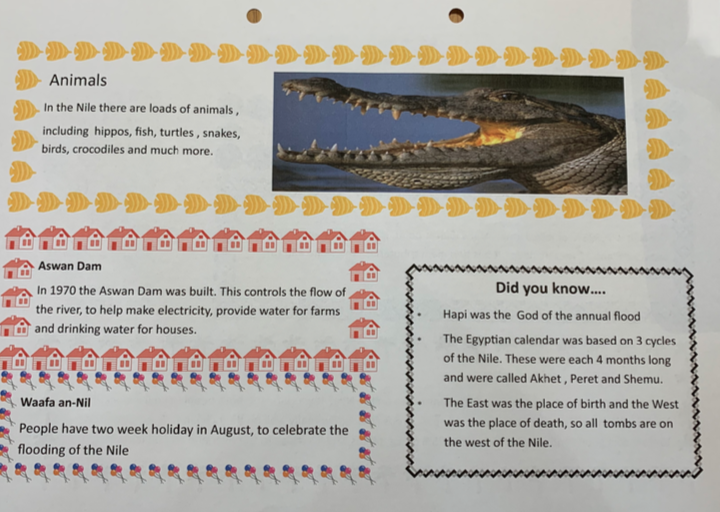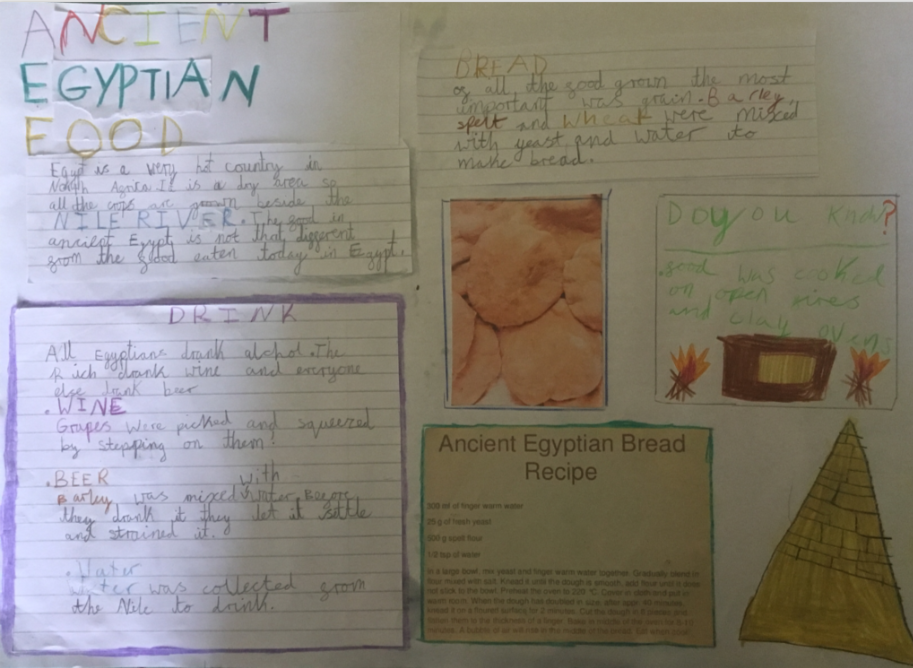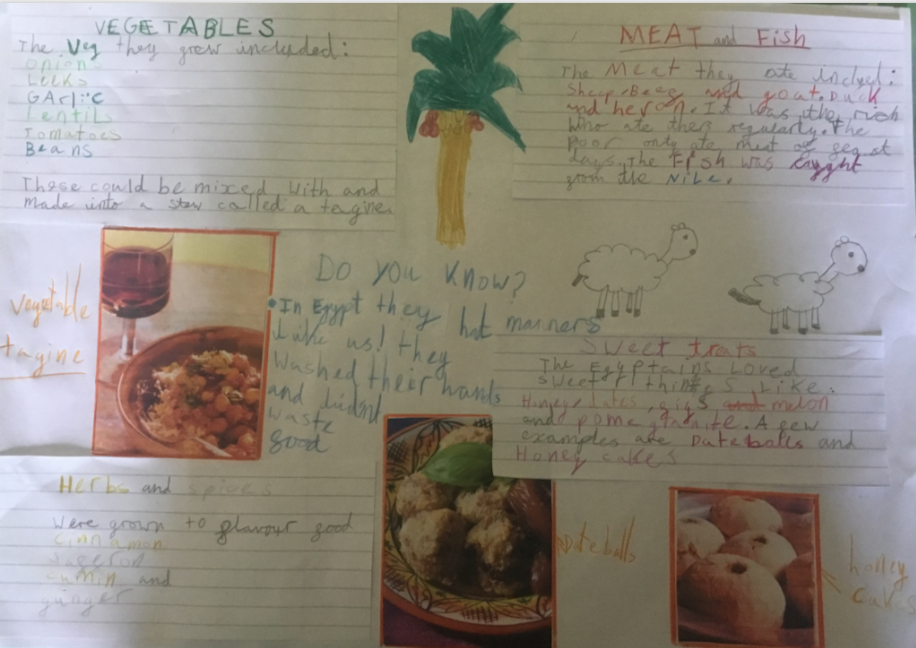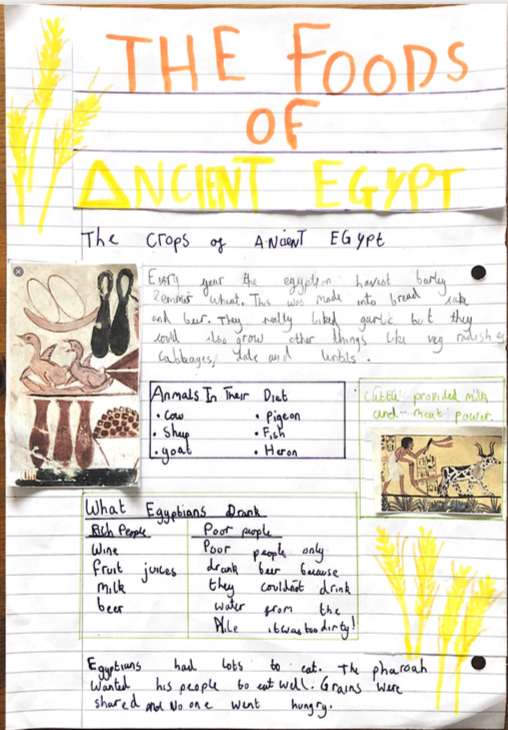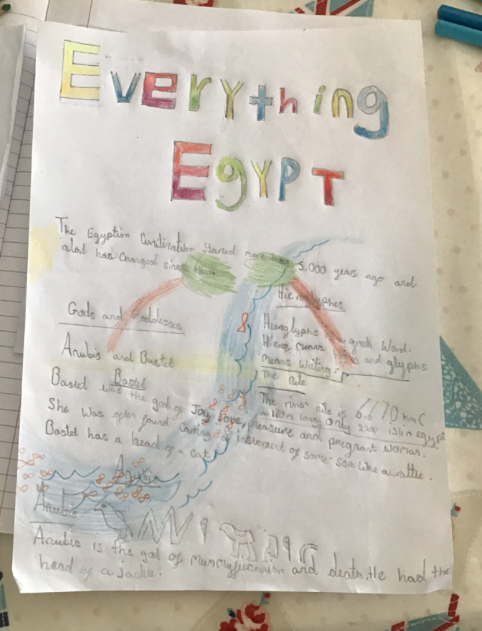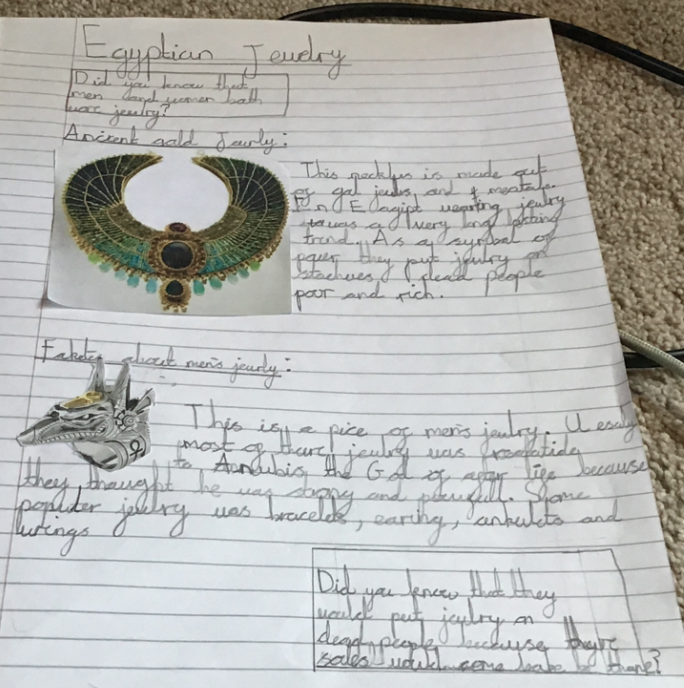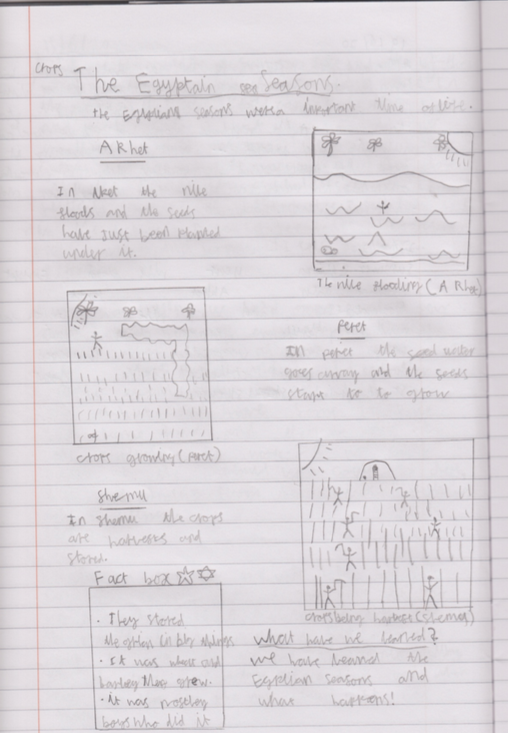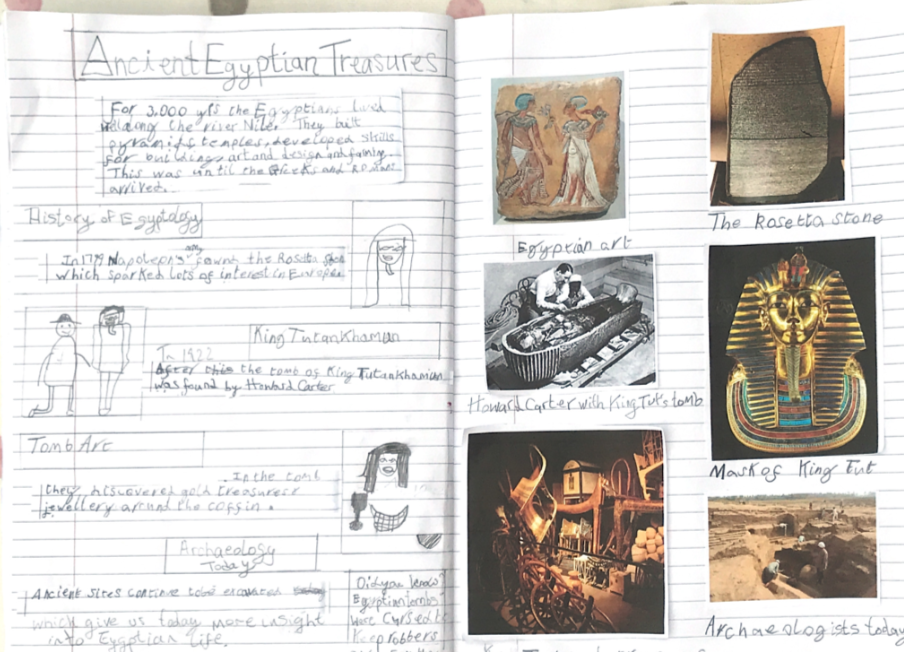 Class 3 have been making Egyptian themed crafts. They have then written and published instructions explaining how to make their item. Have a look at the fantastic work they've produced. I think you'll agree it looks very professional!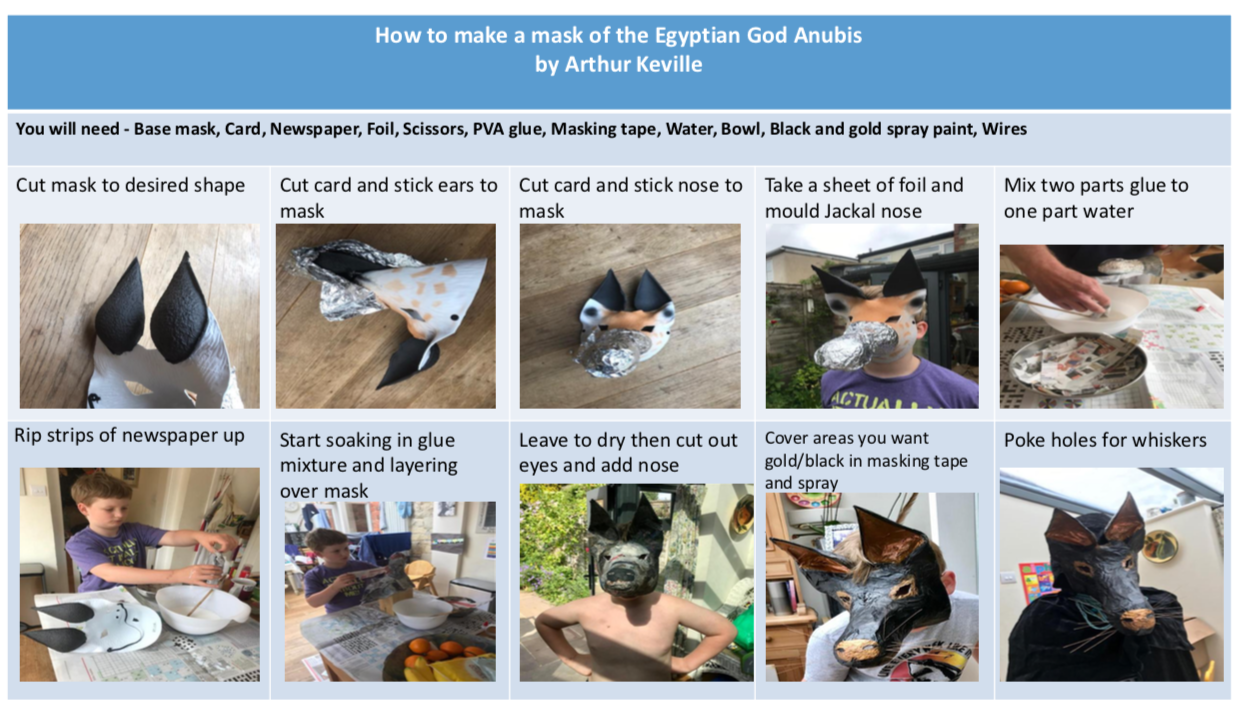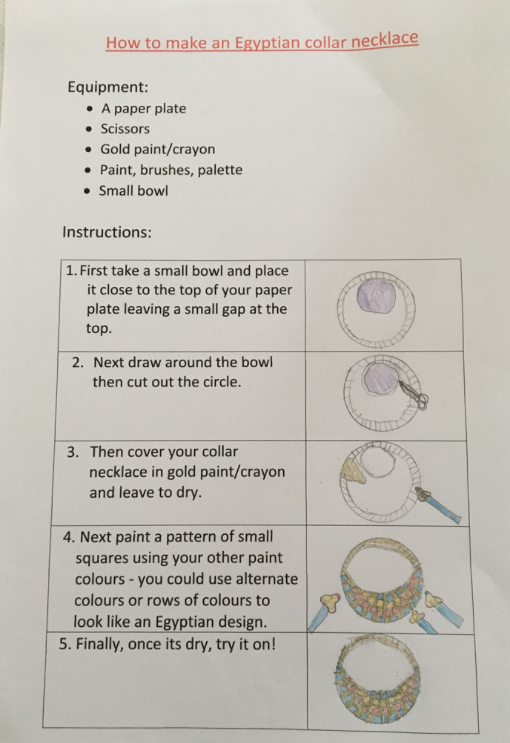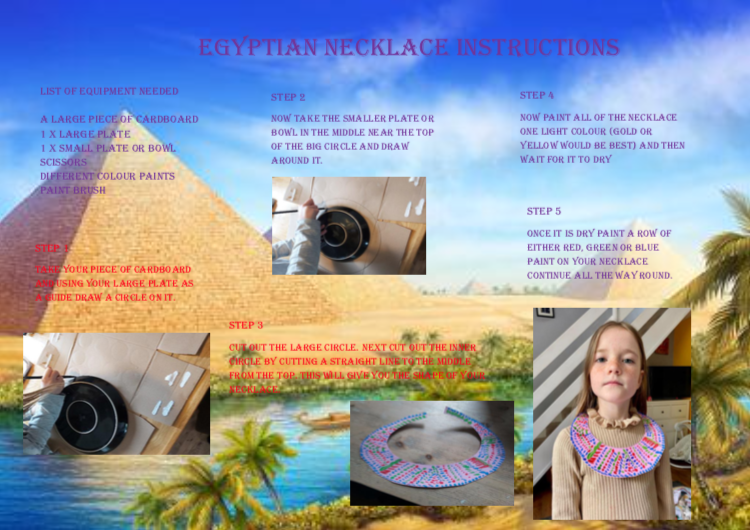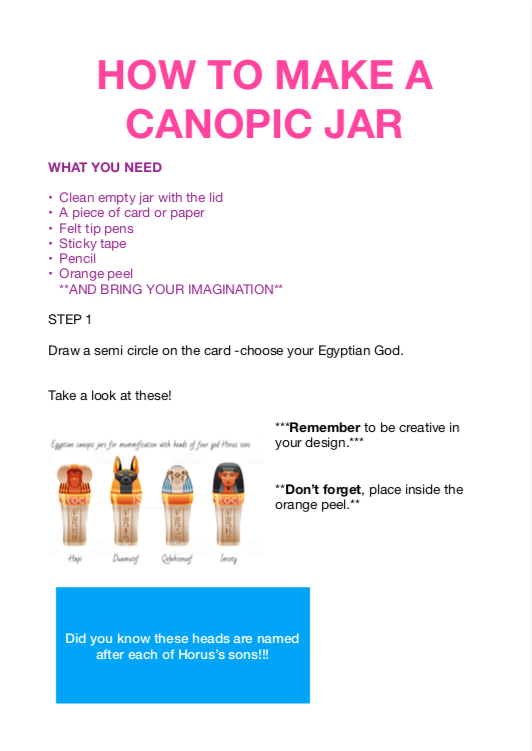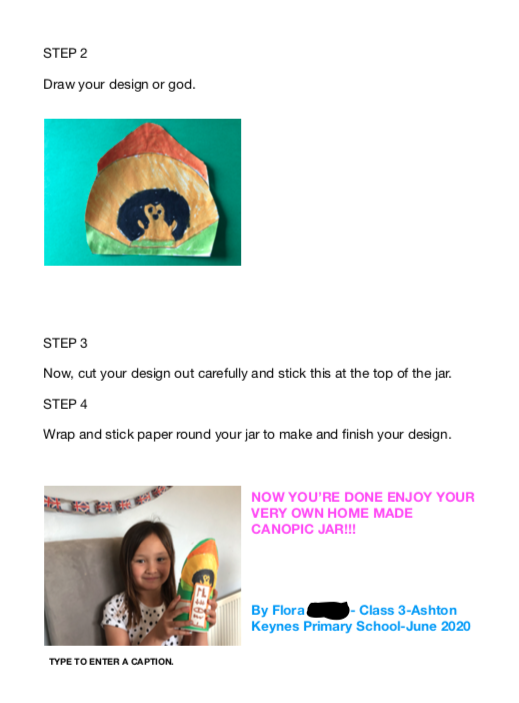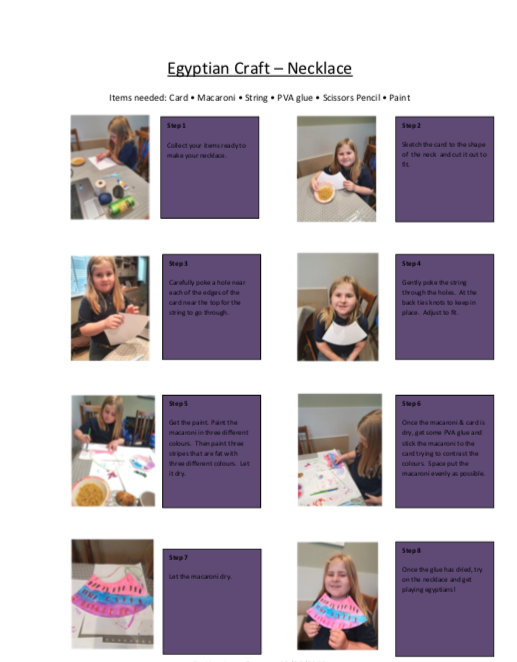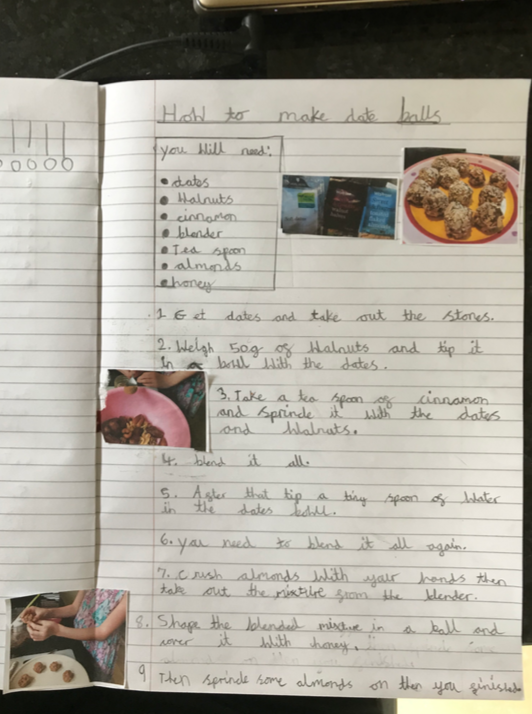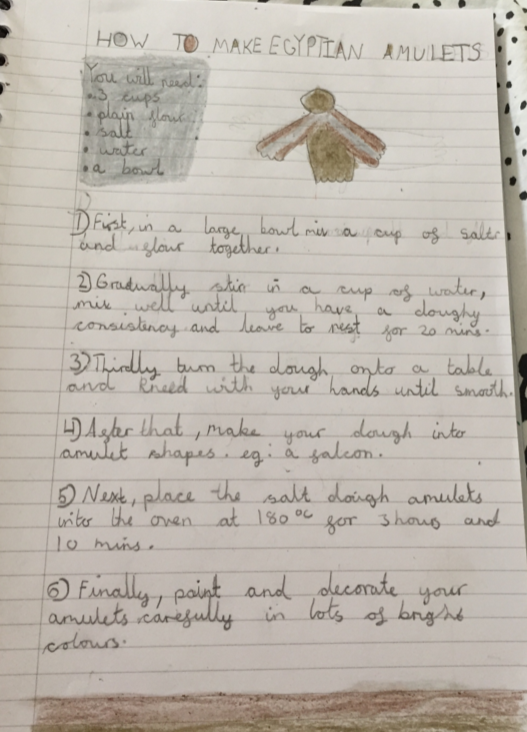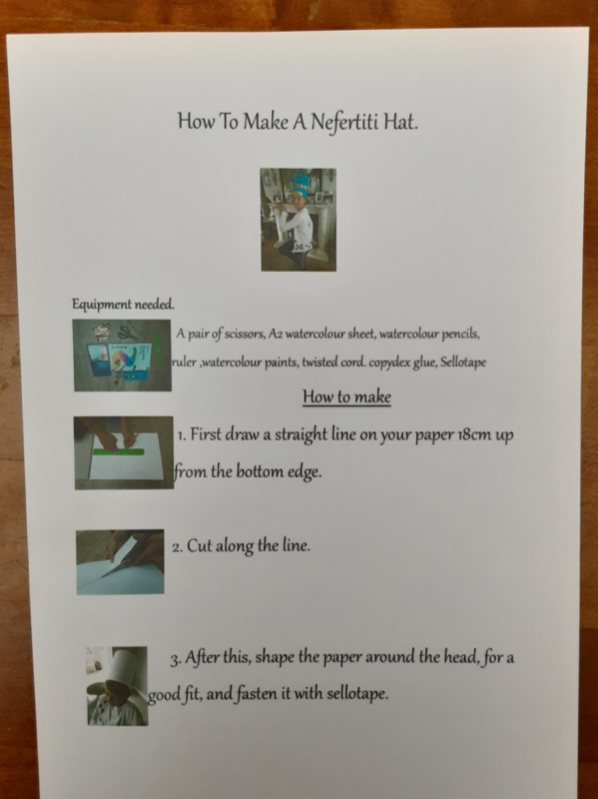 Class 3 have been making Egyptian themed crafts. We have Egyptian necklaces, canopic jars, A Nefertiti inspired hat, Egyptian sweet treats and a mummified Barbie and sarcophagus!! Ivor has even designed his own Egyptian themed game! Next the children will write instructions explaining how to make items they made. Here are some pictures of their crafts.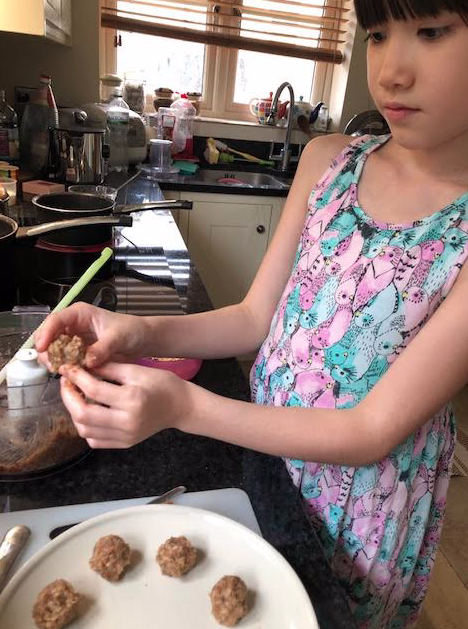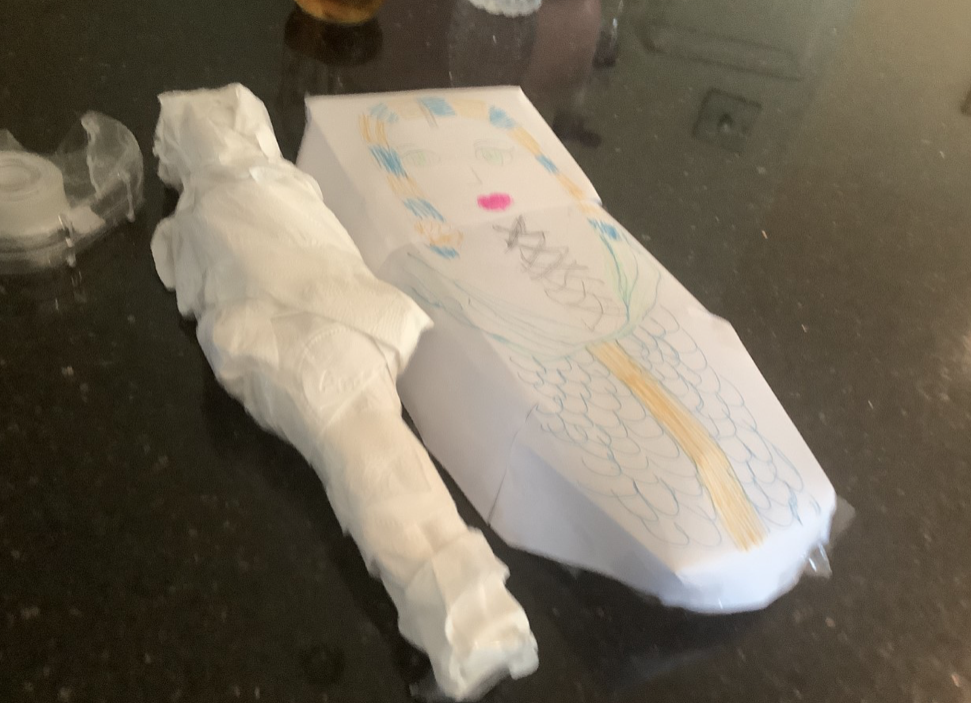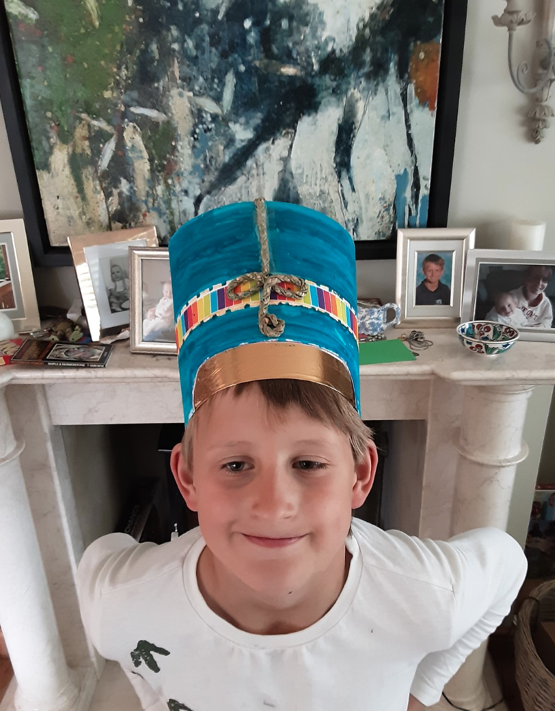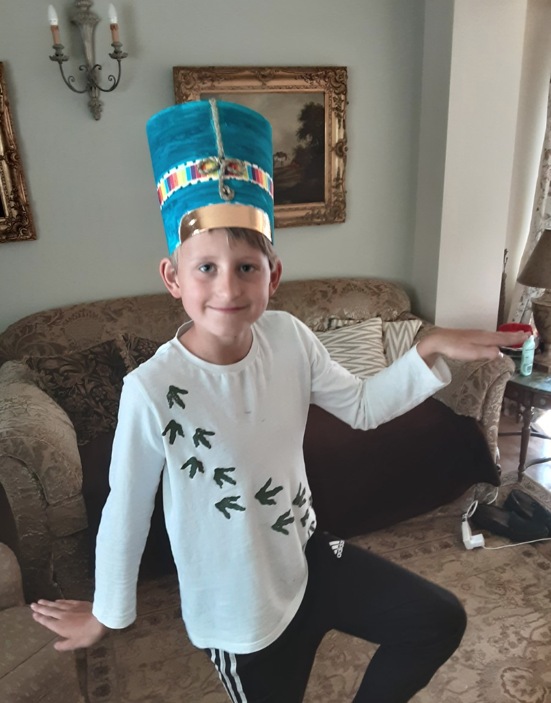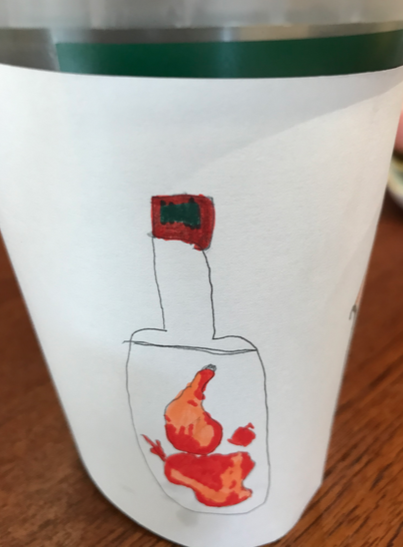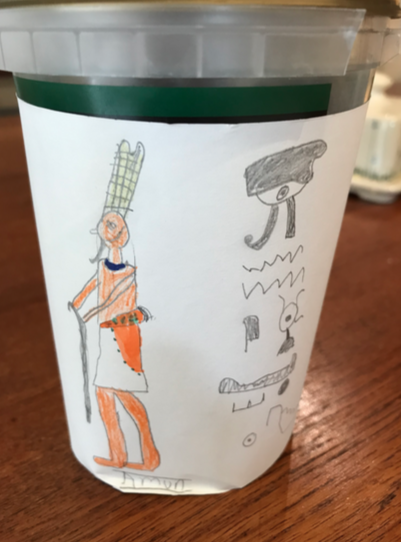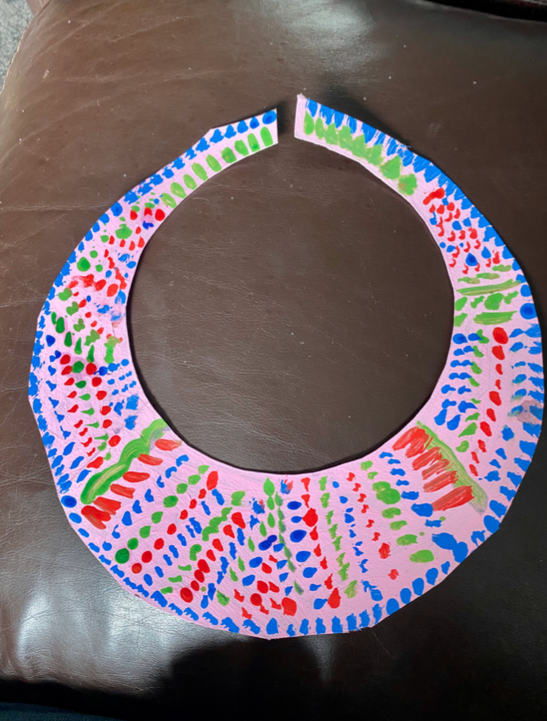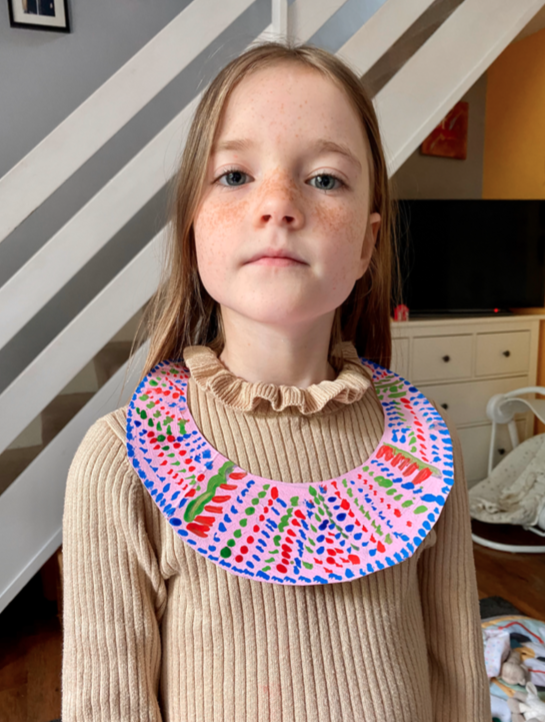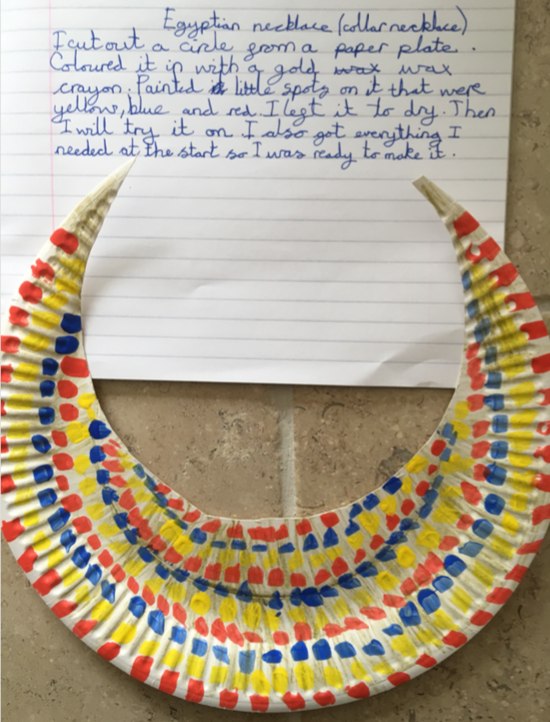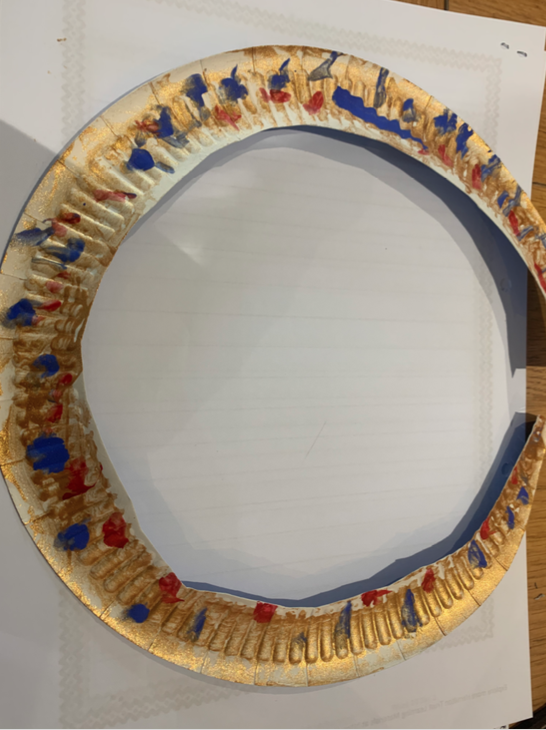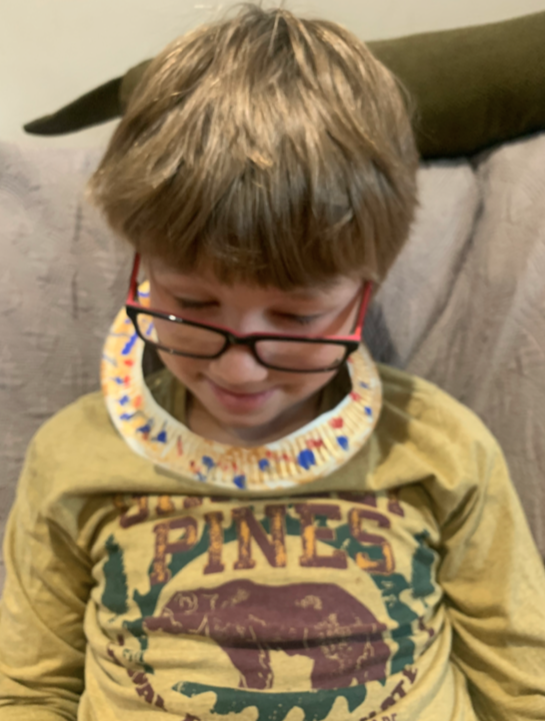 Term 5 
Class 3 have started an Egyptian adventure story unit. Their characters travel back in time to ancient Egypt and must overcome a problem before making it home safely – we hope! So far they have written the story opening and build up. Here are some super examples from Darcy, Ellie, Flora, Helena, Isabelle, Nicole, Ivor, Livvy, Ophelia, Ruben and Tad. Enjoy!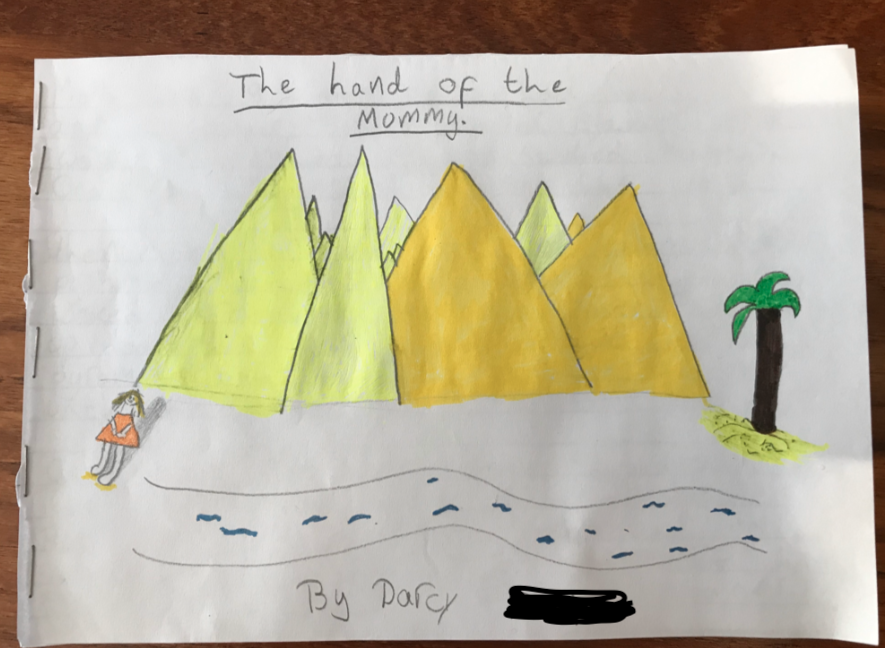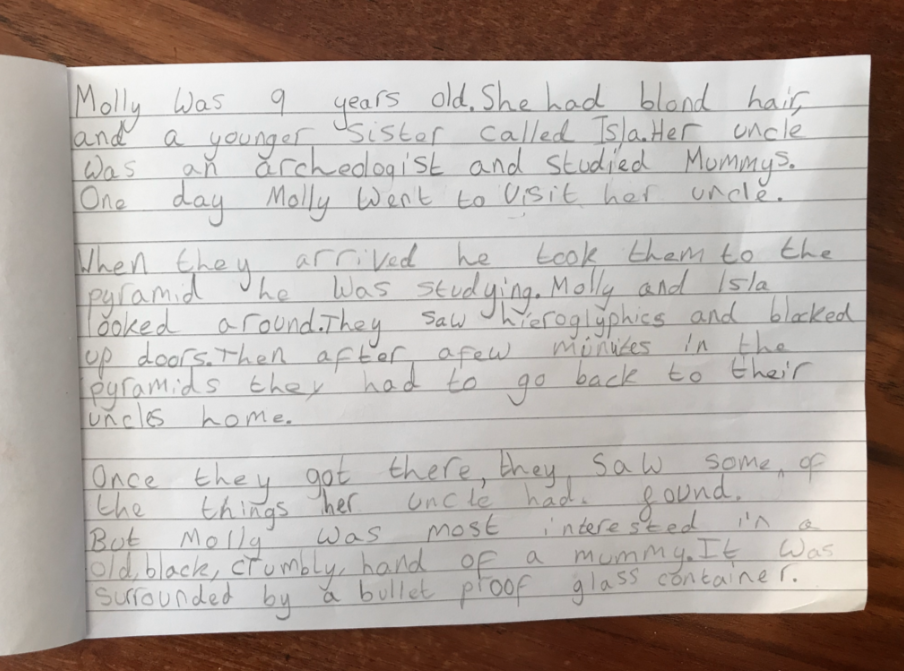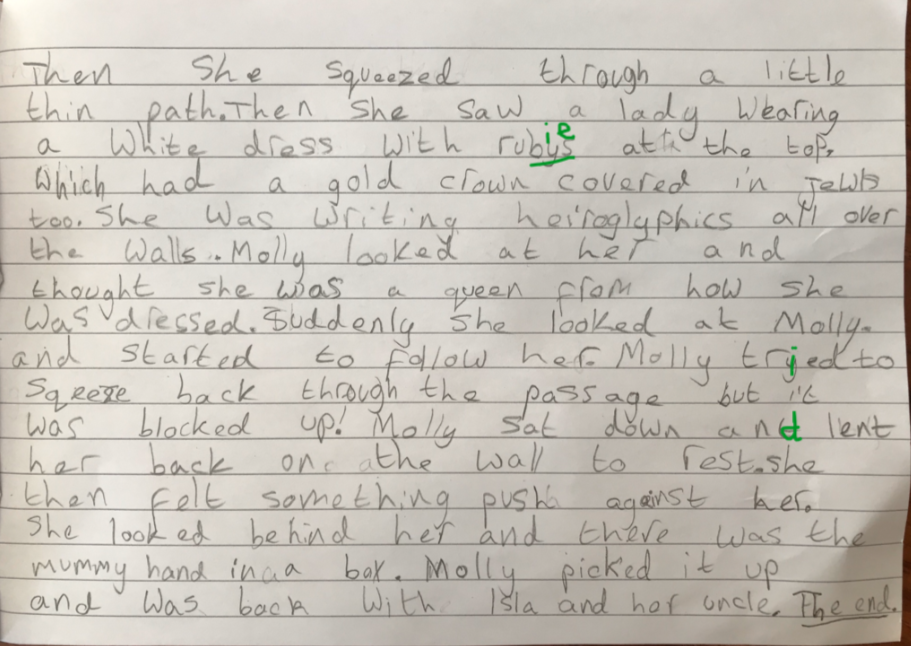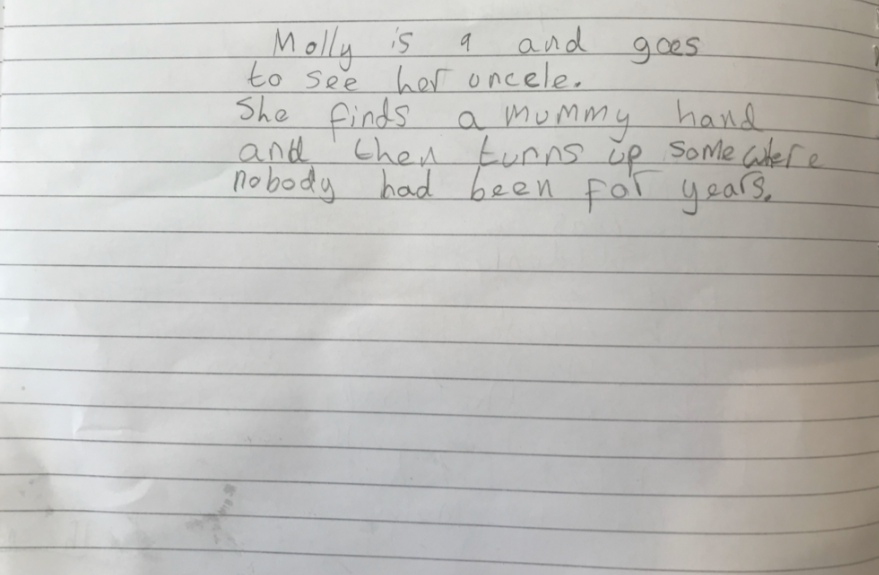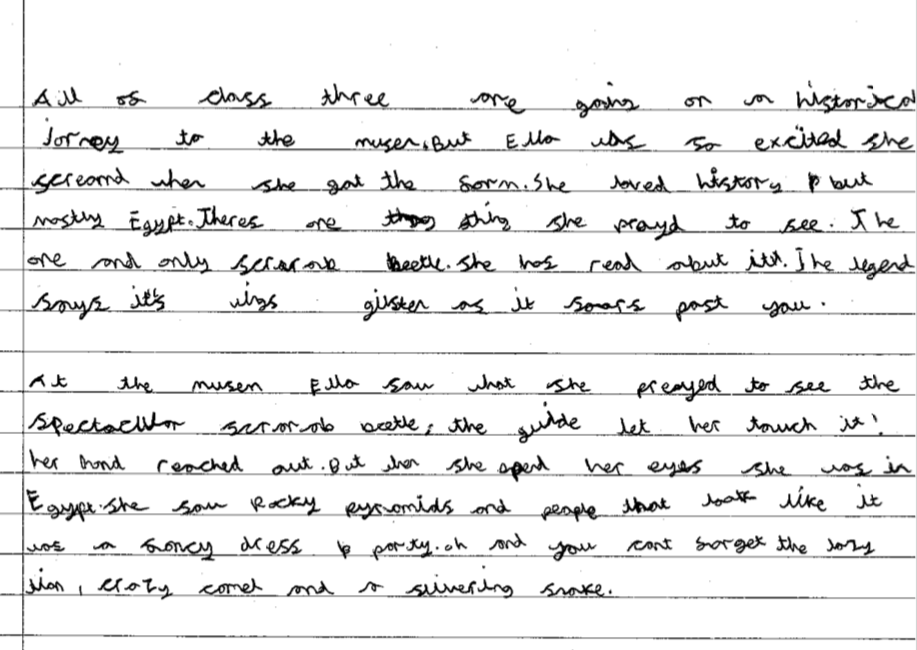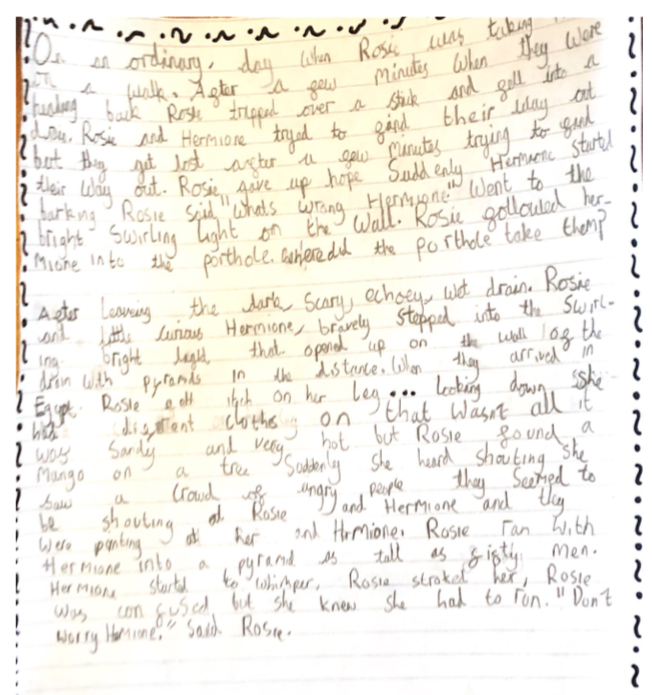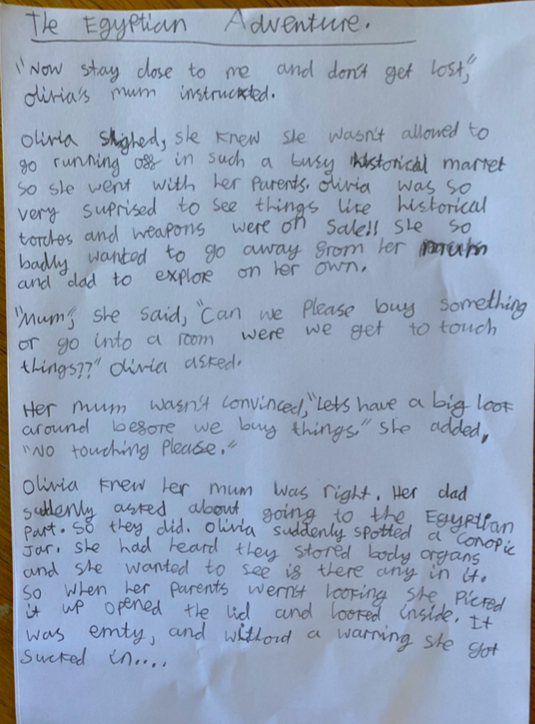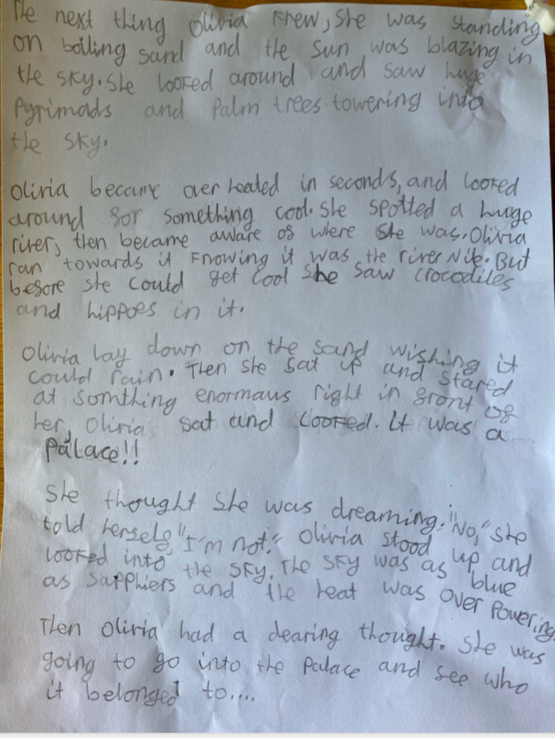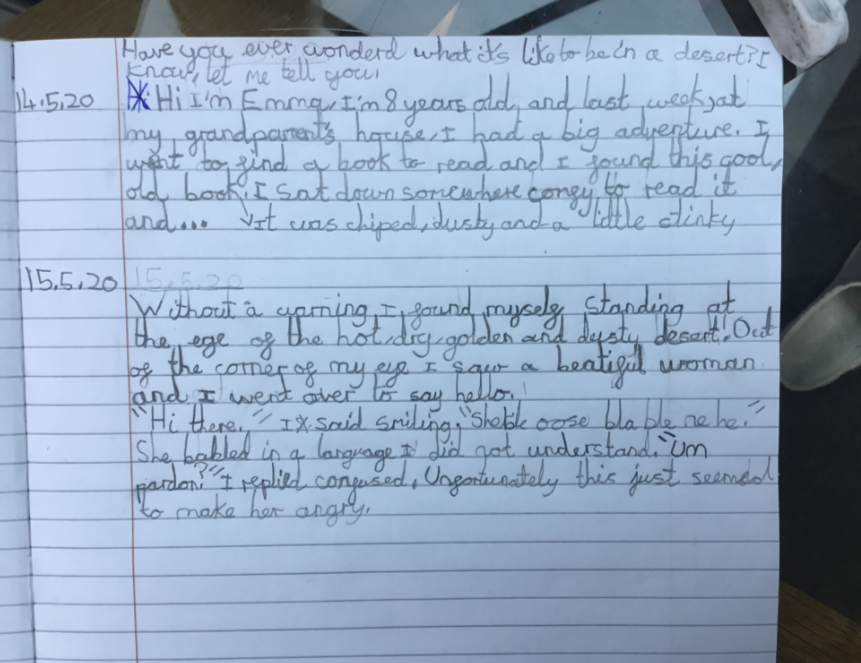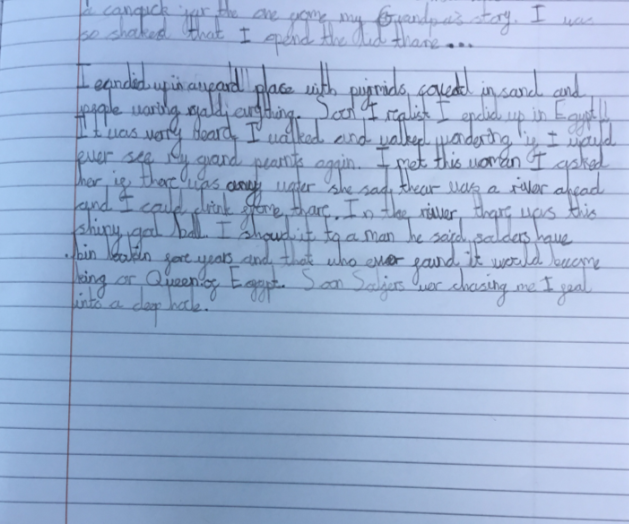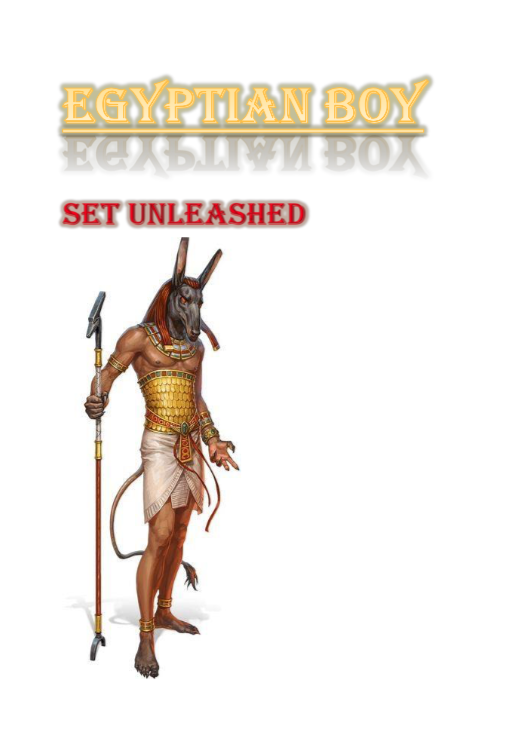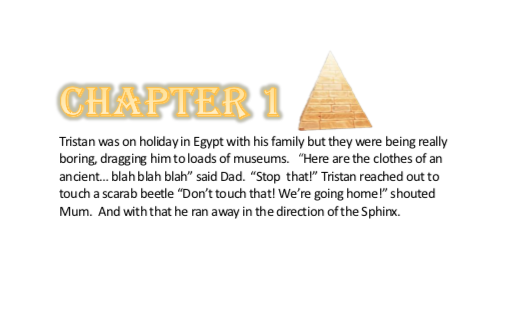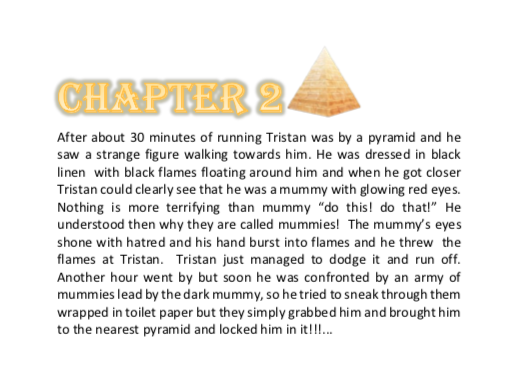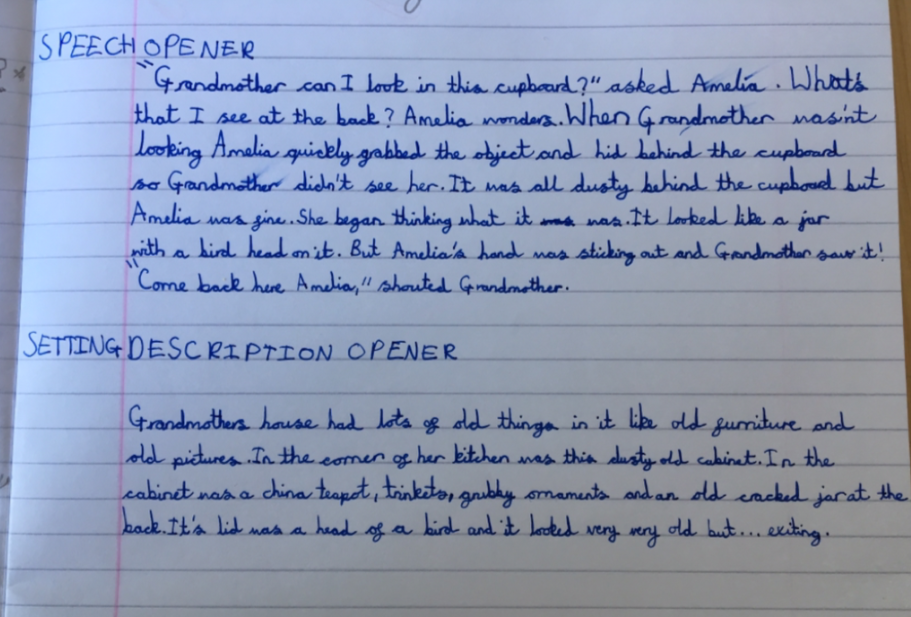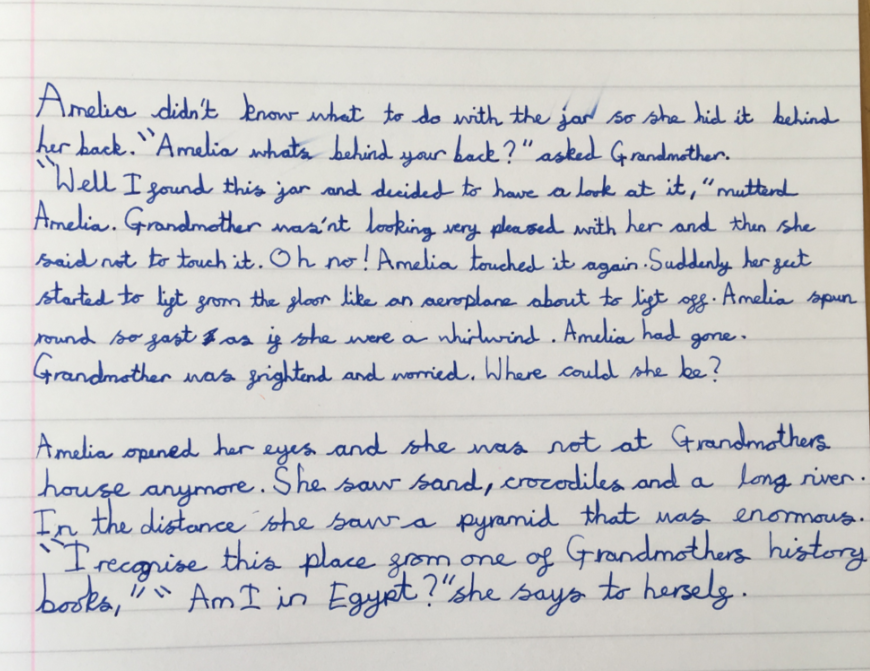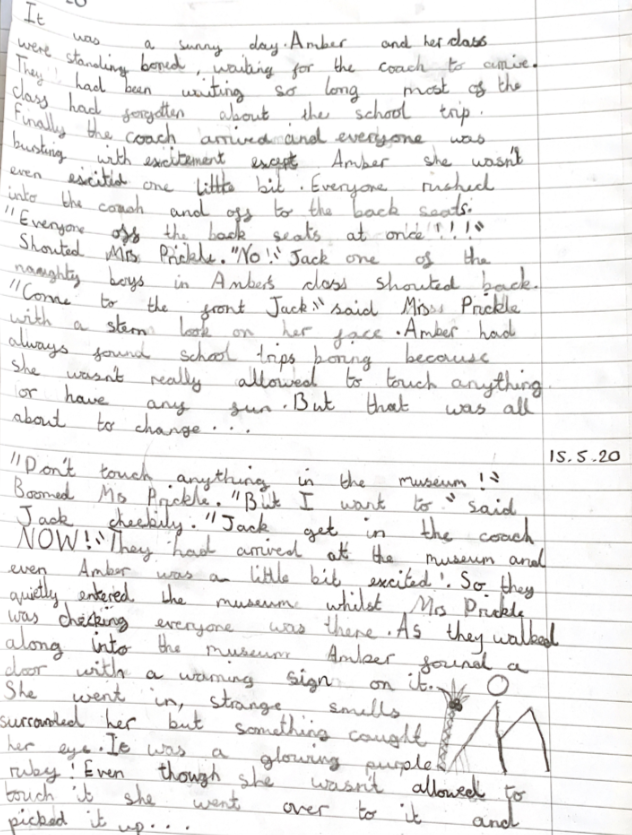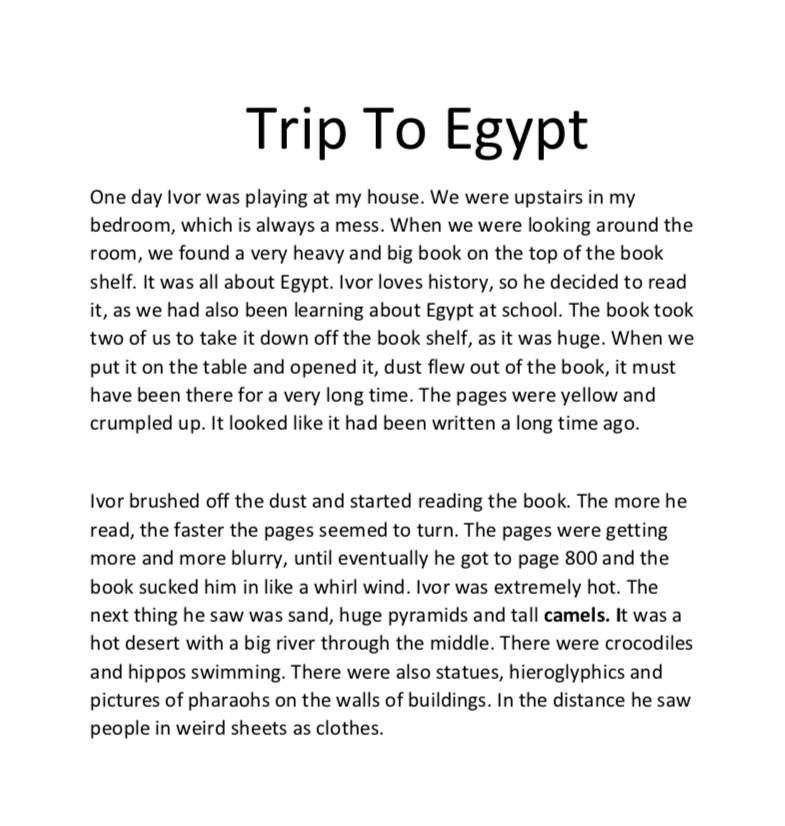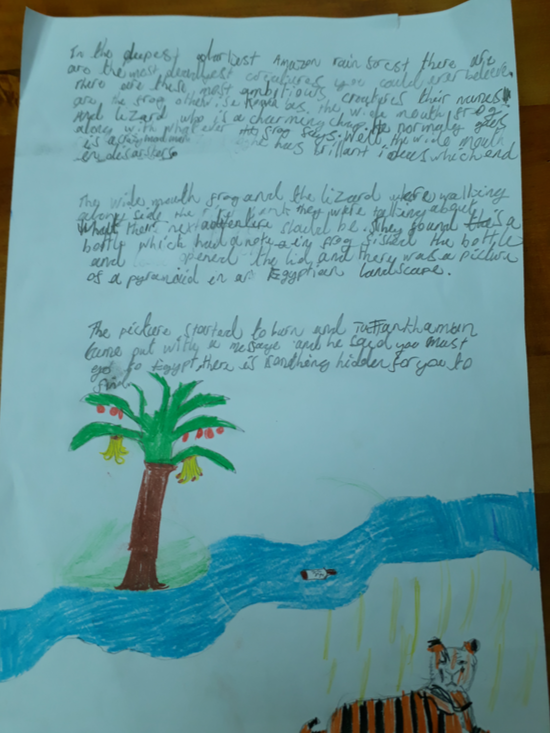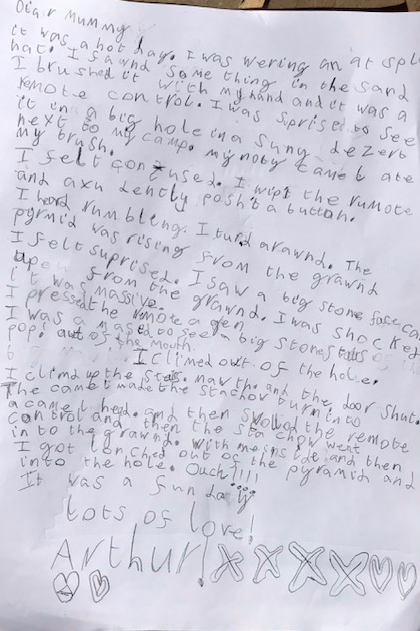 Here is Ophelia's amazing canonic jar and her instructions on how to make it.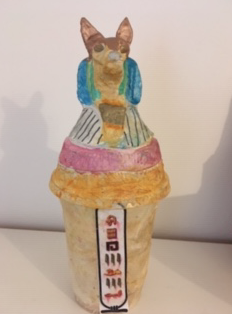 Helena has worked incredibly hard to produce her own newspaper called Big News for Little People. It is incredible! There are articles about school closures, interviews with NHS workers and teaching staff, information about wildlife, boredum busters, recipes, puzzles and more! What a fantastic journalist Helena is. We are so impressed. Well done Helena! Click the link below to have a read.
Class 3 have had a very productive week at home. The girls just beat the boys in the Times Table Rock Stars battle. Well done to all those who took part. Congratulations to Freddie, Rosie and Mehna who passed another level of Cracking Times Tables.
This week we completed our fractions unit and I was delighted to see that so many children achieved full marks. Clearly everyone has been working very hard at home. The children also wrote letters to a friend in their class. Some even hopped on their bikes to hand deliver their letters (from a safe distance!),  others were posted or emailed.  I hope everyone liked their mail and will be writing a reply. Below are some examples of activities and work the children have been engaged in this week. Some highlights were Iris's puppet show (the video may be too large to share)​, Jenson becoming an Egyptian mummy (thankfully his family didn't put him through the full mummification process!), Hen became a car mechanic and wrote instructions for how to change breaks, Livvy created her own papyrus and wrote instructions for how to do this, Helena wrote her own Coronavirus inspired newspaper, Arthur completed a 2.6 challenge for Save the Children, Isabelle shared an impressive display on the trampoline, (
https://photos.app.goo.gl/sbXBsusELDTYLFALA
) Ivor made an hilarious Horrible Histories inspired William Wallace song video (sadly too large to share) and created some clay historical figures. There is simply too much fantastic work to share every example here. Needless to say I am super proud of the excellent effort and creativity all of class 3 are showing. Well done to you all!  Miss Redman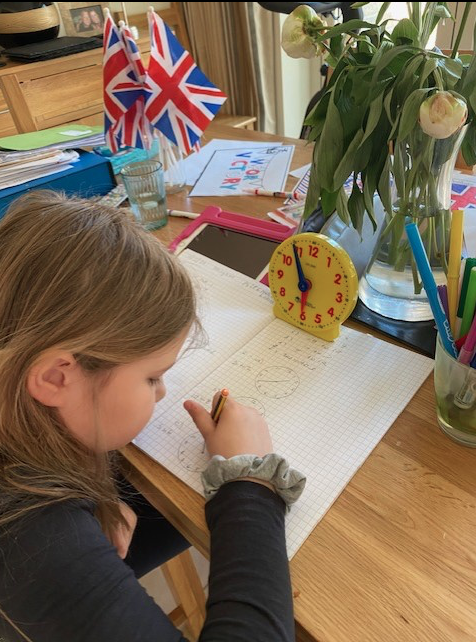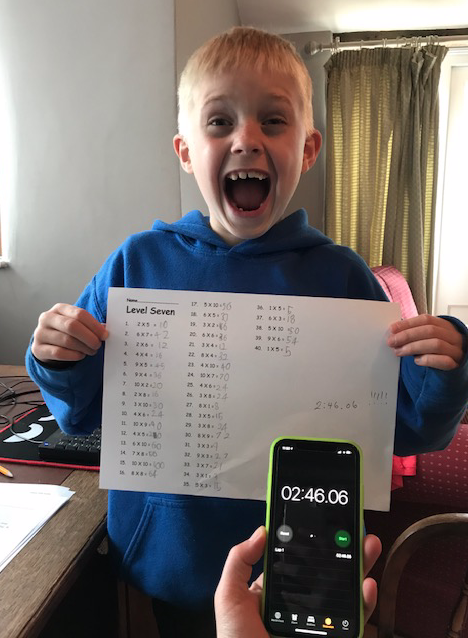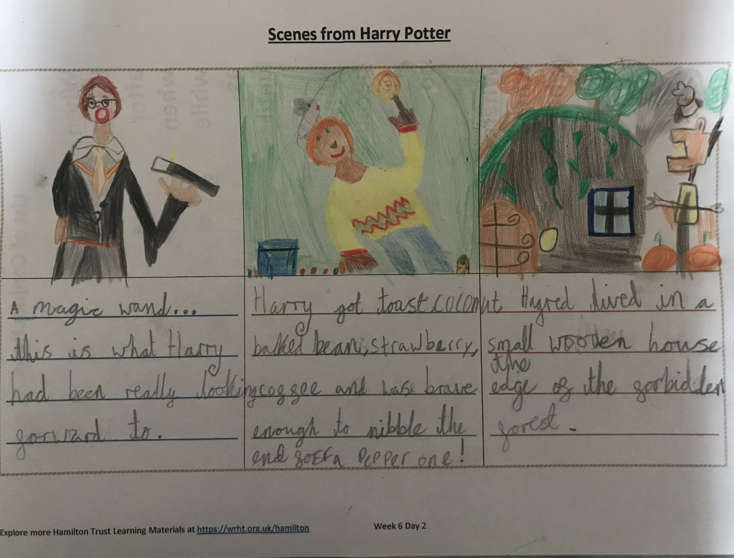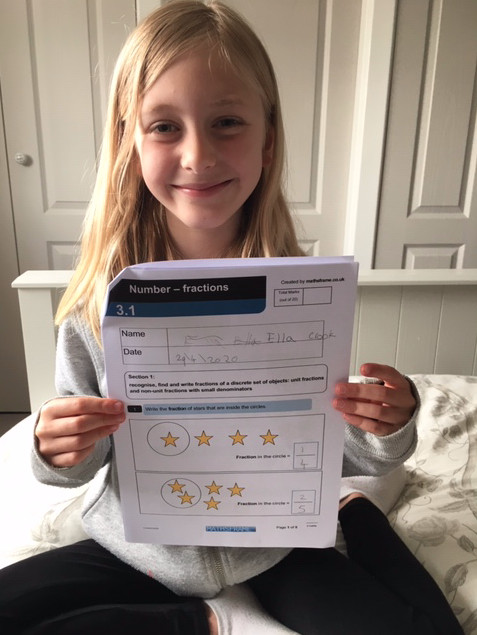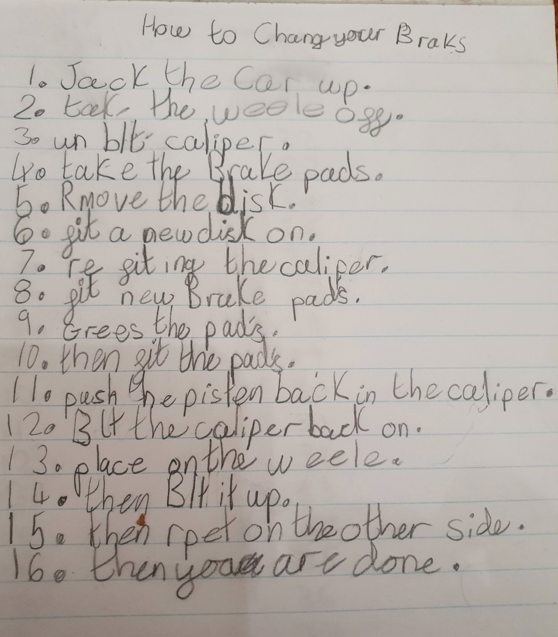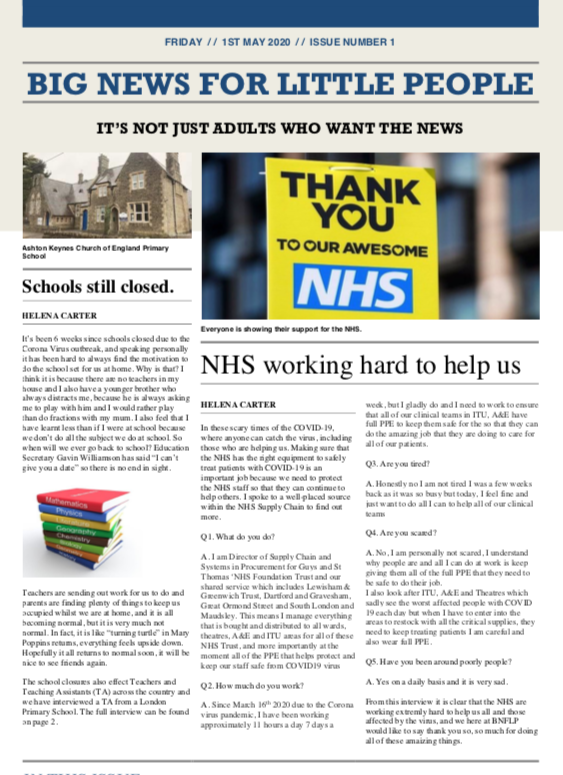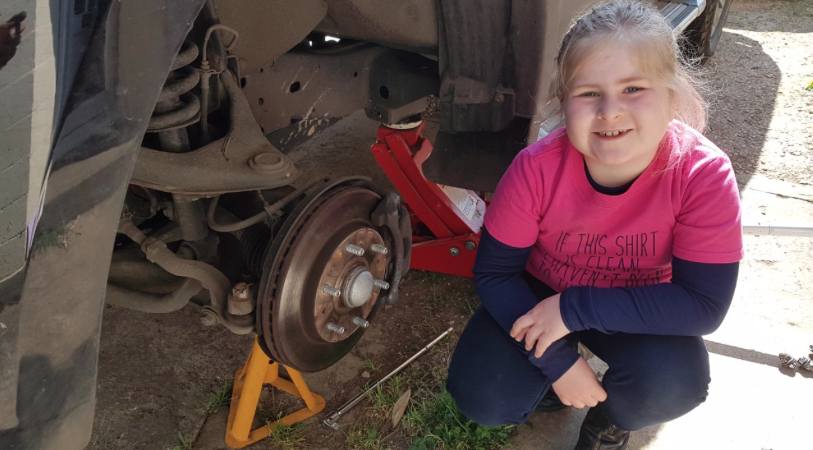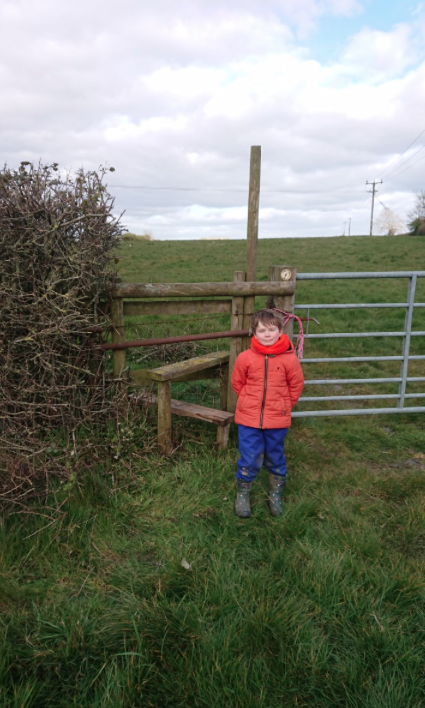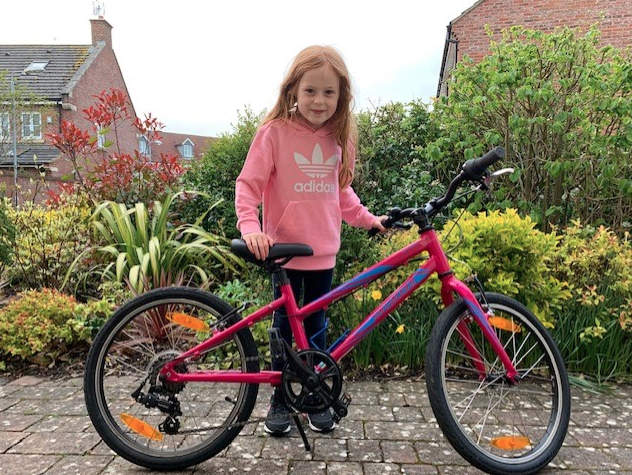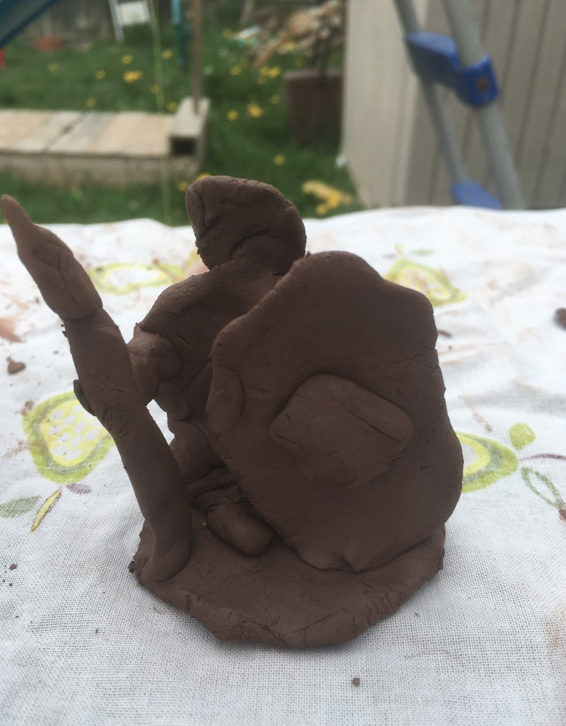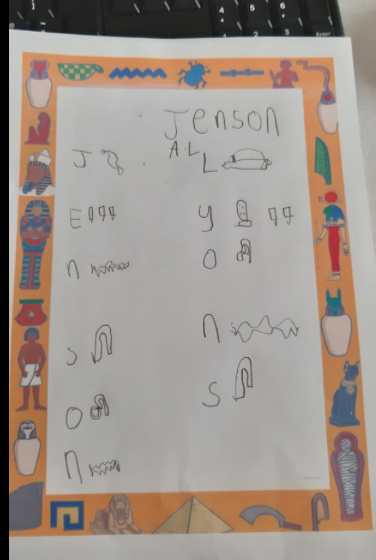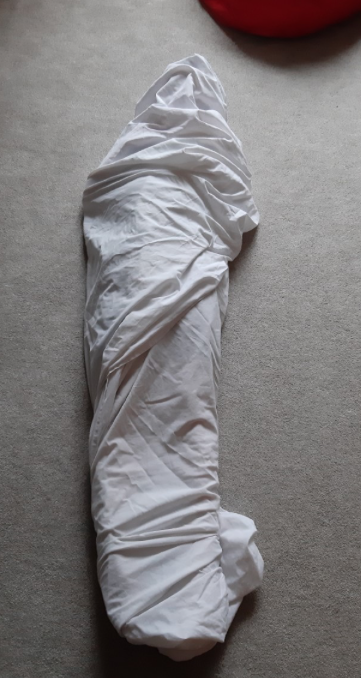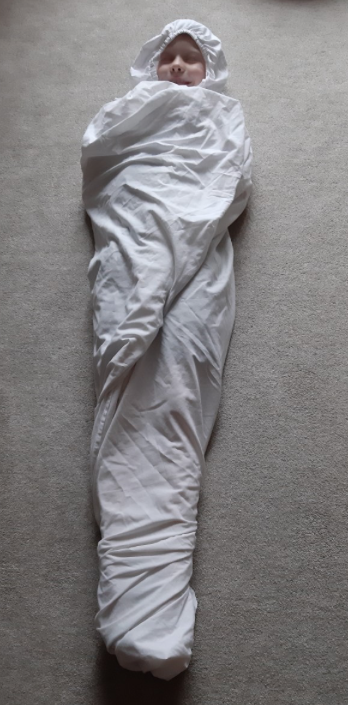 Livvy has created her own papyrus and added hieroglyphs with a very topical message. Can you decode it? Here are Livvy's instructions if you would like to try this activity.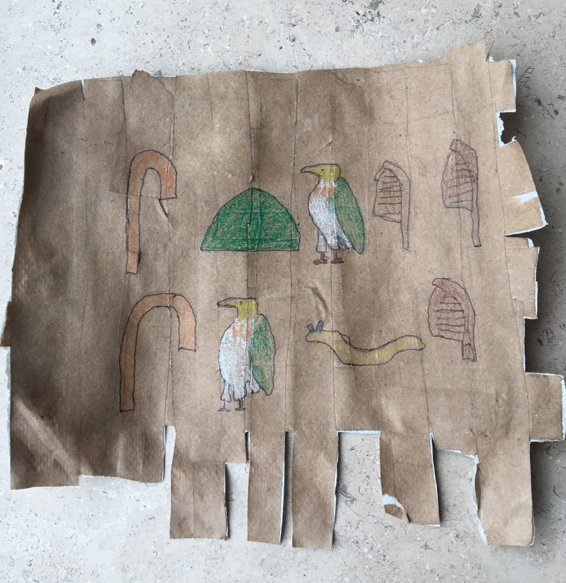 Livvy's papyrus paper instructions
Class 3 were asked to create a promotional brochure for the Harry Potter Studio Tours. Helena has worked incredibly hard to produce hers and I think you'll agree it looks so professional it could be included on the official web site. What impressive computing skills! Well done Helena.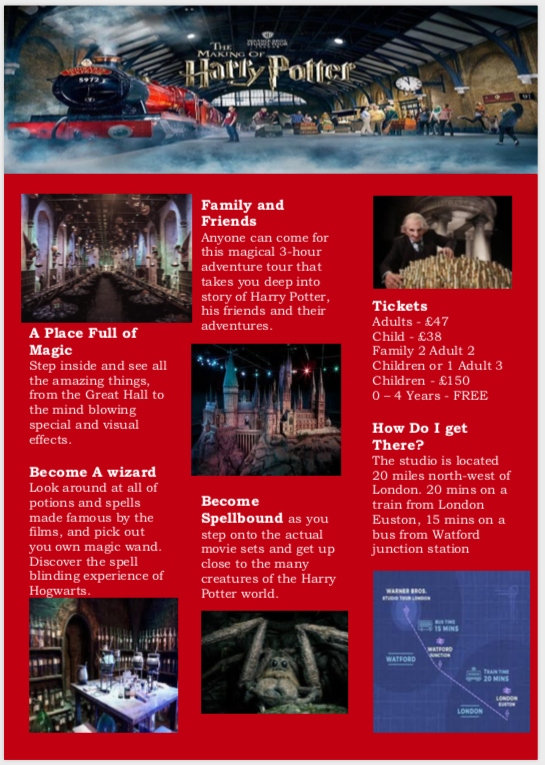 Here is Freddie's Scratch project:
https://scratch.mit.edu/projects/388100110/editor
Term 4
Have a look at Ophelia's brilliant poetry performance of the crocodile poem:
This week (3/4) Class 3 have continued to work hard from home. The creativity shown in the work you've completed and the way it has been presented has really impressed me. We've had computing, history research, reading Egyptian myths, space research, science experiments, cookery and more! Here is just a small selection of the fantastic work the children have been doing this week. Helena has been using the NASA website to explore the universe. She found a picture of what it looked like on her actual birthday! See below for the picture. Darcy has a written a story for a national story competition (see below), Livvy has been researching the River Nile (see below), Tad has also been finding out more about Ancient Egypt (see below) Ivor, Helena, and Iris have recorded the most brilliant videos of them performing poetry – I just wish we were able to add them to the class page for you all to enjoy.  Congratulations also to those of you who have passed Cracking Times Tables this week: Rosie & Mehna. I am so proud of you all! Miss Redman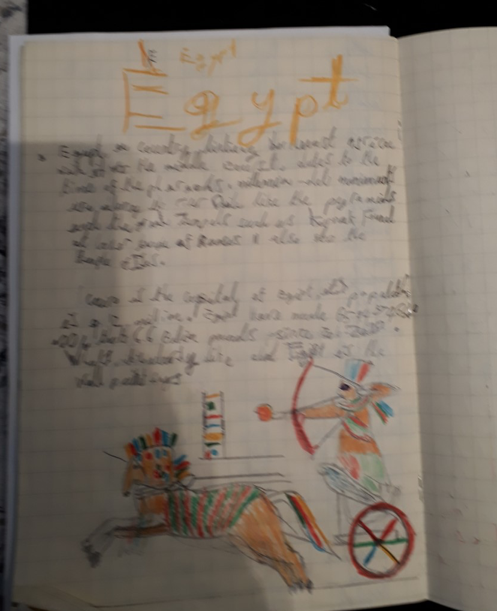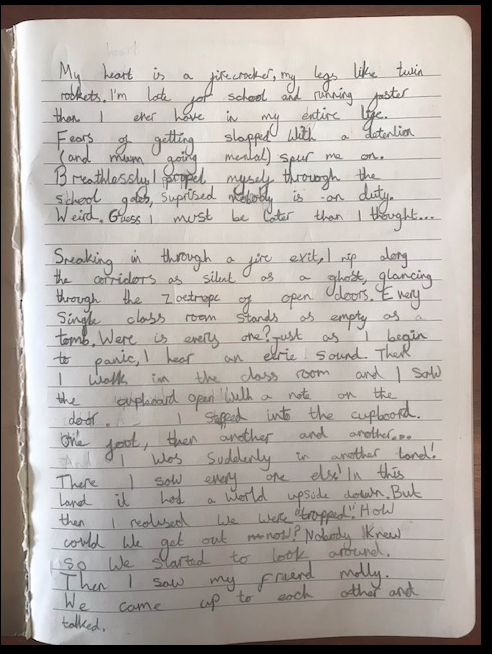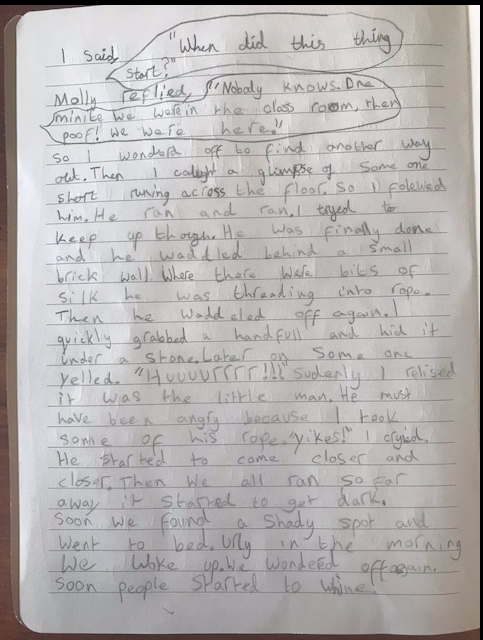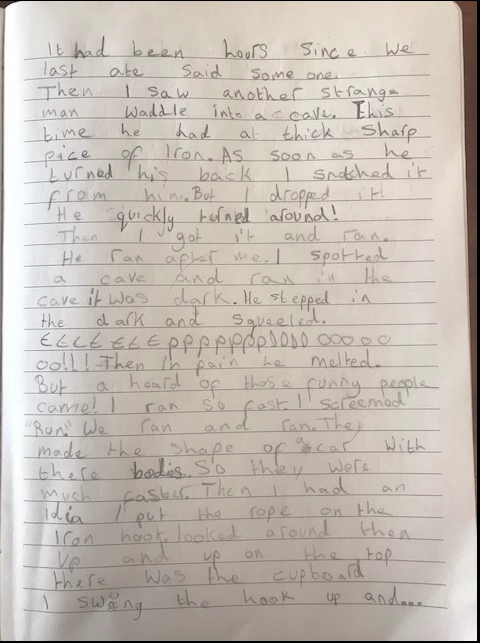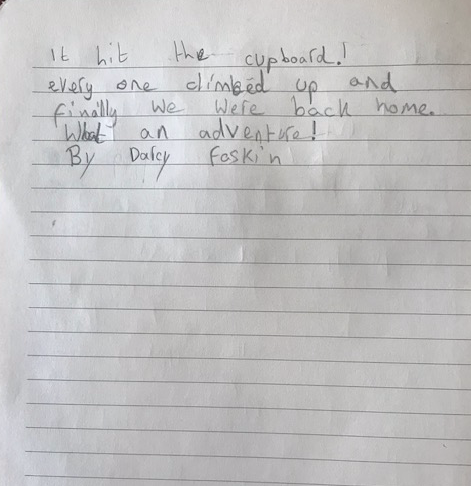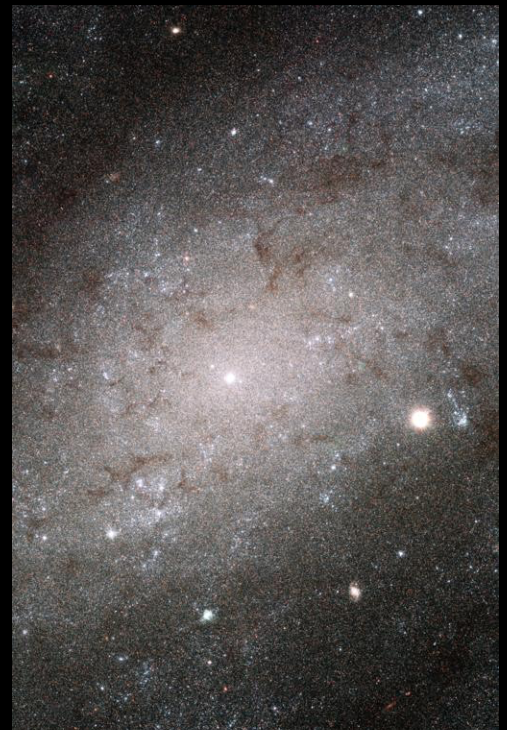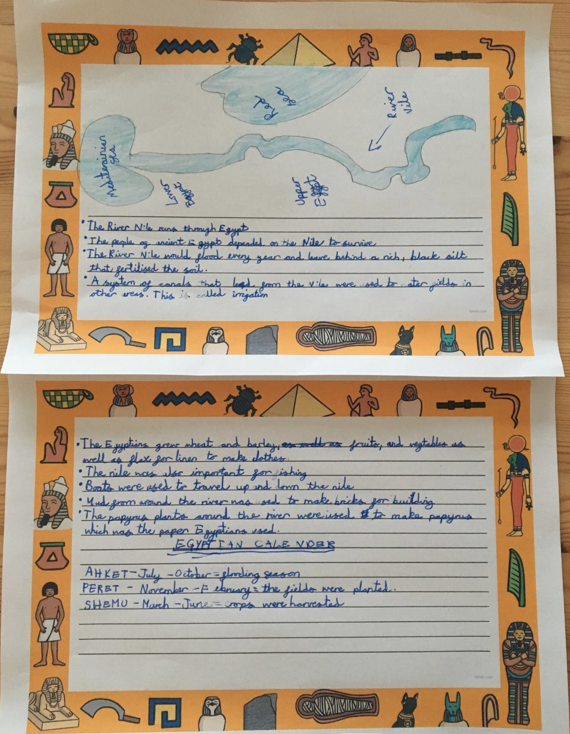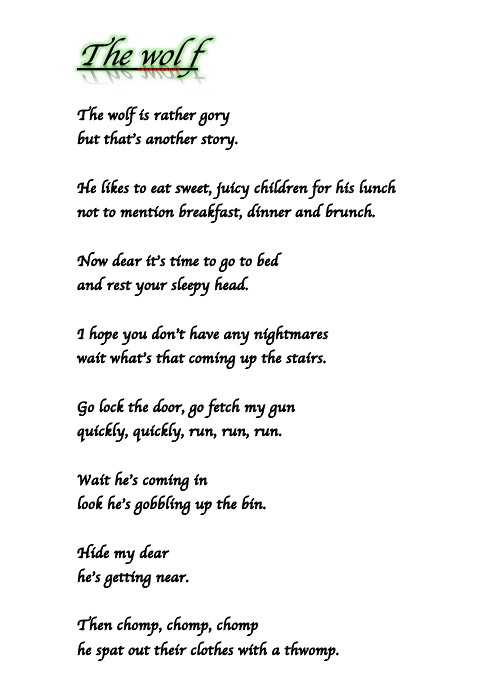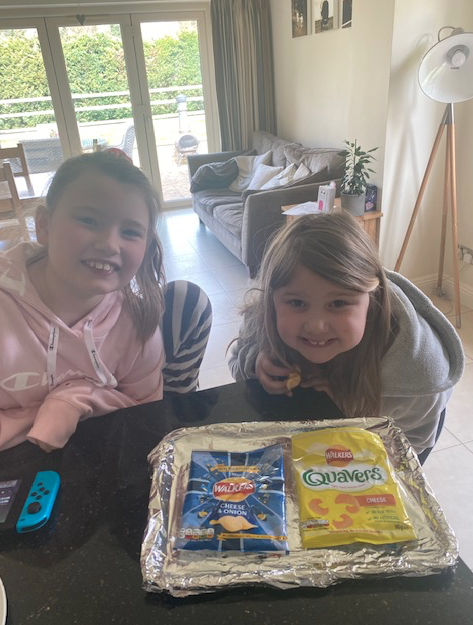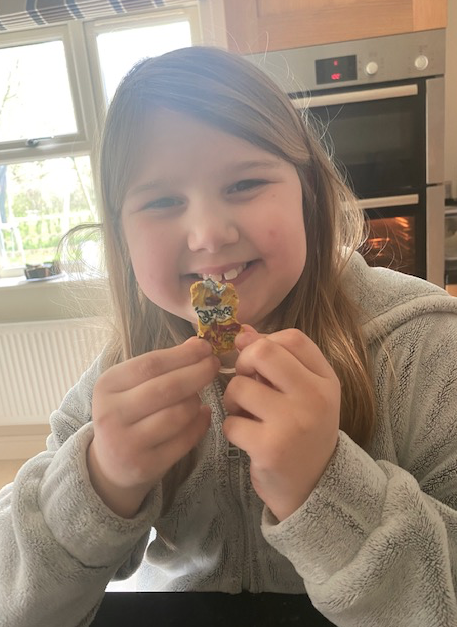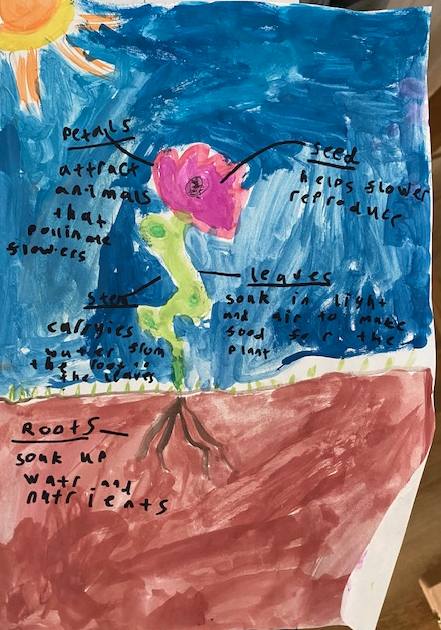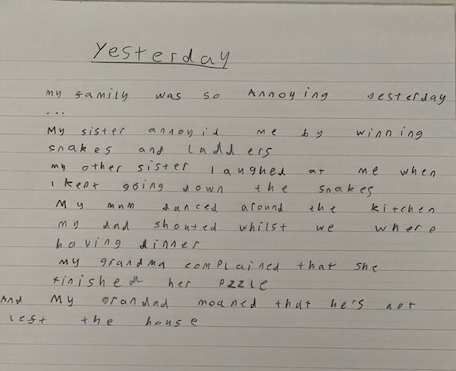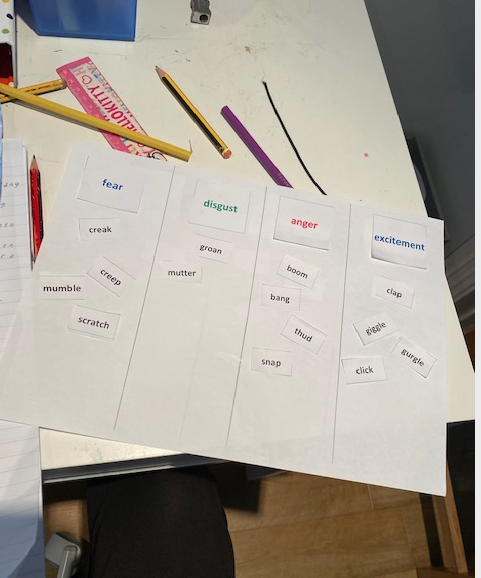 Week 1 of home learning has produced lots of super work. I have been so impressed with the creativity shown and how hard all the children have been working. Here are a selection of pictures showing what some of the children have been up to. Arthur, Mehna and Rosie have been baking, Ivor has cooked a meal, built a marble run in his garden and more! Darcy, Iris, Georgia, Rosie and others have been planting and growing seeds. Livvy has created a beautiful still life drawing of daffodils and Tad has produced a Harry Potter inspired picture. We have had quite a few children pass Cracking Times Tables too – Ellie (L8), Ivor (L8), Jenson (L10) and Livvy (L12). Well done!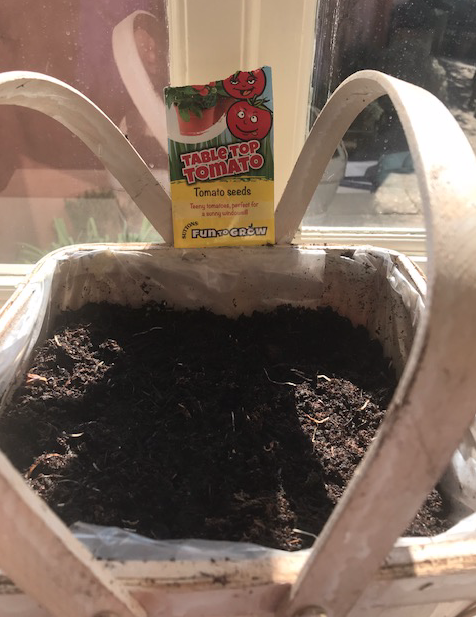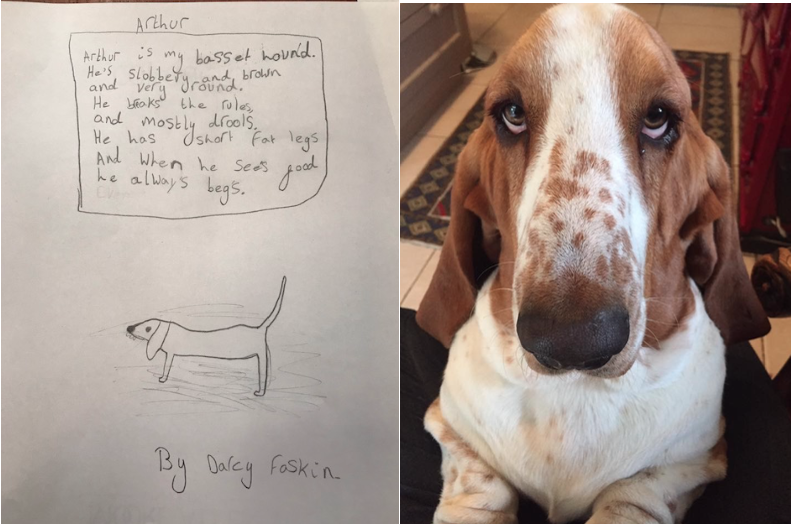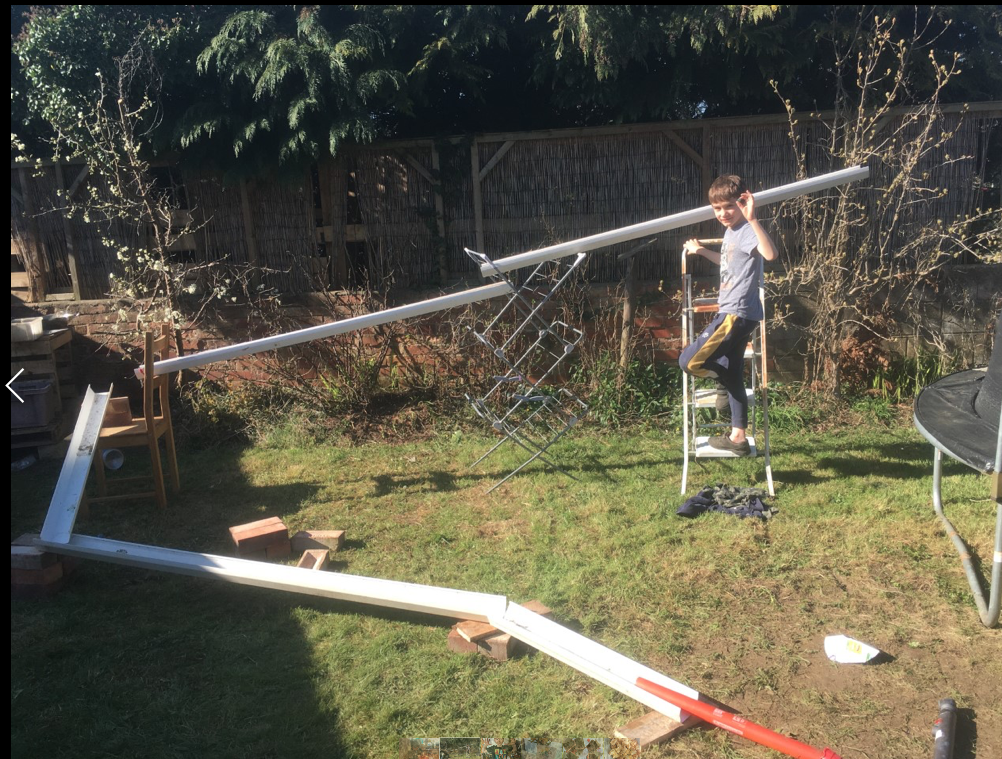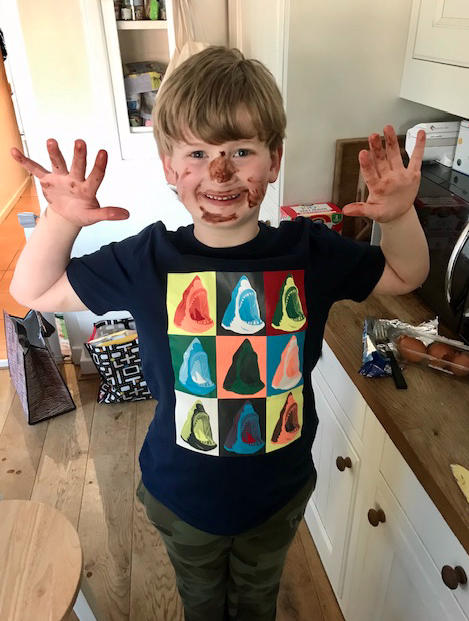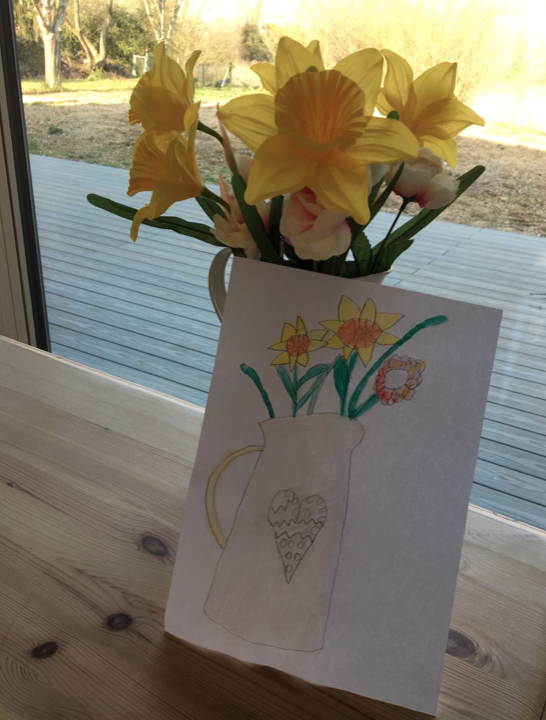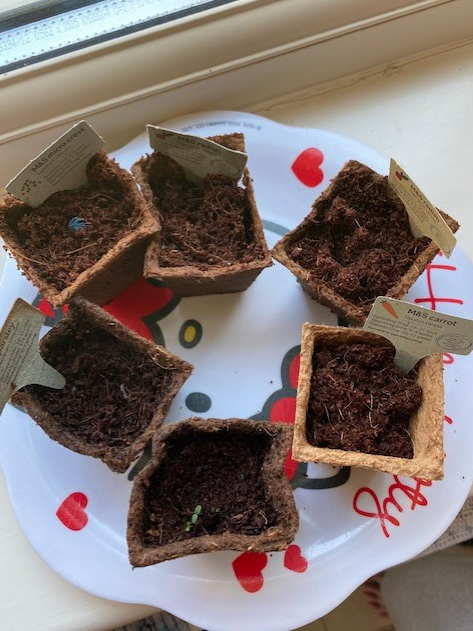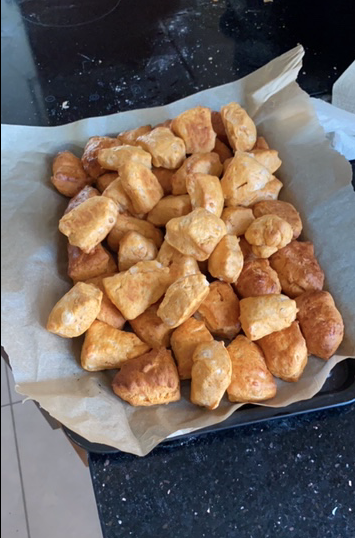 \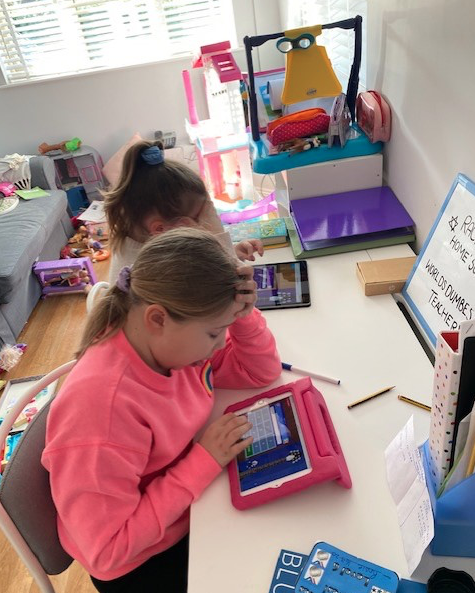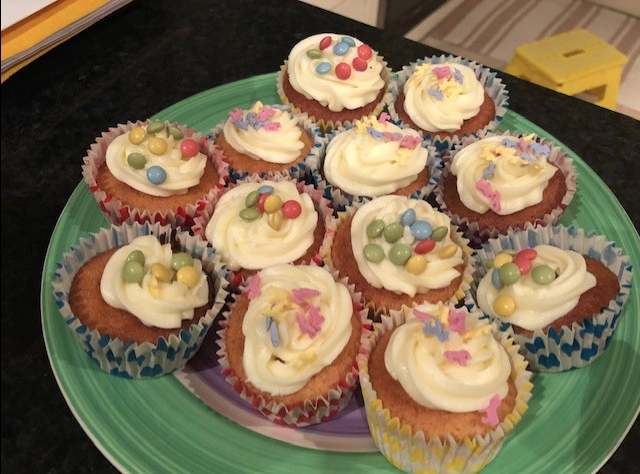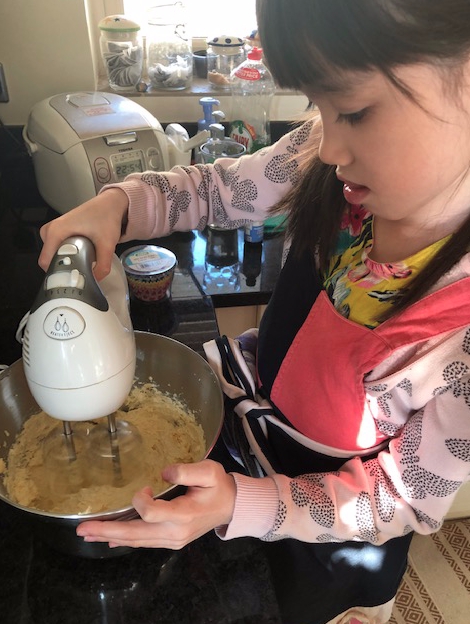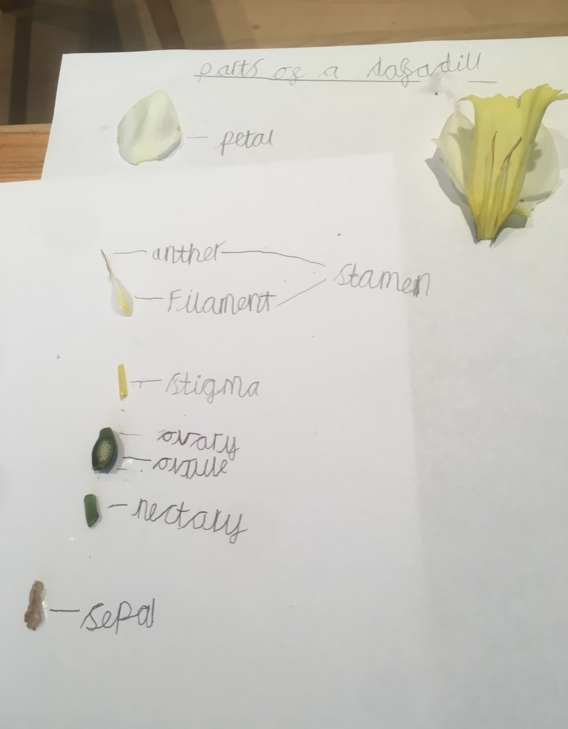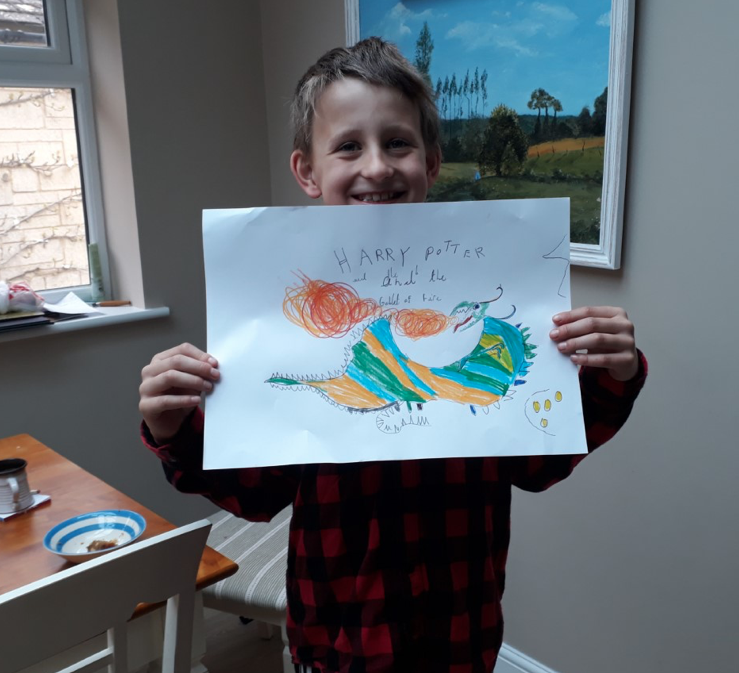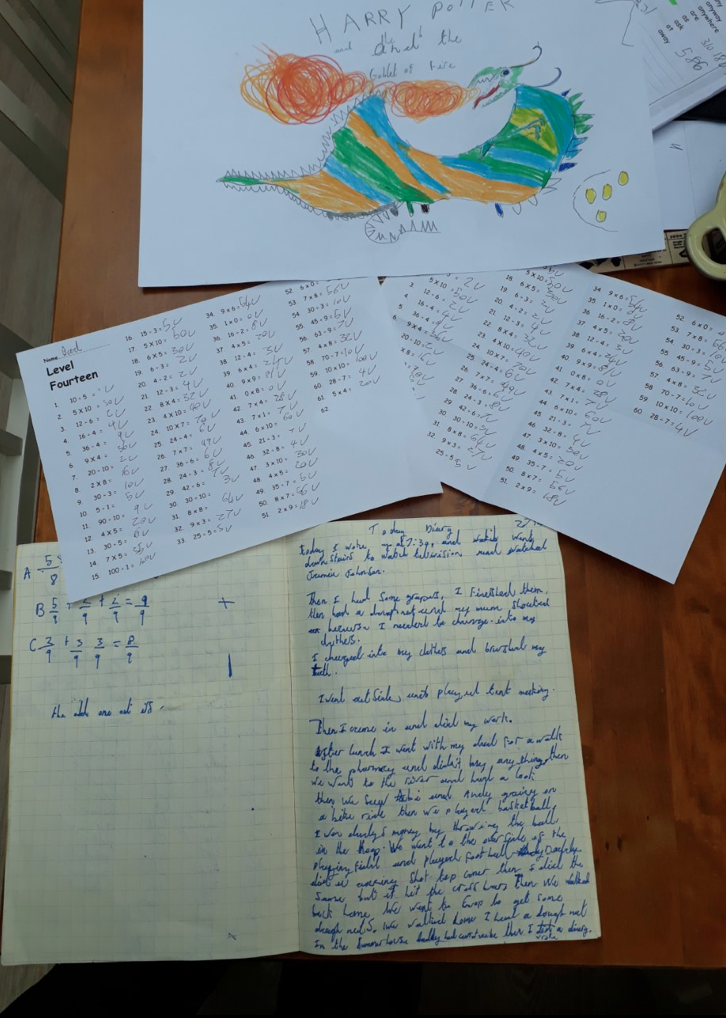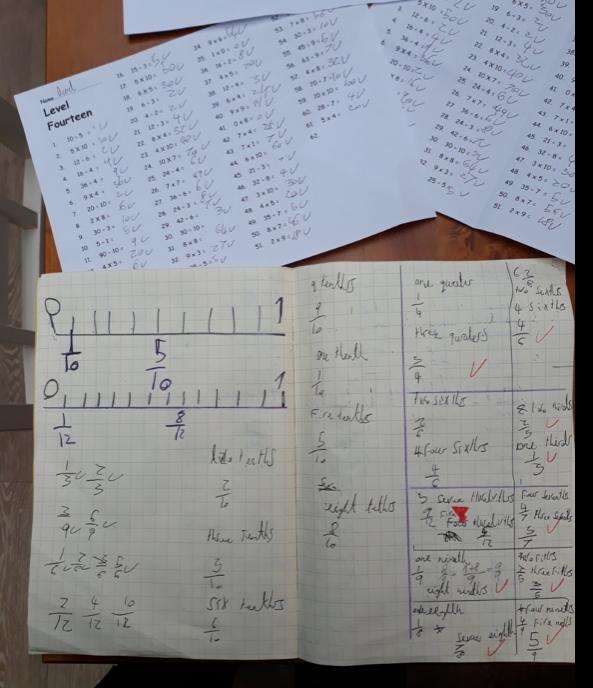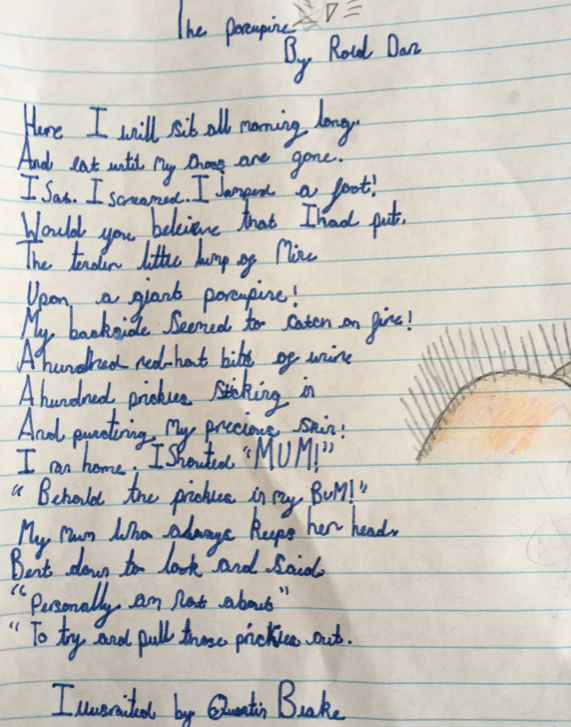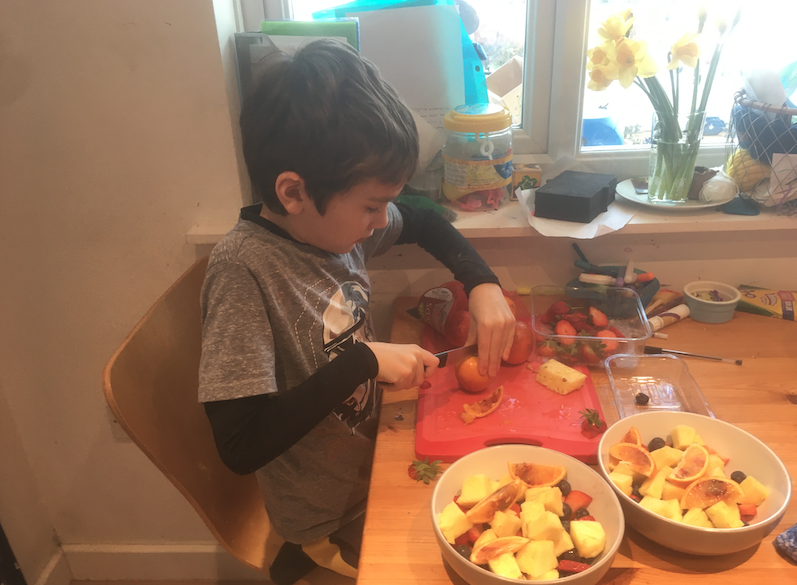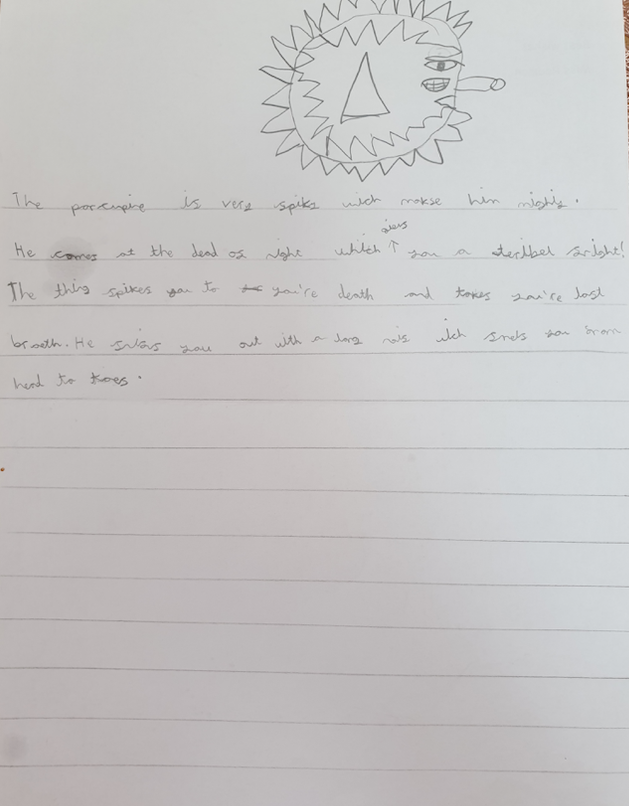 Class 3 are working hard during their first week of school closures. The children have been asked to continue their Roald Dahl poetry about animals in the style of Dirty Beasts. Here are Livvy and Darcy's fantastic poems.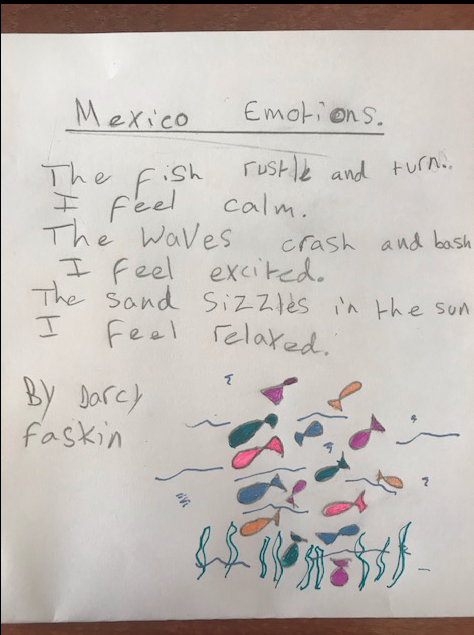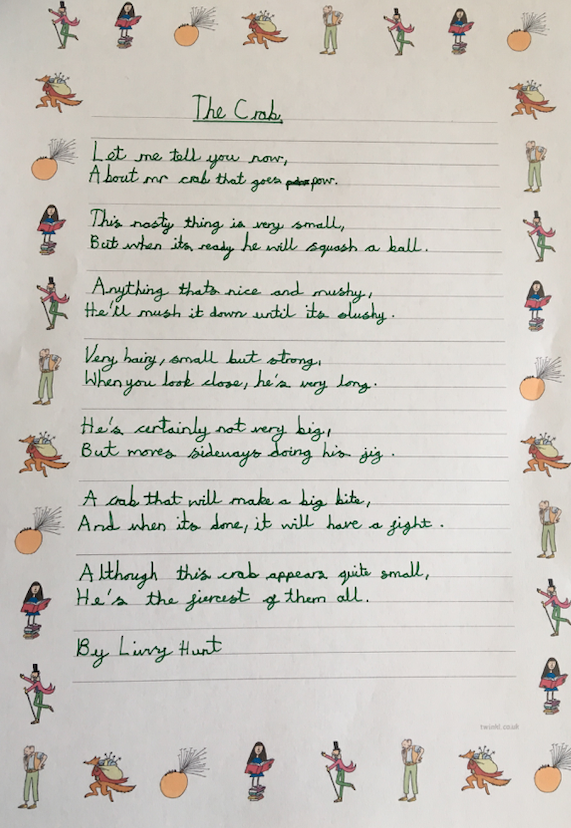 We'll add more work soon. Keep it up Class 3!
Work by Livvy, Harriet, Iris, Nicole and Isabelle: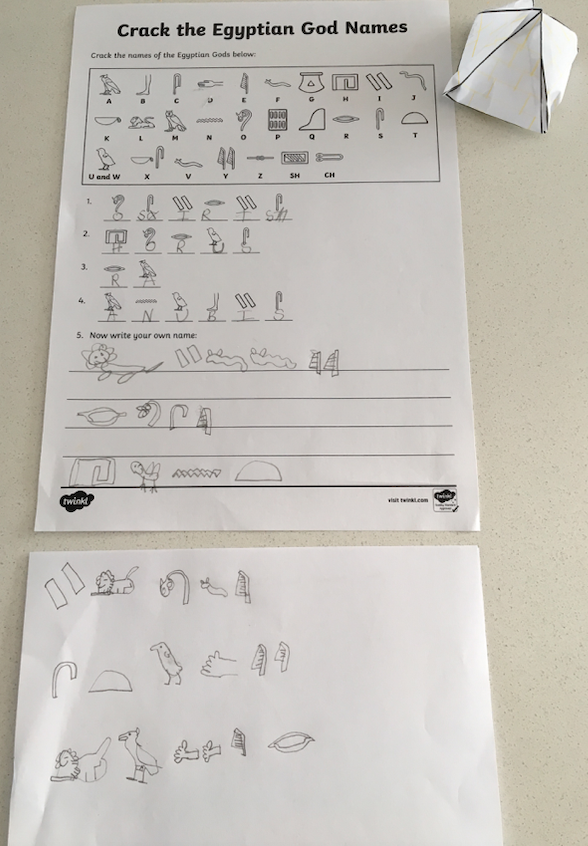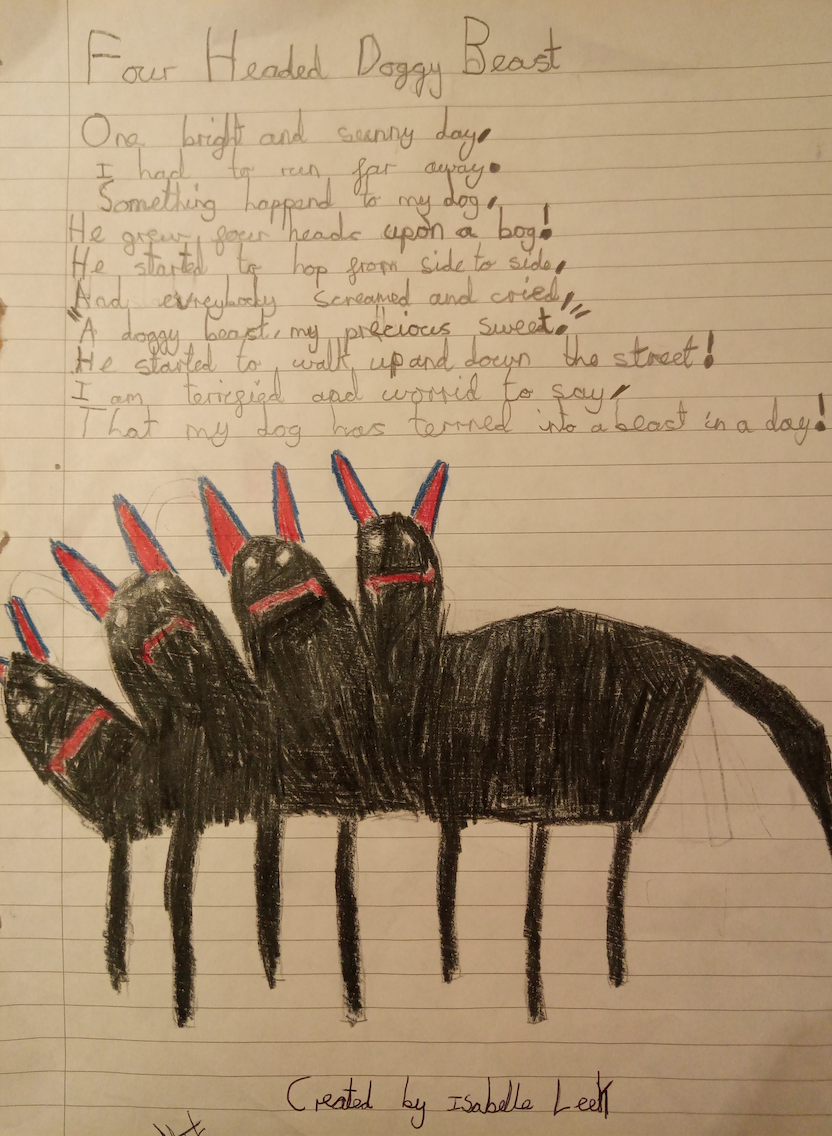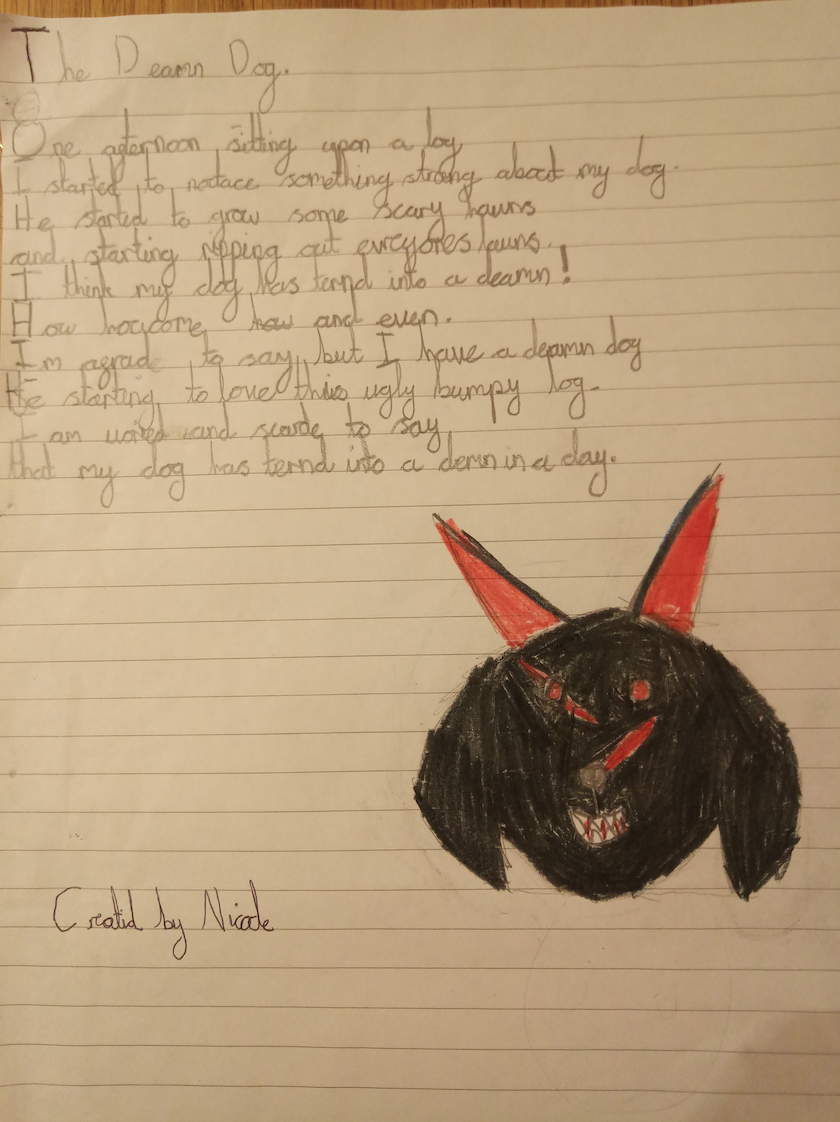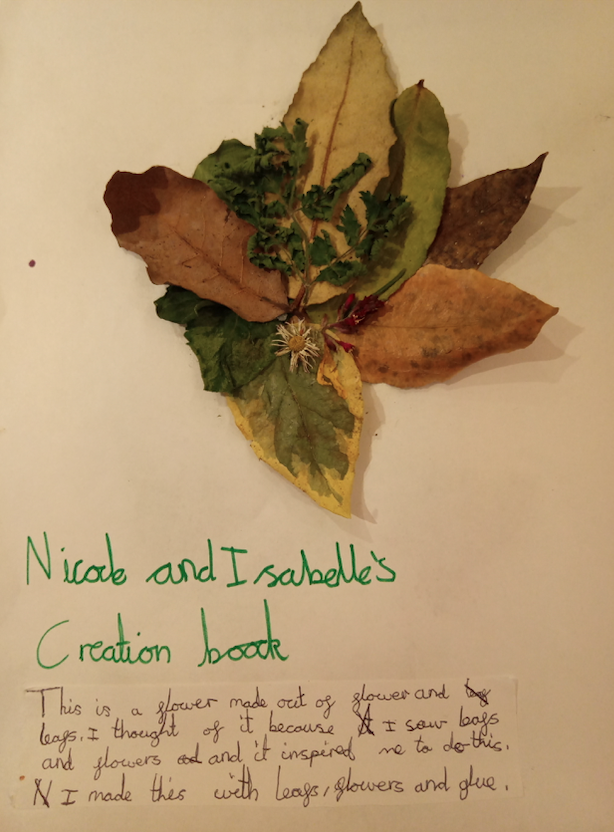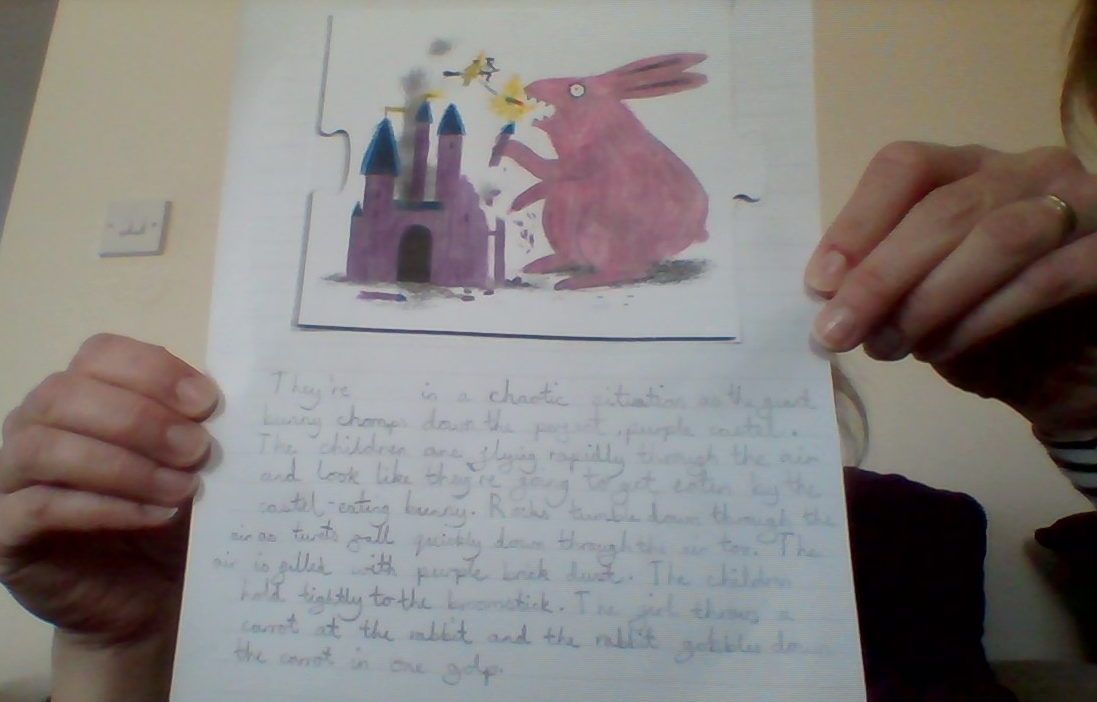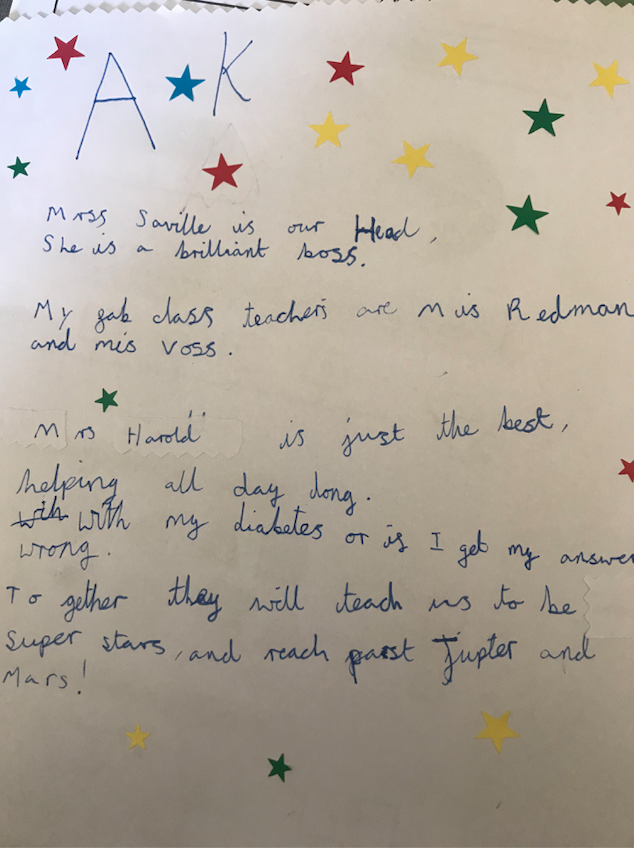 Book Week
For Book Week, Class 3 came dressed as characters from their favourite poems. They each had an opportunity to perform their poem to the class. We loved the variety of poetry shared and the lively performances. We could hear every word and each child used great expression. Well done! Here are our pictures. Can you guess the poems these characters belong to?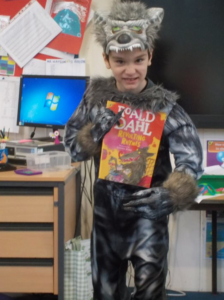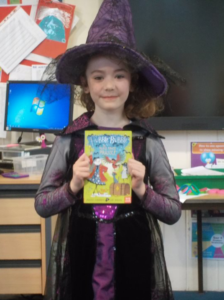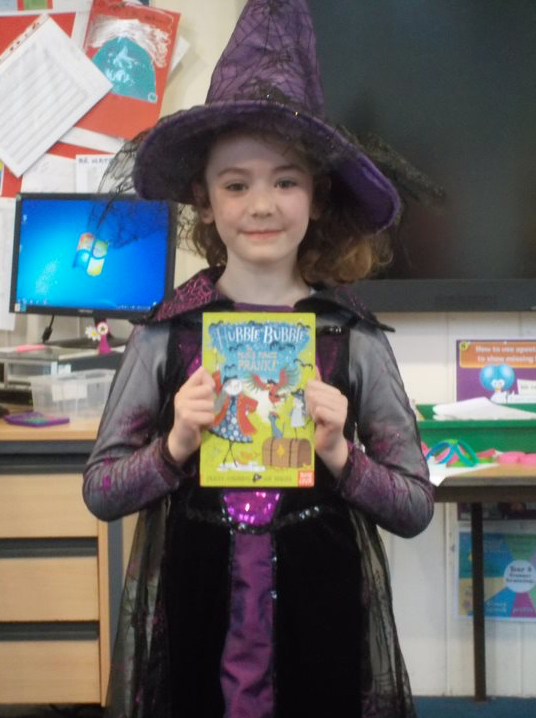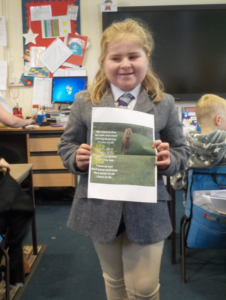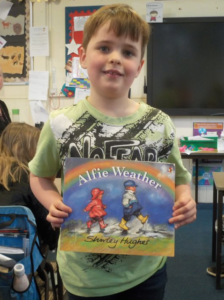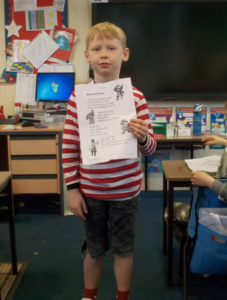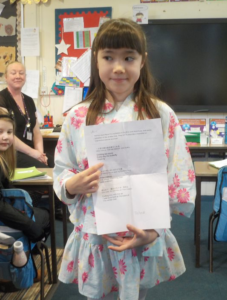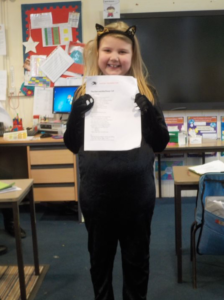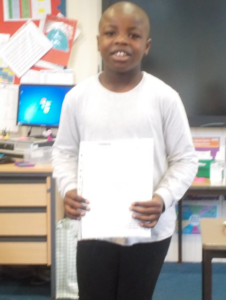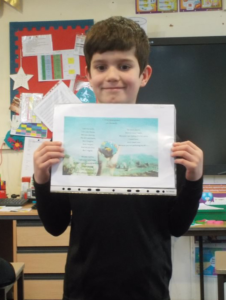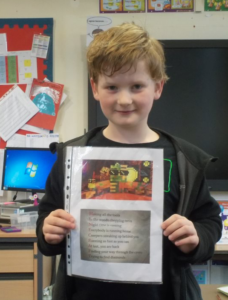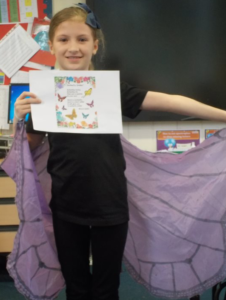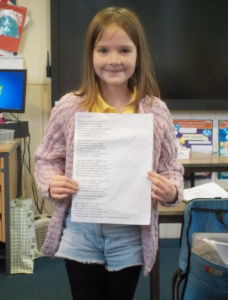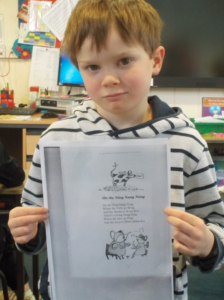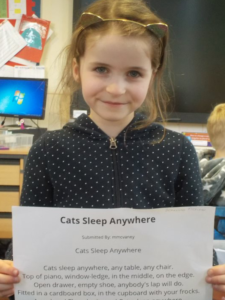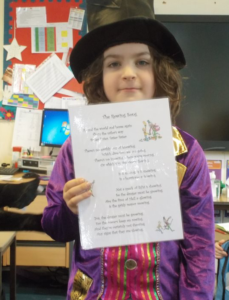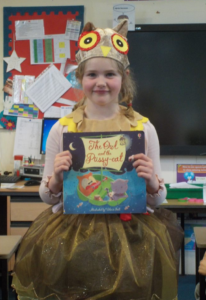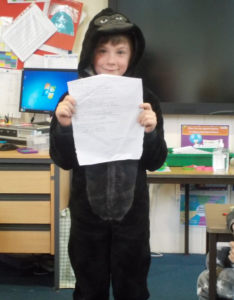 British Science Week
We have been enjoying British Science Week. Our Science leader, Mehna, chose two interesting activities for the children to enjoy and helped to lead a session all about the hormones in our body which control our body clock.
We also carried out an experiment to discover what kind of tasters we are. This was a lot of fun – although the children had very blue tongues for the rest of the day!! We discovered most of the class were actually supertasters, these are people with more fungiform papillae (or pink bumps) on their tongues than most and are more sensitive to bitter tastes.  We discovered we had a higher percentage of supertasters than the general population, which is about one in four, or 25%. Here are some pictures showing the class carrying out the experiment.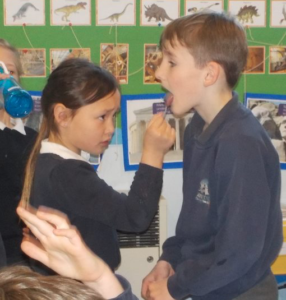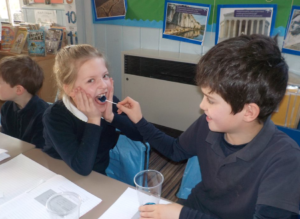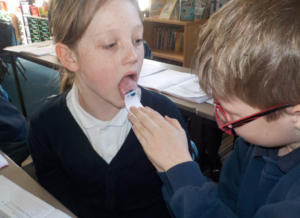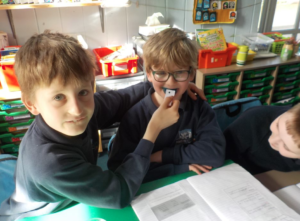 Maths Challenge
Class 3 had an exciting visit from Explore Learning who set the children a coordinates Treasure Hunt challenge! First they learnt all about how to read and record coordinates. Here was their challenge:
Your ship is your starting point
You must avoid the rocks and the island
You can only travel two squares at a time
You can only travel 4 squares in any direction before your ship must turn
The ship can only travel horizontally or vertically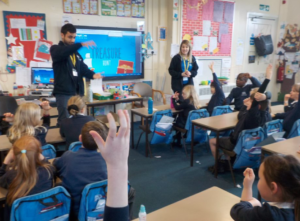 The children had to draw their own grids and add rocks and islands to them. They wrote coordinates for their buried treasure but kept these hidden. Their partners then had to use the maps, with the rocks drawn on, to navigate their ships in search of the hidden treasure!\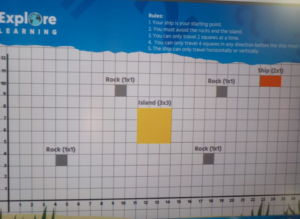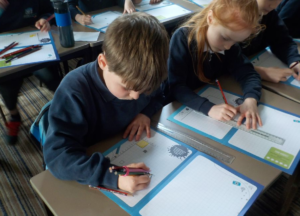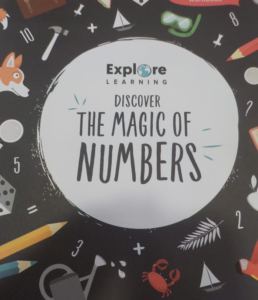 Term 3
Class 3 Term 3 'Iron Man' Homework Brochure
Term 2
Class 3 Term 2 'Stig of the Dump' Homework Brochure
Forest School
The children in Class 3 were definitely challenged when they were shown how to make Christmas decorations from hazel branches!  Everyone showed determination and perseverance, as well as excellent teamwork.  Some of the decorations were adorned with coloured wool and felt, while others will be decorated at home.
Pictures to follow.
Term 1
Class 3 enjoyed their forest school session weaving willow to make bird feeders. They managed brilliantly to create some impressive feeders that wouldn't look out of place on sale in a garden centre!