School Council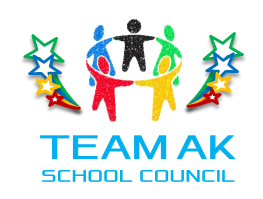 At AKPS we have been running a School Council for a number of years, the children have been involved in organising, managing and running a school tuck shop, fundraising days for a range of charities and lots of different exciting projects over the years.
The School Council benefits the whole school, pupils and teachers, because it provides opportunities for pupils to communicate their feelings as well as influence decisions that are made within school. Councillors develop skills such as confidence, communication and negotiation. It is the responsibility of each Councillor to ensure that they express both their own views and the views of all the other pupils they represent.
A school council is a formal group of pupils within a school who are elected by their peers to represent them and their views. It is an important and useful way for schools to provide leadership and development opportunities for their pupils.
School Council were given a very exciting new project to introduce, implement and lead throughout the academic year. We have introduced a House Point System to AKPS where children are able to earn House Points for their team for a variety of reasons, this is now  well established. Every student in the school, from FS2 to Y6, has been allocated a 'House' to which they belong and will belong to for their entire time in AKPS. The whole school voted on the Student Council member to be the figure-heads of each year group. Students can earn House Points for their team through being kind, considerate and helpful as well as for working hard, persevering and always trying their best. House Points are counted weekly and the results displayed in the corridor and there will be termly rewards for the winning team.
As well as organising and managing fundraising days for Red Nose Day etc, the School Council run the House Point system and collect the House Points every Wednesday lunch time, count them up and add them to the House Point display. The School Council then stand up in the Celebration Assembly on a Thursday morning and announce the winning House that week.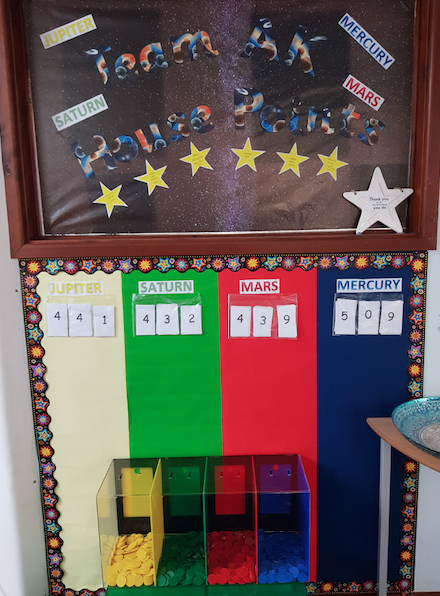 School Council 2022-23
The School Council Team:
Year 2 – Isabelle, Jacob
Year 3 – Raffy, Evie
Year 4 – Imogen, Oliver
Year 5 – Harriet, May
Year 6 – Nate, Lacey-May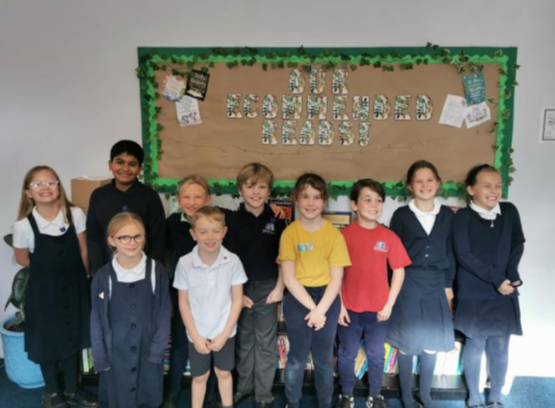 We are looking forward to offering the best we can to this school, listening to our class mates and suggesting ideas to Mrs. Saville to help our school to shine even brighter! We make sure we involve and listen to children in Classes R and 1 and take their ideas to meetings too.
Some of our plans for this year include:
Anti-Bullying week
Raising money and awareness for various charities through themed non-school uniform days
Improving our outside environment (focussing on eco award and play leadership)
Readathons
Themed subject days
Healthy food tuck shop
A leadership day with Mrs. Saville
School Council 2021-22
The School Council Team:
Year 2 – Kobie, Kiina
Year 3 – Lucy, Seb
Year 4 – Evie, Thomas
Year 5 – David, Ellie
Year 6 – Mia, Benj
At the end of the Spring Term, our inspirational Year 4 teacher, Miss Chomicz, cut her famous locks off to donate them to The Little Princess Trust. She has been growing her hair since she left Primary School and we think she was very brave to make the decision to cut up to her shoulders – the total length of hair donated was a huge 61cm! Not only did she decide to face the chop, she also did so in front of all the children and parents during our Heroes and Heroines celebration assembly. 
School Council supported her with her fundraising efforts by sharing details, writing parentmails and hosting a crazy hair day on the day of the cut. They helped her raise nearly £1000 for this very worthy cause – this is almost enough to make 2 wigs! 
The hair has now made its way to The Little Princess Trust and will be made in to a wig for a child who has been through or is going through treatment for cancer or other illnesses. 
Since Miss Chomicz has had her hair cut, there have also been children throughout the school that have already cut or are planning to cut their hair, inspired by her courage!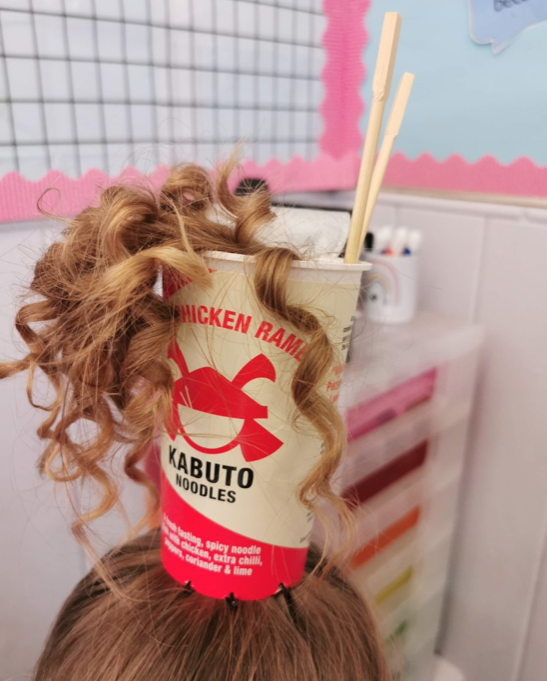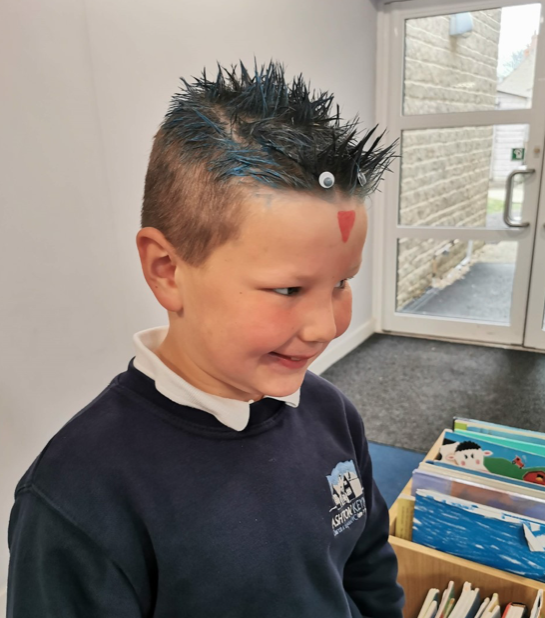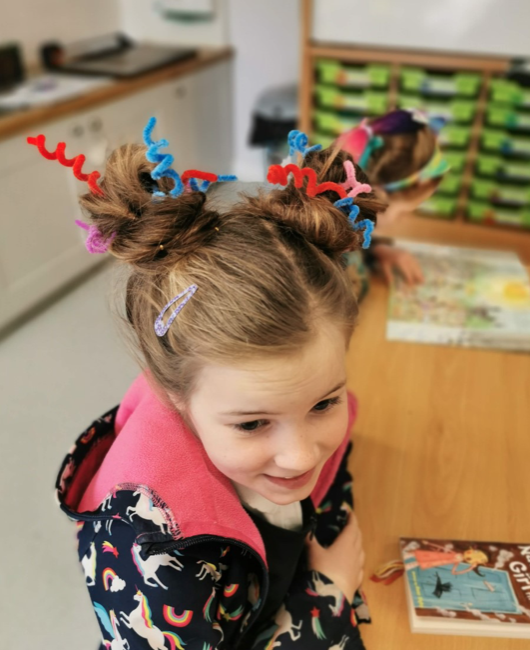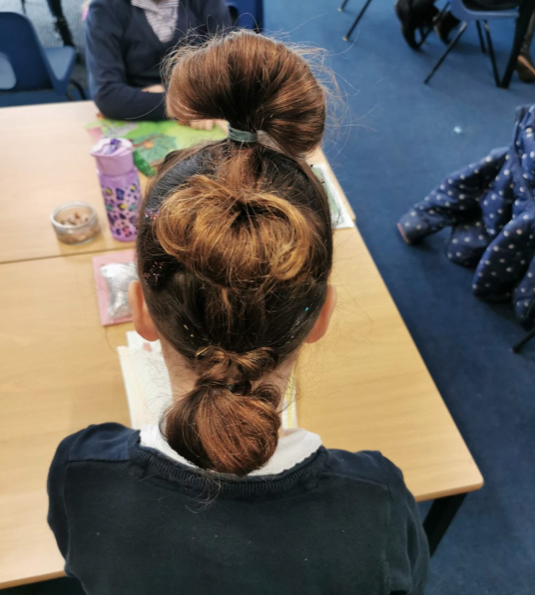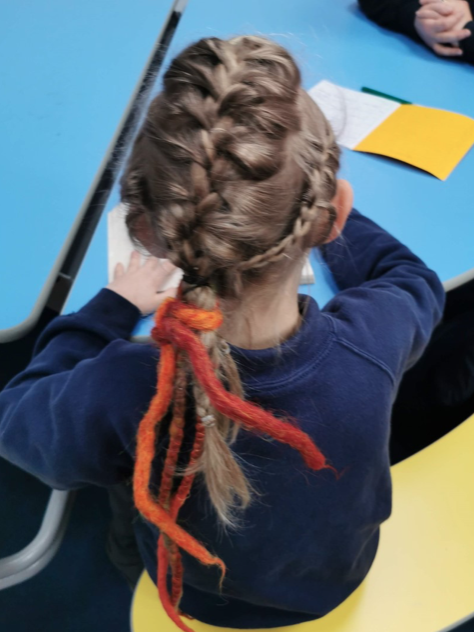 School Council launched a school-wide plastic investigation as part of the Big Plastic Count, getting all children (with support of their parents) to keep a tally of the amount of plastic they use in a standard week in their household. This information was then submitted to a nationwide database which is being taken to Westminster to help guide the Government to produce less plastic waste. Harriet and James (Years 5 and 3) became honorary school council members to launch the scheme with a whole school assembly and they were fantastic! They have been an excellent addition to the School Council Team!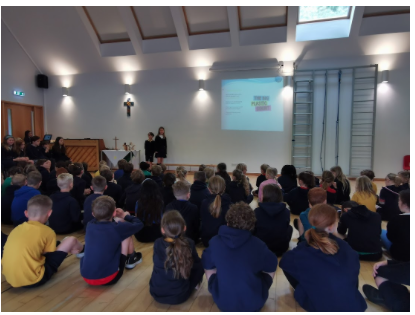 School Council have had a very busy first term here and have met as often as has been possible for them to do so. They planned and delivered a range of activities for Anti-bullying week including Odd Socks day, a presentation tailored to each year group on the theme "One Kind Word", competitions to design anti-bullying Super Heroes and a Kindness Bingo game to encourage the whole school to take part.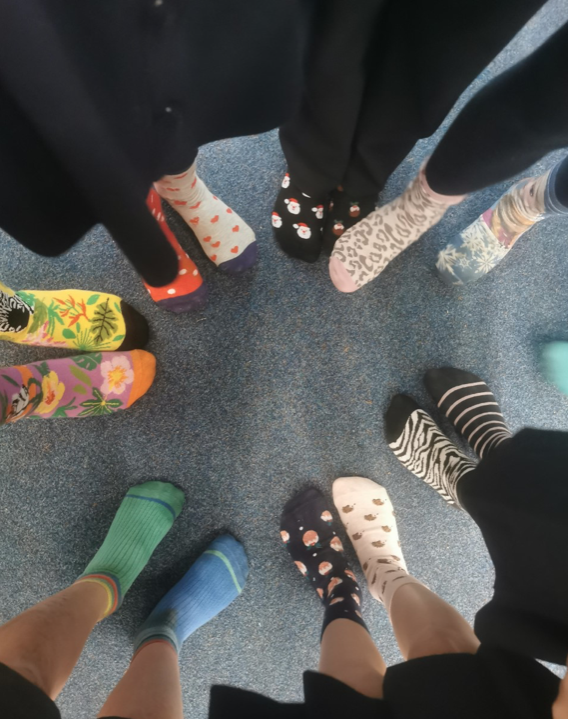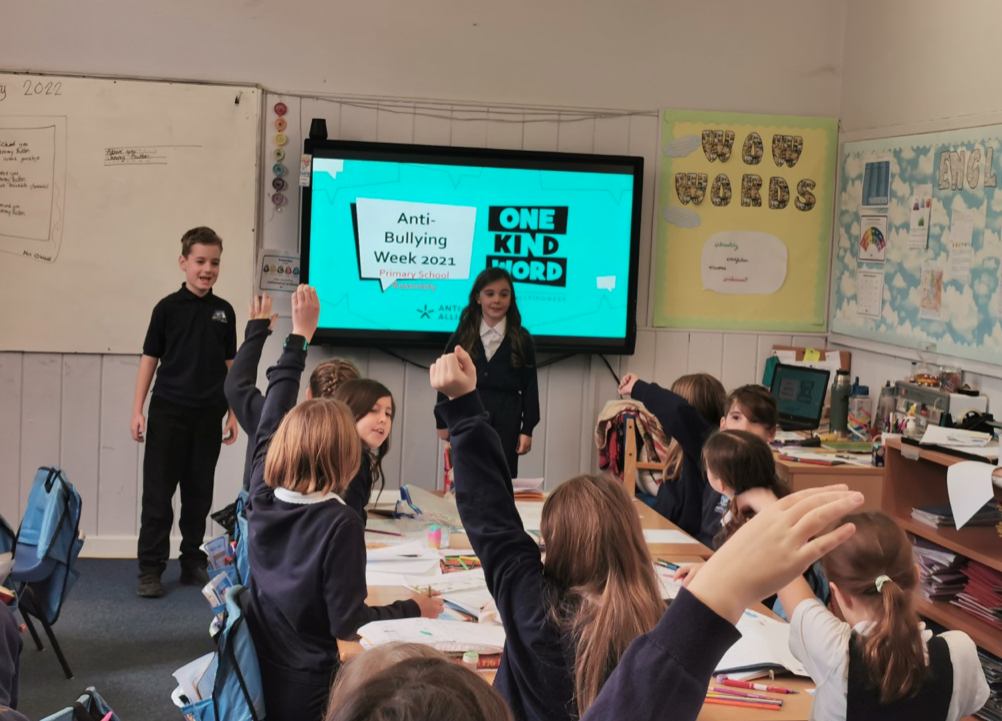 The children took time to consider the powers their super heroes needed to help to spread the "One Kind Word" message and it was a very tough challenge for the School Council team to decide on a winner for the competition.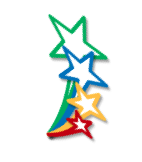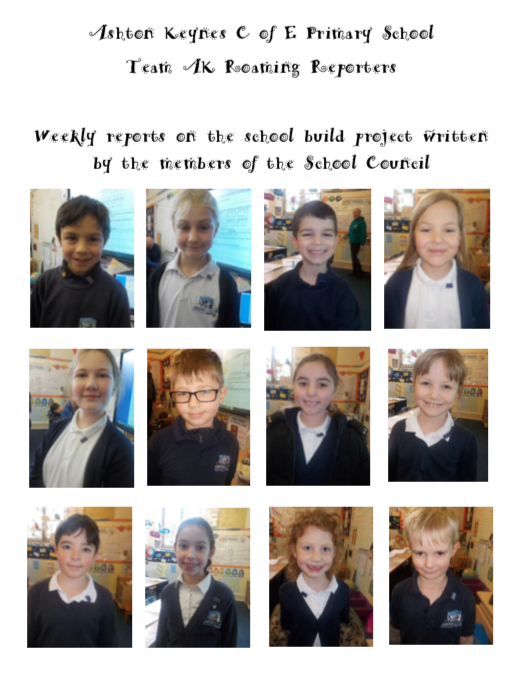 School Council Team AK Roaming Reporters
Tuesday 3rd March 2020
The roof of the learning hub is being built! There is so much going on at the moment, the new building has been joined to Class 5 and the rest of the school building and the roof has been constructed for the learning hub. It is going to be so beautiful, we love how high the ceiling is going to be and can't wait to sit inside it being able to see the sky through the sky lights.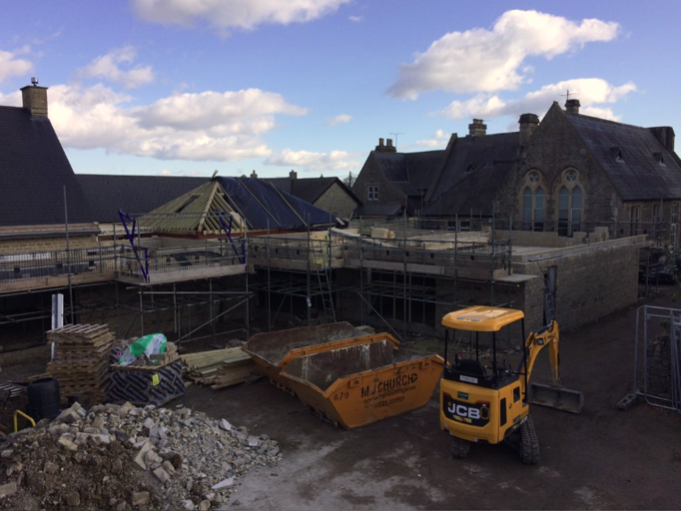 Tuesday 11th February 2020
It has started to get very dark at Team AK…the builders have put scaffolding up and wooden boards across to make a floating floor for them to continue the building work above ground and build higher and higher.
The builders have started to do more crucial work like stabilising the beams and taking out the windows in the old music room. Excitement is rising and so are the beams! The work has been charging ahead. They have even blocked the old automatic lunch hall doors to prepare for the next stage.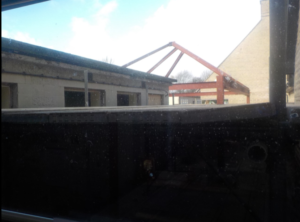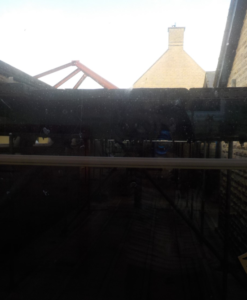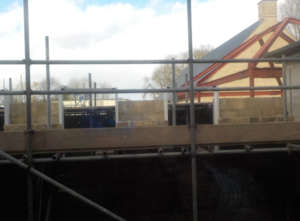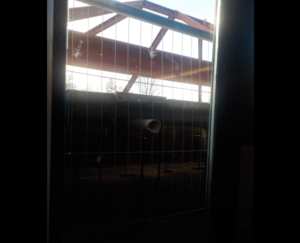 Tuesday 4th February 2020
What a difference a week makes! The builders have built the structure of the learning hub out of metal beams, we can't wait to see it all come together. The outside of the new building has also had the beautiful stones added to make it fit in with the rest of the school building. It is going to have such a huge impact on everyone in Ashton Keynes and we are so excited to see it all grow.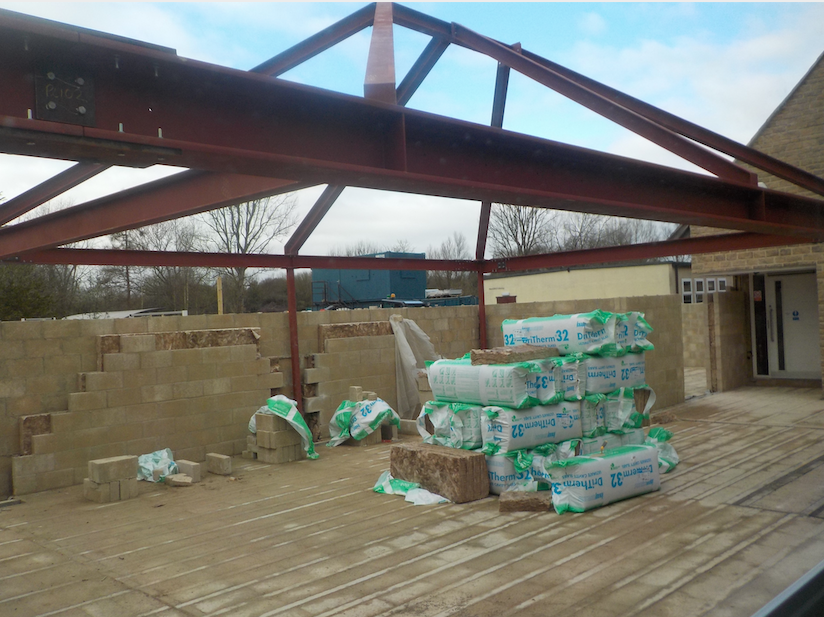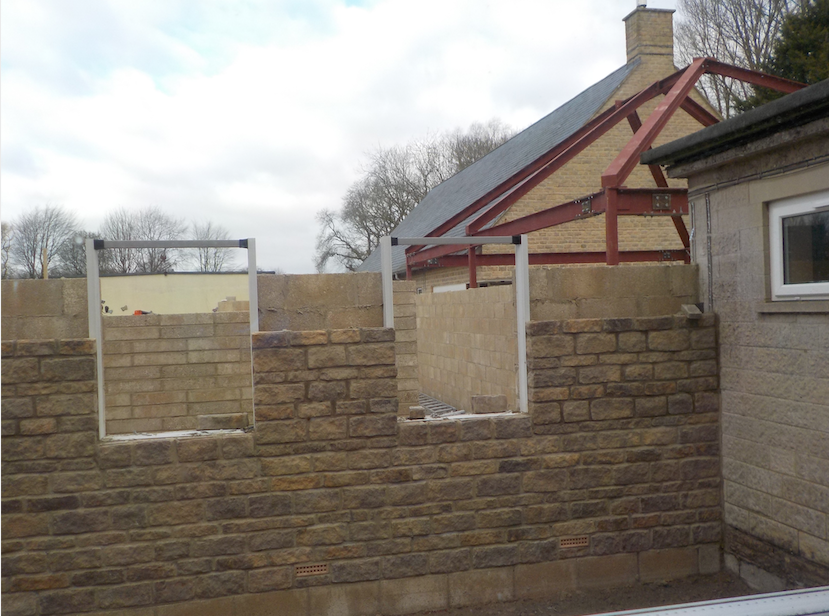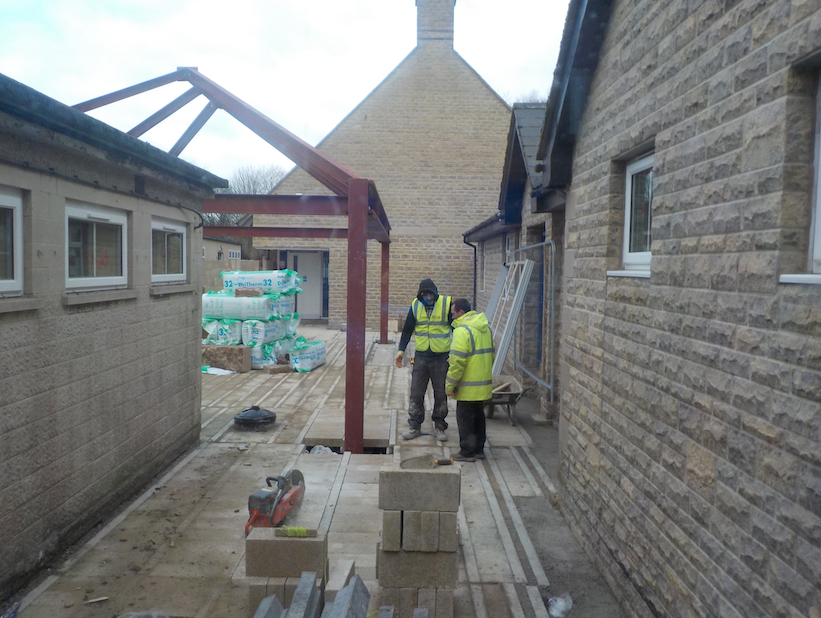 Tuesday 28th January 2020
The builders have now started to make the rooms by building the walls up from the foundations. They are making the walls really tall really quickly! They have used bricks, cement and insulation to make sure it does not get cold inside the new school building. We can even see where the new windows and doors are going to be as they have put the frames for them all in. It is all coming together and looks absolutely amazing!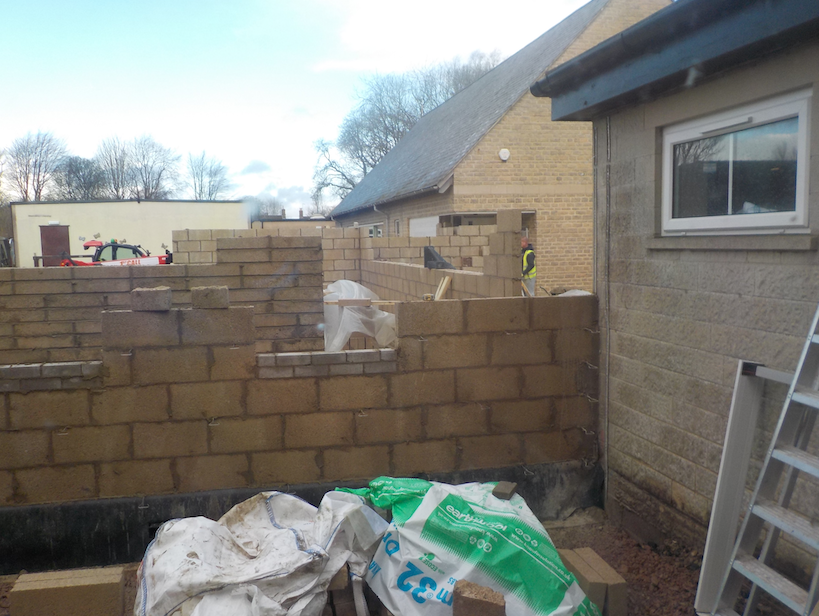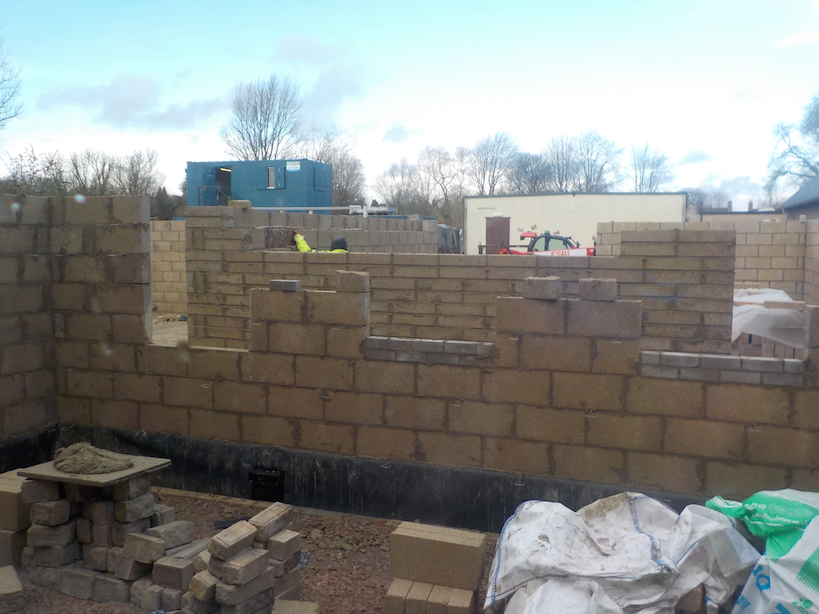 Tuesday 21st January 2020
We made history this week at Team AK. The builders laid the entire floor of the new school building with individual bricks and enormous steel bars. During assembly on Monday, Mrs Saville invited the entire school, including all of the adults, to be the first (and last!) people to walk on the foundations of the whole school before the walls go up in the next few weeks. It was so exciting and amazing to stand in our future learning hub and classrooms.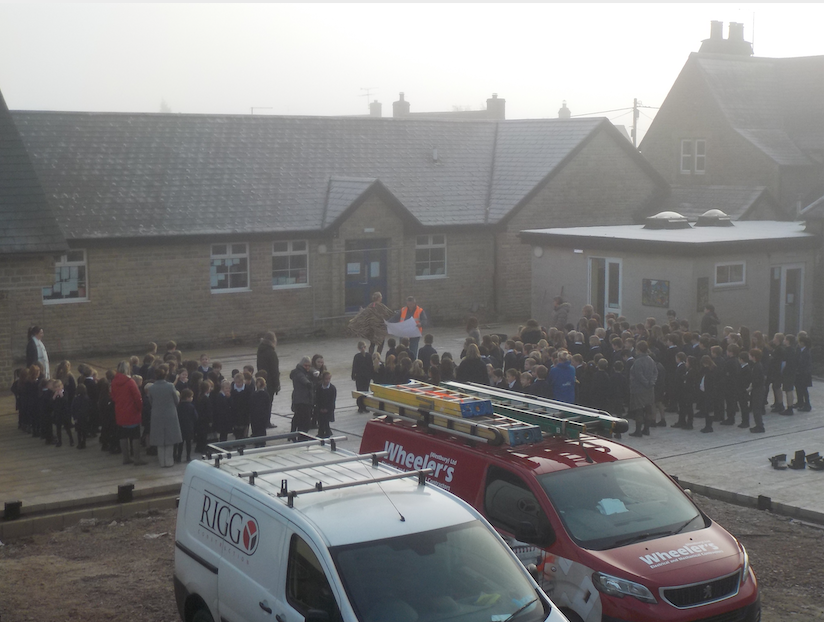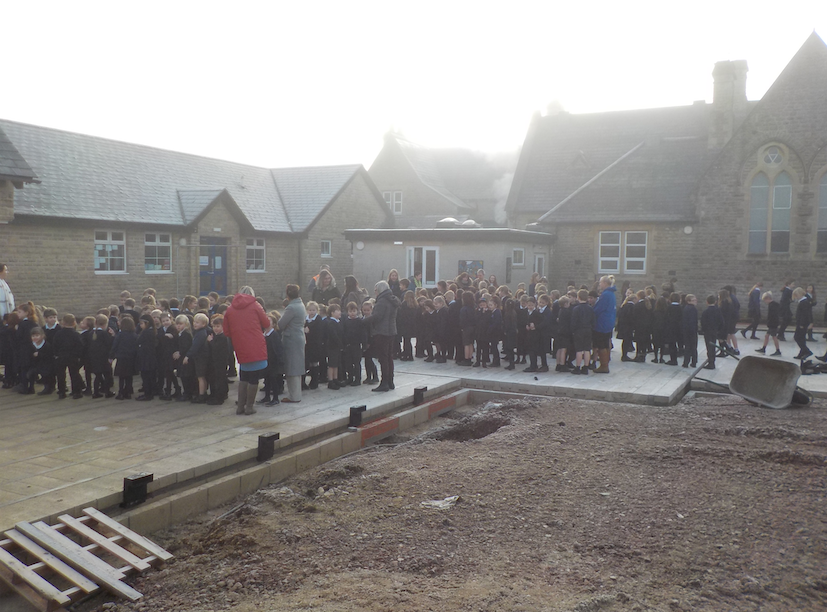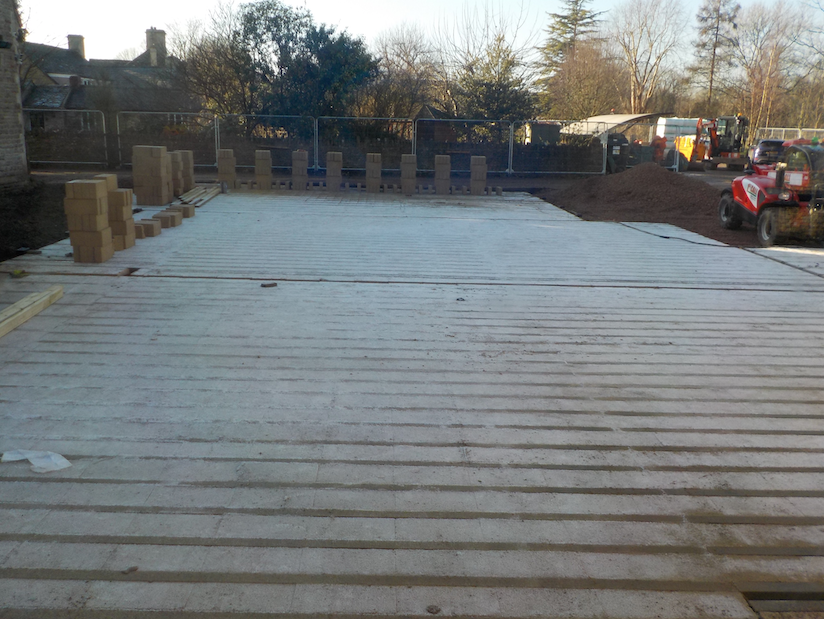 Tuesday 14th January 2020
It is full steam ahead at Team AK with the new build this term. We were all so excited to see an enormous crane here this morning! We have been fascinated watching the builders hard at work laying the flooring of our new learning hub and classrooms. It is incredible what they can do and how they squeezed the crane onto our playground! 
The building is really taking shape now and we are able to see what our new school is going to look like. We can't wait!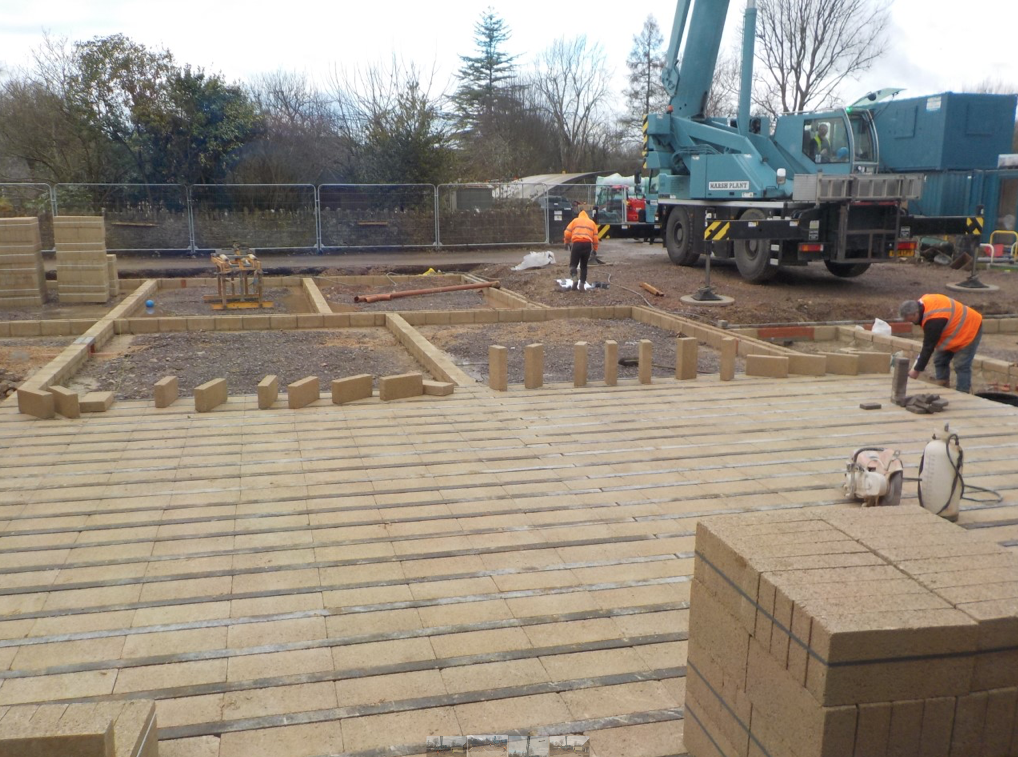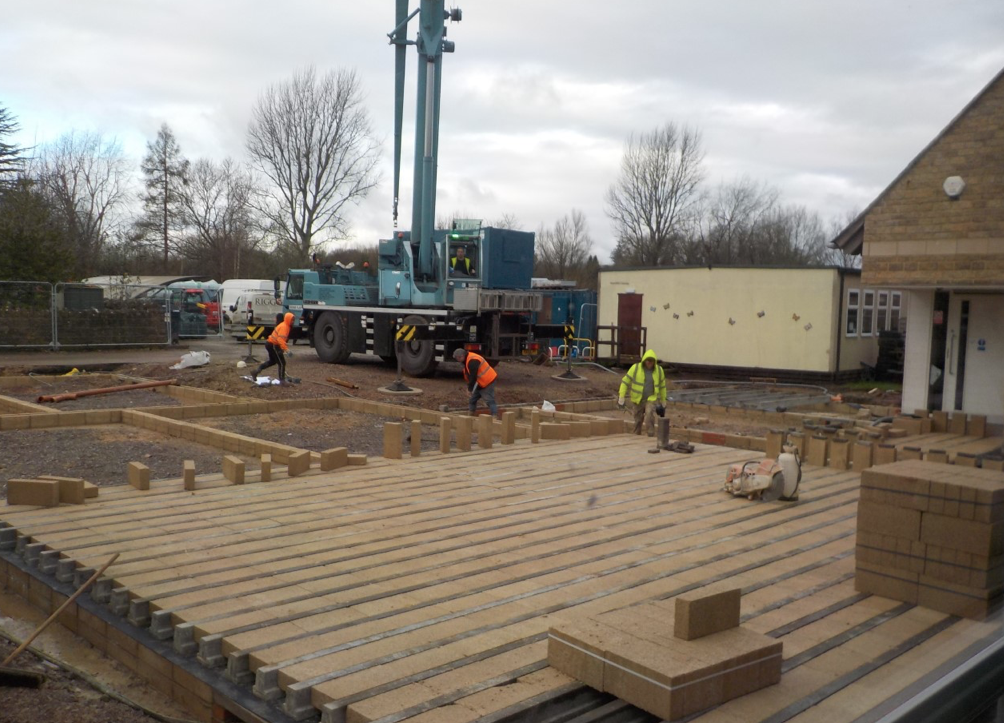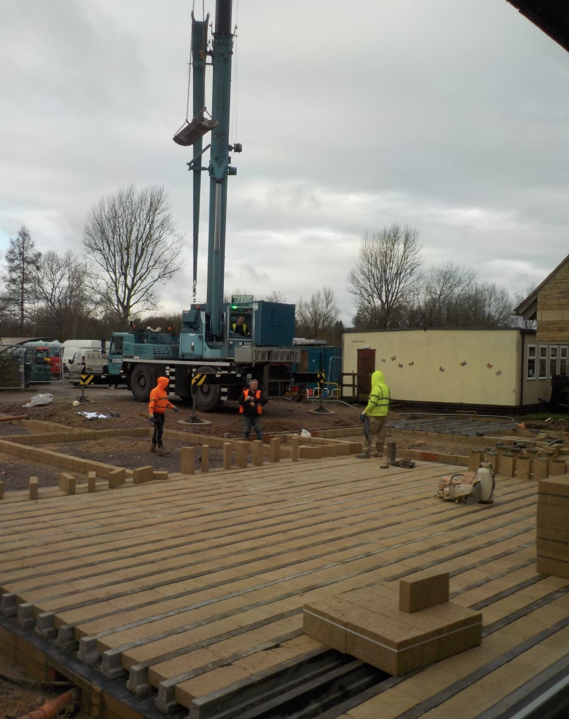 Tuesday 17th December 2019
As if last week wasn't exciting enough, this week we found out phase 2 of the school build was given the go ahead! Woohoo! This means we get our learning hub in the centre of the new school, with loads of extra learning space for groups, music, drama, clubs and so much more! Because of the changes, Classes 1 and 2 had to be moved to make space. This was so interesting to see happen. The whole building was picked up and moved a few metres back! This is because the new class 2 will be attached to the hall to make space for the learning hub.
We are so excited to see the developments when we come back in the New Year.
Merry Christmas everyone! See you in 2020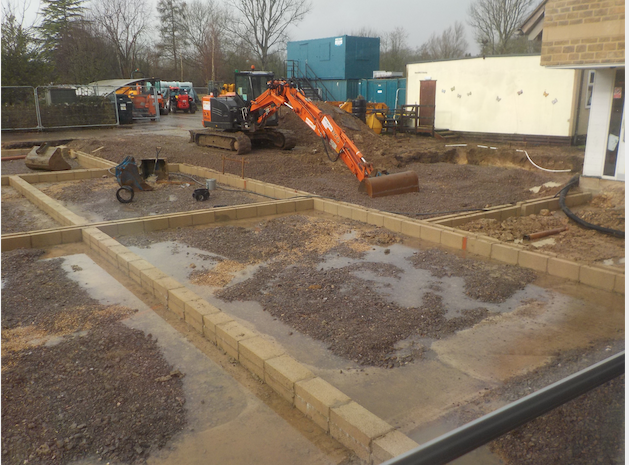 Tuesday 10th December 2019
Wow! What an exciting week it has been for the school build. Exciting for two reasons: first, we had bricks delivered and put into the foundations! Then, Mrs Saville panicked and thought it was the shape of the new building but was quickly put at ease by Andy when he told her it was just the floor, not the floor plan! It is so exciting to see just how quickly it is all coming along. We are patiently waiting for the concrete to be poured and the building to start taking shape.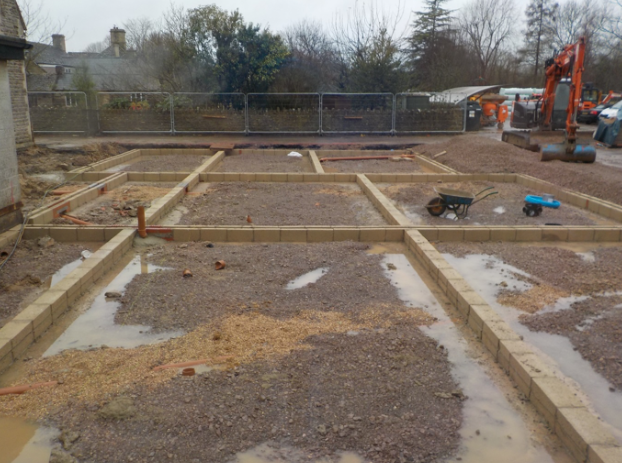 Tuesday 3rd December 2019
This week, the builders have poured loads of cement into the foundations of the building. If you look carefully, you can see the string separating the different rooms, classrooms and hallways of our new school building. When it is finished, it will be one big building joined to our main school so we will all be together and won't have to go outside to visit the different classrooms. There are lots of teams working together to make our new building, including people drilling into the ground to help each other create the foundations. It is so exciting to see it all coming together.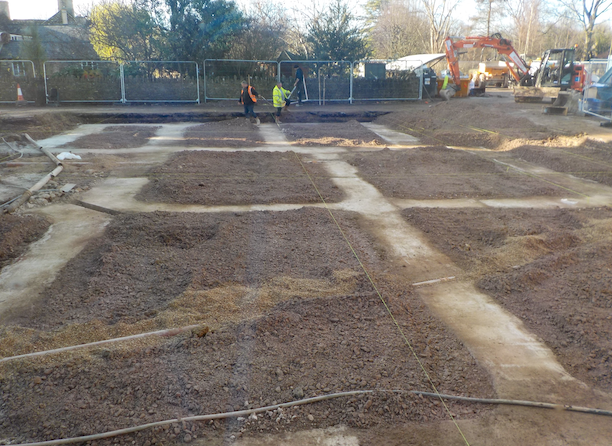 Tuesday 19th November 2019
This week lots of concrete has arrived at Team AK! We are very grateful to Cullimore's who generously donated sand, gravel and concrete to our school build. Without this generous donation, our school build wouldn't be as amazing as it is going to be. We were able to spend the money on equipping our new classrooms instead of concrete, so we wanted to say a huge thank you to Cullimore's for their donation. We wrote them a letter to show our appreciation.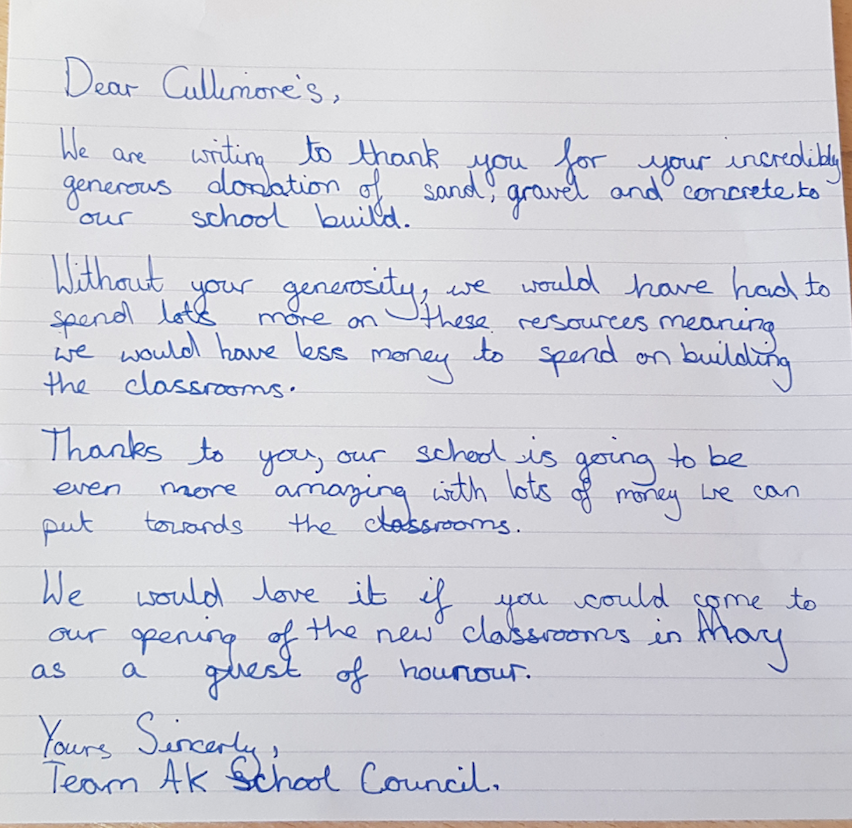 As well as this generosity, BMI Redland are also donating all of our roofing materials for the school build. We are very grateful for this donation as without a roof, we would be very wet! We have also written a letter to BMI Redland as a thank you to show just how much we appreciate them and their generosity.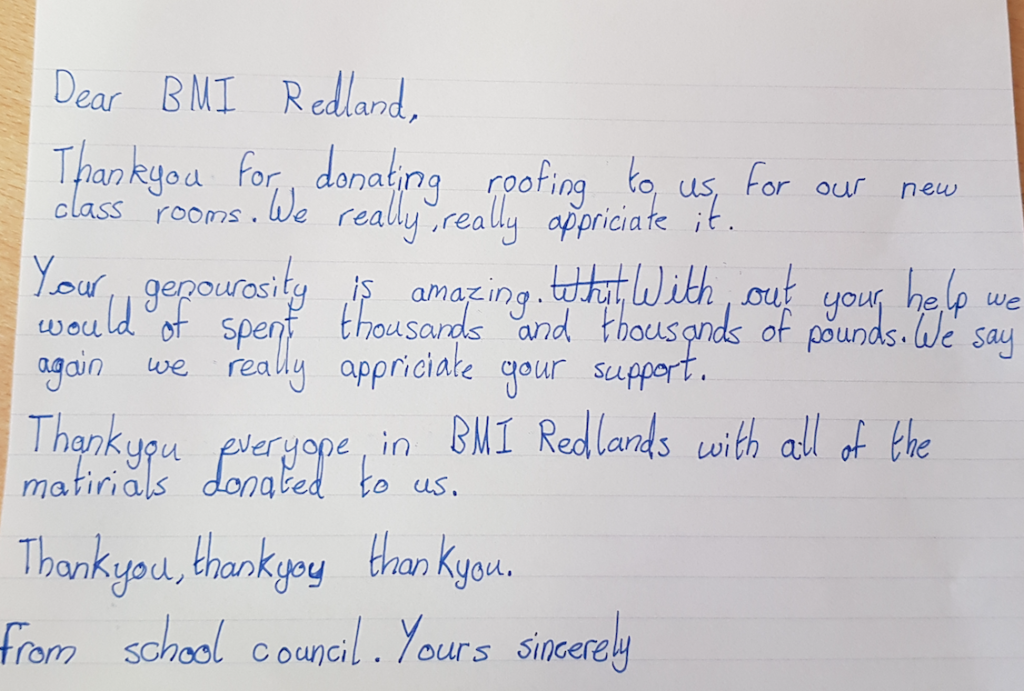 Before laying the concrete, we saw the builders and electricians installing lots of wires underground. It has been very interesting to watch and very dirty work! They have been working every day in the freezing cold and wet November weather we have been having so we are very grateful for all of their hard work too. They have even drawn a giant 'H' in the concrete, which we think stands for hard work! J (Or Harry Potter)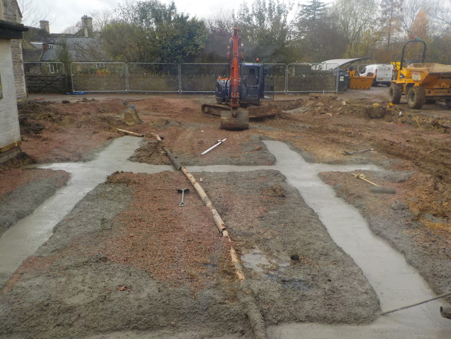 Tuesday 12th November 2019
This week has been action packed for our school build! The diggers and other machines have been working their tyres off as they prepare the foundations for our new building and classrooms. The playground has been completely demolished with lots of big holes full of water and rubble from the diggers.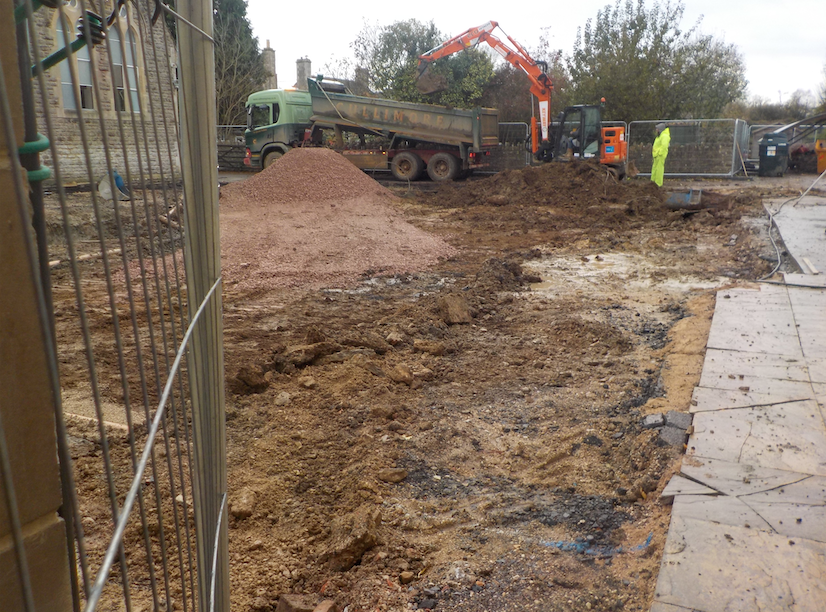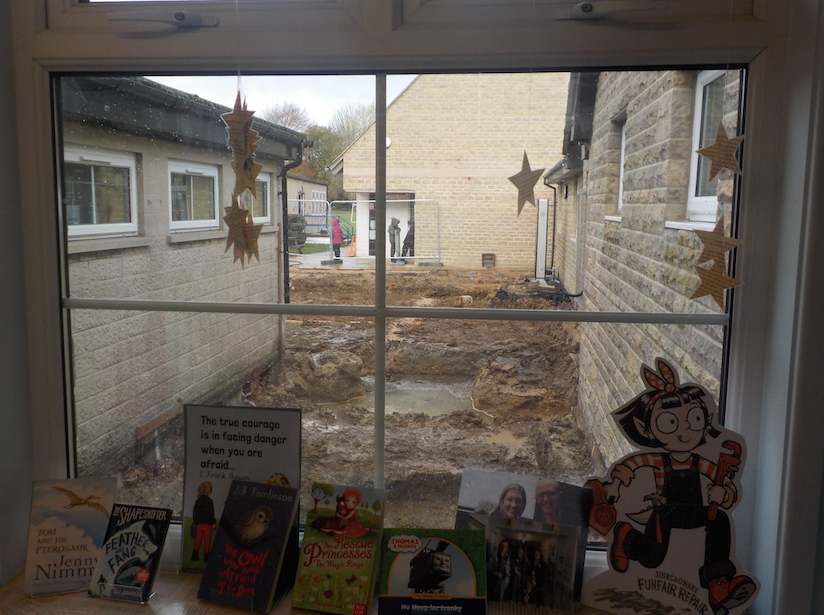 As School Council, we interviewed lots of different members of the staff team to find out what they think about the building:
Ted asked Mrs Timbrell, "How do you feel about the new school building?" Mrs Timbrell responded, "I feel very excited about the new school buildings."
Rebecca asked Mrs Smith, "Is it going to be worth it in the end?" Mrs Smith answers that she is very excited that all of the school will be linked together and that the younger children won't have to walk outside in the cold in the winter!
Zoe asked Mrs Marsh, "What are you most excited about?" Mrs Marsh said, "New beginnings!"
Livvy asked Mr Watson, "How do you feel about having a smaller playground?" Mr Watson said he finds it tricky teaching P.E but all of the staff said, "Short term pain for long term gain!"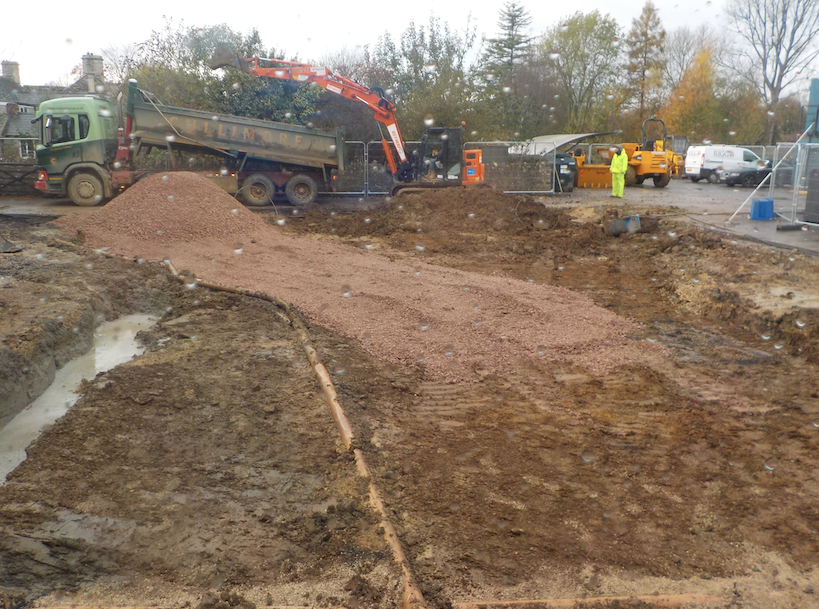 Tuesday 5th November 2019
When we got back to school after half term, the whole playground had been dug up ready for the new buildings. It is really exciting! To get into the school has changed completely as we cannot go through the usual gate. Instead, everyone now walks through the staff car park, around Year 5 and 6 classrooms and the back of the hall onto the playground. There is a temporary path leading the way to the remaining playground for you to follow.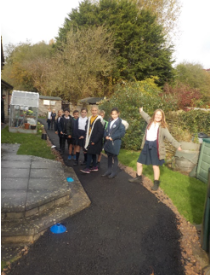 So far, the playground has been dug up and the safety fence put all around to keep us all safe. We are so excited to monitor the progress every week and report back to Mrs Saville.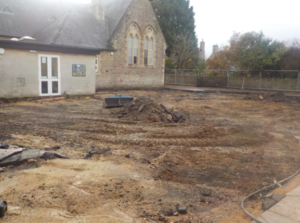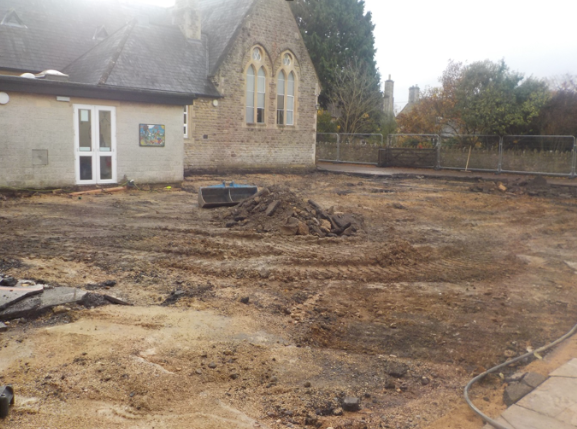 To make sure we are all safe, we had a fire drill on Tuesday morning. Everyone was calm and sensible when walking the new route to the fire evacuation point on the playground. We are all confident we will be safe in any situation.
ARCHIVE POSTS BELOW
The school Council representatives for 2016/17

Tuck Shop – Open Mondays and Fridays
Recent Events:
Friday 18th November Children in Need. Dress down day. Come wearing your PJs and with your favourite teddy bear for a £1 donation. More to follow!
Friday 16th December Christmas Jumper Day. To raise money for Save the Children. Come to school wearing your best Christmas jumper for a £1 donation
Look what we raised!: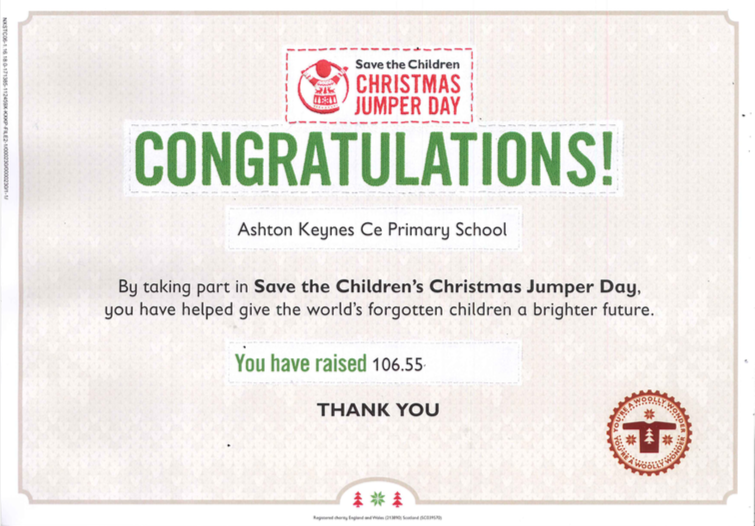 The school Council representatives for 2015/16

On Friday 13th November AKPS helped to raise money for Children in Need. The children came dressed in yellow or as Pudsey Bear. Special mention to Mrs Morton who we mistook for Pudsey until she revealed herself! In assembly the School Council chose the best dressed child from each class. Here they are for you to see! At lunch we used the money collected to make the face of Pudsey Bear. I'm sure you'll agree they did a fantastic job! Many thanks for your support in helping to raise money for this important charity. We will update you soon on the final amount raised.r details of how the School Council is planning to raise funds for Children in Need on Friday 13th November.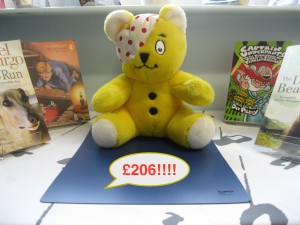 The School Council counted and bagged up the money raised for Children in Need. It came to a whopping £206 plus some small change! This is an amazing amount thank you!!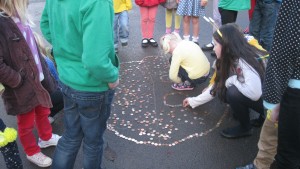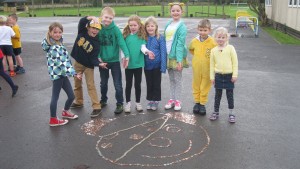 The School Council are raising funds to buy a special friendship bench for the playground. To do this they are organising a dress down day on December 17th. Please read their letter below for full details.
School Council letter star bench
The school Council representatives 2014/15

Please click below for details of the Buddy Bus Stop competition:
Buddy Bus Stop Competition Poster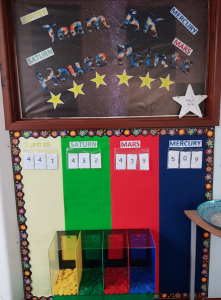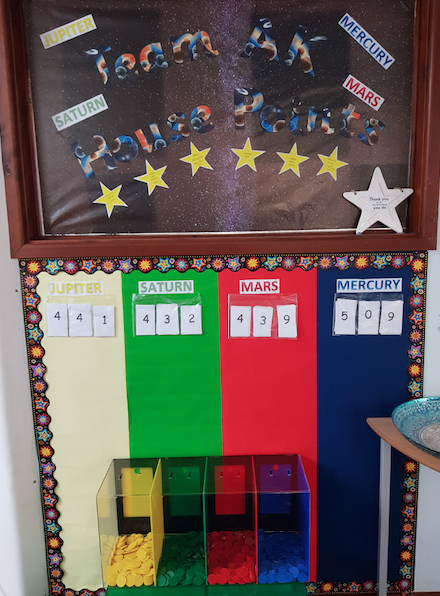 Please click the links below to view the letter from the School Council and their fabulous posters regarding the fundraising they have organised for Children in Need and Juvenile Diabetes Research Foundation on Friday 14th November.