Class 2
Welcome to Class 2
Class 2 Annual Curriculum Overview 2021-2022
Term 4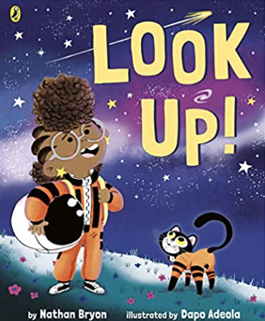 Spring Term 2 has been based around the book Look Up! By Nathan Bryon. The children learnt all about the astronaut Mae Jemison and wrote their own biographies about her. Continuing with our biography theme, children researched an inspirational person of their choice that has helped shape our world. They wrote their own biographies about their chosen person. Some of the people selected were David Attenborough, Florence Nightingale, Martin Luther King, Rosa Parks, Cleopatra and Mary Anning. Linking with our space themed story, the class visited We The Curious in Bristol and enjoyed a fantastic space themed workshop and planetarium show. What a brilliant way to end a busy term!
Term 3
Class 2 has had a busy term. Spring Term 1 began with the children constructing egg box dragons.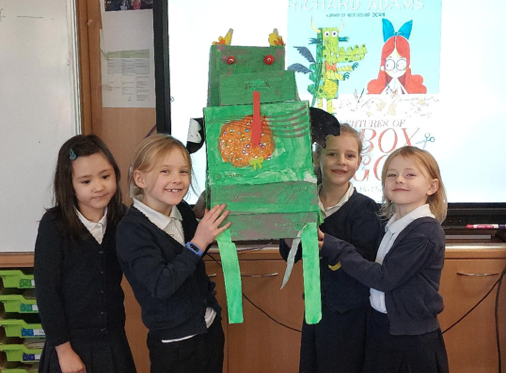 The class were reading the story Egg Box Dragon by Richard Adams and produced some excellent writing using the story as inspiration. The story had a London theme and so did much of our work this term, to link with our learning about London in geography. We had three class experts; Eva, Evie and Leo who produced and delivered impressive presentations on London. In computing the children learnt how to safely search using a children's safe search engine. They then used their skills to research more about London and produce PowerPoint presentations in partners.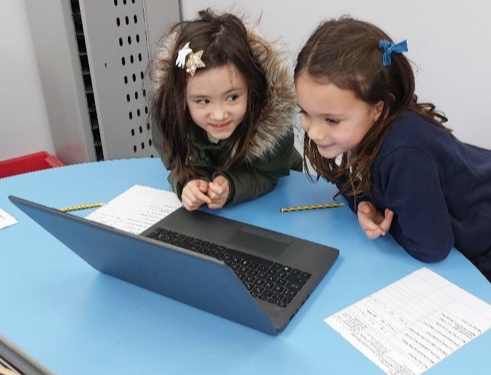 Take a looks at Eva's fantastic London presentation. Well done Eva! 
In art, children worked in groups to produce London themed textiles and we were lucky enough to be selected by local artist, Kathryn Gray, to have our work exhibited in the Telephone Gallery. It was even in the local paper! Art gallery housed within Cotswold phone box to open this weekend | Wilts and Gloucestershire Standard (wiltsglosstandard.co.uk)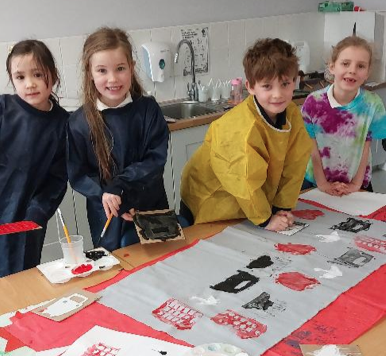 Term 2
Class 2 have had a busy term (2). Here is a summary of some of the learning that has taken place.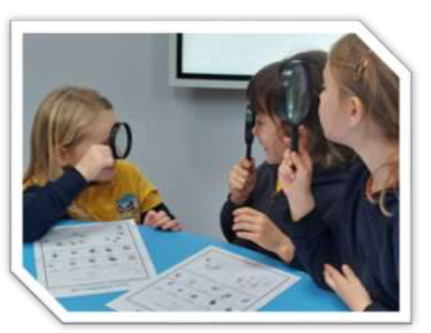 English: The children have enjoyed reading Traction Man and wrote their own adventure for him, producing it in the style of a graphic novel. They also created some super adverts and diary entries.
Art: We have been learning about different printing techniques including mono printing, relief printing and callograph printing. The children have produced some impressive Christmas themed prints.
Science: Much fun was had making rubber and foam balls as part of our learning about materials and their properties. We tested our balls to see whose would bounce highest. Kobie was the winner!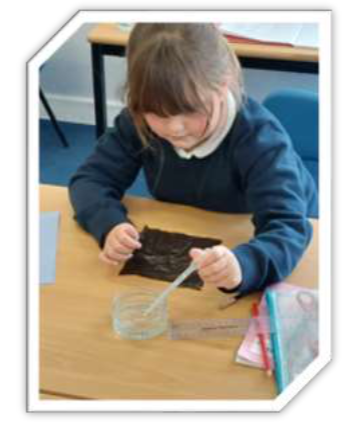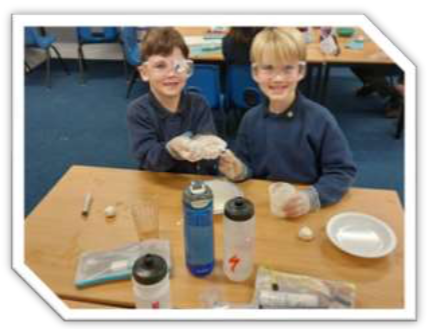 History: Class 2 are now experts about why we celebrate bonfire night and the reasons the gunpowder plot was formed. They produced some impressive 'wanted' posters for Robert Catesby and used sources of evidence to prove statements.
Computing: The children have used Scratch to code. They have learnt how to add sprites and backgrounds, change colour, add movement and sound. The noise when they all discovered the sound options was quite something – we had sirens, bleating sheep, electric guitars and more!! 🎧
RE: The children have explored the Nativity story and looked at famous artwork of the Nativity scene looking for evidence that shows that Jesus was a special baby. Reverend Shirley was kind enough to send through pictures of the stained-glass window at Holy Cross Church and some pictures of her favourite Nativity art work for the children to look at. They then created their own Nativity scene art work which will be displayed over Christmas at the Holy Cross Church. There are some beautiful pictures.
Nativity: We have been so impressed by how hard Class 2 worked to learn their lines and songs for Magical Christmas Journey. They all spoke so clearly on stage and with such confidence it was hard to believe they are in KS1! The sheep tango proved very entertaining as did the mystery noise which sent the cast into a fit of uncontrollable giggles!! 🐑🌟
TEAM AK: A thoroughly deserved Team AK treat has been earned by the children this Friday (17th Dec). A film with popcorn, dancing and games and a Christmas party lunch will bring this term to a close. What a fun way to end what has been a very busy term. Merry Christmas! 🎄
ARCHIVE POSTS 2020-21
Class 2 AKPS Annual Curriculum Overview 2020-2021
Year 2 Home Learning Information
AKPS Remote Learning Timetable – Year 2
Term 4
Class 2 have been learning about the 1969 Moon landing. They have become Neil Armstrong experts and have produced some super fact files about him. Read on to find out things you may not know about the first man on the moon!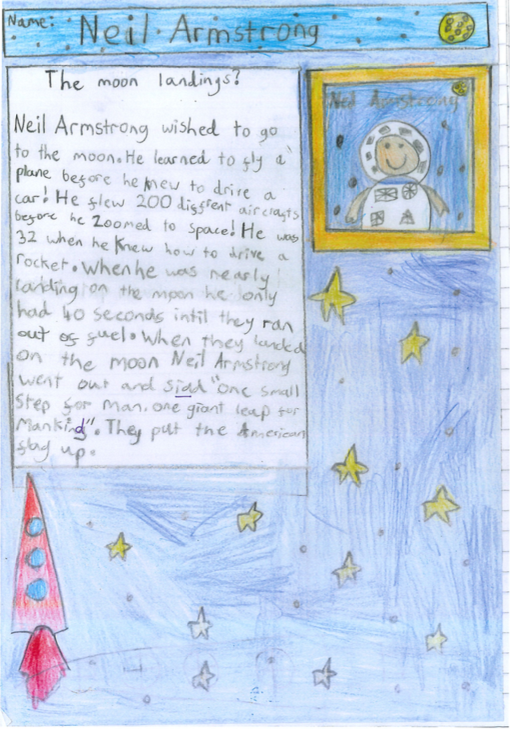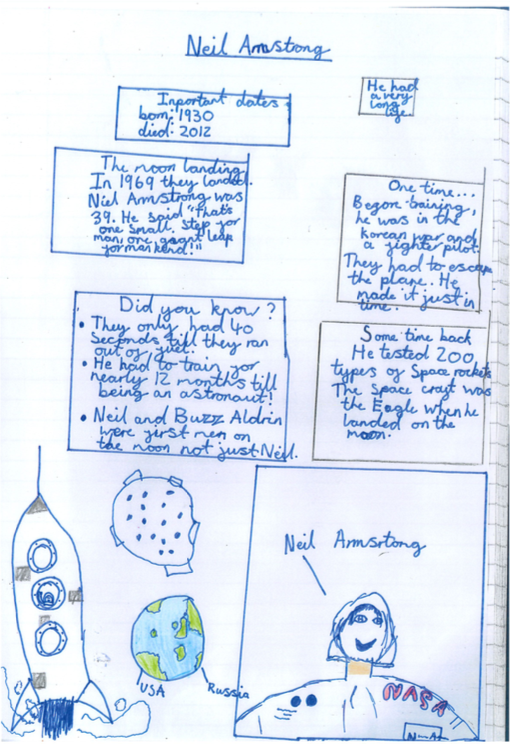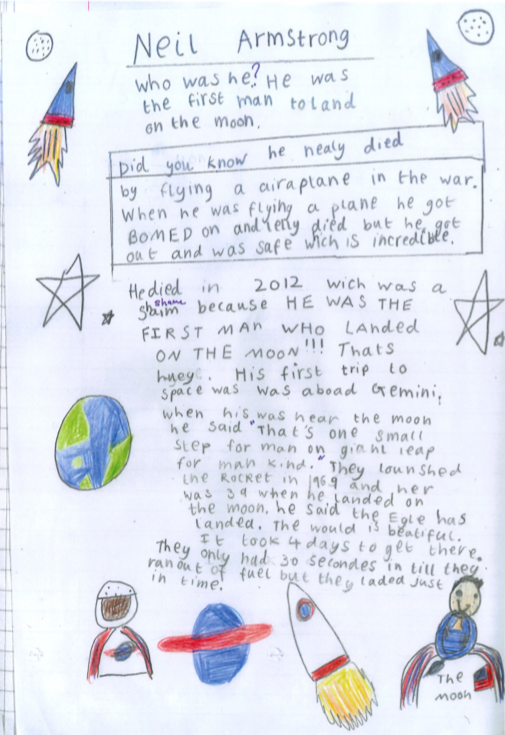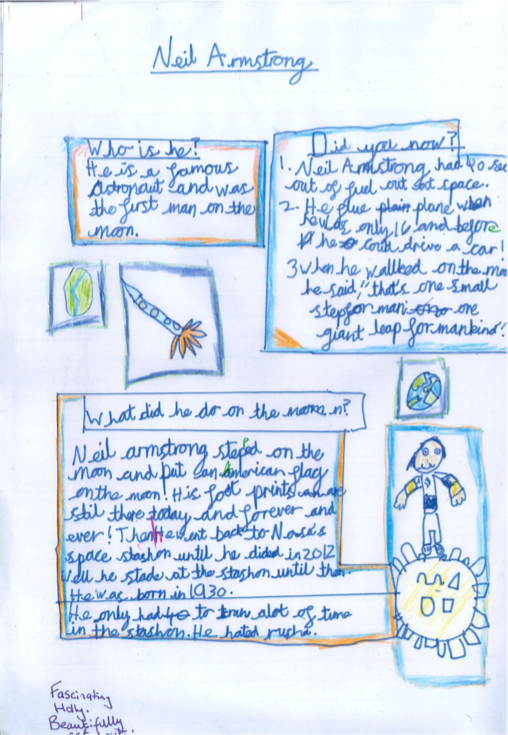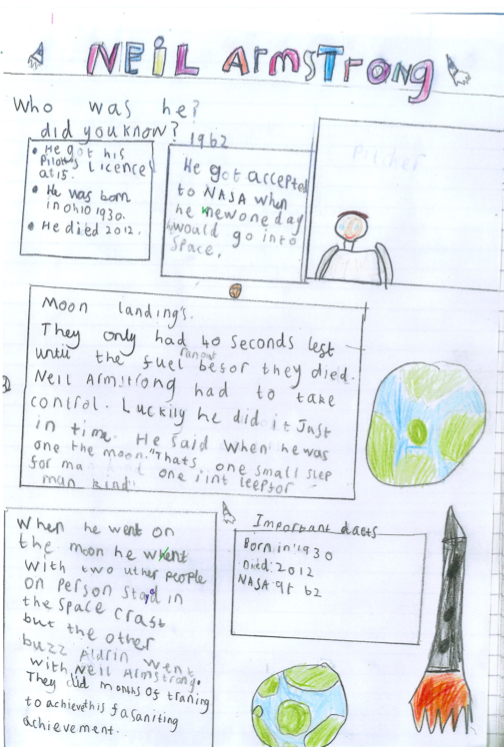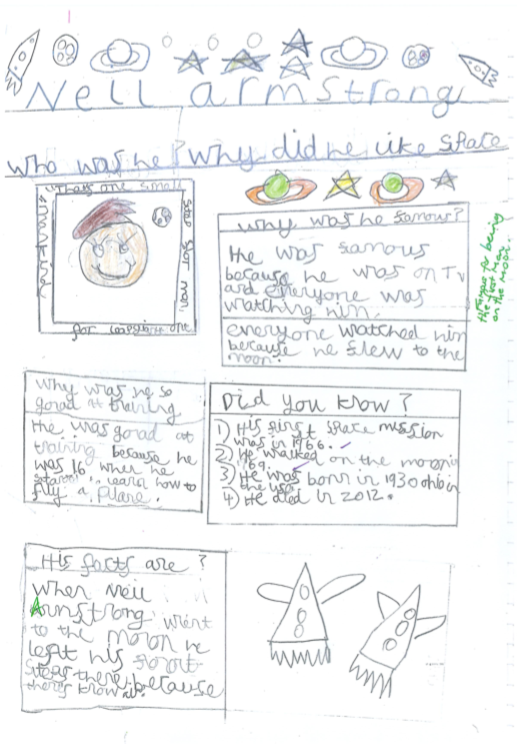 Term 3
The children in Class 2 have settled quickly to remote learning and have become experts at switching their microphones on and off during Zoom lessons! Here is a selection of their afternoon work from last week. In geography we were learning about the continents and oceans of the world, including ordering the oceans by size. Here are some of the maps they children made. 
Also shown is a selection of the children's art work linked to our sculpture topic. Holly produced a sculpture of her name after watching the Art Ninja programme on the BBC. Isn't it impressive!
Also shown are two storyboards by Holly and Bea which retell the story of the Necklace of Raindrops.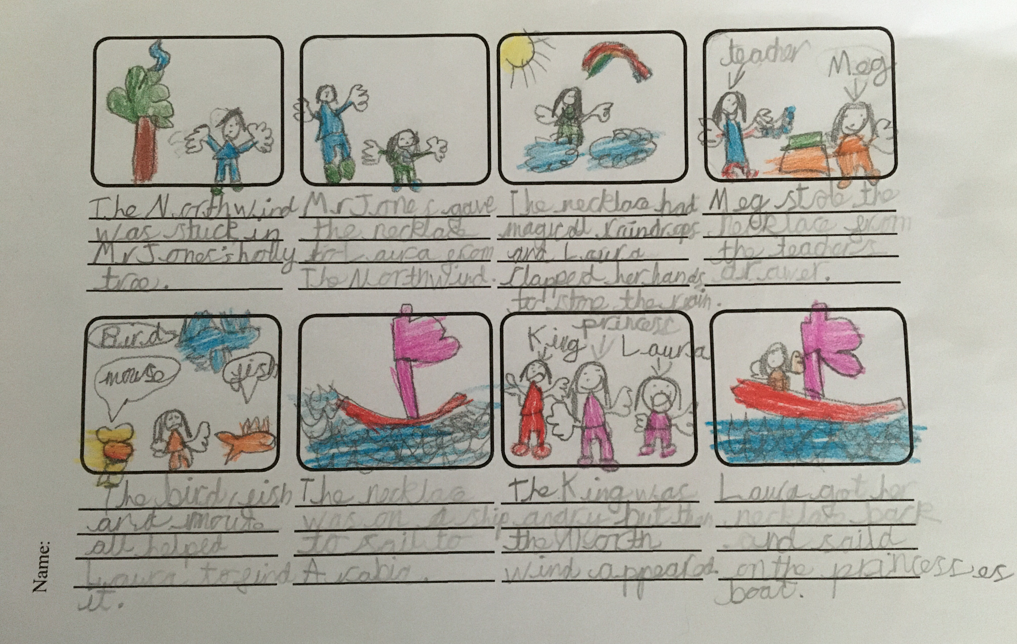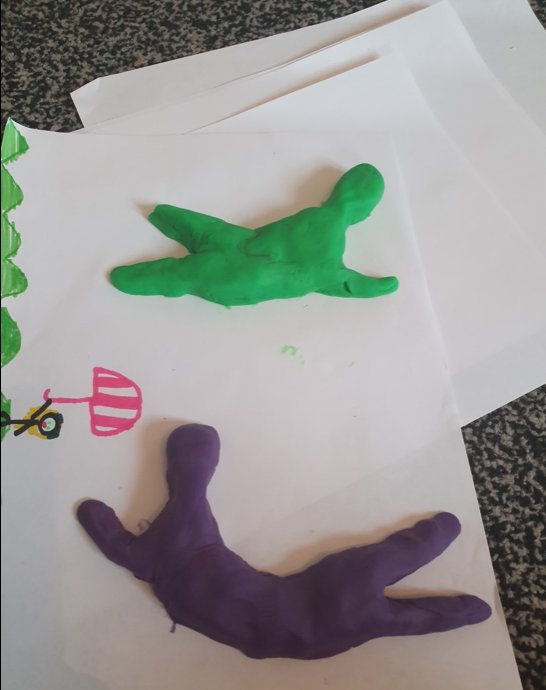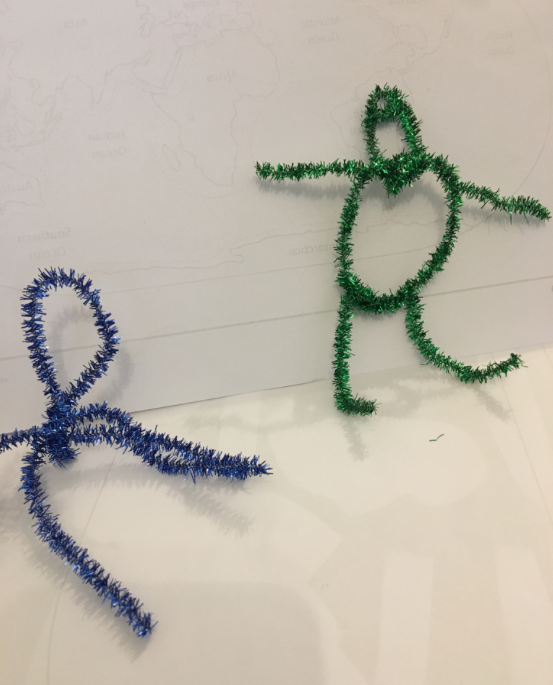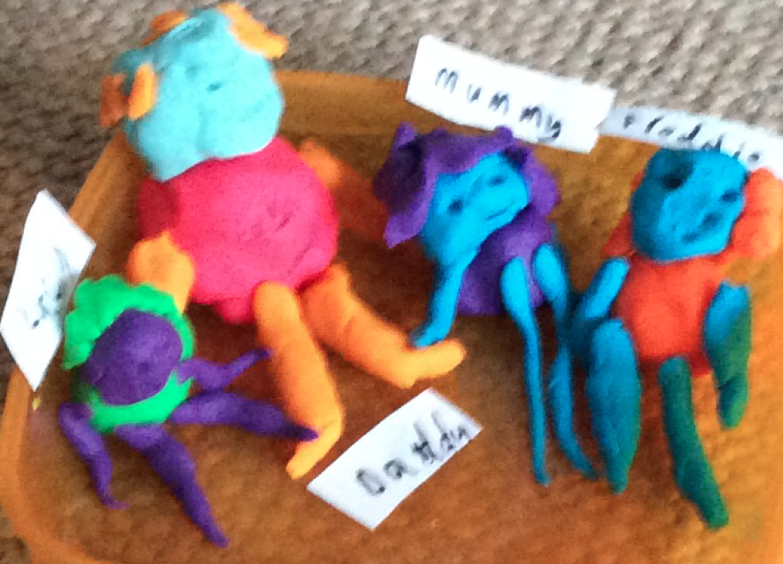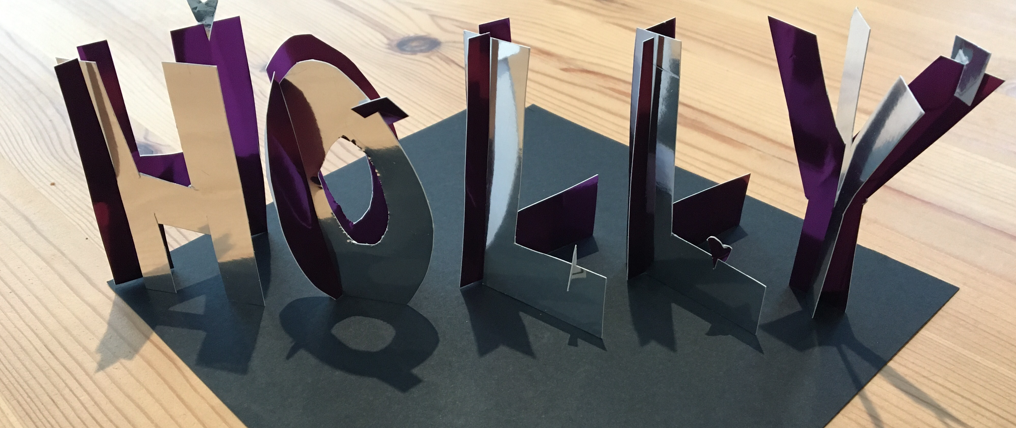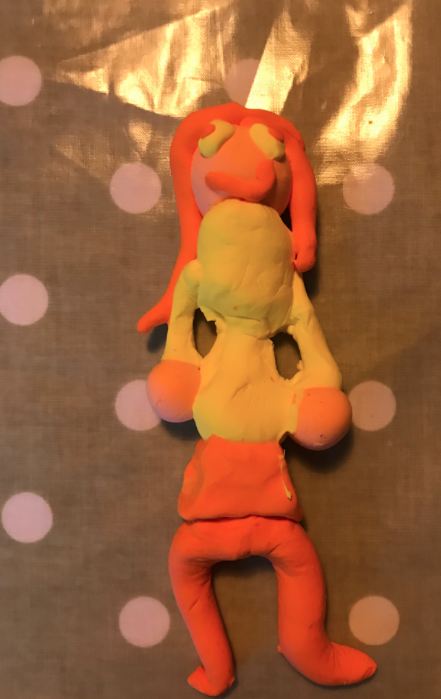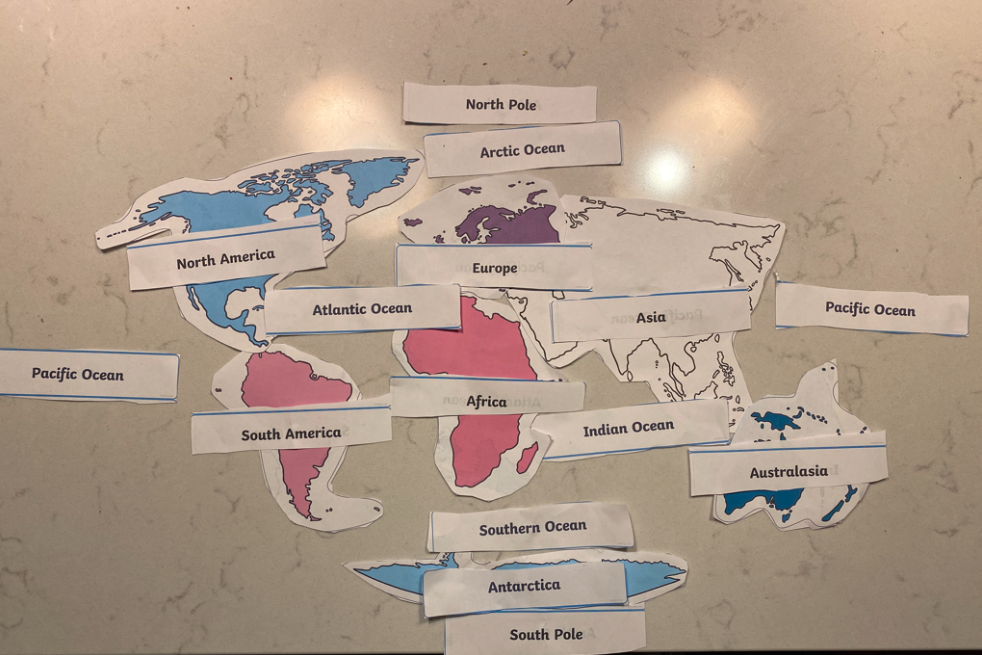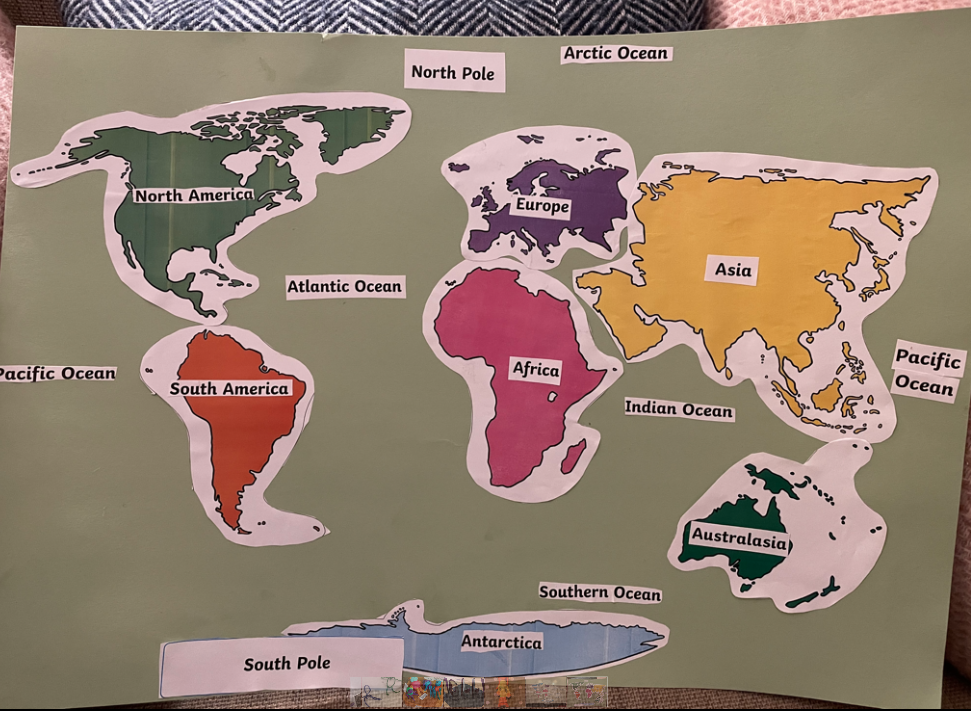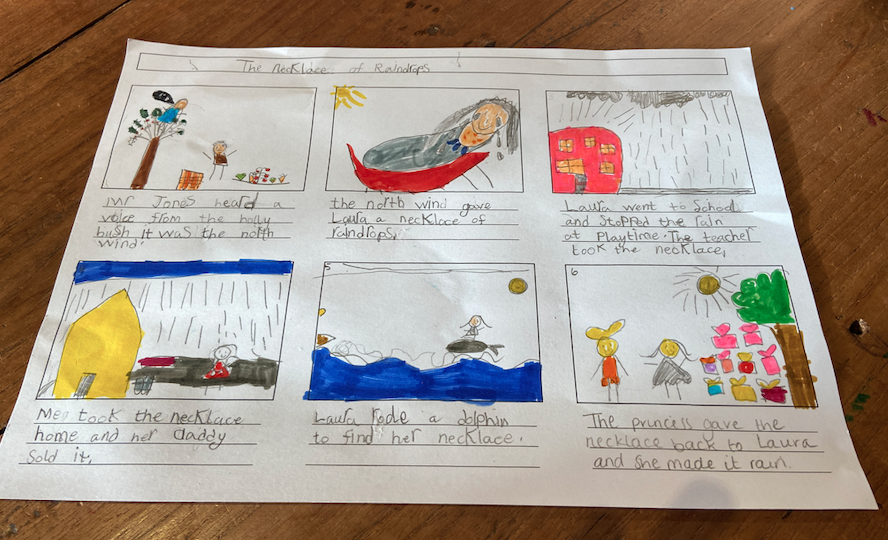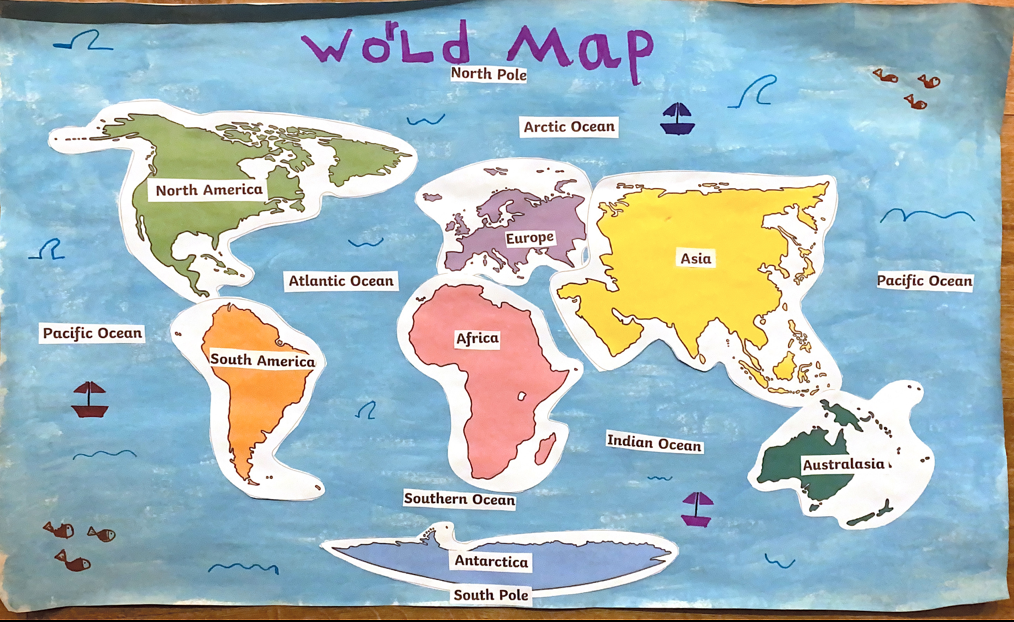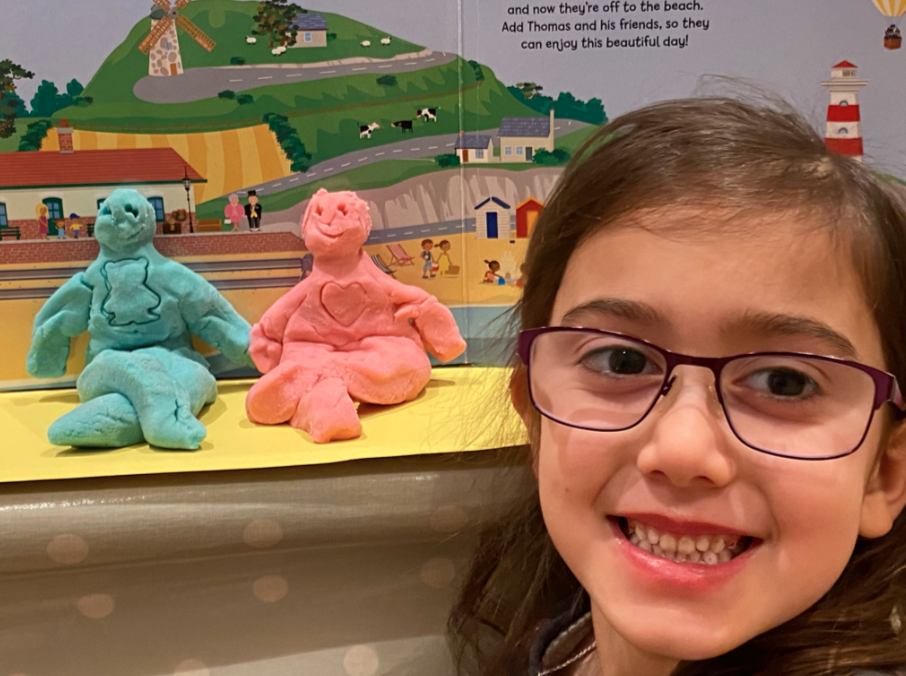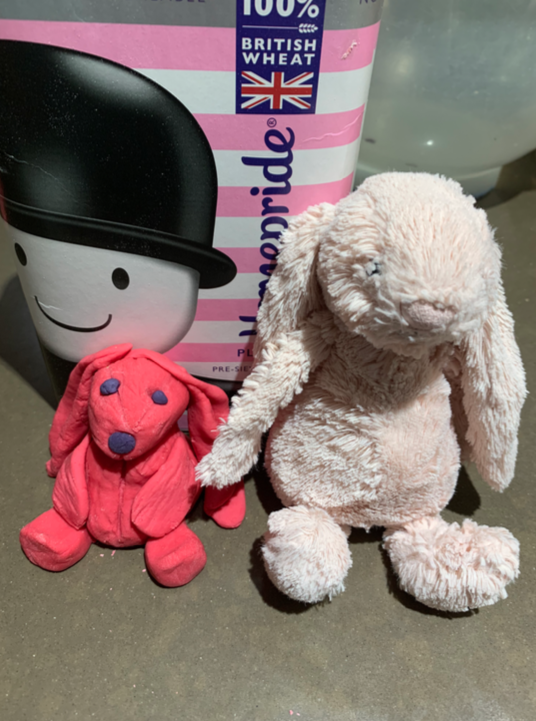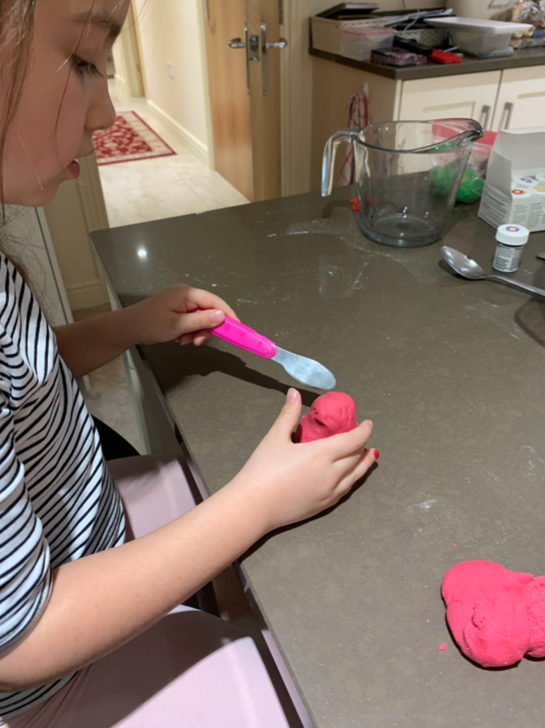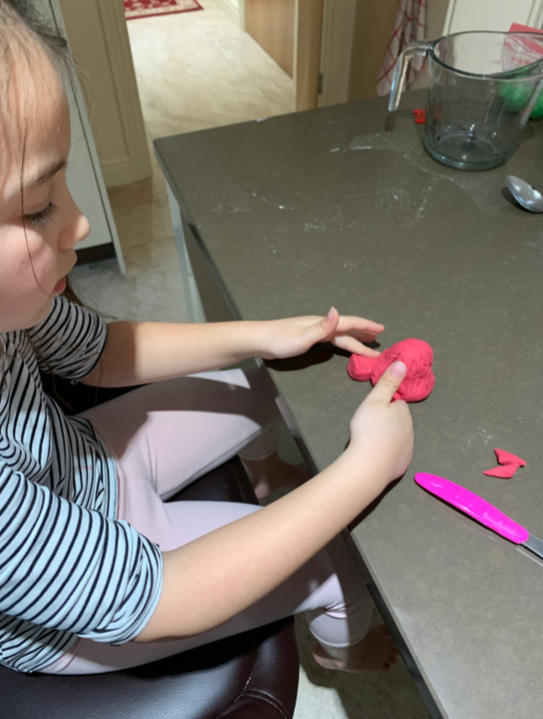 Term 2
Class 2 Term 2 'The Dark' Homework Brochure
This term Class 2 have been reading The Dark by Lemony Snicket. For their homework the children were asked to produce a piece of art work inspired by the night. Here are some lovely examples of their work.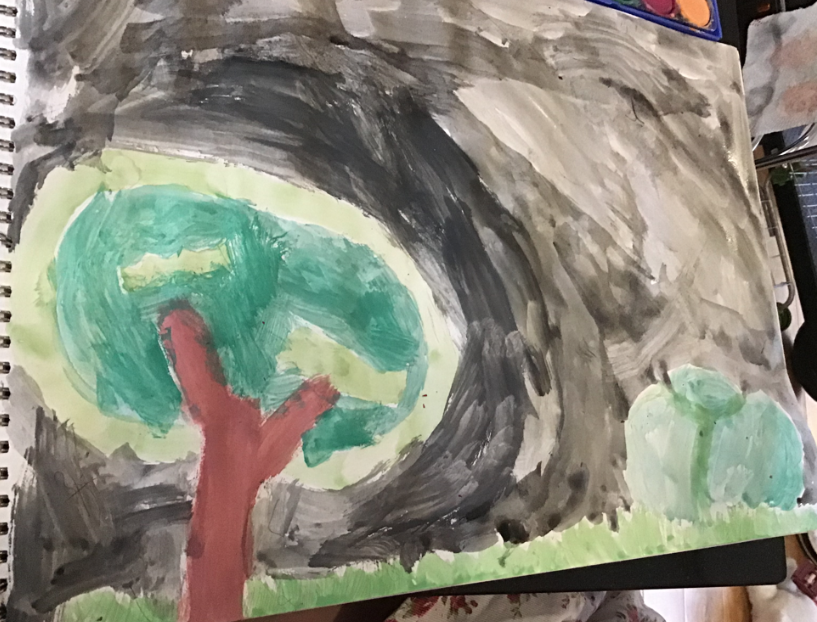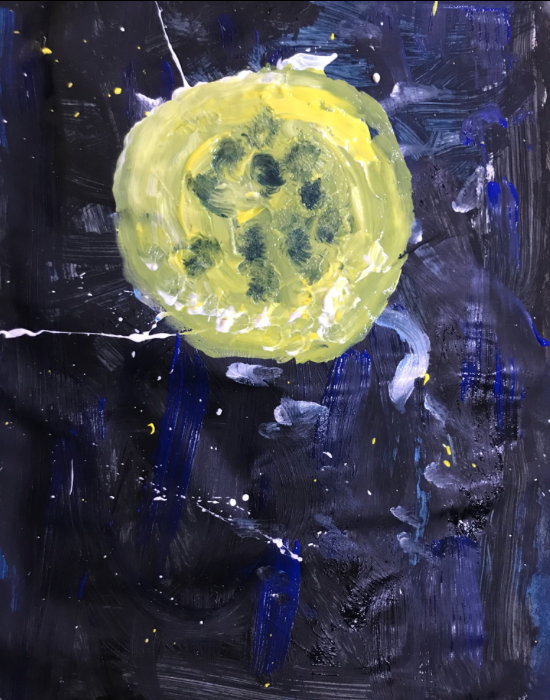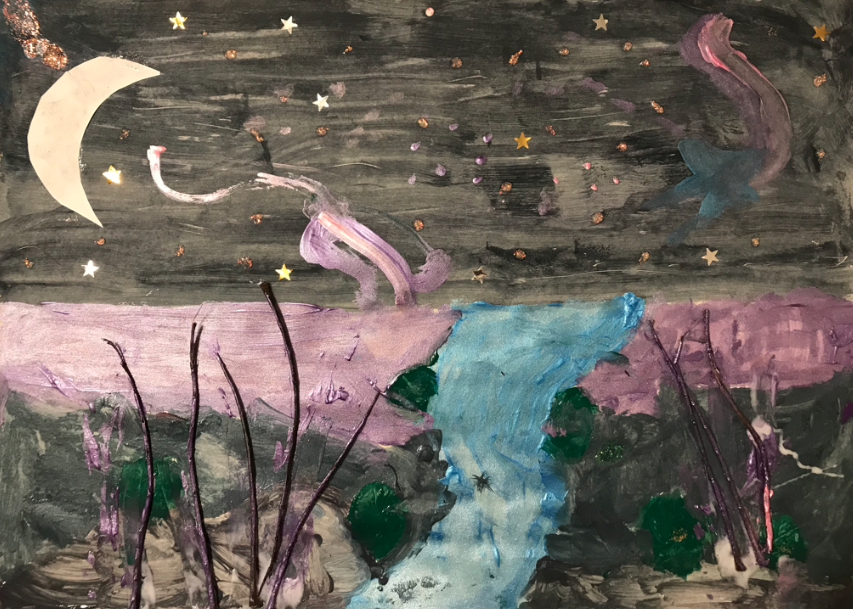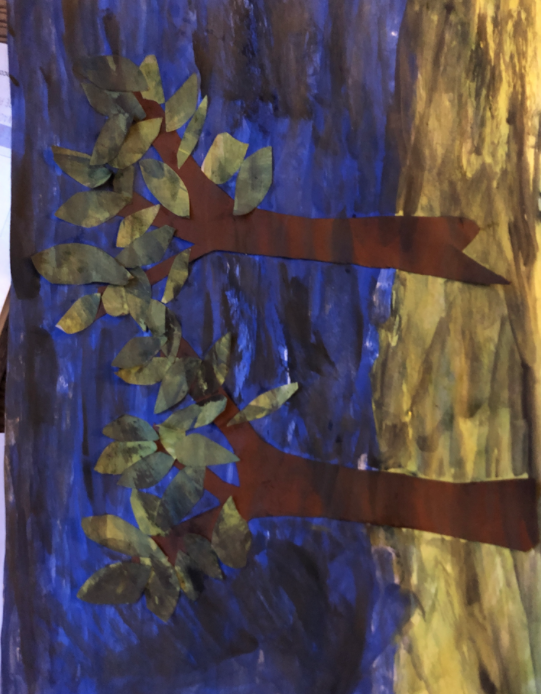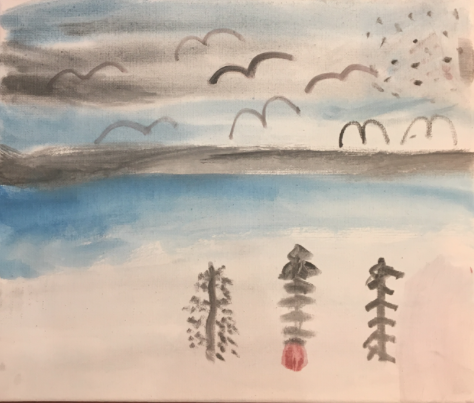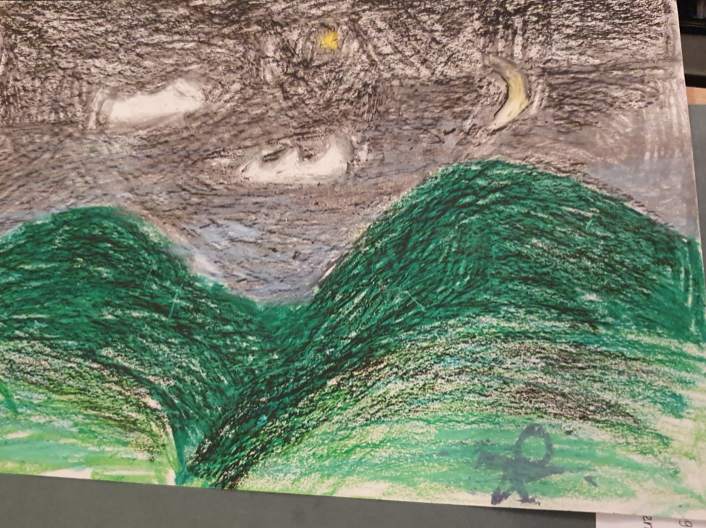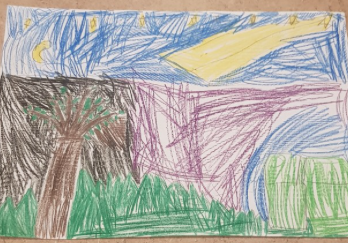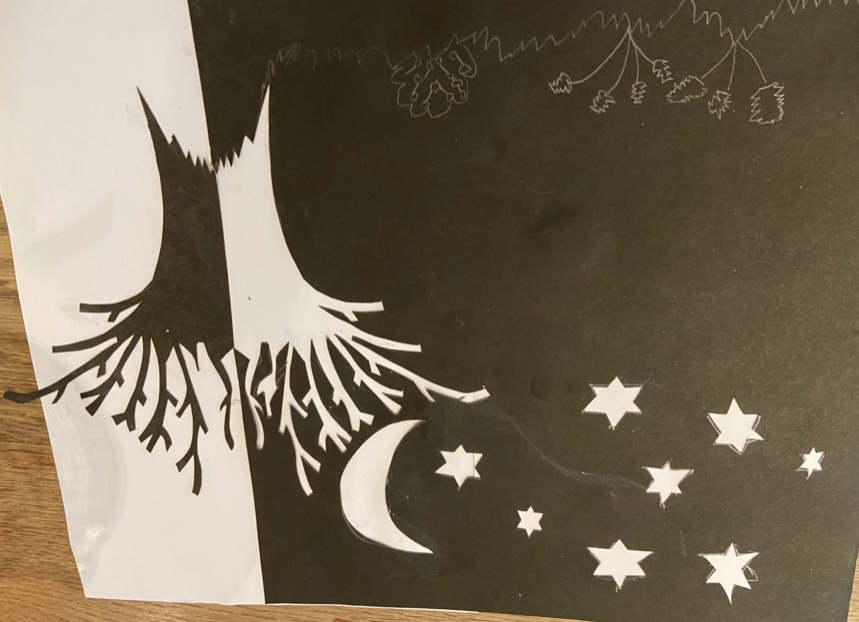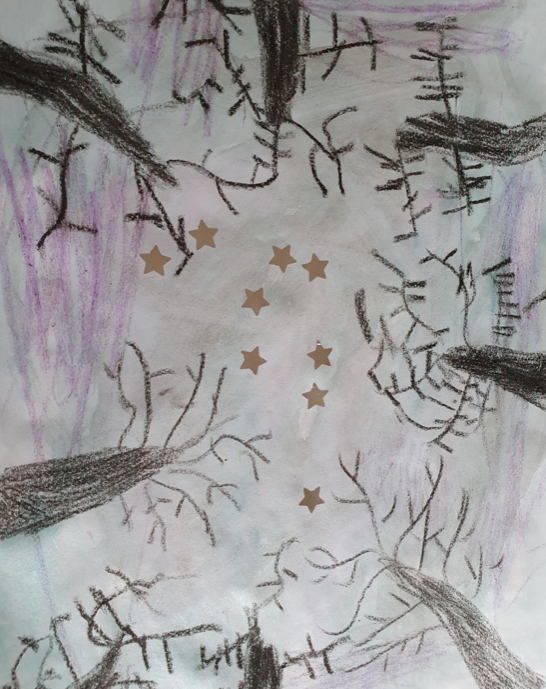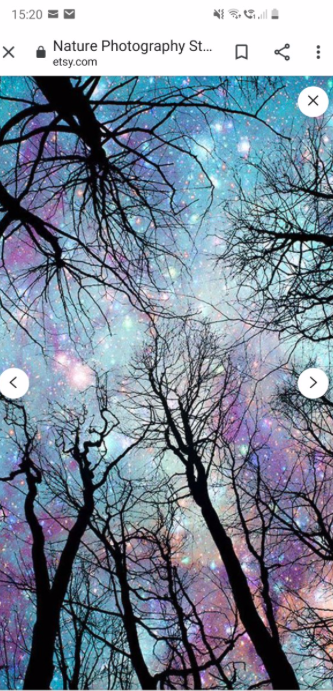 Term 1
Class 2 Term 1 Homework Brochure