Class 2
Welcome to Class 2
Class 2 AK Curriculum Annual Overview 2017-18
Term 6
Term 6 Class 2 Homework Brochure
E.R. Reilly – writing challenges set by our visiting author
Rashnu loses the most expensive diamond in the world
Can you write a story about someone losing something very precious?
Think about the magic potion made in Horrible Harriet.
Draw and label a magic potion that you could make. Write a paragraph explaining what this magic potion can do.
Have you ever made a den?
Write about a den you have made, what made it a good den? What was it made from?
The lookouts are a modern day 'Secret Seven'.
Think about the story in which they witness a burglar escaping from the Nun's convent with a painting rolled under his arm. He leaves behind some clues: mouth organ, black fabric and a cone. Write the ending to this story.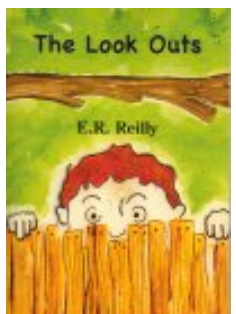 Term 5
Term 4
Class 2 Term 4 Homework Brochure
Term 3
Class two spent Wednesday afternoon travelling back in time. They met Samuel Pepys who was digging in his garden. Whilst he was chatting with us, he uncovered a diary, a piece of cheese and bottle of wine. We loved using the clues to try and work out why these things might have been buried. Everyone was hypothesising about how they came to be buried and what would cause someone to bury such items. The conversations in the class were magical, the historical events being discussed as possible reasons for the burial were fantastic. I know lots of children even went home and shared the fabulous facts they had learnt about the significant event with some of you. I can't wait to see what happens next week in our history lesson!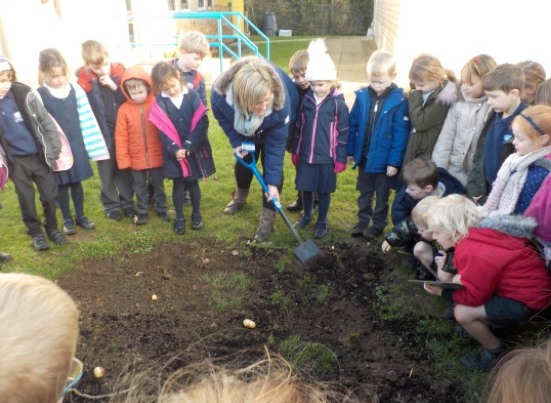 Term 2
Class 2 Term 2 'The Story Tree' Homework Brochure
Wow, what a week of fabulous home learning. We were so impressed in class by the high level to which it was completed by everyone. Here are just a few examples: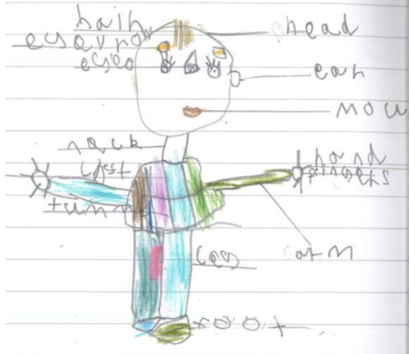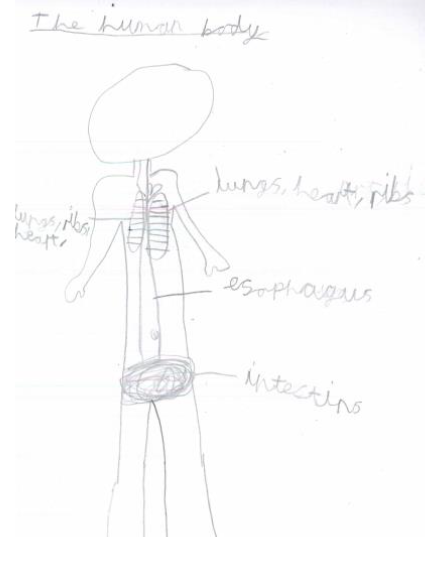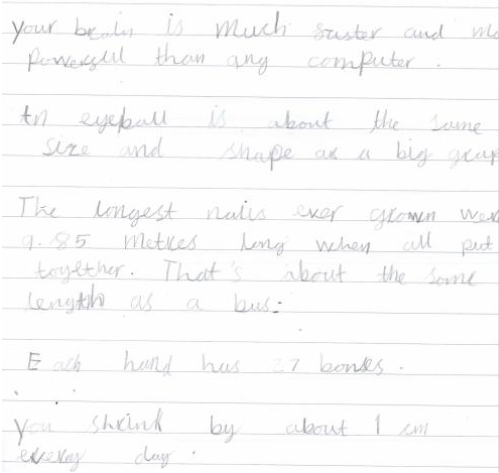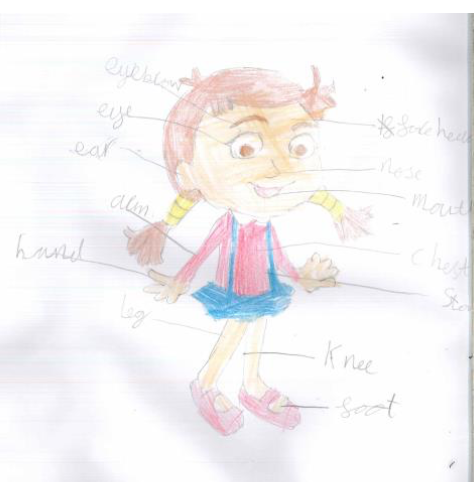 Term 1
Class 2 Term 1 'Poems to Perform' Homework Brochure
'We have been working incredibly hard since our return to school. Our topic 'A seed is sleepy' has inspired our artwork and writing. We have done lots of science involving plants, we have drawn seeds and flowers and even produced some poems based on seeds. We hope you can see us growing!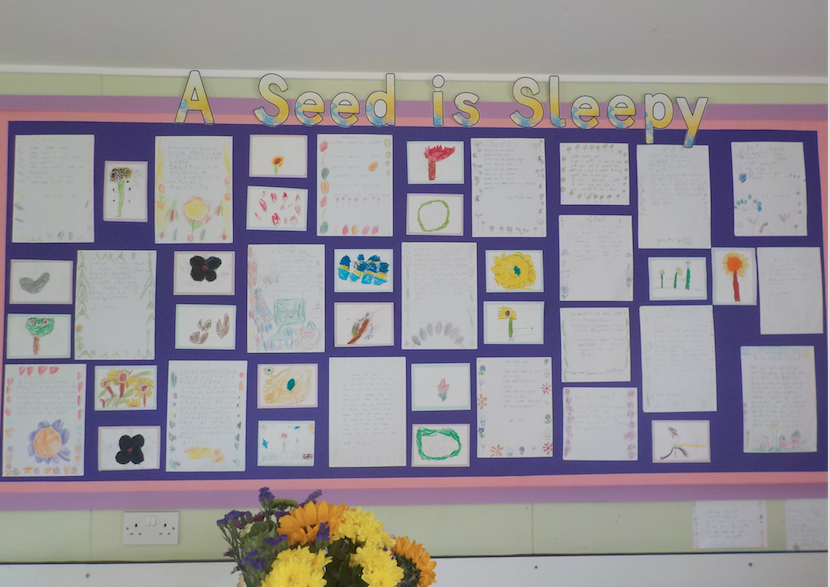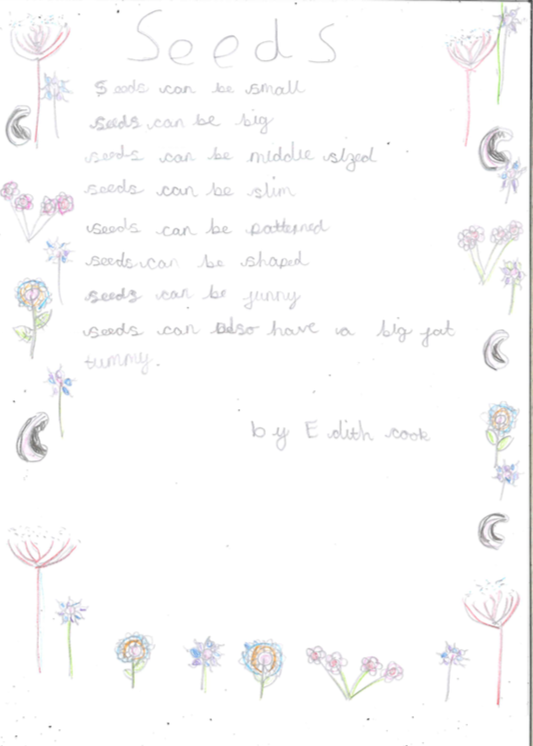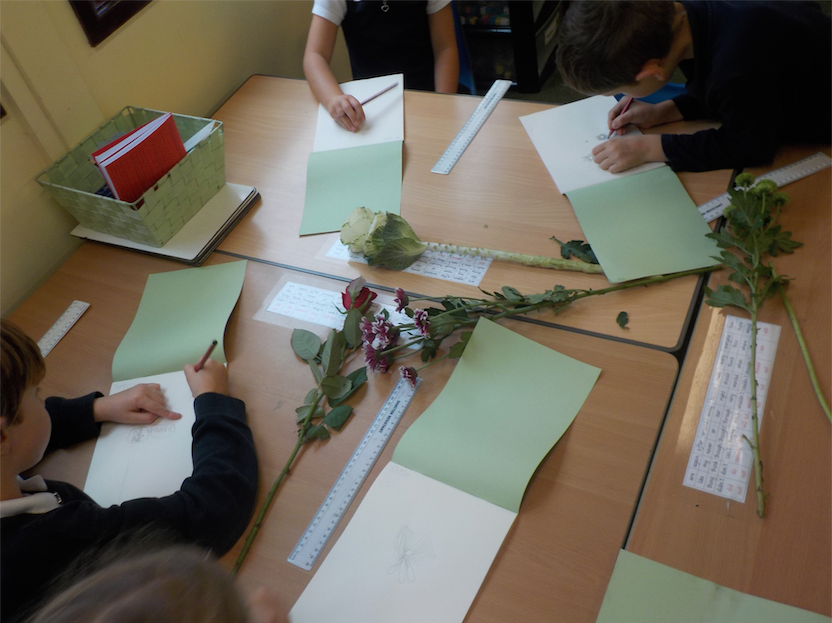 ARCHIVE POSTS
Class 2 AK Curriculum Annual Overview 2016-2017
Class 2 Summer Term Newsletter
Term 6
Class 2 Term 6 Homework Brochure
Class 1 and 2 had a fabulous day at Cotswold Wildlife Park, the children were incredibly well behaved and made all of the staff very proud. The children had the opportunity to look around the park and enjoy the animals. We also had a fabulous talk from one of the keepers at the park who told us all about the Zebras, Giraffes, Lions and Rhinos, we learnt lots of fantastic facts, which hopefully your children have already shared with you.
We are now looking forward to our new book 'One day on our blue planet – in the Savannah and all of the super writing and artwork that this will inspire.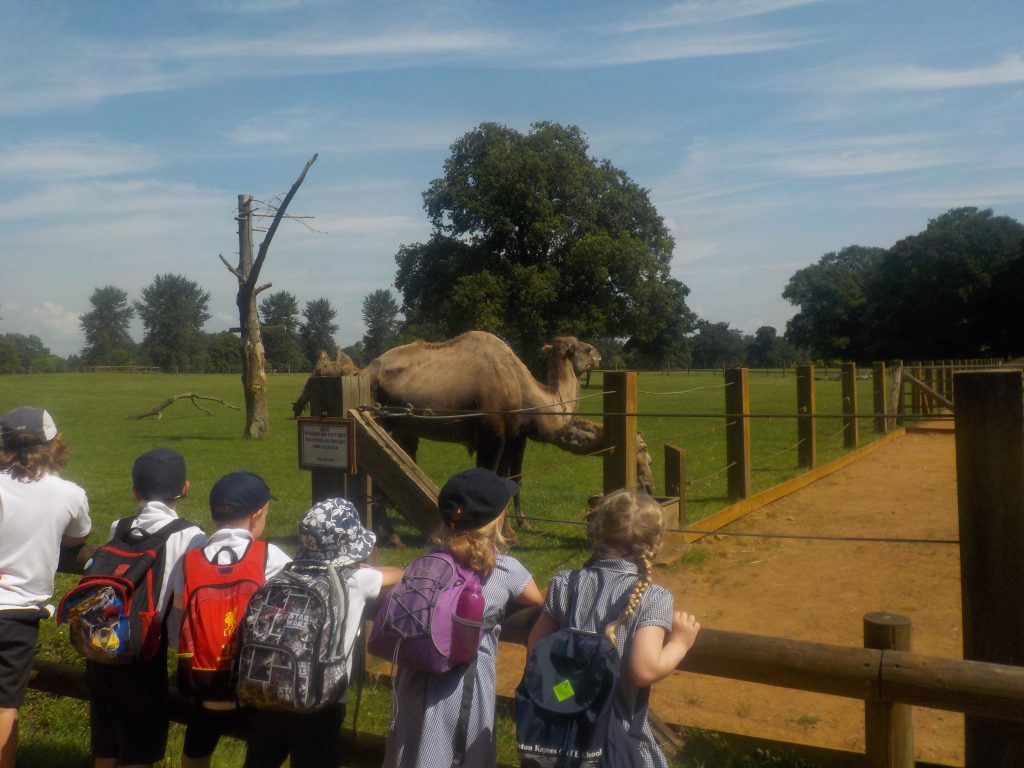 Class 2 were very lucky today (6th June) as they got to take part in a fabulous problem solving workshop. They had to work in teams to make different shapes out of large blocks. They needed to listen carefully and try and work out how to fit the blocks together.
To start the session we had to line up in height order without talking, this was quite tricky! Next we had to split up into three groups, one making a square which needed to be made up of blocks that were not allowed to have the same colour square touching. The second group had to use 3D foam blocks to build a cube – this was incredibly tricky! The final group had to make a giant square using all of the blocks which were different shapes.
It was brilliant fun and all of the children thoroughly enjoyed it.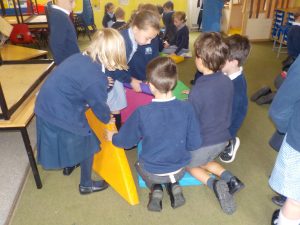 Term 5
Class 2 Term 5 Traction Man Homework Brochure
Term 4
Class 2 Term 4 Homework Brochure
We have been out enjoying the beautiful sunshine today (13th March) as part of our science week launch. We were looking at the colours of nature and how these can inspire us to create beautiful pieces of work. Linking in with our work on habitats, we looked under things, over things, on top of things and everywhere else in between. We thoroughly enjoyed our afternoon and here are just a few of nature colour palettes. Look out for our 'catch a rainbow pictures' coming soon.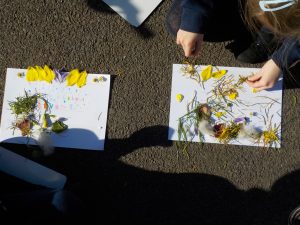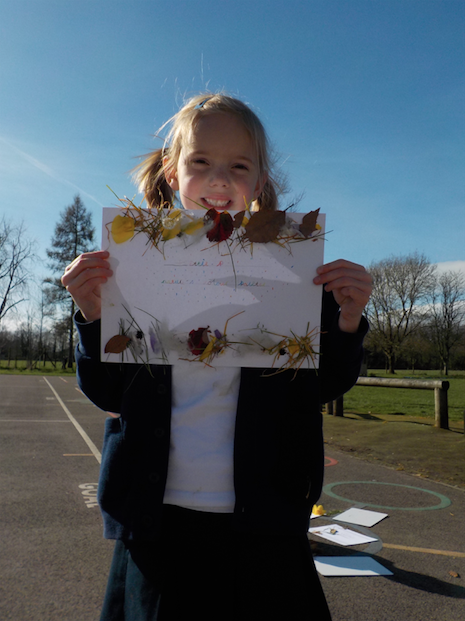 We had a fantastic time on Thursday 2nd March, World book day was awesome! We loved dressing up as Where's Wally and searching for Wally during our very sunny lunch time was great fun. Thank you Mrs Hancock for organising it. I hope you have lots of fun spending your world book day vouchers and sharing your new books in class.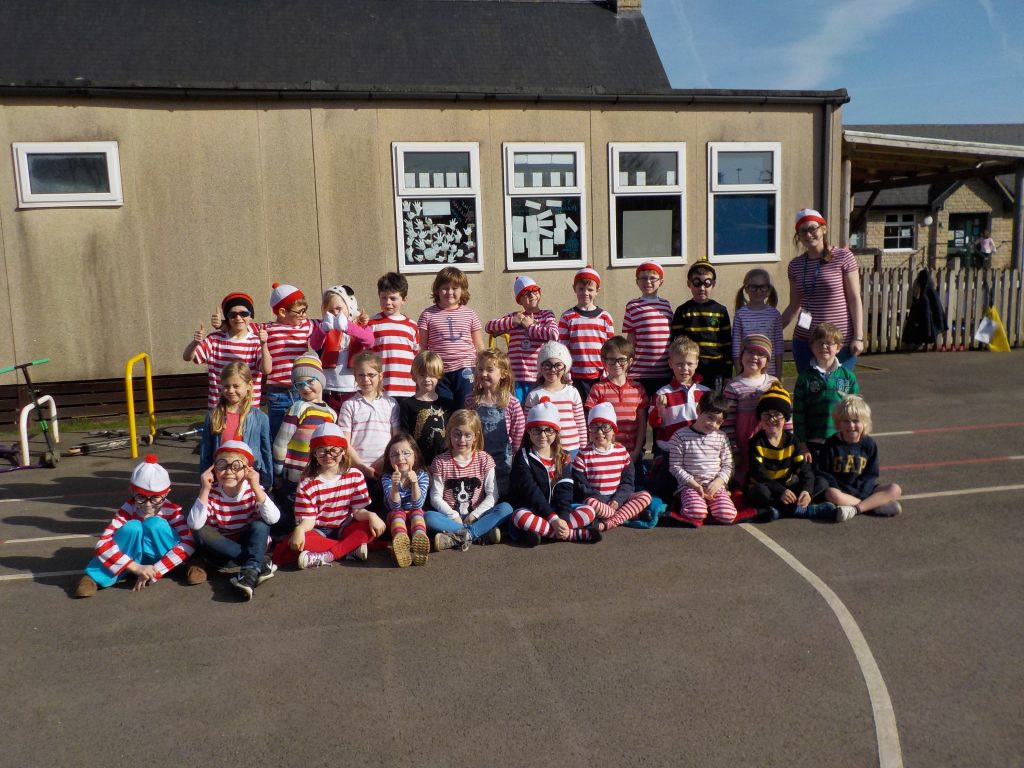 In class we have just started looking at the story 'The lonely Beast' by Chris Judge, the children are thoroughly enjoying the book and the writing that it is creating is fantastic.
We are becoming such skilled writers, we can write diaries, stories, poems, letters and descriptions just to name a few. Here are some of our poems – we based them ocean animals as The Beast goes an adventure through the ocean and meets lots of different sea animals.
We hope you like them and maybe they will inspire you to get writing!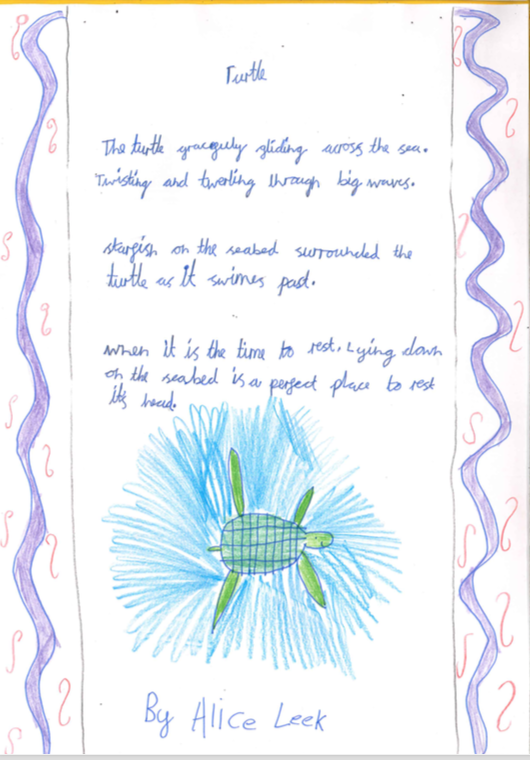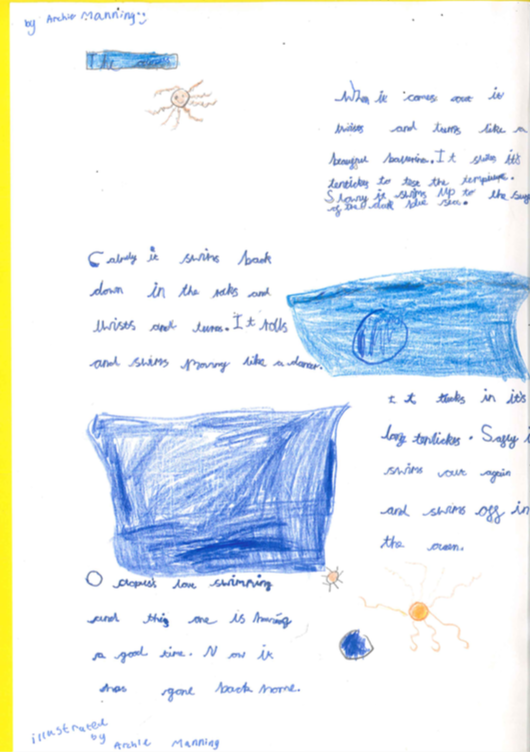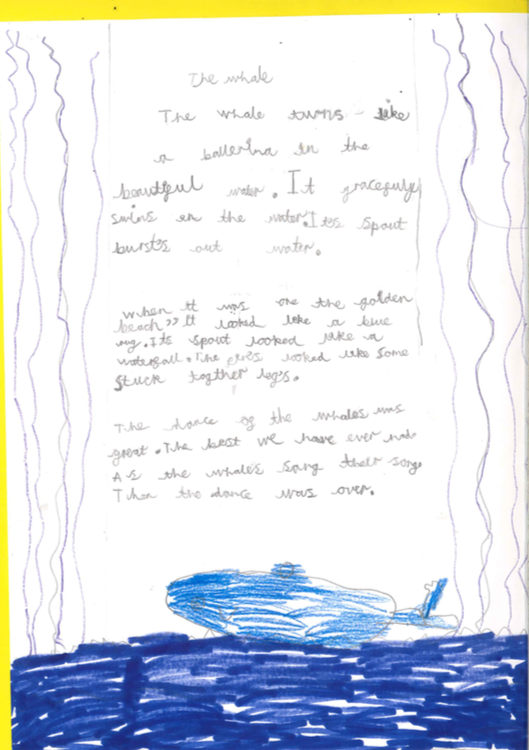 Term 3
Class 2 Term 3 Homework Brochure
We were very lucky last week to celebrate Chinese New Year with a dance workshop based on Chinese culture and their festival. We learnt dance moves that you might see in the Chinese New Year parades  during the celebrations. We had lots of fun and learnt loads. The children already had so much knowledge thanks to their excellent homework from the previous week – Thank you!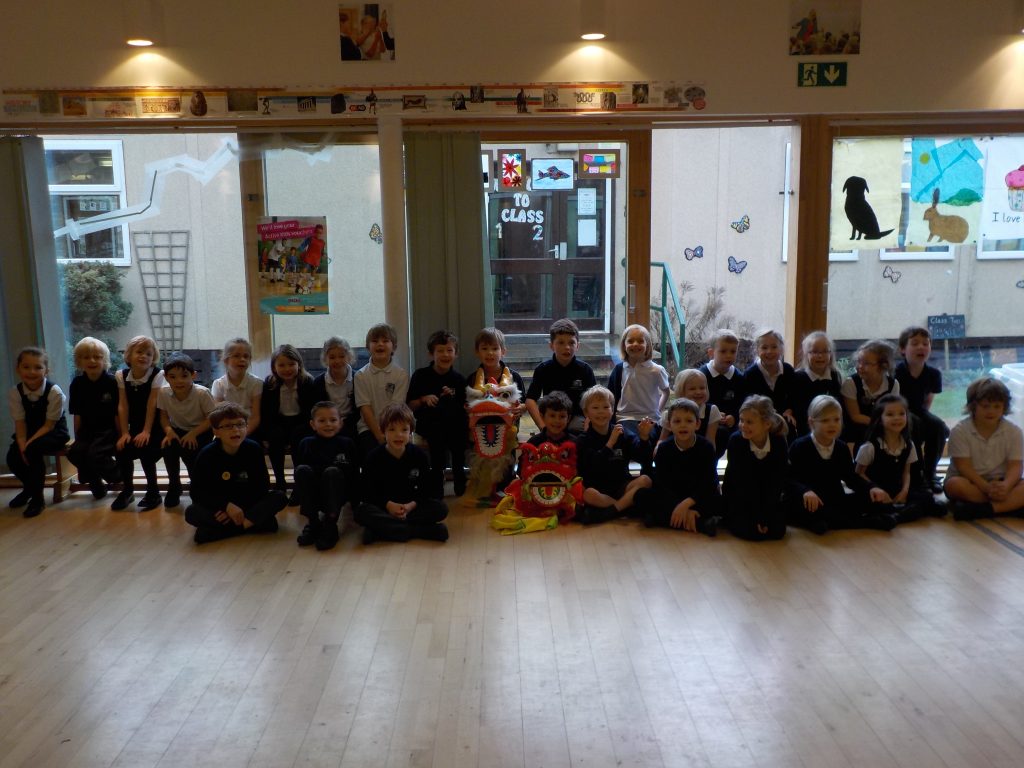 Term 2 
Class 2 Newsletter Autumn 2016
Class 2 Term 1 & 2 Homework Brochure
Class 2 have been looking at the book 'The Dark' by Lemony Snicket, this week they have been writing fact files about nocturnal animals. We were very lucky to actually have a visit from a nocturnal animal…a hedgehog came to visit! The children were able to look at the hedgehog closely and asks lots of questions about them. They were all very excited and have gone on to produce some fabulous writing. Please click here for just one example of the fantastic writing coming out of class 2.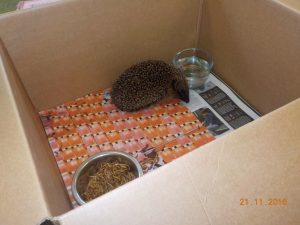 Term 1
Class 2 Newsletter Autumn 2016
Class 2 Term 1 & 2 Homework Brochure
Class 2 Term 1 Spelling List Common Exception Words