Headline news: AKPS Top Performing School in Wiltshire!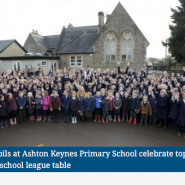 Woweeeee our school is certainly shining brightly!
We are ranked 1st out of 238 schools in Wiltshire!
I was super proud last week when I saw us named in the Times top 10 Best Primary Schools in Wiltshire but understood that this league table is based purely on % attaining the standard in KS2 2017. Whilst this is excellent, I am more concerned about the distance our children travel from their starting points, the progress they make, during their time at our school. Therefore for this reason, I am even more proud and excited to tell you that our overall performance in 2017 placed us 1st in Wiltshire out of 238 schools and 2nd nationally compared other primary schools who had similar starting points. This is an incredible achievement for our school and I believe is down to the high quality teaching and learning, the wonderful opportunities our children have to learn and grow and be inspired thought their 7 years with us and high aspirations from our clearly shared TEAM AK vision.
I hope you feel as proud of our school as we are, we have certainly been on a journey over the past 3 and a half years and it is fabulous to see it paying off. This is a truly outstanding position for our lovely school to be in. I would like to take this opportunity to praise my staff who are incredible and all work so hard for your children and this school; to my Governors who are brilliant in their support of my leadership and giving of their time so freely to help us thrive; to our wonderful children who are just brilliant and the reason we all want to do our best and to our parents, carers and friends of the school who support this school and help it shine in its community.
We want the community to be proud of their school so I was really pleased to receive this from Dave Wingrove on behalf of the parish council when they heard about us being the top primary school in Wiltshire:
"That is great news – congratulations. On behalf of the village, I would like to thank Mrs Saville and her staff for all their dedication and hard work."
What a brilliant Christmas present for our school, recognition of our hard work, the clarity and effectiveness of our shared vision- shine bright, reach for the stars! I could not be more happy and proud as your Headteacher, thank you for your continued and positive support, the school is buzzing!
Mrs. Saville
Click the picture to read the Wilts & Glos Standard front page report: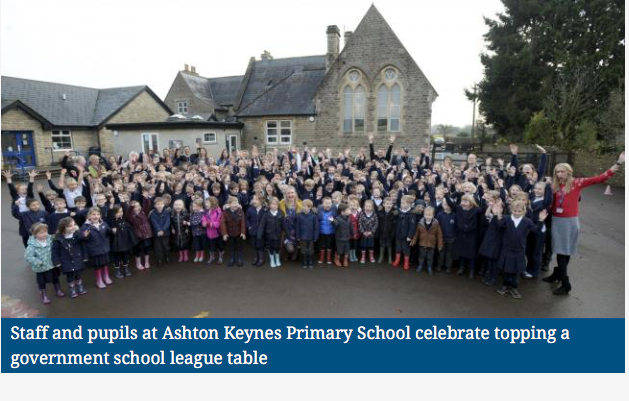 Click here to view the gov.uk primary school league tables comparison website