SIAMS OUTSTANDING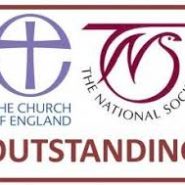 I am absolutely delighted and over the moon to be able to officially let you know that we have just received the report for our recent very rigorous  SIAMS Church school inspection and that we are OUTSTANDING in every category. I have attached the report for you to read and I think it sums up our school beautifully. The inspector told me that she found it difficult to fit everything she wanted to say about our wonderful school into the boxes! This is a thoroughly well deserved outcome for our school and in a time where the bar has raised since 2012 making it harder to achieve outstanding, then this is a real achievement!
You all know how I feel about this school and how proud I am to be Head teacher but I would like to take this opportunity to thank you all for your continued support. I have a school full of wonderful children, a fabulous team of incredibly dedicated and passionate staff, excellent Governors who are so supportive, incredibly supportive parents and a wonderful partnership with the Church. Sorry if this sound like an Oscar speech but I am so proud of everyone who is associated with this wonderful school, what a team- TEAM AK!
Thank you all, I hope you feel proud of your school!
Mrs. Saville