Team AK in the elite Top 250 schools Sunday Times List!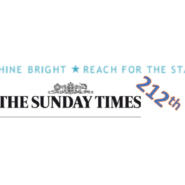 Ashton Keynes Primary School is one of the Sunday Times top 250 State Primary Schools! We are ranked at joint 212 which, when you consider there are 16,769 state primary schools in England (https://www.besa.org.uk/key-uk-education-statistics/), puts us in the top 1.5% of all English primary schools!
Last year we were awarded the Pride of the Cotswolds School of the Year 2018 which we were incredibly proud of and for the past two years we have been in the top 3% of all schools nationally. We have so many other awards alongside this and are so proud of them all.
We are having a whole school photograph and will appear in the Wilts and Glos standard soon as we the only school in this area to get into the top 250!
I am so incredibly proud of our school and we are delighted to be in the top 250 schools nationally. This outstanding achievement is real testament to the hard work of our staff and pupils. We are delighted with our children's achievements every year and believe that the unique seven-year journey which we provide for children in our school; the rich, exciting and engaging curriculum along with the warm and caring happy school ethos ensure that all of our children learn and achieve so well. Our children leave this school having made the best progress possible, had the most enriching and engaging school experience and are empowered learners who are more than ready to make a difference in the next stage of their educational journey. I am incredibly proud of my children and staff team every single day. Children and staff at Ashton Keynes CE Primary School always work incredibly hard, our children make excellent progress, have a love of learning and achieve outstanding results year on year and we are very proud to have our successes recognised in this way. Mrs Saville