Visit from Paul Sturgess – AK Stars on BBC Points West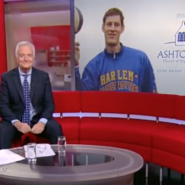 15th November

WOW, what an exciting day we are having in AKPS. The children are really inspired and actively engaged in workshops throughout the day.

Our inspirational visitor is the World's Tallest Basketball player, Harlem Globetrotters very own Paul Sturgess. He is also Great Britain's tallest man coming in at a staggering 7ft7!

Following a truly inspirational assembly where he shared with the children how he has turned his difference into a positive and made the absolute most of his uniqueness and talents. He then has spent the whole morning engaging with your children in basketball skills workshops, teaching them some of his many sensational tricks! The children and staff are absolutely buzzing and we have some great footage for BBC points West.

The BBC team loved being in our school and said they were very impressed with the overwhelming positive energy here! Swindon Advertiser also did a news report and took some great photos of some of our reception children with Paul.

I really hope that your children come out of school buzzing to tell you all about their time with our wonderful visitor and you can have a look at him in action with Harlem Globetrotters and in his interview on This Morning on you tube. I can tell you that he has been and will be filming some movies and TV shows so we can all look out for this, he is not allowed to share which ones yet, but I do know they are Warner Brothers, BBC and Disney! Mrs Saville.
Click here to view The Swindon Advertiser report